How To Wear Sneakers With Tailoring
A marriage made in heaven or one destined for the divorce courts? The Rake weighs in on the sneaker and suit trend.
The suit, forever the paragon of sartorial style, has never really gone under the knife since it was first popularised in the early 19th century. Sure, a little nip and tuck here and there, but by and large, the suit has remained unchanged for nearly two centuries, not least for the simple reason that it flatters the male physique when constructed correctly. The accessories one wears to complement the lounge suit is a different matter entirely. British dandy Beau Brummell was, for example, largely responsible for the world's adoption of the necktie, which he sported in favour of the cravat.
Today, we find ourselves in the midst of yet another sartorial paradigm shift, one in which sneakers are muscling in to replace classic shoe styles such as Oxfords, Derbys and monk straps as the bookends to a tailored ensemble. Sacrilege or evolution? Well, perhaps a little dose of both, but here at
The
Rake
we feel like there's room enough in this town for the two of them. Sneakers have become such an indelible part of our lives (the sneaker resale market alone is worth $1 billion), that to restrict them to purely casualwear does seem like a missed opportunity. Of course, there are both occasions and professions for which only a fine pair of polished Oxfords will suffice, but you cannot deny the metronomic march of casualwear in today's menswear market. As such, sneakers have snuck in from the leftfield as a genuine dress-down alternative, and whether you approve or not, there is a certain rakishness to ripping up the rule book from time to time. So with that said, we've located a panoply of gentlemen who have deftly carried off this once unholy matrimony between the suit and sneakers, all in very different ways, but each with aplomb.
Sat together, the gentlemen below make clear that 'tailoring' is a more diverse category of menswear than one is often led to believe. The gentleman on the left is sporting some classic separates; a reasonably smart ensemble that works well with his choice of burgundy tassel loafers. His friend, on the other hand, has opted for an ironically iconic pair of New Balance, otherwise known as 'dad sneakers.' A contentious choice no matter what the outfit, but we can see this gentleman's logic: the cropped khaki chinos with a slightly crumpled linen-blend blazer and denim shirt convey a sense of considered insouciance, which is further accentuated by the dull grey sneakers.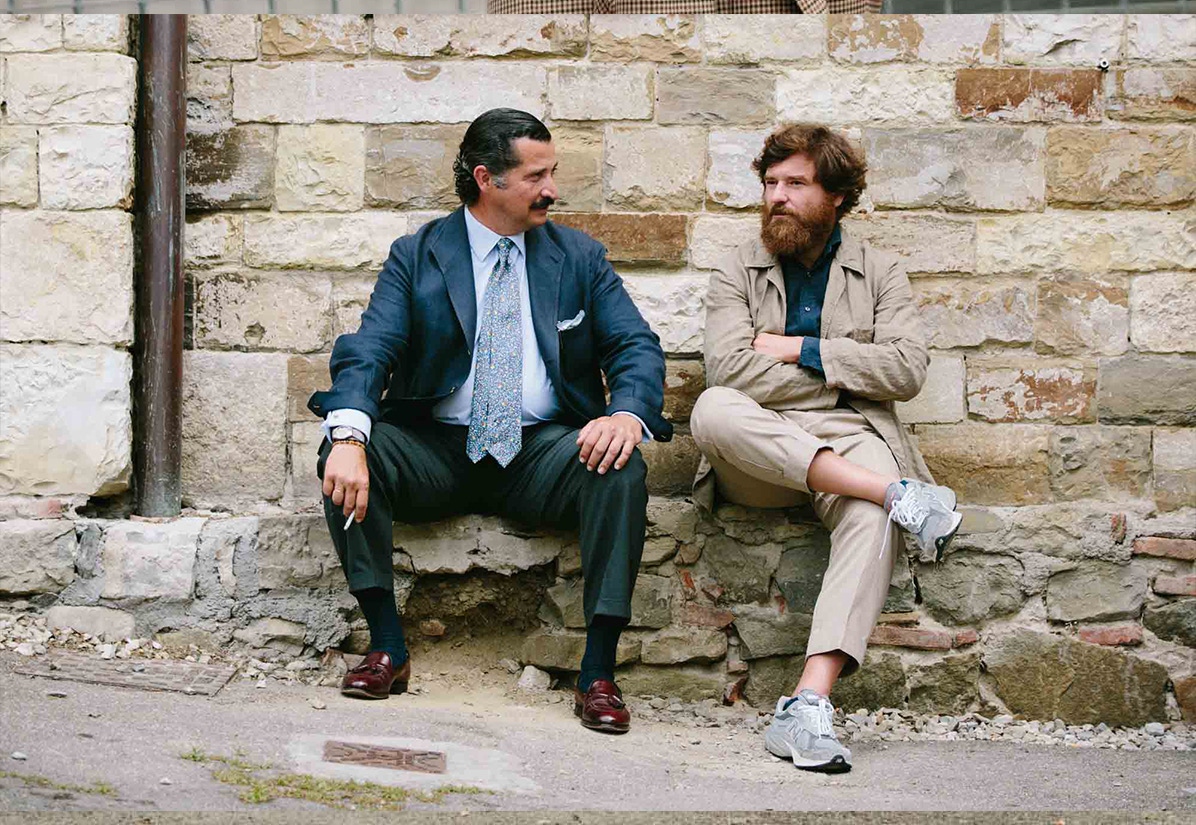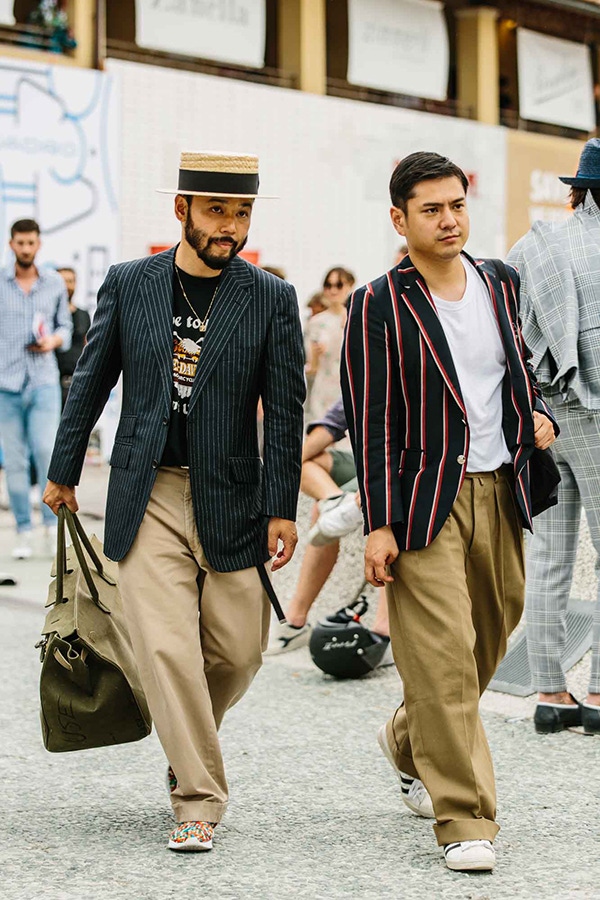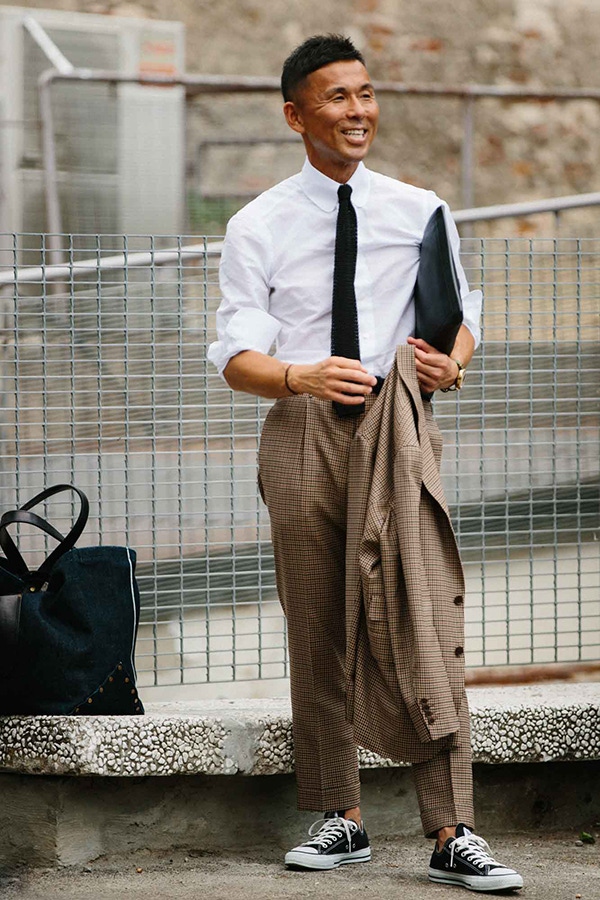 Director of United Arrows Mr Motofumi Kogi (on the left) and friend have taken an eclectic approach to the trend by opting for relaxed separates in the form of wide-leg khaki pants and blazers. The loose-fitting, easy-going style makes sneakers the perfect option. Anything other than perhaps a rugged combat boot would look somewhat anachronistic.
This gentleman on the right has taken what are perhaps the most casual of sneakers by Converse and has smartly paired them with a gun club check suit. The addition of the turn-up creates a less formal and more contemporary length of trouser, but what really pulls this look together is the coordination he has adopted, playing off the black and white of the Converse with his shirt and tie combination.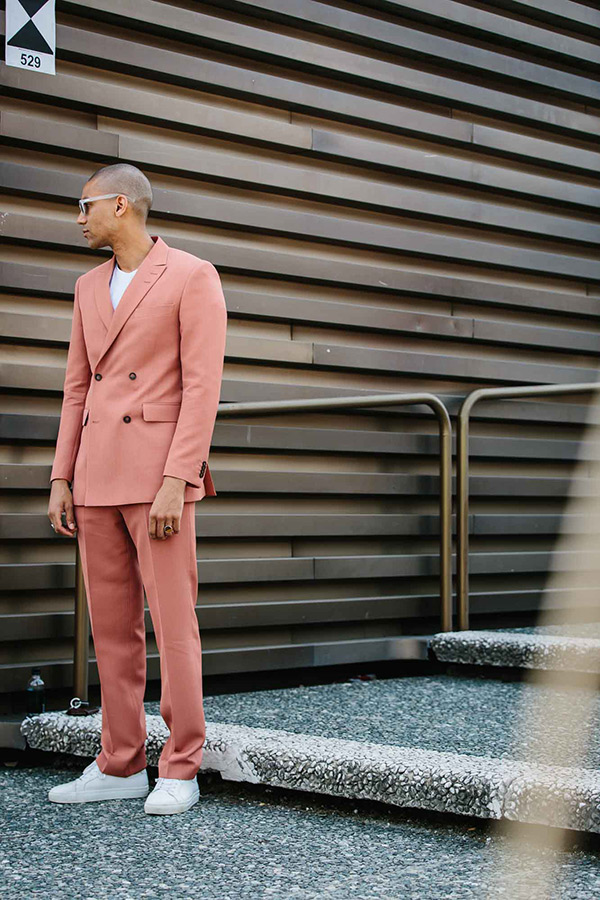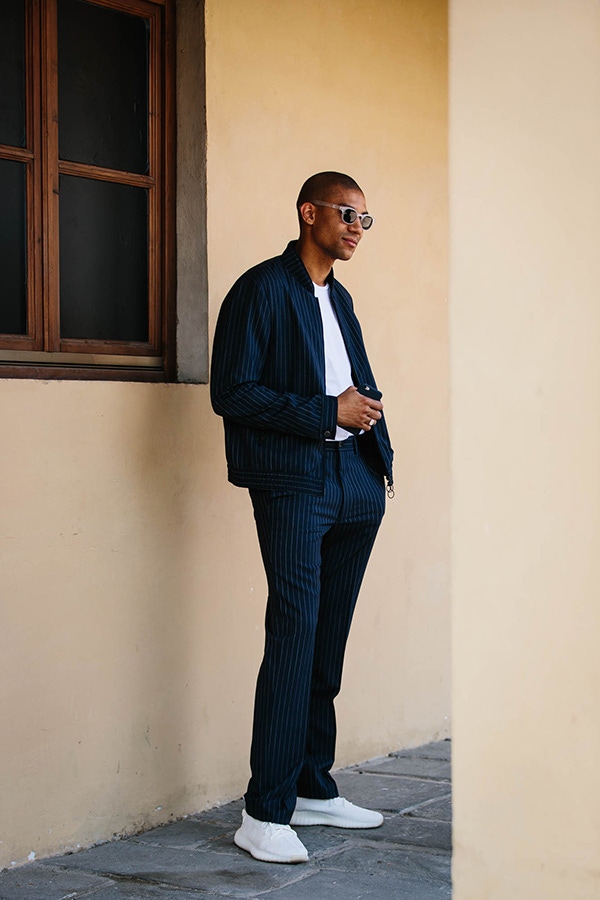 No matter from which fount of menswear you sip, a pastel pink suit is always going to be a statement, but this stylish proponent has cleverly opted to downplay the look with a classic pair of plain white sneakers, which nicely coordinates with his simple white T-shirt. If anything, a smarter shoe, such as a double monk, when combined with the flamboyant suit, would be the sartorial equivalent to inviting one's wife and mistress to the same party.
Although not strictly speaking a suit given the Harrington jacket, the gentleman on his right has nonetheless opted to complement his navy pinstripe look with a pair of Adidas gym sneakers. Were it a proper two-piece suit, one might be more inclined to opt for a less athletic type of sneaker. Once again, the simple coordination of white sneakers with a white T-shirt glues the ensemble together.