How to Wear the Lorenzo Cifonelli for The Rake Collection
As style icons go, Lorenzo Cifonelli might be considered singular. But that's more of a state-of-being, an unexpected and sartorial twist that Lorenzo has mastered over many years in the public eye—and as an ambassador for his own creations. 
This new collection is made to his tastes, but not uniquely. The colours and cuts that define these immaculately crafted Italian-French pieces may have had their origins in Lorenzo's imagination (and in hand-selected ateliers) but the final product is entirely accessible. The Rake has curated this collection with the idea that it suits the modern man's tailoring essentials—Monday to Sunday. Indeed, we trust your capacities to put together an ensemble, but how would
The Rake
style our new collaboration with Lorenzo Cifonelli?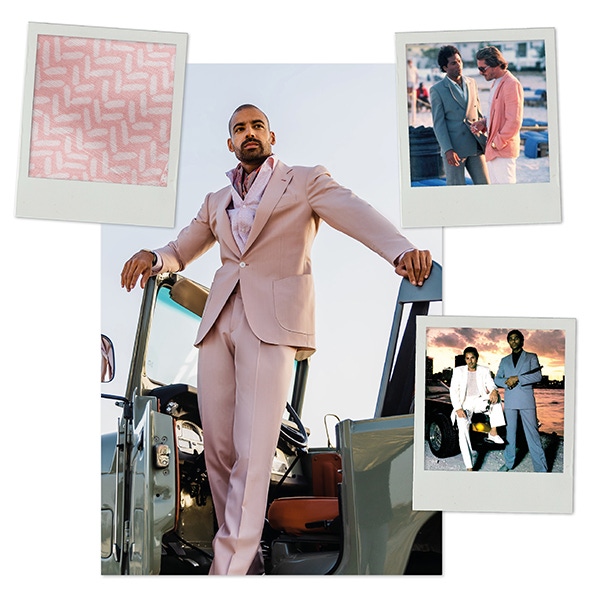 MATURE PINK
You might have never thought to wear a pink suit…but inspired by the 80s, we're bringing Miami Vice back with this special Loro Piana wool-blend mature pink suit. It has a refreshing air of cool about it; as masculine as it is confident, and we would pair this with either a pink Capri or light blue cotton shirt for a tonal look. It can be the ultimate cocktail suit when elevated with a pair of white deerskin loafers.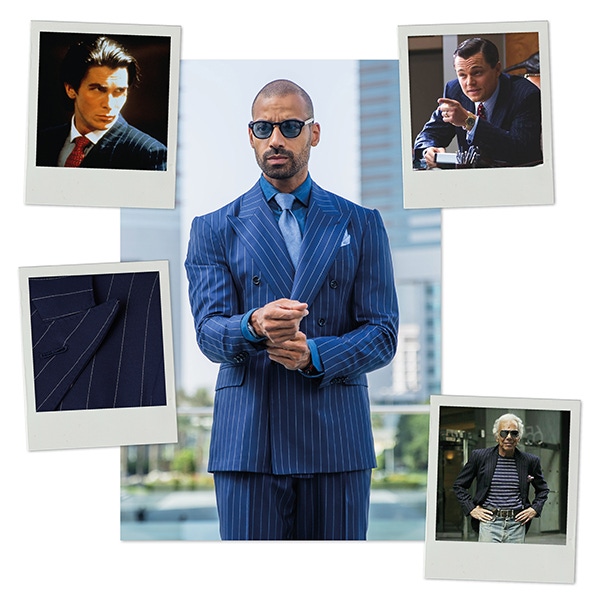 PINSTRIPE SMARTS
A Rakish interpretation of Leonardo Di Caprio's famous Wolf of Wall Street blue two-piece, this power-stripe suit will have you striding into the office as confidently as Di Caprio. Paired with a maroon tie, straight line shirt and brown loafers, this look will conquer the board meeting. Heading out-of-office? Throw this jacket over a denim shirt, paired with tapered jeans, for a casual look even Ralph Lauren might approve of.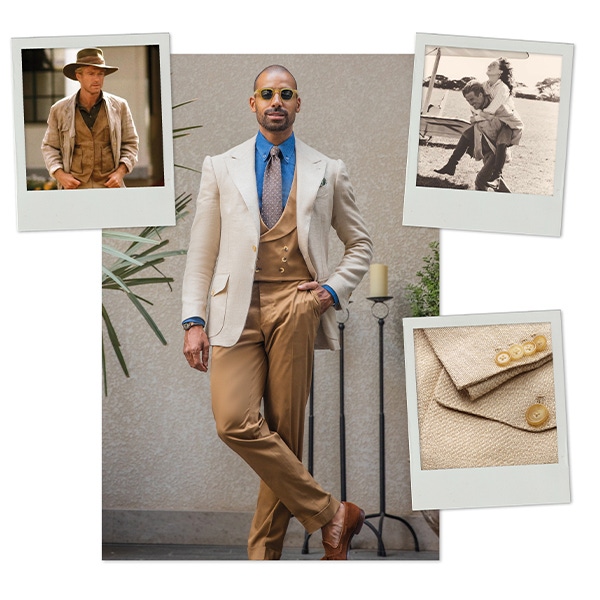 PEAK IN BEIGE
This timeless beige jacket could have easily been worn by Robert Redford in Out of Africa. The peak-lapel makes it a stylish go-to piece, and when you're not treading the African plains, we would pair it with a smart blue shirt and a double breasted-waistcoat. A denim shirt would also suffice, in a look that is both versatile and elegant. A solid beige jacket has its place in every man's wardrobe.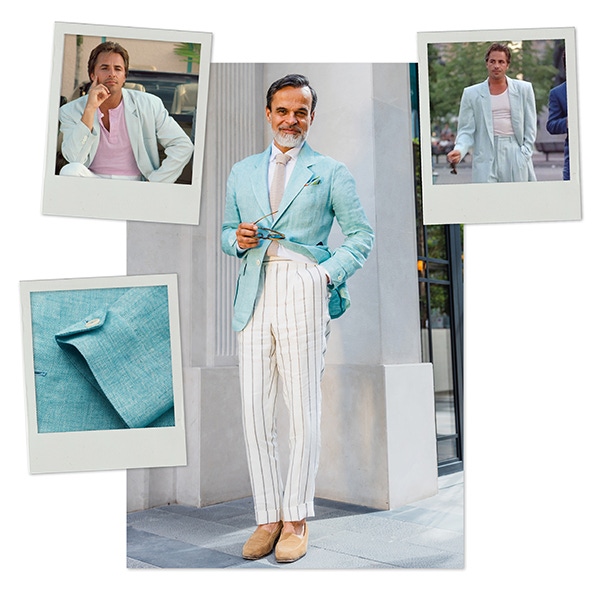 THE TEBA
The teba is an essential: half cardigan, half jacket, but crafted in Spain with the flourishes that suit even certain formal occasions. We suggest remaining a little optimistic about your summer-wardrobe and pairing with these delightful linen striped trousers. A crisp white shirt keeps you from appearing too Balearic, and adds some foundation to the ensemble.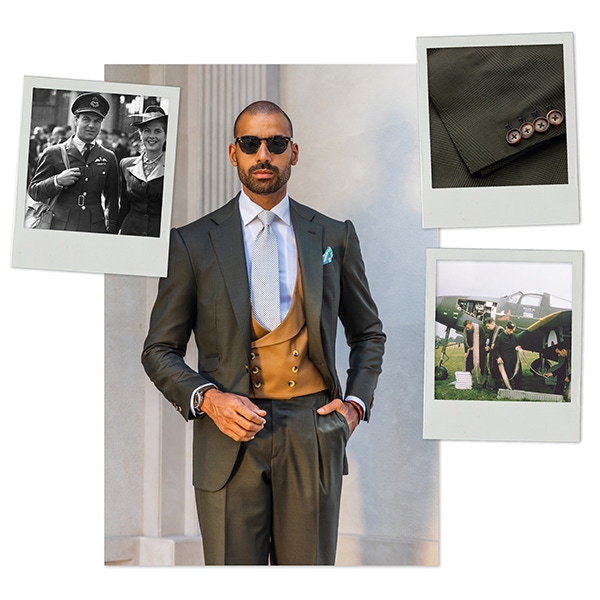 KHAKI GREEN
Green is the new black, and this quietly sophisticated khaki suit is perfect for every occasion. Inspired by the archives of military fashions, the playful designs, Milanese buttonholes and delicate shoulders add an understated yet noble sense of elegance. Pair with a white shirt, double-breasted waistcoat and brown loafers for the day's meetings, and a chambray shirt when six-o-clock calls for the cocktail bar. This multi-occasional piece is bound to become your new go-to for seasons to come.
Of course, Lorenzo Cifonelli for The Rake was designed with the versatility of modern life in mind. However you style these items, and whichever fashion you choose to wear them, they will always remain reliable pieces to pull from your wardrobe. Whether you prefer boldness or understatement, the collection will help you achieve the look you want. This pret-a-porter selection is only available on The Rake, and in limited quantities—befitting their small-scale artisan-origins.