Introducing the Chopard L.U.C QF — The Rake & Revolution Edition
Our third collaboration with Chopard L.U.C takes the QF Jubilee's appeal up a notch with a luminous sector track and Arabic numerals.
The new 25-piece L.U.C QF Jubilee — The Rake & Revolution Edition steel watch, with a luminous "scientific" or sector dial, represents
The Rake & Revolution's
third collaboration with one of the greatest horological manufactures on the planet. That is, of course, Chopard L.U.C and the individual behind it is my friend, co-president of Chopard, Karl-Friedrich Scheufele, a man I have immense respect for. That's because from the very first movement he created, the extraordinary caliber 1.96, the world's first bidirectional winding micro-rotor movement as well as the first to beat at 4Hz, all the way to his GPHG Aiguille d'Or winning Full Strike, the world's first minute repeater featuring sapphire crystal gongs, Scheufele has constantly brought a new level of authentic horological performance to each and every watch he's made. And he's achieved all this with the understated elegance that makes him, to me, the consummate gentleman.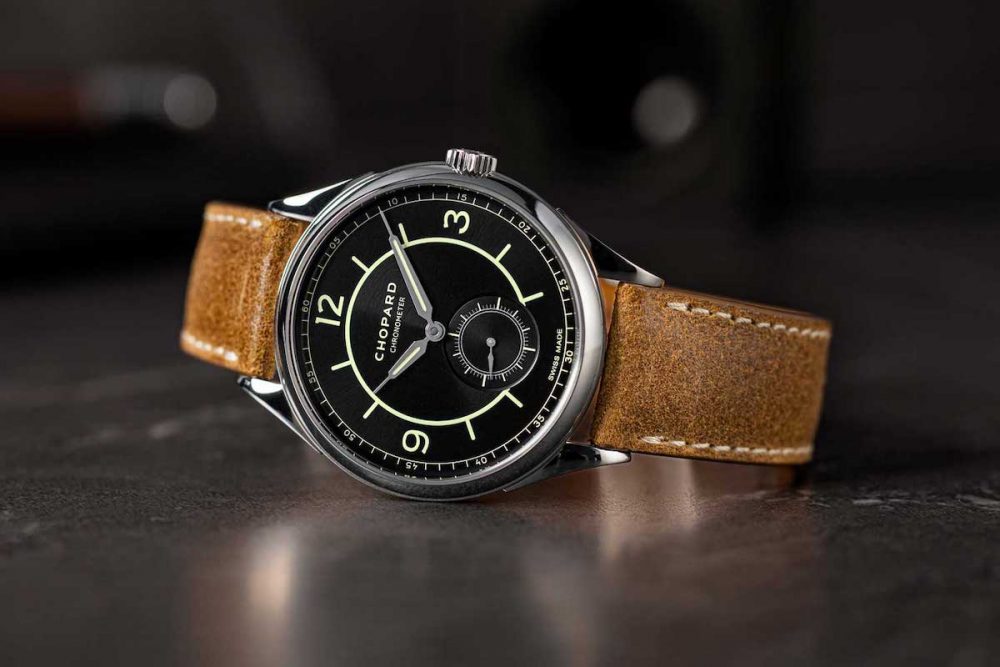 Our maiden collaboration was a homage to the Chopard L.U.C 1860, the very first wristwatch he created, a 36.5mm by 7.2mm beauty featuring a massive gold guilloché main dial which has been become the object of cult collectibility, especially in the salmon dial white gold configuration that we relaunched in a 10-piece limited edition in 2018. Our next partnership was to me the stuff of dreams. Using the same 1860 case and increasing its thickness by a mere 1mm to 8.2mm, we were able to place L.U.C's amazing micro-rotor driven, COSC-certified, Geneva Seal flying tourbillon with stop seconds function into the watch. The absolute dazzling technical powerhouse of 2021's Chopard L.U.C Flying T Special was made in five examples and, to this day, represents the single loftiest achievement in our collaborative editions. I now have the pleasure of unveiling our third partnership, a 39mm steel Qualité Fleurier luminous scientific dial timepiece that I absolutely love. What is Qualité Fleurier, you ask? It is only the most challenging series of tests for quality and accuracy ever created by the Swiss watch industry, which means our new limited edition has been put through the most grueling paces as an assurance of performance before it lands on your wrist.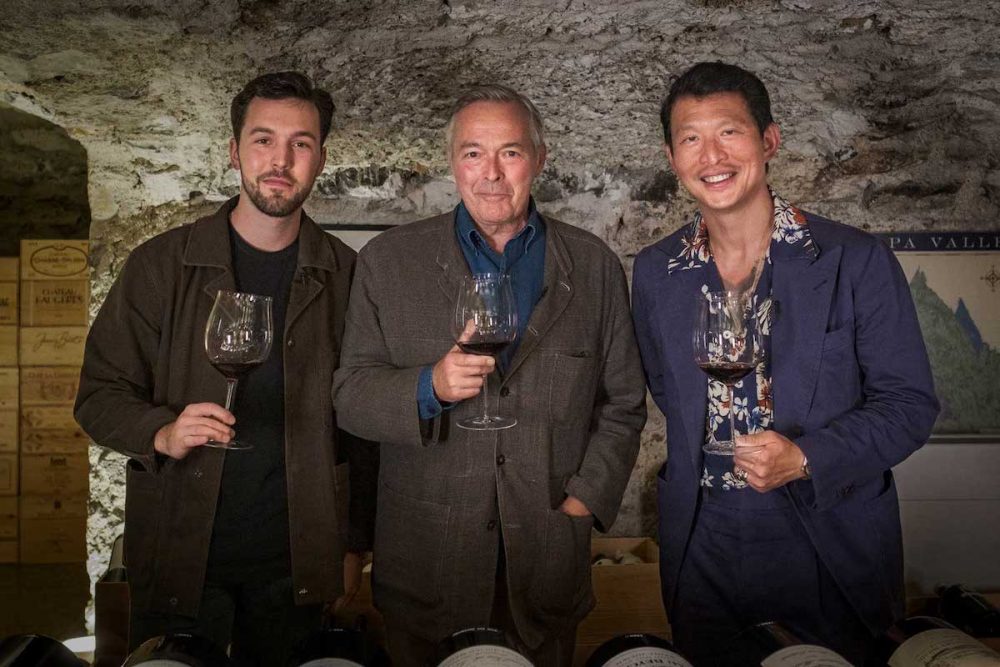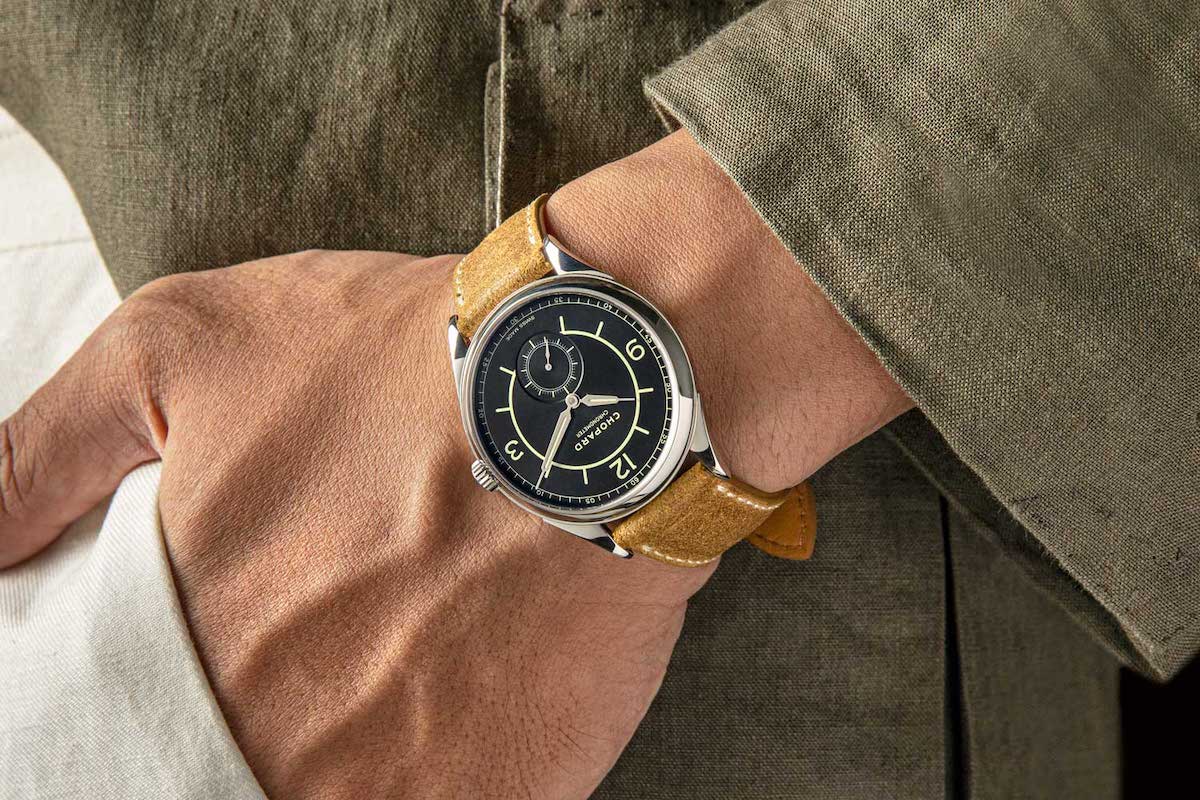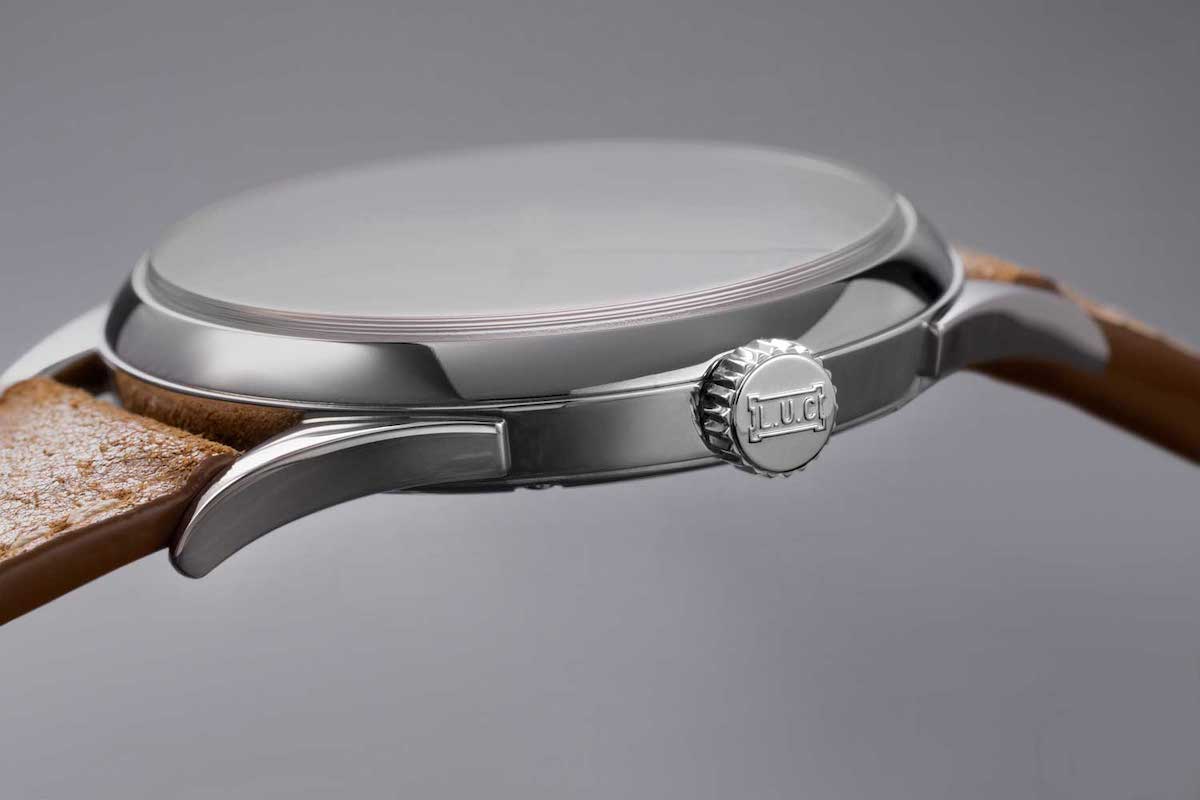 I recall being fascinated by a machine during a launch event for Qualité Fleurier (QF). At the time, QF certification represented the most challenging and complete battery of tests to certify the quality, shock resistance and accuracy of Swiss wristwatches. It was also the first and, back then, the only process that tested complete watches and not just movements. The machine in question was a robotic arm created specifically for the QF, and it would become a device notorious for torturing a multitude of horological finery. I would learn that this cybernetic appendage struck terror into all that had crossed its path. As I observed it twisting one way, then jerking itself in the opposite direction so violently that it threatened to break the space time continuum, I noticed a calm Karl-Friedrich Scheufele beside me. He smiled and remarked, "Impressive, isn't it?" Clearly, he was the only one with absolute confidence in the reliability of the L.U.C calibers, which were experiencing the equivalent g-force of a Mercury astronaut shot into space.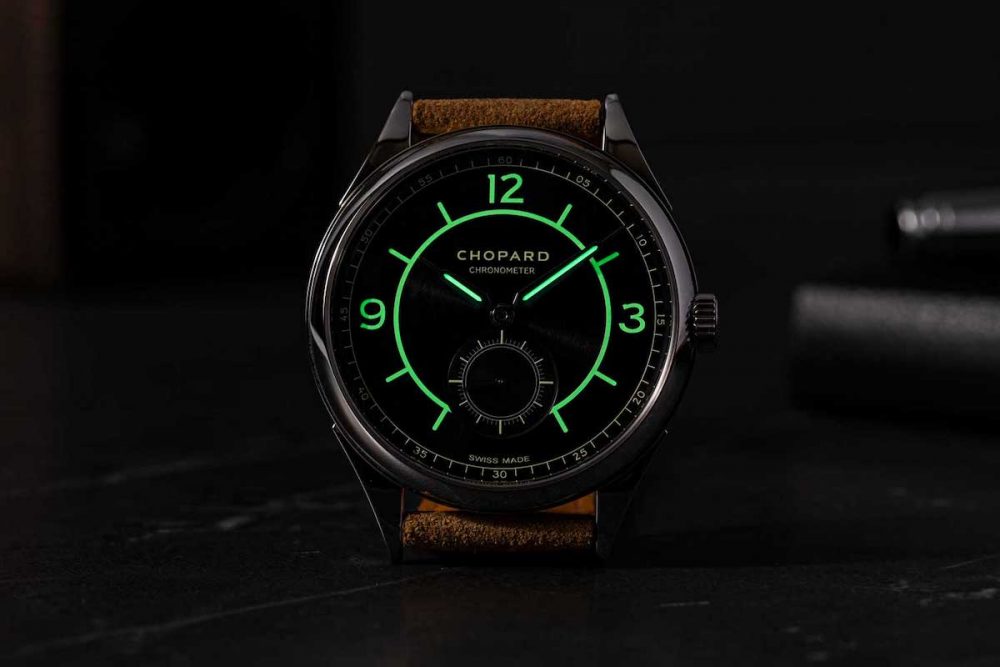 Chopard and Qualité Fleurier
Qualité Fleurier was originally created in 2004 (check first watch was launched) by Chopard L.U.C, Parmigiani Fleurier and Bovet with the goal of elevating the objective testing of finished luxury Swiss watches to the highest level imaginable. The first Chopard L.U.C watch to receive QF certification was the Chopard L.U.C Qualité Fleurier model in 2005. Even by today's standards, with the adoption of METAS certification by several of the industry's best brands, the criteria for Qualité Fleurier is arguably still the most challenging in the world. Here's why: First, the watch head (the bracelet and clasp are excluded) has to be 100-percent manufactured in Switzerland. Also, all the final stages of assembly after the final transformation of materials has to take place in Switzerland. That means every aspect of the decoration, assembly, regulation and final control process needs to be carried out within Swiss borders. Second, every watch must have already received COSC certification. This means that movements are each tested to be within tolerances of -4/+6 seconds a day by the famous Contrôle Officiel Suisse des Chronomètres. Movements are tested in five positions and at 8, 23 and 38 degrees Celsius, and they need to run for 15 days where they are re-tested daily. It is of note that from the very first Chopard L.U.C movement, each and every caliber (except one without a seconds hand, making it impossible to test) has been the recipient of COSC certification, demonstrating Scheufele's absolute commitment to the objective demonstration of their accuracy.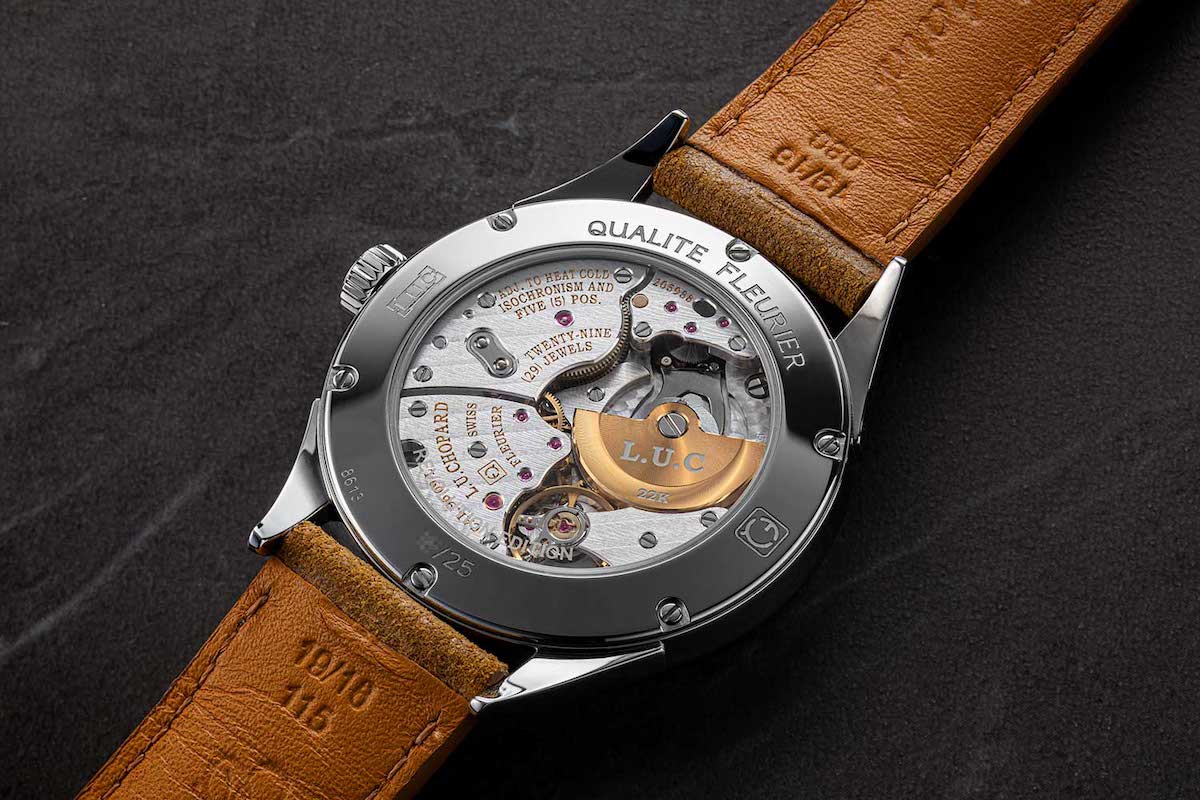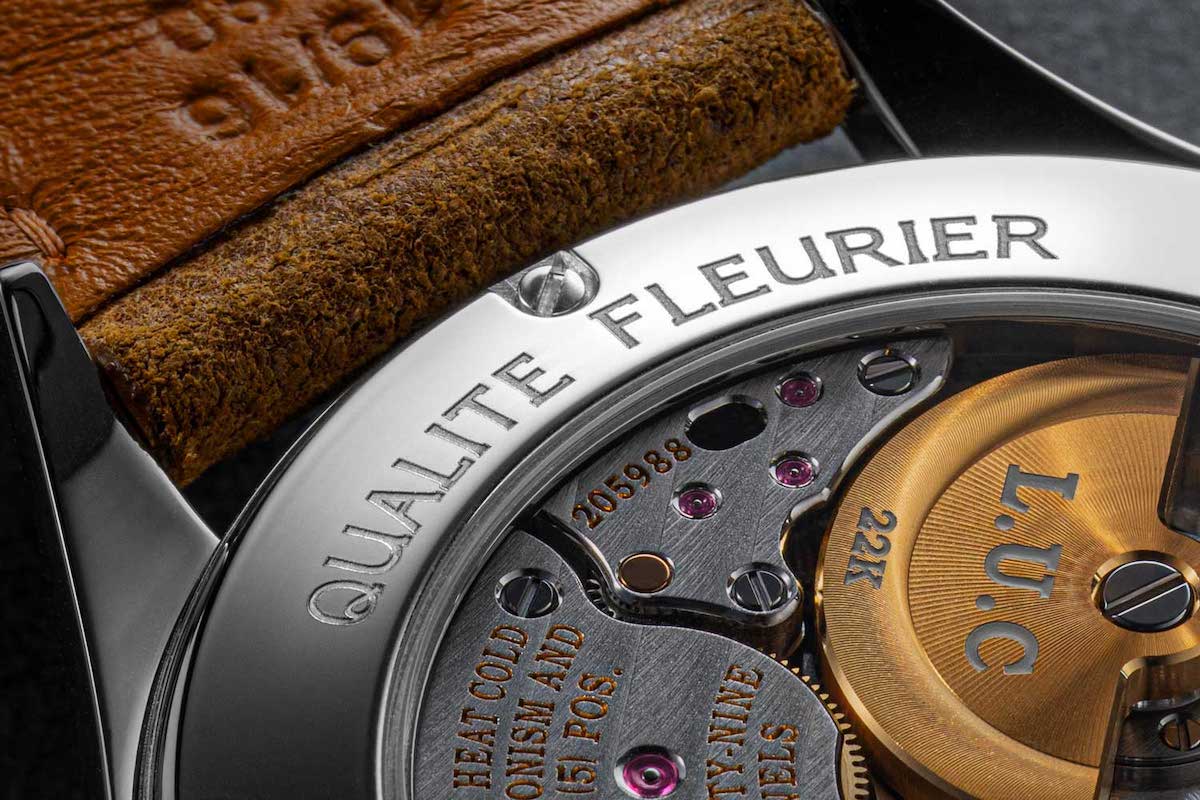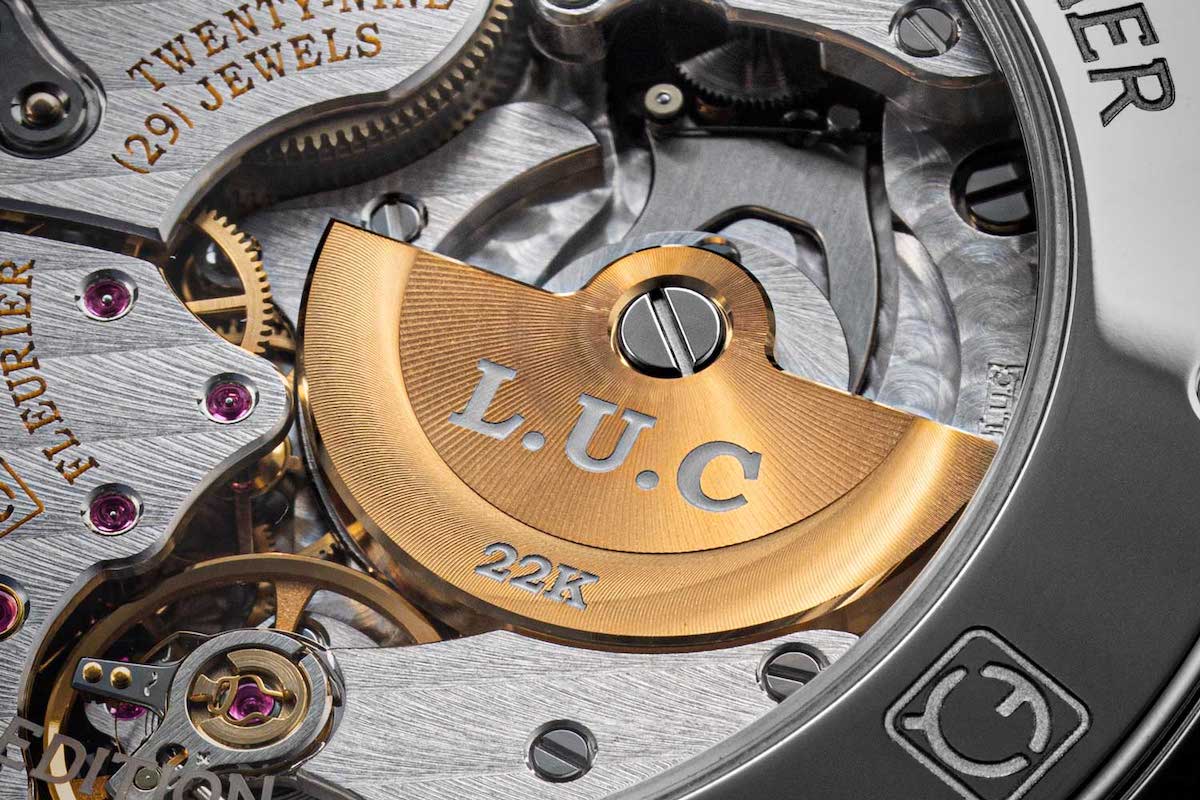 After this, watches are then subjected to the infamous Chronofiable test, which features the aforementioned robotic arm. This features multiple procedures to simulate aging cycles to the watches, from pushing and pulling the stem and pushers, to turning the bezel. All this before watches are subjected to the magnetic field tests, water resistance tests and the dreaded mouton pendule shock resistance test where a giant hammer is sent slamming into the side of the watch, sending it flying. Then the watches are inspected to ensure they meet the finishing criteria — no parts made of plastic are allowed, and only traditional, precious or avant-garde materials (e.g. silicon) are permitted. Finally, the Fleuritest machine simulates wear in all possible positions over the course of 24 hours. Cut to 17 years later, and the project has long since been abandoned by Parmigiani Fleurier and Bovet. Which is not to cast any negative connotation on them, because what is clear is that this borderline insane level of testing also comes at a very high price. But Scheufele is very open to continuing the initiative. He explains, "To me, it is important that Qualité Fleurier continues because it still remains the highest level of objective testing in Swiss watchmaking." Since 2005, a total of 10 Qualité Fleurier models have been released by Chopard L.U.C. These are (in chronological order):
L.U.C Qualité Fleurier (2005)
L.U.C Qualité Fleurier (2006)
L.U.C Tech Qualité Fleurier (2009)
L.U.C Tourbillon Triple Certification (2011)
L.U.C Qualité Fleurier (2012)
L.U.C Quattro Tourbillon QF Fairmined (2014)
L.U.C Qualité Fleurier (2014)
L.U.C XPS Twist QF Fairmined (2017)
L.U.C XPS Twist QF Fairmined (2019)
L.U.C QF Jubilee (2021)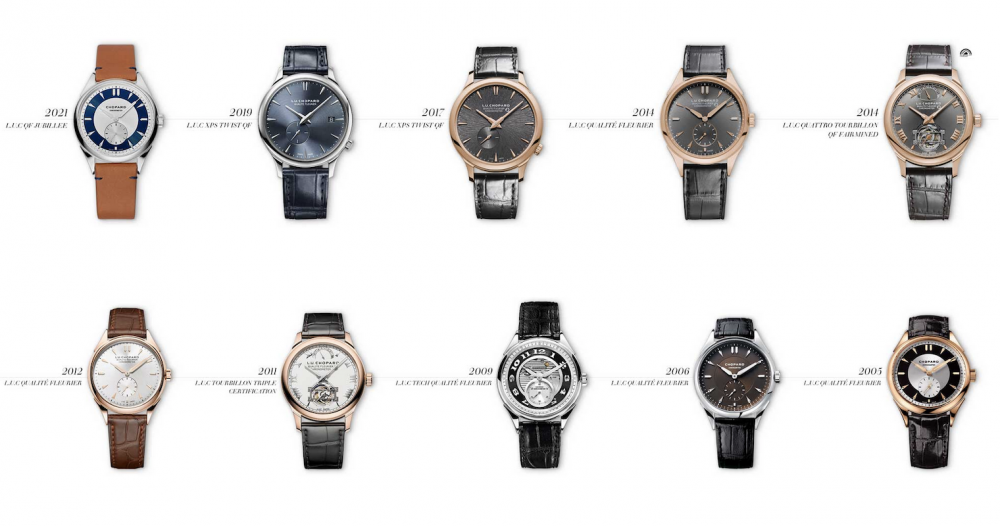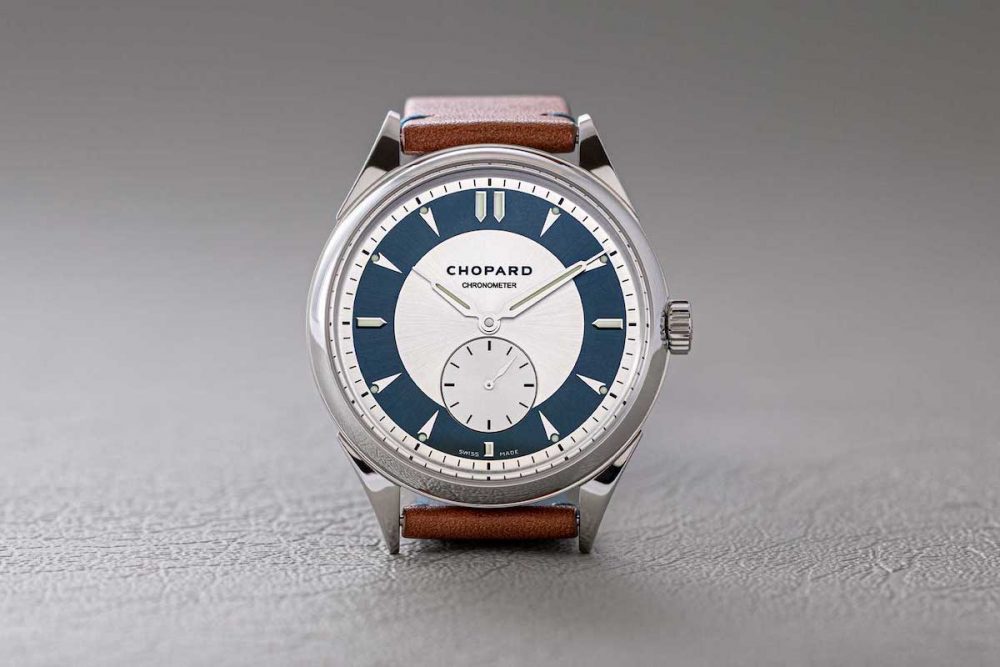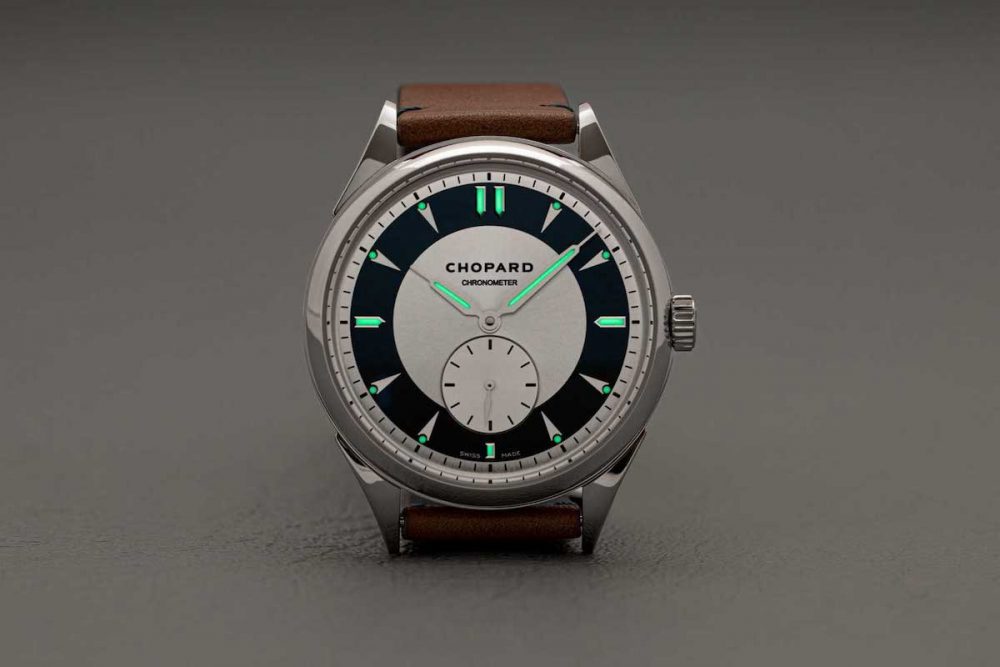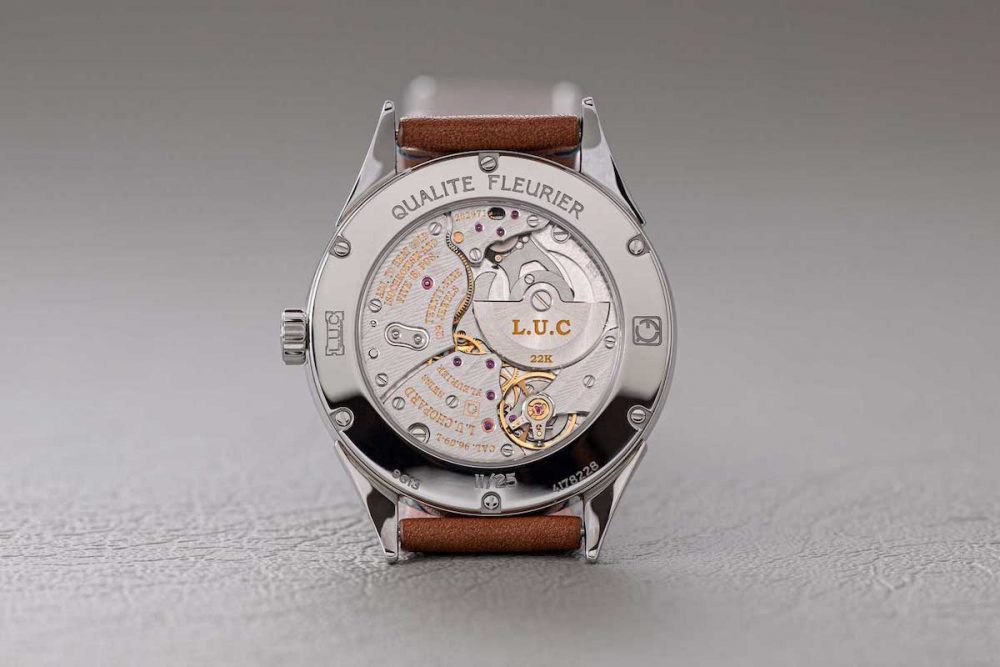 And so the latest collaboration between
The Rake
&
Revolution
and this extraordinary manufacture has the honor of being Qualité Fleurier watch number 11. To be fair, it is actually an extension of the model named the Chopard L.U.C QF Jubilee that was introduced last year. This was a 25-piece micro-edition that was snapped up by savvy collectors in a matter of seconds. Literally. There was even one collector in Singapore who wanted to purchase all 25 pieces for himself and his friends. Such was the overwhelming demand for the QF Jubilee that boutiques had to refund deposits as orders flooded in simultaneously from around the world. The lucky few who were privileged to receive the QF Jubilee get to own the very first steel Qualité Fleurier watch ever made.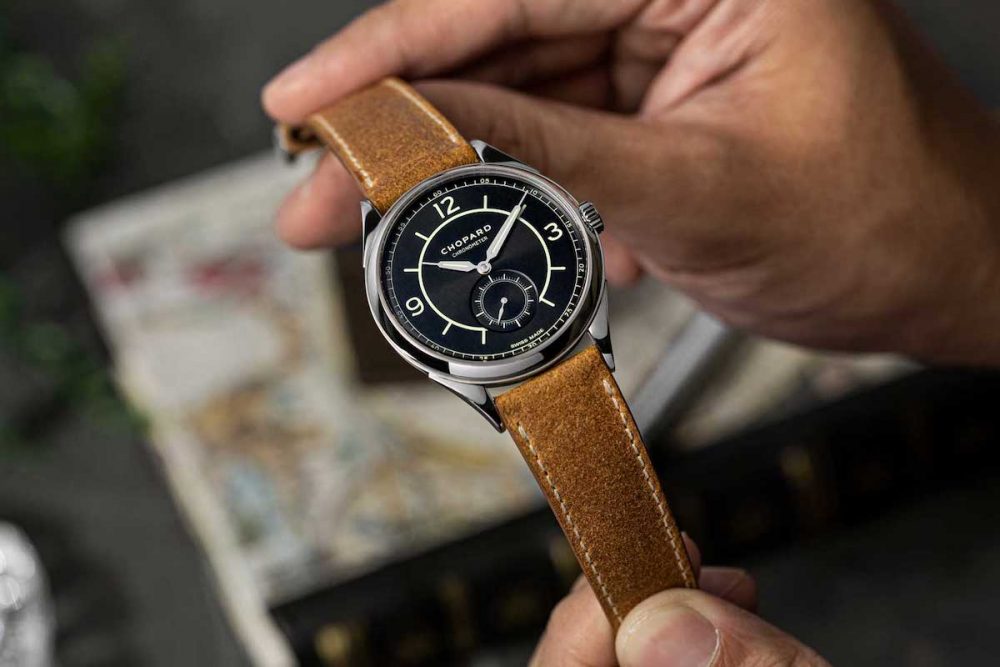 Chopard L.U.C QF Jubilee
The QF Jubilee project started several years ago at the Basel fair. For all its multi-accredited performance élan, what I had long admired about the original 2005 QF case was its beauty, in particular related to its shaped soldered lugs that are concupiscent, like the flared wheels of the 1979 Porsche 930 Turbo I owned as a young man. This type of complex case making is something of a lost art form and is reminiscent of the output of the extraordinarily creative case makers from the 1950s, which resulted in watches like the Patek Philippe 2569. Then there was the size of 39mm, which to me was the perfect balance between visibility and elegance. At 8.9mm in thickness, the case was also suitably elegant. When discussing it with Scheufele and Pau Infante, at the time the man in charge of all things L.U.C, the conversation rapidly arrived at the idea of a steel case watch. Somehow, the idea of a QF watch in steel just seemed so cool.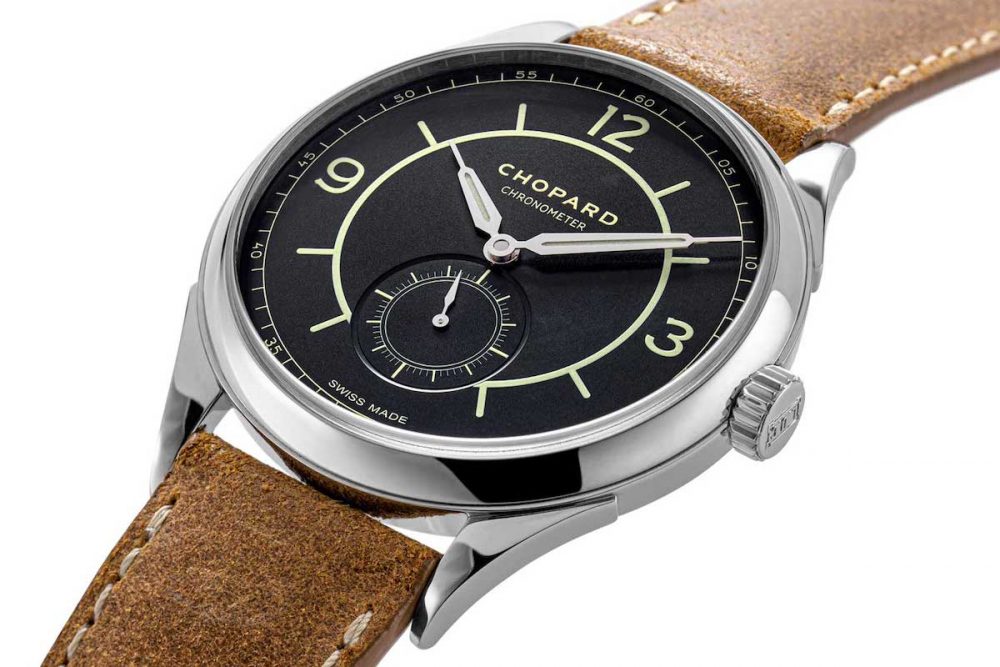 For the QF Jubilee, Chopard L.U.C combined this steel case with a stunning sector dial that is, from a design perspective, a faithful tribute to the original watch from 2005. You have the same Deco style sector design. The original watch featured a multi-colored dial with a subtle sunray silver sector in the center overlaid with a silver sub-seconds dial featuring an opaline decoration. The next sector, which featured the chevron indexes at 12, 3, 6 and 9 counterpointed by arrow-shaped indexes for the remaining hours, was rendered in galvanic black with the minute track again in silver. Hands were an interesting combination of javelin and syringe shaped. The case was mirror-polished to the highest level possible, including the millimeter-deep step of the soldered lugs where they faced the crown. The dial of the new 25-piece limited edition features a stronger brushed sunray pattern that extends from the cannon pinion to the rehaut, creating a vibrant, animated and sporty feel to the watch. But otherwise, the sectors are now in a handsome silver gray and blue, as well as the hands and markers, following the genetic blueprint of the original watch from 2005, a testament to the strength of Scheufele's original design.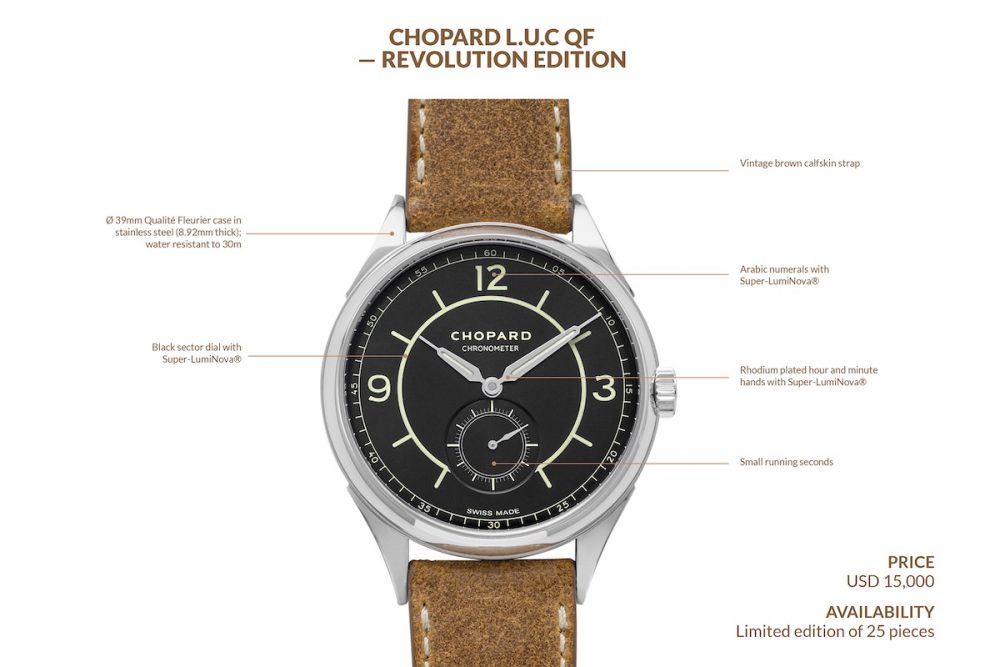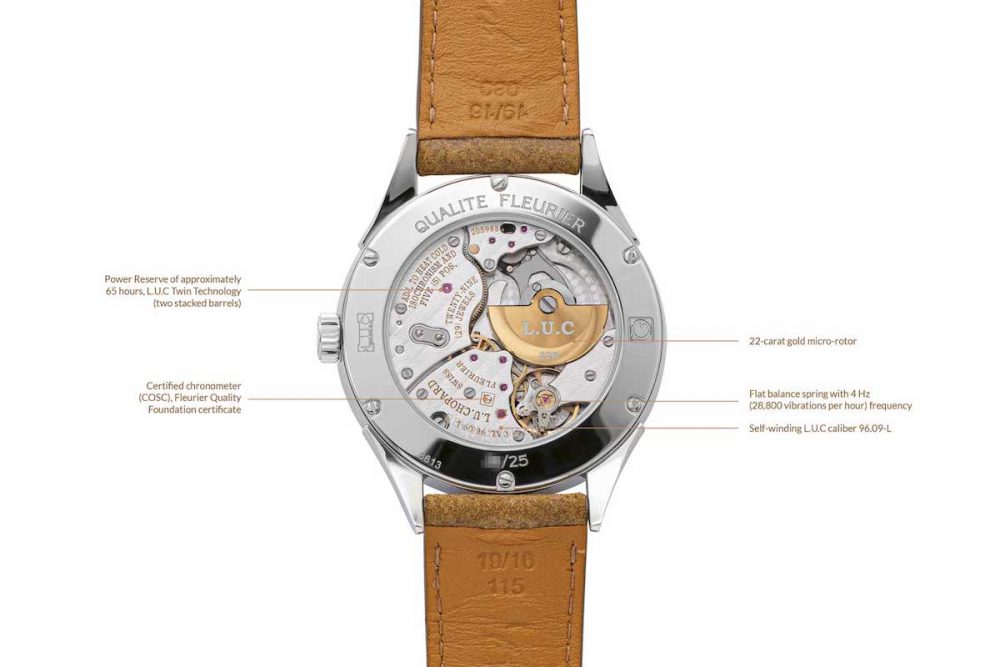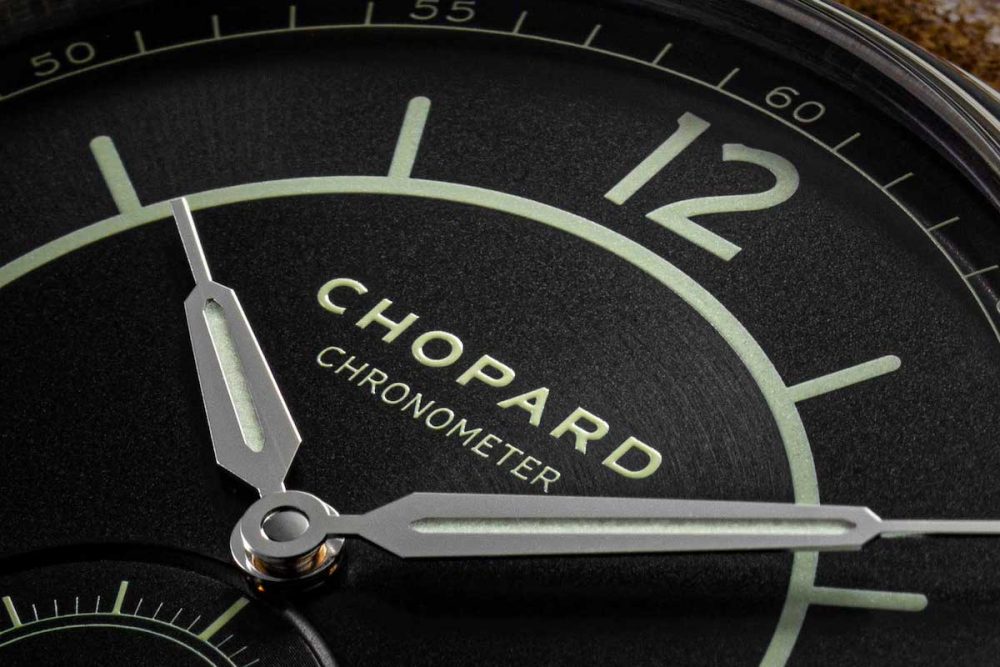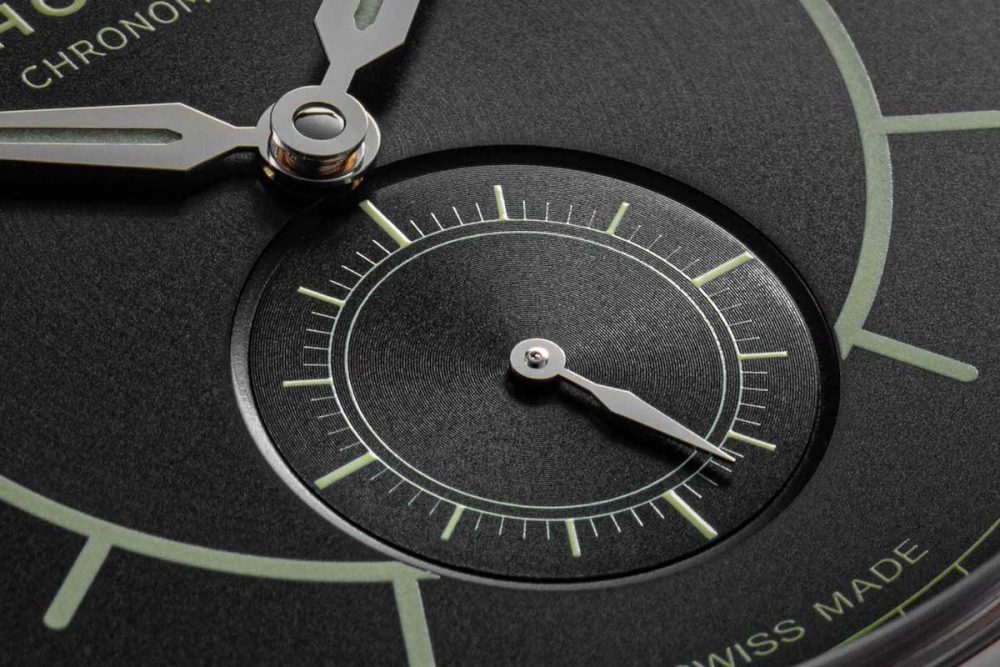 In parallel, thanks to the kindness of Karl-Friedrich Scheufele, I was given the opportunity to work on a second design for a steel QF Jubilee watch with a slightly more adventurous or "racy" dial. I immediately felt that for a steel timepiece that features the greatest accreditation for accuracy and quality in the world, I wanted to use a scientific or sector dial. This type of dial was popularized in the 1940s for scientific chronometer-type watches. There are many vintage Omega, Patek Philippe and Longines steel watches from the '40s with this kind of design. But in order to get it just right, I knew I had to consult the man that I consider to be one of the greatest watch collectors on earth, Auro Montanari, otherwise known by his nom de plume John Goldberger. A man of extraordinary generosity, he immediately agreed to help. But after testing several designs, the watch still did not feel right.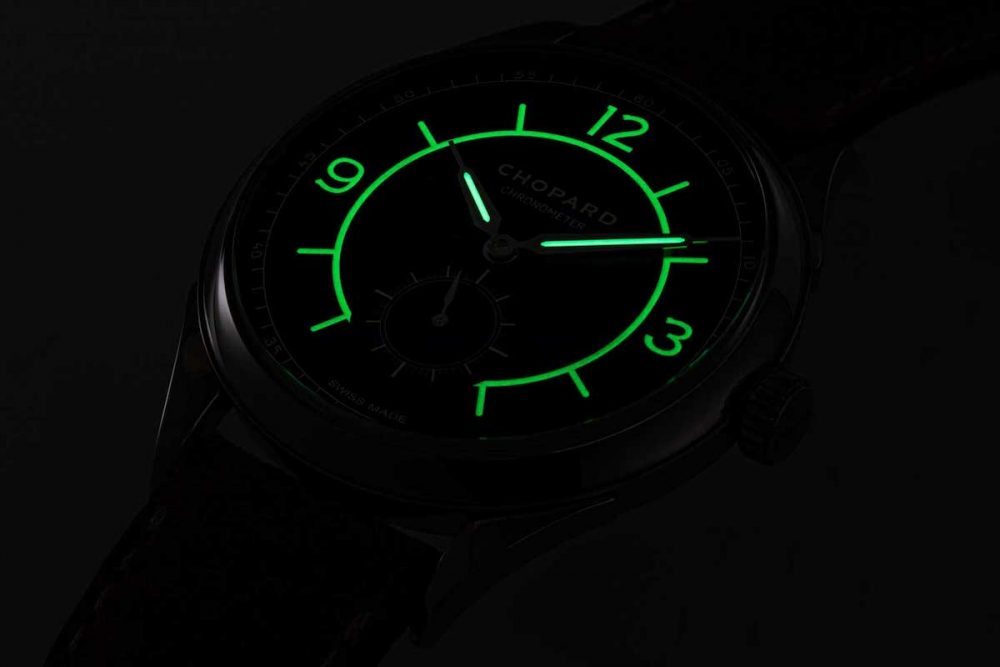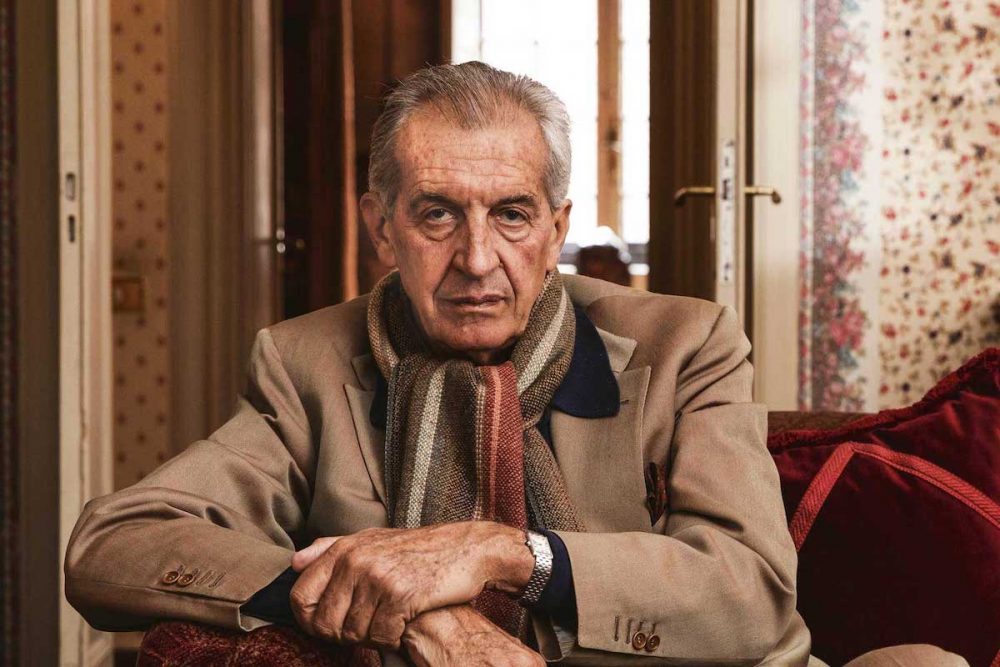 Then everything came together when Scheufele and Montanari met each other at Chopard's headquarters in Meyrin, Switzerland. Flipping through his treasure trove of images on Montanari's iPad, we all suddenly stopped at something we collectively loved. It was a watch with a black dial featuring a luminous sector track and luminous Arabic indexes. Said Montanari, "This kind of dial is very appealing. And is something more unique. You will have to find the perfect shade of LumiNova to hint at the inspiration, which are these old radium dials, but at the same time you don't want to go too far." "I agree," said Scheufele, "The character of the dial works very well with the identity of the QF watch, especially in steel, and I like the practicality of this fully luminous dial." With that, he and his team worked on several renderings before we arrived at a design we all loved, which is what you see before you today. The steel Chopard L.U.C QF — The Rake & Revolution Edition with the luminous sector track and Arabic markers has been made in just 25 pieces and is fitted to an aged brown calfskin strap. I would like to thank both Scheufele and Montanari for their wonderful input into this project, and I see this beautiful timepiece to be far more an expression of their creativity than it is mine.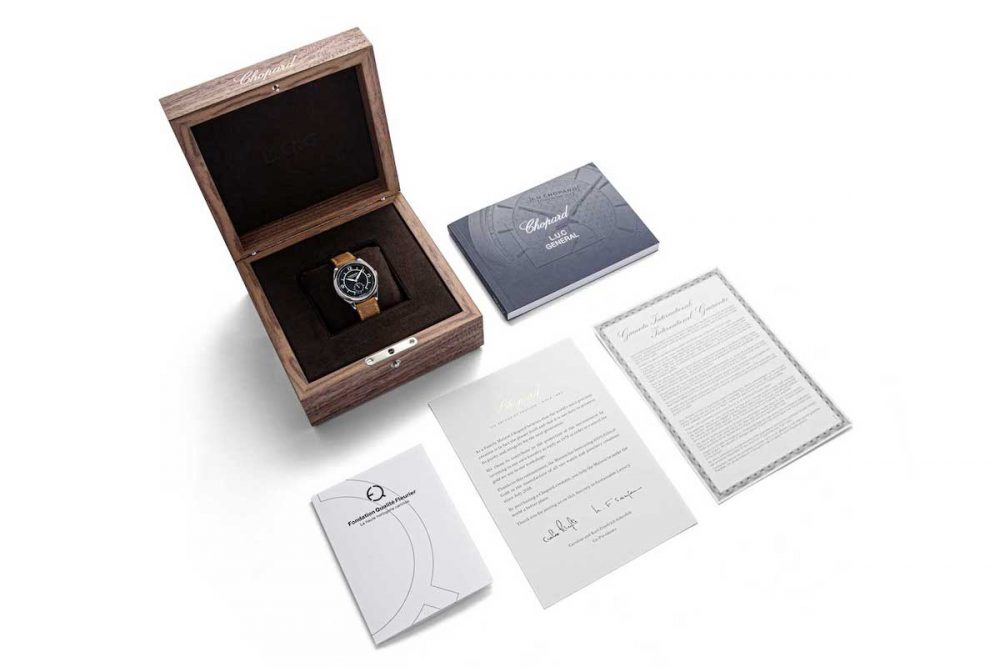 Tech Specs
Chopard L.U.C QF —The Rake & Revolution Edition
Ref:
168613-3002
Movement
: Self-winding L.U.C caliber 96.09-L; 65-hour power reserve
Functions
: Hours, minutes and small seconds
Case: 39mm
; stainless steel; water resistant to 30m
Dia
l: Black; Super-LumiNova filled Arabic numerals
Strap
: Vintage brown calfskin; stainless steel pin buckle
Price
: USD 15,000
Availability
: Limited edition of 25 pieces