Introducing the Bvlgari Octo Finissimo Chronograph GMT in Black Ceramic: The "Nuclear Option'' for Revolution & The Rake
In the follow-up to "White Light," the fully luminous Bvlgari Octo Finissimo Chronograph GMT created for us last year, we've gone nuclear with a case in black sandblasted ceramic and a dial so luminous it can be seen from space.
Ladies and gentlemen, run for cover because we've gone nuclear. OK, forgive the levity. We have not followed in Robert Oppenheimer's footsteps. And it is not our intention to generate the existential malaise that a certain sartorially challenged individual from Pyongyang has. Instead, I refer to the dial of our latest collaboration with one of our very favourite brands, Bvlgari. Let's flashback to last year when we launched our Octo Finissimo Chronograph GMT in sandblasted titanium, with a fully luminous dial designed by the incredible Fabrizio Buonamassa. As you may recall, the objective with that watch was to create the ultimate "tool" version of the stunning record-setting automatic chronograph with the peripheral rotor. Any tool watch needs to have luminous indexes and hands. But in the Octo Finissimo, this proved almost impossible. Says Buonamassa, "With a dial that is only 0.3mm thick, the indexes and hands were just too thin to be coated with LumiNova. But then I thought, what if we painted the entire dial and then all the indications would stand out in negative relief?" As you can imagine, I loved this. Buonamassa immediately set to work on dial prototyping.
This watch is now sold out.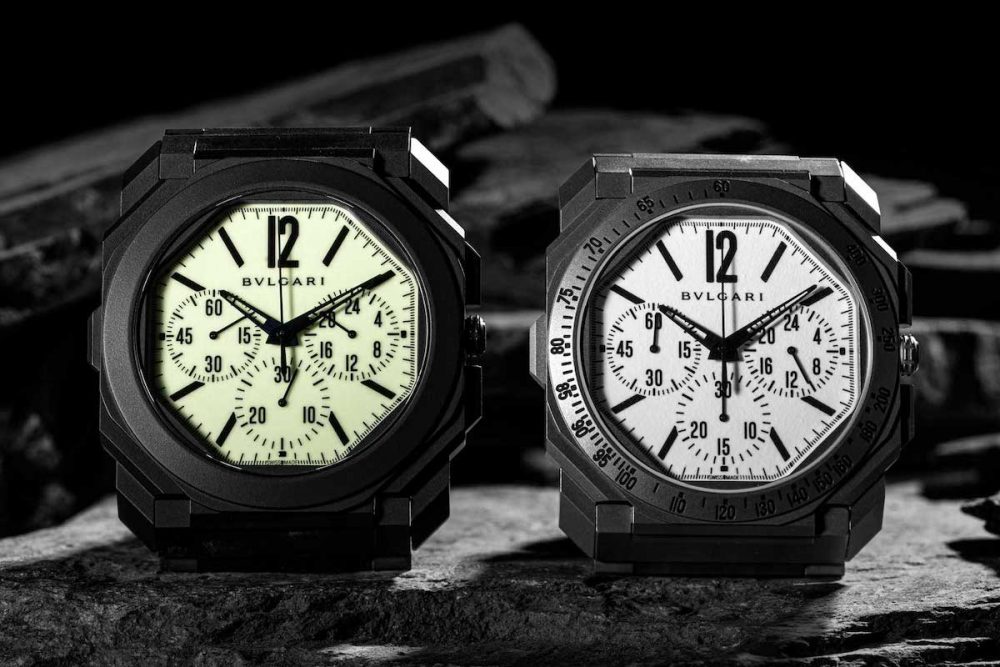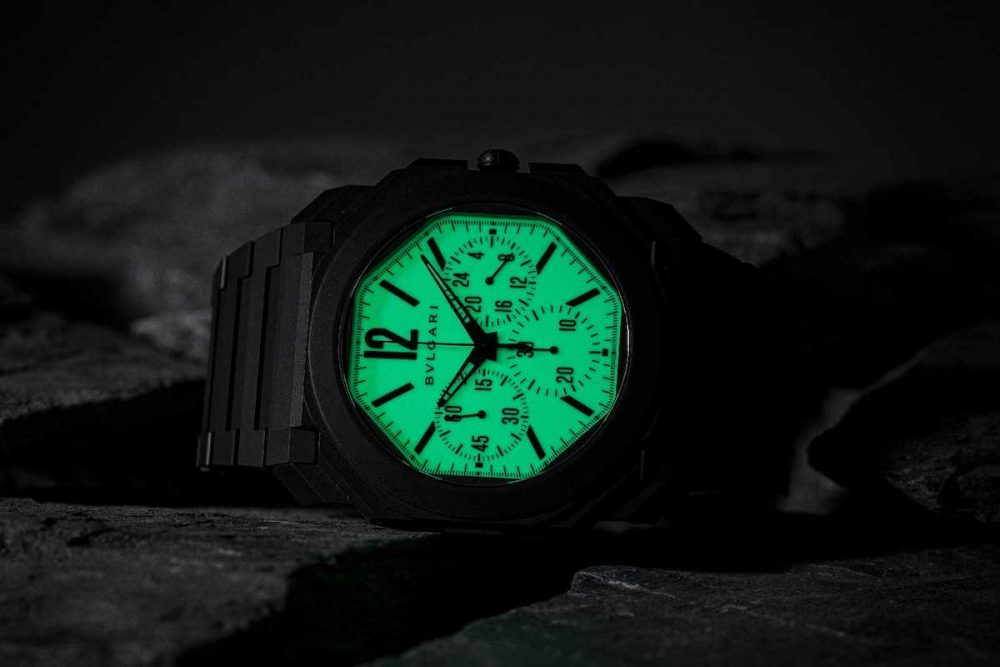 He explains, "We went through quite a few dials. Some were too luminous so that even in normal light they were glowing, and some were not luminous enough. We wanted to find just the right balance so it looked like a normal white dial chronograph in daylight but as soon as you moved into darkness, it glowed with perfect visibility and remained luminous for a long time." One of my favourite moments when lockdown was lifted was a video sent to me by Bvlgari CEO Jean-Christophe Babin as he and Buonamassa were discussing the dials over lunch. Eventually, we selected a white dial that remained in a relatively stable, non-luminous state when in normal light but became fully luminous in the dark. This was in order to keep the full lume element as a surprise for when owners went into ambient or dark conditions.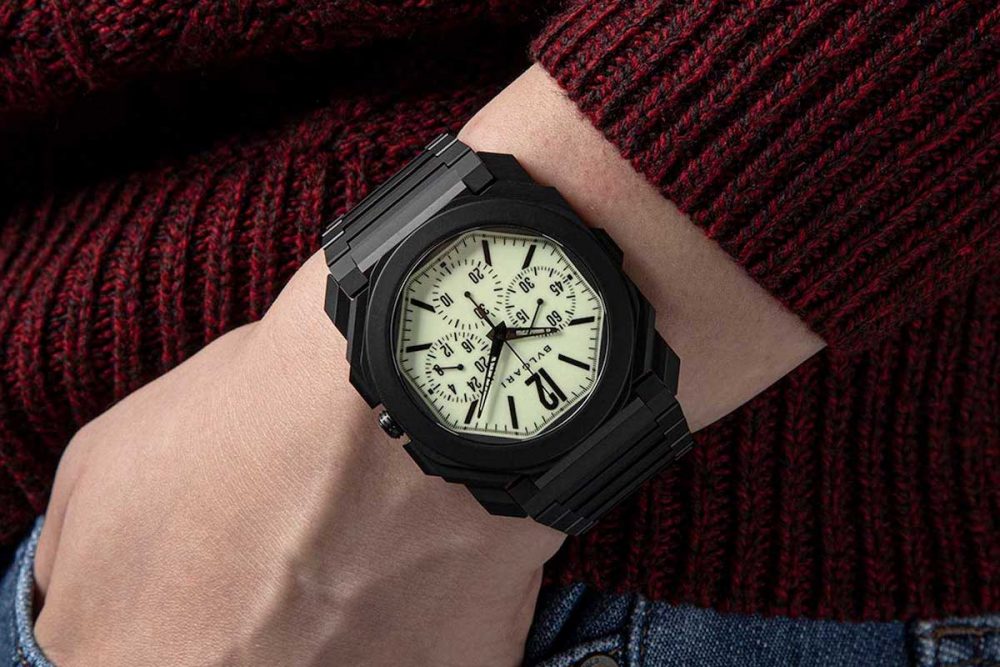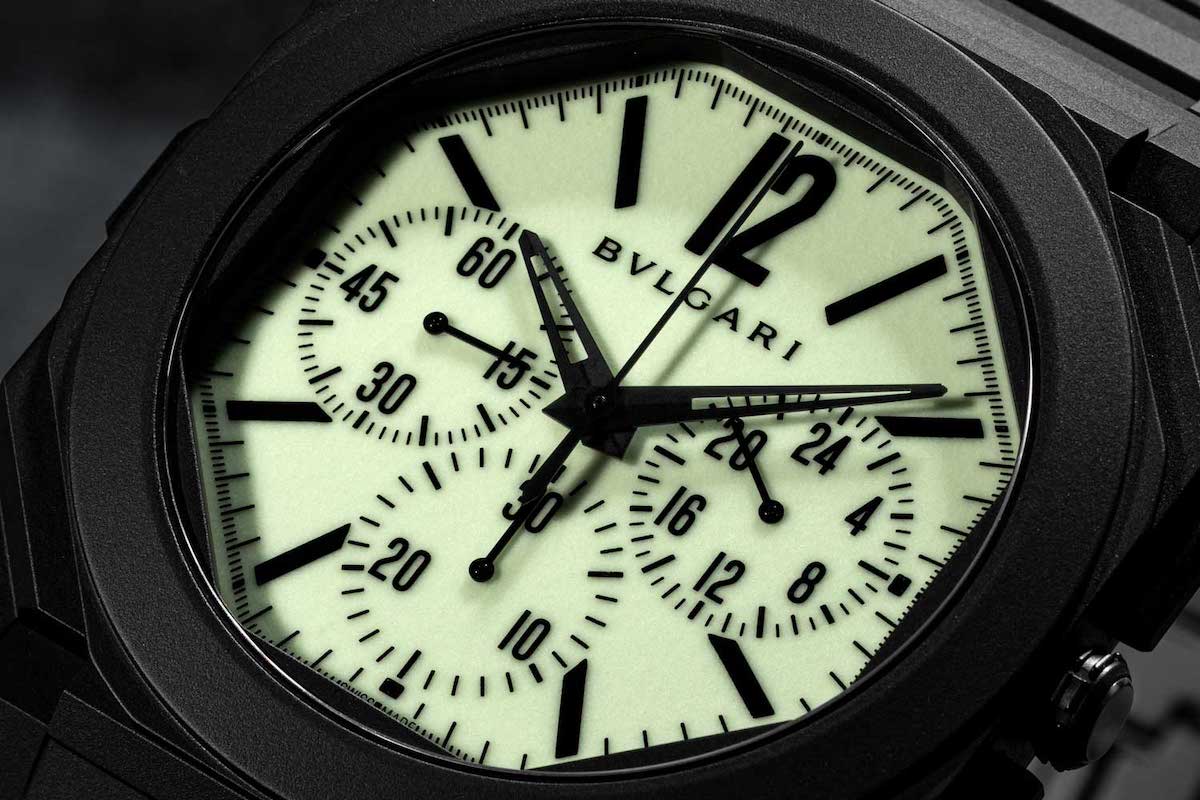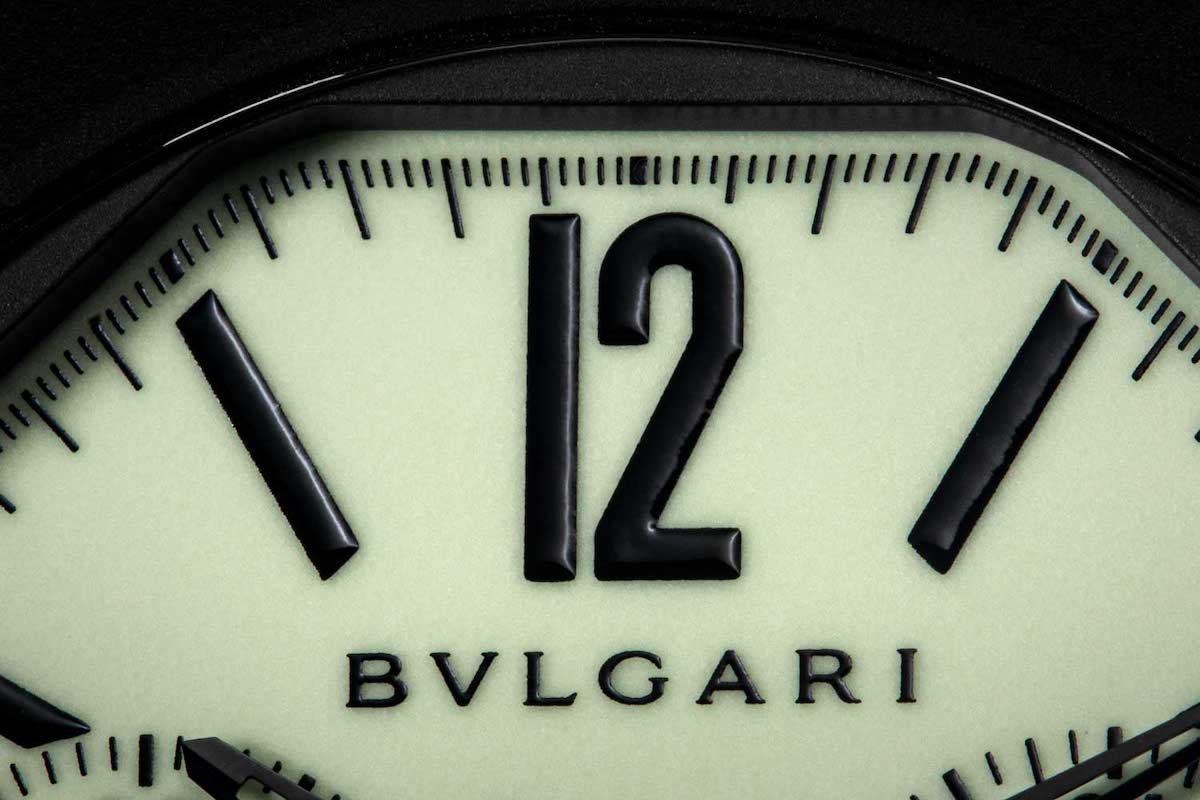 But there was a second prototype that was made that featured an altogether different dial. It was a dial that was so luminous that it basically glowed at maximum bright green incandescence all the time. It was so incredibly luminous that it almost gave the illusion of the watch having an LED screen. Accordingly, we named this dial the "Nuclear Option". Even though it was passed over for the "White Light" project, we couldn't stop thinking about the dial. It was just so cool. When I asked Buonamassa what kind of watch the "Nuclear Option" dial should go into, he immediately replied, "It should be the ultimate stealth material for maximum contrast, like black sandblasted ceramic." And with that, the follow-up to the "White Light" chronograph was born. The "Nuclear Option" for Revolution and The Rake is the first ever Octo Finissimo Chrono GMT in ceramic. When I first set eyes on the prototype, I was completely blown away. The watch looked like something that should be on the wrist of Neo in the new Matrix movie. Because of the hyper luminous quality of the dial, it is not a watch for the faint of heart or anyone who doesn't want to be noticed in a dark club, bar or restaurant. It will basically be emitting maximum wattage on your wrist all the time. The Bvlgari Octo Finissimo Ceramic Chronograph GMT "Nuclear Option" will be made in a limited series of 30 watches.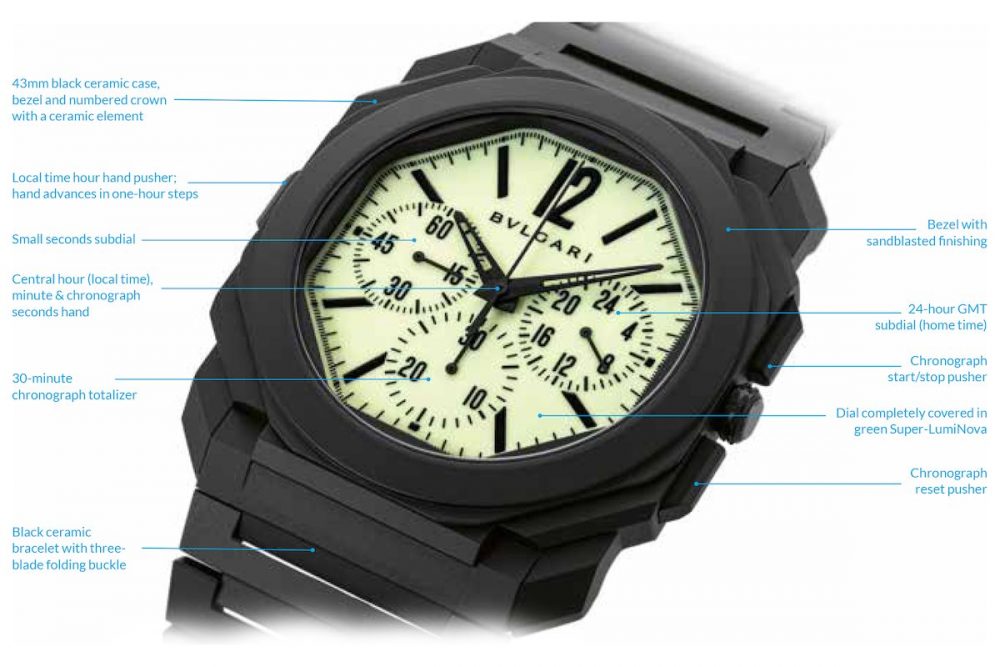 Now let's talk a little bit more about the Octo Finissimo model and what it means to modern watch culture. Since 2014, this model has become the most important all-new sports chic watch of the new millennium. Yes, the watches are incredibly thin and have set multiple records in almost every known complication, culminating in the incredible double retrograde perpetual calendar launched this year. But it's not the thinness alone that makes the Octo Finissimo so daring and profoundly relevant. It's a complete design revolution that plays on the dynamic tension between an ultra sleek case and a fierce muscular presence that is like nothing else the watch world has ever known. In 2019, Bvlgari unveiled their Octo Finissimo Chronograph GMT, which I could only describe as hypnotically alluring in its beauty and technical street cred. The 42mm case in Bvlgari's signature sandblasted titanium perfectly integrated the pusher on the left for the GMT function as well as the two pushers on the right for the chronograph function into its faceted architecture. Indeed, they were so subtle in appearance that you might initially mistake the start, stop and reset buttons as crown guards on a slightly more aggressive-looking variant of the Octo Finissimo. The counters on the dial were as follows: continuous seconds at nine o'clock, 24-hour home time at three o'clock and 30-minute counter at six o'clock. It was the perfect stealthy gentlemen's chronograph. Since its launch, the Octo Finissimo Chronograph GMT has been extrapolated in several different versions. This year, Bvlgari launched the Octo Finissimo S version of this timepiece which was rendered in stunning brushed and polished steel and featured a screw-down crown to provide 100 metres of water resistance to the watch. Bvlgari is slated to follow this up with the new ceramic version of the chronograph, and it is this case and bracelet that we are using.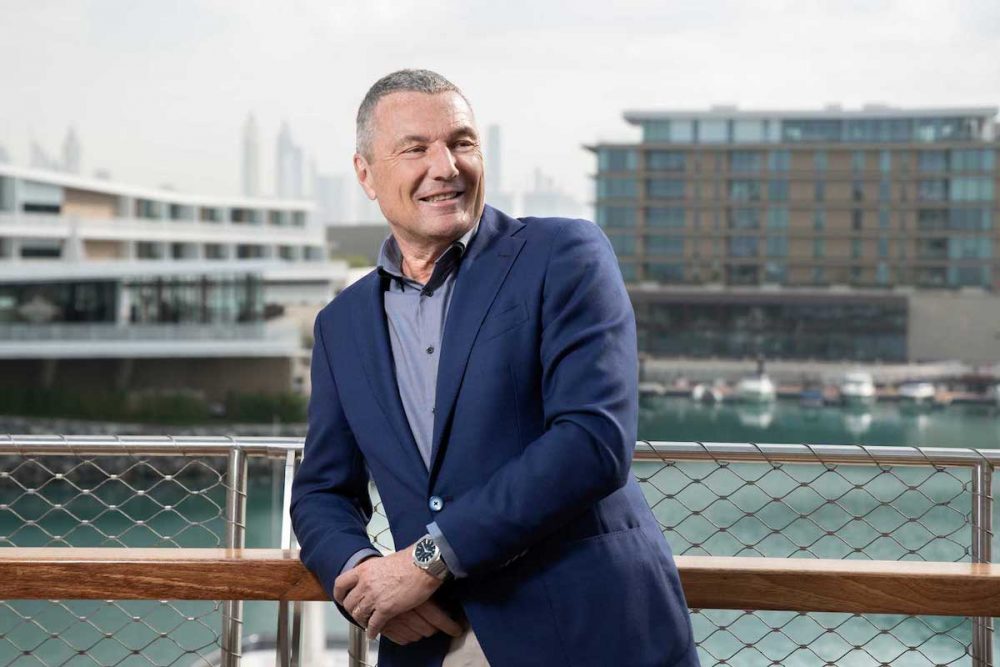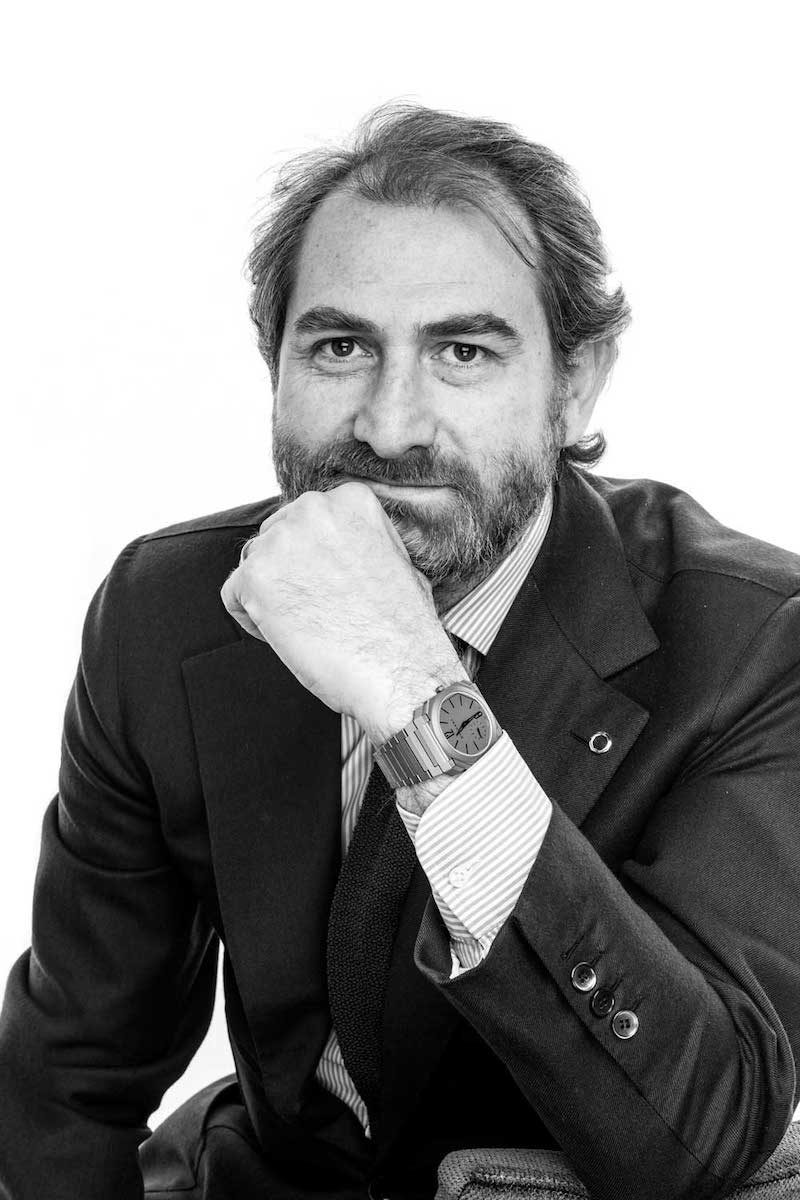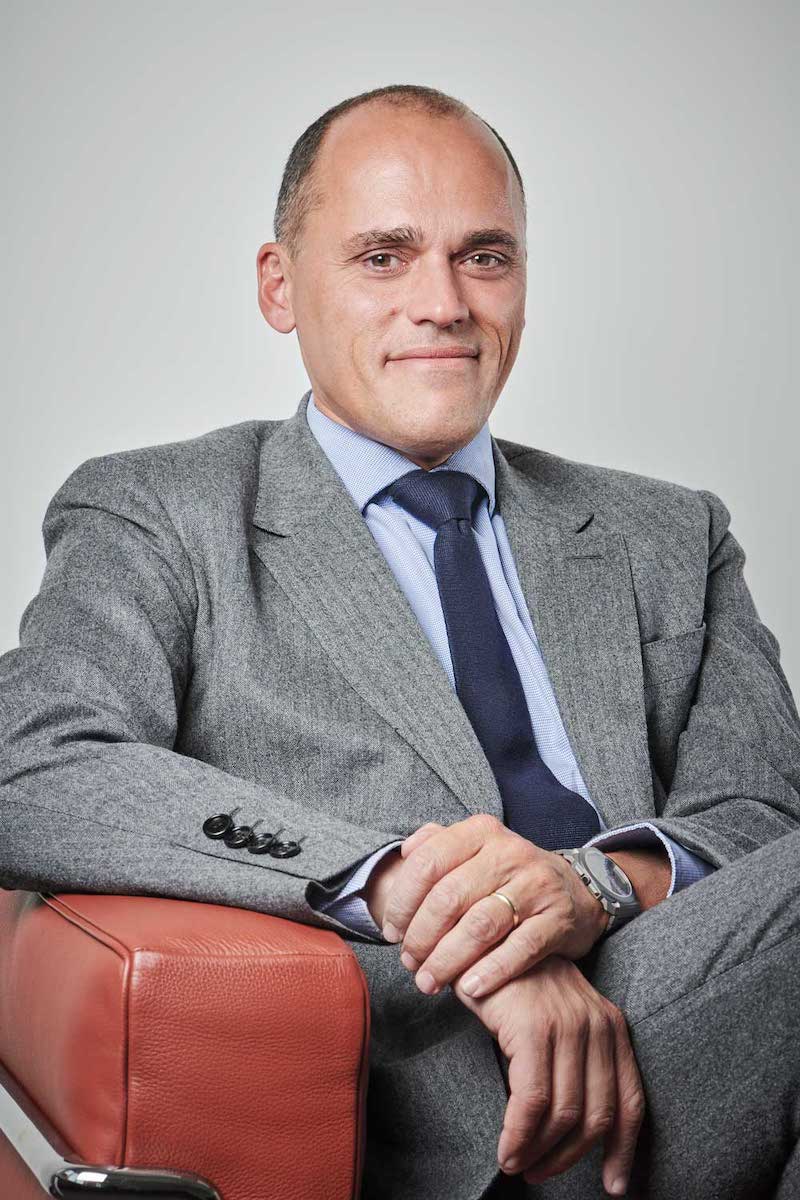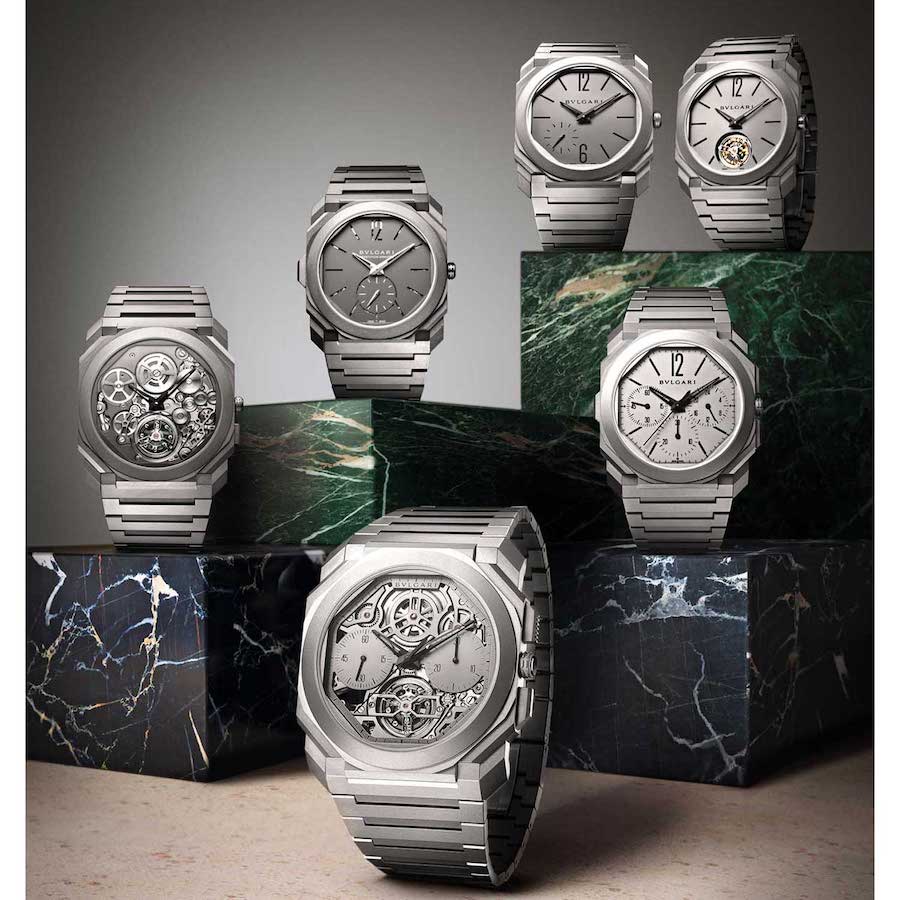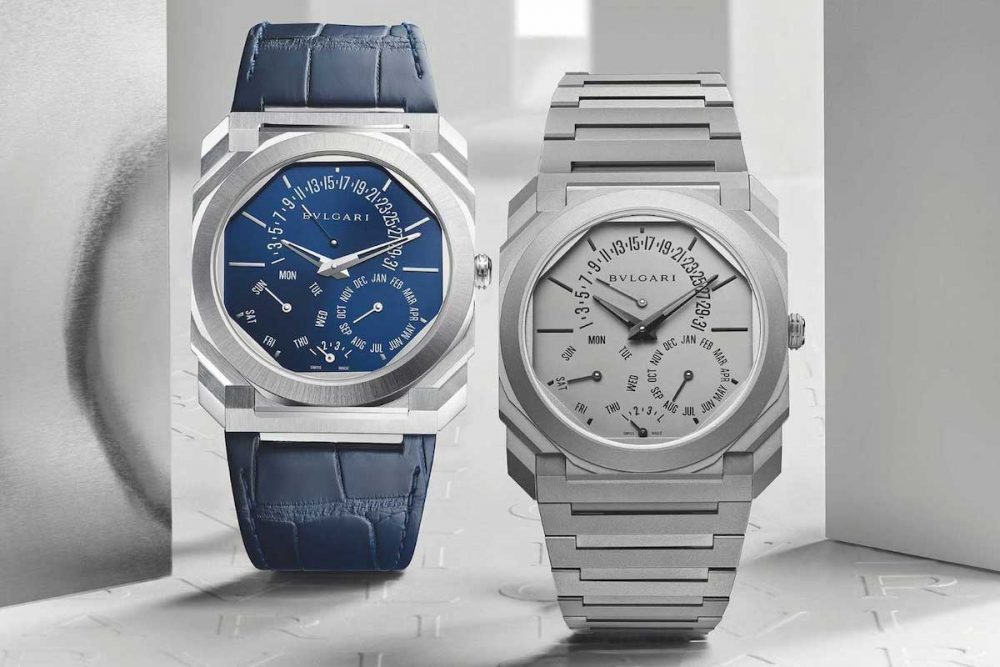 Says Bvlgari CEO Jean-Christophe Babin, "When we launched the Octo Finissimo, part of the mission was to make complicated watches relevant to an all-new generation. This is why we used materials like sandblasted titanium, carbon fibre and sandblasted ceramic — to dispel the notion of old-fashioned, flashy complicated watches and come with a vision that was stealthy, discreet and very stunning in its own way. We defined a new language for the complicated watch. Who else would make the world's thinnest minute repeater in first titanium and then carbon fibre? We feel the new versions of the ceramic Chronograph GMT is exactly this kind of watch." Says Fabrizio Buonamassa, "The ceramic versions of the Octo Finissimo were some of the most challenging to execute. First, we had to develop a way to finish ceramic at the same level we do other materials. Then, we had to find a way to make the bracelets in full ceramic including the clasp. Bear in mind that every link in the bracelet is a different size, and it was a major issue to ensure that each of these was made precisely so the bracelet [would] fit together seamlessly. We also felt that it would be pointless to make a ceramic bracelet but have a steel or titanium clasp, so we had to create the deployant from ceramic as well. Lastly, the construction of the watch is marginally thicker than the titanium model to ensure the durability of the case."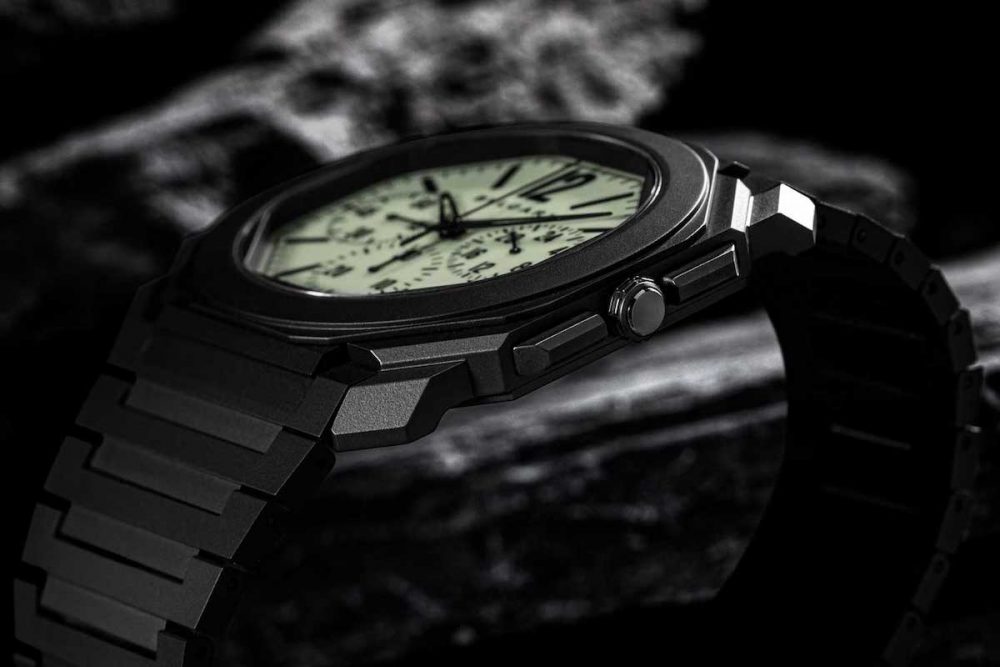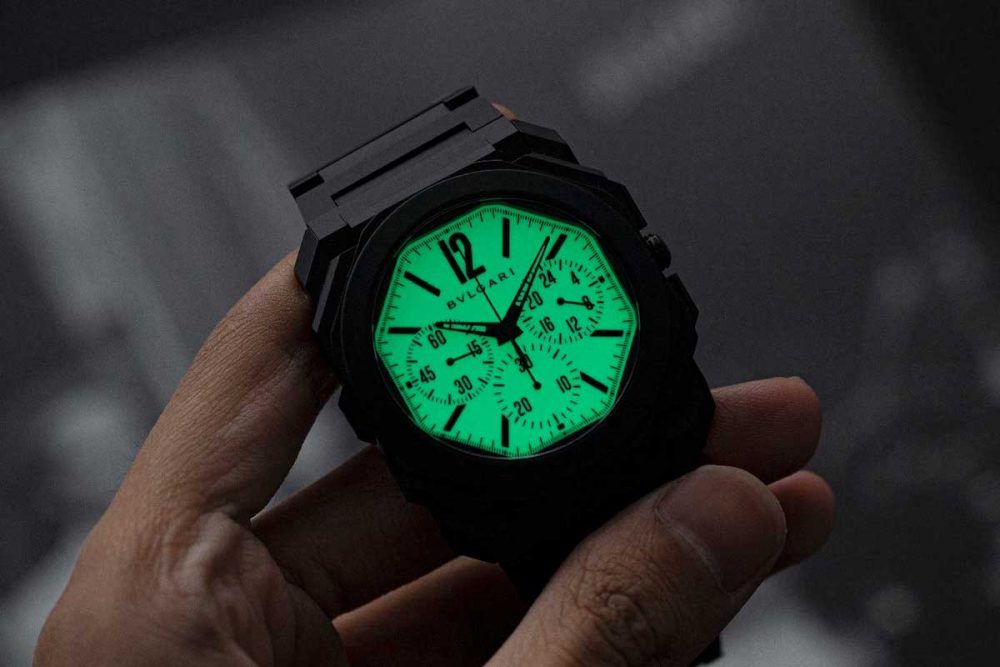 One question related to the "Nuclear Option" watch was, of course, if we could incorporate a tachymeter on the bezel, but after experiments with laser engraving, we realised the material was just too thin to ensure its long- term durability. In the end, neither Buonamassa nor myself ended up missing the tachymeter, preferring to keep the look of the new watch as stealthy as possible. Well, as stealthy as a watch with a dial that can probably be seen glowing by alien civilisations in outer space.
Technical Specifications
Bvlgari OCTO FINISSIMO CERAMIC CHRONOGRAPH GMT "NUCLEAR OPTION" FOR REVOLUTION & THE RAKE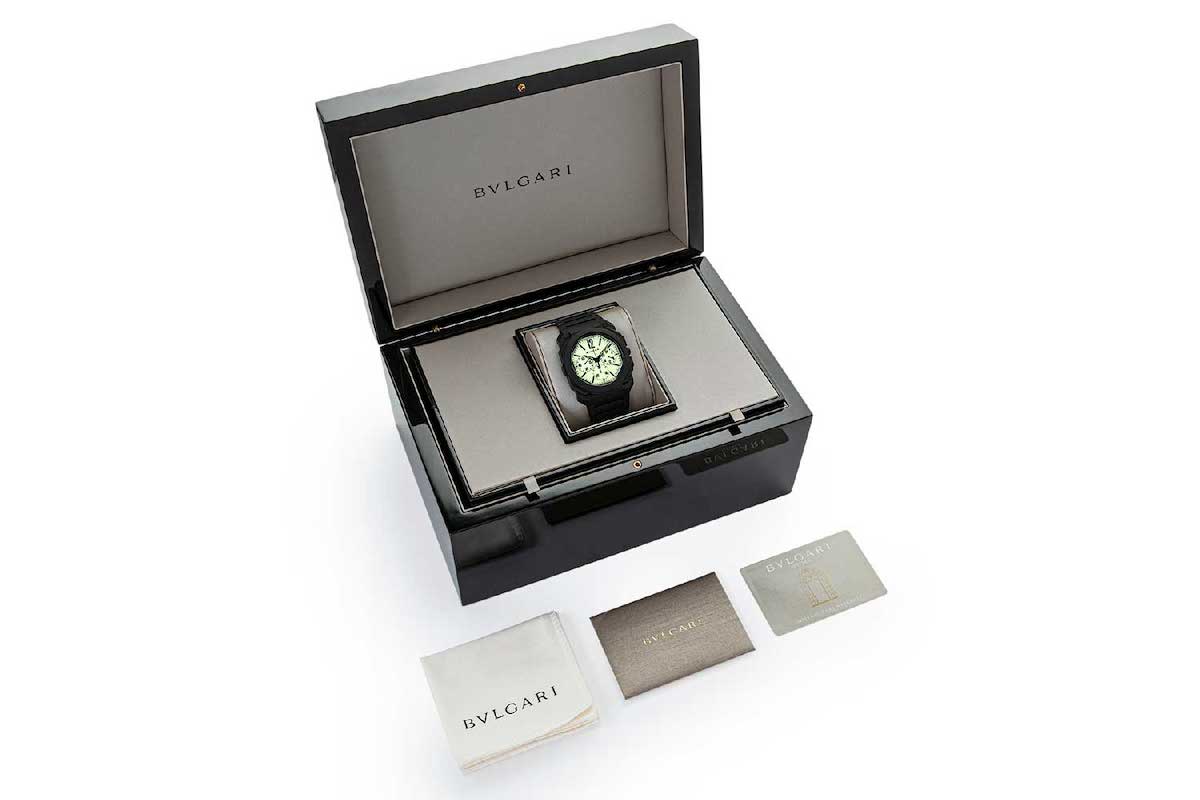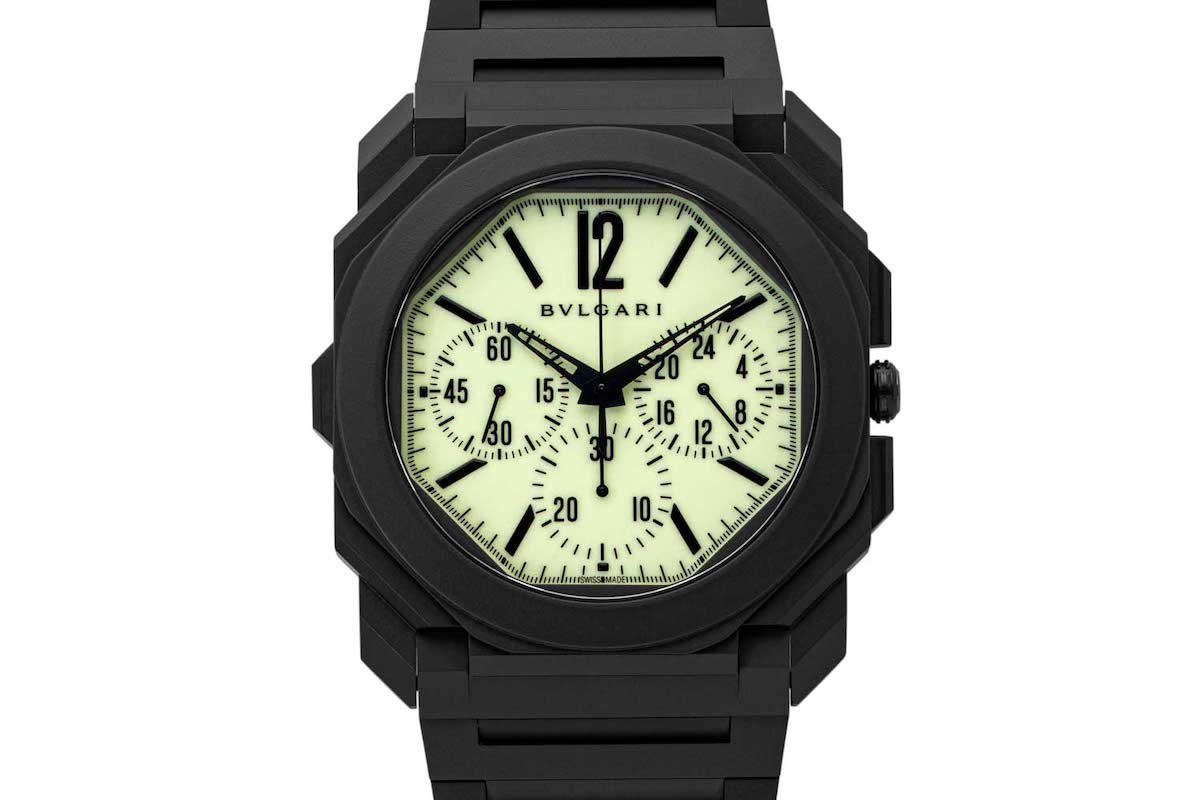 Movement
Self-winding calibre BVL 318; 55-hour power reserve
Functions
Hours, minutes, small seconds, chronograph and GMT
Case
43mm; black ceramic; water resistant to 30m
Strap
Black ceramic bracelet with three-blade folding buckle
Price
USD 19,550
Availability
Limited to 30 pieces