Invest: Chester Barrie x The Rake Get Carter Suit
The navy three-piece worn by Michael Caine in Get Carter is one of the greatest suits in modern cinema, which is why Chester Barrie collaborated with The Rake on a 21st century rendition.
Costume has long been used to communicate the nuances of a character to a film's audience, and certain outfits can have the power to impart information and develop personality in just a glance. Michael Caine's navy blue three-piece suit in
Get Carter
is one such ensemble as he plays the eponymous gangster Jack Carter. The suit is the character's status symbol, a trophy for transcending a working-class background, and draws parallels between Caine and Carter, who were both of an era when having a suit made was a rite of passage into adulthood.
It's thought that the suit was originally cut on Mount Street by Douglas Hayward, who Caine went to for most of his tailoring. Hayward, who was known as the 'showbiz tailor' and taught at the Royal College of Art, told his students "You can't do anything unless you can cut". Anderson & Sheppard's Audie Charles (who worked with Hayward) told
The Rake
how "
It was the uncorrected stuff that Doug addressed, and that's why his cut and silhouette was so flattering." When you see Michael Caine's less-than-athletic figure in
Get Carter
, it's easy to see what she means.
With this firm grounding in British culture, the suit inevitably became an icon in itself, which made it an obvious choice to recreate in collaboration with Savile Row tailoring house Chester Barrie. Chris Modoo, previously the house's Creative Director and the man behind the concept, explains how customers have always used the Carter cut as a point of reference when investing. "It is one of the all-time greatest suits of modern cinema, and both Wei [Founder of
The Rake
] and myself are huge fans of the film. The suit is also a big part of the story – when Carter returns to the north in a handmade suit in expensive fabric, there is a contrast created between his sophisticated London lifestyle and the grim realities of working-class Newcastle. But most importantly, it's his suit of armour."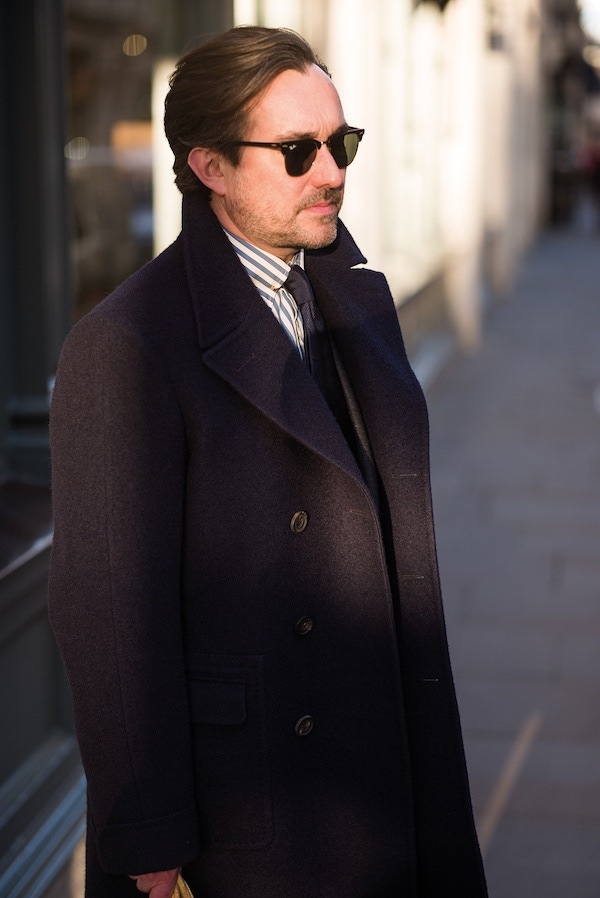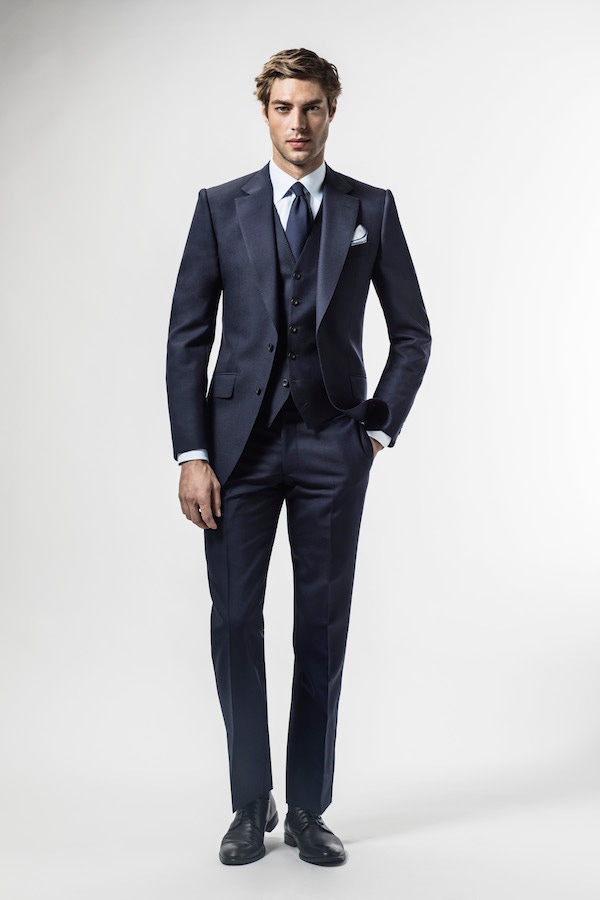 Modoo was personally responsible for developing Chester Barrie's take on the Get Carter suit. It features a clean shoulder (cut on a slope), pronounced sleevehead and shallow armhole, allowing for fluidity of movement (perfect for wielding shotguns). "We created a lot of shape in the chest, by adopting a bespoke method in the canvassing, which allowed us to put greater shape into the waist without compromising fit or wearability," Modoo says of the flattering cut. "There is something of the late 60s/early 70s about the aesthetic of the
Get Carter
suit, but in a tasteful, refined and contemporary way. To further bring the suit into a contemporary context, Modoo considers that "Every man needs a solid blue suit. It's ideal for business and travel, and in this case the slight sheen of the cloth makes it particularly suitable for festive occasions." For those of you whose lives are as fast-paced as
Get Carter
's plot, it's a suit that will multitask well, and that unusual sheen is a notable point of authenticity. Hayward made the original in a cloth by Dormeuil, a 3-ply wool and kid mohair cloth with considerable strength, lustre and drape. Named 'Tonik', it soon gained cult status in sartorial inner circles. "The original Tonik would be considered heavy by today's standards," Modoo explains, "so I worked closely with Patrick Bunting of Dormeuil to find a lighter, modern version that still had character. It was especially woven for the Chester Barrie x The Rake collaboration, giving it that extra sense of exclusivity."
Save
Save
Save
Save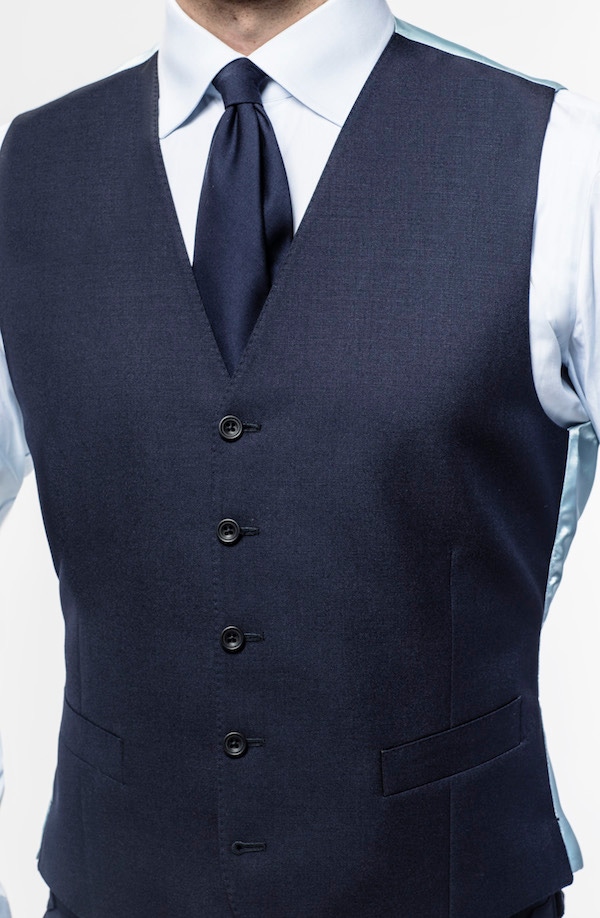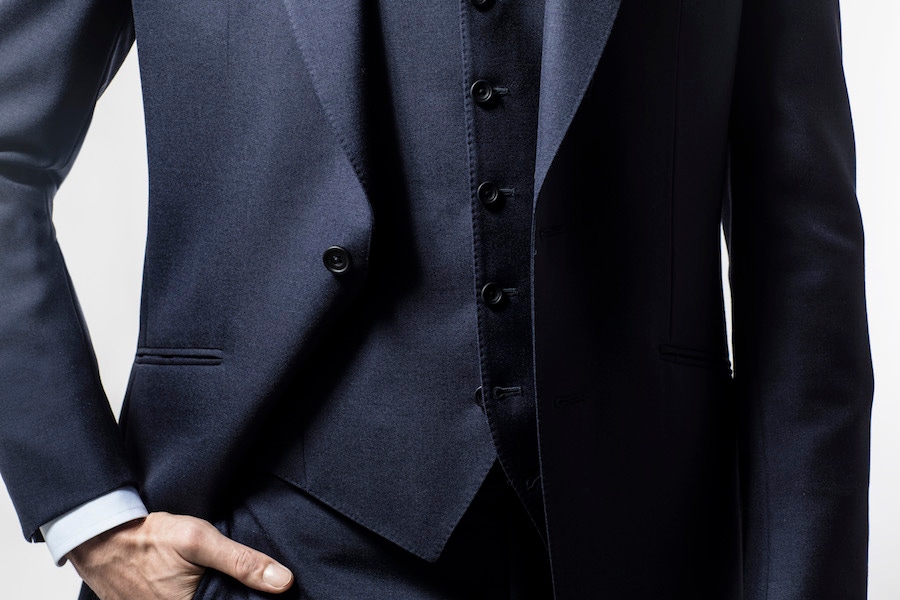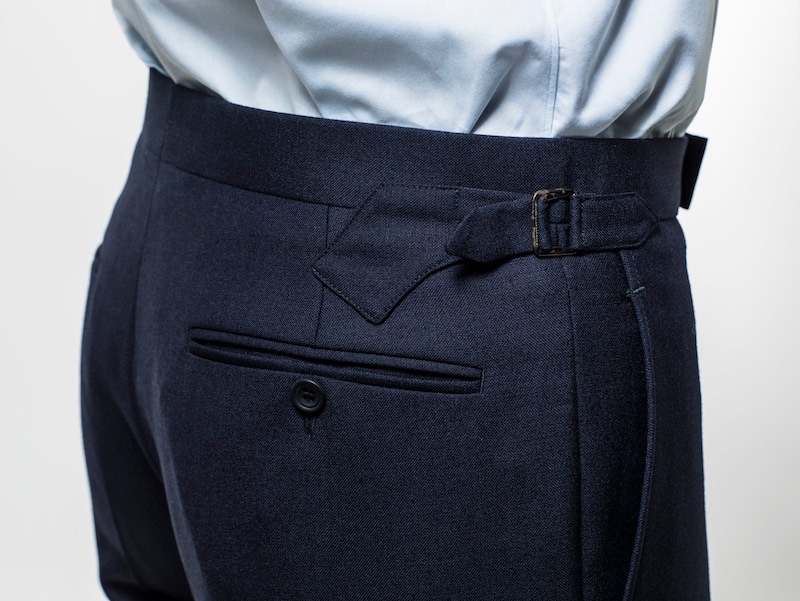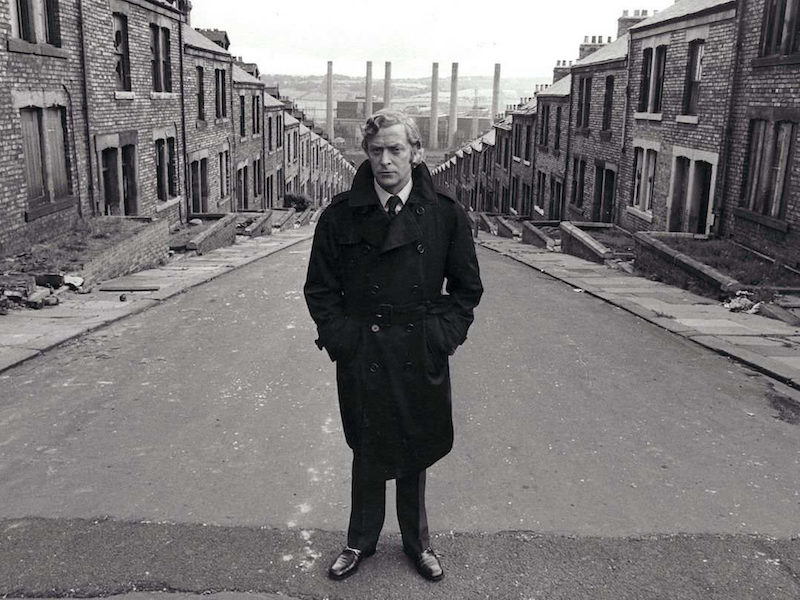 To create a suit that was both aesthetically similar to that in the film
and
wearable in a modern environment, Modoo paid particular attention to the details. "I used a slightly wider notch lapel and a two-button front. The side pockets are aggressively slanted as with the original, and the waistcoat does not have lapels." To avoid dating the look, Modoo put a slightly straighter trouser with the suit and raised the outside seam, and suggests finishing the hem in a particular way - "instruct your tailor to finish with a military slant, with minimal front break and longer at the back – just off your heel." He's also confident that, despite not being house style, the contrast lining of the vest captures the essence of the suit. "It is still very wearable – aficionados of
Get Carter
will get the reference, but to most people it's just a great suit. I love it when clothing can work on different levels." As important a prop as the iconic shotgun, the suit proved itself beyond its means as a costume, and while the film's legacy is such that filmmakers will revisit it for decades to come, it'll also be remembered for creating one of the best-dressed gangsters in cinema. "Michael Caine is superb, suave and sexy," film critic Judith Crist wrote in
New York
magazine in 1971; allow our unique collaboration to do for you what Hayward's suit did for Caine, but perhaps leave the shotgun at home.
Save
Save
Save
Save