Invest in Perennial masterpieces
Investments can be unpredictable, but not so with these four winners, which we have handpicked to provide you with sound and secure appreciation — aesthetically, spiritually and financially.
Breguet Marine Hora Mundi ref. 5557
The inaugural Watches and Wonders show was held in Geneva this year. For the first time ever, Rolex, Patek and LVMH lined up alongside the Richemont group. It was a righteous celebration of unified horology — think group wrist shots and hashtags. There was, however, one obvious omission: Swatch Group. The key strategic play now, with brands dropping new releases across the year, is to get a few shots in early. Swatch did just that the week before Watches and Wonders with one of the most remarkable launches we have ever seen, with the MoonSwatch. But let's not go there — that's a long story for another time. What we have here is a haute-horology sports watch like no other. When you think of Breguet you would be forgiven for thinking of engine-turned dials, modest case sizes, and fine finishing. The watch on this page is a new iteration of the much-loved Hora Mundi, this time in Breguet Marine. The Hora Mundi became an instant hit at the time of its launch in the Classique collection (a dressier vibe). The Hora Mundi complication took three years to develop and has been awarded four patents. Its instant-change dual-time display is a game changer when it comes to international travel. This technical feat is accomplished via the pusher and crown. Having selected the first city's time and date, the owner of the watch need only set the second city. The watch mechanism then calculates the time and date by means of a clever system of cams, hammers, and an integrated differential. At that point, simply pressing the pusher is enough to travel from one end of the planet to the other, all without disturbing the accurate running of the watch. It is available in 18ct white-gold or 18ct rose-gold, and measures 43.9mm in diameter. With a thickness of 13.8mm, it is no under-the-cuff dress watch. It is powered by the automatic Breguet calibre 77F1 with 40 jewels and equipped with an 18ct gold rotor. The movement provides a power reserve of 55 hours when wound. The dial offers an elegant interpretation of the world on the wrist via a play on materials and superimposed plates. On the first gold base, the hand-guilloché waves lap gently against the shores of the continents. The sunburst dial base, attired in abyssal blue, creates the impression of a permanent waltz of the wave motifs. An additional plate made of sapphire is composed of the metallised meridians and the continents are treated to horizontal satin brushing, while their coastlines are subtly outlined with a metallic turquoise border. Finally, an outer flange serves as a support for the various elements present on the dial. The result features brilliantly crafted dimensions and surfaces thanks to various treatments requiring several weeks of work. It is also good to know the watch is water resistant to 100 metres — we wouldn't want any problems from dive-bombing off that 150 footer in the Med.
JH
Purdey Hanning dry wax jacket
The retail emporium on the corner of Purdey & Sons' South Audley Street premises in Mayfair is something of a curiosity shop, a place where knives and other accessories for budding falconers sit alongside staghorn whistle thumbsticks, Swarovski scopes for surveying the landscape while stalking in the Scottish Highlands, and — our favourite piece — a marquetry cigar humidor, made from 48 different types of wood, that doubles as a model of the building in which you're standing (it even has the world war II bomb damage to the entrance pillars). It shouldn't be forgotten, though, that Purdey — one of the most renowned makers of sporting shotguns and rifles — are also purveyors of outdoor pursuits apparel. Pieces such as this wax jacket, which has been crafted specifically with the summer months in mind. For those unfamiliar with the 'dry' part of this sartorial genre, let's start with the wax jacket's backstory. It was invented in the 18th century in Scotland by a company called Francis Webster Limited, who would infuse the cloth with linseed oil. Supple, comfortable and water resistant, the British Navy and the crew of early tea clippers soon caught on to wax jackets' practical appeal.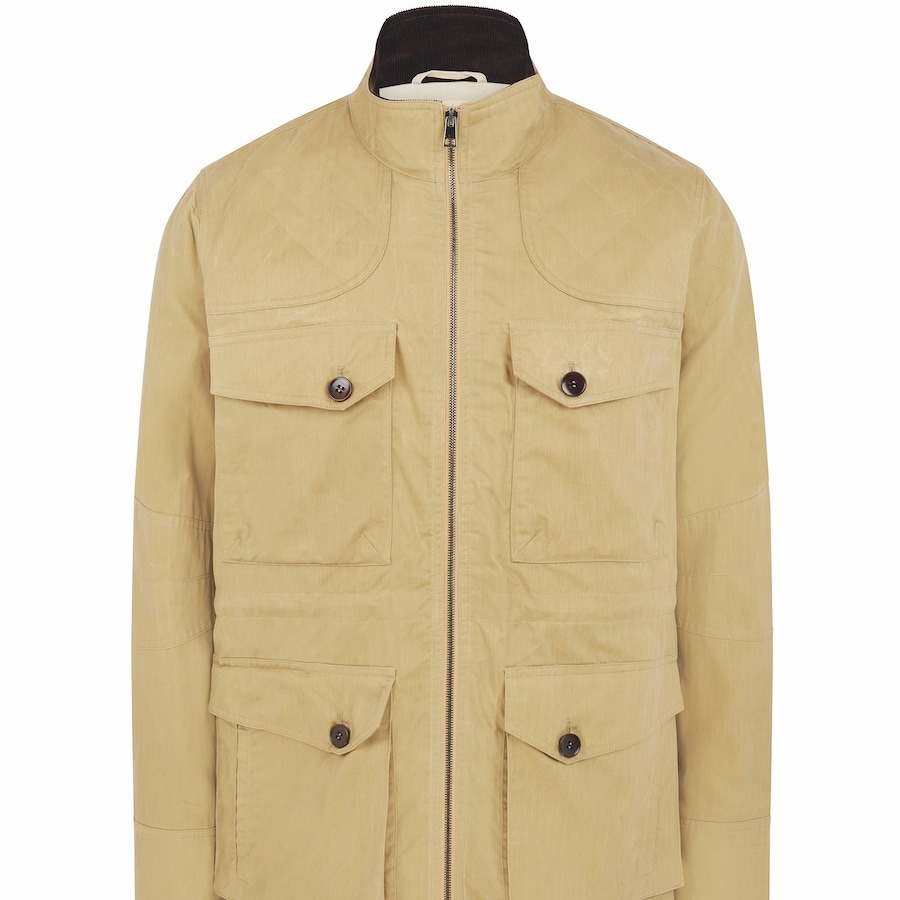 An alternative to the paraffin or natural beeswax often used today, dry wax is a relatively new innovation, which, unlike traditional outerwear designed to keep the wearer warm and dry during rural endeavours such as hunting, shooting and fishing, is dry to the touch, so it doesn't have that slightly dank feel that tempts the uninitiated to drape it over the nearest radiator. The appeal here goes beyond tactility. Made from woven cotton in a subtle herringbone pattern, the piece has a wind-cheating showerproof outer shell, but remains lightweight and, being only half-lined, offers excellent manoeuvrability. Hunting-inspired design details include quilted shoulder patches, a storm cuff neck and the kind of voluminous pockets that have become synonymous with bucolic weekend pastimes. Handily, it also offers side entry to the lower pockets and a double-ended zip. One's inner vanity needn't be left behind in the metropolis, of course, and this garment is made more stylish by back vents, an adjustable cord at the waist, horn buttons and, most importantly, the fabric's tendency to crease naturally over time, making for a distressed, lived-in look. All in all, it is an investment that will come to represent your own personal comfort when leaving town for the weekend.
SH
Asprey & Bugatti 24k rose-gold La Voiture Noire sculpture
They've held a royal warrant since 1862. They've helped bring Art Deco design values north of La Manche. They're the official jewellery sponsors of the Baftas, their wares have appeared in endless box-office smashes, and they even made the Henri Delaunay trophy held aloft by Italy as winners of last summer's European Championship. Oh, and Prince William has played for their polo team. If ever there has been a luxury brand that refuses to rest on its laurels, though, it is Asprey. Asprey have been a prolific collaborator for decades. The only known Patek Philippe watch to namecheck the retailer on the dial bears Asprey's moniker, while a much more recent joint effort with Formula One saw the re-creation of silver racing cars and other motorsport artefacts. Asprey have perhaps found their ultimate creative partner, though, in Bugatti, a company whose eponymous founder, Ettore, was born into "a family of artists who just happened to end up making cars", as one British broadsheet put it (his father, Carlo, was a furniture and jewellery designer; his brother, Rembrandt — not that one — an animalier whose sculptures now sell for millions).
The fruits of this extraordinary collaboration? Initially, 261 small sterling-silver sculptures of the French marque's La Voiture Noire (the number is a nod to the fastest speed, in miles per hour, the hypercar has reached), each of which came with their own artwork-linked NFT, accessed via a QR code. Maybe it was the allure of La Voiture Noire's seductive contours being rendered in precious metal; maybe it was the exquisite bases, in the two brands' signature colours, on which the sculptures are mounted; maybe it was the heirloom factor inherent in being able to prove provenance and ownership using a unique serial identifier, but they sold out before the mint date and are now reaching up to five times their original value on the secondary market. The good news is that at the end of June, those who missed out can claim possibly the biggest bragging rights in objet d'art history over those who didn't, by acquiring a limited edition of one version of the sculpture, handmade in 24k rose-gold, its base bearing the signatures of both Bugatti and Asprey.This isn't just an investment in a mantelpiece conversation piece, it's a symbol of a luxury world rooted in scarcity adapting to a digital landscape whose core trait is replication. Luxury historians of the future will consider you to have acquired a major milestone in the history of premium goods consumption.
SH
Those who subscribe, in a literal sense, to the old adage that states 'the pen is mightier than the sword' are likely to be dedicated patrons of a Hamburg-based brand whose Meisterstück (or 'masterpiece') sits at the apex of luxury writing instruments. A lesser-known adage, meanwhile — much lesser known, in fact, as we've just made it up — is, 'the duffle bag is mightier than the suitcase'. And those who adhere to both might well consider Montblanc's Meisterstück duffle bag their most emotionally rewarding investment of the summer.
Montblanc's Meisterstück duffle bag
Duffle bags are named after the Belgian town in which the sturdy cloth was made to create the earliest produced cylindrical carrying vessels, in the mid 17th century. Since then they've played a crucial role in world war II (during which the 'doughboy' duffle became critical for the transportation of weaponry and equipment) as well as military and civilian marine culture, including the surf scenes of 1950s California and eastern Australia. Like every garment, watch or style asset you own, the duffle bag evolved from its functional origins, and today they're popular with debonair, seasoned travellers for a number of reasons. Their flexible structure means they're easier to pack with, and generous with small spaces to wedge smaller items into when supposedly full. Their pliability also makes getting them into tight overhead spaces on planes slightly less like an arm-tiring game of Tetris. Above all, though, if you choose the right one they are unerringly stylish, giving off the air of the casual itinerant rather than the purposeful itinerary slave: more Muddy Waters' moss-eschewing rolling stone, less starchy commuter on the London City-Geneva return grind.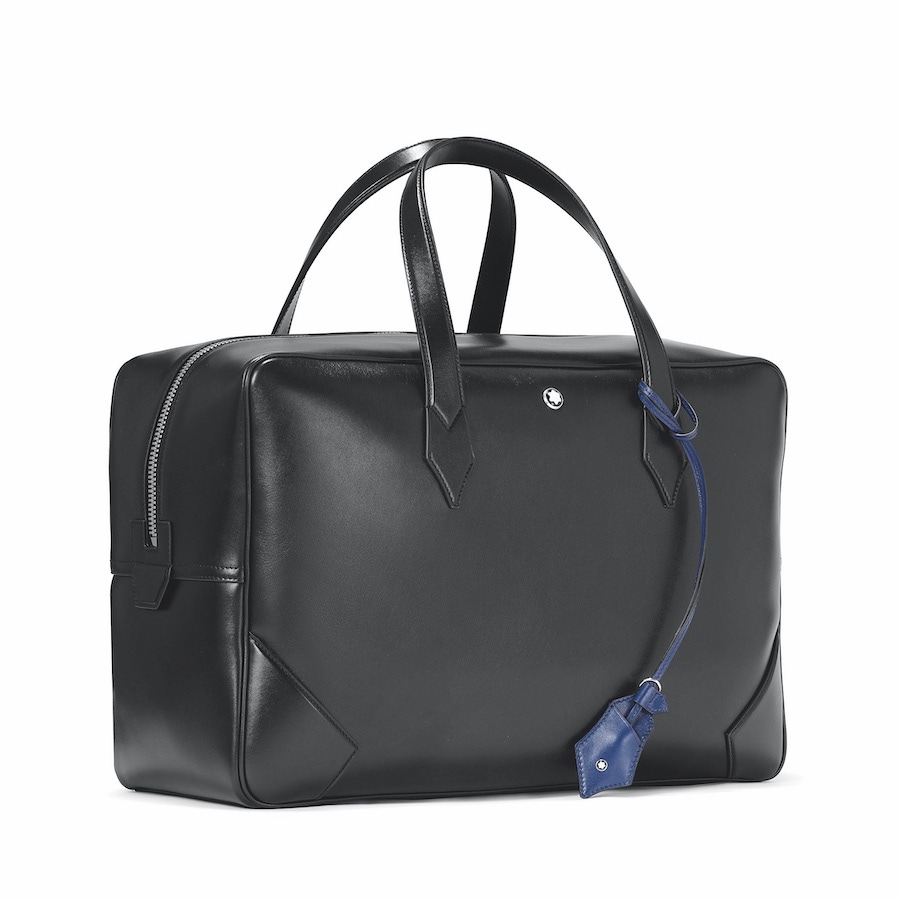 The Meisterstück duffle — as you may have guessed from the name — is a tribute to a writing instrument the brand has been making since 1924. The nod to artful penmanship doesn't stop there: the bag's stitching, zip pullers and handles all echo the design language of Montblanc's iconic pen nibs. Crafted, naturally, with the same unerring artisanal diligence that Montblanc apply to their pens, watches and jewellery, it comes in deep-shine, soft-grain black leather, and offers lock-and-key closure. The pen/sword aphorism was coined by the English author Edward Bulwer-Lytton in 1839, and alludes more broadly, of course, to thoughtful communication being the most effective tool for human progression. Stylistic expression being a form of communication, this is a purchase that packs a poetic punch.
SH
You can also view this feature in Issue 82 of
The Rake
– on newsstands now. Available to buy immediately now on TheRake.com as
single issue
or
12 month subscription
. Subscribers, please allow up to 3 weeks to receive your magazine.