IWC X The Rake: Pilot's Watch Automatic 36 Special Edition
Recreating the ultimate military pilot's watch for today's urban flyboy. Reserve yours now...
It has been one hell of a stellar year for watch collaborations here at
The Rake
with the likes of TAG Heuer, Rado, Hublot, Bell & Ross and Chopard all producing unbelievable limited editions with us. With the pedal still firmly depressed against the metal, we're kicking off 2019 with another super exciting collaboration with our sister magazine
Revolution
and watchmaking powerhouse, IWC. It's called the IWC Pilot's Watch Automatic 36 Special Edition and we are thrilled to be able to offer our readers exclusive access to it, along with a specially devised capsule collection to perfectly complement the watch. It will go on sale January 16th, 2019, but you can register your interest by emailing shop@therakemagazine.com now. But first, a little about how the watch came to be... One of my favourite lines in one of my favourite movies comes from Tom Cruise as Vincent in the epic Michael Mann thriller
Collateral
(2004), when he says to Jamie Foxx's Max: "Now we gotta make the best of it, improvise, adapt to the environment, Darwin, shit happens,
I Ching
, whatever man, we gotta roll with it." It encapsulates Darwinian theory, more precisely that it is not the fastest or strongest of any species that survives, but those most given to adapting to change. And it was under the auspices of this that the wristwatch as we know it was born. Although some wristwatches had existed since the early 20th century, it quickly became apparent at the onset of the first world war that extracting a watch from one's waistcoat, then cocking it towards one's visage — in a gesture that drew tears of joy from flâneurs and boulevardiers — was impractical when people were shooting at you. Soldiers quickly adapted pocket-watches to become wrist-borne instruments; indeed, the very first of these were nothing more than modified pocket-watches with lugs hastily soldered to them and fixed to pragmatic, heavy pigskin straps. But once the war ended, the wristwatch was here to stay, transformed into a symbol of masculinity and becoming the indispensable tool to the global adventurer and
demoiselle
-romancing rake, for whom accurate plotting of one's nocturnal movements was of utmost importance.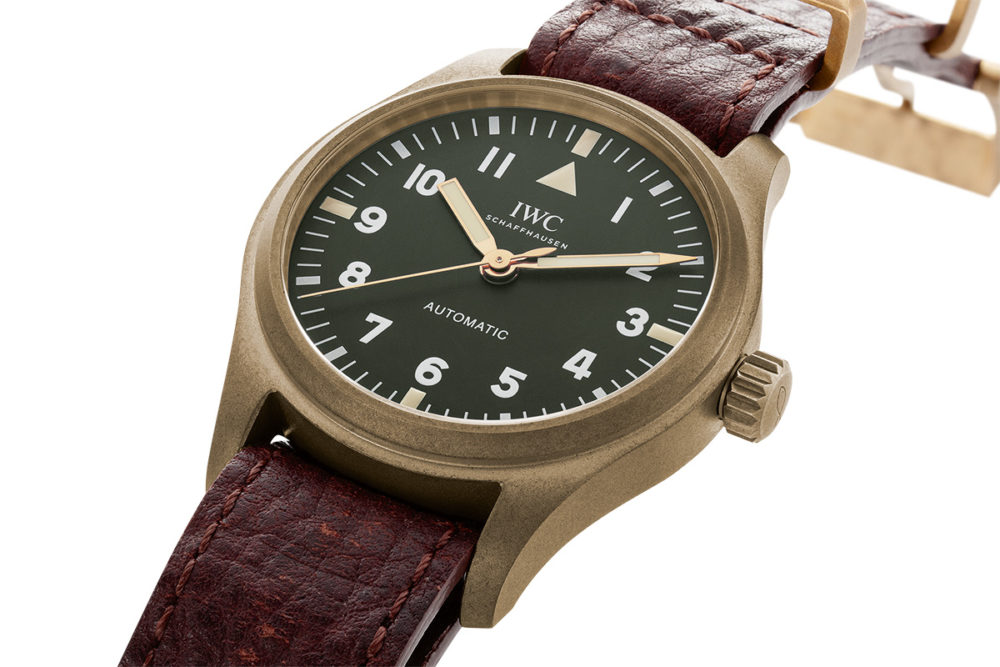 It was necessity again that brought about the next great evolutionary shift in wristwatches, in particular for a small Swiss brand situated in Schaffhausen that had forged a unique mixture between American industrial ingenuity and traditional Swiss craftsmanship. It was aptly named the International Watch Company. During the second world war, Britain's Ministry of Defence (MoD) felt that civilian watches were not adequate for military use. Rather than partnering with a specific brand, they invited any Swiss manufacturer who could build a watch to the requested standard to do so; all in all, 12 companies were accepted. Later to be known as the 'Dirty Dozen', the timepieces were designed with the objectives of durability and unparalleled visibility in the most challenging of circumstances. These watches were characterised by the MoD with the acronym W.W.W, which stood for watch, wrist, waterproof. Among those tapped was the International Watch Company, whose MoD-issued watch fit the basic design iconography demanded by the British military. This included large index-shaped hands and high visibility indices that were heavily painted with the luminous material radium. The dial itself was a masterpiece of utility-defined aesthetics, with a big bold
chemin de fer
minute track, as well as seconds sub-dial imperiously occupying the lower half of the dial. Interestingly, this International Watch Company watch, today dubbed the 'Mark X' in collector lore for its status as the genetic forebear to the even more famous Mark 11, was made distinct from the other Dirty Dozen watches thanks to a slightly larger seconds sub-dial that almost reached the centre pinion. The name of the company was shortened to IWC and placed inside a stylised oval design. It is fair to say that the Mark X, at least from a visual perspective, set the stage for the military watch that IWC would become most synonymous with, the watch commissioned for British aviators: the legendary Mark 11. Developed as an homage to the original Mark 11 watch designed by former IWC owner Ernst Jakob Homberger for his sons, the IWC Pilot's Watch Automatic 36mm Special Edition harks back to the era of the Gentleman Aviator in style and form. The original Mark 11 is one of the most renowned timepieces that IWC has ever built in its history, spanning a production lifetime of some 35 years and configured to fit the tool requirements of the British Royal Air Force. This special edition developed by
The Rake
and
Revolution
with the brand evokes the utilitarian purity of the Mark 11 updated with a new colour palette never seen before in the Pilot's collection until now. The military green dial with Arabic numerals and lumed cardinal indices was the starting point for this special edition, upon which we selected a bronze case that would slowly patina over time to develop a unique persona for each watch. To add an old-world travel experience to the watch, we opted for a NATO-style strap made from Russian reindeer hides recovered from the sunken Spanish frigate Metta Catharina, which sank from Plymouth Sound in 1786. Made by George Cleverley for us, it's the first time these hides have been used in a watch strap and bring a truly unique style to the watch. We've also collaborated with two other strap makers to offer additional straps that will allow you alternative ways to wear your watch. There's a nylon NATO strap with bronze-coloured keepers made by Singapore-based strap maker Nomad Watch Works, as well as an elegant suede leather NATO-style strap by Italian craftsmen Jean Paul Menicucci (JPM), made from fine French calfskin and individually treated and stitched by hand. The JPM leather strap comes with a bronze-toned buckle bearing a stamped Revolution logo.
Read the full piece in Issue 61 of The Rake - on newsstands now. Subscribe here.