Luca Rubinacci's Stylish Guide to Milan
Luca, poster boy of the great Rubinacci tailoring dynasty, was born in Naples but lives and runs the family atelier in Milan. He gives us the low down on his favourite haunts for a stylish weekend in his adopted city.
You're on a business trip or weekend away in Milan and you need a little black book of all the finest, most stylish places to visit, eat at, drink at, and wile the time away chatting noisily and waving your hands in passionate gesticulatory movements. Who do you ask? You guessed it: Mr Luca Rubinacci. He knows the city's most stylish haunts like the back of his hand so we had creative director Lee Osborne pick his brains... Where should I head first to get my bearings? If you want to be seen, a walk along Via Monte Napoleone is a must – it's our 'street of fashion' in Milan and very close to our Rubinacci atelier in Via Gesù. From here I'd walk along Via della Spiga, one of the city's main shopping streets, towards the artistic quarter of Brera in the Centro Storico – famous for its Pinacoteca art gallery and exquisite fresco-filled Church of Santa Maria del Carmine - all the way to Largo La Foppa. It's where all the bars and aperitivo hot spots are. My particular favourite is Pandenus (Via Mercato, 24, 20121 Milan-Brera), which also happens to do a fabulous Sunday brunch. What in your opinion is the best way to discover Milan? The beauty of Milan is that it's small enough that you can pretty much walk everywhere, there's no need to rent a car, you can hop on a tram or use the underground as we have an efficient metro. Or even utilise the bike sharing system. I have an electronic scooter which I use every day to ferry me to and from home to the atelier, which has become a bit of a hit on instagram.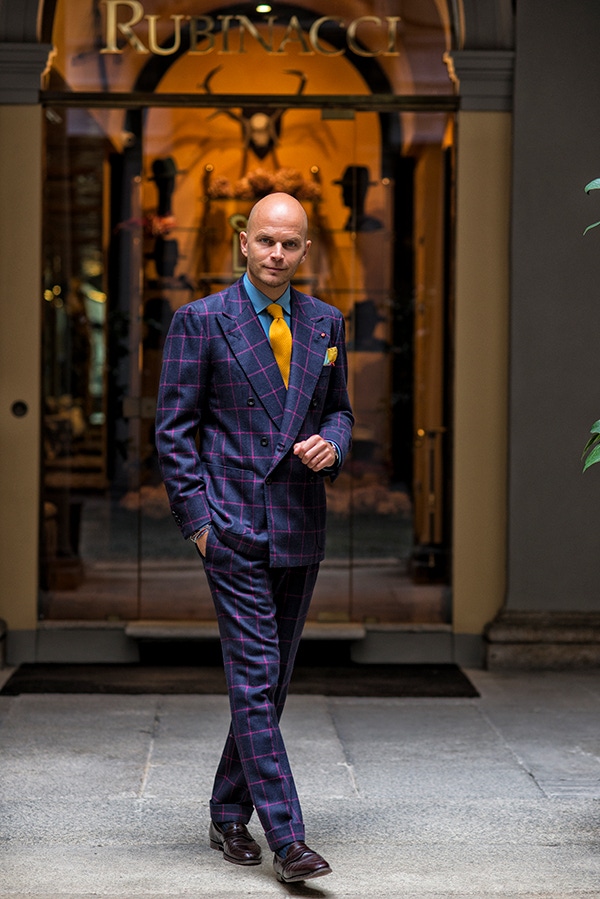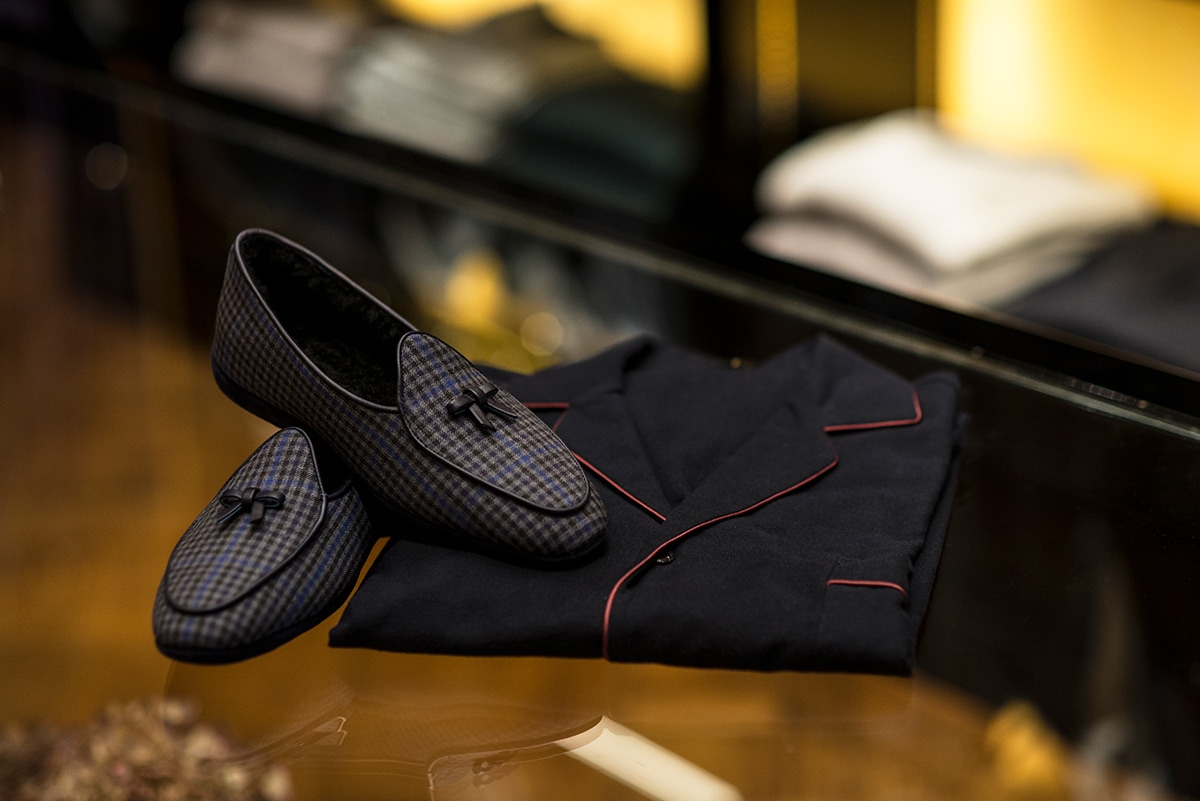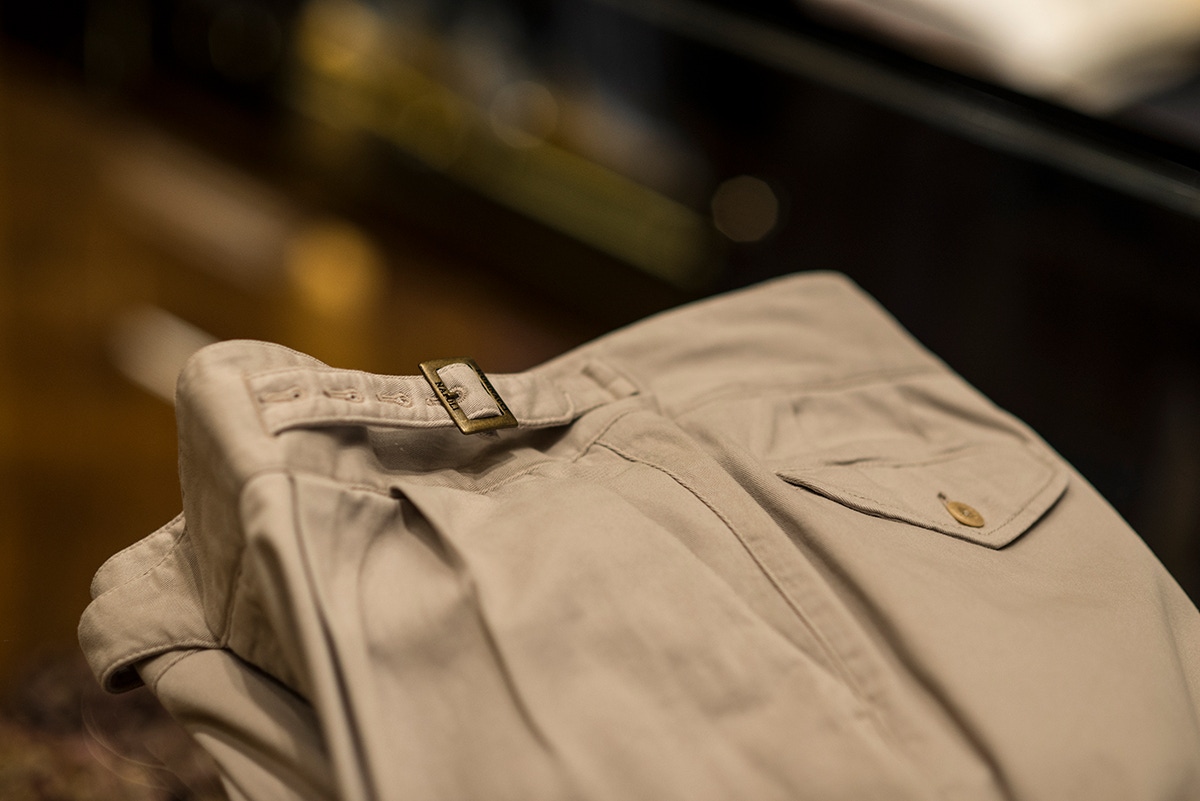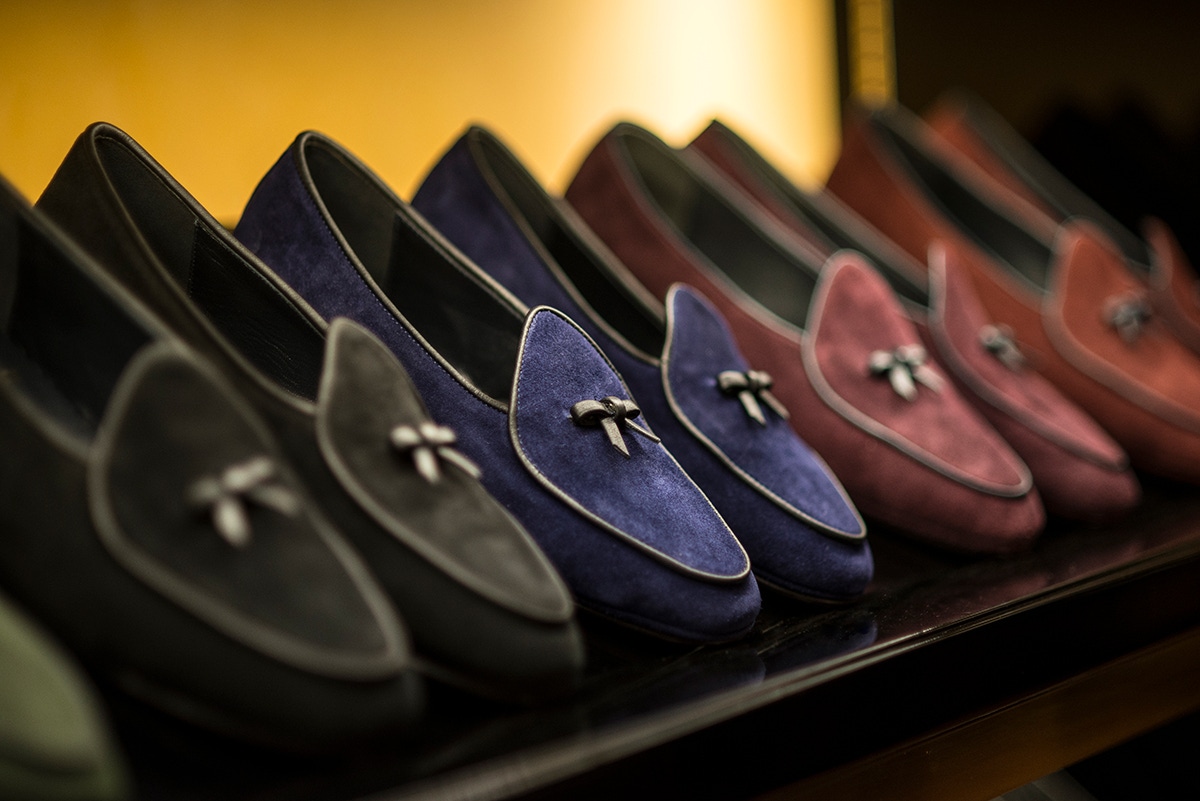 Where's your go to espresso bar?
During the day it has become something of a tradition, particularly for my overseas customers, to experience a proper Neapolitan espresso right here in the club of my atelier. Sometimes made by me but more often by my team. Going to the tailor to have a coffee is a very old school thing to do, and I love that, especially where we are right now, surrounded by books and wifi. It's private and more cozy - a hidden gem for sure. Away from here I'd go to
Cova
(Via Monte Napoleone, 8, 20121 Milan) or
Marchesi
, (Via Monte Napoleone, 9, 20121 Milan).
What are your favourite lunch spots?
Not in order of preference, but my three favourites are
Il Salumaio di Montenapoleone
(Via S. Spirito, 10, Via Gesù, 5, 20121 Milan,
then just around the corner, La Veranda (Via Gesù, 6/8, 20121 Milan). In front of our atelier in The Four Seasons Hotel, and Paper Moon Giardino which is just at the beginning of Montenapoleone (Via Bagutta, 1, 20121 Milan

).
Il Salumaio di Montenapoleone.
It's evident to me already that you're a bit of a foodie. Do you have a favourite type of food?
Milan is a beautiful place, and it's not only about Italian food  – there are many trattorias of course, one of my favourites is Trattoria Doriani Solferino (Via Solferino, 12, 20121 Milan), but I also like La Vecchia Lira (Largo la Foppa, 5, 20121 Milan; +39 02 659 9136). In the winter time I like to go to Giacomo Bistro (Via Pasquale Sottocorno, 6, 20129 Milan; +39 02 7602 2653), a great place to have meat. But I particularly like seafood and there is no better place than Langosteria (Via Savona, 10, 20144 Milan; +39 02 5811 1649; langosteria.com) for me, one of the most incredible places where you can have the best fish, not only in Italy, it's really one of the biggest fish restaurants I've ever dined in. I love sushi too. There's a great place called Basara Sushi Pasticceria near Metro Missori (Corso Italia, 6, 20122 Milan; +39 02 7202 0141) – these are the typical places I go to.
Trattoria Doriani Solferino
I know you're a native of Naples, so you'll forgive me for asking, but would you eat a pizza in Milan, and if so where?
Yes of course, you mustn't necessarily think that Naples does a better pizza than Milan, because of course the ovens in Naples where they cook the pizza are much older. One of my good friends Gino Sorbillo, one of the most well-known pizzaiolo's in Naples, agrees with me. He says, "Luca, my pizza in Tribunali, where I was born and opened my first pizzeria, tastes different to the pizza in my restaurant on the corner of Piazza Vittoria on the Naples waterfront simply because the oven is not as old." We have two Sorbillo's here in Milan (Via Montevideo, 2; +39 02 5810 4789 and Via Ugo Foscolo, 1; +39 02 8050 2300) which I go to a lot, but overall the pizza is very good. People that say, yes, this is not the same as Naples, but it cannot be the same.
I take it you like wine too?
I love wine, and I have it with most meals. I like to cook, I love to cook. For us the best thing is to pair a great meal with an incredible wine. We have three very good friends, some are married like me, others in long-term relationships. So once a month we take it in turns to host a dinner party. Each man brings with him a great wine. When I say a great wine I'm talking about super Tuscans: Brunello di Montalcino, Ornellaia, Sassicaia. The other night we shared two fantastic bottles – one an Ornellaia from
cross-cut veal shanks braised with vegetables, white wine and broth)
. You know when you drink great wines, first of all you have to let them breathe so they open up. The great thing about being at home, as opposed to a restaurant (although I drink great wine at restaurants too of course), is that you can really appreciate the wine – it's less noisy meaning it's much easier to focus on and appreciate the nuances contained in the glass.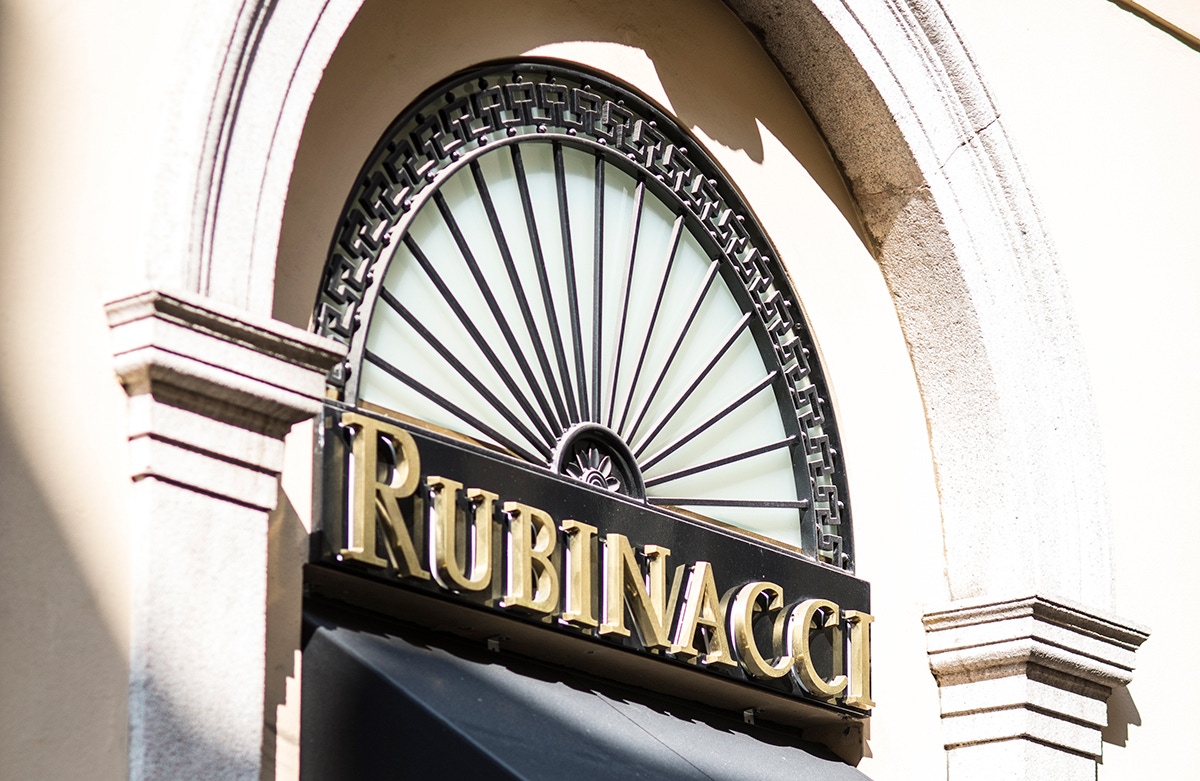 What do you do after work?
Well we're approaching the theatre season now, our famous
La Scala
(Via Filodrammatici, 2, 20121 Milan, which my wife and I love to go to if we have time. But we'll always grab an aperitivo beforehand at somewhere like
Bar Mentana
(Piazza Mentana, 20123 Milan), a simple Parisian-style iron kiosk-cum-bar in a delightful little square in the heart of Milan. It's such an authentic place with hardly any tourists and a super relaxed vibe.
When you shop, where do you shop?
When I shop, I shop in my laboratory (he says with a wry smile). Actually I'm a great collector of vintage fabric. I shop in 2 ways, either I ask my tailor to make my clothes that you'll see on my Instagram feed, but I understand I can't make them from vintage fabric because then my clients are unable to replicate. Secondly, I make clothes from my private vintage archive which I never publicise. It's in the basement here at our Via Gesù atelier, I call it my 'wine cellar' which is only accessible if you go with me, no one else. I have accumulated 30,000 rolls of fabric, a lot of which I inherited from my Grandfather.
Which hotels would you recommend?
It depends on the type of person you are, but I like the
Four Seasons Hotel
, because it's quiet, classic and understated. If you're looking for something a bit more trendy, modern and playful I'd go to the Mandarin Oriental. If it's to mix with the fashion set it would have to be The Bulgari.
The courtyard of the Four Seasons Milan.
How do you keep fit? You're very trim and obviously look after yourself?
I'm not fit, I just have a great tailor! I have a personal trainer that comes to me. We are lucky enough to have a gym in the building where we live. Sessions start at 8am. I could do it on my own, but if I did it on my own I wouldn't do it. He helps to keep me motivated and pushes me out of my comfort zone. I do this twice a week. But then I also do stuff
kite surfing, snow-boarding and hiking. I always like to keep my body active.