Magnetic Imaging: Marlon Brando
He got his physicality from a hard-drinking, abusive father, and his poet's soul from an alcoholic, artistic mother. The synthesis endowed Marlon Brando with a unique presence and intensity he channelled through acting — exactly the kind of truth-telling, one of his friends noted, for which he could lay down his life.
"In 1947, when Marlon Brando appeared on stage in a torn, sweaty t-shirt, there was an earthquake," wrote Gore Vidal of the actor's Broadway debut as Stanley Kowalski in Tennessee Williams's A Streetcar Named Desire. "Kowalski changed the shape of sex in America," Vidal continued. "Before him, no man was considered erotic. A man was essentially a suit, not a body." In fact, Brando's performance as the boorish Polack who rapes and destroys the fragile Blanche DuBois — "mercurial, rebellious, rampant", according to Williams's biographer John Lahr — was seismic enough to change his profession forever. "He is the marker," Martin Scorsese said. "There's 'before Brando' and 'after Brando'." Nearly 60 years later, when Brando's obituary in The New York Times used the word 'epochal' to define his impact, it felt like an understatement. Any rundown of all-time great screen performances has to include one of Brando's, whether that's Kowalski in the movie version of Streetcar ("Stellaaaa!"); Terry Malloy in On the Waterfront ("I coulda bin a contendah"); Johnny Strabler in The Wild One ("What're you rebelling against, Johnny? Whaddaya got?"); Don Corleone in The Godfather ("I'm gonna make him an offer he can't refuse"); or even Colonel Kurtz in Apocalypse Now ("The horror! The horror!"). Brando had an intuitive grasp of the actor's art, rooted in the method teachings of Stanislavski, but transmuted through his own charisma and menacing magnetism. "Watching him was like witnessing the performing equivalent of jazz," wrote Lahr. "The notes were there, but played in a way uniquely personal to him."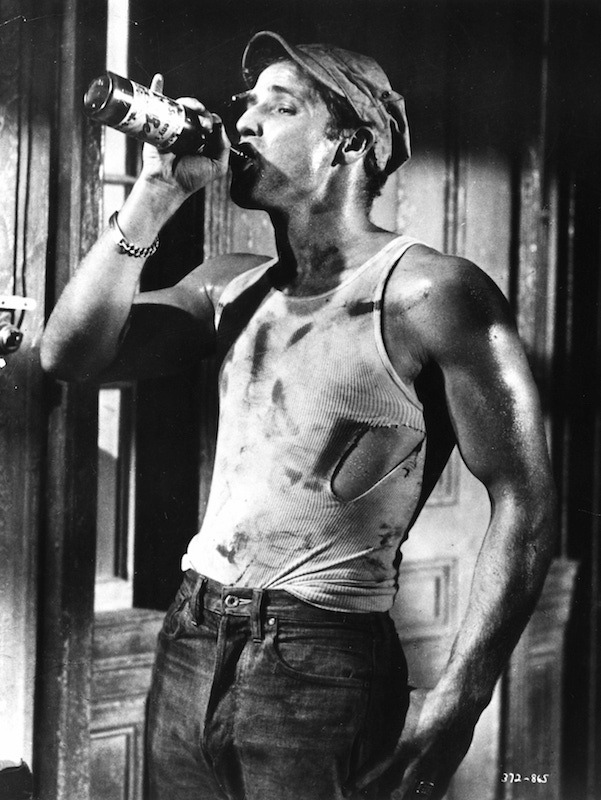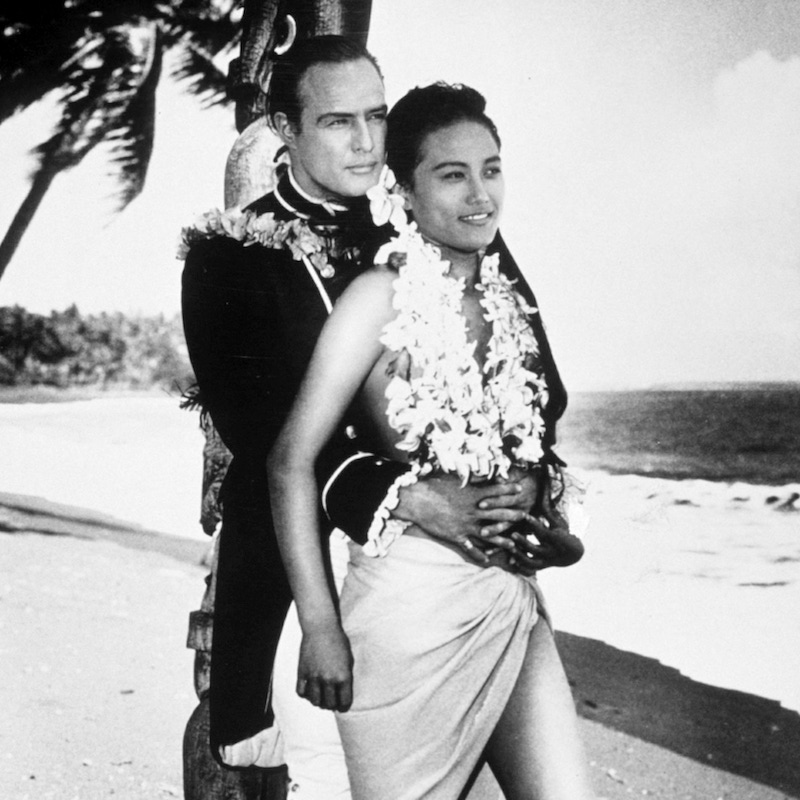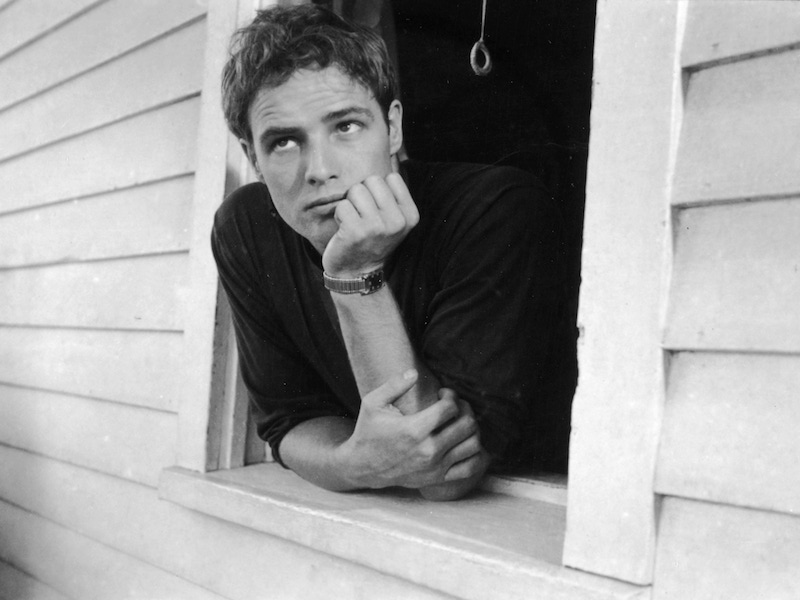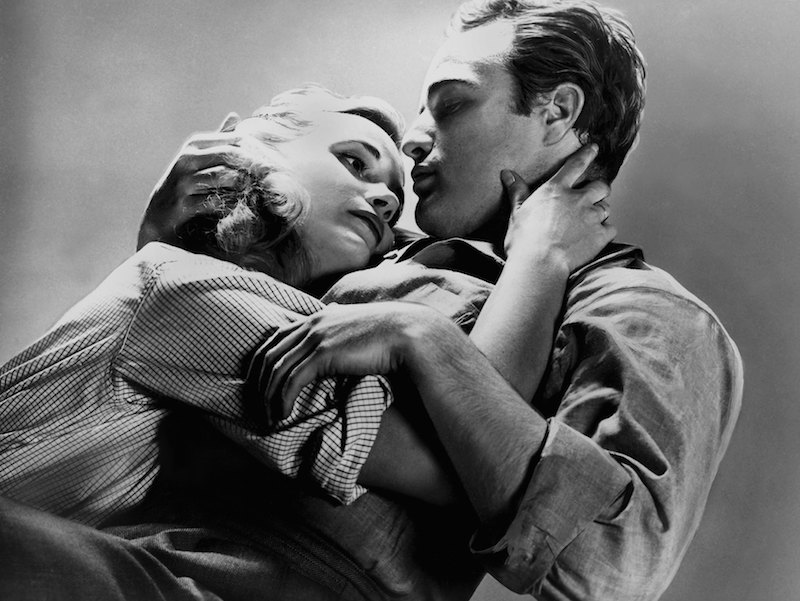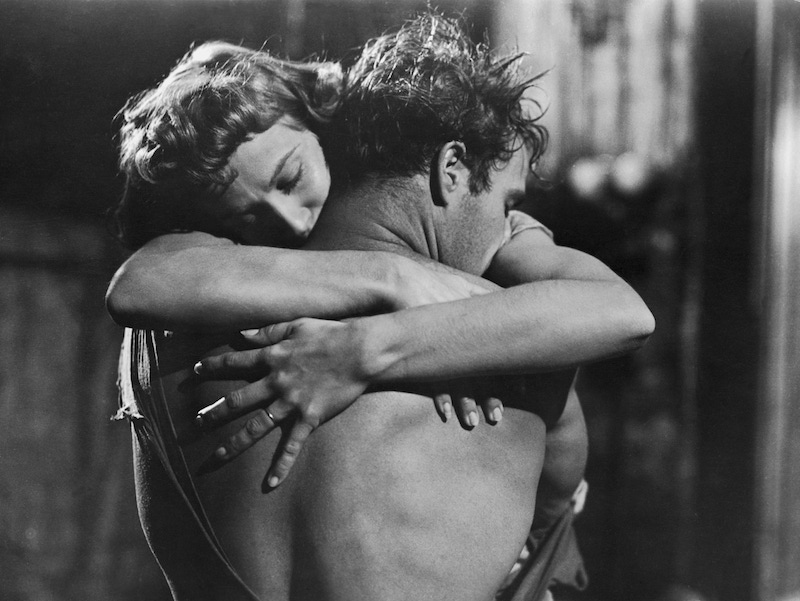 "In 1947, when Marlon Brando appeared on stage in a torn, sweaty t-shirt, there was an earthquake,"
Brando combined an intense physicality — "weightlifter's arms, Charles Atlas chest, taut skin, broad, high forehead," enumerated Truman Capote in his famous Brando profile,
The Duke in his Domain
— with a bruised poet's soul, made manifest by (Capote again) "his tiny, fluttering hands, full lips, relaxed, sensual expression, and a voice with a probing, surprisingly adolescent quality." This ambivalence — Bogart swagger meets Kerouac sensitivity — was nurtured by his upbringing in Illinois, the third child and only son of a hard-drinking, abusive father and an alcoholic, artistic mother, whom he'd often have to drag out of downtown bars. He was a military-school dropout who contemplated studying for the ministry before following his actress sister Jocelyn to New York. "He needs to find something in life, something in himself, that is permanently true, and he needs to lay down his life for it," a friend of Brando's told Capote. "For such an intense personality, nothing else will do." Acting — at first, at least — was it. The critic Pauline Kael, seeing the young Brando in an off-Broadway production called
Truckline Café
, where he played a soldier who returns home to kill his unfaithful wife, thought he was actually suffering an on-stage convulsion. "I'd never seen anything as visceral," she said. Audiences shaken and stirred emerged from
Streetcar
with much the same reaction, and Brando was soon hailed, in the words of one critic, as "the Valentino of the bop generation", a persona he avidly embraced. "He was a brooder, but when he wanted to, he could rocket right out of himself," another friend of Brando's confided to Capote. "He had a sign on the wall of his room: 'You Ain't Livin' It If You Don't Know It'. He'd play bongos and pick up down- and-outers, strays, characters who were dependent on him. It was the same with girls — he liked plain, somebody's secretary types." (The latter predilection was confirmed by Brando's grandmother: "Marlon always picked on the cross-eyed girls.") Naturally, it wasn't long before Hollywood came calling, but there were early signs of how Brando's all-or-nothing idealism could tip over into jaded cynicism: on his first trip to the west coast, when asked what he'd like in the way of personal attention and private creature comforts, he pointed to the nerve-jangled pet he'd brought with him, and announced: "I'd like to get my monkey fucked."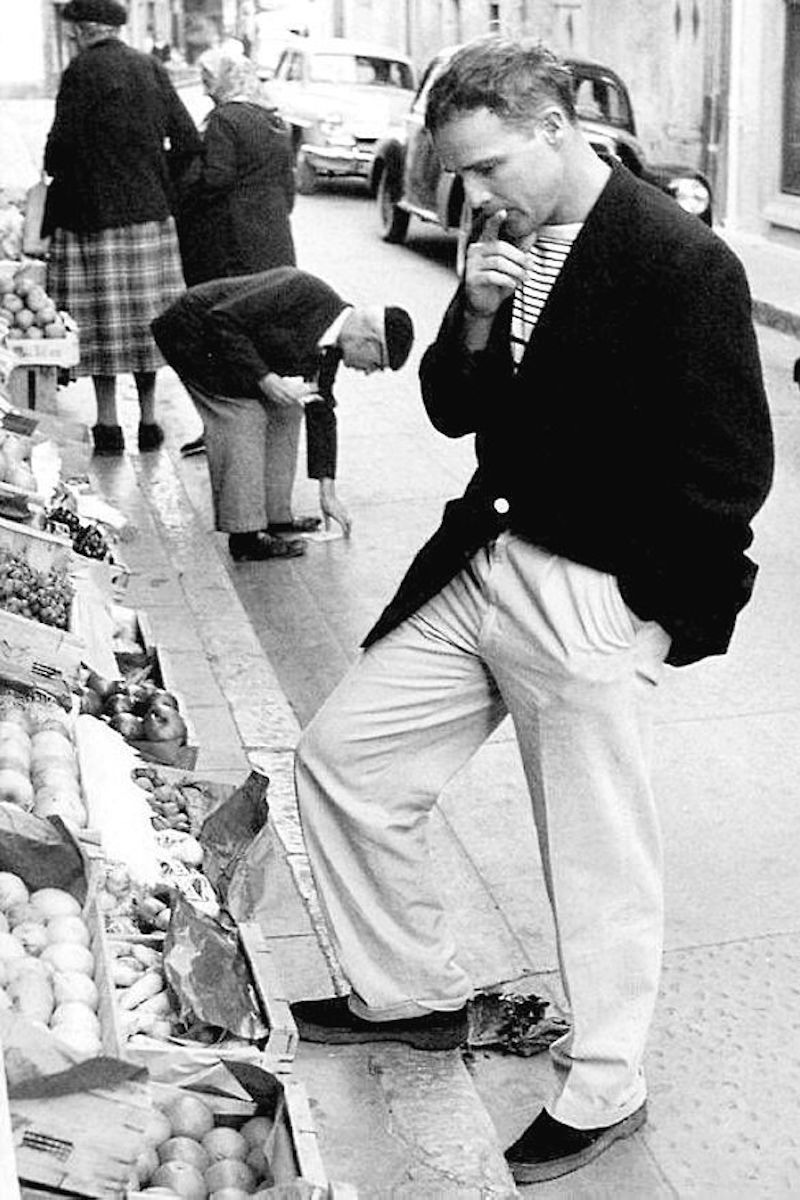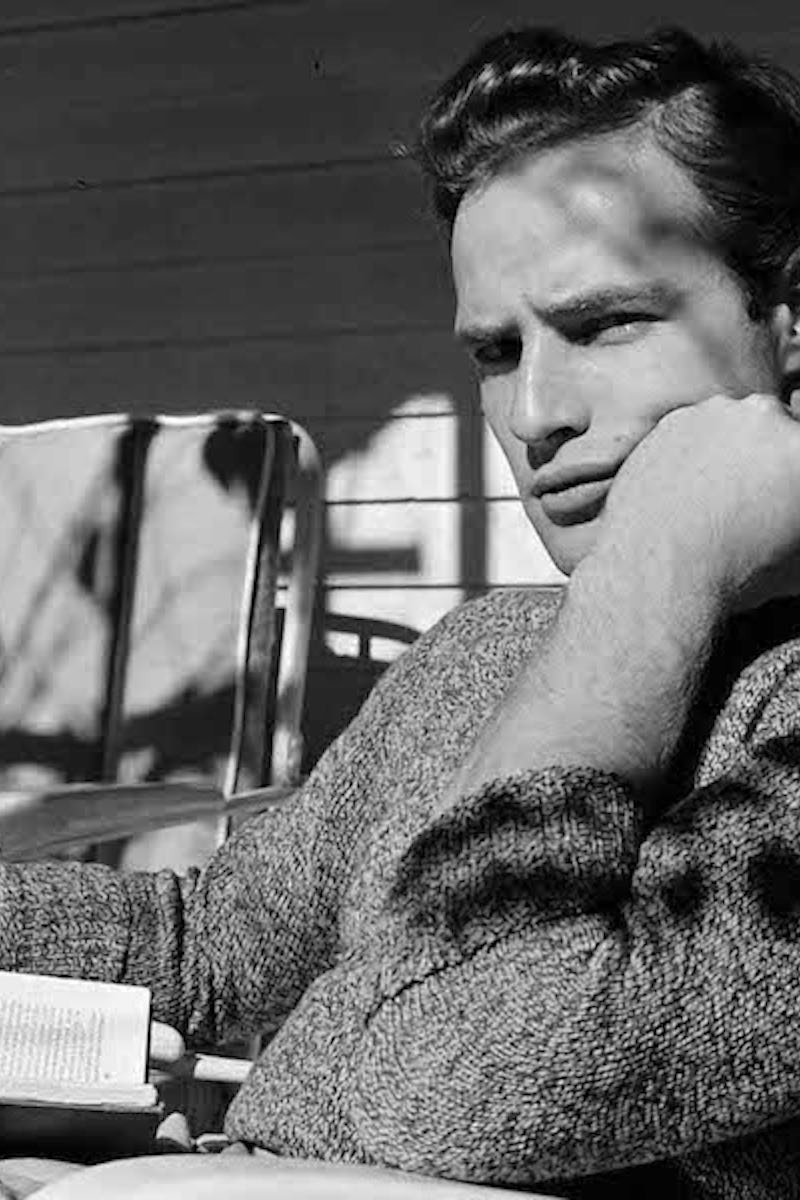 Simian gratification notwithstanding, Brando's first run of films — The Men, Viva Zapata!, Julius Caesar (in which he played a mumbling Mark Antony), Streetcar, and even the campy The Wild One — set a template for emotional depth-plumbing and in-the-moment commitment that resonates to this day with actors as disparate as Joaquin Phoenix and Johnny Depp. (It also brought him his first best-actor Oscar, for On the Waterfront, in 1955). It was an impossible standard to maintain, as Brando all but confessed. "I get excited about something," he told Capote a few years later, "but it never lasts more than seven minutes. That's my limit. I often wonder why I get up in the morning." Soon, patience-stretched Brando fans were asking themselves the same question. A string of tepid movies — The Teahouse of the August Moon, Sayonara, Désirée — diluted the Brando brand, and, deprived of the supportive relationships he'd enjoyed with directors he respected (such as Elia Kazan and Fred Zinnemann), Brando horsed around. He sprayed extras with fire hoses; displayed a wonky tenor as Sky Masterson in Guys & Dolls (memorably tangling with co-star Frank Sinatra, who'd lost the role of Malloy in On the Waterfront to Brando; he reacted to Brando's penchant for multiple takes by growling, "Don't give me any of that Actors Studio shit"); and modelled a dodgy German accent in The Young Lions. The last straw came when Paramount re-cut his directorial debut, the visionary western One-Eyed Jacks, in 1962. "Any pretension I've sometimes had of being an artist is now just a big, chilly hope," he said, and he was accused of deliberately sabotaging every aspect of his next production, which, in a delicious irony, happened to be Mutiny on the Bounty. "SIX MILLION DOLLARS DOWN THE DRAIN — THE MUTINY OF MARLON BRANDO", was the Saturday Evening Post's headline as the star demanded endless script re-writes. "Executives deserve what they get when they give a ham actor, a petulant child, complete control over an expensive picture," thundered its director, Lewis Milestone. Brando was unrepentant: "In some ways I think of my middle age as the 'fuck you' years."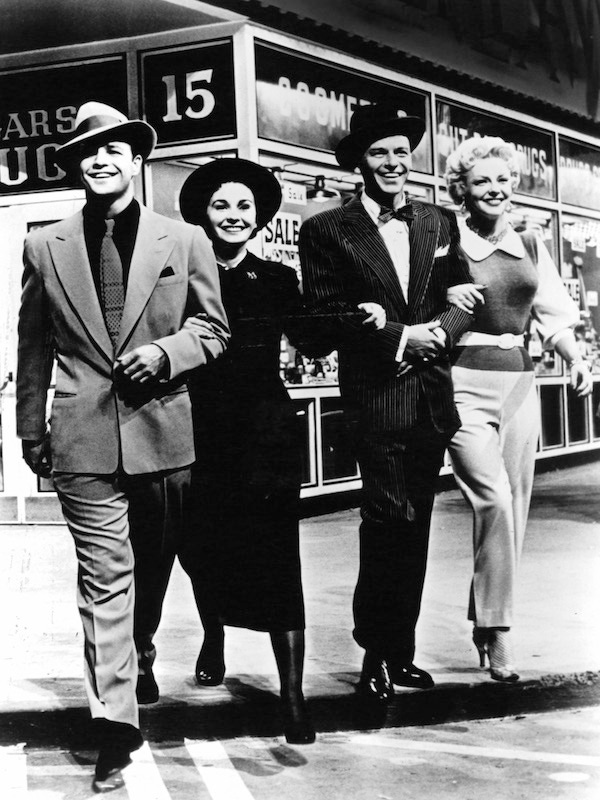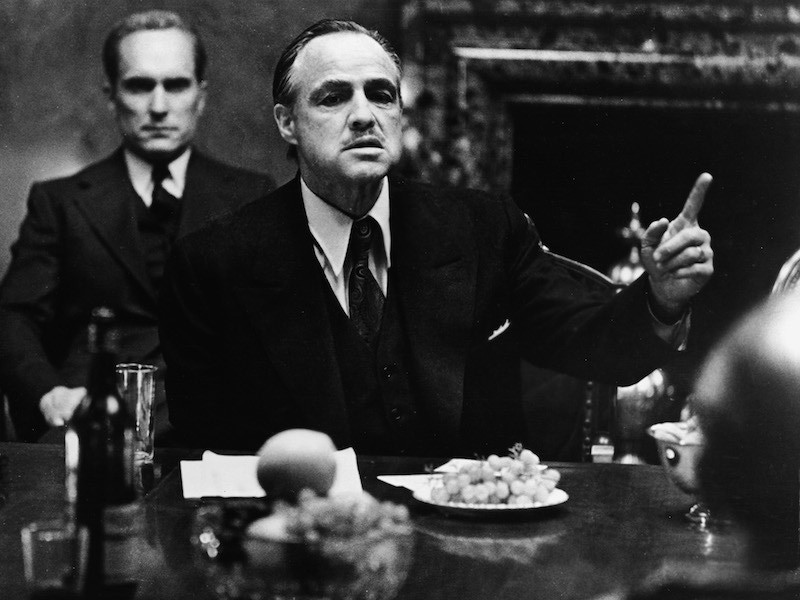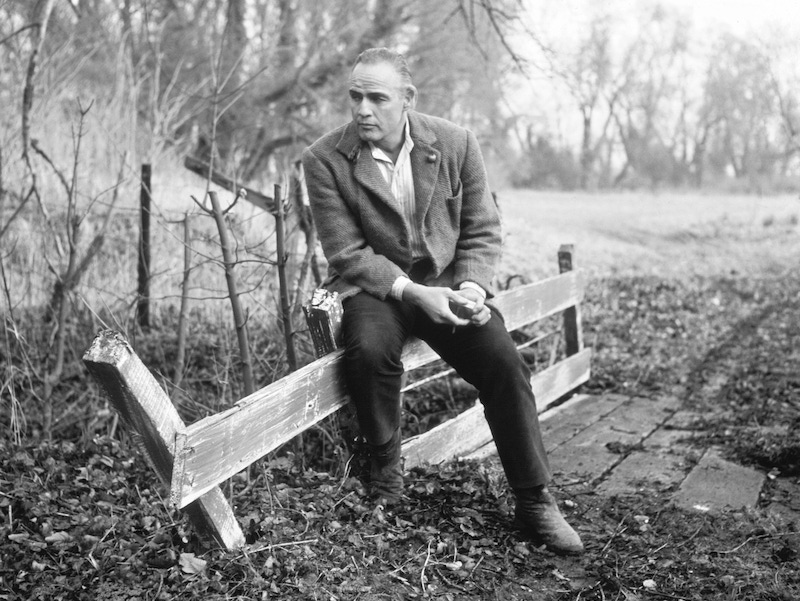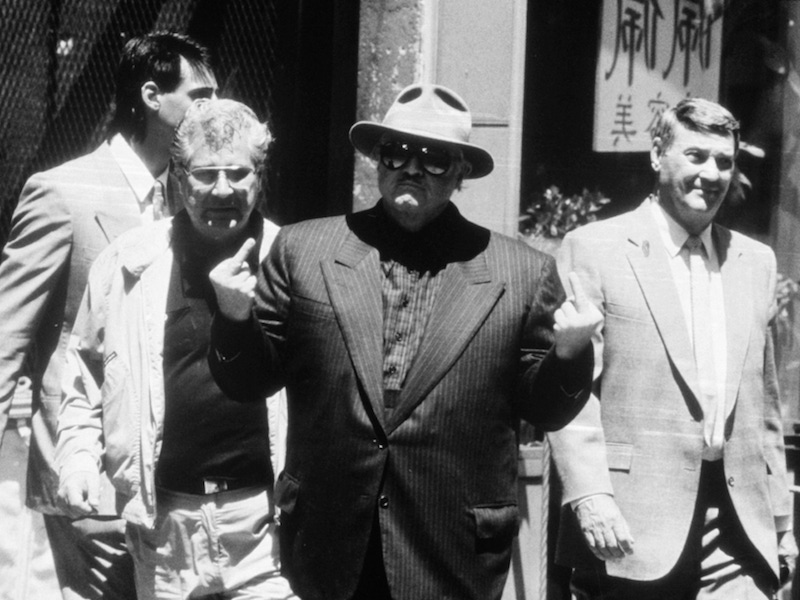 "In some ways I think of my middle age as the 'fuck you' years."
Brando's giving-the-finger decade failed to produce a commercial success. In the meantime, his personal life was becoming increasingly baroque. Never a cheerleader for monogamy — Vidal mischievously asserted that he kept two abortionists on retainer in his heyday — he had burned through three marriages by the turn of the seventies, and had fathered 16 known children. His third wife, Tahitian actress Tarita Teriipaia, had been his co-star in
Mutiny on the Bounty
; like Paul Gauguin before him, Brando was bewitched by the South Seas, and bought a 12-islet atoll called Tetiaroa. Visitors would see him padding around barefoot, with his hair in a ponytail, swathed in a pareo that did nothing to disguise his expanding waistline. His Hollywood neighbour Jack Nicholson reported that Brando would often come down and root around in his fridge in his absence, Brando's own being padlocked. A trio of roles in the seventies did much to burnish Brando's legend. Mario Puzo, author of
The Godfather
, had created the role of Don Corleone with Brando in mind, and the latter, "desperate" for the part, agreed to do it for $50,000. Director Francis Ford Coppola pleaded Brando's case to a chary Paramount Pictures, who were finally convinced when, in a screen test, according to Peter Biskind in
Easy Riders, Raging Bulls
, he "put Kleenex in his mouth, shoe polish in his hair, and began to shrink in his skin like a deflated balloon". Not everyone was sold — "Is this movie gonna have subtitles?" barked producer Robert Evans, failing to decipher Brando's cotton-mouth mumbling — but Brando picked up his second best-actor Oscar in 1973. Or, rather, he didn't: to show there was no love lost between him and Hollywood, he sent a woman named Sacheen Littlefeather, in full Apache regalia, to turn down the award in protest at the depiction of Native Americans on film and TV — a gesture that was met by stony silence. The same year, he laid himself bare in
Last Tango in Paris
as an anguished widower engaging in bouts of joyless sex with a much younger woman, a film whose infamous butter-as lubricant scene overshadowed the emotional wallop of Brando's improvised monologue addressed to his wife's coffin, where he worked through his own anger and sense of loss at his mother's premature death. "I felt I had violated my innermost self," he said of his performance, "and I didn't want to suffer like that any more." He didn't, at least on film.
Apocalypse Now
played as much to the giant shadow (both literally and figuratively) that Brando cast as his murderous Colonel Kurtz did; a new generation of actors was now anxious to rush through the door he'd opened. His final two decades were spent in a fug of campy (if exceptionally well-remunerated) cameos and personal tragedies (his son Christian shot his daughter Cheyenne's boyfriend, and Cheyenne committed suicide a decade later). While he remained eternally ambivalent about his career arc — "Too much success can ruin you as surely as too much failure," he once said, presciently — his peers remained in no doubt about his influence. When he died of respiratory failure in 2004, aged 80, Nicholson said: "Now everyone gets to move up one." And when you see any actor attempting to dig method-deep today, it's just one of the after-shocks set in train by Brando's tumultuous genius. At his precipitous height, he was livin' it. And he knew it. This article was originally published in Issue 39 of
The Rake.