National Treasure: Nicolas Cage
In an exclusive interview with The Rake, the Oscar winner talks to Nick Scott about tripping with felines, Las Vegas's tragic night, and how he has been in on the joke this entire time.
"I didn't know he had the eight-ball of cocaine strapped to his leg! That was news to me! And if I had known that, I never would have grabbed the intercom and told everybody I was the captain and that I was losing control of the aircraft because I wasn't feeling well… "
At 53, Nicolas Cage's voice still takes on a mischievous cadence when he talks about his youthful follies. This particular yarn concerns the time he and Charlie Sheen pulled off a stunt that today would see them quickly swapping their civvies for orange jumpsuits. "It was just kids goofing off — I was in my early twenties and so was Charlie," Cage says. "But yeah, I did that, and the plane was not losing control — it was perfectly steady — and understandably the captain was very angry with me. And when we landed there were airport police there to greet us at the door, and I talked us out of it and they finally let us go. But when I got into the car with Charlie in San Francisco, and he showed me what was wrapped around his ankle with a rubber band… "
Another of Cage's memorable anecdotes today begins, ominously enough, with Tom Waits, for reasons Cage has never quite ascertained, giving him a bag of hallucinogenic mushrooms. "Tom was one of my best friends for many years — we had one of those relationships that was full of mischief — and for some reason he gave me a bag of mushrooms and I didn't even know what to do with these things. So they were in my refrigerator and they were dried out, but my cat, Lewis, whenever I opened the refrigerator, would jump in and try to grab them. I don't know why he was so attracted to them — it was like catnip! He really wanted those mushrooms. One time he got some and got into them, and I chased him, but he grabbed some with his mouth and started eating them. So I thought, 'Well, I'd better do them with him, I guess'. So we did that and it was kind of an amazing experience. I remember I was in bed and he was on the nightstand staring at me, and I was staring back at him, and we could not stop looking at each other. We had this, like, deep connection like we were brothers or something. I haven't done it again since — it was a one-off."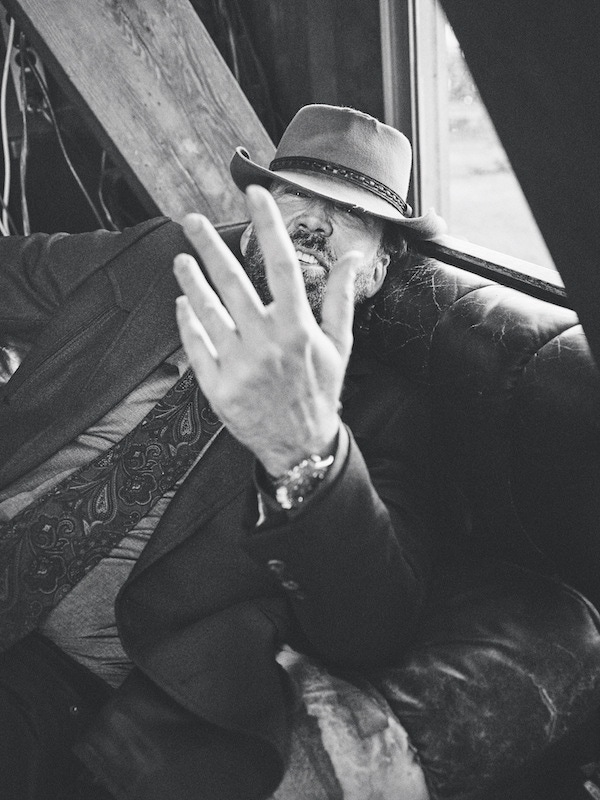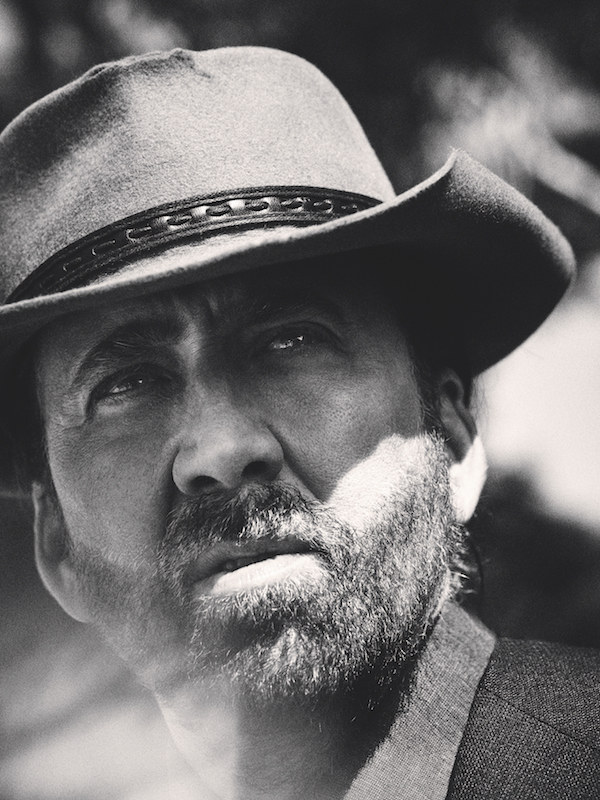 Cage is no closed book. Later he'll tell me, under precisely zero journalistic pressure, in relation to his decision to move to Las Vegas in 2012, "At the time I was digging myself out of a rabbit hole and there was no state tax there, so that helped". But there's something more than just candour going on here. A glimpse of the open floodgate that straddles Cage's torrent of consciousness is offered by the commentary he gives when scouring the darker crannies of his memory, even when he's relating his most embarrassing moment to strangers.
The story in question takes place on the night of his high school prom. "My date was a beautiful girl. She was my next-door neighbour. And I think her name was… A… er… She changed her name, but it was A…" [Sighs] "…At first I think her name was Elizabeth Ashley… not Elizabeth Ashley, it was Ashley Trimble or Trimbly or Ashley or…" Eventually he re-rails. "Anyway, she went on to become a model. I couldn't believe she wanted me to take her to the prom. First of all she was a couple of grades older than me, and secondly she was the most beautiful girl I'd ever seen and I was a bit of a nerd. But I went, and I had to cash all my bonds — my grandmother had given me and my brothers bonds, and one of my elder brothers got a beautiful stereo, the other one got a down payment on a car, but I needed mine to rent a tuxedo and rent a limousine and get a great pair of shoes, because I was going to take the most beautiful woman in the world out to the prom. And then later she kissed me. And I got so excited that I actually threw up on my shoes, and then I ran away. Then the limousine said I couldn't get in the car because I had vomit on my shoes, so I walked home about five miles, and that was the end of my prom night."
Read the full interview in Issue 55 of The Rake, on newsstands December 8th. Subscribe here for more.
Production: Michael Power / Flower Avenue.
Photographer's Assistant: Sam Ford.
Fashion Assistant: Veronica Perez.
Grooming: Cheri Keating @The Wall Group.