OMEGA: MY CHOICE - Karl-Edwin Guerre
Inquisitive menswear street photographer Karl-Edwin Guerre divulges his generational alliance with luxury watchmaker Omega.
Karl-Edwin Guerre's mantra is that style is the coming together of unlikely things, and this transcends into capturing street style that evokes his own personal stylistic tendencies. As such, his lifestyle has made him a popular figure in sartorial menswear circles, and he now commands a like-minded legion of other discerning gentlemen to follow suit. With a spirit that encapsulates an eclectic take on timeless style, he's the utopian attorney for Omega watches. What is your Omega story? In the late '60s my father left Haiti and moved to the United States. He had studied engineering in Haiti but had to go to school again here in the United States. Upon finding his first job, the first luxury item he bought himself was an Omega watch. He had the watch for a few years, but one night while riding the NYC subway he dozed off only to awaken past his stop and watch-less. NYC was certainly not the city of bright lights then. My father always spoke to me about that watch, and although I never saw it, I wanted to wear something similar to it. The goal was to purchase the watch and gift it to him. It's gifting time. What is special about your watch to you? This watch is special as it's similar to that of my father's. It's a De Ville Tresor Master Co-Axial 40mm and it's a timeless, classic, modern, strong and sleek timepiece. How would you describe your personal sense of style and how has it changed over the years? In the past, I've said my personal style was casual yet elegant. Something that marries tailoring and the rebellious spirit of jazz. With no set rules, it's just about feelings and emotions infused with a taste acquired with experience and knowledge of self. If you could change one thing about the current state of menswear and fashion what would it be? I would only want to continue showcasing different options in menswear. I am a photographer who has been able to share visuals from different parts of the world, so I don't want to change one thing, I only want to continue to add texture to the story, while giving men an option that's not limited by lack of travel, experience and taste.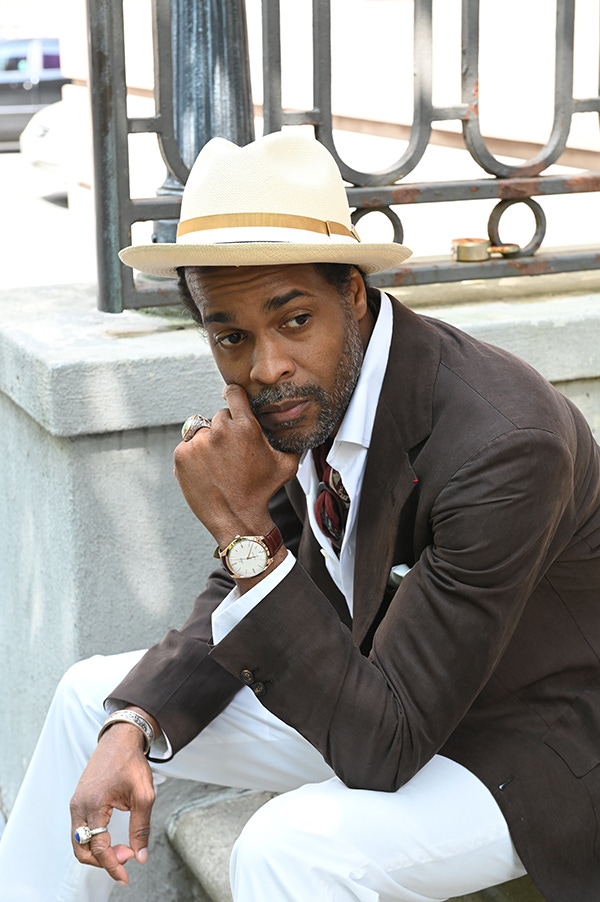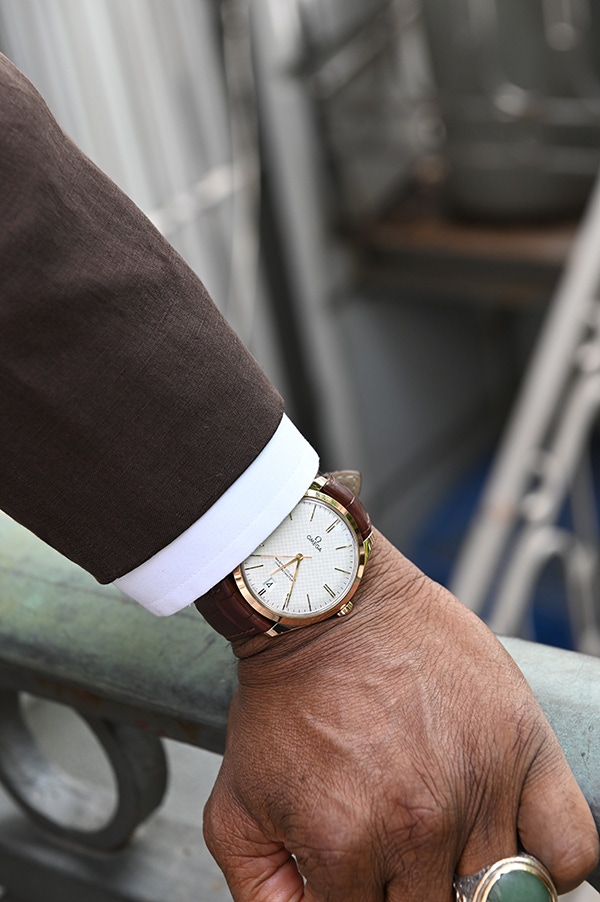 If you could take one outfit to the moon, what would you take?
In all honesty, the outfit wouldn't really matter as much as the accessories. So, I'd take a time-tested watch, a hat, and my rings. All these things have a significant meaning to me.
What does The Rake mean to you?
The Rake
has always represented the image of well-rounded men. Not only on the surface with nice clothes, but full of wit, poetic thoughts, and a level of sophistication in the writing. It is a solid example that showcases growth and a refusal to remain stagnant.
If you were stranded on a desert island, what would be your three items of choice?
A Panama straw hat, a pair of sunglasses and my favourite book, 
The
Treasured Writings of Kahlil Gibran
.
If you had one superpower, what would it be and why?
The ability to time travel. I would love to have the opportunity to assist, document and help right some of history's wrongs.
What should a rakish man never be without?
A rakish man should never be without his signature pieces. In my case it's a hat (the wider the brim the better), a beautiful writing instrument, and a watch with a story as it's a reminder of a life lived and companion of experiences.
To embark on your own Omega Speedmaster Moonwatch journey, peruse the collection here.