OMEGA: MY CHOICE - Lorenzo Cifonelli
Born into a tailoring dynasty, Lorenzo Cifonelli is firmly laying down the foundations for future generations with aplomb and an Omega on his wrist...
The co-proprietor of one of the world's most esteemed bespoke tailoring houses, Lorenzo Cifonelli was destined for sartorial greatness. The eponymous house is under the stewardship of the fourth generation of the family and it's arguably the most distinctive and easily recognisable house thanks to its iconic shoulder. Lorenzo is no stranger to Instagram: his feed is a superb curation of inspiration on how to dress, whether that be pattern clashing with aplomb, or elevating tailoring to new and unfound pastures of excellence. Unsurprisingly, Omega has always played a key role in how he accessorises his personal aesthetic. It was, and still is, his first horological love…
What is your earliest memory of Omega?
I've always known about Omega. When I was a kid my father was an Omega addict so he inevitably transmitted the virus to me.
Tell us about your watch and why is it special to you?
It's a vintage Omega Dynamic automatic. I bought it when I was 18 years old in Paris with my own money and when I saw it I fell in love with it. For me, the most important part about a watch is the look and the blue dial is beautiful. But, it's also very light and comfortable to wear. It's very chic, too, and it's my favourite design of all my watches. Also, back then, Omega's price points were accessible for me. I was young, after all!
Tell us about the suit you are wearing?
It's a classic Cifonelli double-breasted jacket I made about four years ago. I made it from a vintage flannel, which is probably about 20 years old. I largely prefer vintage fabrics over new ones since it takes me some time to appreciate and love a certain cloth. My shoes are made-to-measure from John Lobb. I have four pairs in the same style because they're so versatile. I can wear them with everything from formal trousers to denim.
What makes a good tailor? 
A good tailor needs to maintain a low profile so that he or she can have control. That's why I check every jacket five or six times as it's being made. But also, the secret is consistency. It doesn't count if it takes you six months to make one jacket. A good tailor is not someone who makes one beautiful suit, it's the guy who makes 20 to 30 suits, all of equal merit. Consistency is super important. This is why I don't work with tailors outside my workshop. All my workers are in house, and each jacket is checked by me personally five or six times.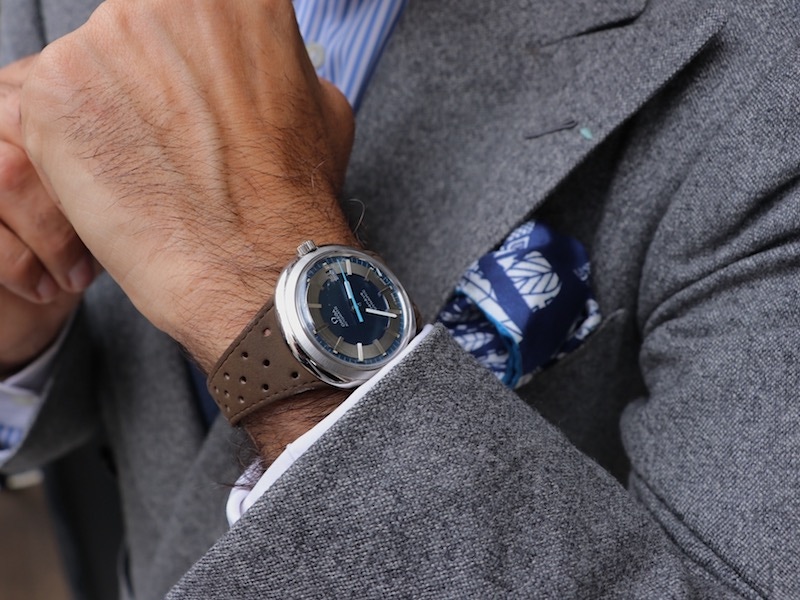 If you were stranded on a desert island with only three things, what would they be?
I'd take my guitar, of course! I started playing when I was about 15 years old and I try to play every day. I have a guitar at the office, so at lunch I'll sometimes play a little bit. I would also take a Cifonelli travel jacket, as with Cifonelli it's very casual and very versatile. And I'd take my first love, my Omega of course.
What does The Rake mean to you?
The Rake is probably the Bible for tailoring and I will never forget the cover we did with my cousin Massimo a few years ago with the legendary title 'The Gospel according to Cifonelli'. I always enjoy browsing through the magazine and it's definitely a huge source of inspiration for me. 
What does being rakish mean to you?
Rakish means being nonchalant and open-minded! Don't you agree?
To embark on your own Omega Speedmaster Moonwatch journey, peruse the collection here.