OMEGA: MY CHOICE - Nicola Ricci
Nicola Ricci, co-founder of beloved Italian tailoring house Sciamat, has been a dedicated fan of Omega from a young age. Here, he reveals what the luxury watchmaking label means to him.
In 2002, along with his brother Valentino and co-founders Silvana and Pippo, Nicola Ricci launched renowned Italian tailoring house Sciamat, revolutionising the world of menswear in the process. Now, Ricci is a sartorial icon in his own right: his contemporary, often playful takes on classic styling have garnered him a loyal following in Italy and beyond. With valuable insights into the intricacies of design and craftsmanship, it's no surprise that his affinity with luxury watchmaking label Omega is so strong...
What's your Omega story and what's special about your watch to you?  
My story with Omega started when I was young. I saw a beautiful watch on the wrist of a family friend - it was a Seamaster. I fell in love with it and thought at that precise moment that a watch is more than simply an instrument of time. 
Over the years I've had the opportunity to witness the changes in the brand and have appreciated the fact that it has always remained at the top for precision, reliability, durability and, of course, style.
My current Omega is from a collection from the '70s. I bought it at a particular time in my life when the certainties of the present were aligning with certain novelties on the horizon that would change many things for me. It was a happy moment and everything was ready to be even more so (as it often happens) when you add courage, will and a touch of madness!
No one has so far been able to tell me when Omega officially first created an automatic watch dedicated to Mickey Mouse. But one thing is certain: this watch was exactly what I wanted to have. A mouse on a nice watch certainly represents more than a small and defenceless creature. Indeed, Mickey Mouse is almost mythological; sharp, with a high moral sense, and always knows how to give the best of himself. He is able to keep up with the times and change with the times. The combination of Omega with Mickey Mouse is, on the surface, quite bizarre, but it works perfectly.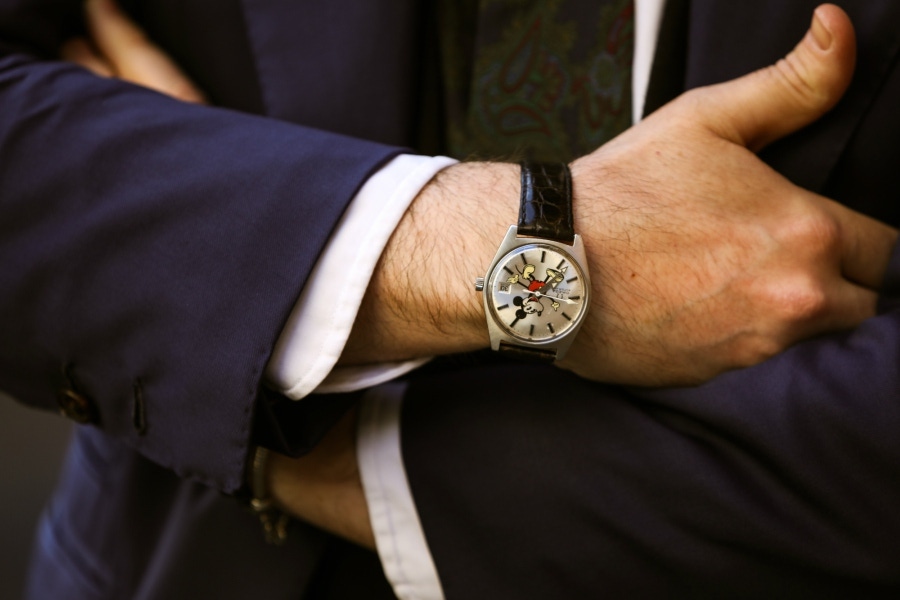 What is your favourite memory or experience you've had with your Omega?
My nicest memory so far is related to my wedding day. On my wedding day, a photographer from Spain came to my house and took pictures of me while I was getting ready. I put on a shirt with cufflinks and a tie and at the end, I put on a watch. The photographer, after taking many pictures of me, said, "I'm sorry but we should shoot some more photos... you know… I can see that you are very excited. You have put your little brother's watch on your wrist". I smiled at him and I told him that there was no need because it was my Omega Mickey Mouse, obviously vintage and that I would have worn it even at such an important moment as my marriage. He stopped and looked at my watch closely, then told me: "Great choice!"    
How would you describe your personal sense of style?
You don't learn style at school, you either you have it or you don't. 
And I think this is a representation of what and how others look at you.
 Style, in my opinion, is 'being yourself' and 'feeling good about it', and trying to find the most appropriate look in every situation we live in!
If you could change one thing about menswear, what would it be?
I would change little or nothing because I can't change the world of menswear. 
But maybe if I could do one thing I would certainly avoid the merging between styles of classical menswear and sportswear. Sometimes, you have to know what to do and it could be a nice mix, but for example, I just can't swallow the fashion of recent years of wearing sport shoes with classic dress.  
If you could ask Buzz Aldrin one thing, what would it be?
Just one question would be too reductive for an incredible man who had such important experiences in his life and contributions to science. 
However, for sure, I would like to ask him a couple of things... For example: upon taking his first step on the moon whether he'd ever thought about how it would be nice to return home and explain to everyone how he felt to see the moon so close and be part of the extraordinary event that he was experiencing. Second, whether he ever considered - just for a second - staying on the moon as a founding father of a new civilisation beyond the earth!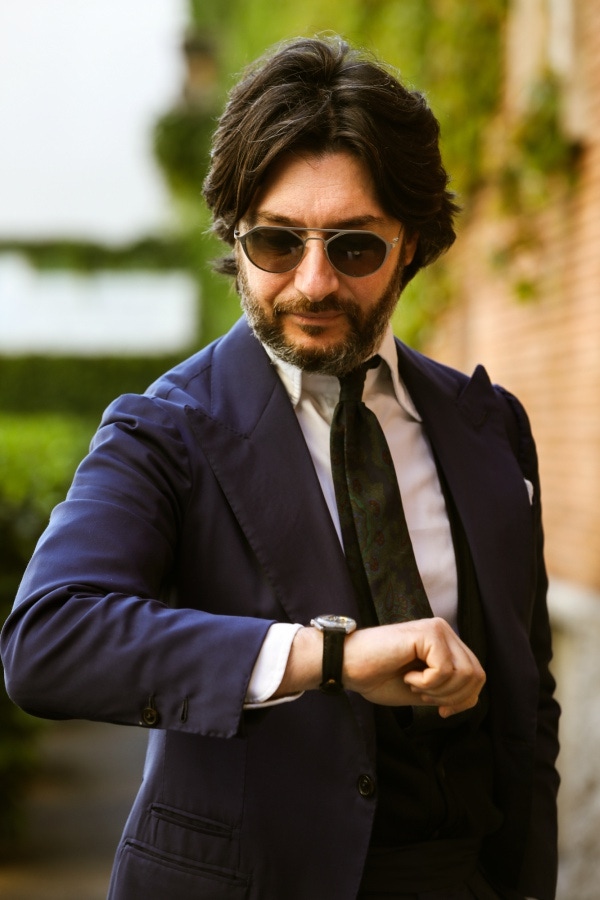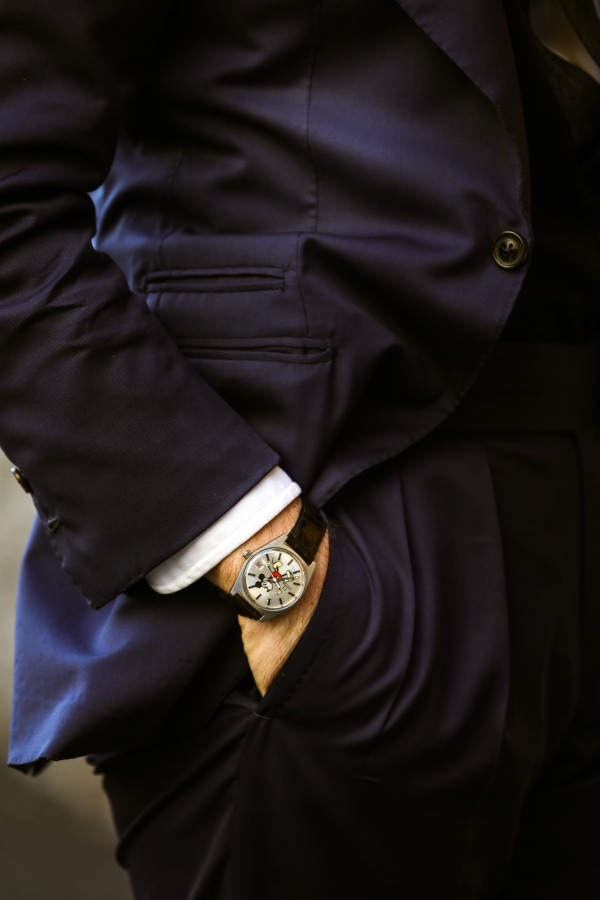 Based upon the styles of dress of the time, what decade would you travel back to?
In every decade, there is something interesting and nice that can inspire you, but I would choose the 1920s or 1930s to travel back to. They represent an era of elegance and energy.
If you were stranded on a desert island, what three items would you take and why?
I would take a piezoelectric lighter because fire is important for many reasons. And then, I would take a stack of notebooks and one "ethergraf" pen. I need to write, draw my dreams and give shape to my ideas. Oh, I almost forgot - I absolutely have to take a musical instrument because music is so fundamental to my life!
What should a rakish man never be without?
The simplest answer would be…never without a super nice watch! But charm, imagination, elegance and a dash of irreverence are also key ingredients.
What does The Rake mean to you? 
I think it's not difficult for me to express my attachment to
The Rake
. I've known
The Rake
since it was launched and I really appreciate the work of the great founder, the editor and the whole team. So, my answer could be biased! However, the truth is that
The Rake
is not simply a magazine. Now it has become "an instrument" for lovers of beauty. You can find inspiration within the pages that talk about clothing with beautiful vintage photos, as well as when it comes to watches or cars or even event reports, everything stands out as high-level content. In this era where we are in a hurricane of information, people need to know which is the right direction and I say here it is...
The Rake
is the compass!
To embark on your own Omega Speedmaster Moonwatch journey, peruse the collection here.