Ooooh James... put some clothes on
With the first trailer for the 25th Bond film No Time to Die giving us a peak into Daniel Craig's final outing as 007, Josh Sims breaks down his sartorial 'legacy'.
Wait. Hang on. Yes. James Bond is set to wear a cosy sweater in 'No Time to Die', the 25th film in the British movie franchise and Daniel Craig's last outing - no, really this time - as Bond. Sure, as the first, recently released trailer for the forthcoming film suggests, it's a nice sweater: a boat-neck ribbed fisherman's style, worn over a white t-shirt. But this is Down-the-Pub Bond - "Heineken - cask not bottle" - and rather like the wardrobe department forgot to change Craig between trailer and set. There's even Rami 'Bohemian Rhapsody' Malek as the villain, all pouty lip and looking like he's set to burst into "mama, just killed a man..." But where's the hero for whom being well turned-out is as important as being well-hard?
Craig-era Bond - five films over 14 years - may have successfully re-booted the franchise for post-Bourne times, with Craig's acting chops bringing a much needed psychological depth to the character. Yet arguably it's been something of a let-down in sartorial terms. The trailer shows Bond in a bar, dangerously close to being mistaken as a waiter in that crisply-collared, open-necked black shirt. Or in more of those rather pedestrian, overly-fitted suits - a little too ordinary, a little too functional, a little too middle-management, too, let's say it, high-street. In 'No Time to Die' Bond even wears a tie-clip, the least confident accessory in the male wardrobe - even if you are a secret agent who might want to keep a flapping tie from getting in the way of, say, saving the world. What could be used expressively - helping to give fullness to the tie - rather just sits there, looking cheap and shiny.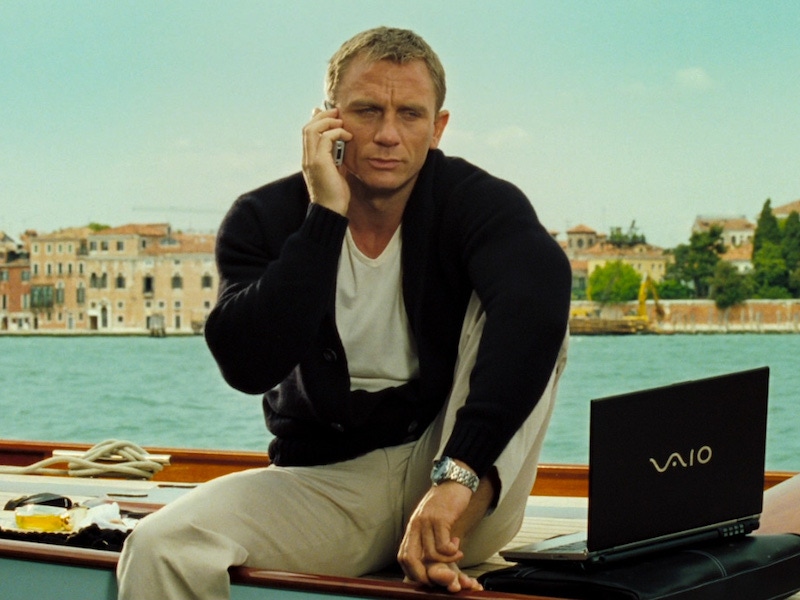 Of course, the various production teams who have worked on the Craig films have not been afraid to nod to Bonds of the past, specifically the Sean Connery period - which had the huge advantage in being first, but also of being first during the 1960s too, when British stylishness was at a premium. There's Craig in Spectre, in that ivory dinner jacket, referencing Connery in Goldfinger, right down to the red carnation boutonniere. More recently, there's been Craig in the Aston Martin DB5 - in No Time to Die complete with pop-out machine guns. All Craig needs is a toupe and he'd be the full Sean. There's clearly been some desire to tap the wide affection felt for the Connery movies and their style.
But these touches come across as homage, when the films could have taken another page or two from the wardrobes of past Bonds. Rather, they've played safe. This, it could be said, is a product of character development: Craig's Bond is more the tough man and less the mannequin; brutality trumps suavity. Given the faster editing of 21st century action films, there's a reluctance in the camera to linger on the details of the clothing - which, back in the 1960s and 1970s of course, helped set Bond apart as a glamorous figure in times when such dress wasn't typically available to your average man in the audience. But it's those tailored clothes - the subtle sharkskin cloth, the longer line of a jacket or its particular shade of blue, for example - that helped make Connery's Bond so iconic. Controversially perhaps, Pierce Brosnan's Bond - with his tailoring's more defined shoulders and preference for a three-piece suit - pulled off much the same.
None of this is to say that past Bonds have been exemplary in their style. Some have been very much of their time, and so, in retrospect, very much out of time: Timothy Dalton's 80s baggy jackets; Roger Moore's ruffle-fronted dress shirts and safari suits (thankfully not at the same time); George Lazenby's Bond as comedy Scotsman, or that British khaki zip-up suit and orange sweater, for a game of golf. Even Connery's Bond suffered the occasional mishap: check out the pink tie he wears half-mast in 'Diamonds Are Forever' - who needs a tie-clip? Or - and admittedly many love this - that baby blue terrycloth playsuit in 'Goldfinger'.
Indeed, it says something about the changing nature of the Bond character - even of the Bond films in a cinematic universe of Bond-a-likes and endless superheroes - that Craig's version looks so much more convincing out of a suit - in this time and time again he's outclassed by M - and in casualwear. Craig looked great in that 1950s-style training gear - complete with Adidas Gazelle 2s - in 'Skyfall'. The same movie saw him go all Indiana, in leather jacket and khakis, much the same outfit having appeared in 'Casino Royale'. He looks relaxed in white open-necked shirt and heavy navy cardigan in 'Quantum of Solace', or in that Harrington jacket. And Sunspel no doubt rang the tills when he appeared in that chic-simple polo shirt.
Not everything is right: it's hard to tell whether it's a more egregious decision to, in 'Casino Royale', put Bond in Bono-lite wraparound shades and a short-sleeved white shirt with epaulettes - like the off-duty porter from a cruise liner - or to have him drive a Ford. And not just any Ford - but a Mondeo. But Down-the-Pub Bond turns out to be exactly the kind of rough-and-ready Bond Craig has channelled. That was the message encapsulated in one line, also in 'Casino Royale', that had the Bond fanatics reeling. Would Bond like his vodka martini shaken or stirred, the barman asks him. "Do I look like I give a damn?" 007 replies. The same goes for his suiting. Would you like your suit in a micro-check or a houndstooth, his tailor might have asked. "I couldn't give a flying..." one can imagine Craig's Bond shooting back. Small wonder his is a Bond most likely to enter Bond fashion lore as the one that wore as little as possible, exiting the foam in those packet-revealing trunks...
Does all this leave potential for a stylistic re-working of our favourite spy for Bond 26, whenever that might come and whoever might be playing the main man? Or is the notion of a Bond more scarred than sartorial, more dangerous than dapper, now set in stone? For the time being that, undoubtedly, remains top secret.