Parsing Pitti: the round-up
Get all the insider insights from the world's biggest sartorial menswear fair.
If you missed our dispatches from the world's biggest sartorial menswear fair this week, don't despair. We've decided to round up all of our insights here so you can get the inside track on what the most stylish gents were wearing in Florence last week. It's a big scroll, but certainly worth the time to peruse through and pick out the elements that best suit your personal style.
In a sea of brown, colour floats to the top
We've been seeing a significant number of Pitti-goers favouring earthy hues this season, including every shade of brown known to nature. Brown on brown, with a sprinkling of herringbone weaves and various patterns is an excellent way to nail tonal dressing in the winter months but it's always advisable to make an admittedly small splash in the palette with a bold colour or two, especially in shirting or ties, which naturally draw someone's gaze to your face. We saw some very eye-catching examples of this on Day 1: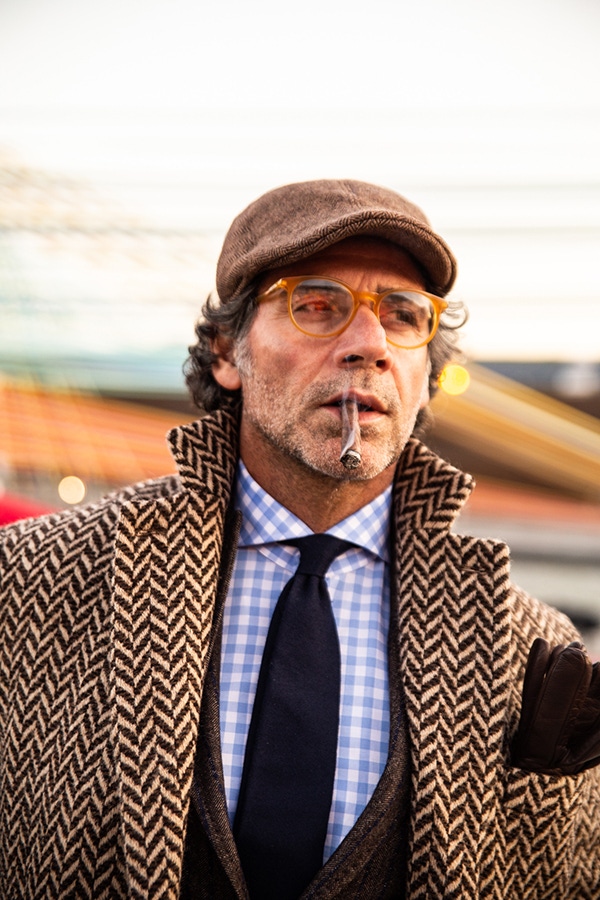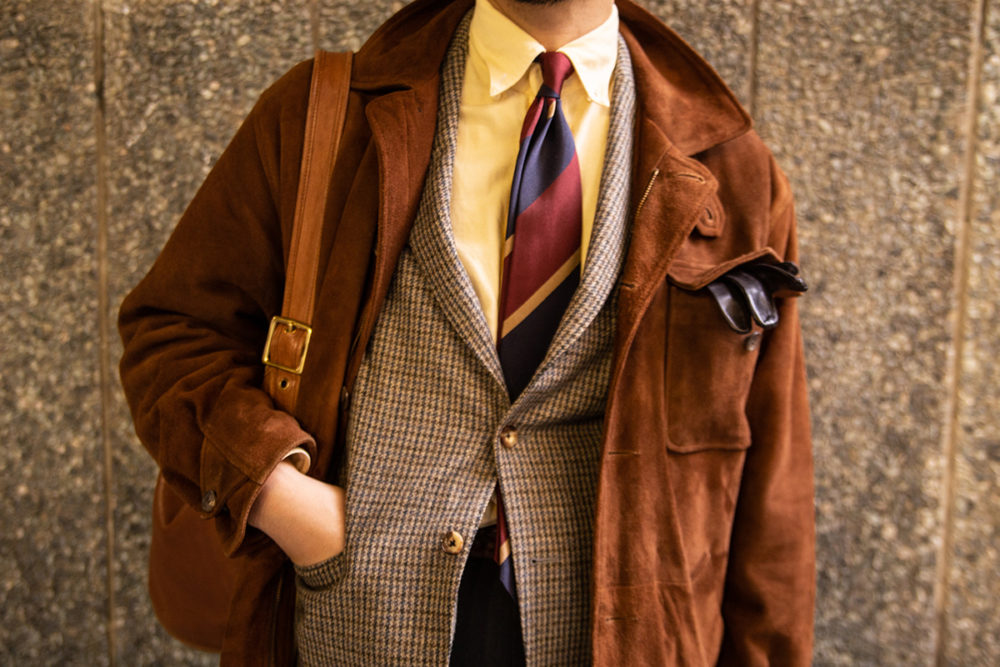 It's a heady time for hats
Recently I was shown an incredible reel of salvaged film that documented a daily scene in Paris in the late 1800s and what struck me was the incidence of every single man in the frame wearing some type of hat. It's not so long ago that man wouldn't, no,
couldn't
leave the house without something to cover their heads. More recently, the beanie and the cap have worked their way into classic sartorial ensembles, but it was evident at Pitti yesterday that the fedora and its smarter cousins are back with a bang.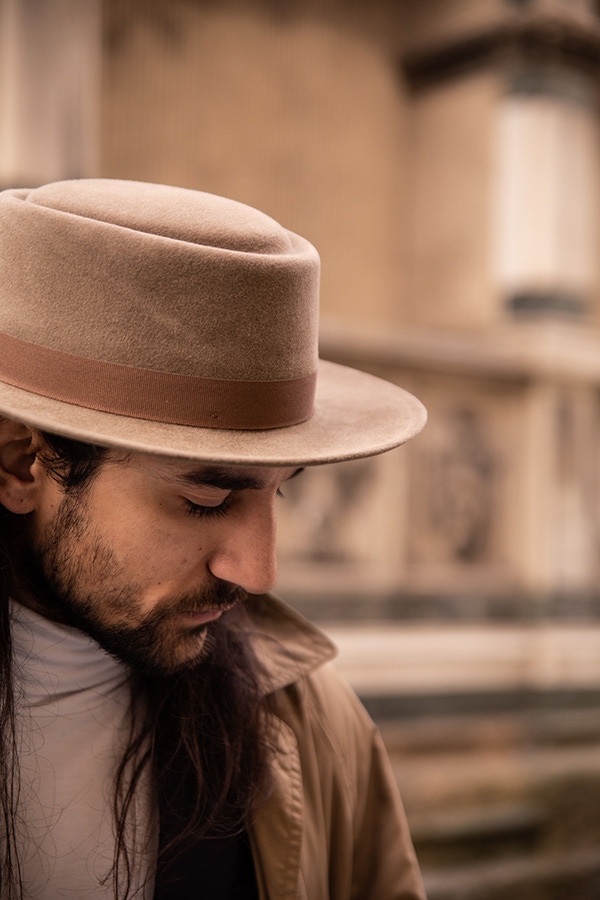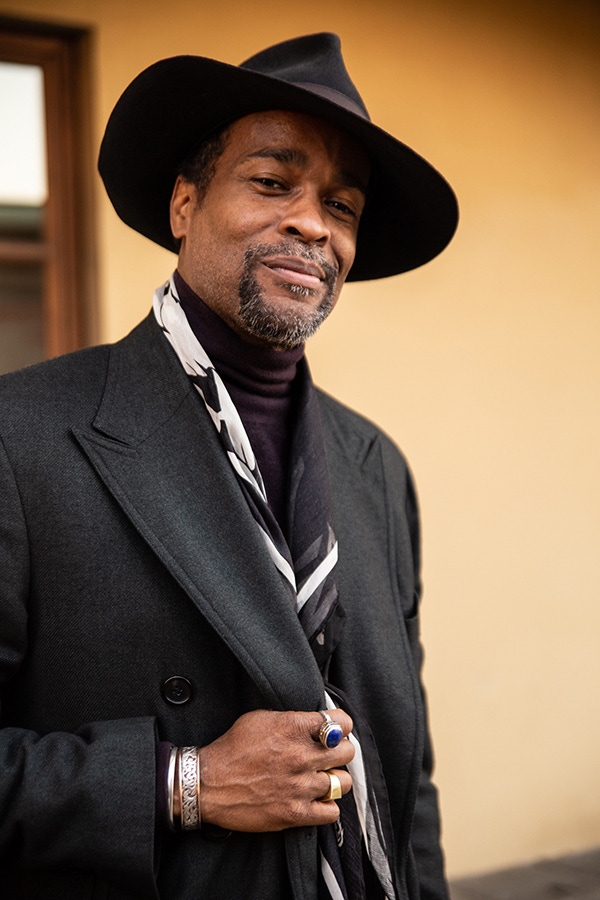 Jewellery is always at hand
For some it's an embellishment too far, but what is for sure, those conservative types are scarce at Pitti. We witnessed a glut of jewellery - gold, silver and otherwise - mostly in the form of rings and bracelets (necklaces were either concealed or done away with entirely - we'll find out this summer). Hand jewellery is a very effective way at displaying one's personality and they can often hint at nuances of character. Where our brains are quick to make first impressions last, these are often revised at the glance of a skull-headed bangle or rock 'n' roll ring peeping out from a formal business look. They hint at a secret life, and mystery always adds another dimension to style.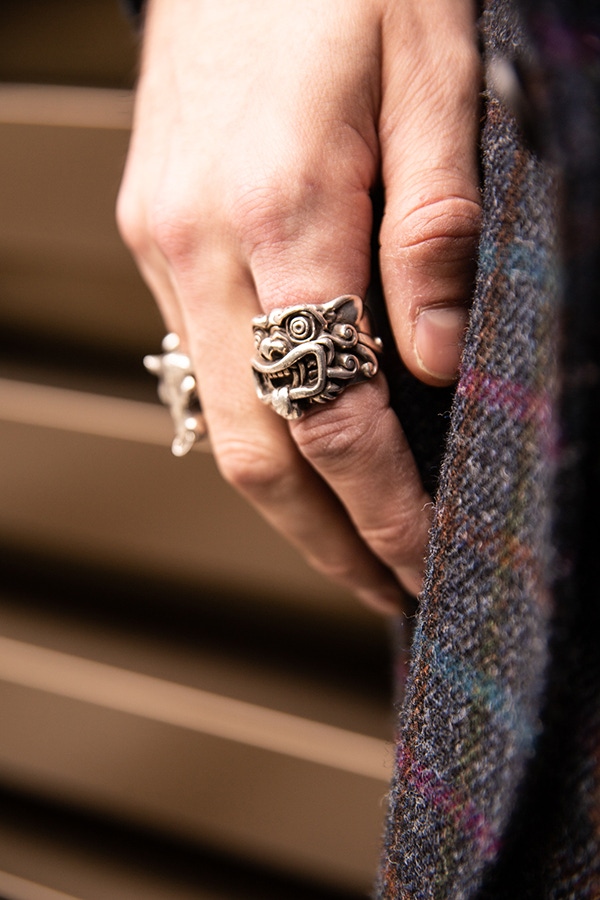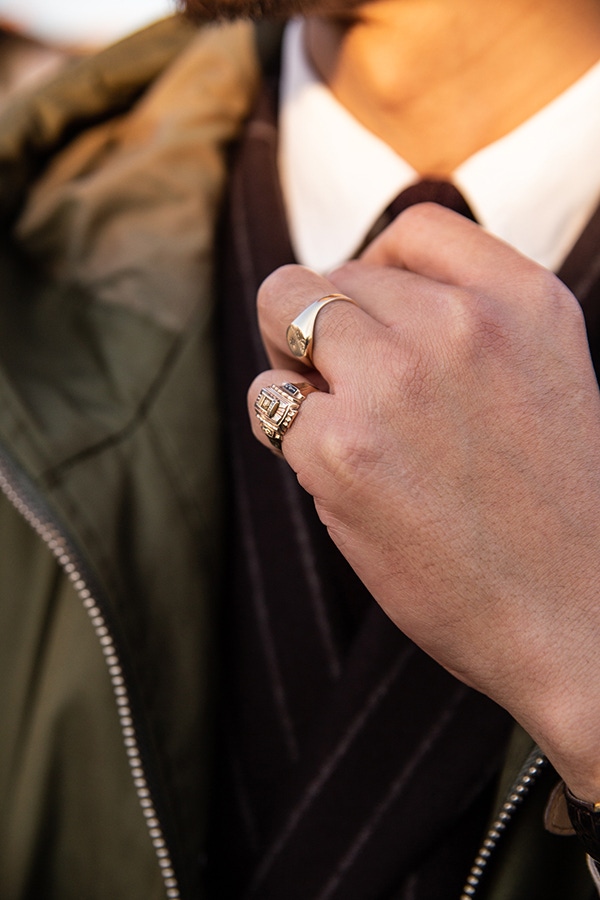 Casually Does it 
While tailoring itself might not be evolving at any great pace, the way men are wearing it certainly is. The old codes which were designed to be adhered to are merely signposts these days, as the sartorial crowd lead their looks every which ways. One direction we've noticed is a general casualisation (I know, fake word) of classic suiting. We've seen jackets swapped out with leather biker blousons, sneakers and caps with suits, and perhaps most oddly, a very recent trend in the unbuttoning of button down collars (as if they weren't casual enough). I'll say it now - I'm not a fan of this last one. It looks untidy rather than louche but, hey, each to their own.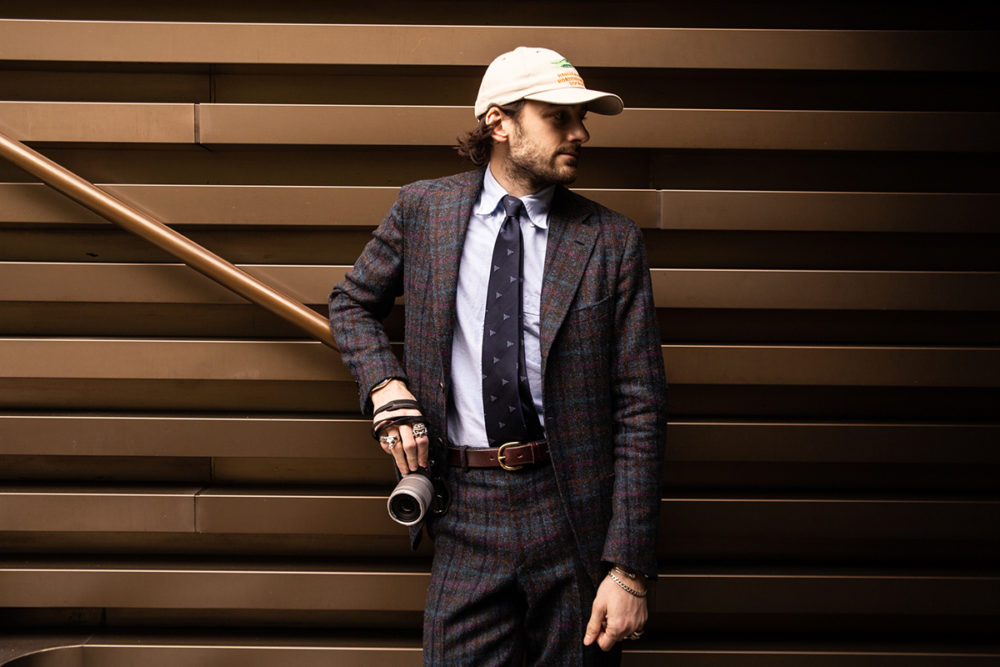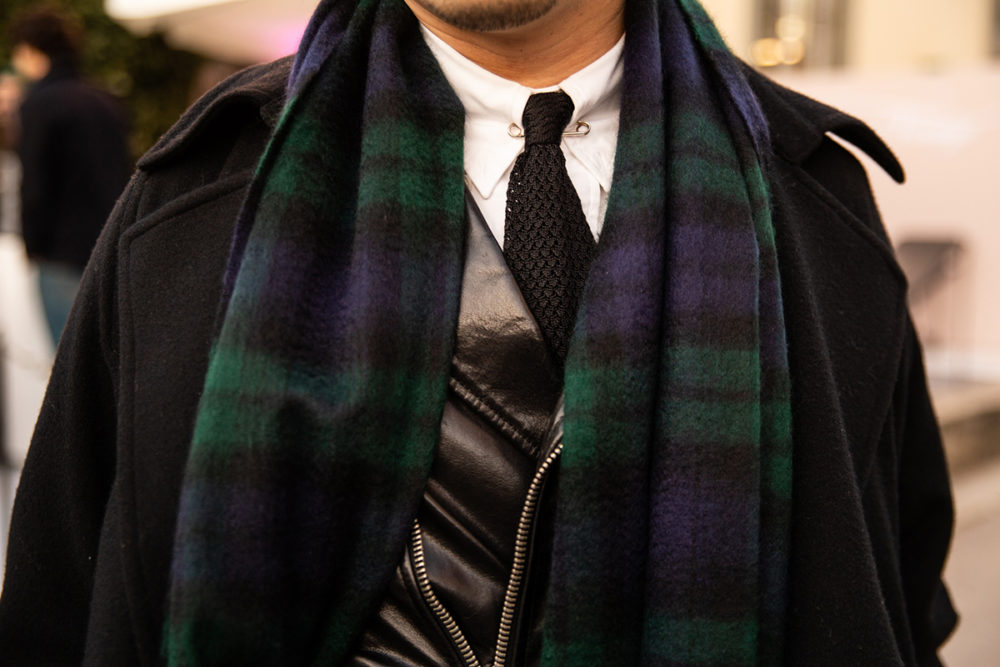 Someone let the dogs out...
...Which is an editorialised attempt to say we saw a hell of a lot of houndstooth. The pattern was everywhere and in all guises, from the classic monochrome style to more intricate iterations contained within check patterns. It's predominantly an outerwear pattern precisely because it's so striking, so if you're against bold colours, going for a houndstooth in a black/white or muted earthy tones is an excellent alternative.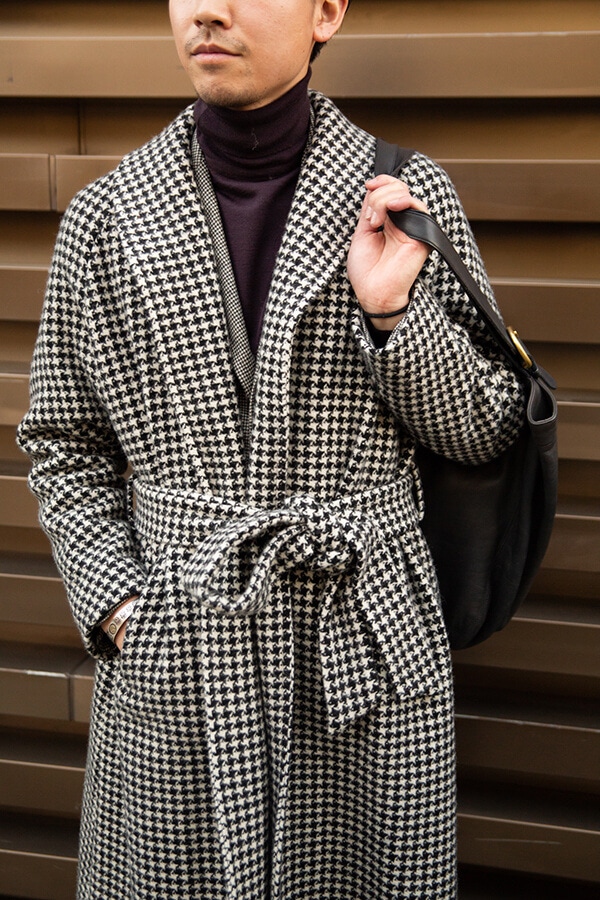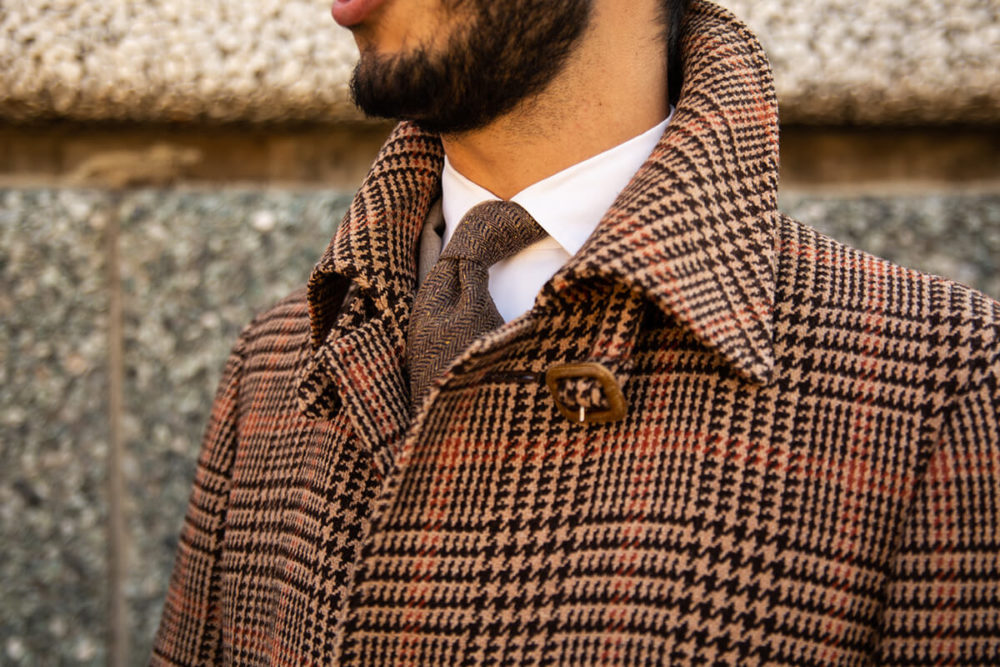 Who's for Herringbone?
Not satisfied with houndstooth, Pitti goers were keen to add another pseudo animal-derivative to their pattern collections, this time in the form of herringbone. More subtle than houndstooth, herringbone tends to look fantastic in autumnal tones such as browns, greens and greys, all of which bring out the best of the chevron design. One of the best herringbone pieces we saw all day was this outstanding coat on the shoulders of one Luca Rubinacci, who smartly offset the light-grey pattern with a tonal blend of blue and finished with a flourish of red silk. Hats off to you, sir.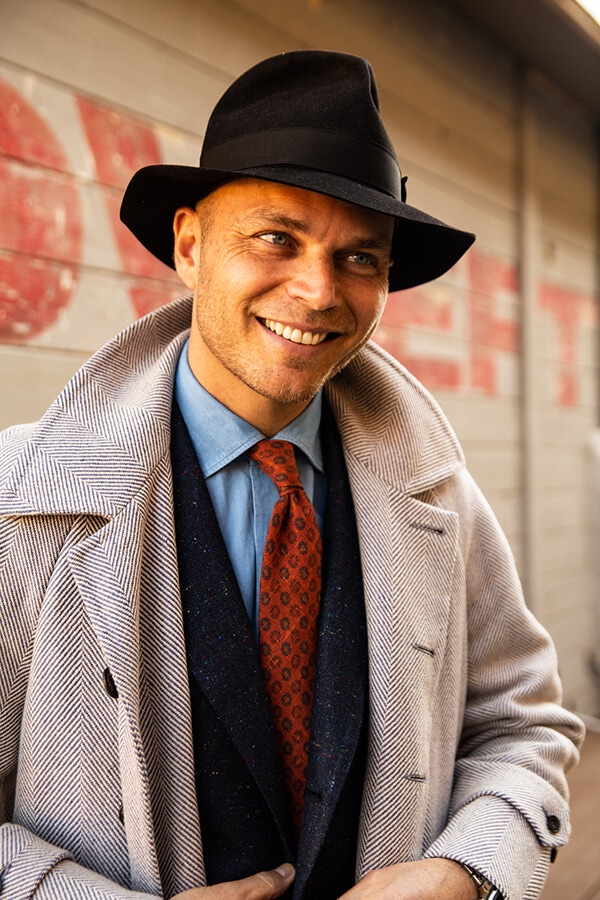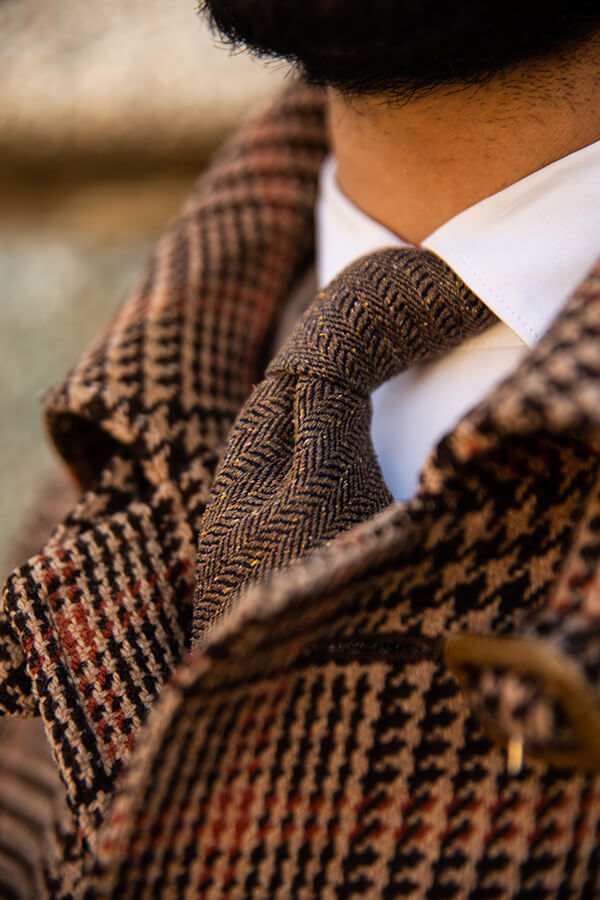 Turbo-charged ties
I want to say that at Caffè Gilli last night, a young Florentine urchin dressed in Eggshell White or whatever that brand is called, strolled into the bar, bravely declared that the tie was dead, and quickly turned on his polyurethane heels to make for the exit. But even before such blasphemy had been digested by all, 10 strong sartorial types had already hoisted the delinquent up by his drawstring trackpants and were admonishing him with the differences between a half-Windsor and a four-in-hand. But I would be lying. The point of this gambit is to reinforce the fact that the tie is indeed flourishing, especially the bold geometric pattern styles. We saw some crackers around Pitti today.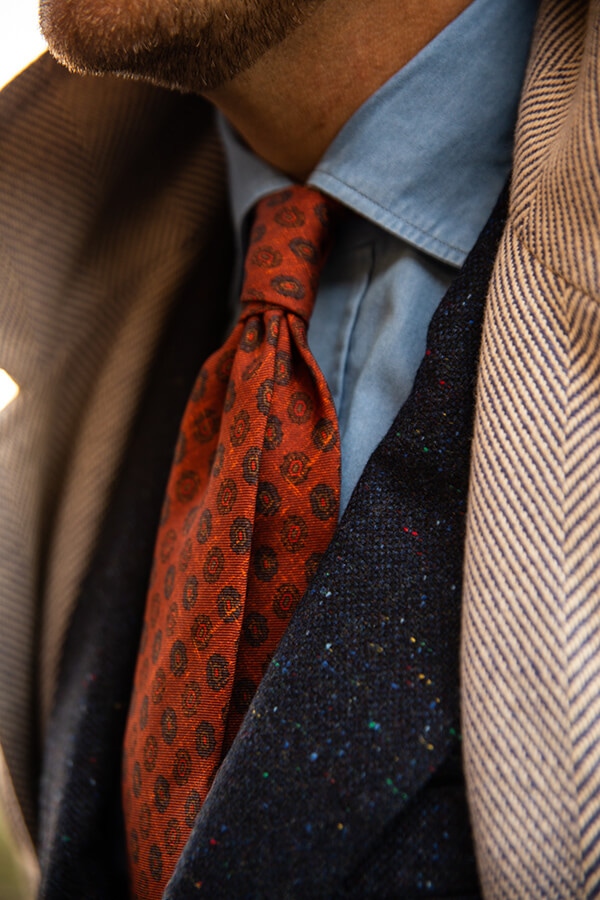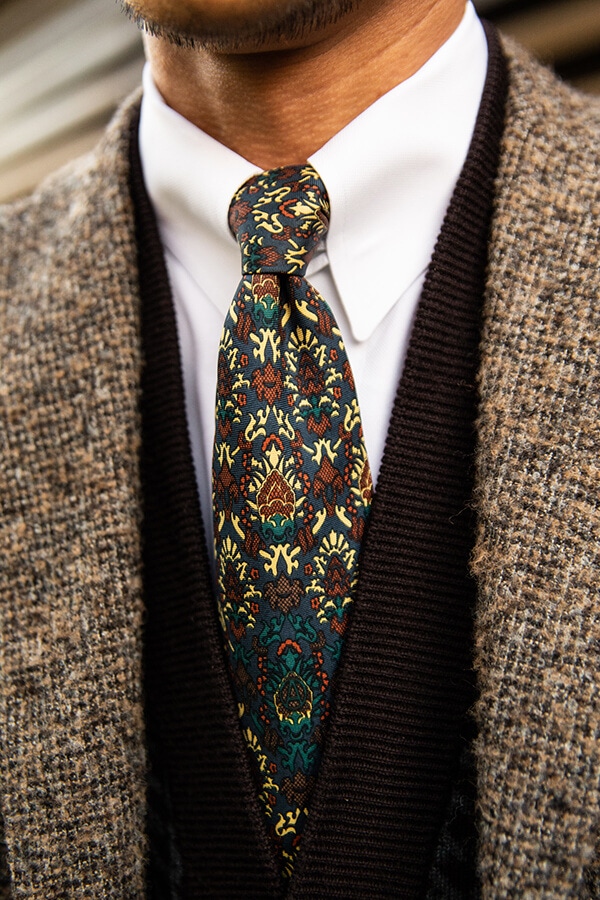 If in doubt, join the navy
Despite what I've just said about houndstooth, herringbone, and geometric print ties, there are times when good old navy blue will tick every box. It doesn't have to be boring either. We saw some stunning examples of chaps wearing nothing but navy from head to toe, and looking very elegant to boot. Which brings me on to the navy blazer, which is a non-negotiable piece of kit. Every man should own at least one style because it is so dependable and versatile. If you're in any doubt, take your cue from one of the best-dressed guys we know, Mr Shuhei Nishiguchi, who makes the ordinarily earthbound combination of a navy blazer and jeans look somehow like they fell to earth from menswear Valhalla.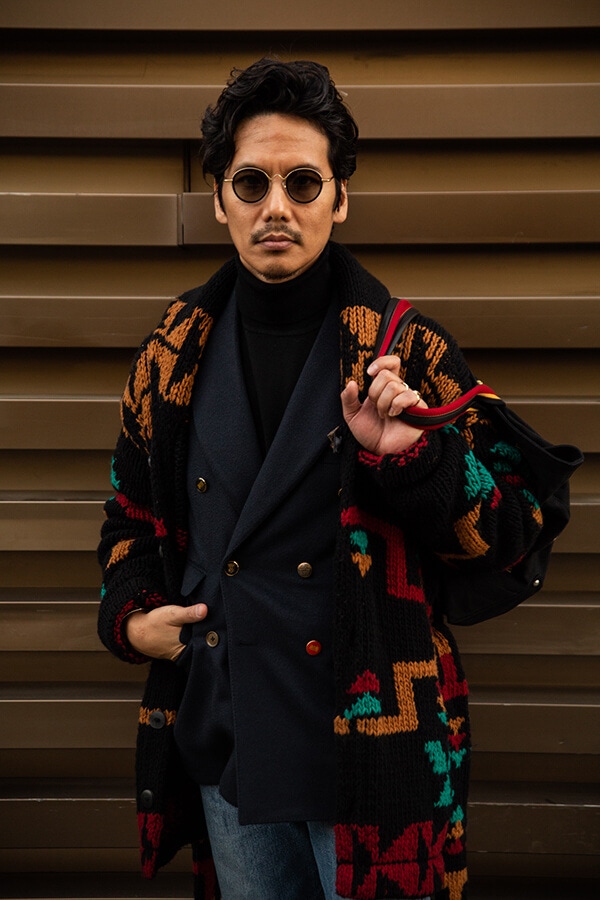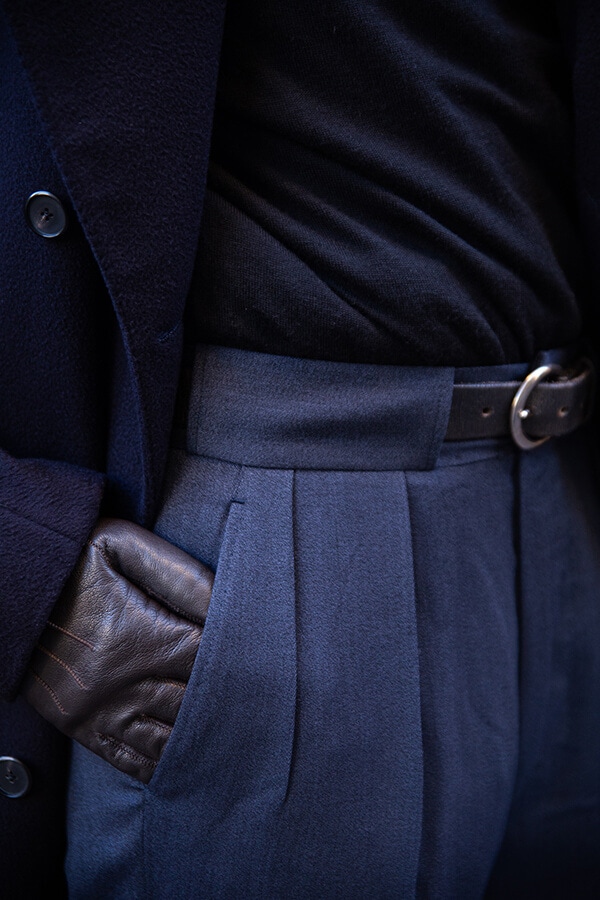 Ribbed and rolled
Lorenzo Cifonelli stopped us dead in our collective tracks with his ensemble of beige houndstooth blazer and white ribbed rollneck sweater, but it turns out this was a motif that a few others were using with great aplomb. Think of it as sartorial science - the human eye is drawn to the bright white hue, while the rollneck demands that the onlooker's eye follows to that great vehicle of conviviality known as the face. Lorenzo off-set his white rollneck against pattern, whereas others choose dark block colours such as brown (more of which below). Either way, it's an impactful modus operandi.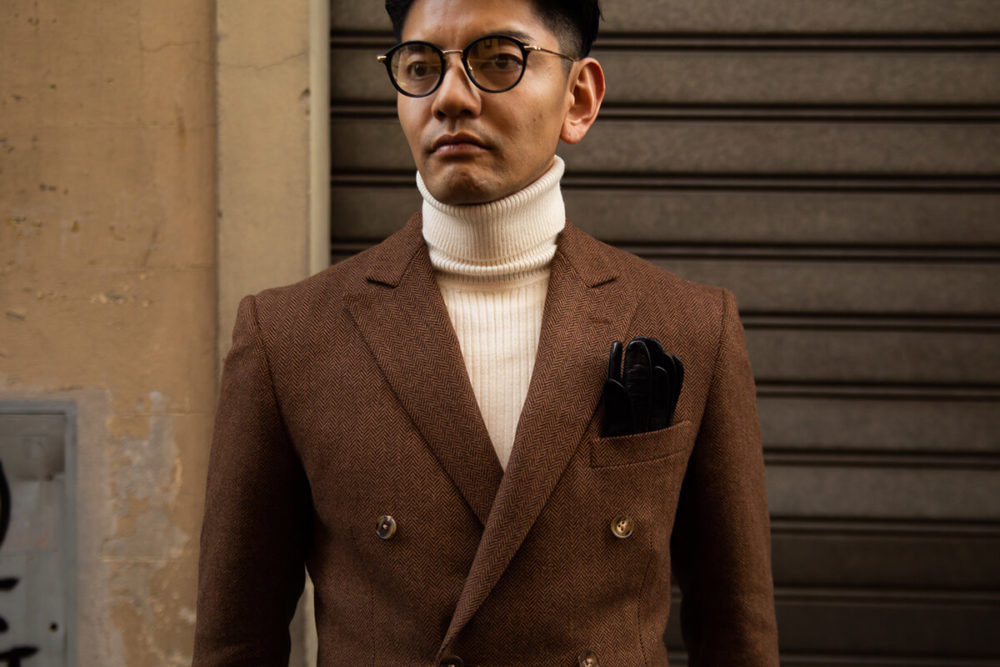 Brown is most definitely in town
Perhaps the single most visible trend at Pitti this season was the cacophony of brown tailoring, following on from last summer's proliferation of brown linen. There were some sumptuous tones knocking about, but what struck us was how diverse people's interpretations of it were. That only goes to show that brown is indeed a very versatile hue, which makes us wonder why more people don't make more of it in their wardrobes. How much more interesting would the daily 9-5 be if we all peppered the charcoal hegemony with a crossfire of tan, chestnut and chocolate?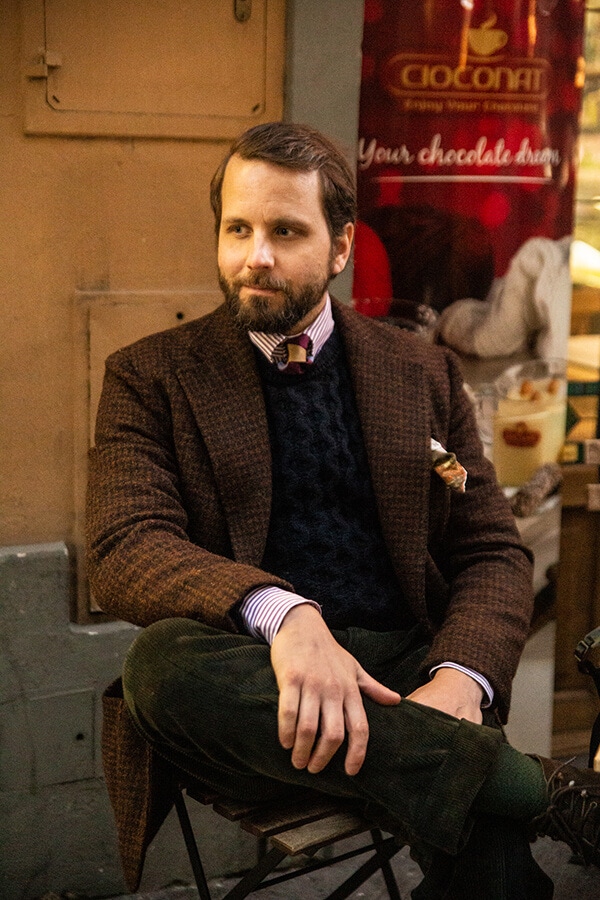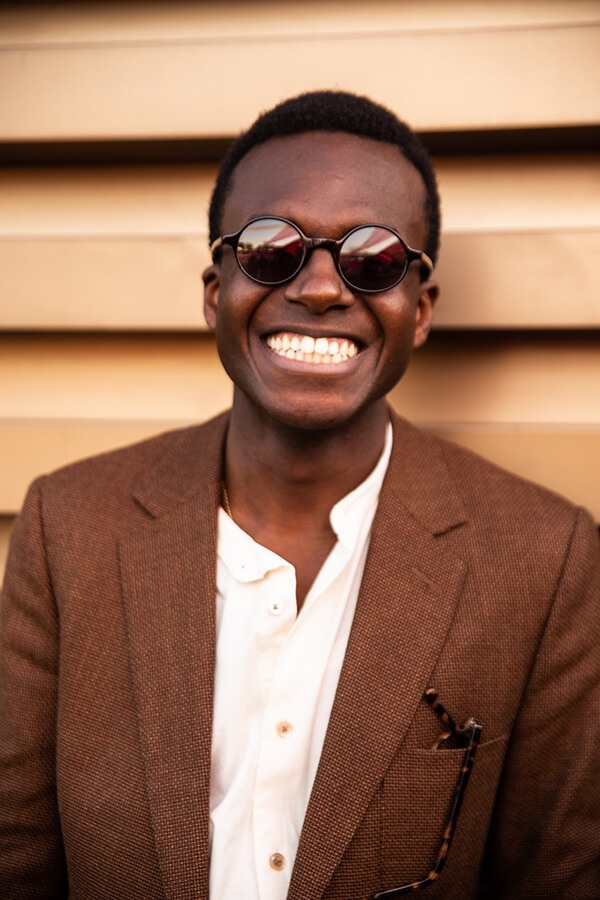 Respect your elders
Unlike the fashion weeks of Paris, London and Milan which largely cater to a younger audience, Pitti is very much aimed at a crowd of more mature tastes, hence why the great sartorial brands tend to showcase there. And although we see an increasingly younger crowd embrace the timelessness of elegant menswear, one cannot fail to drop to one's knees and genuflect at the feet of some truly smart oldsters. We want to look this cool when we grow up.