Paul Newman Daytona: Birth of a Legend
How a Hollywood screen icon became tied to the most expensive wristwatch ever sold at auction.
Paul Newman's best-known roles were like photographic negatives to his true, almost-supernatural talent, offering insightful — if not fleeting — glimpses to the man within. As if usurping and upending Plato's allegory of the Cave, he cast celluloid shadows of himself that were poignant representations of the intensely private person that lay within the physical manifestation of the second coming of the Greek god Adonis. Because in rare — you can count them on one hand — instances in cinematic history have physical beauty, preternatural talent, intellect and moral conscience combined so transcendently. He did his finest work in four films: as 'Fast' Eddie Felson in the pool-hall retelling of the Hubris myth,
The Hustler
; as the deliciously self-obsessed and unrepentantly callous Hud Bannon in the eponymous Western
Hud
; and as America's greatest extrapolation on the postwar Ionesco-type existential antihero in Stuart Rosenberg's incredible
Cool Hand Luke
. And yes, he was one part of the greatest buddy movie/love triangle of all time,
Butch Cassidy and the Sundance Kid
. Whereas each of the men he is best known for playing is, to varying degrees, morally ambiguous; in his real life, Newman excelled — in all areas of morality. As a husband (he was married for over half a century to Joanne Woodward), he was unerringly faithful and loving. As a moralist and political activist, he was at one time placed 19th on Richard Nixon's list of enemies for his outspoken opposition to America's involvement in the Vietnam War.
"Whereas each of the men he is best known for playing is, to varying degrees, morally ambiguous; in his real life, Newman excelled — in all areas of morality."
But it was Newman's philanthropic ventures that inspired us the most. The man who donated USD10 million in 2007 to his alma mater (Kenyon College, Ohio) and co-founded the Committee Encouraging Corporate Philanthropy led the way by turning his own saint-like benevolence up to 11 when Newman's Own, the food brand he co-founded in 1982, unexpectedly became a success. To date, over USD300 million of its profits have gone to various charities. Not only did Newman make altruism cool by building a retreat for terminally and seriously ill children, but he also had the humor to name it the 'Hole in the Wall Gang Camp', after the hideout in the masterpiece
Butch Cassidy and the Sundance Kid
. The memoir he co-wrote on the camps and the Newman's Own venture also had a title that crackled with warm, dry and beautifully evocative wit:
Shameless Exploitation in Pursuit of the Common Good
. It was his canon and he was its Saint. Throughout his career as one of America's greatest screen idols — he was a pioneer graduate of Lee Strasberg's school of method acting, but he neither flamed out, lived hard, died young and left a good-looking corpse — like James Dean — nor gave himself over to saturnine, primordial appetites like Marlon Brando. Neither did he steal another man's wife like Steve McQueen. He was, to a fault, understated and humble, almost as if he had wrenched apart, from his Freudian 'id', one side of himself to revel unchained upon the screen while his earthbound form was presided over by his hyper-moral 'super-ego'. Indeed, beyond acting, the only sign of Newman's aggressive nature was expressed in his one other passion... auto racing.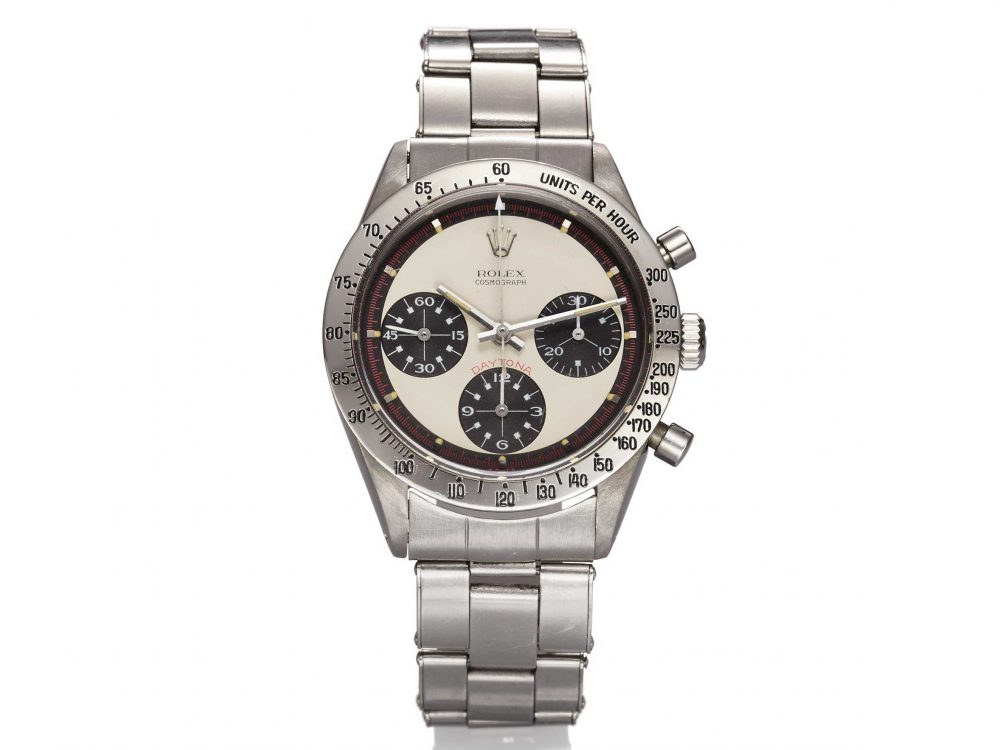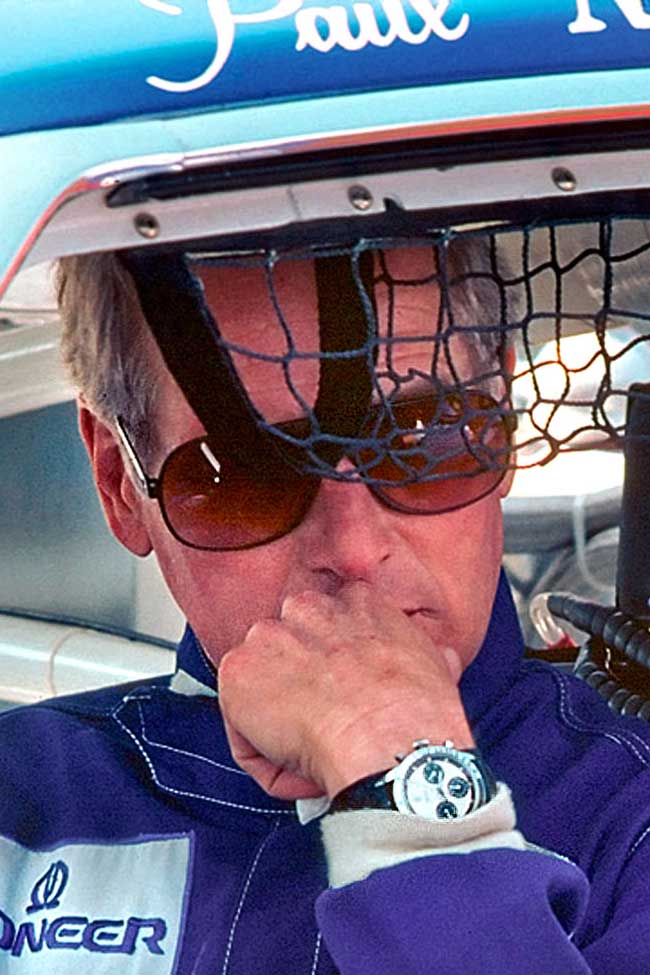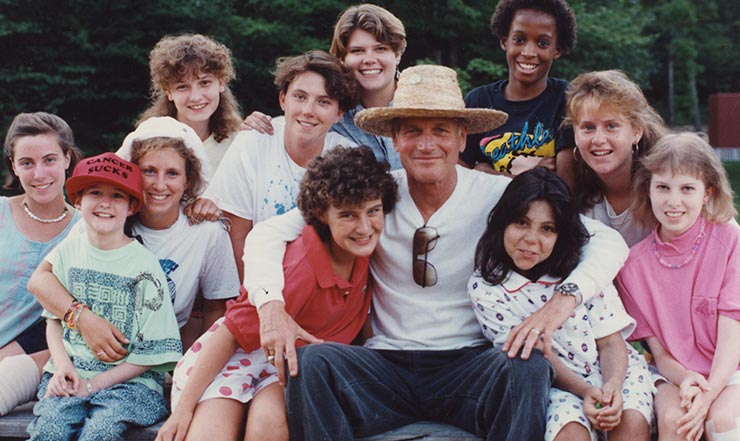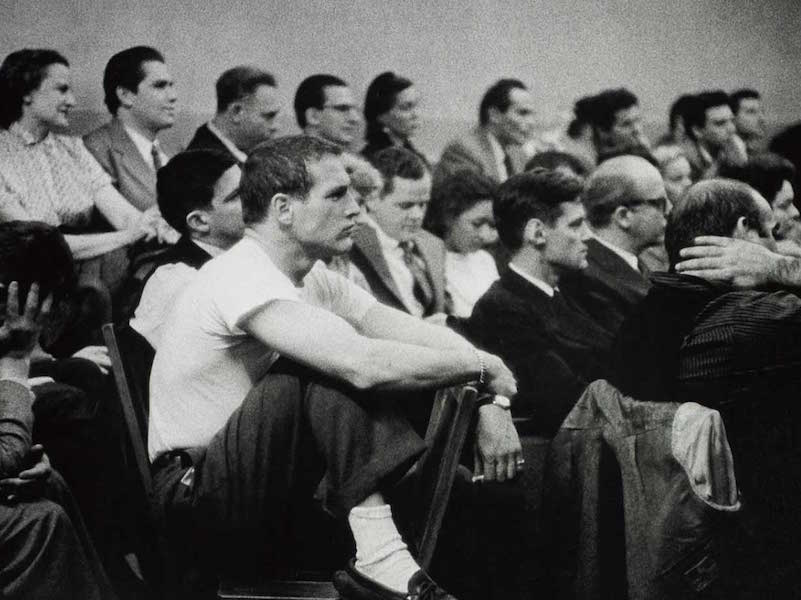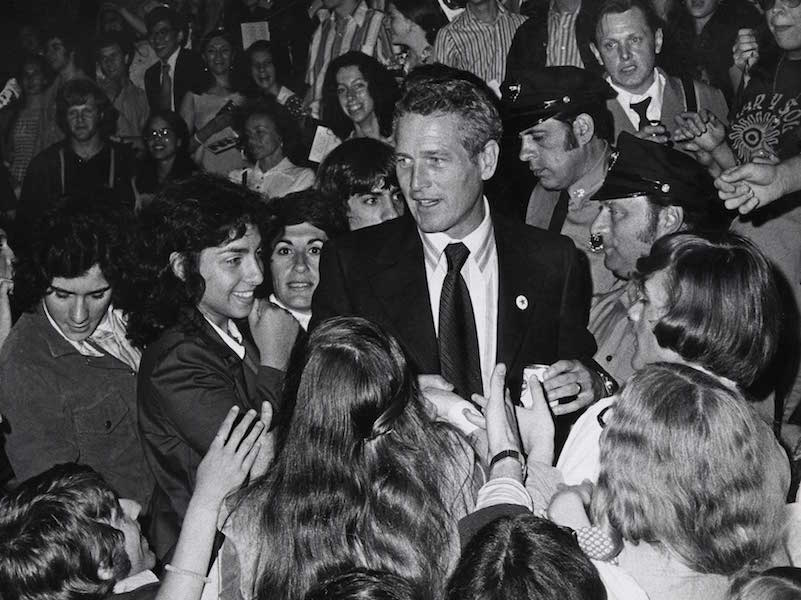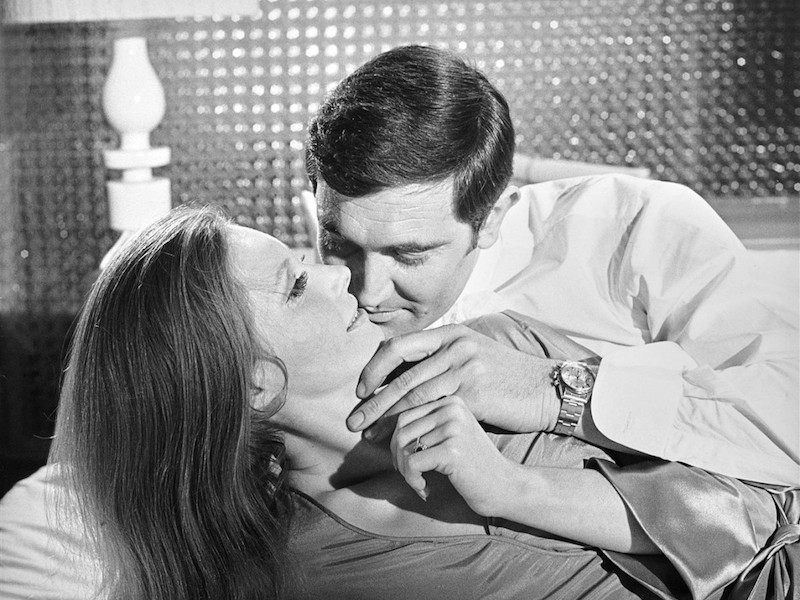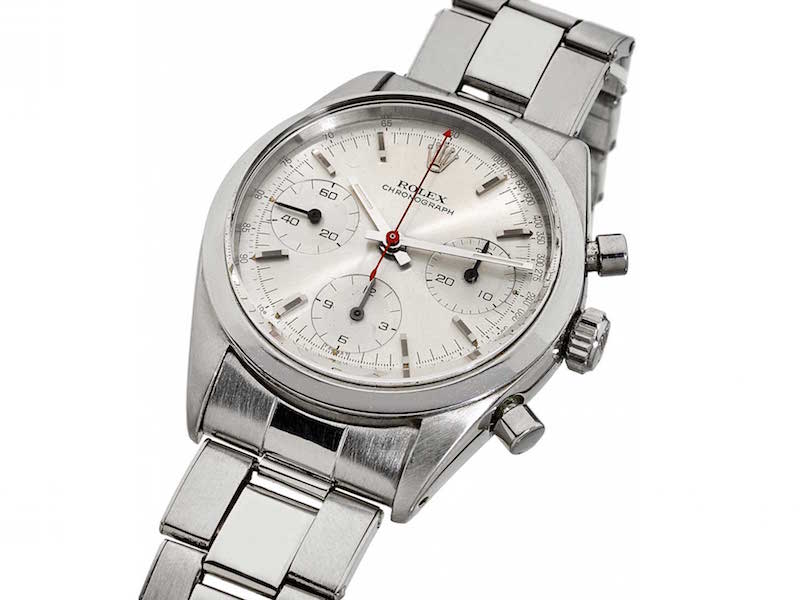 The genesis of Newman's racing career came in 1969, during training for his film Winning. Subsequently, he began competing in the Sports Car Club of America events in 1972. And by God, Saint Paul was good at driving a car around a track. He eventually made his way to endurance racing, placing second in the 1979 24 Hours of Le Mans (but winning his class) in a Porsche 935. Throughout the '80s and '90s, he raced for the Bob Sharp Racing team in Datsuns (later rebranded as Nissans), and in 1995, he became the oldest driver to win his class at the 24 Hours of Daytona. In the '60s, Rolex became entrenched in endurance racing by taking on a role as the official timekeeper for both Florida's Daytona race and France's Le Mans. The motivation behind this was simple. By this time, Rolex had fathered three incredible timekeeping icons: the Submariner, the world's most famous diving watch; the GMT-Master, the world's first GMT watch; and the Explorer, the watch that had summited Mount Everest on the wrist of Nepalese Sherpa Tenzing Norgay. Rolex's philosophy, any keen observer would have noted, was to assert dominance over the sports-watch world in every field. So, it was particularly egregious that, following independent testing around this time, NASA selected Omega's Speedmaster over a Rolex chronograph as its first official timepiece. But the major problem the brand faced was that Rolex's previous chronographs — such as the ref. 3529 or the ref. 6234 — had failed to capture consumers' collective imagination and ascend to the iconic chart-topping position that the brand's other models had reached. Even the ref. 6238's appearance as James Bond's watch in On Her Majesty's Secret Service did little to inspire sales for the Rolex chronograph, though the fact that it was donned by the least-popular Bond of all time, George Lazenby, might have something to do with its failure. In 1963, Rolex introduced the Cosmograph ref. 6239, which transported the tachymetric scale on the steel bezel of the watch in the style of the Omega Speedmaster CK2915. The ref. 6241 was introduced a year later — essentially the same watch but featuring a bezel with an acrylic inlay. The watches soon became popular among the racing community and became known as 'Daytonas' — named after Daytona Beach, a haven for motorsports. In an effort to channel some track-shredding character into the timepiece, Rolex and their dial maker Singer came up with unique 'exotic dials', which were three-color, three-dimensional dials with a raised central surface, contrasted by sunken subdials featuring square, amusingly sperm-like markers with tails and a stepped-down seconds track. At first, these dials were catastrophic failures. Says watch historian Osvaldo Patrizzi: "In those days, dealers would receive extra dials so that if a customer didn't like one dial, they could replace it on the spot with another. Many of these exotic dials were taken off watches because people found them too busy or just strange."
"As he had become interested in racing, he had sought out a timepiece with a chronographic ability to measure elapsed time. The Rolex Daytona fit the bill perfectly."
So how did such abject failure mutate into iconic status as the single best known and sought-after vintage watch in the world today, one of which has become the most expensive wristwatch ever sold at auction? The answer brings us back to our big-hearted screen legend combined with the Italian pre-disposition for bestowing catchy nicknames. The exotic-dial Daytonas suddenly gained traction when Italian collectors rechristened the watch 'the Paul Newman' in the 1980s. Newman began wearing his steel exotic-dial, or 'Paul Newman', ref. 6239 during the publicity tour for the 1969 racing flick
Winning.
As he had become interested in racing, he had sought out a timepiece with a chronographic ability to measure elapsed time. The Rolex Daytona fit the bill perfectly in particular because it featured a 12-hour totalizer, which the Omega Speedmaster did not, and which was vital for endurance racing where races could last 12 or even 24 hours. As to why he chose the exotic-dial variant, the prevailing belief was that his wife Joanne Woodward had selected and purchased the watch for him as a gift. Conceivably, the exotic dial with its vivid array of color and graphic patterns was something that caught her eye. This is the story we prefer to believe because, first of all, it adds a powerful romantic dimension to the mythology, and second, because it is a source of endless amusement that the most famous vintage watch in the world arrived at this status because of one woman's unconventional taste. In an inspired stroke of personalization, Newman never wore his watch with the steel bracelet it came with, preferring instead a thick, black military Bund-style strap. By his first races in 1972, the Daytona — with its quirky black strap and all — became a constant and inseparable companion; his wrist adornment, like him, growing ever more iconic with the passage of time. He would be photographed with it on innumerable occasions over the next four decades. Amusingly, because the watch was not waterproof — because of its pump pushers — Newman's habit was to leave the screw-down crown in the open position so he could quickly wind it when needed. Newman's love affair with Rolex continued until the end, with the legendary actor opting for a white-dial Zenith-caliber Daytona, as well as a white-gold model, amongst others, in his later years. The exotic dials strictly defined as 'Paul Newman dials' stopped being made after the discontinuation of the ref. 6263 and ref. 6265 with screw-down pushers in 1987, although one could argue that the basic color themes defined by these dials still influence contemporary Daytonas today. Also, the well-known and extremely costly Panda-dial two-color or ultra-rare black RCO screw-pusher Daytonas were never worn by Newman even though they inherited the evocative sobriquet "Newman-dial Daytona". Though there was never a formal partnership between Rolex and Paul Newman, their identities have become so profoundly connected through the Daytona that, on two occasions, Rolex commissioned photographic retrospectives on the great actor. The marketing team in Switzerland must be thankful for the day, some time in the late '60s, when a blue-eyed legend-to-be with petrol in his veins was presented a shiny Rolex Cosmograph Daytona with a vivacious three-color dial, by the woman he loved and who loved him, to wear on his illustrious wrist.
Paul Newman's own Rolex Daytona ref. 6239 sold for $15.5million (plus a buyer's premium of 12.5%, making the total $17,752,500) at a Phillips auction in New York City on October 26th, 2017, making it the most expensive wristwatch ever sold.