Pocket Guide: Foulkes & Sons
THE RAKE's Contributing Editor Nick Foulkes and his sons, Max and Freddie, have kept spirits high during the coronavirus lockdown with their popular cigar reviews on YouTube. We asked them to show us their finest before they get any bigger…
YouTube has seen sensations come and go. From Logan Paul to Ninja, we watch as they crest the wave of public interest and reap the rewards thereof. They have never felt too much under threat… until recently, when a triumvirate of documentary makers came onto the scene, fighting coronavirus one corona at a time. Nick Foulkes and his two sons, Max and Freddie, have taken the internet by storm with their rapier wit, impeccable taste in clothes, and well-seasoned palate for fermented tobacco. The premise is simple: they get up at the crack of dawn at the family seat in Shepherd's Bush and review a selected cigar, offering historical and often unrelated anecdotes to keep the pace moving. What makes this such compelling watching is how, in the case of Max, he seems to have inherited his father's irreverence and taste, the latter of which is something people all over the world try to emulate. Nick can claim to be the best dressed man in the world (though it's not in his nature to do so). And the world has always needed more Nick Foulkes . Max fills his Instagram account with two of his favourite passions, rap and cigars, the latter of which means you can find him on most days (when not in isolation) working at Davidoff of London. The time he has spent on the corner of Jermyn Street and St. James's Street has given him an education that years at Oxbridge would be unlikely to match, and this is cause for unabashed parental pride. Freddie, who has just turned 21, is one of many things — a Courtauld scholar, model, documentary director (see Foulkes & Sons videos), Portobello market stall owner, and someone who belies his age with a strikingly intelligent approach to style and self-expression. To strike while the iron is hot (and as the remunerative value of talking to them hit record highs), we asked Foulkes and sons to shoot themselves for a Pocket Guide to allow us a closer look.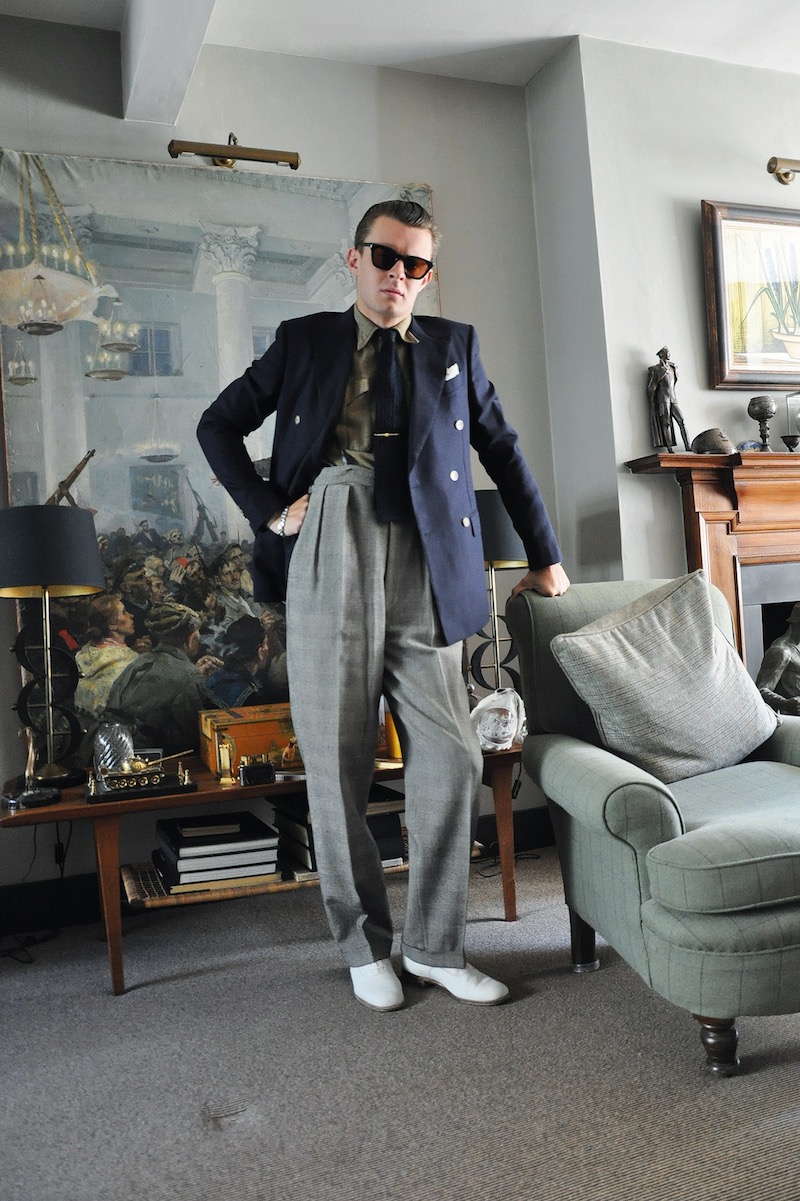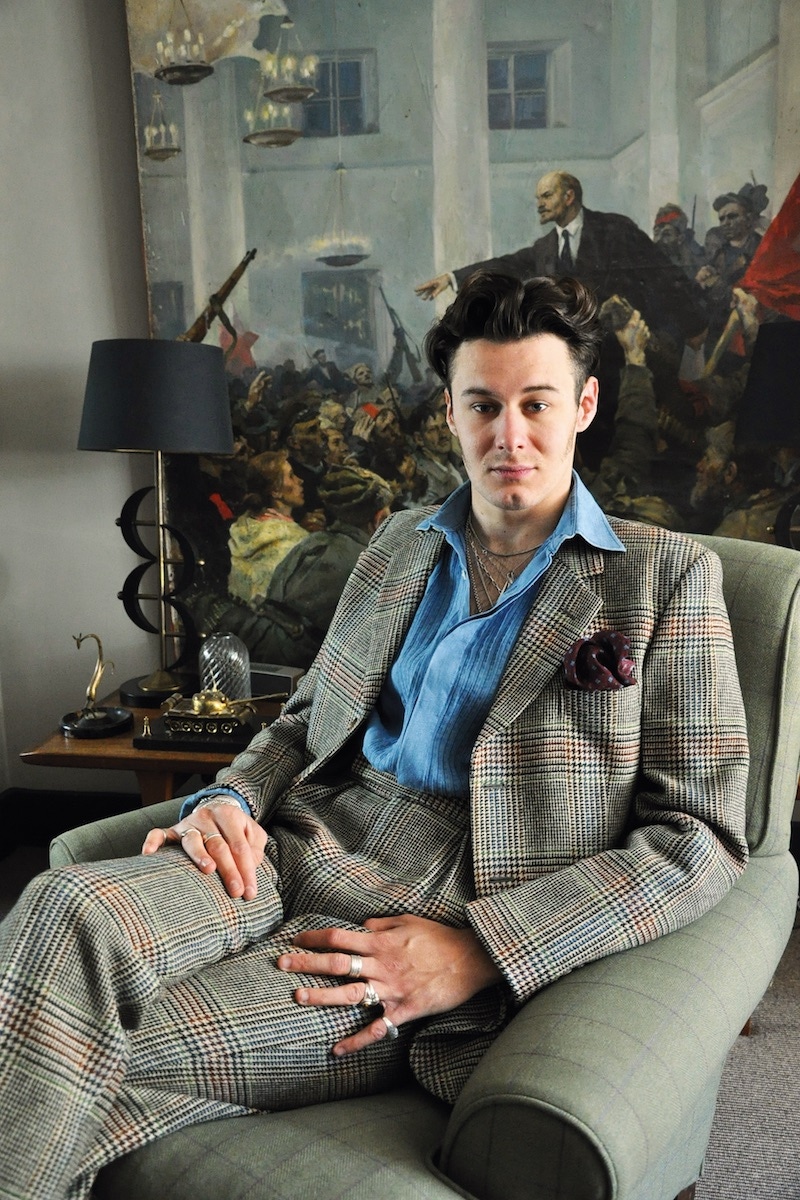 Nick:
Rings have always been a staple of any of Nick's ensembles. On the middle finger is his latest addition, an ecclesiastical ring, acquired at Chiswick Auctions. He is either showing his spiritual side or, judging by the size of it, demonstrating his self-confessed magpie syndrome.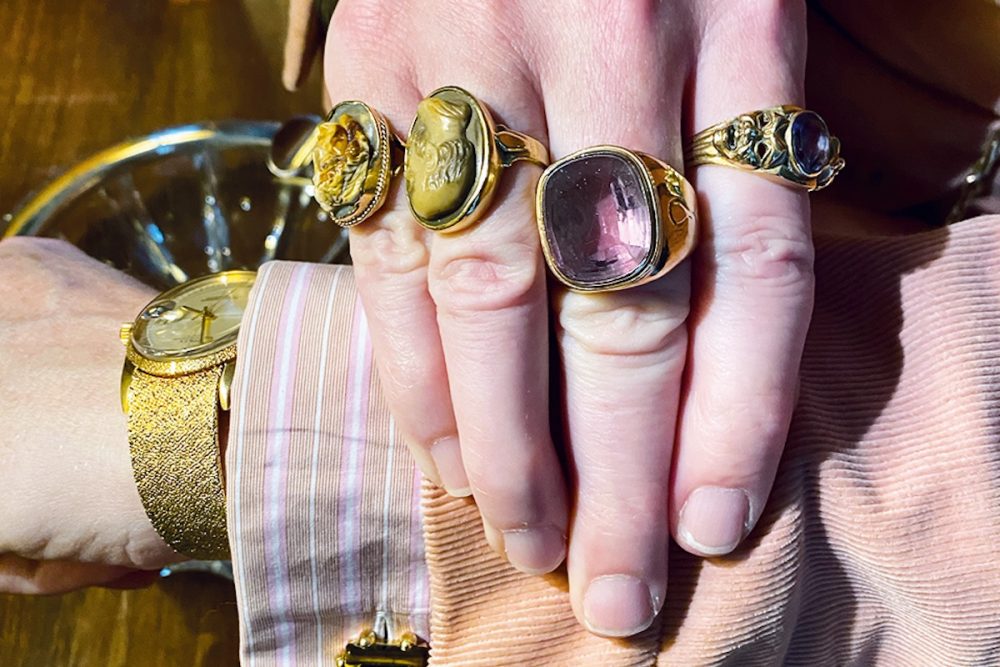 An Hermès pocket-handkerchief, often a feature in Nick's outfits, to coordinate with some other element of the look — in this case, the socks.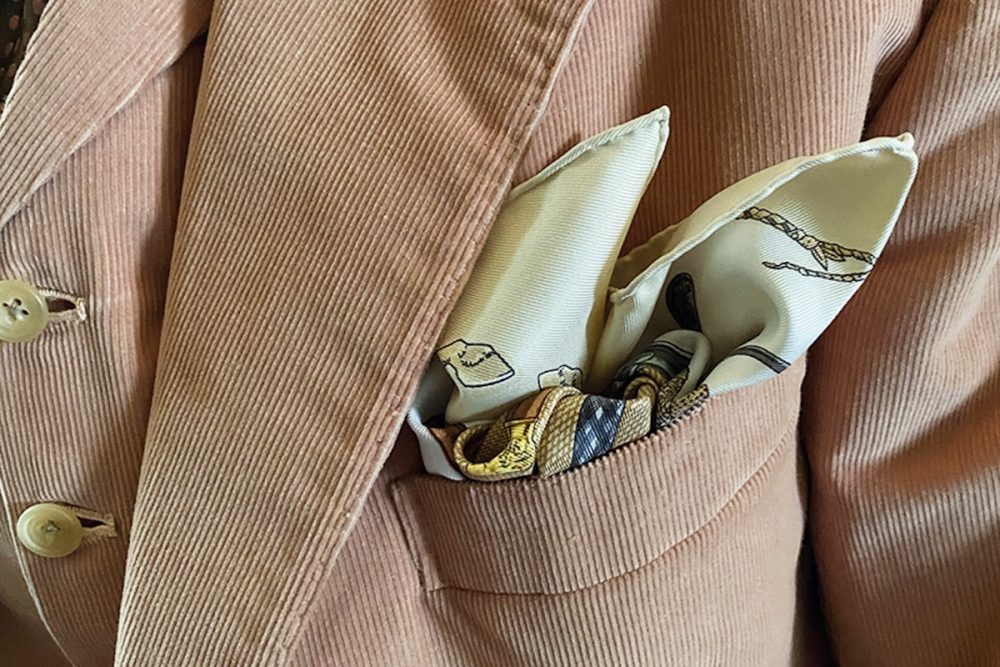 These bespoke Eric Cook laced loafers are part of a large collection of shoes that largely comprises museum pieces. All are kept faultless, highly polished, and leave shoe fanatics like yours truly bursting with envy and admiration.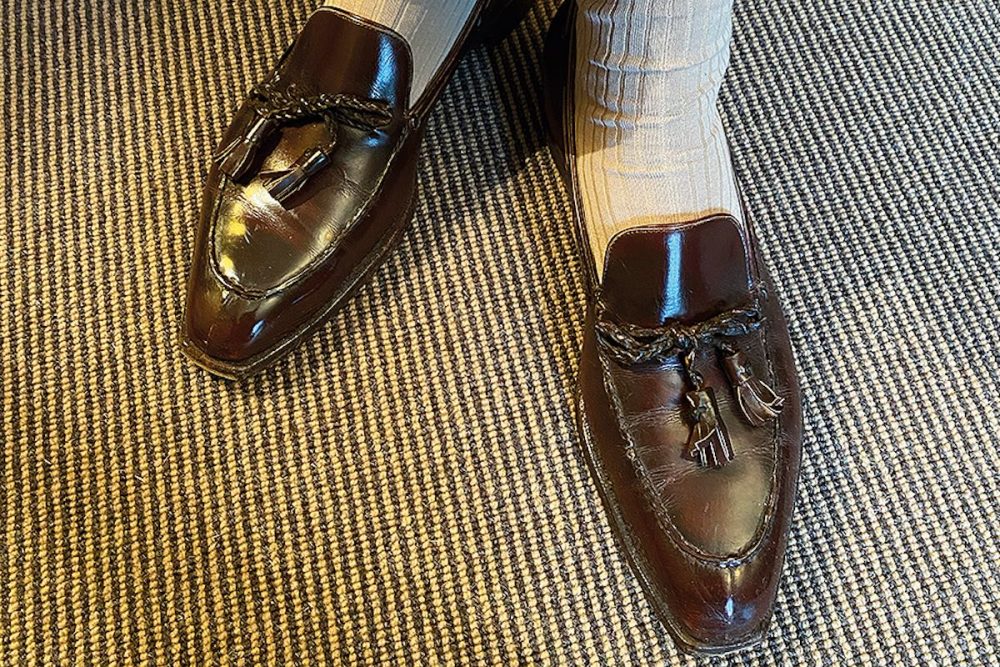 This gold Dunhill lighter from the late sixties has been dripped in white-gold by the man Nick calls "the very grooviest of British jewellers", Andrew Grima.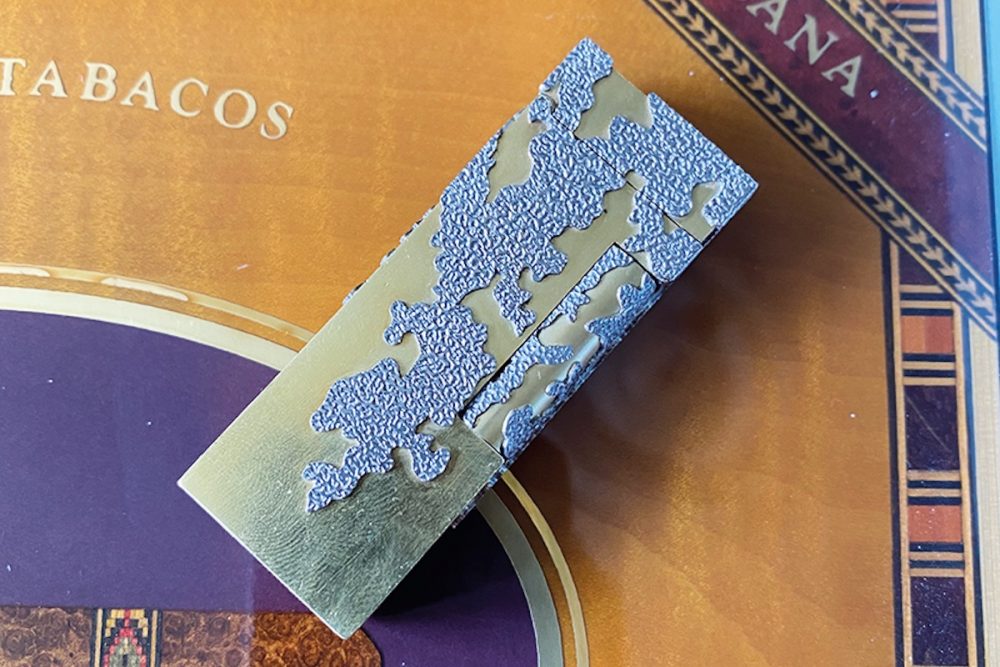 This Dunhill cigar cutter, which he wears on his lapel or waistcoat chain, is 30 years old; he has had it as long as he's smoked cigars. The skull memento mori was given to him by Caroline Scheufele.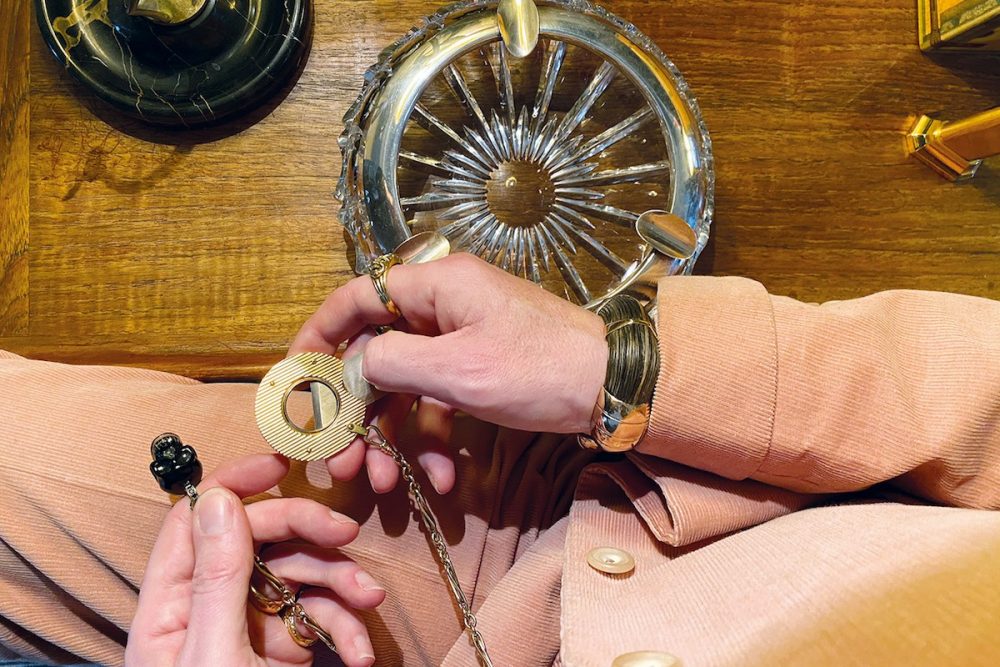 Suit: Proof positive of the false economy of buying cheap clothing, this pink corduroy three-piece suit by Terry Haste was made in 1998, when Terry was head cutter at Hackett, and looks as pristine as the suit Nick had made for issue 68 of
The Rake
— earlier this year.
Max
Further observation of the Foulkes matching principle, a pocket-handkerchief from Hackett to match the check of the suit.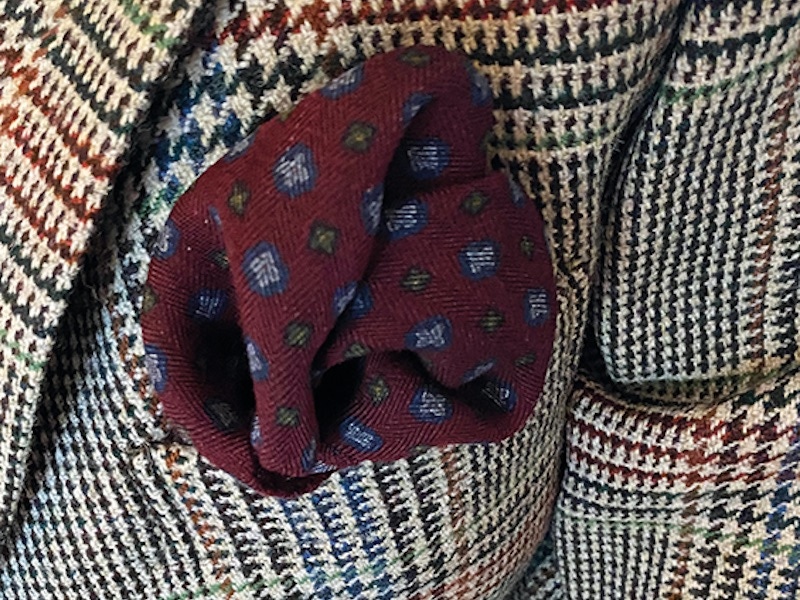 Like their father, Max and Freddie both wear rings, but declare their independence on the matter. "It's not like because my father wears them, we wear them. He certainly showed us that rings are a legitimate place for accessories, but we found our own way through it."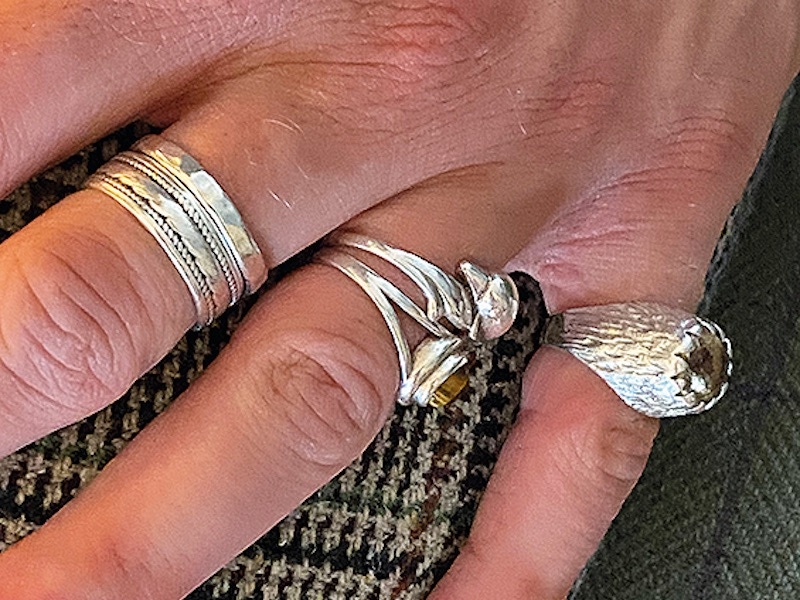 Max says, "Anywhere you can wear a lot of shiny things on your body is a good idea — aside from your ears". He is conservative in his approach to how many he wears on his neck, though: "Never more than 10."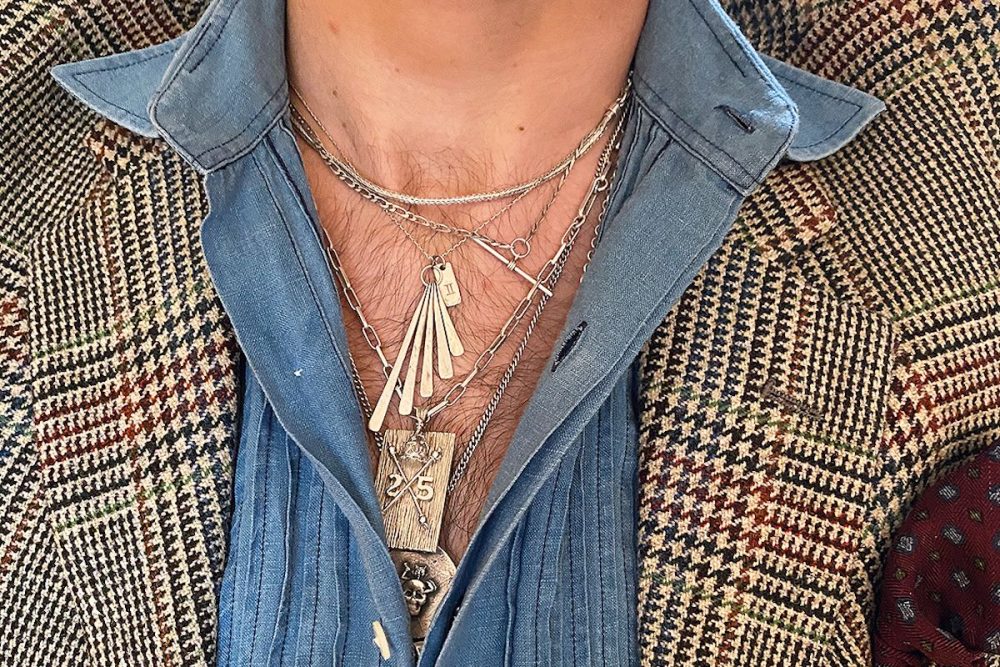 Mount Street Shoe Company slippers, worn when busy relaxing, and shooting his cigar reviews. "I have different pairs for different stages of relaxation."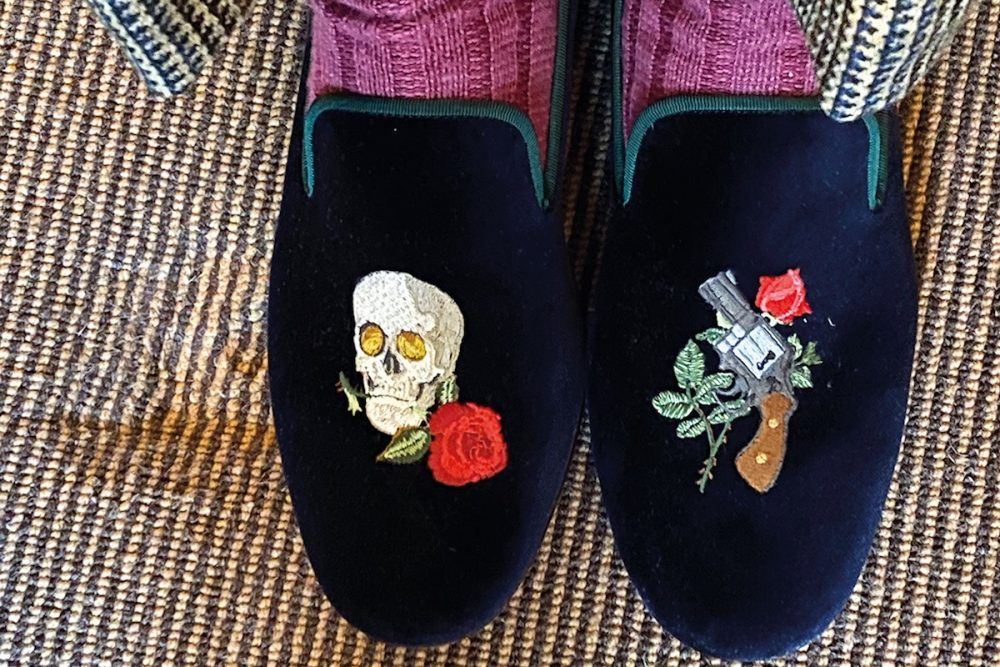 As a master of Havana and a professional online cigar critic, a ready source of fire is always useful. What could be better than an engraved Dupont lighter? He was given the lighter as a present for passing the uncompromising Master of Havana cigars exam set by Jemma Freeman and her team at Hunters & Frankau.
A Rolex Oyster from 1981, given to Max for his 18th birthday. It has been reincarnated following a youthful indiscretion involving a skateboard — "never to be repeated," says Max.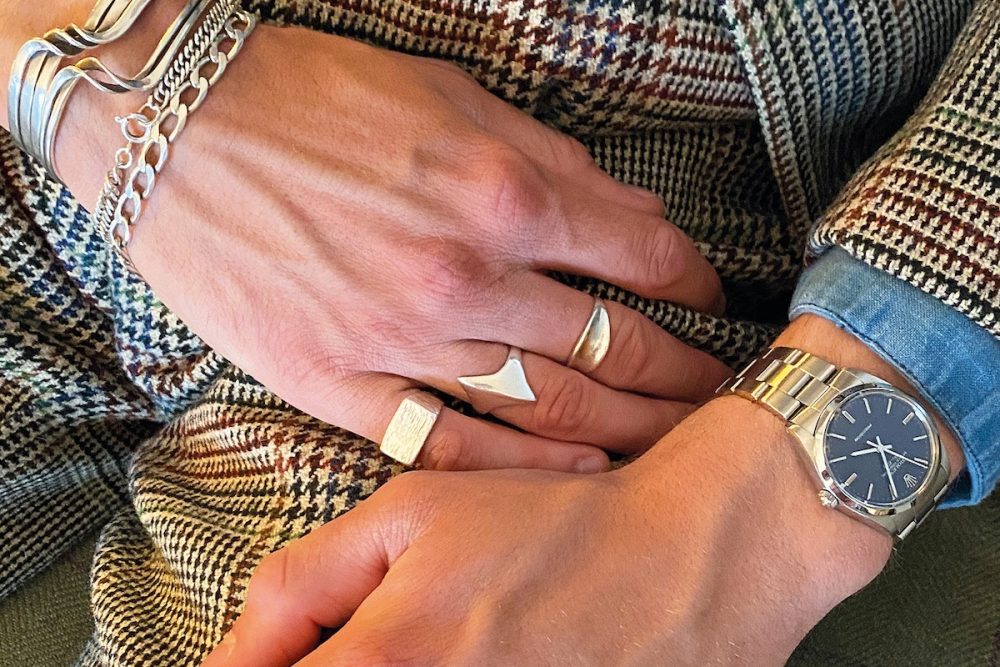 Suit: Max, like Nick, is wearing an eighties Hackett bespoke suit, which was one of three suits he claimed from his benevolent father in one sitting. "The problem with wearing lovely old clothes of my father's is as soon as he sees them, he wants them back." The pleated denim shirt is from Favourbrook.
Freddie
Anything that was made to celebrate Edward VIII's coronation is mainlined with historical intrigue and mischievous irony, and this pocket-handkerchief, bought at Portobello market, is no exception.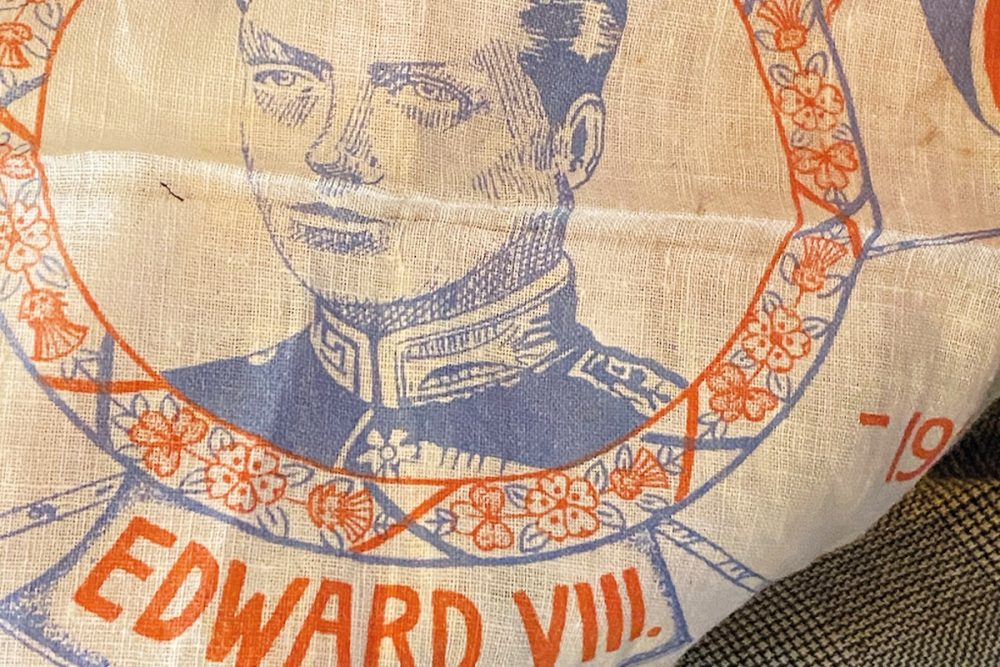 The shirt is a 1952 British army pattern shirt with box-pleated breast pockets. Freddie's style may have a military accent, but it feels individual rather than regimented. It is something he has been working on ever since he broke out of an early teen obsession with the thirties. "I suppose, like any draftsman or painter, to copy someone else's work is rather boring."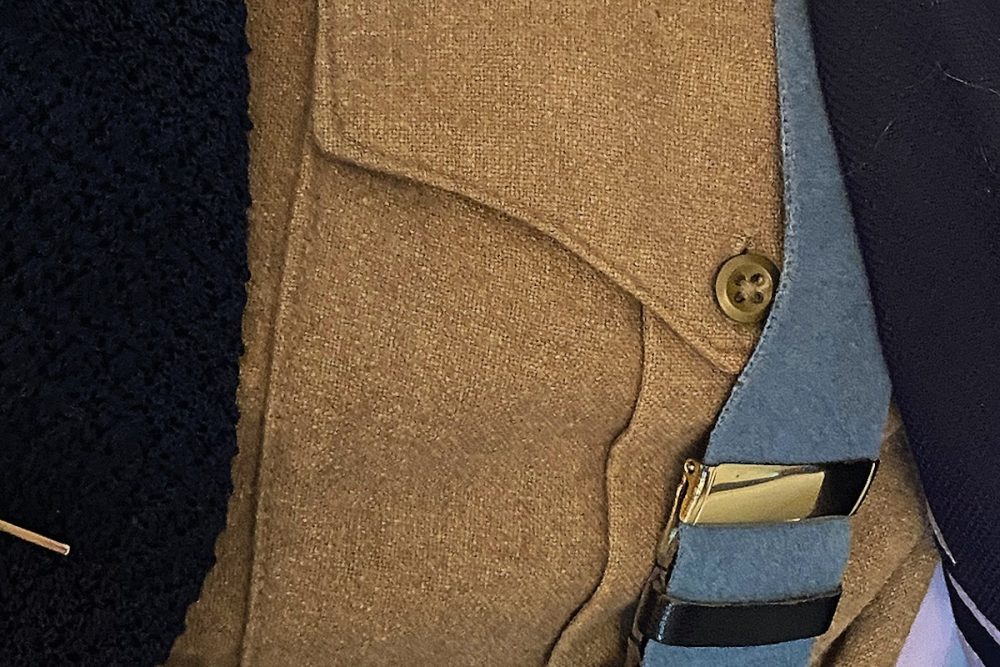 The gold tie-clip has made its way to Freddie from his grandfather, who got it while serving in the Fleet Air Arm.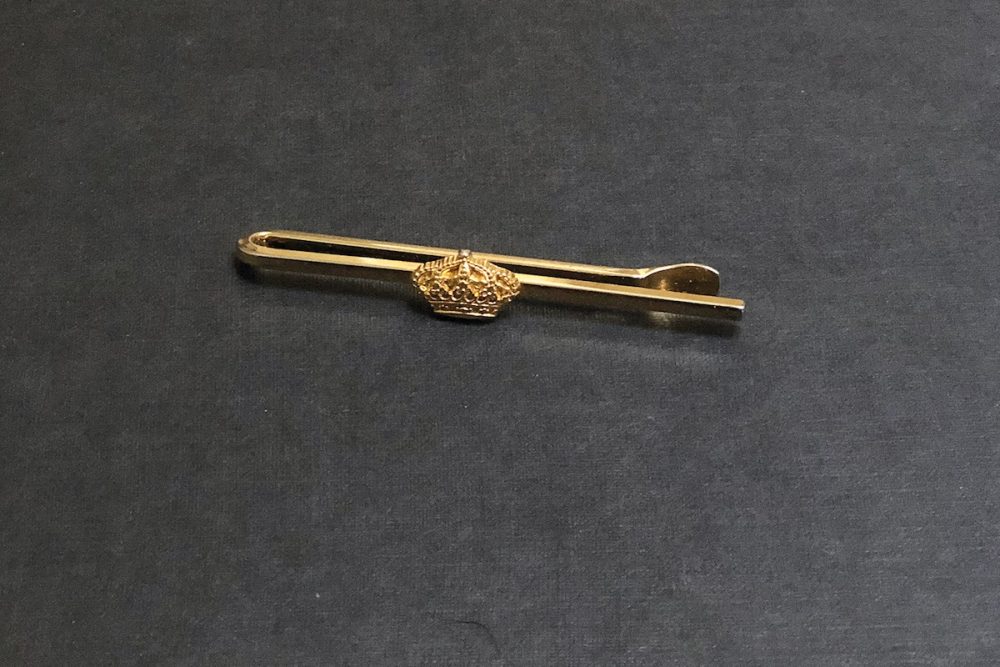 A 1971 Rolex Oyster given to Freddie for his 18th birthday, which he matches with bracelets in what he calls a "minimal" fashion. Minimal from a Foulkes perspective, that's for sure, though true to family tradition, it's carried off with rebellious elegance.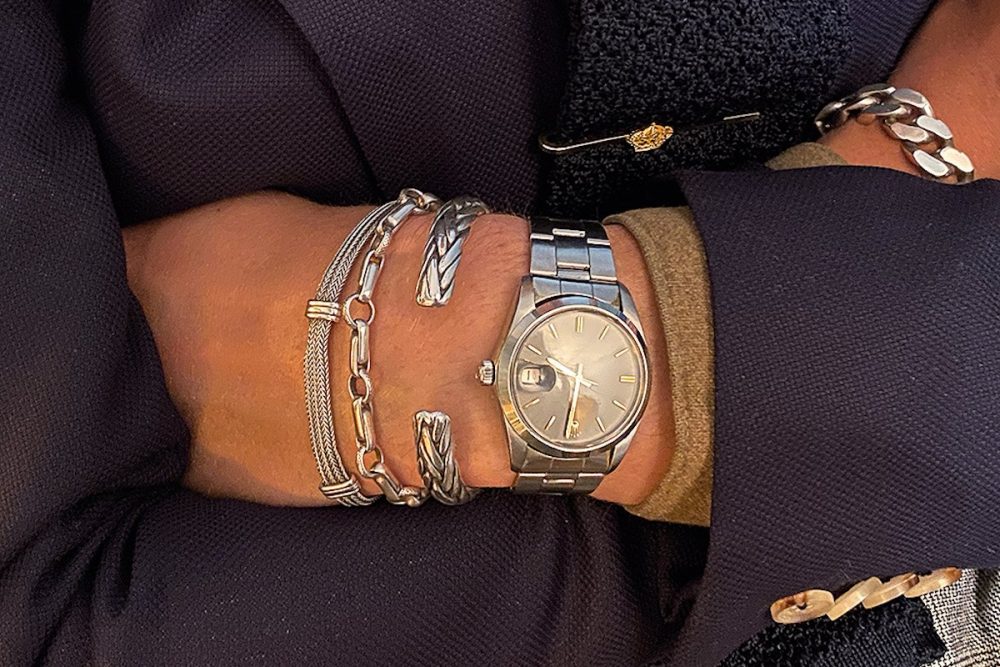 Vintage Royal Navy-issue Oxfords from Sanders, bought by Freddie at Portobello market at a stall that sold army gear (by a man who has since mysteriously disappeared).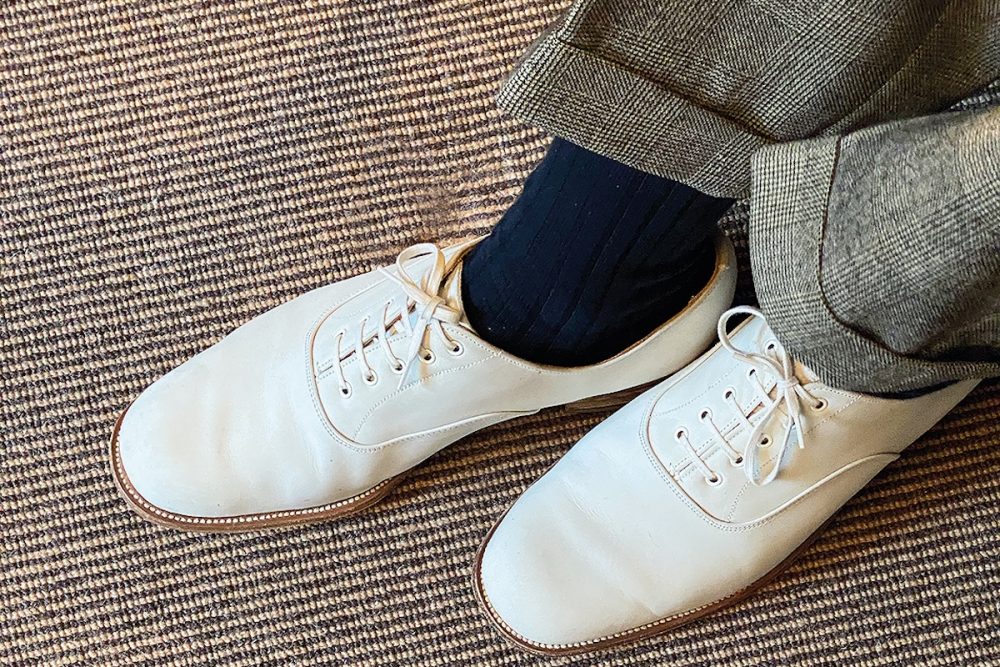 Suit: Freddie's jacket is a bespoke piece from Ermenegildo Zegna, which he received for his 20th birthday. "It was a collaborative design between my father and me," he says. The third-hand trousers are early sixties, which his father bought secondhand when he was younger. He actually has no idea where the sunglasses are from, but he does know that he didn't like the colouring, so used model paint to turn them black. This story is also in Issue 70 of
The Rake
and on newsstands now. Subscribe and buy single issues
here.