Project Furious Eagle Pt I: Turnbull & Asser and Mo Coppoletta
Introducing 'Project Furious Eagle', a special collaboration with Turnbull & Asser and Mo Coppoletta Designs, coming soon to
The Rake Shop.
Here's one for you, what does one of Jermyn Street's most prestigious and age-old shirtmaking establishments have in common with a maverick Italian designer and tattoo artist? Well, the simple answer is more than you might imagine. Turnbull & Asser, despite its gloriously classical heritage is fast becoming one of the most innovative brands in luxury British menswear – thanks in large part to the efforts of Head of Design, Dean Gomilsek-Cole, who has been pushing the house forward both in terms of the materials used in T&A's collections and through the use of ever more forward-thinking design and fabrication techniques. From Escorial wool jacquard suiting to cashmere denim shirting, you name it; he's working on it. Crucially, this creative freedom and willingness to experiment made the house a natural go-to for The Rake, when back at the start of the year we hatched a plan to create some design-driven formal accessories with a difference. Said difference was namely the input of Mo Coppoletta, of Coppoletta Designs, who quite apart from his extraordinary body of design work, is one of London's most sought-after tattoo artists and owner of The Family Business tattoo parlour in Exmouth Market. A curious combination for sure, but one that we assure you has yielded extraordinary results. Gomilsek-Cole explains; "The Rake has always supported our endeavours to create clothes with real individuality, and when the team came to us with a proposal we were more than happy to participate. I'm always excited to work with new artisans on unexpected projects, so working with Mo sounded perfect. His designs have a nostalgic familiarity, but contemporary flair, so I was excited to see what we could come up with together. It was also fun to get two very different design studios to collaborate on such a distinctive product." The first distinctive product in question is a unique execution of T&A's new Mega Square – a super-sized pocket hanky designed to blur the lines between pocket square, shawl and scarf. "I love the phrase, 'go big or go home'", says Dean, "and when I first joined T&A, a lot of very well informed people told me that the necktie was dead and that I shouldn't waste any creative mind-space on them. I ignored them and instead produced a collection of storytelling pieces in exotic and eccentric jacquards, and also the 'skipper tie', a take on the kipper tie but with a 12cm wide blade – against the odds, it worked. The mega-square was the brainchild of a similar conversation." Apparently someone made the mistake of telling Dean that the pocket square had had its day, and thus the statement-making mega-square was born. As he explains further, "It's the ideal tool to showcase the amazing artworks that our partners in British manufacturing can produce - the larger the scale, the louder the statement."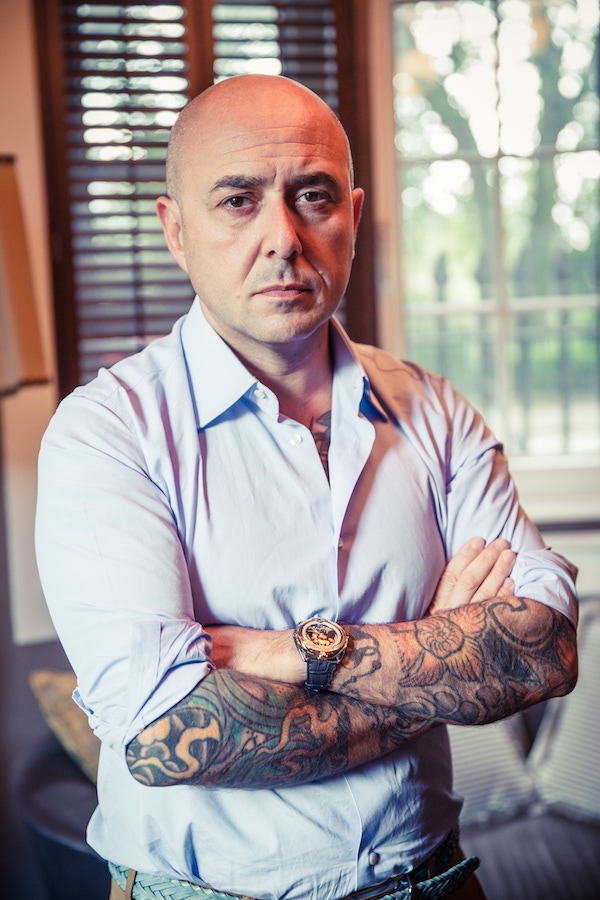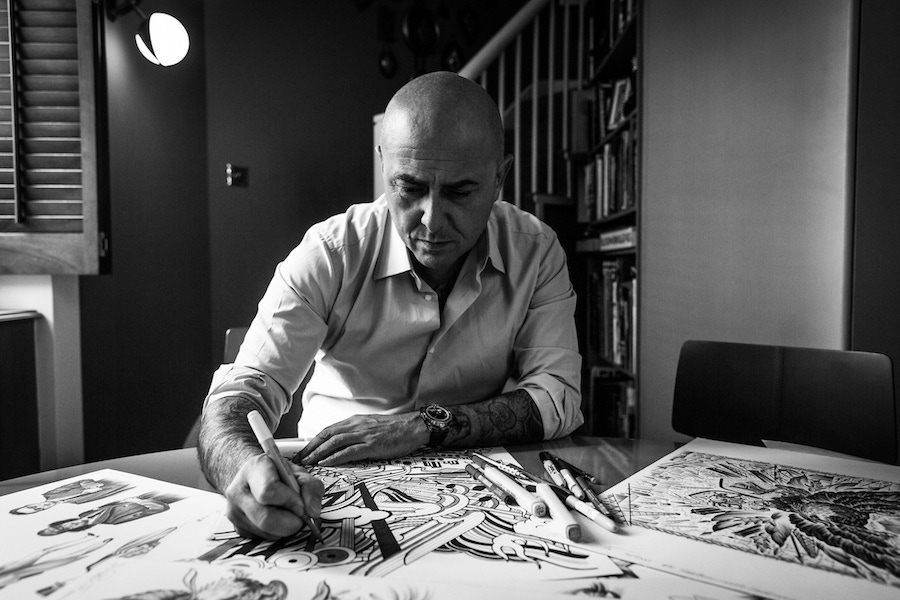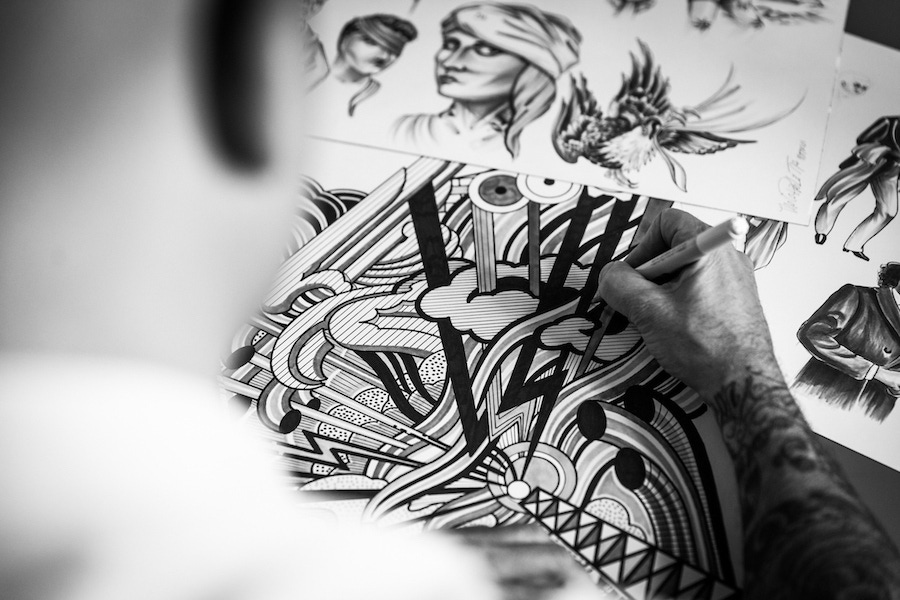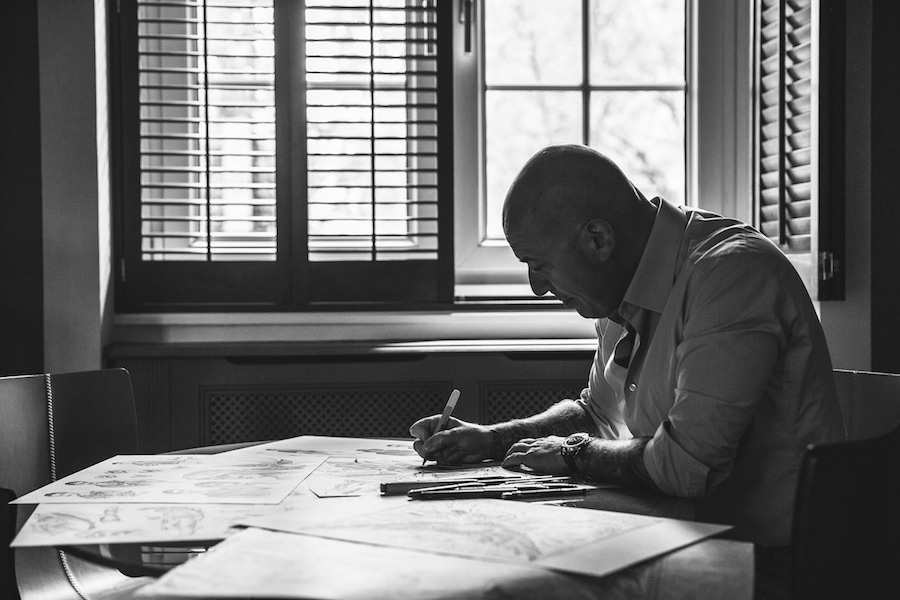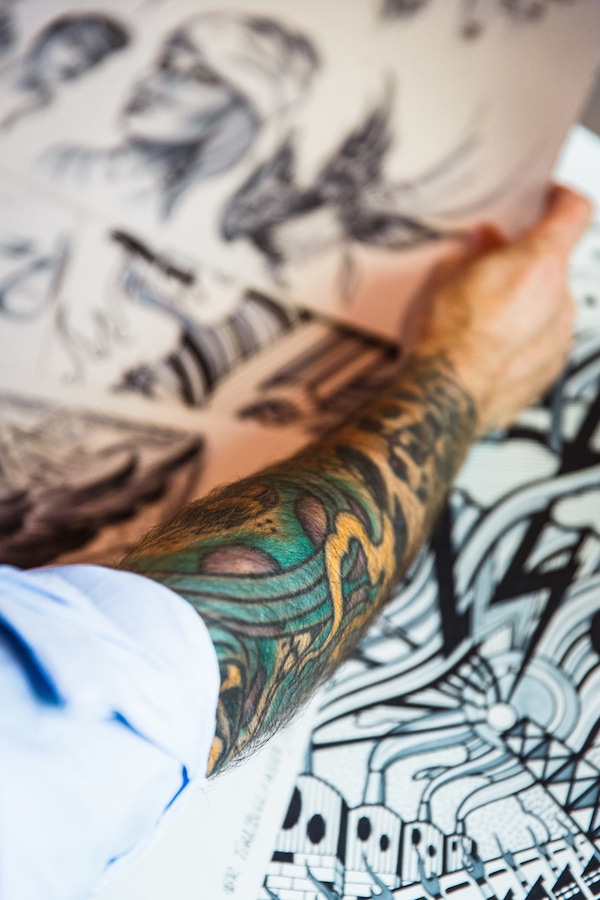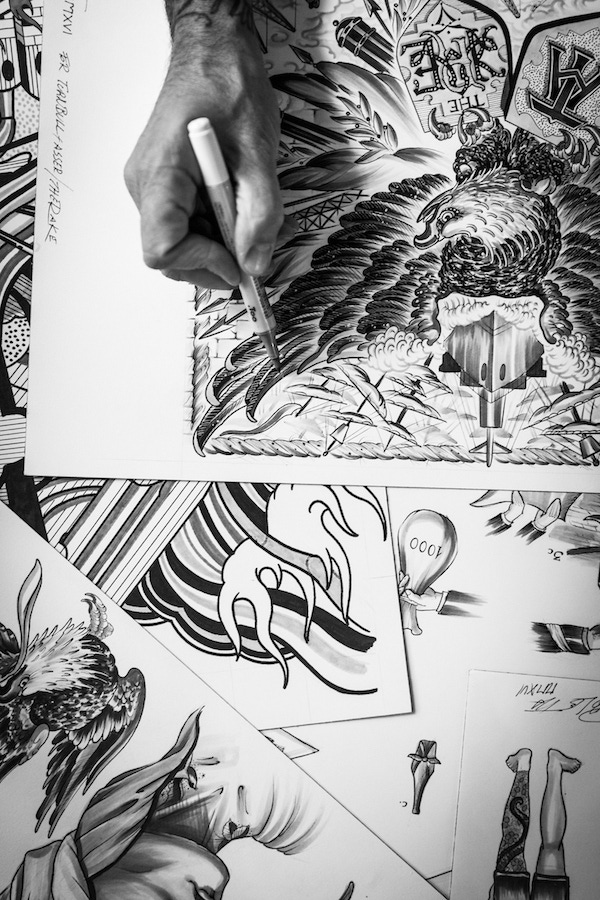 Inspired by early 20th century first aid bandages bestowed upon the unfortunate souls destined for the trenches, which were printed with instructions for their application, our collaborative mega-square is printed with illustrations masterminded by Coppoletta, intended for a somewhat more lighthearted purpose – whether transporting a new born baby in a stalk's beak, laid upon the ground for a rakish picnic or alternatively just wrapped around one's neck in dandified fashion – it is a tool to embolden and elevate your sartorial stance, that serves to ennoble the most simple of ensembles with its voluminous versatility. Printed on an ecru cashmere and silk mix in faded shades of grey with a burgundy border, it feels reassuringly old school and elegant. More on precisely how one wears a mega-square will be revealed in due course, but believe us when we say that the possibilities are near infinite. Equally intriguing are the handrolled silk pocket hankies that accompany the mega square – which feature a dynamic, almost neo-Victorian industrial design, with a mechanised backdrop framing a giant eagle, bearing Mo's interpretation of Turnbull & Asser and
The Rake
's insignia. In a number of tonal prints, the hankies represent a sartorial staple given a subversive new lease of life. Mo explains further, "our aim with this project was to create something different; the handkerchief by definition is one of those few accessories that that can help to diffuse and soften an otherwise formal look; a dash of colour that can tell a great deal about one's personality. A touch of humour was needed here, and it's always nice when you can see that a gentleman doesn't take himself too seriously with his clothing, but that he is still dressed elegantly - it's a great sign of personality. "The design is inspired by a turn of the century dockyard, with a harbor landscape, brick work, factory chimneys and so on. All of this is intended as a nod to British industrial heritage, a tribute to all things hand made that require hard labour, commitment and craftsmanship at the highest level. This concept was carried on into another project we're working on with Turnbull & Asser that will see light in the near future." More will be revealed in due course, but for now, we hope that readers will be as excited about the forthcoming mega square and hankies as we are. The project is launching towards the end of this month, and over the next couple of weeks we'll be delving deeper into the exquisite artisanal silk-printing processes that T&A insist upon to produce their hankies, and shedding some more light on how to wear your mega-square as rakishly as possible. Stay tuned.
www.turnbullandasser.co.uk
www.mocoppoletta.com 
Those interested in ordering either a mega square or pocket hanky can register their interest by emailing shop@therakemagazine.com.