Rake-in-Progress: Natalie Dormer
Natalie Dormer tells us how acting has become her form of catharsis and why classic tailoring is not just for the boys...
Publicists are an interesting breed. They are the gatekeepers of popular culture, guarding the people we want to get to know. Avaricious periodicals seek access to tell a good, saucy story, and the publicist is the alkaline to that acidic form of journalism. We at The Rake like to think our mould is different. We want to celebrate people rather than destroy their reputations, and the Rake-in-Progress feature was always intended to pick out younger men who personify the nuances of style and substance.
A few months ago a publicist contacted me with an idea — to feature women in this column. Ah, I thought, this magazine was built on the notion of making certain men relevant, empowering the XY sex and giving the reader confidence that his classical tastes are not antediluvian. With that in mind, if we were to feature a woman, we realised she would have to have something extra special, a bar that, depending on her identity, might be insurmountable. "Natalie Dormer" was the response I got. Bar cleared.
Dormer's work could have appeared on your radar from a number of places. It could have been in her role as the ill-fated Anne Boleyn in The Tudors, or as Cressida in the blockbuster epic The Hunger Games, or as Margaery Tyrell in that lesser-known show Game of Thrones. In a series that deals in androgynous powerplay and raw sexuality, to come in late and bring something new, as Dormer has done in GoT, requires a rare and idiosyncratic talent — the acting umami, if you will.
Dormer's red-carpet appearances often see her in bold suits with a cracking selection of colours. For her taste, her craft and, as we discovered on meeting, her humorous and kind disposition, we are delighted to say, Hello to Natalie Dormer, our first female Rake-in-Progress.
On a scale of one to 10, how annoyed are you at interviewers still asking you about Game of Thrones?
Annoyed is the wrong word. I am respectful of what that show did, profile-wise, to my career, and it helps that I love the creators of the show and I don't begrudge Dan [Weiss] or David [Benioff] a moment of their vision and success, and I am fucking proud to be part of something that is so part of the zeitgeist. I just never want to be defined solely for any role, but I know that with Game of Thrones it will take a few more years than other roles to go; I am not her, I have the ability to change. That is why The Hunger Games was great for me... Doing those two roles at the same time helped me find the money for my own film that I co-wrote — without them, the financing would be harder to find. It's about tipping your cap when you look back and say, 'Thanks, guys, that was fucking amazing'.
Do you think as an actress you get to be part of today's influential youth culture by default?
Yes, definitely. I was at the GQ awards and Stormzy came up to me asking for a selfie. I knew who Stormzy was, but I am not into grime. I kind of think the fact this guy wanted to have a selfie with Margaery Tyrell blew my mind.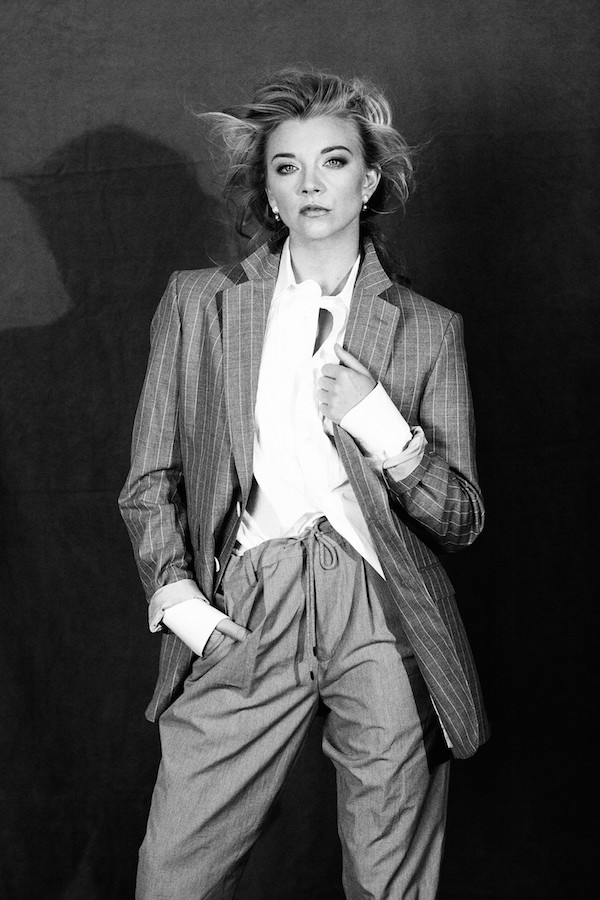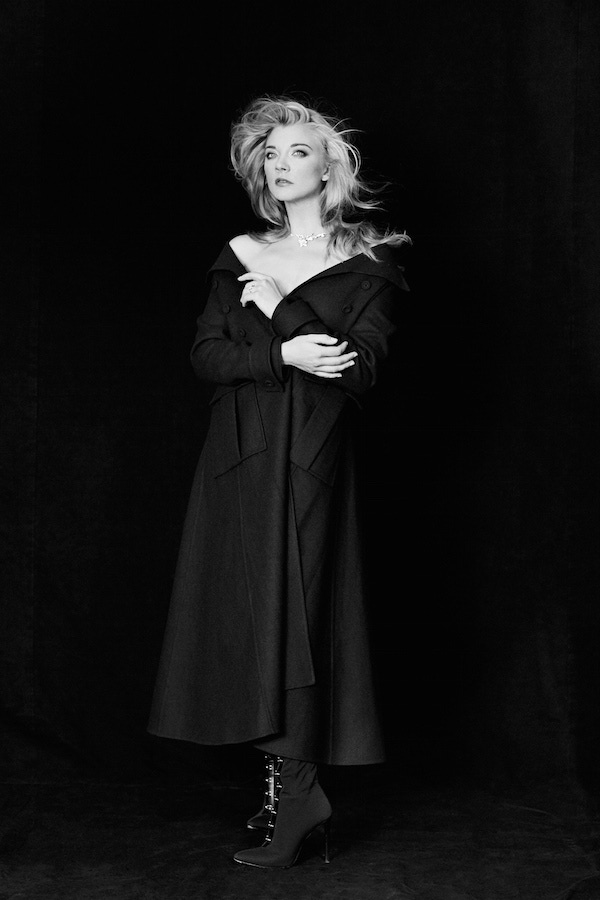 What has made you resist the lure of social media affirmation?
I do believe that if you open the door to that, there are two sides. If you believe the good stuff, you've got to believe the bad, too. At the end of the day I fundamentally act for quite a selfish reason, in so far as I can't imagine doing any other job. And there is something about storytelling that is cathartic for me, it is how I cope at how unjust and scary the world is, working out my humanity, arguments of love and power, who am I and what do I want to do with the years I have on this earth... My day-to-day way of surviving the world is acting.
So how does that translate to home life?
I am a simple person that likes to operate on a low level. I am quite introverted. People always assume with my relationship with Anthony [Natalie's fiancé] that naturally I must be the extrovert and he the introvert, but it is actually the other way round, because he is a director who feeds off people, he likes socialising, being around people, whereas I am very happy being with the dog on my own, reading a book, or going three days without seeing someone. I like my own company. I need quiet, because when I am on set or rehearsal, I do have high energy, so I need calm and quiet and to be a human being that is removed from my job.
Your job is to tell other people's truths rather than your own. Do you get peace from that?
Yes, there is a catharsis by processing issues through metaphor. Fuck, it's why we tell stories. Doesn't matter if we talk about religion, mythology or the latest Netflix show, the way human beings deal with the darkness and light of life is by telling stories.
You were out of work for a while. How did you manage to keep on keeping on?
It was horrific, and I did my fair share of crying every night, rocking in a corner and facing all those demons of, 'Oh my god, I am never going to work, this is all fucked up, I can't pay the bills, what am I going to do' — deep 3a.m. fear. But you have a choice.
There is something innate within me, and I don't know where it comes from, so long as I think a fight is still worth fighting, I persevere. I have learnt as I have gotten older that if you don't care about the fight, it is O.K. to walk away.
And now that work is coming your way, can you ever feel comfortable, is it ever enough?
When you are 18 years old you have projections of where you want to be, and at various stages of your life you start ticking boxes... Oh my God, I am sitting here in conversation with Julianne Moore, or on a plane on the way to a premiere, or being directed by Patrick Marber. You have all these imaginary places where you go where you think, I made it, whatever that means. Fuck me, you've made it if you can pay the bills and keep a roof over your head doing something you love. What I have learnt as a woman who has come out of the angst of her twenties and being liberated by knowing yourself in your early thirties, you don't have to hold yourself to the promises you made yourself when you were 18.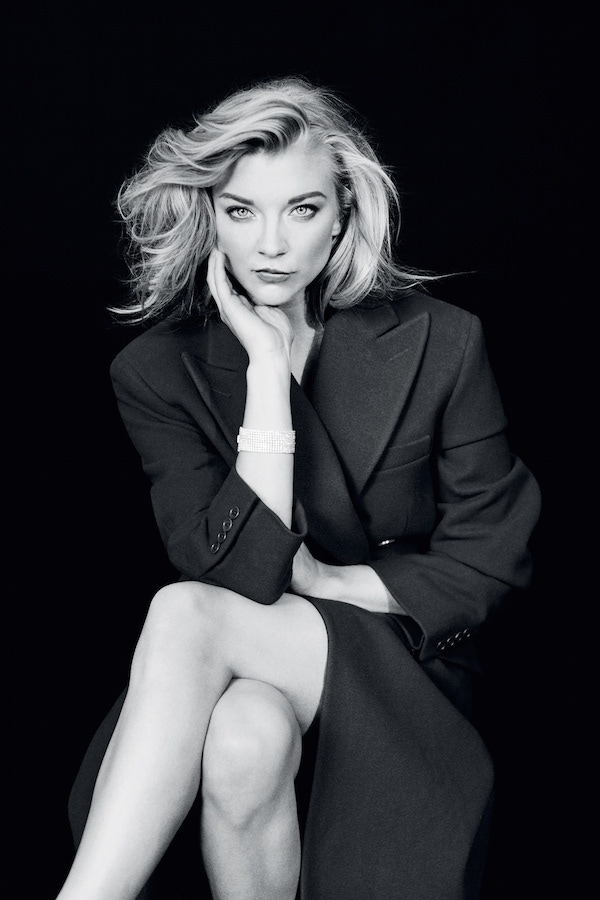 Is there anything that gets on your nerves?
Yes, I sometimes hate the word 'strong'. It gets used in interviews a lot, people say to me, 'Natalie Dormer, you love to play strong women', and I think, Holy fuck, how reductive can you be?
What's the latest film you've watched?
Last weekend we rewatched The Karate Kid. I haven't seen that fucking movie since I was 11, it's so good. I was bawling, when he was standing the way he does at the end, the tears were coming down. It's so poignant, a three-act structure and to a tee the perfect hero's journey.
You were directed in a Hozier video by your fiancé largely in the arms of other men. Did you know that was the plan when you showed up?
No, we didn't, he didn't write it. We are friends with Andrew [Hozier-Byrne] and we love his music so much and said that we would love to do a video for you. He said his brother had just come up with the treatment for the video and we went home and read it and I said, 'Fuck, are you O.K. with this, darling?' It was amazing, we did it in 24 hours. To me that video is about how our imagination takes us to other worlds, worlds where we see a man on the Tube with a man bun and tattoos and you think, How would my life be different if I was with them, what kind of music would we be listening to, what food would we be eating, what kind of sex would we be having? Or look at that really attractive banker down there with that lovely watch, that's a completely different existence. To me that girl [in the video] was lonely.
Do you feel like the dynamic of masculinity is changing in a good way?
There are men who are conscientious about their body and their appearance, their spirituality — the modern man, one dare say. Just because women find feminism and equality, and their voice, doesn't mean men need to be pushed down and be emasculated. Both genders, especially in the 21st century's cosmopolitan cities, are refining the balance between them, and finding that it is O.K. to think and feel and dress in these different ways.
What do you feel is rakish in a man? What attracts you?
I like a man who knows himself. I can equally fall for a man who wears a £3,000 suit or a guy busking on the street in dirty clothes. If a man knows his identity and is funny and not too egotistical, it is all about making me laugh, because the way the world is going, if you can't laugh it all goes to shit. Someone who is truthful, candid, honest, and can be called on their bullshit. Aesthetically I have fallen for all different types of men, I don't have a type, I really don't. Yes, I like a well dressed man, what woman doesn't?
You've just finished filming Picnic at Hanging Rock in Australia. How was it?
I was staying in an area of Melbourne called Fitzroy, which is like hipsterville. By osmosis, after two months I began to buy the jump suits, wearing my hair in a top knot, getting my turmeric latte (I asked if this was truly a thing: it is).
You often wear suits on the red carpet. Do you know where that comes from?
I came home from this shoot and told my other half about it and he went, 'Oh my God, that shoot was so you'. Increasingly the core Natalie Dormer is those suits. It comes from an obsession with Katharine Hepburn, Bette Davis, Vivien Leigh, the 1940s, when women started wearing those trousers and the shoulders were in. And suits are so comfortable — fuck you, guys, you've been wearing them all this time and you didn't tell us.
So what's coming up for you?
Picnic at Hanging Rock has been bought by Amazon. I play Hester Appleyard. It is about a girls' college on the outskirts of Melbourne in the 1900s: a woman who has run from a dark past in London and has set up her own little fiefdom, this girls' school, where she reigns as a sort of misguided anti-heroine, trying to teach girls what it takes to get on in the world, but in a kind of Miss Jean Brodie way is doing the opposite of what she thinks she is meant to be doing. I am looking forward to seeing it.
Read the full interview with Natalie Dormer in Issue 55, on newsstands now or available to subscribe here.