Rake-in-Progress: Hermione Corfield
The British actress Hermione Corfield tells The Rake why she looks up to Reese Witherspoon and Margot Robbie, and how city life has got under her skin…
When she was 19, Hermione Corfield appeared on the cover of Tatler, not necessarily as herself but as the physical manifestation of the 'New Sloane', a younger generation of that well-heeled Chelsea archetype who are "leaner, meaner" and are shunning traditional dress codes. But despite fitting the bill in terms of appearances, the actress seems to be actively shaking that stereotype. So far, Corfield has played a buttoned-up hotel manager, a fighter pilot, a princess, a record shop clerk, and a marine biologist: a veritable feast of roles for someone in the early stages of her career. Hermione grew up in Gloucestershire, the heart of the British countryside, interspersed with trips to London, where her mother, the shirtmaker Emma Willis, and father work. Her entry into the acting world was swift: she joined the National Youth Theatre when she was 15, landed an agent at 17, and studied method acting at The Lee Strasberg Theatre & Film Institute in New York before she reached her twenties. After studying English literature at University College London, Corfield is now immersed in acting: she has three films coming out this year, including her latest role, starring alongside Simon Pegg and Nick Frost in Slaughterhouse Rulez, a horror-comedy that looks as diabolically funny as the comedy pair's previous films. What are you working on at the moment? The film is a sci-fi thriller called Sea Fever. It's set on a fishing trawling ship off the coast of Ireland and it's about a marine biologist, which is my character, going on this boat in an alien environment, and then something happens on board that turns everything on its head. It's quite a long shoot, about seven weeks, so I've got some work to do — the director has sent me some books to read to prepare for the character. How have you carved out a name for yourself so far? I think you have to make smart choices. I think it was Rosamund Pike who said, "It's not the things you say yes to, it's the things you say no to", and I think I've tried to do a variety of different genres and time periods and just tried to work with directors I look up to. I think it's just finding material that you genuinely connect with and directors you genuinely think are really brilliant. And it doesn't really matter what happens to the film or show afterwards, because it's about the experience. Who do you look up to in the industry? Elisabeth Moss is really cool, and I think what Reese Witherspoon is doing in terms of production, and the material she's creating with Big Little Lies, is awesome. She's in a position of power but she's using that as a positive thing, to set an example of someone who's creating material which is for women as well as men, but it's not just male-led. I look up to people who are able to act and direct and produce as well, which is a long-term goal of mine. Like Margot Robbie: she's got her own production company now, and I remember her saying that if she's going to be committing X amount of time to a film, she wants to have some creative input outside of acting, and I completely agree with that. I'd like to have a different form of creative input.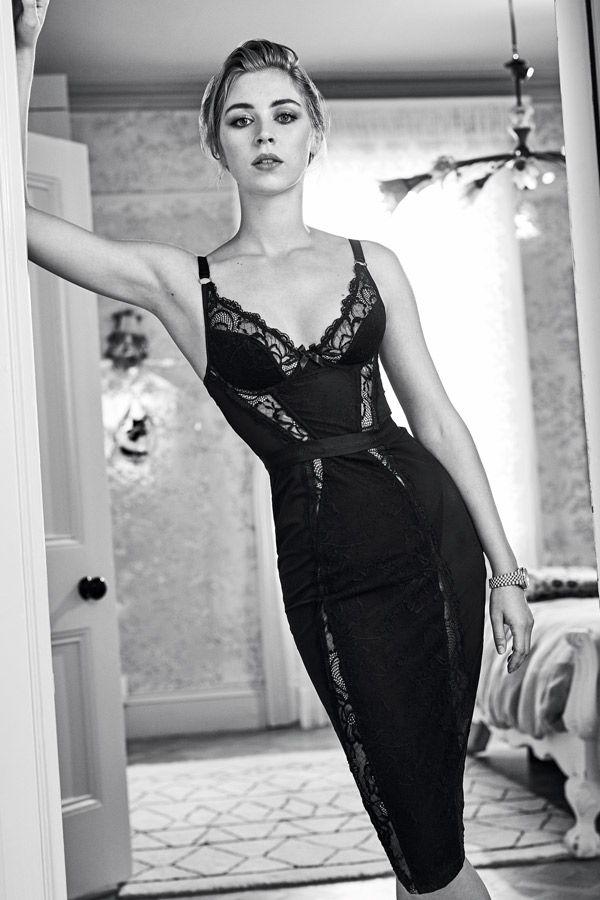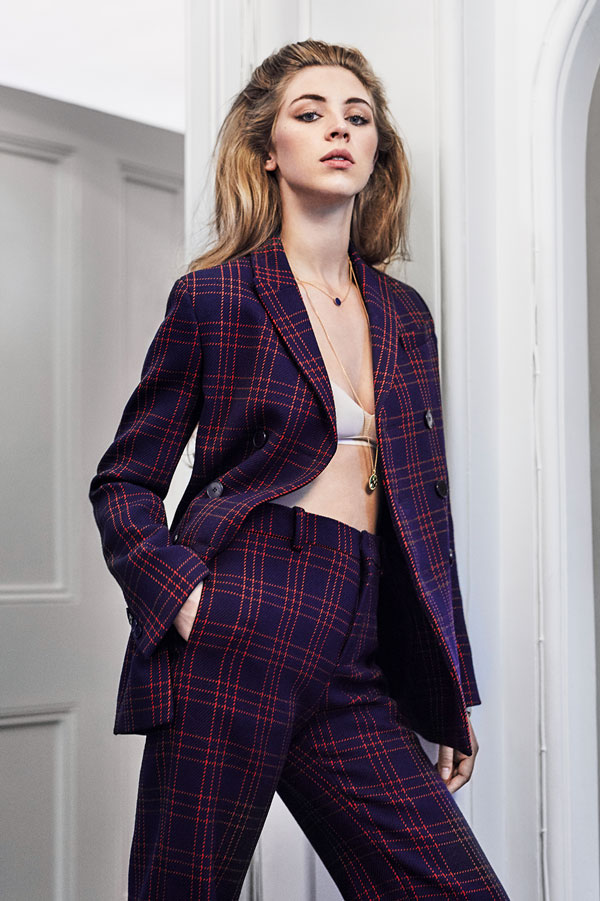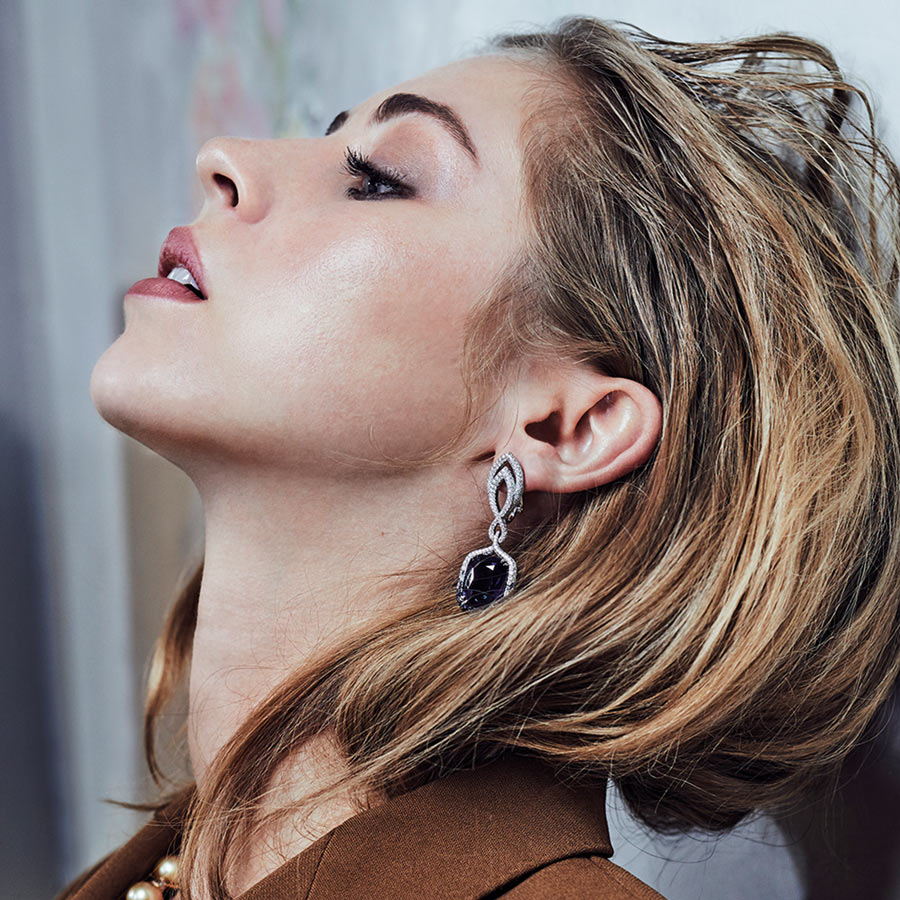 Do you think there's more pressure now as a young actor to be a role model? I think it used to be that you had a personal persona and a public persona, but it's all intertwined now. Your public image is also your private image now. I'm careful about what I put on social media, I try and keep it relatively private. But I don't want to have two Instagram accounts because I don't want to spend more time on it. I think it's just having an awareness and not sharing too much, because that's when it's detrimental to your career and your head. Are you aware of being typecast? I found it quite surprising when I kept getting action films. I'm quite physical, like I dance and play sport, but I've never done that in an audition, I've never had to prove that I was strong. But I found it interesting that I was getting cast in Star Wars, Mission: Impossible, those sorts of action films. But I think I've been lucky in that that was then followed by The Halcyon, which was a period drama. I don't think I've been typecast yet, luckily. I've had a fairly wide range of roles. What do you see yourself doing more of? I enjoy drama. Any job, as well, that's a long time, where you've got months to have a nice arc, like a T.V. show or a film, then that's what I really enjoy. Because you feel like you can get your teeth into something. What do you like doing outside of acting? I'm a big reader. I also do yoga, boxing — I like to keep quite physical. I like gardening, drawing, painting. Are you interested in style outside of red carpet dressing? Elizabeth Saltzman, who's my stylist, has been a huge influence. I was always interested in fashion but she's really opened my eyes to a wider scope and introduced me to unbelievable brands — like, I go to the Erdem show and Emilia Wickstead. So she's given me a better appreciation. What's your interpretation of men's style? With my mum's shirts, she's always done just a shirt and jeans as her favourite look. Simple, English style. I think simple style for men is the best look — a really nice pair of trousers and a T-shirt is perfect. Has menswear had an influence on your personal style? I used to get all the cast-off shirts, like I've got this really nice blue linen shirt, which I think my dad shrunk in the wash, so that's a part of my wardrobe now. My mum would also help tailor shirts for me. I think if you're in a beautifully tailored jacket and yourself differently. In the same way, I wear suits quite a lot in general, there's something quite powerful and strong about that.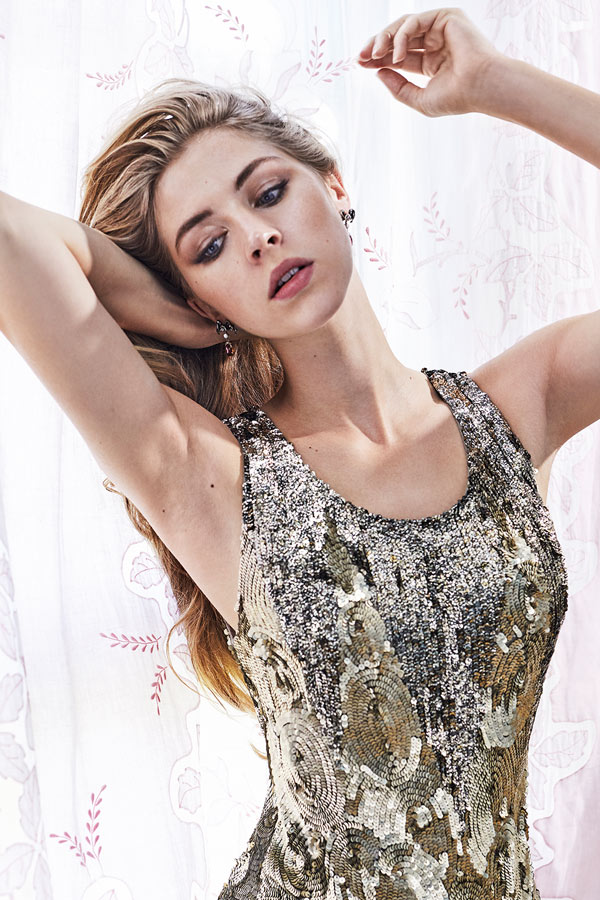 What are you reading? I'm reading Kafka on the Shore [by Haruki Murakami] at the moment, which is really good, and before that I was reading Everything I Know About Love, which is a Dolly Alderton book. As someone who's still in the early stages of her career, how do you want to be perceived as an actress? Now that I have a few under my belt, I want to be seen as someone who can make good choices, bold choices and different choices, not just someone who always goes for a safe bet… Do the independent that might fall flat on your face, but at least you're trying to do a different role. Or putting your faith in a director who you think is brilliant. Will you stay living in London or is a move to America on the cards? Maybe, I've been toying with the idea. I've been there quite a bit, because I've got a manager and an agent there; I think New York is probably more likely for me, having spent a lot of time there, it feels like more of a city for me. Why are you drawn to New York? I remember thinking about the difference between London and New York when I first moved there was that people were a bit bolder — I remember getting on the subway and people were singing and dancing. It's got more of an on-the-edge energy. What do you prefer, country or city living? City now. I get angry at myself because I go back to Gloucestershire and I get restless, whereas before I could just go and be there for weeks on end and just go for walks. I think I've tuned into the city pace now. I prefer city life, but I definitely feel a need to go back to the country regularly. Do you think growing up in the country informed the person you are now? I think so. The need to entertain yourself, particularly when you're younger… which is why I find it really sad when I see kids with iPads — it's such a skill to be able to draw and play games for hours on your own, with absolutely nothing. I think in terms of imagination that really helps, because I learned to read and entertain myself.