Post Haste: Reflecting on Tailored Wedding Tails
After eight fittings and many months of anticipation, Editor Tom Chamberlin's marvelous bespoke morning suit finally gets its big day...
So I got married a few weeks ago. Contrary to a popular cultural trope that the bride is somehow the diva, as it was my big day too I decided that I wasn't going to let a day full of sartorial opportunity pass. So I opted to make a change midway through the day. This was in part because in the south of France, where the wedding was, a lightweight suit is only sensible, but also because if there is one garment that has fascinated me for a long time, it would be the morning suit. A morning suit is a tremendously hard garment to make. It is even harder to make a good ready-to-wear version. Much like Her Majesty's ability to spot an insta-bowtie from a mile off, I have a keen eye for ready-to-wear suits and an off-the-peg morning suit is full of tells. The best tell of a ready-to-wear suit is the way in which the back of the collar sits way off the neck and shirt collar. The morning suit is no different here, but the extra tell is the way in which the tails stick out 12 inches away from the back of your legs. The tails should graze your legs and the collar should sit flush against your neck. Sadly this garment has become extremely expensive to make so the numbers at your average British wedding – or at the races – has dwindled to levels that would that it had legs as well as arms, would be on some kind of wildlife watchlist. If you feel the itch for bespoke, my best advice is to get this made by someone who has a good reputation for this specific piece of kit. In my case, when one of the most reputable house's on Savile Row rang me to munificently offer their house to make the coat for me, on hearing who it was that I had already commissioned, such was their reverence and respect for him that they didn't bother. The tailor is John Kent of Kent, Haste and Lachter. It is no secret that these three men are my tailors in any case. Usually I am seen to by Kent's protege, the great Terry Haste. Terry can make anything, and was absolutely the man for the job. However out of deference, modesty and humility, he suggested that John should make the coat. So I decided to employ the whole triumvirate on Sackville Street, and ask John Kent to make the coat, Terry to make the waistcoat and trousers and Stephen Lachter to make the shirts. The jacket is made from a black 10/11-ounce super 100 merino wool herringbone from Smith Woolens. Not the heaviest option but still strong and structured. The lapels sit at about 4 and a half inches and while there was the option to include a satin piping or turn back cuffs, during the process I backed off from those options as John's lapels and fit were so striking that I decided that it is best to keep it clean and let his cutting do the talking (which translates as 'I'm too chicken to do anything flash like this magazine's Online Editor'). The shoulders were the classic KHL level of roping, that is to say ever so slightly with a high shoulder arm. The sides were shaped but I did say that the Fred Astaire shape that is vey much a large ecclesiastical goblet shape was not what I wanted, so there is some drape but at first glance you would be forgiven for noticing its firm hold on the body. The best part is the quilt stitching on the inside. Not only is that painstaking to do, but also it is completely hidden from sight. A luxurious touch only the wearer truly knows about.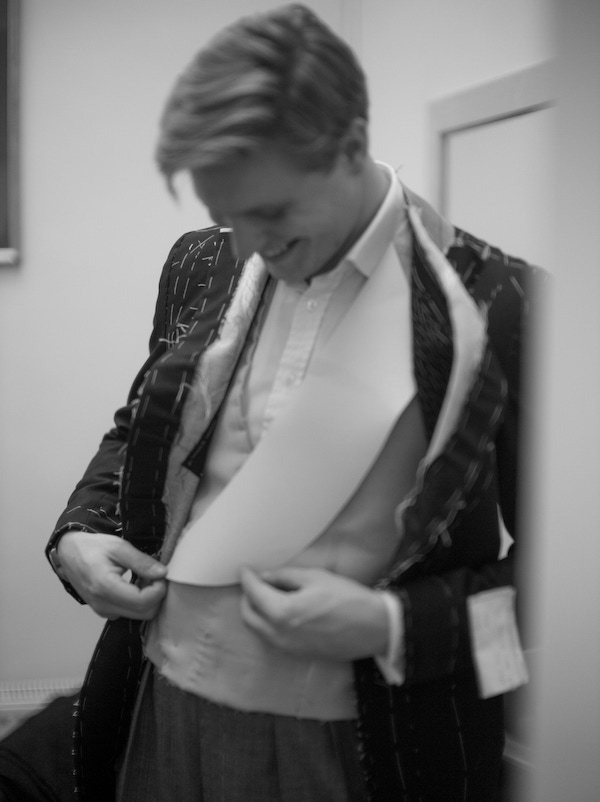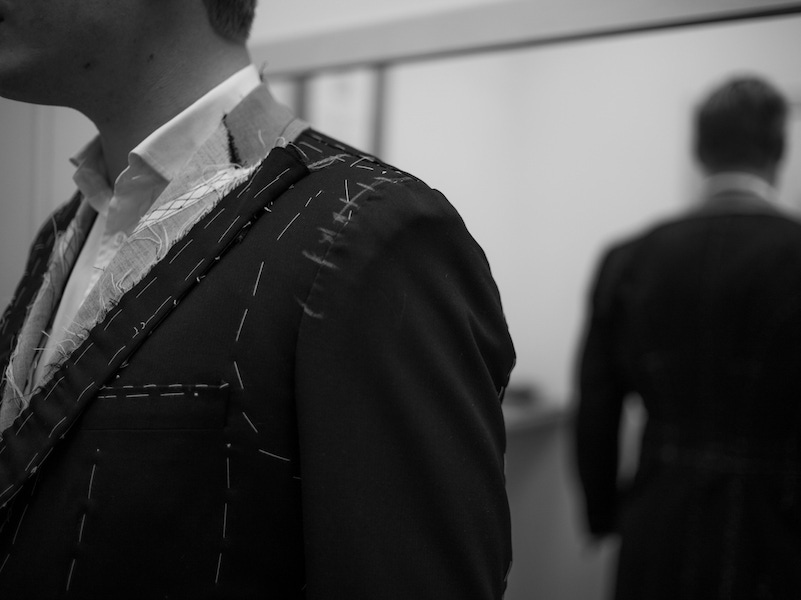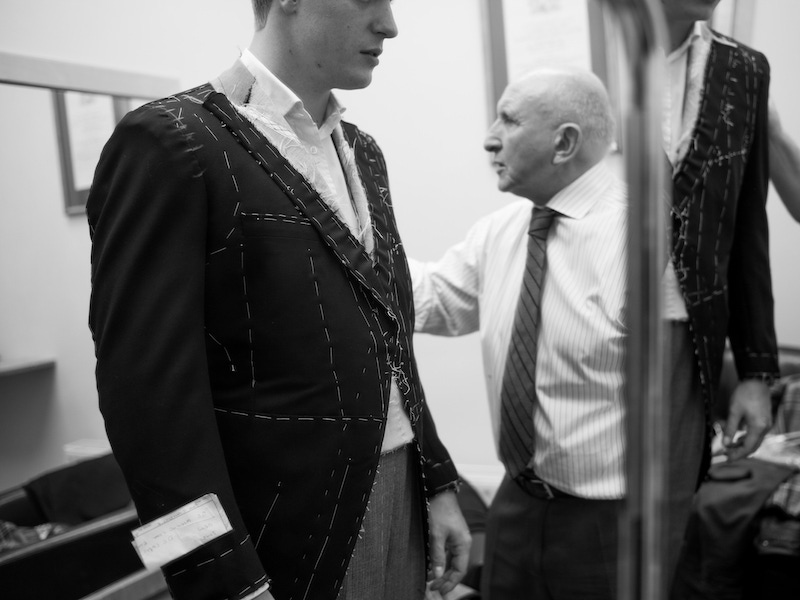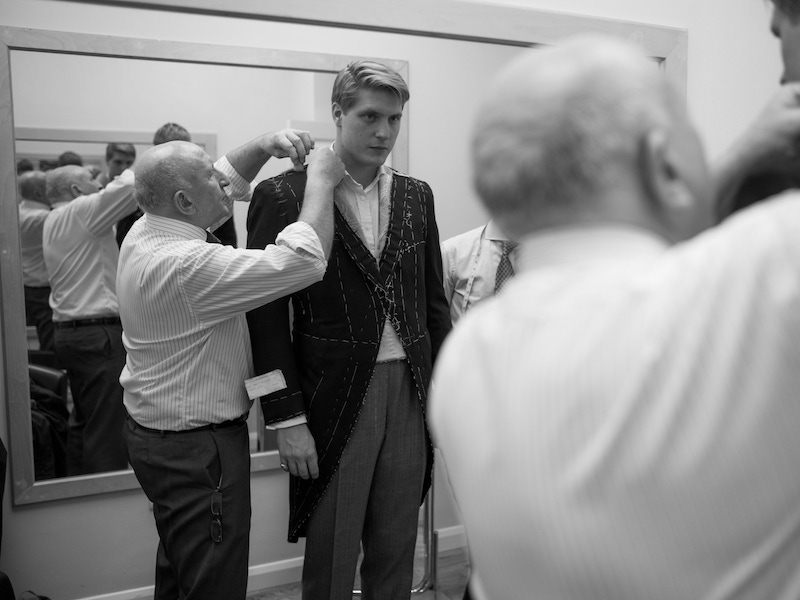 The trousers were one part that I was worried about, as I am not overall fond of the unsightly assortment of striped patterns you get and houndstooth isn't my favourite pattern. Thankfully I found a fantastic pattern material for the trousers, which isn't offensive in anyway, a Scabal 12/13-ounce pure wool, 'cashmere stripe'. They used to make it with cashmere hence the name but this is indeed a pure wool fabric. The trouser maker for Terry is absolutely fabulous, she has a knack for forward pleats that generously encourage movement but are in no way unflattering, in fact they are deadly sharp and unassuming. As I wanted them worn with braces, so the shirt would be unlikely to spill between the trousers and the waistcoat, fish tails were added to the back to fasten them in, high waisted to sit under the waistcoat and double pleated. Trousers are important because like a pair of theatre curtains, the jacket's side panels draw attention to them so they must look good. The waistcoat is made from a blue nine ounce Irish linen from Lessers that went with matching baby blue socks from London Sock Co. The waistcoat will be a three button double-breasted piece. Ask to have a 'V' shape in the buttons of the waistcoat, this looks really sharp and accentuates the shape of your coat and lapels nicely. Added for extra flourish is an enormous, scimitar-like lapel with acres of belly and a peak at the top. It's a shame it hides under the jacket because of the whole suit, this is the largest statement. What Terry and John also do to double-breasted waistcoats, which is unusual, is to add a seam to the front-centre between the buttons. This is to put the weight of the waistcoat to the front so the balance is more natural. It also means that, if your legs are together, there is a military-like seam that runs from the solar plexus to the inside hem of the trouser - which for a tall person like me, works rather well. The shirt will be cream cotton with white-collar shirt. I have opted against a stiff collar despite the tradition simply because I see the poor buggers during Trooping the Colour fall flat on their faces because of the heat and I am not keen to repeat that particular performance when saying my "I do"s. Stephen's shirts are always tuned sumptuously to your figure without being too tight, so while the shirt will not be sticking out over the waistcoat, it will not be clinging which helps to keep cool. We had almost eight fittings for this garment; owing to John's perfectionism and I suppose some misguided affection for the wearer, he wanted me to look great on the day. The balance is extraordinary, the shape is stunning; well fitted with a good amount of drape, a perfect back pleat (this is extremely hard to get right and a millimetre off can ruin the whole jacket), the lapels a generous four and a half inches with a peaked lapel, lifting the strong shoulders and elongating the chest to make my posture seem proud, valiant and strong. Whereas the truth is that my back is arched at the top because of my terrible habit of slouching. Four Weddings and a Funeral brilliantly satirised the morning suit as a garment that is thrown about and abused by late night dancing and illicit hook-ups. The pictures of Edwardian blades looking sharp, with the jacket almost wrapped blanket-like round their bodies, that had hitherto been the vision of what a morning suit was all about, was being destroyed by pop culture and film. Few bother with a proper morning suit these days. I guess the Duke of Edinburgh can always be relied upon to look fabulous in his morning suit, outshining the competition. And who His Royal Highnesses tailor? That would be John Kent.