Rubinacci for The Rake: The Casentino Ulster Coat
Louche in design, easy-wearing and shower-resistant The Rake's exclusive Rubinacci Casentino Ulster coats are destined to transform your winter wardrobe.
The Ulster coat was originally a thoroughly down to earth garment, worn with an over-cape in its earliest form, and championed by the Victorian working classes. Its particular popularity amongst the labourers working in Irish shipyards (who all wore coats made up in a particular kind of tweed) at the turn of the twentieth century lent it its name. Come the 20s and 30s, it had morphed into the ubiquitous coat for the sharp dresser and elegant man about town, with no catalogue of clothes or tailor's fashion plate complete without at least one Ulster coat design to consider during the cooler months. Traditionally a very British garment, it was Rubinacci that first popularized the coat in Neapolitan tailoring, transforming its role in the gentleman's wardrobe in the process. Taking inspiration from a quintessentially British strand of sartorialism, as the house did when Gennaro Rubinacci, Mariano's grandfather, established Rubinacci 'London House' in the 1930s, the Ulster coat was chosen for its impressive stance and its hard-working history. It was an immediate hit, and almost immediately the Neapolitan tailoring establishment found itself inundated with orders for generous, double-breasted Ulster coats to wear both around town, or for leisurely strolls through the Italian countryside. As with all Rubinacci's creations (then and now), traditional British style was just a starting point for the house's design and the coat had its structure softened and proportions subtly altered for a more louche, easy-wearing feel. This authentic sense of louche, comfortable but nonetheless impressive style is what you find in the coats before you. The coats are lightly canvassed and half-lined with piped seams throughout to achieve a relaxed attitude, yet they reach the shins for an impressive look. Each coat's revere collar is phenomenally broad with a glorious belly, designed to create a full lapel-roll across the chest and a rich drape through the front quarters. Though the coats, of course, fasten right up to one's nape in poor weather, they are best worn only on the middle button; to allow for the lapels to roll right from the hips to the collar bones, as is proper in a true doppiopetto transformible.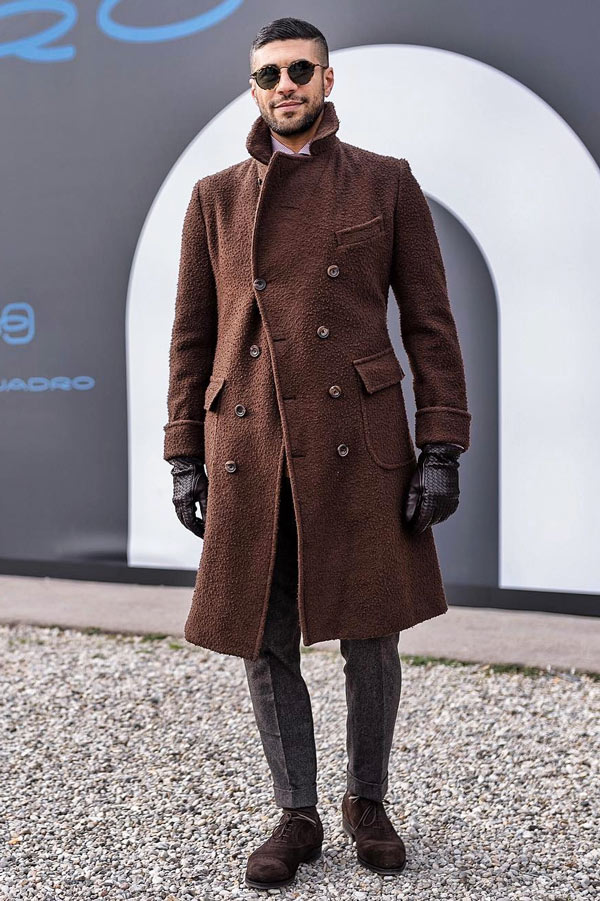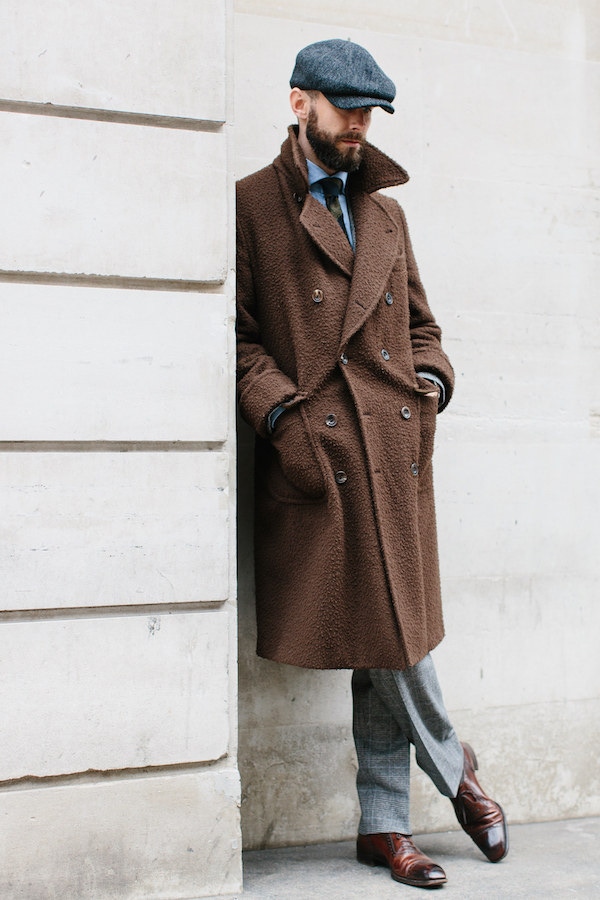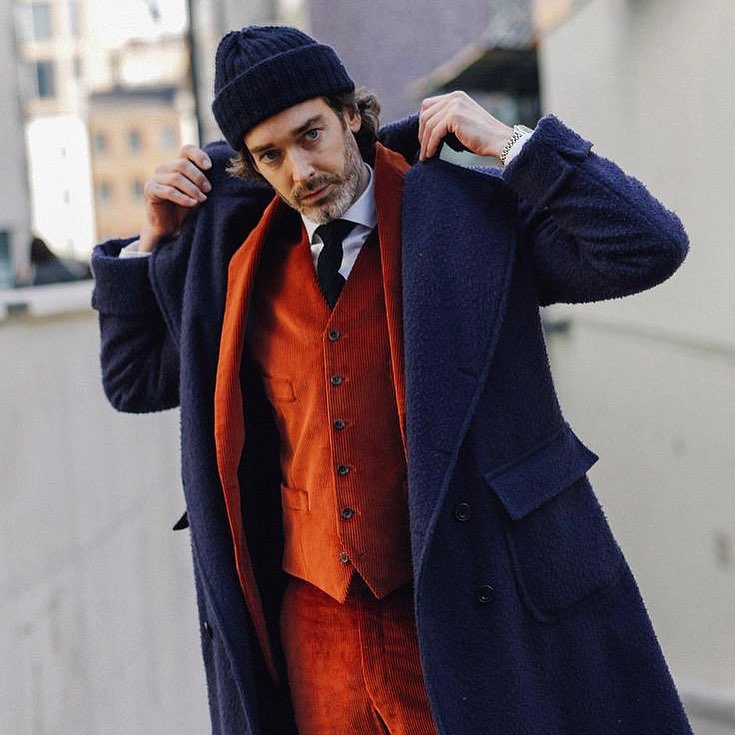 Producing these coats was an ambitious project, not chiefly because an Ulster coat is a technically demanding garment to cut and make; the wrap of the coat must be perfectly balanced and the lapels structured just so, both so that the collar can stand firm and the lapels roll gently through the front of the coat. Then there is the inverted box pleated back to consider, which runs through and effectively removes the centre back seam and which unbuttons through the coat's skirt to improve mobility, one must also consider the pleated structure of the half-belted back. There is pocket placement to think about too, with patch-and-flap hip pockets on either side and an out-breast welt pocket which must all sit in harmony with the proportions of the coat. And then of course, there's the fact that these coats are cut as true Neapolitan 'transformable double-breasteds', meaning that they can fasten either on the hip or on the waist, with the lapels rolling perfectly in each case – this being the most technically demanding style of overcoat to cut. These challenges perhaps go some way to explaining why Mariano cut an entirely new (and exclusive) pattern for these overcoats, and why the house has never offered ready-to-wear Ulster coats before.  We hope you'll agree that they've come out rather well. In gorgeous
mustard
, 
navy
,
chocolate
brown
and
forest green
Casentino with linings to match, they are every bit the coats of a tailoring connoisseur. And why choose Casentino for this project you might well ask? Casentino is a Tuscan, rather than Neapolitan cloth after all. Well, quite simply, it's a wondrous material. Relatively lightweight - which means that these coats can be worn right through from early autumn to the first days of spring - Casentino is something of a super-cloth. Distinctly rustic and tweed-like in character, it breathes surprisingly well thanks to its loose weave, but its full-bodied carded finish also means that it can be incredibly insulating in cold weather, making these coats surprisingly adept when it comes to temperature control. The tough finish of Casentino too lends the cloth a natural shower-resistance, perfect for unpredictable winter days. A cloth that connects one back to hundreds of years of Italian textile-weaving history, authentic Casentino (such as this) has been woven in the Casentino valley for some eight hundred years, and represents a timeless woollen cloth of unbeatable functionality and intriguing character. It goes without saying that we're hugely proud of these coats, and as the house's first ready-to-wear Ulster coats, they're also a significant garment for Rubinacci Napoli too.