Rubinacci for The Rake: The Unstructured Summer Linen Blazer
First, we had the ultimate all-season high-twist travel jacket. Now, with the onset of spring, The Rake is proud to introduce our dream blue linen unlined blazer from Neapolitan tailoring titan Rubinacci.
Now let's be clear about one thing, come the warmer months navy blazers are ten a penny. This of course brings with it positives and negatives, the main positive being that they're easy to come by. On the flip side, it can be rather tricky to find an exceptional blazer, one with a suitably considered construction and a design that has received the attention it deserves. Hence why we at The Rake, in our unending quest to militate against sartorial ubiquity, have made it our mission to offer readers a number of innovative, intelligently designed navy blazers from tailors that we admire and who understand the art of constructing a compelling garment. The first step for us to was create the ultimate perennial,
luxurious unstructured travel jacket
, a project that we embarked on with Neapolitan sartorial power-house Rubinacci and which we are pleased to report has been well received. With an all-season staple travel blazer in the bag and with summer on the approach, we would now like to introduce readers to the
Rubinacci For The Rake Unstructured Summer Blazer
, cut in the finest blue Italian pure linen. Said linen was chosen not just for it's obvious breathability, but because with it's innovative panama weave, it holds the jacket's shape whilst remaining gloriously light and airy - as one expects of the best linen. Realised in Rubinacci's signature unstructured model, cut by Mariano Rubinacci himself – one may as well be wearing a summer shirt. In terms of silhouette, the waist is suppressed a little more than on a conventional Rubinacci jacket, to add definition without being too slim, lending one the impression of a suitably svelte figure. Combined with lapels of herculean proportions, which bestow a confident stance worthy of Adonis himself, one no longer needs to compromise on the poise of his blue summer jacket. Rather, he abounds in the blazer, a vision of lightweight-tailored nonchalance, so smooth and sleek that he may as well have been brushed in a coat of the finest Italian extra virgin olive oil.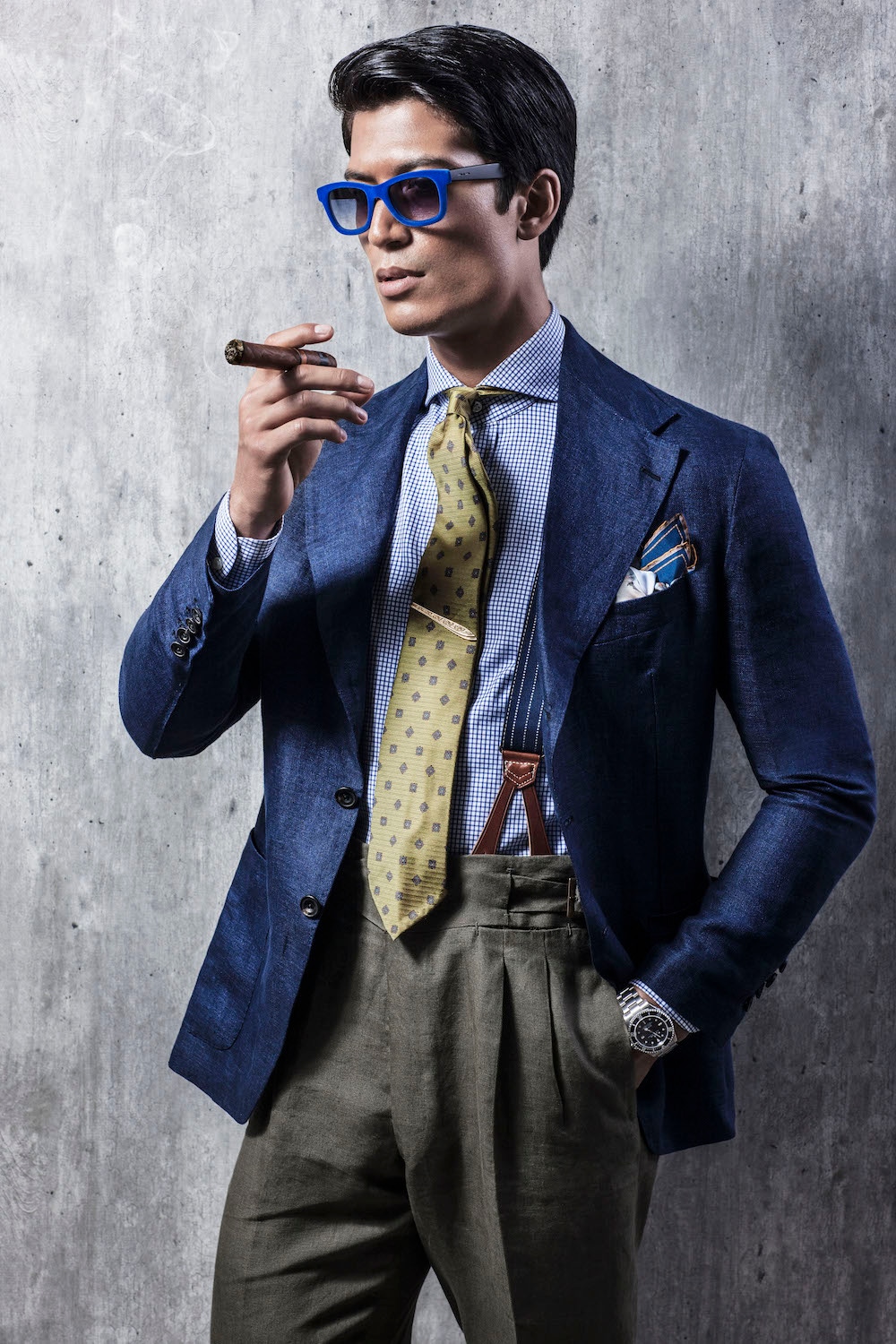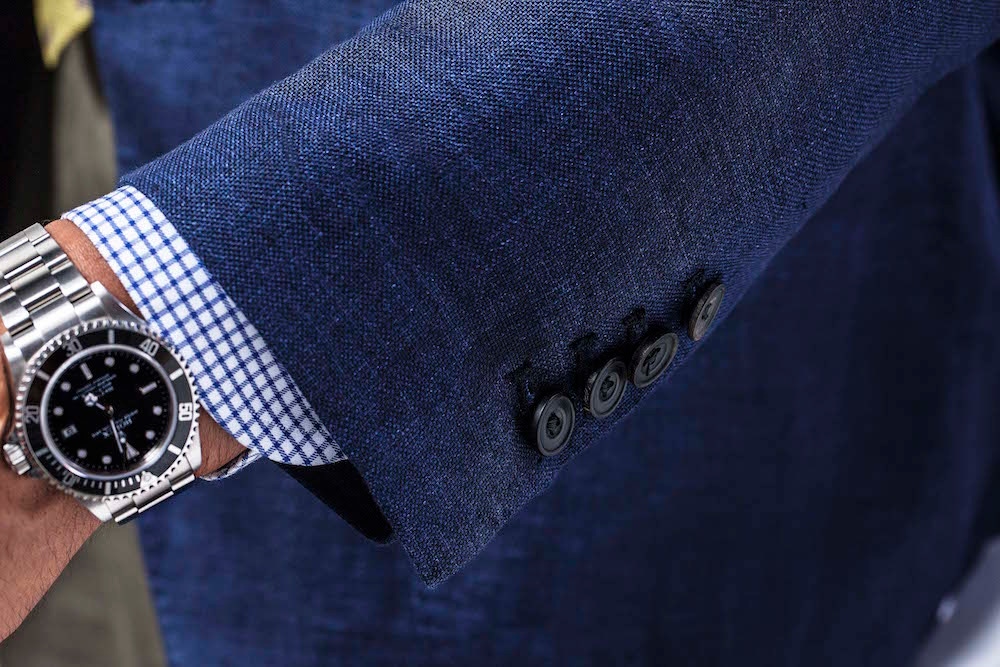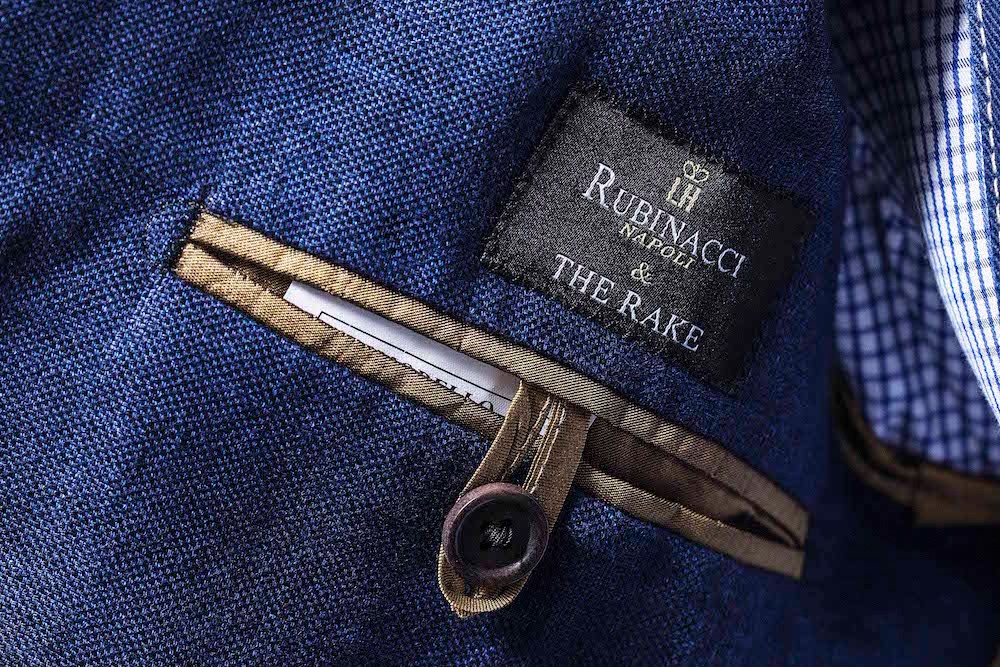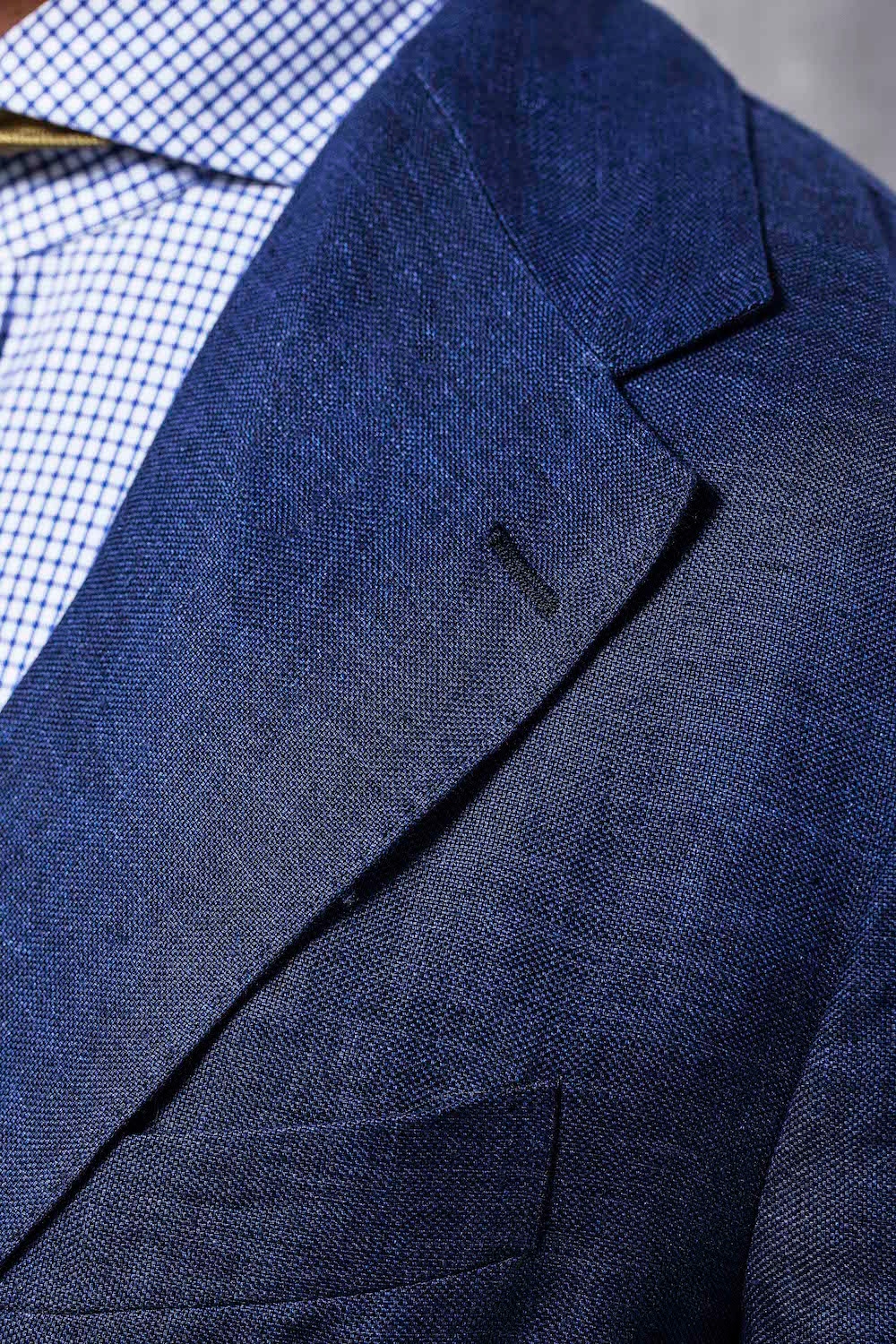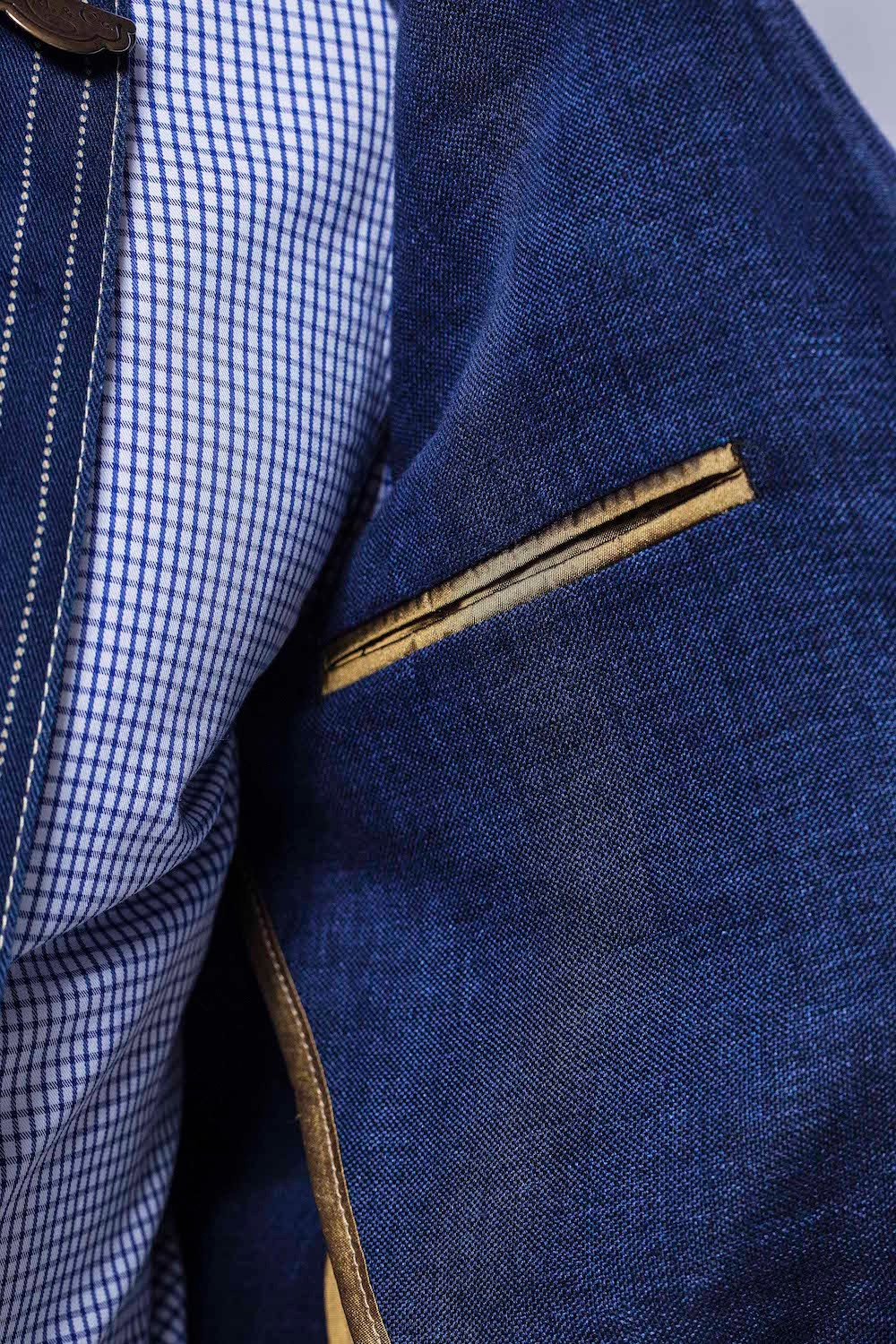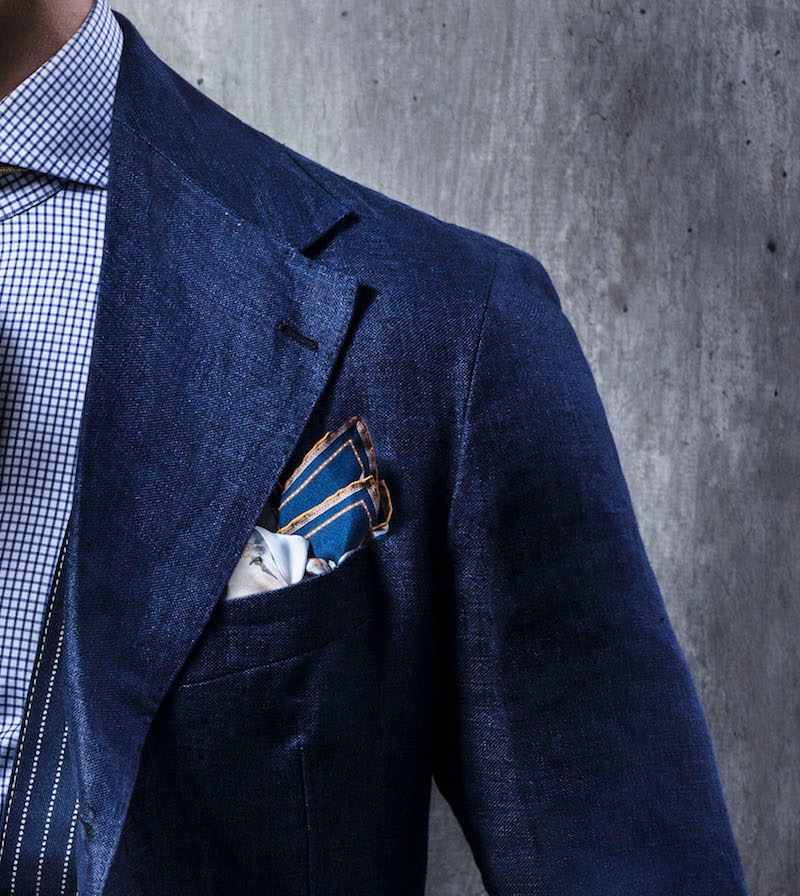 Yet for all these rakish touches, the blazer retains its quintessential Rubinacci characteristic; the delicate topstitching just visible atop the shoulder seam and down the sleeves, the suitably rustic brown horn buttons and the gentle roll to the blazer's broad lapels, all belie the touches of the Rubinacci family and their exquisite understanding of Neapolitan style. In a soft shade of navy, with equally soft highlights in RAF blue on a midnight ground, the linen brings with it a subtle sheen that betrays its quality and a thoroughly voluptuous floatiness. As a result, this is a blazer that wears itself in beautifully, growing more comfortable as it softens, molding itself to one's form. Its perfect with anything from a superfine navy cashmere-silk crewneck to a powder blue linen shirt, ivory cotton trousers and a mottled shantung tie. As with our high-twist travel jacket, this design is exclusive to The Rake's online Atelier and only ten have been produced, ensuring that these blazers remain suitably exclusive. A unique Rubinacci design lent signature Rake treatment, we hope that readers will be as intrigued by these jackets as we are.