Schott NYC: Still Rockin'
Although Schott NYC is synonymous with rebellion, being favoured by the likes of Marlon Brando and James Dean, it's a brand that's also renowned for its quality – a trait it's maintained for more than a century.
It's safe to say that no brand is more synonymous with rock 'n' roll, counter-culture, renegade notoriety and testosterone-soaked masculinity than Schott NYC. In fact, I don't think many could contest with calling it America's greatest outerwear brand. The manufacturing process still takes place in the U.S.A and the brand has become globally known for producing iconic outerwear garments, which Jason Schott, chief operating officer and fifth-generation family member, says "have become ingrained in our cultural lexicon and therefore never seem to go out of style." As such, it was a no-brainer to onboard a few styles from its core range on TheRake.com.
Founded in 1913 in the Lower East Side of New York by brothers Irving and Jack Schott, the family-owned outerwear specialist is best known for its motorcycle jackets — they invented the first leather jacket exclusively for motorcycling in 1928, after all — however, it was originally a manufacturer of fur-lined raincoats. In a tiny basement with aspirations of their own American Dream, they sold their wares from door to door and the business quickly grew.
The aftermath of World War One was a particularly poignant time for the company, as the brothers turned to producing leather and sheep-lined clothing, which was in high demand due to a rise in sporting and recreational fields. In the 1930s, motorsports became popular, so Schott started to produce more garments that performed in that arena. At the same time, and throughout World War Two and beyond, due to its quality make, the family-business was commissioned by the U.S. Army to produce garments for both the military, navy and airforce.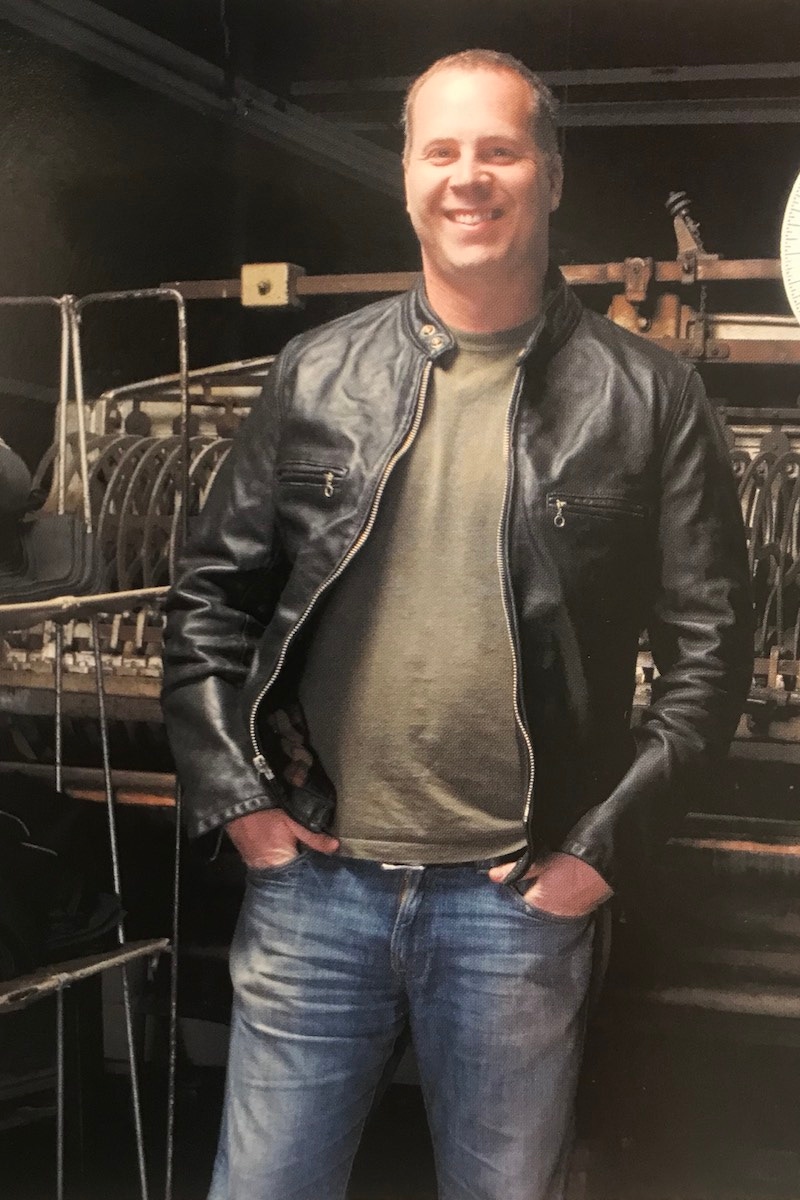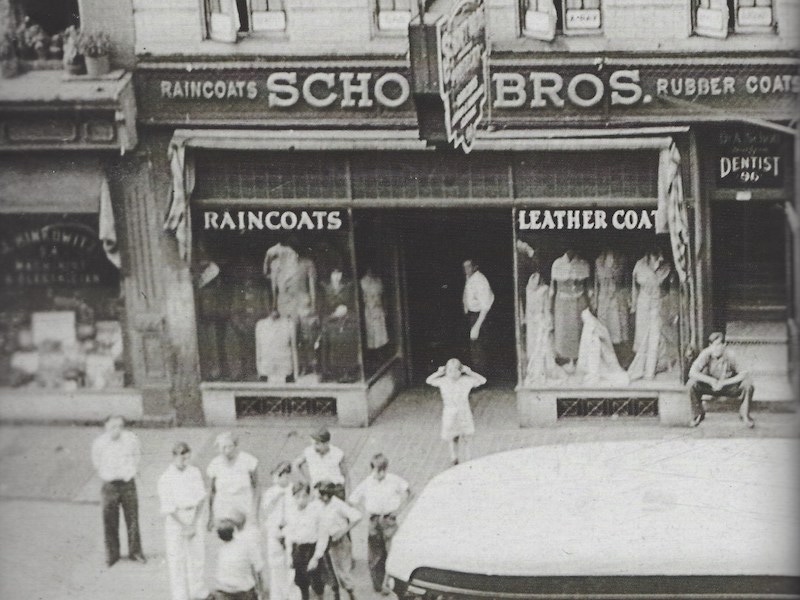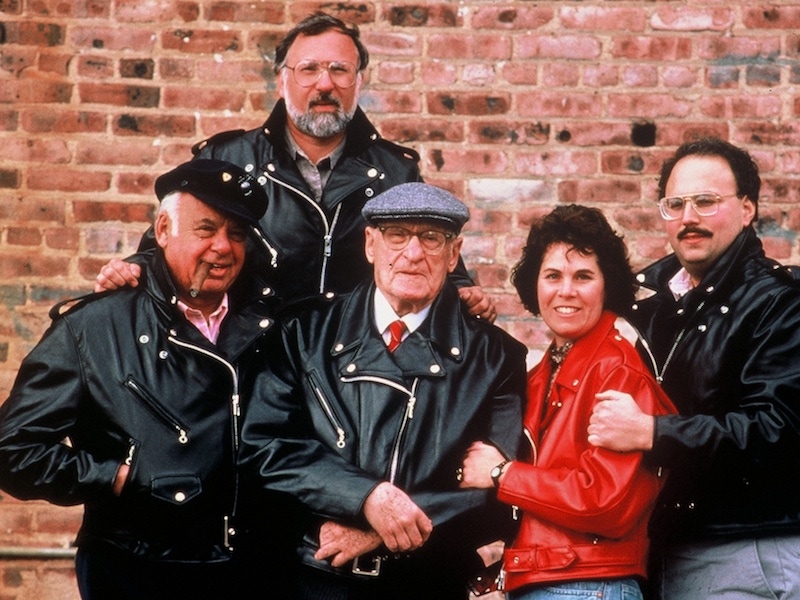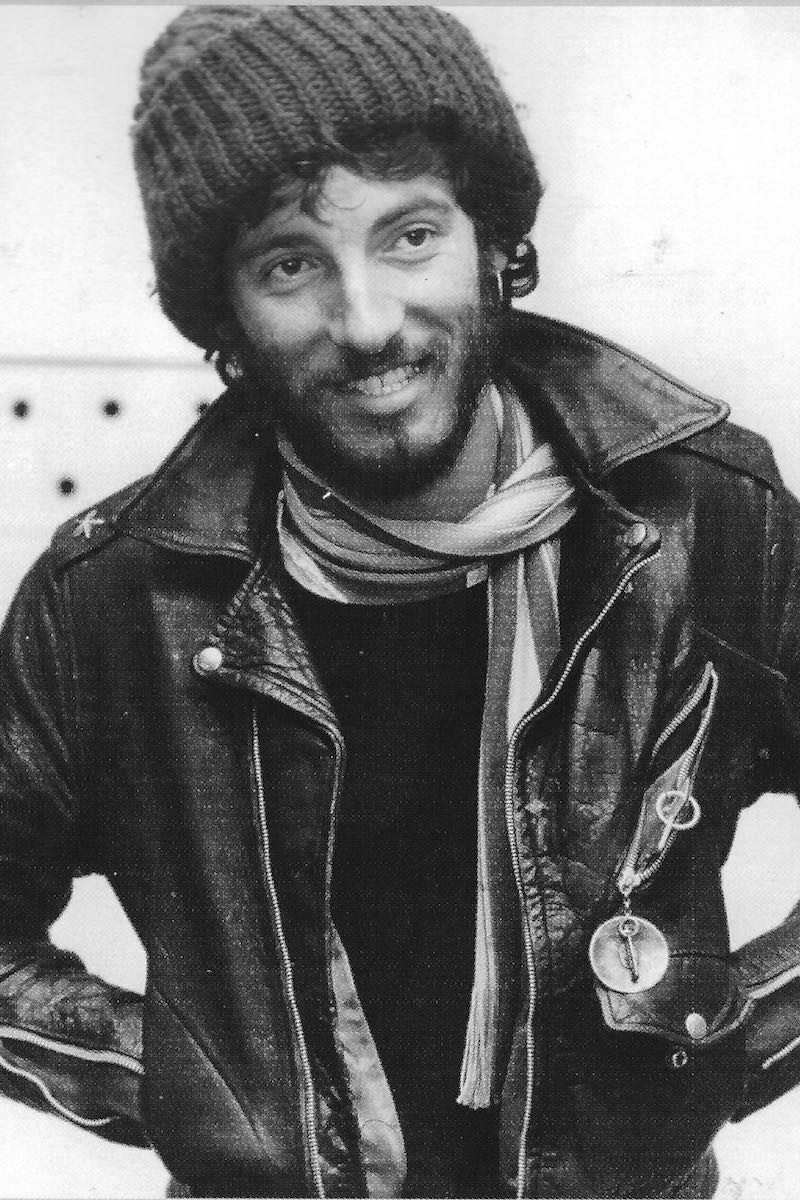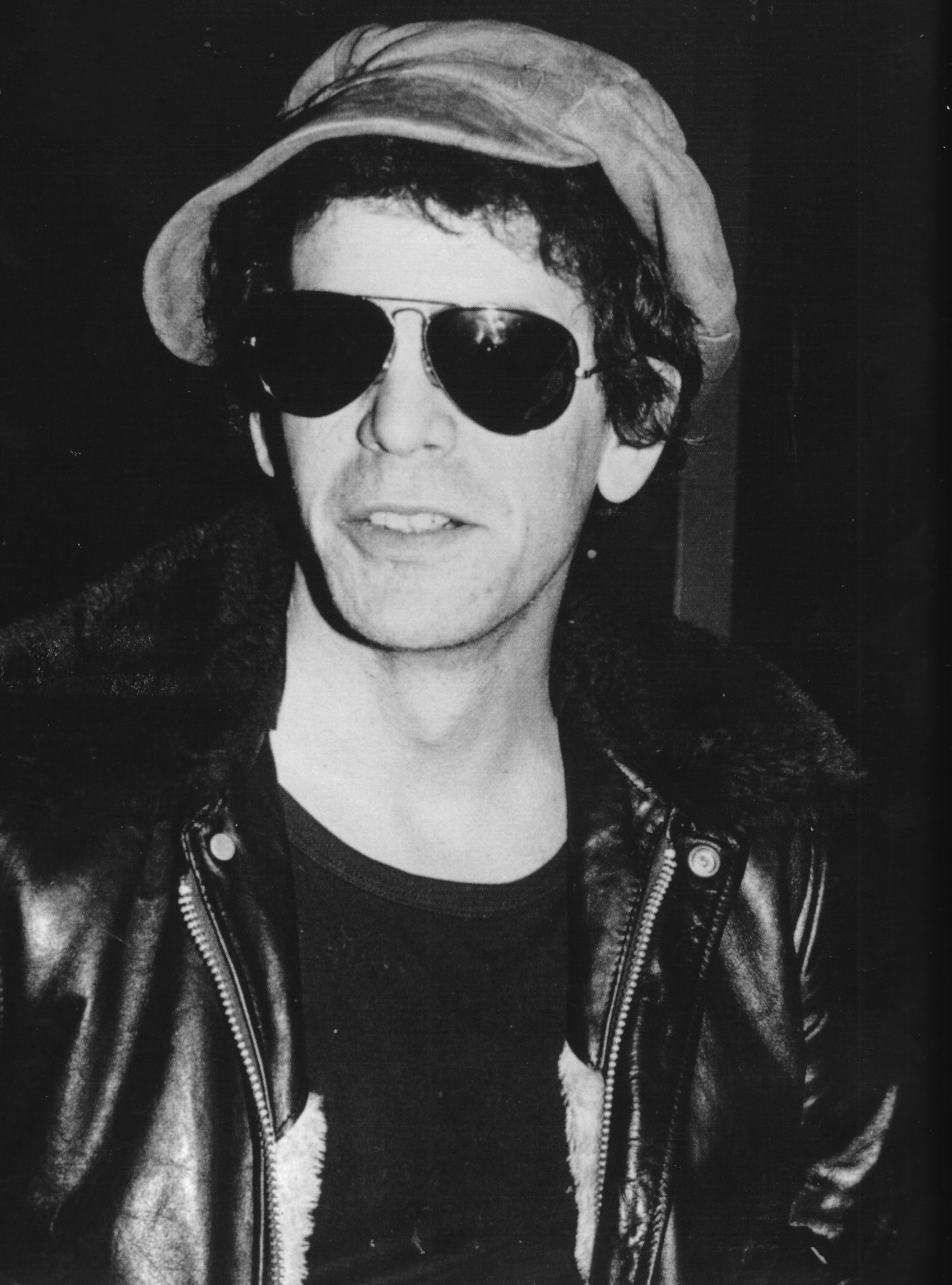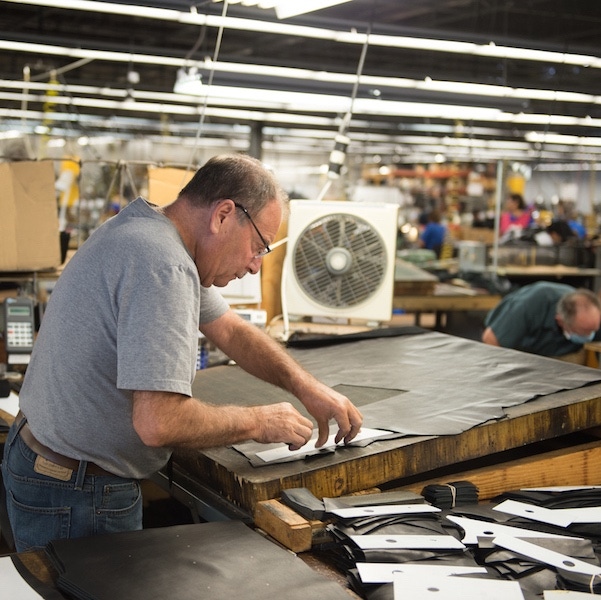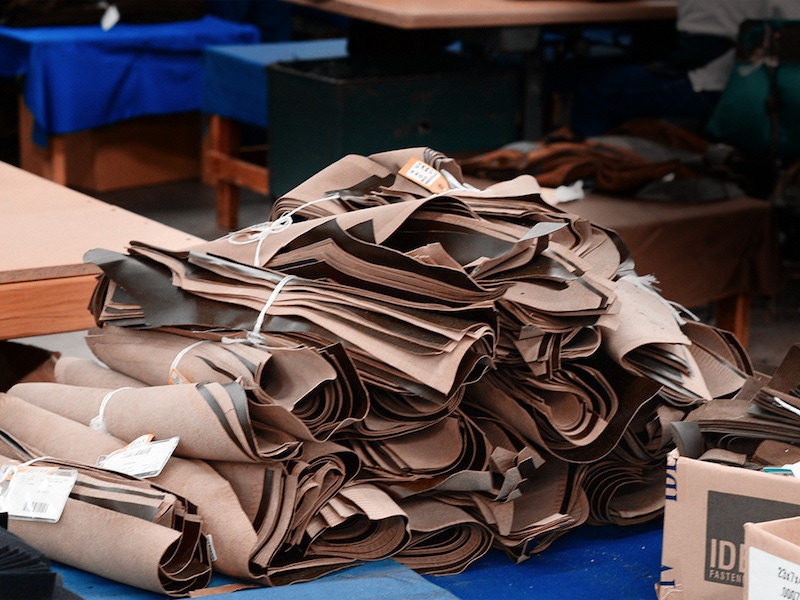 Manufacturing still matters greatly to the Schott family and each garment is still made one by one by skilled, dextrous craftspeople who use a mixture of handwork and machine work to produce the range. We "primarily use American sourced skins," Schott says, because "we eat a lot of hamburgers in this country and leather is a byproduct of the meatpacking industry. We have been using it for the past 100 years, it's local to us, and it's top quality so we see no reason to change." These skins are subjected to a range of quality control checks that examine the colour, grain and texture.
The iconic Perfecto jacket, which is instantly recognisable due to the One-Star on the shoulder epaulette, is the ultimate motorcycle jacket that's become a signifier of effortless cool and rebellion. The 613 is Schott's most known and loved iteration of the biker jacket, and engraved in the mind's of all thanks to the likes of Marlon Brando, James Dean, The Ramones and 'The Boss' Bruce Springsteen, the latter of which, perhaps, perfectly summarises its clout. Constructed from sturdy steer-hide, which has a consistent thickness throughout of roughly 3 to 3.5 mm, it's particularly attractive due to how it eventually moulds to one's body. (Be patient – the breaking-in process is part of the experience.) While there are over 50 individual pieces of leather, the entire back panel is one hide, which gives an indication of Schott's uncompromising stance on quality. It's fitted with a bi-swing back, which essentially expands and constricts to your movement, care of a piece of elastic that's between two pleats within the back of the jacket. This is key as when on a bike, comfort is paramount. Other technical details that prove the 613's proficiency as a performance garment are the half belt, which can be used to control the rider's temperature when in transit, and the internal quilted lining. Externally, there are four pockets: three medium-sized pockets and one coin pocket.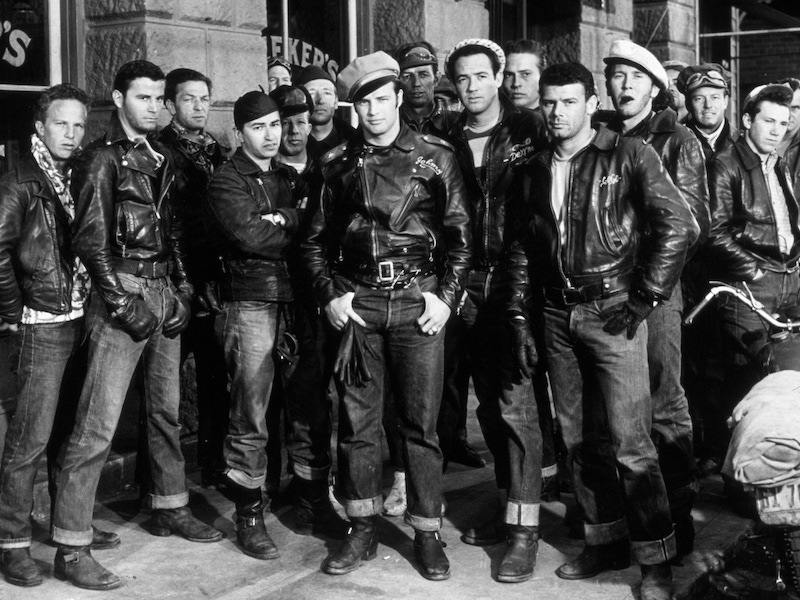 As mentioned earlier, Schott has had a great relationship with the U.S. military that predates World War Two. "We supplied the military through specific contracts and working directly with government organizations since before WWII," Schott tells me. Through those contracts, it produced a range of outerwear that was fit for duty on land, sea and air. The B-3 flight jacket is arguably one of the most iconic jackets in aviation history. It was designed to perform at 25,000 feet in -50 degrees and, as such, it's meant to be worn when it's exceptionally cold. It relies on the warming properties of sheepskin which, thanks to the crimping of the sheep's wool, creates tiny pockets of air that retain warmth and dispense moisture. The exterior is rugged and tough, and with time develops a wonderful patina and signs of wear. There are two slanted hip pockets, brass zipper and buckled collar, just in case it's extremely arctic. On TheRake.com it's available in brown and black, the latter of which is more accustomed to urban settings, but nonetheless, it's one hell of a jacket that's rich in history.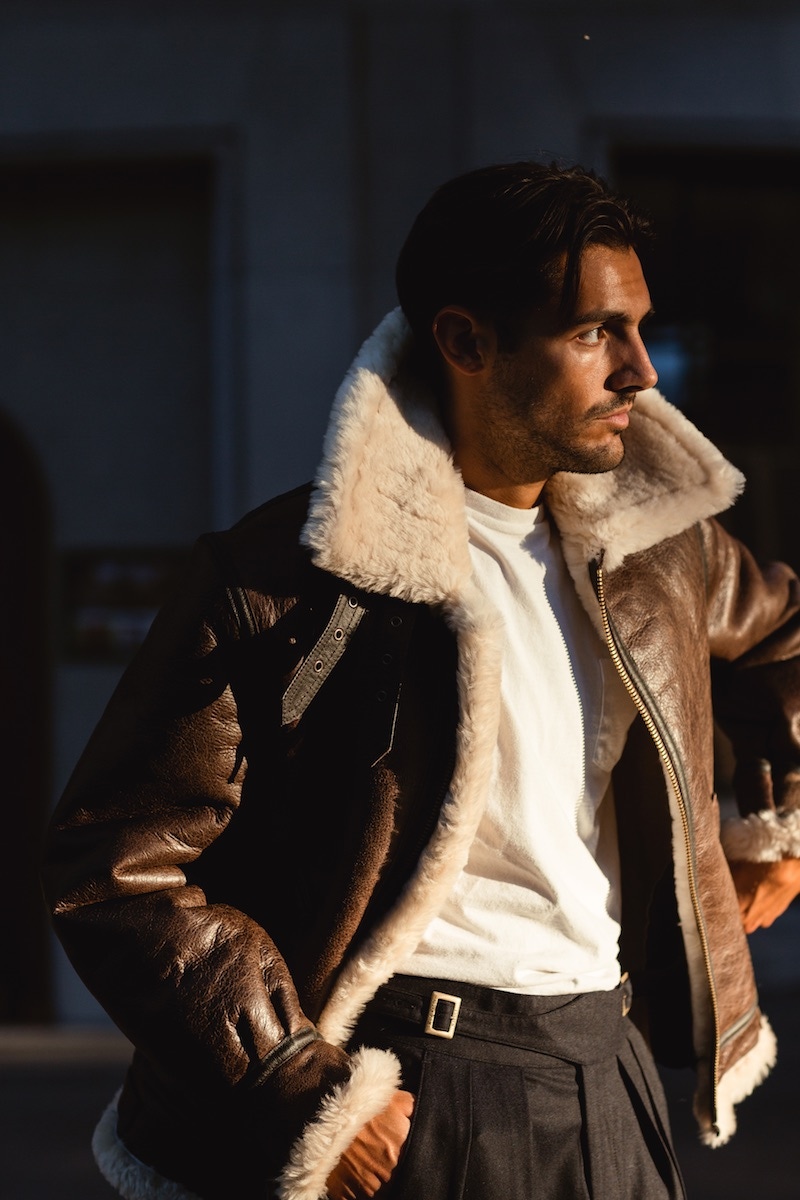 Nosediving to sea, Schott also produced thousands of Peacoats for the U.S. Navy before and during the war. Cut from an extremely heavy 32 ounce Melton wool, they're densely woven and thus repelling water and wind brilliantly, whilst also allowing moisture to wick from the body. Each season, the style can be found in men's and women's collections due to timelessness, but Schott's is true to the original with the added bonus of a quilted lining. It has two jetted, vertical pockets located on the hips and a double-breasted button configuration with naval buttons, complemented by an Ulster collar which, when worn up, looks emphatically rakish. There's a button directly underneath the neck which allows you to fully button up the jacket to keep out the cold.
The aforementioned styles were all conceived prior to the second half of the 20th century and yet they're still produced in the exact same way and their design makeup has remained unchanged. As the old adage goes, 'If it ain't broke, don't fix it', and that's applicable to Schott. "They will last forever as long as you take care of it, as it's designed with utilitarian functionality; those are the garments that stand the test of time," says Schott. It's a sentiment that's true of the family business as a whole: from peddling fur-lined raincoats from a basement in 1913 to being worn and loved by a wide range of sub-cultures, rock stars and movements; Schott has, indeed, stood the test of time.