The Secrets to a Brilliant Beard
We've consulted the experts to glean the wisdom you'll need to achieve and maintain facial-hair greatness.
You may be growing a beard because it's cold (as in, wintry). You may be growing a beard because it's cool (as in, on-trend). You may be growing a beard because it's ruggedly handsome, flattering and guaranteed to tickle your significant other's fancy (plus certain sensitive body parts). You may already be rocking a rakishly hirsute countenance (congratulations, sir). Whatever the case may be, the following advice from The Rake's panel of experienced beard-wranglers is sure to prove invaluable.
Veteran male model Bernard Fouquet first bearded up seven years ago, when asked to cultivate a month's scruff for an assignment. "I thought it looked great, it gave me some character, and I've never shaved since," he says. His top tip for the aspiring beard-monger: "It has to be clean and well groomed. Personally, I keep it neatly trimmed — I don't want to look like Santa Claus."
Men's style icon Nick Wooster concurs. With a long, salty-toned beard, one might very easily begin to look a lot like (Father) Christmas, he says. Conversely, though, a modest-length, properly shaped beard can shave years off your appearance. "I call it nature's plastic surgery," Wooster says, highlighting a beard's power to shape and conceal. "It's a great way of camouflaging the effects of age on your face."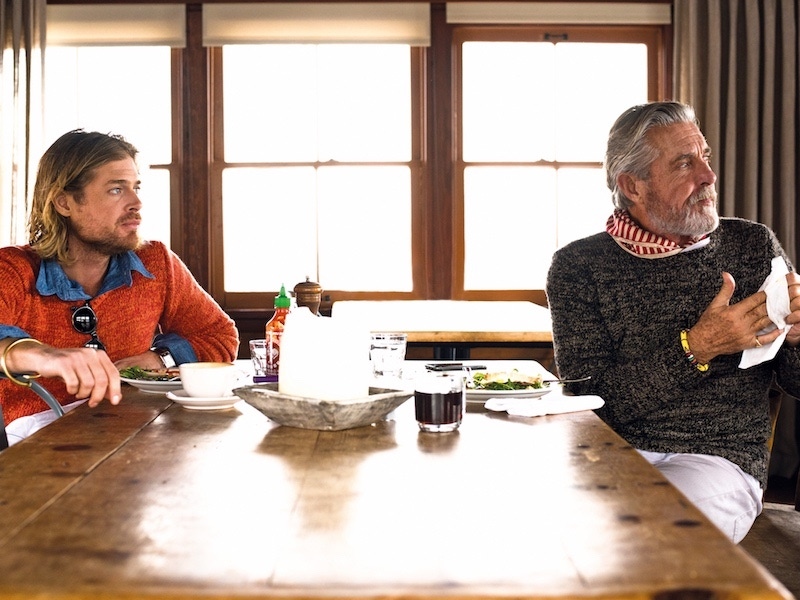 Bernard Fouquet with son, Nick. Photograph by Robert Spangle.
The man no less a style authority than Nick Foulkes calls "London's best barber," Brent Pankhurst agrees with Fouquet and Wooster that the St. Nicholas / lumberjack look is to be avoided. "The big beard has definitely gone the way of the wooly mammoth," Pankhurst says. "Facial hair is here to stay but most of the guys I'm seeing have a nicely trimmed, natural-looking beard. Style stays forever whereas fashion comes and goes — long beards were just a passing fad, really."
Pankhurst says not only is a short-trimmed beard more stylish and "definitely more appropriate in a formal or professional environment," it's also far less likely to cause hygiene problems. "Especially in summer, a longer beard can be hot and itchy, getting really uncomfortable. It has the tendency to become greasy, causing bad odour and skin blemishes, particularly if the man uses beard oil, which a lot of guys apply much too liberally. Less is more, fellas."
Wooster started growing what would become one of the most famous beards in #menswear in 2008. "My barber in LA at the time said to me, 'Listen dude, your face can't handle shaving your head anymore. You need to, like, grow your hair out and grow a beard, maybe try a handlebar moustache.'" Combined with what was, at the time, revolutionary tailoring from Thom Browne, Wooster's new look became a street-style sensation when he was photographed by Tommy Ton and Scott 'Sartorialist' Schuman at the Milan menswear shows in 2010.
He is beardless now. ("My hair is a renewable resource, I can always go back to it," he quips with the quiet confidence of the follicularly blessed.) But Wooster still winces recalling one of the pitfalls of letting a beard get too lengthy. "It's really painful if your hair gets caught in turtlenecks or zippers or things like that. For me, that was not comfortable," he says. "It's not pleasant at all, your facial hair getting pulled like that."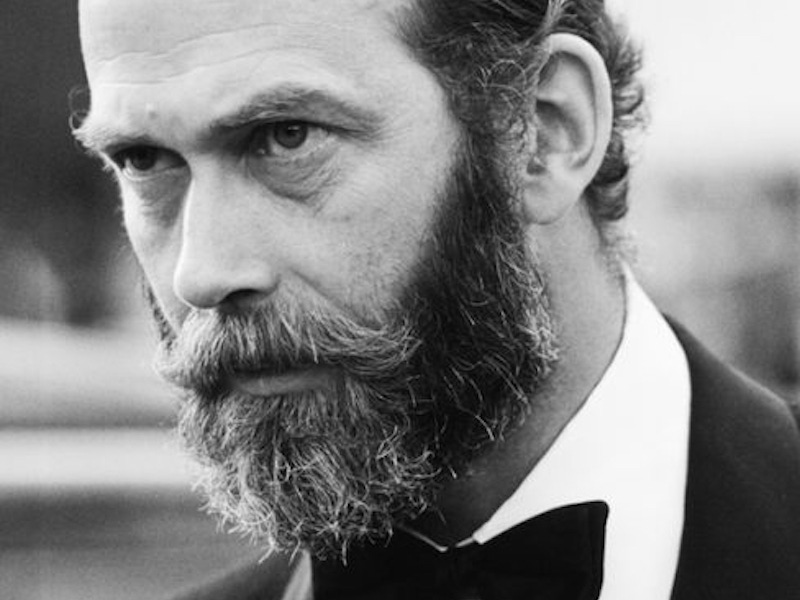 Prince Michael of Kent Portrait. (Photo by Tim Graham/Getty Images).
Please note, though, that doing a George Lucas and removing all hair from the neck is not the solution to this issue. "A lot of men shave right up to their jawline in an attempt to hide their double chin, when in actual fact it frames it and only makes it look worse," counsels Pankhurst. "You should always fade the beard in naturally from the bottom of the ear down and around the Adam's apple so that it is blended into the hairline. There should never be a hard line."
According to Pankhurst, "A beard should look natural. If the stubble grows higher up the cheek, then remove this hair, but keep the line soft. Your barber could trim your beard naturally with scissors once a month, or you can always use a No. 3 around the chin and a No. 2 around the sides and the neck if you are doing it at home." DIY enthusiast Fouquet says, "I rarely have my beard trimmed at a barber, maybe I should go more, but I think I do a pretty good job myself. I'll trim it with an electric clipper and use a razor on the little hairs on my cheeks."
The important thing is, says Wooster, "You have to work with what you've got. Some people, their beard comes in perfectly and they can do anything they want. Others, it's patchy and thin and they have to deal with that. You just have to figure out what works with your face and with the type of facial hair you have." Some guys have it easy, Wooster says. "I know lots of people who just let their beards go, trim them occasionally. That wasn't the case for me, I was trimming it once a week. In fact for me, counterintuitively, a beard requires more effort than shaving."
Having your beard snipped by a good barber every few weeks is the ideal. (As with so many things in life, if you can afford it, it's far preferable to have your needs seen to by a professional.) But even if you plan on self-servicing at home, it is certainly advisable to visit a specialist when first growing a beard. You're wise to have a barbershop trim done that will grow out in the proper shape, and to seek expert advice on how best to maintain it.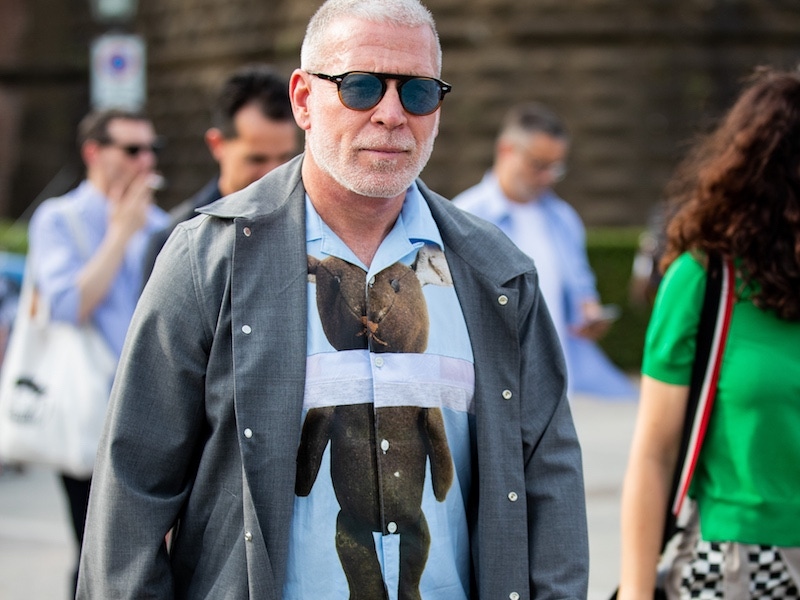 Nick Wooster at Pitti. (Photo by Christian Vierig/Getty Images).
Movie stars consult Lauren Kaye Cohen, a Hollywood hair stylist and cinematic grooming expert who's worked with owners of epic on-screen beards including Jeff Bridges, Leonardo Di Caprio, Chris Hemsworth, Don Johnson, Pierce Brosnan and Brad Pitt. "
Sometimes my clients need to grow facial hair for a specific role in a movie, whether they normally wear facial hair or not," she says. "My job is to make them look amazing in the transition phase."
Her go-to solution is Mess of Blues' Cream Pomade. "It's a real multi-purpose product — you can use it on hair, and the moustache and beard. There are so many healthy ingredients and five vitamins in its formula," she says. Cohen also recommends Mess of Blues' double-sided wooden comb: "It's the perfect match, you can use it to sculpt hair and to tame beards with the widest teeth side, or to style moustache and fine details with the smaller teeth side."
"The most important thing about a beard is looking after it," says Pankhurst, who developed his own range of products to help you do just that. "If you have a short, almost stubble-like beard, then use our Aftershave Ice Gel, which is nice and soothing for the skin. If the beard is slightly longer, then the best products to use will be the Head-to-toe Shampoo to cleanse the beard and face, followed by the Styling Conditioner, which will nourish the beard hair while avoiding adding grease to the skin."
So there you have it. Essentially, the secrets to a brilliant beard are quite similar to those governing the delivery of a successful best man's speech: keep it relatively short, keep it clean, don't overdo things, and you'll come away looking great.