Shirtmaking The Emma Willis Way
With a delicate hand and unwavering values, Emma Willis has made her mark on the world of men's shirts. But that's not all that sets her brand apart from the rest.
In an 18th century townhouse, nestled in the heart of Gloucester, hangs a series of black-framed photographs, all with a common theme: Emma Willis, shaking hands with a plethora of high-profile people. The moments are symbolic of the successes Emma has enjoyed as one of the UK's most prestigious shirtmakers, as well as someone who's used that acclaim to give back.
It was high profile customers that helped Emma's business initially grow. Having worked for other menswear companies, she launched her own label in 1989, focusing on bespoke shirts made in England from the finest materials. Personally travelling to homes or places of work, she built up strong relationships with customers, who'd then refer her to their equally high profile friends, quickly developing a client book bursting with reputable names.
It wasn't until 2000 that Emma opened her store on Jermyn St, where she immediately stood out in an area dominated by male-led brands. She used this as an advantage, adding a delicate flair to menswear, which has become the brand's signature. "I don't tend to like the really bold, masculine look at the very traditional end of British shirtmaking," says Emma, from the cosy basement of her flagship store. "So it's probably a softer look, slightly less formal. Even if it's a linen shirt or a brushed cotton shirt, you still make it with equal care. One, it can still be bespoke, and two, you can make it with as much care and trouble as you would with your formal business shirt. So I think that combination is quite characteristic of us too."
Of course, another value Emma holds in high regard is material, which is sourced from Italy, Switzerland and Ireland. "I've used the same mill in Switzerland for 25 years – they're absolutely superb. It's called Alumo, and most of our shirts are made from their cottons which are woven using the highest quality Egyptian Giza 45 or West Indian Sea Island raw cotton. And then for the more creative and casual fabric like linen, I would go to Italy, and Irish linens are beautiful too."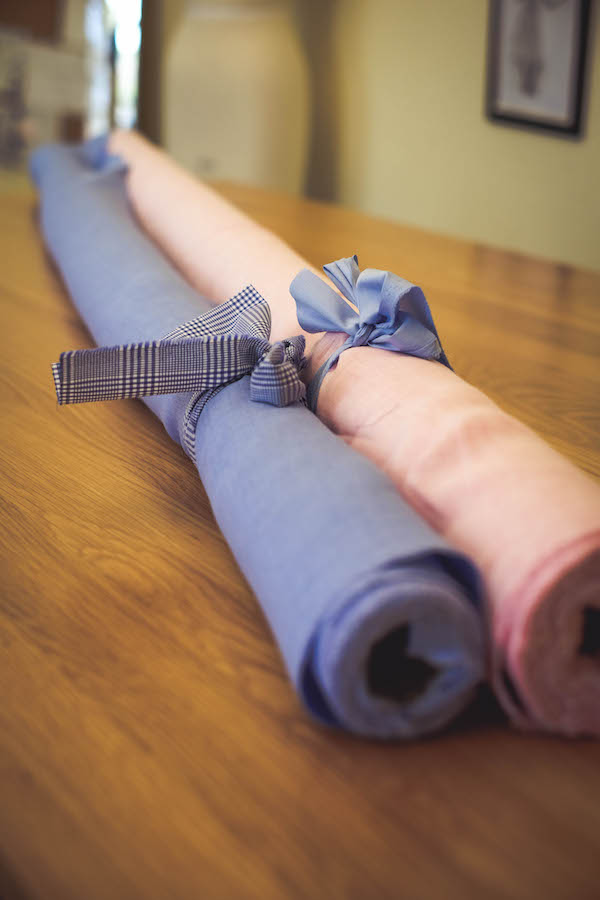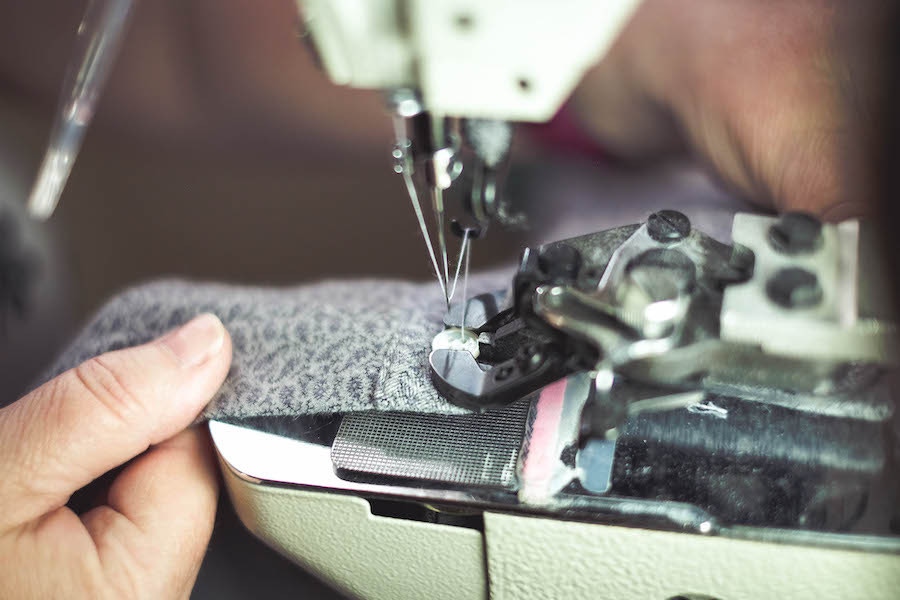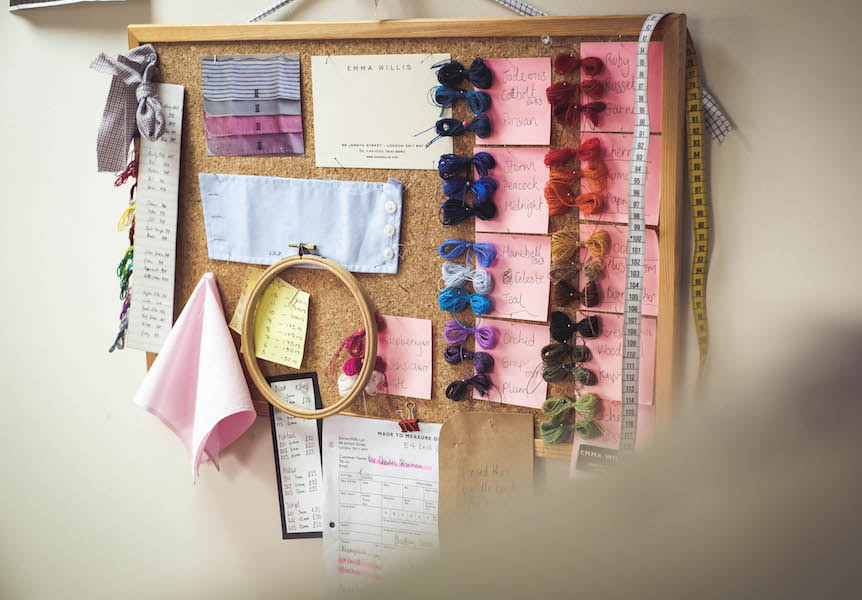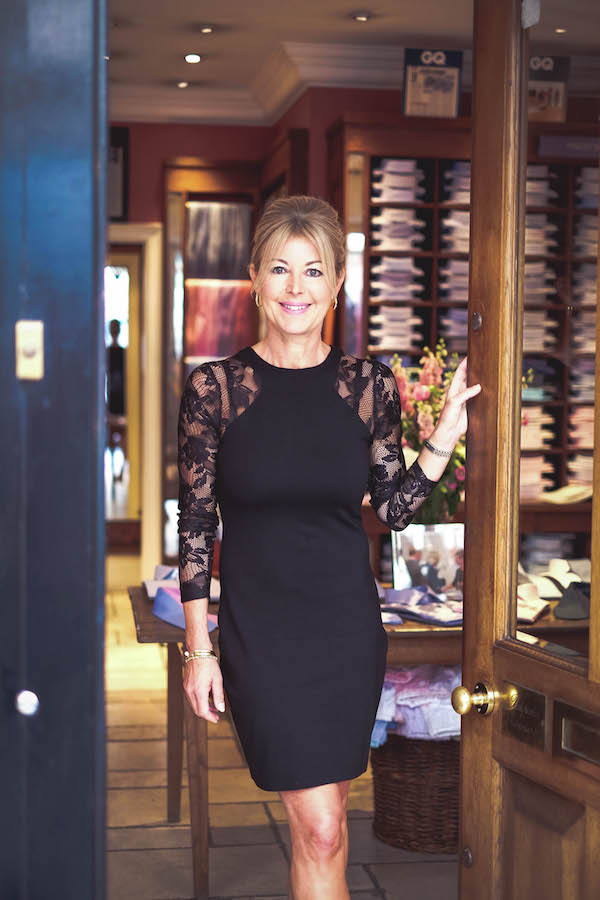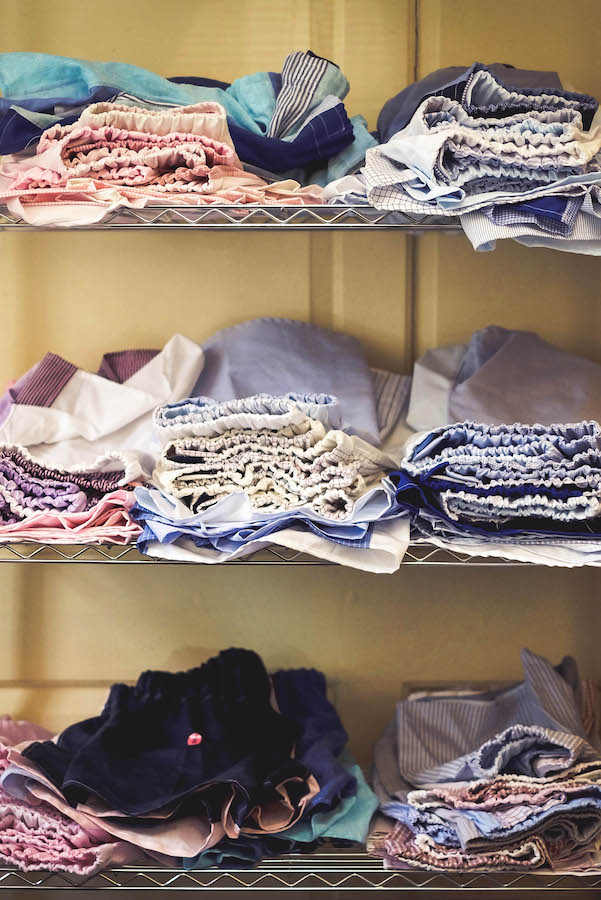 The most important aspect of an Emma Willis shirt, though, is the 'Made in England' label, which she championed even when there wasn't an interest in it from customers. "I came into Jermyn St at a point where a lot of other people were going away from the English make," says Emma. "There was a big drive to make a much more affordable shirt on Jermyn St - and there are a lot of good things about that - but there were fewer independents with an individual designing the shirts." Not one to compromise, Emma stood by her values, and eventually the discerning public came back around to wanting pieces made locally. "'Made in England' has really come back again and I really hope that we've played some part in that, because I do make as much noise as I can about British shirtmaking skills."
It's in the heart of historic Gloucester, in grand Bearland House, where those values are turned into a tangible, wearable product. The townhouse has been converted into an intimate factory buzzing with women - and one man - who all play vital roles in the shirt making process: there are bespoke and ready-to-wear cutters, who carefully prepare all the pieces of the shirts; there's a room of sewers, who meticulously put together those pieces; as well as those who buttonhole, finish and put the final touches on the packaging. "It's really important, getting to know the people who I work with making the shirts and working as a team," says Emma. "It's a symbiotic relationship. If I don't sell well, they haven't got shirts to make, if they don't make beautiful shirts, it's a lot harder to sell them as well."
There's room in the factory for growth, too, which is convenient given Emma's ambitious plans - in summer this year, she's expanding into tailoring, launching bespoke and ready-to-wear suits and separates. Naturally, as with her shirts, they'll have a slightly casual air, with a focus on linen and brushed cottons, transitioning into heavier smoking jackets in winter. She's also going to be relaunching womenswear, which she's had a lot of demand for by customers. "I've had a lot of encouragement, and I know exactly what I want to do and how I want to do it - I can envisage it so easily. We'll launch that online and I think by the end of the year, if that goes well, we'll open a separate shop."
While business may be thriving for Emma, she's never rested on her laurels, either. For close to a decade, she's been running the Style for Soldiers charity, which provides bespoke shirts and donated clothes to wounded serviceman. Emma's also established a sewing school to encourage new talent into the industry, as a way to further secure the future of British manufacturing. Which above all else, truly proves Emma's dedication to the craft.