Sixty Years of Bond's best watches
James Bond wears some serious watches. We don't need to tell you that; you've probably seen a hundred advertisements of the British spy wearing an Omega or Seiko to recognise the importance of a handsome timepiece on Bond's wrist. 
Like all horologists, 007 knows precisely when to pair the watch to the moment, be it a black-tie event or while fighting villains. Here are ten of his most iconic watches from the past sixty years.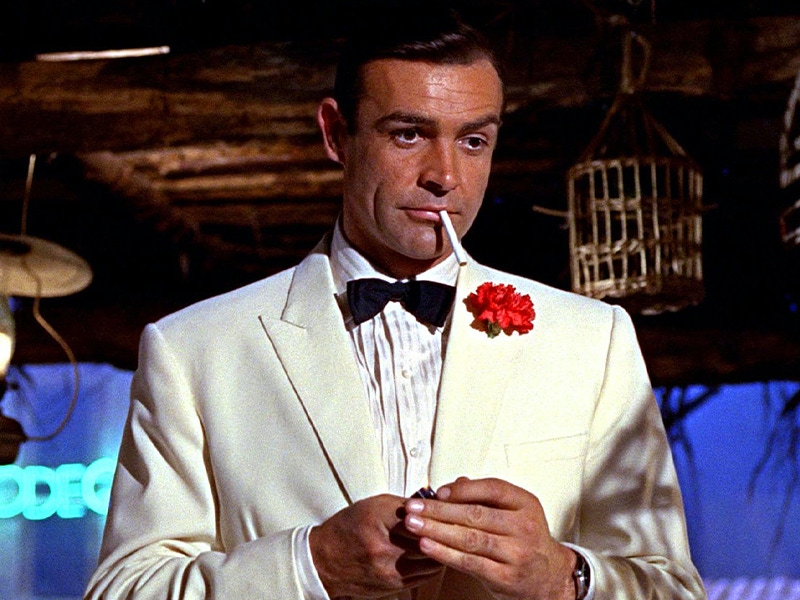 Rolex Submariner Ref. 6538
The 6538 is known as the 'Bond Submariner' for a reason. It appeared in the first four of Connery's six films, and is credited with having been the actor's own watch—a happy coincidence, considering the Submariner was the watch-of-choice for serving Navy officers. Not to mention that Fleming's Bond also wore a Rolex (a Perpetual, in his case). The early films were a great case for the Submariner's versatility, proven by a scene in Goldfinger where Bond uses it while scuba diving covertly to a party, before unveiling a white tuxedo. He even wears it in casual matters of seduction, as when he is introduced frolicking in a gingham shirt in From Russia with Love. The 6538 is the quintessential Bond watch to pair with any moment in an agent's busy life.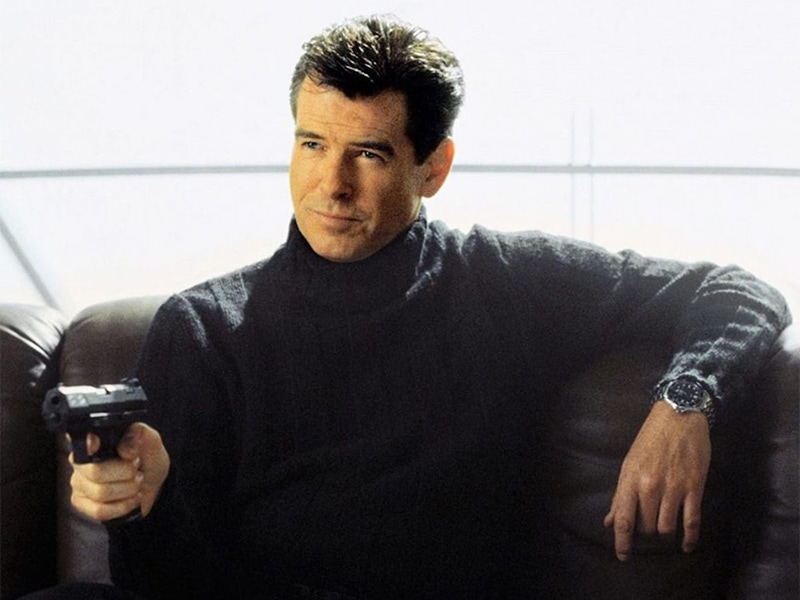 For those of us of a certain 'newer' generation, Bond is forever associated with the Seamaster. The Omega-Bond partnership is one of the longest-running, thanks to the vision of Jean-Claude Biver, beginning with Pierce Brosnan's Tomorrow Never Dies (strangely, it was a Quartz version, but that has since been rectified). It does more than resist water depths, too. In the film, Bond uses the watch to release a catch on a hand grenade inside of a glass jar, thus getting him out of a sticky situation with media baron Elliot Carver.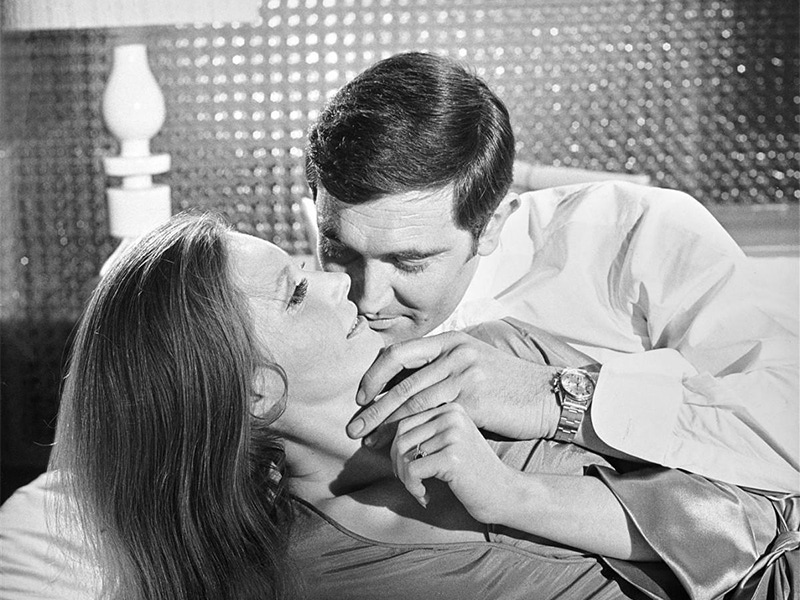 Rolex Chronograph Ref. 6238
On Her Majesty's Secret Service is slowly getting the respect it deserves, but of all the anomalies that characterise Lazenby's single turn as 007, the use of a pre-Daytona chronograph was a masterstroke. It is probably one of the most fawned-after watches from the franchise. Worn while Bond is undercover as Sir Hilary Bray, the Chronograph is famously shown as Bond skis away from Blofeld's henchmen, or as he waits to be taken up into the villain's base.
Pulsar P2 (Hamilton PSR)
This is a stranger one. Reflecting the space-age, technological-fashions of the times, Bond went digital over five decades ago in Live and Let Die with the Pulsar P2. It's an unforgettable watch, first seen in one of Bond's many romantic escapades, as he checks the time while lying in bed with Italian agent Caruso. Back then, it was the most successful mass-produced digital watch, and was even seen on the wrists of Elton John and Keith Richards. Good company.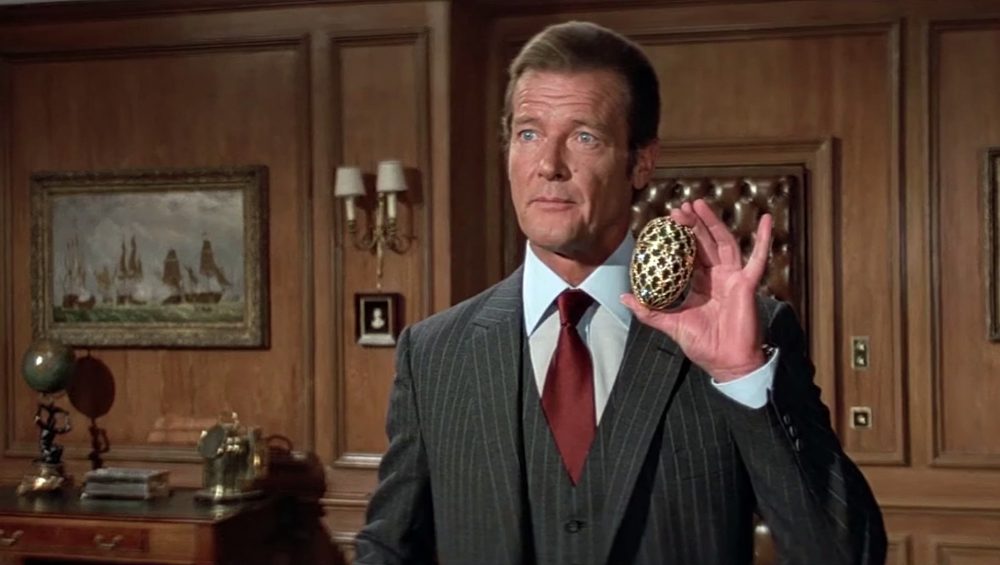 Seiko G757 Sports 100
When 1983's Octopussy was released, automatic watches were widely considered a thing of the past. Seiko's G757 certainly looked like something Moore's agent would use in the field, with a tracking device (shown most memorably while Bond tracks down a Fabergé egg), and a series of other tools fit for purpose. Perhaps it isn't as elegant as the Submariner, but the G757 sure looked like it did the business.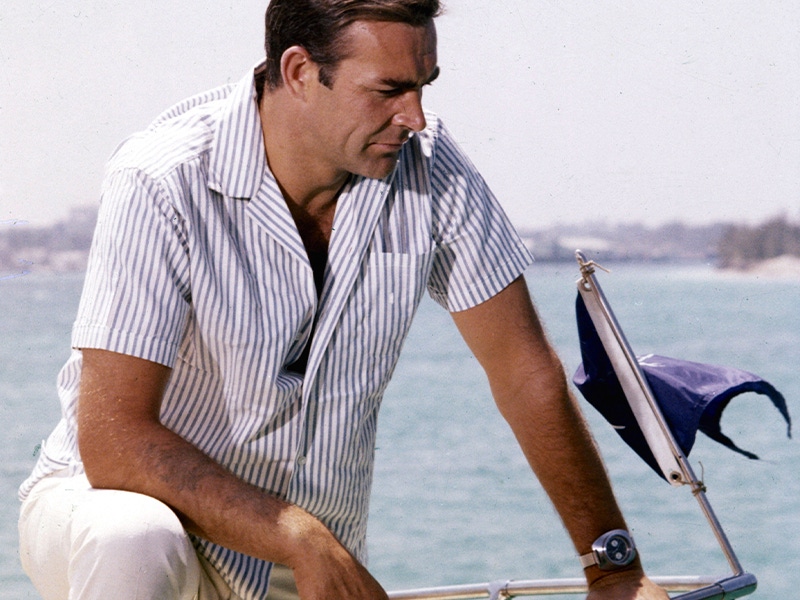 What does James Bond wear on a trip to the Caribbean? A Breitling, of course. In 1965's Thunderball, 007 is given the watch by Q, who modifies it to include a special Geiger counter. This makes the Top Time the first of Bond's gadget watches, with the film version itself having been specially modified by the Valley Tool Company for its unique, bulkier look and widened bezel. You won't find many of these on the after-sale market.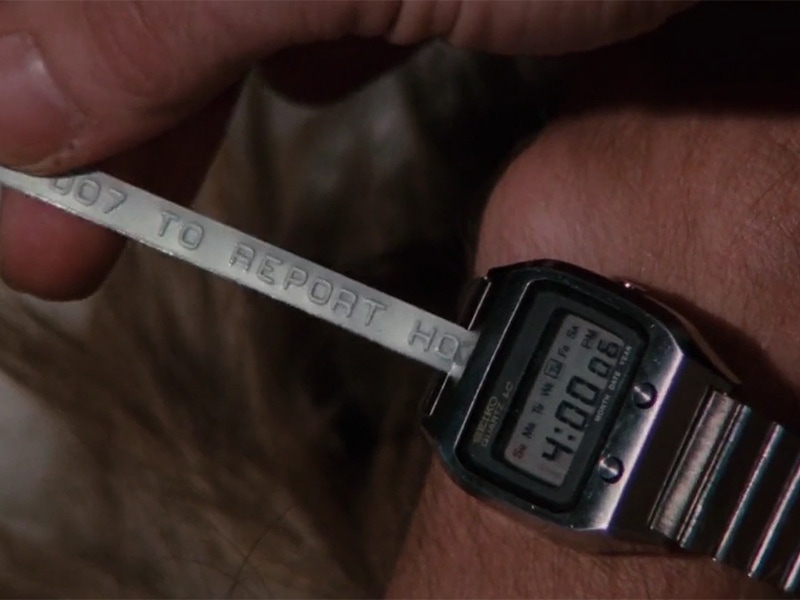 Although some have aged into gimmicks, the watch modifications from Moore's era are truly creative. Few can forget the Seiko 0674's printer feature in The Spy Who Loved Me (1977)—from an age long before text messaging. In the film, Bond could receive private notes from MI6 headquarters, printed on what looks like ticker tape. Seiko were considered the revolutionaries of digital watchmaking at the time, but even they must have been impressed by Q Branch's gadget wizardry.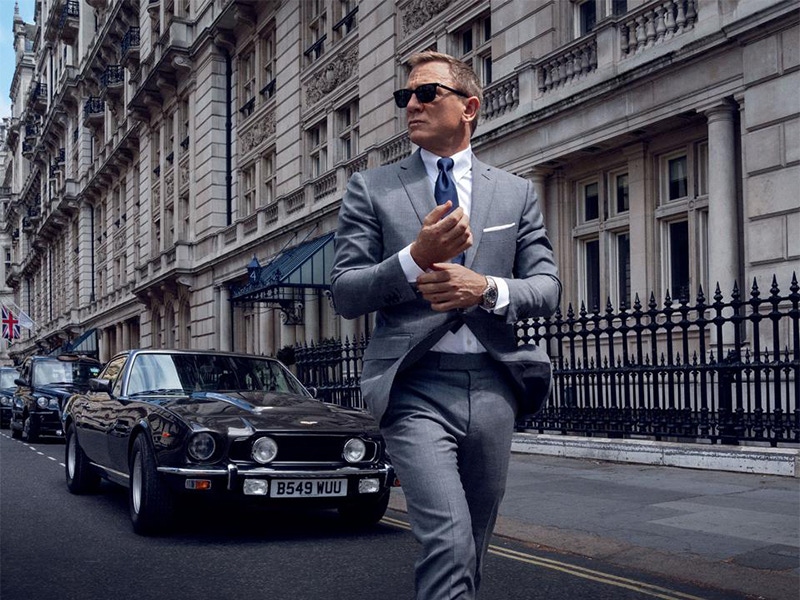 Omega Seamaster Diver 300M 007 Edition
Unique to No Time to Die, the most recent incarnation of the Seamaster is an altogether different beast, crafted from grade 2 titanium, with a mesh titanium strap and tropical brown aluminium touches. It is superior to the steel versions that precede it, and uses the Omega Co-Axial movement. Supposedly, Daniel Craig was even consulted during the design process, making this the definitive James Bond Seamaster so far.
Search more 007 content, as we celebrate sixty years of James Bond, now on TheRake.com.