Step Into The Light: Luxury White Sneakers
The time to transition from sturdy leather shoes to lightweight sneakers is certainly upon us, and we present a selection of favourite whites shot at the exceptional South Kensington Club to put a spring in your step.
Personally, I've always had a thing for white sneakers. I just can't seem to help myself; you could call it a rollercoaster romance with a sleek, minimalist and versatile beauty. Unfortunately though, it's polygamous. It's a tough pill to swallow that I'm not their only admirer, as white sneakers are a serious catch. They're a safe bet which you can take home and impress the family, they don't come off as arrogant, flashy or brash. But, to be honest, I'm not that loyal when it comes to them either, the chase is the best part.
However, regardless of the inadvertent sin of sneaker-adultery, I also still flirt and can't help but appreciate the craft, material quality and the lineage of know-how behind traditional English shoemakers. I daydream about owning an Edward Green Dover in espresso suede, but white sneakers are just so wonderfully easy, multi-functional and comforting beyond traditional leather shoes' capacity. I like my relationships to be easy-going and I love beautiful things which are comforting, assiduous and to be frank, make me look better.
Besides, we can all agree that the world is becoming more and more casual, which inevitably divides and unites sartorialists. Whilst one has to acknowledge sartorial gospel, the relationship and aesthetic between tailoring and sneakers is becoming more and more prevalent in the contemporary psyche. It is, without doubt, 'a thing', Rake readers. White sneakers should be seen as a trusted companion, a nobel escort of sorts which you can rely on.
Now more than ever, luxury brands have taken note of the importance and relevance of sneakers. Many take silhouettes from sports and leisure brands and reinterpret them, change an element here and there, but also up the material quality, and Berluti's Playfield Sneaker is a stunning example of that. Made from an incredibly supple and soft calfskin, its silhouette is reminiscent of a stereotypical 1960s tennis sneaker. The tongue logo and heel tab reflect Berluti's renowned practice of patination and keep to the houses's identity, with the dark brown patina adding a touch of formality whilst the durable sole ensures longevity.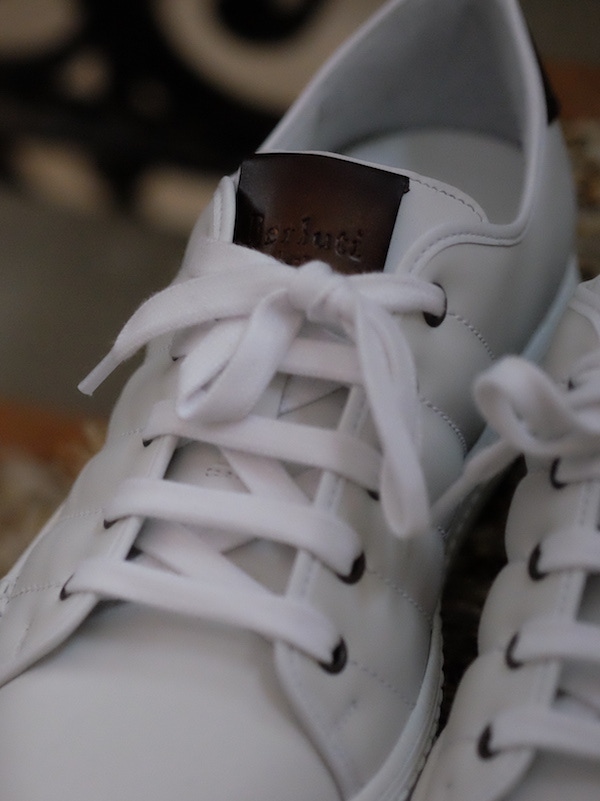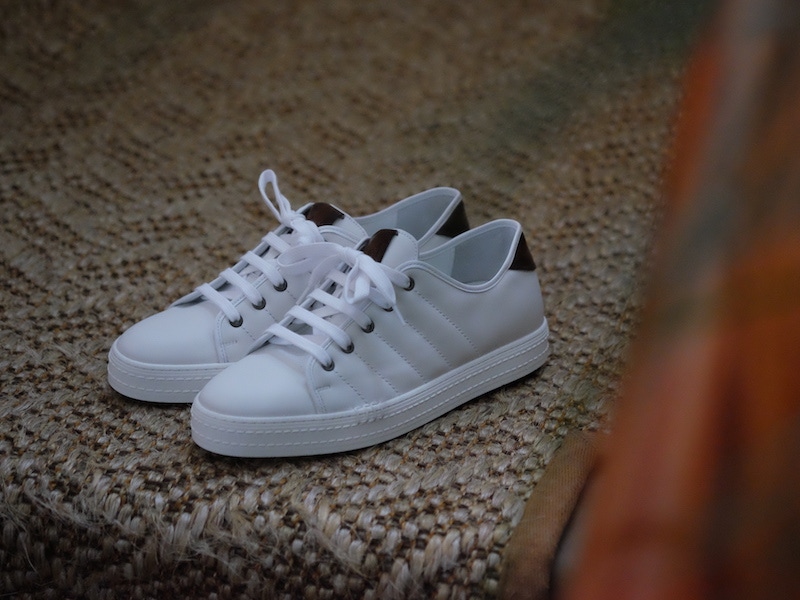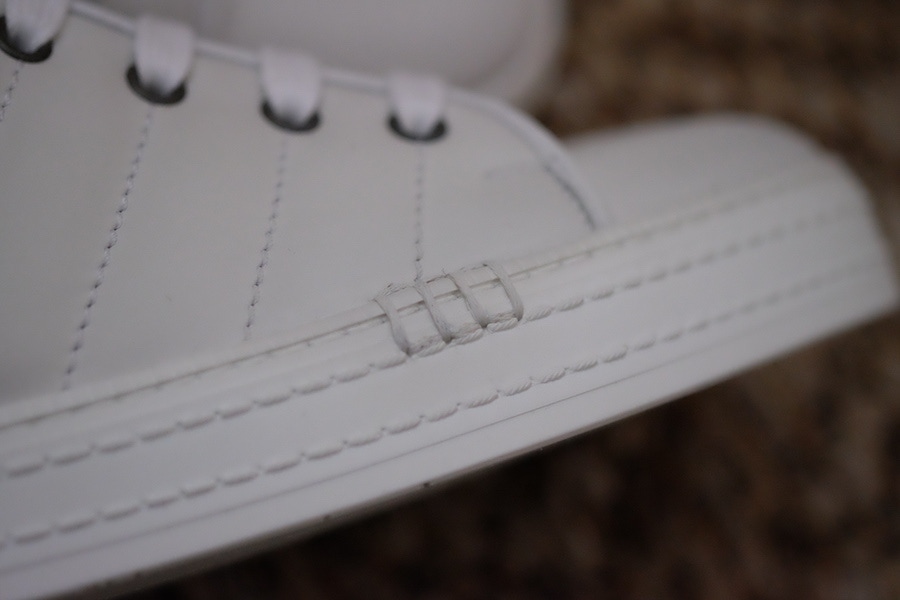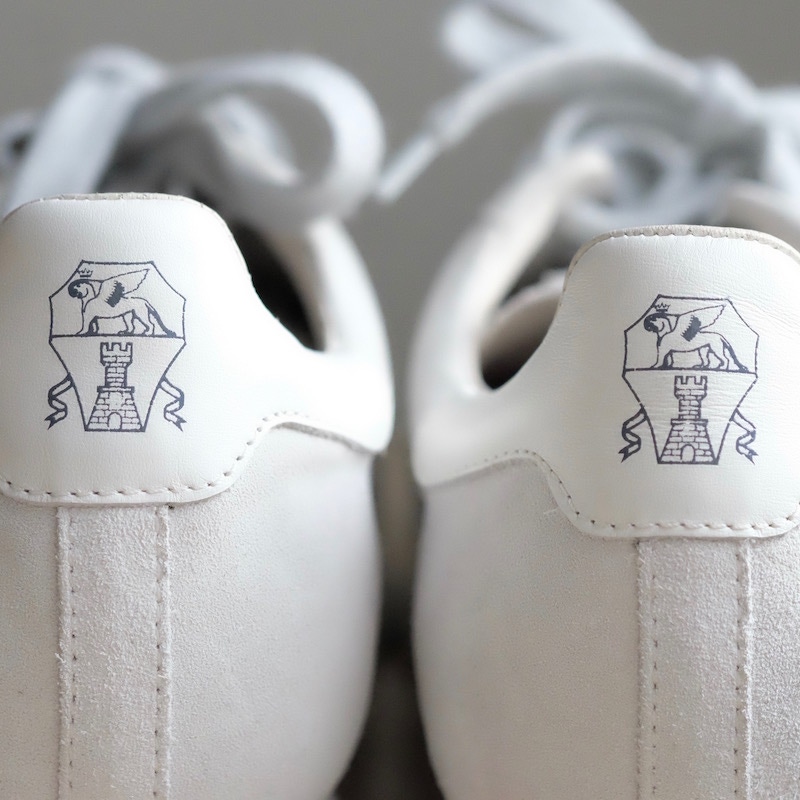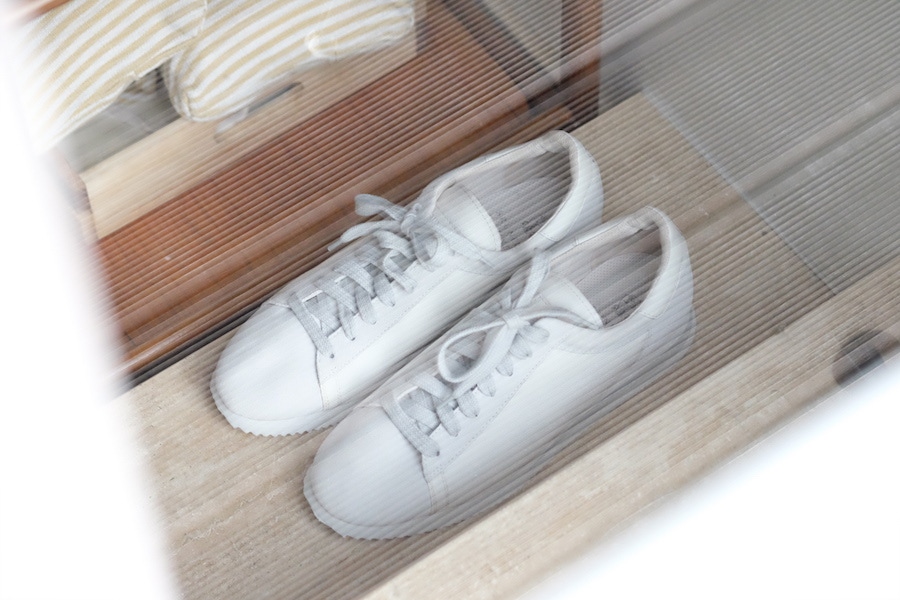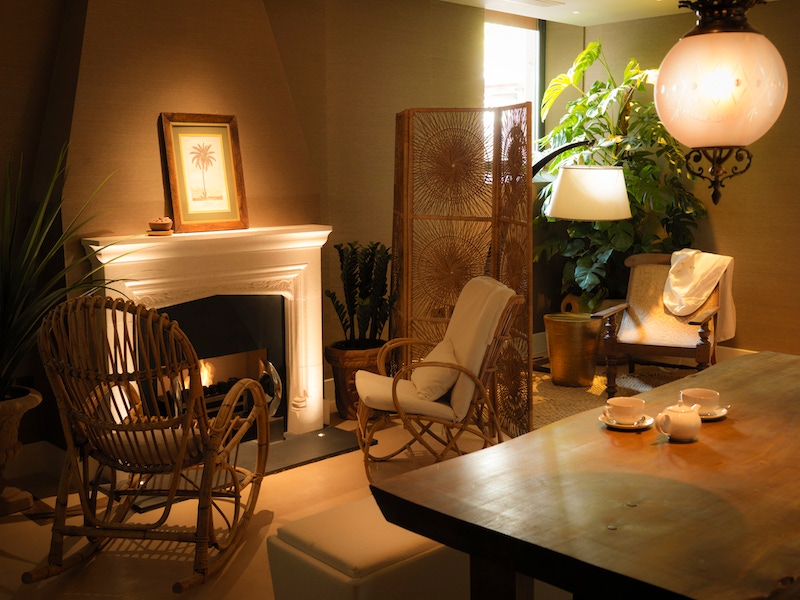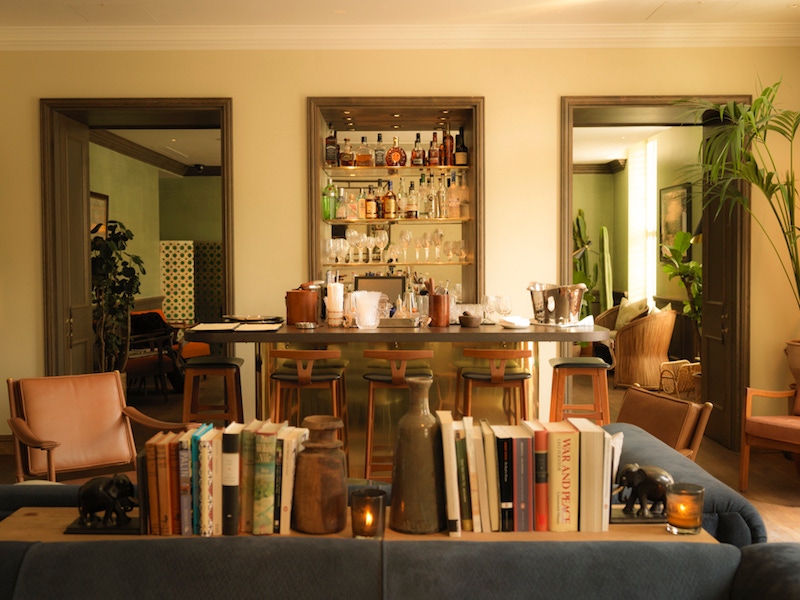 Like Berluti's Playfield, Thom Browne's Pebble-Grain sneaker is also tennis inspired, yet the material itself is subtle, and with its stitched toecap nods to more classical leather shoe finishes. With its instantly recognisable navy and red Thom Browne stripe, which graces the heel tab and along the welts, it's distinctly stripped back and formal, yet retains a sporty feel.
Whilst many luxury white sneakers are inspired by tennis, Brunello Cucinelli's Ares model is without a doubt the most stunning luxury runner I've personally ever seen. Instantly reminding me of a Nike Cortez — the Forrest Gump sneaker — it's refined and minimalistic, and has a wonderfully balanced combination of three materials; calfskin, nylon grisaille and suede. Shaped and assembled by hand, the trifecta of materials work to make the most streamlined luxe-runner around; great for urban jaunts, blasphemous for countryside running.
From a sleek runner, we have a slam dunk with Common Projects and its BBall sneaker. Known to be the purveyor of minimalist luxury sneakers it would be too predictable to go for the Achilles, but the BBall's perforated, athletic-esque toe cap, off-white mid-sole and navy blue heel tab add additional character. The BBall is undeniably contemporary and modern, yet is inspired by vintage basketball sneakers. One for the sports fans, it comes with its own unique, gold-foiled numbered marking, the brand's signature finish.
Each of these models has a refined and clean aesthetic, yet the Super Distressed leather and suede sneaker by Golden Goose Deluxe Brand is quite the opposite. Rough and rugged, it's more rock 'n' roll than it is squeaky clean politician. It asks to be worn and beaten up. Personally, I've always had a mild, stylistic grudge against the purposefully roughed-up look, a result of working in this industry no doubt, but these have somewhat changed my industry-snob opinion. They're a great weekend sneaker that's crafted in Italy from a supple leather with strong rubber soles, and the star and grey laces suggests a subversive, outgoing element.
To adequately represent each individual sneaker and their characteristics, the South Kensington Club in London was a no brainer as a location. It's a members club that's distinctly modern, contemporary and light compared to some of the traditional, age-old dust-clad clubs in Mayfair and St. James's. With numerous services, it's the ideal rakish retreat, offering a range of wellness and spa treatments such as hot yoga, a barber shop, pilates classes, a gymnasium and an intriguing Watsu pool — a form of aquatic therapy which you float on salt water to alleviate tension and stress amid a lava stone enclave. In addition to a Mediterranean restaurant and a well-stocked cocktail bar, there's a tea library filled with spectacular books, a sun-catching terrace and a juice bar, which is more than adequate for even the most nerdy Instagram health geeks. With its attentive staff at continuous hand, it's one of London's hidden gems.
www.southkensingtonclub.com