Stile Latino: Full-Bodied Tailoring
Owned by the charismatic Vincenzo Attolini, Stile Latino continue their refreshing crusade to accommodate the needs of the modern gentleman, with a collection brimming with colour, pattern and texture.
Vincenzo Attolini has been active and transfixed in the vernacular of artisanal menswear for 45 years. A third-generation member of the inimitable Attolini tailoring dynasty, it would be easy for him to ripen the family empire, whilst working within it. But Vincenzo has a curious, youthful and artistic spirit – and with an urge to be sole captain of the vessel, Stile Latino was born in 2005. The antithesis of a bank CEO taking retirement at 50, the more time that passes, the more Vincenzo wants to enrich himself with new knowledge and emotions. It is why at the brand's site in Casalnuovo, he and his team are constantly studying new proportions, models, materials and tailoring solutions in response to societal, taste and habitual changes.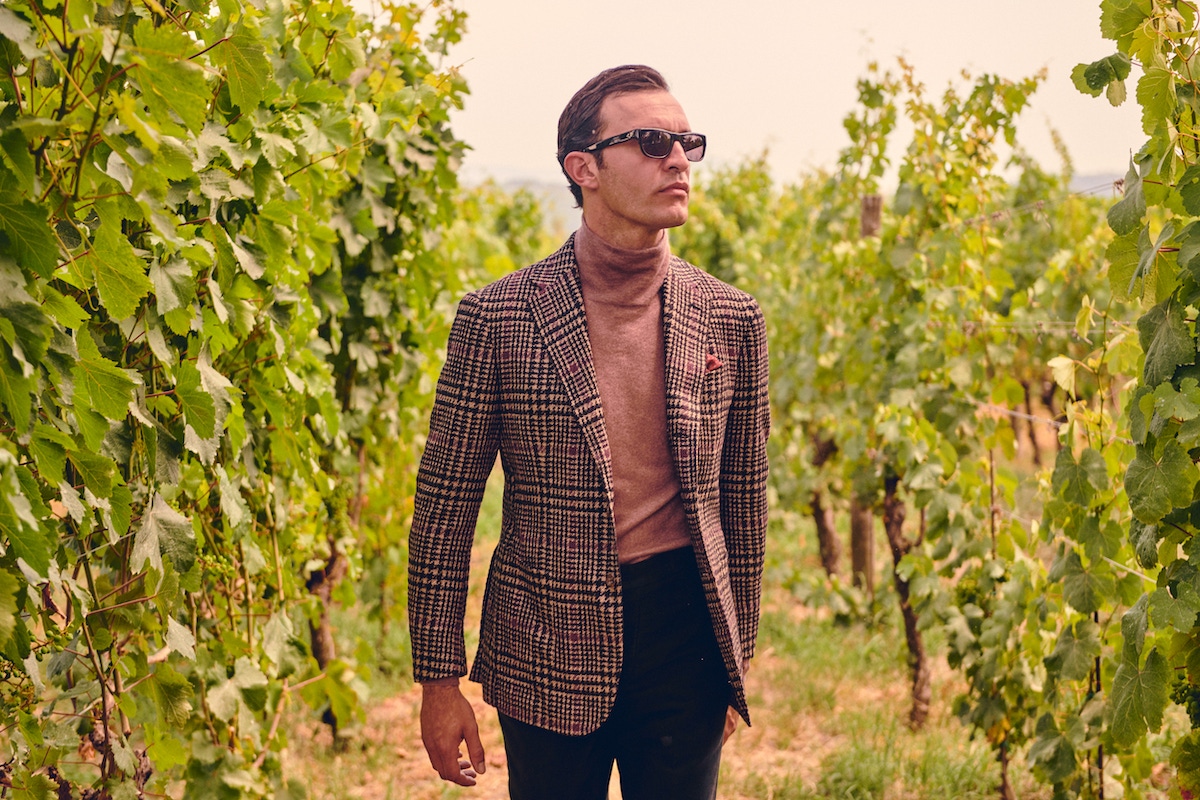 In deep shades of brown and green, Stile Latino's new collection brilliantly explores the beautiful mélange of colours that autumn brings in Naples. And with the tasteful incorporation of jackets in wide patterns and knitwear displaying profound texture – there is a healthy soupçon of youthful confidence and amiable warmth to the collection. Neapolitan tailoring characteristics, such as the sloping shoulder, generous notch lapels high of gorge, and minimal lining are very much evident in Stile Latino's new designs. And in anticipation of the chilly winter months, the two tailored jackets benefit from being made in a warming alpaca wool, that is blended with the best silk and linen cloth. Cut shorter at the back, and fitted closer to the body – even surpassing the median of the Neapolitan tailoring blueprint, these jackets in either a blue and grey check or brown and burgundy check are extremely refreshing and modern jackets. The imperfect nature of the pattern arrangement of the brown and burgundy iteration only endorses a favourable degree of nonchalance.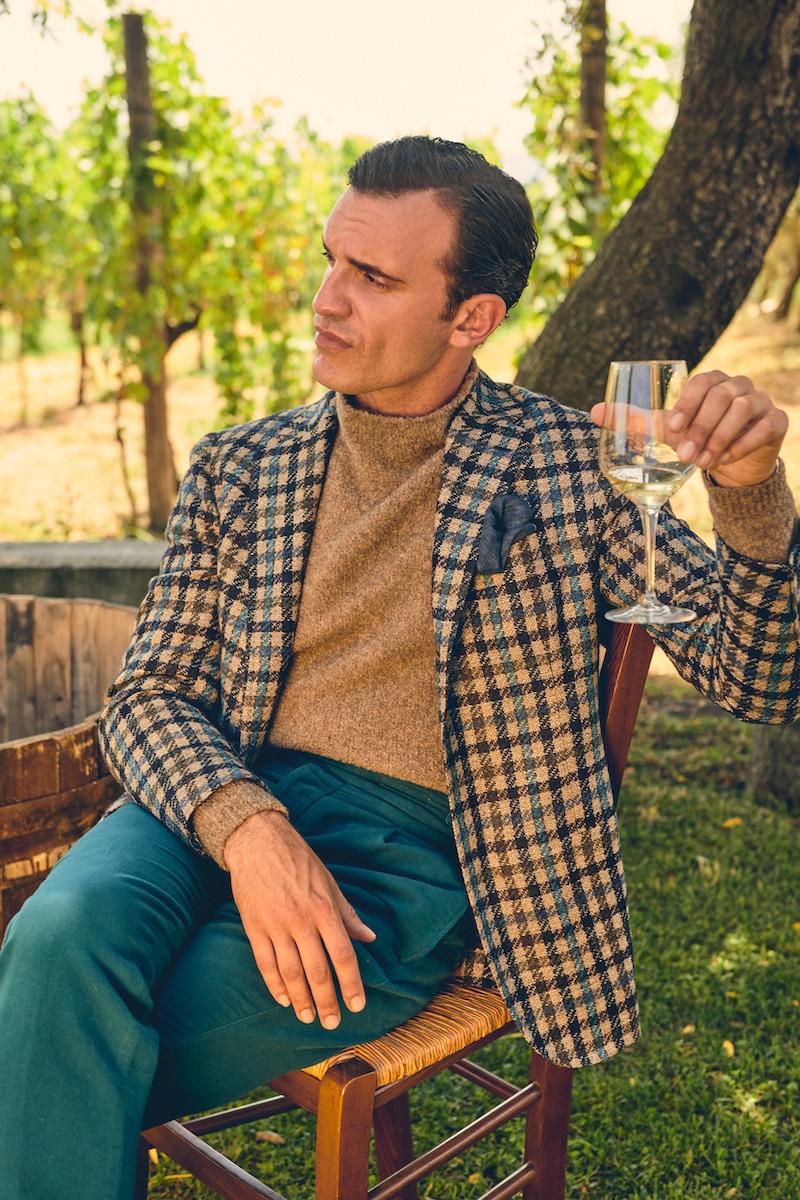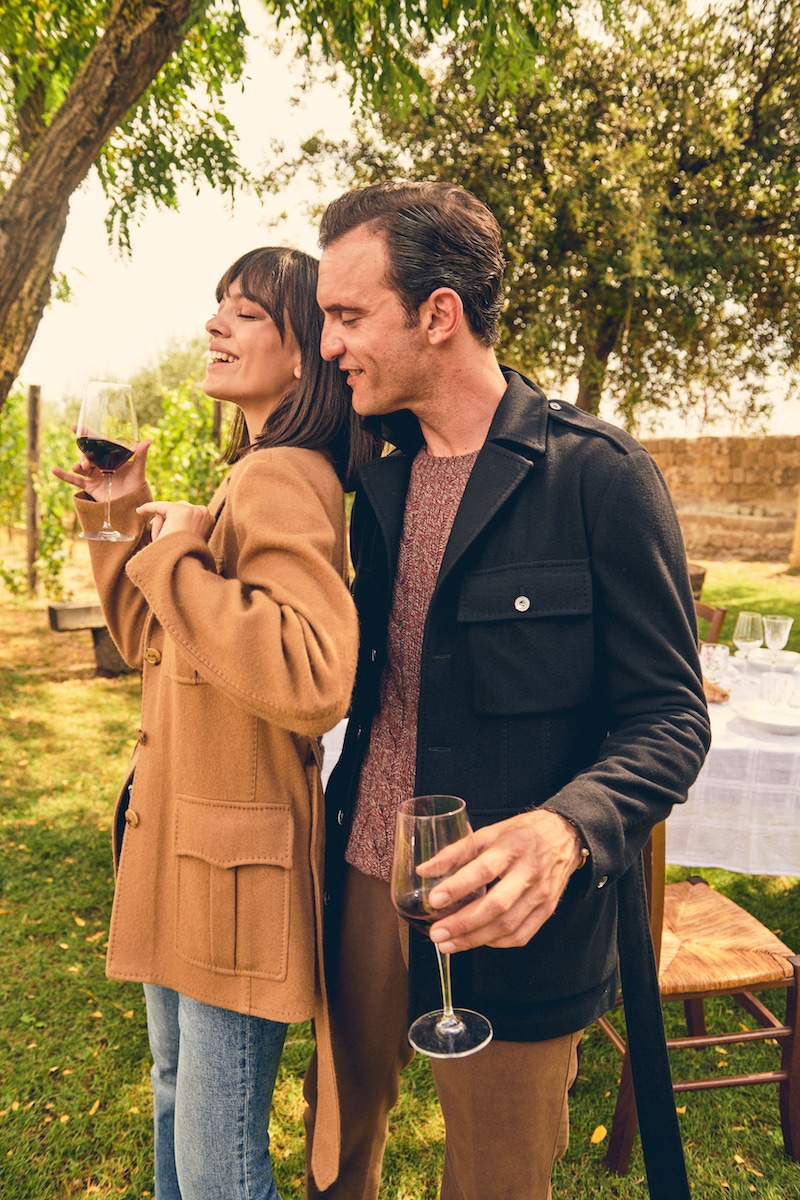 A lower gorge on a wider lapel is considered more classic, but Stile Latino is a contemporary house that likes to experiment with different proportions. The dark green alpaca wool blend overcoat is an exemplar of the firm's desire to creatively push the boundaries of design. Perfectly executed, the two front buttons have been raised to give a little volume to the narrow lapel high of gorge. It's an unusual cut, yet stylistically it works brilliantly, and for those who are in the mindset of wearing clothing with a slightly offbeat yet cool construction, this sleek coat must be taken into strong consideration. In a double-breasted style the green and blue wool and cashmere blend overcoat comprises of a few agreeable idiosyncrasies, namely the fabulously deep patch pockets.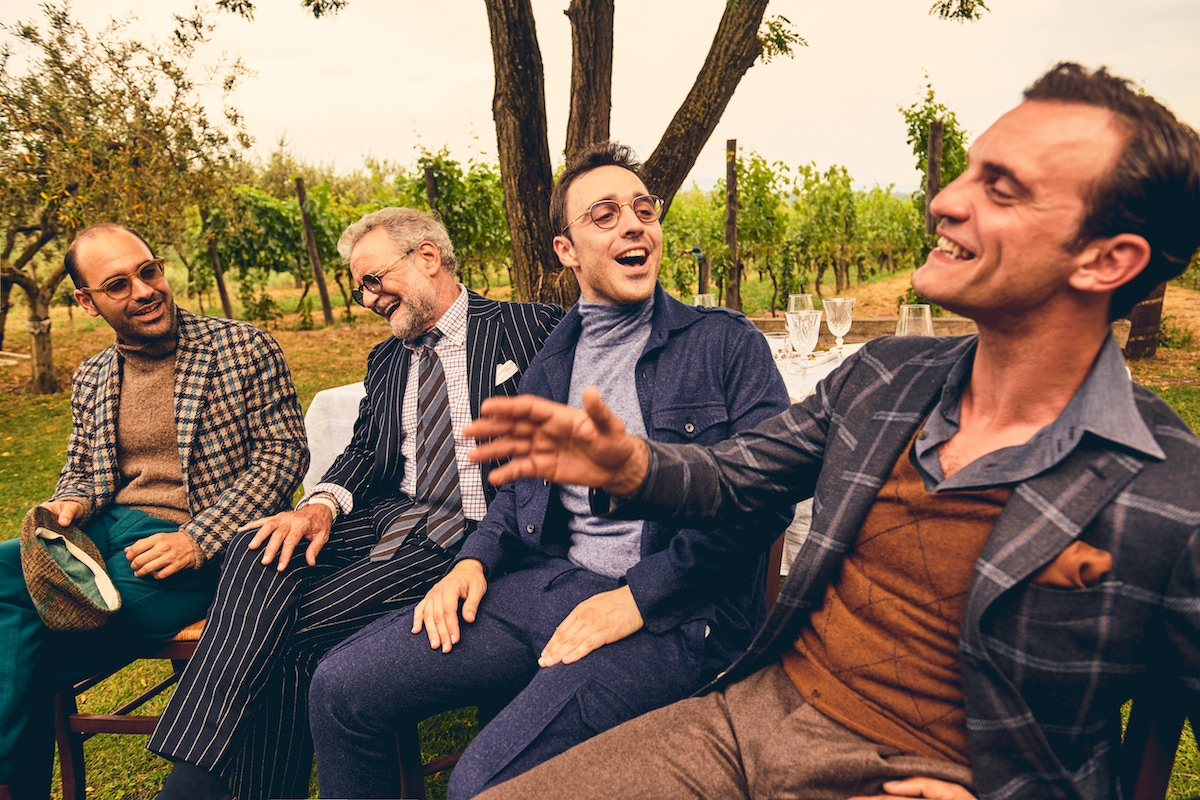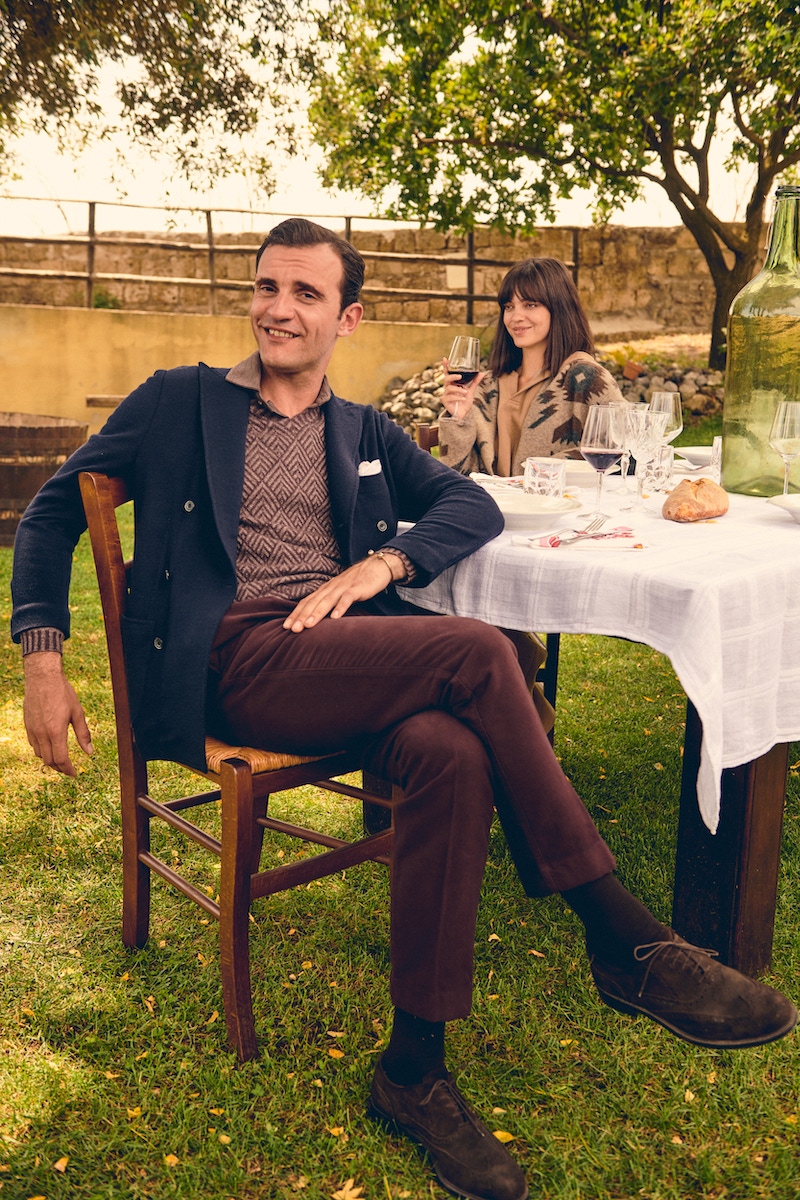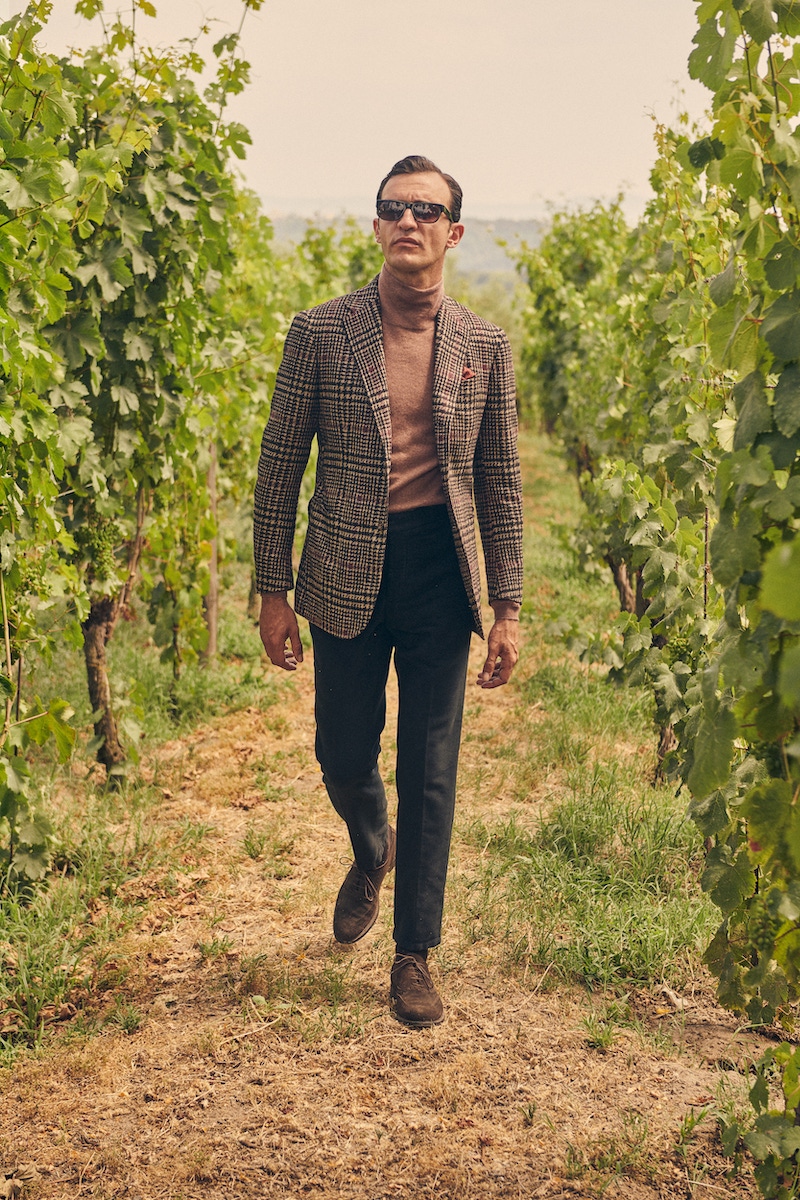 Elsewhere, the cosy sweaters arrive with a slightly cut down rollneck. From far away one might mistake it for a mock neck – a style favoured by the bohemian crowd, but it does feature a neat and sharp roll, that looks elegant when worn underneath a tailored jacket. Finally, the denim blue trouser has been assembled with the traditional trimmings of reverse-facing single-pleats and side adjusters to uplift its formality credentials from a standard jean, whilst the grey wool pleated style is an extremely versatile pant to add to your winter arsenal.