Tradition and modernity in British tailoring: DANIEL w. FLETCHER x Huntsman for A/W 2023
In collaboration with Huntsman, the DANIEL w. FLETCHER Autumn/Winter 2023 collection is a visionary blend of classic British tailoring and modern design. Celebrating craftsmanship and style, it redefines the art of the suit with a contemporary edge.
In a masterful blend of heritage and innovation, the DANIEL w. FLETCHER Autumn/Winter 2023 collection, in collaboration with Huntsman, aims to mark a new chapter in British tailoring.
The partnership between Fletcher and the venerable 174-year-old Savile Row tailor, Huntsman, manifests as a striking array of 9 bespoke suits and 12 ready-to-wear styles, now available made-to-order at Huntsman Savile Row. Pieces that are not just garments; they are testimonies to the enduring legacy of British craftsmanship and the progressive vision of Fletcher.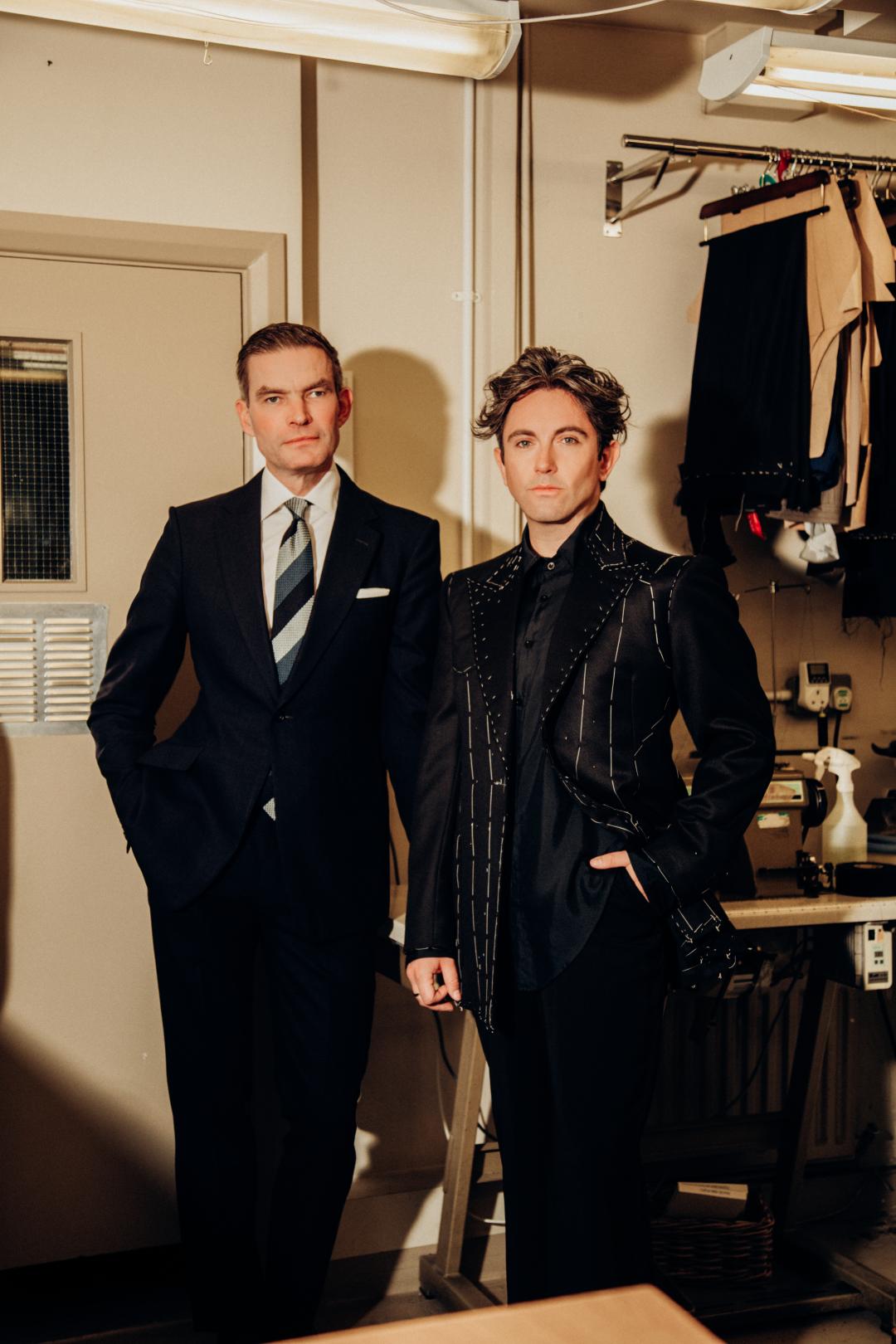 The heart of this collection lies in its homage to the meticulous craft of Savile Row tailoring. Fletcher's designs ingeniously incorporate Huntsman's basting stitching, showcasing the unparalleled precision inherent in Savile Row's suit-making. The silhouette of each piece is a study in formal elegance, with strong shoulders and narrow waists, yet the collection is far from static. It dynamically interweaves the rich heritage of Huntsman's archives with Fletcher's contemporary aesthetic.
Moving beyond formal tailoring, the ready-to-wear segment introduces a more relaxed approach. Here, Fletcher experiments with fluidity, presenting oversized shirts, wide-leg trousers, and A-line jackets. The collection's use of visible basting stitches mirrors Fletcher's signature top-stitching, exemplified in a standout brown velvet biker jacket two-piece. Traditional tailoring elements are reimagined, with internal belts and sporting jacket fastenings appearing in unexpected yet captivating formations.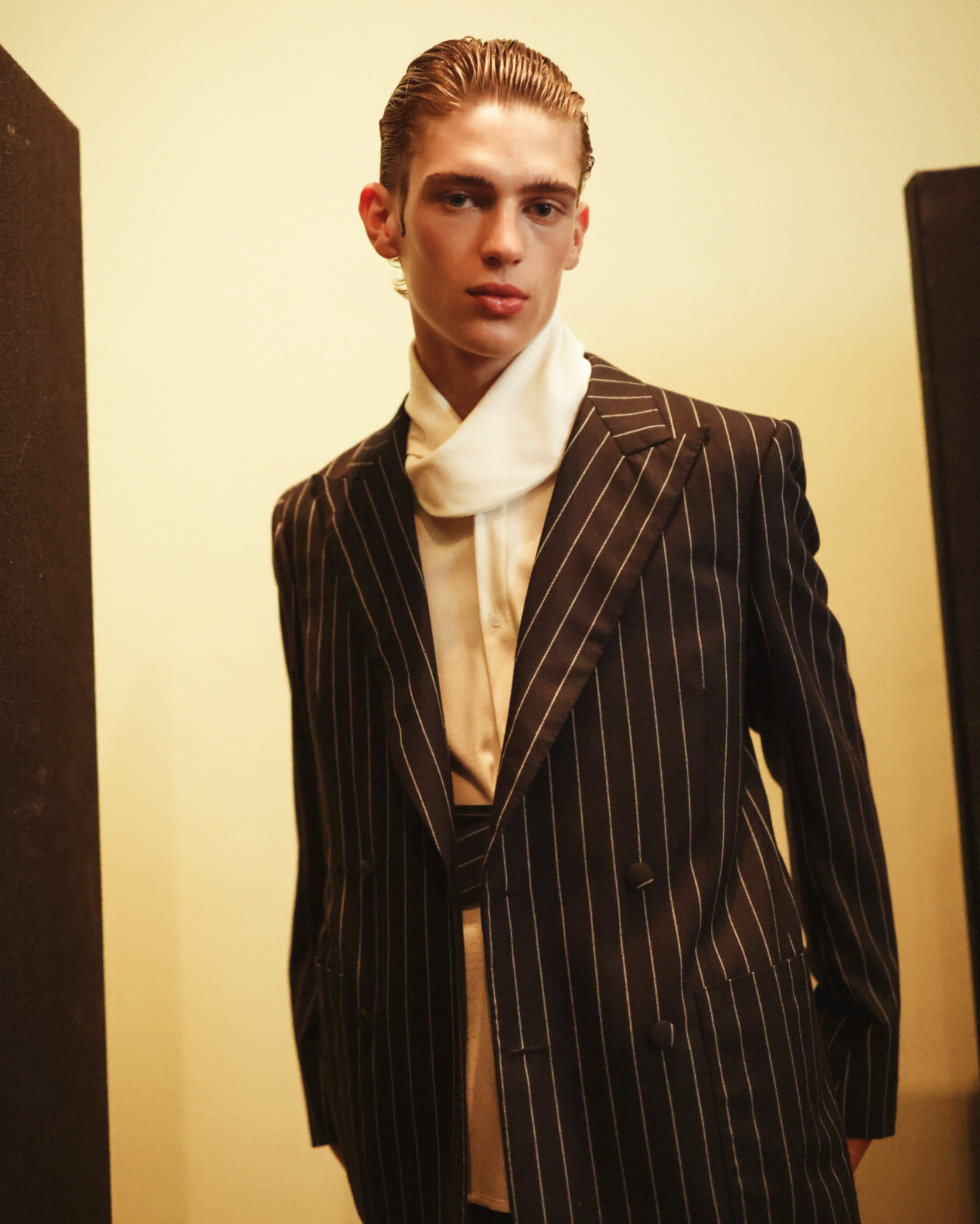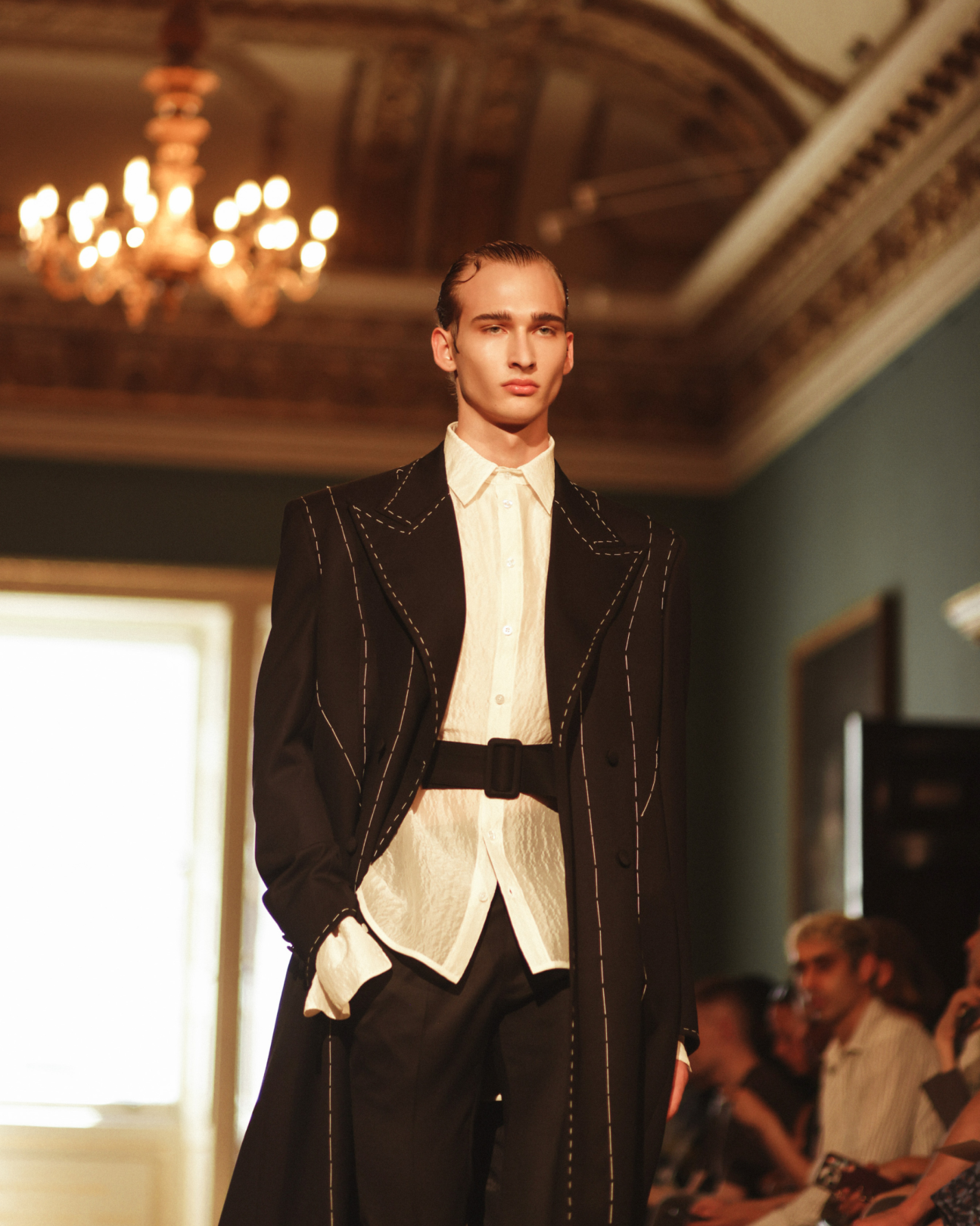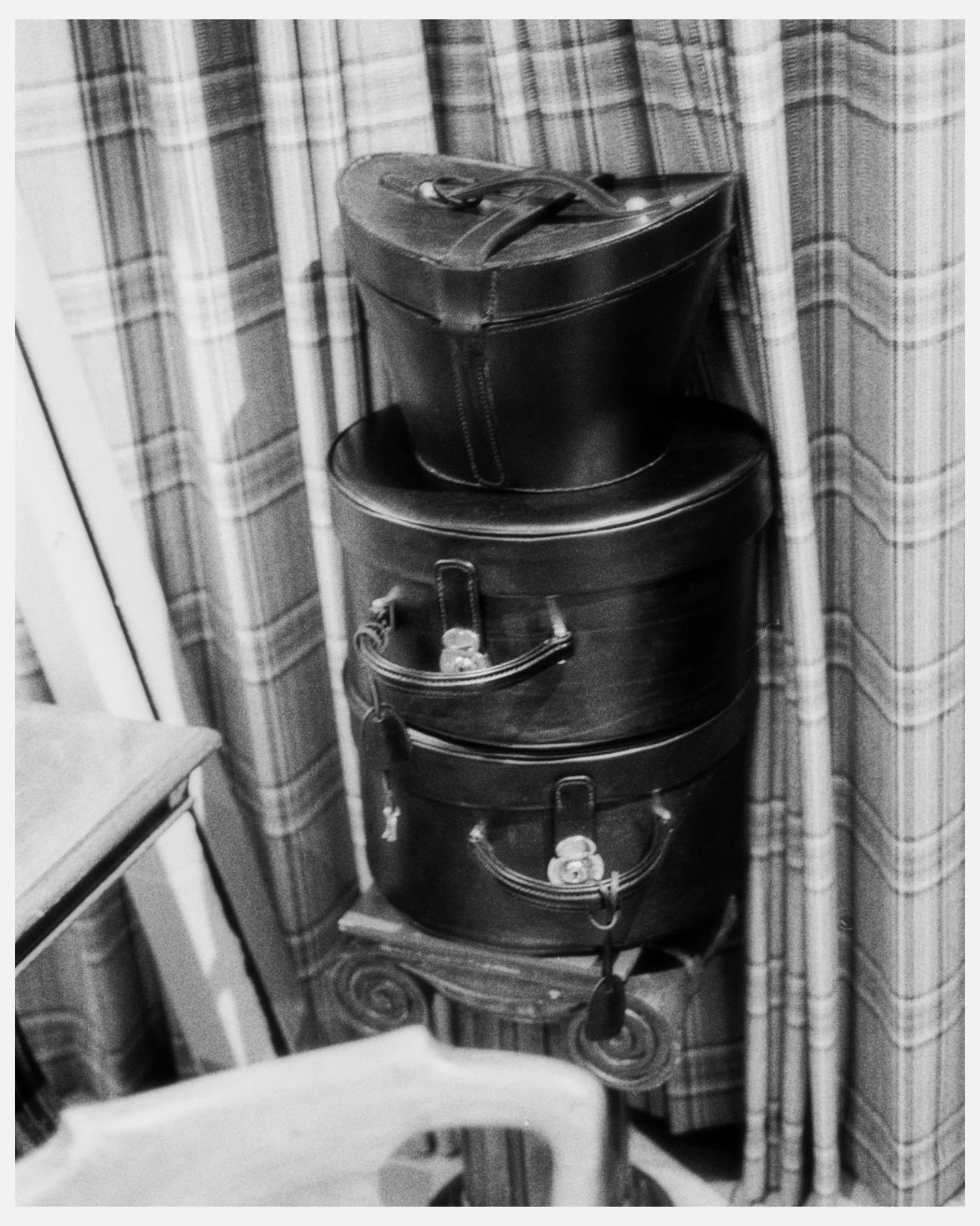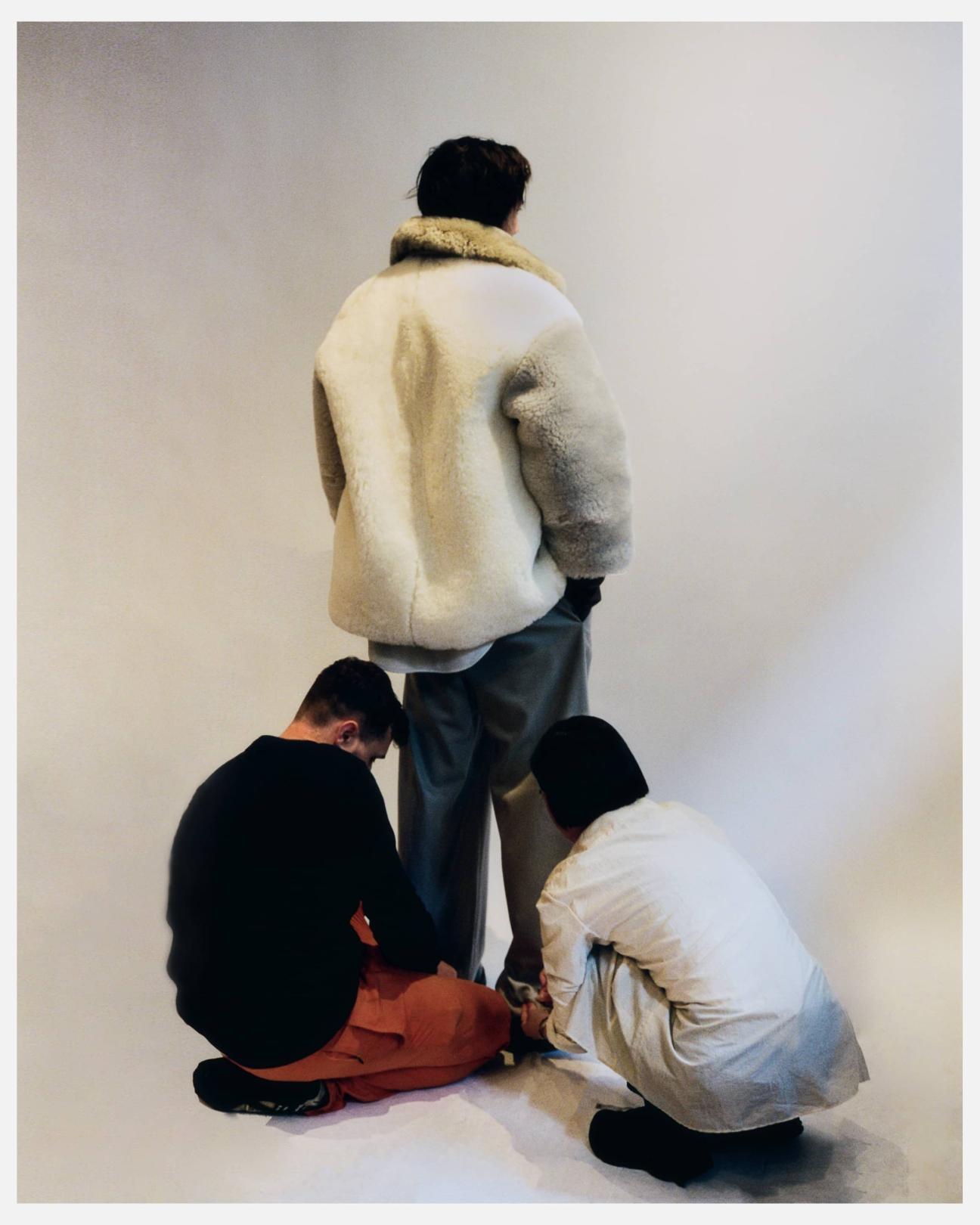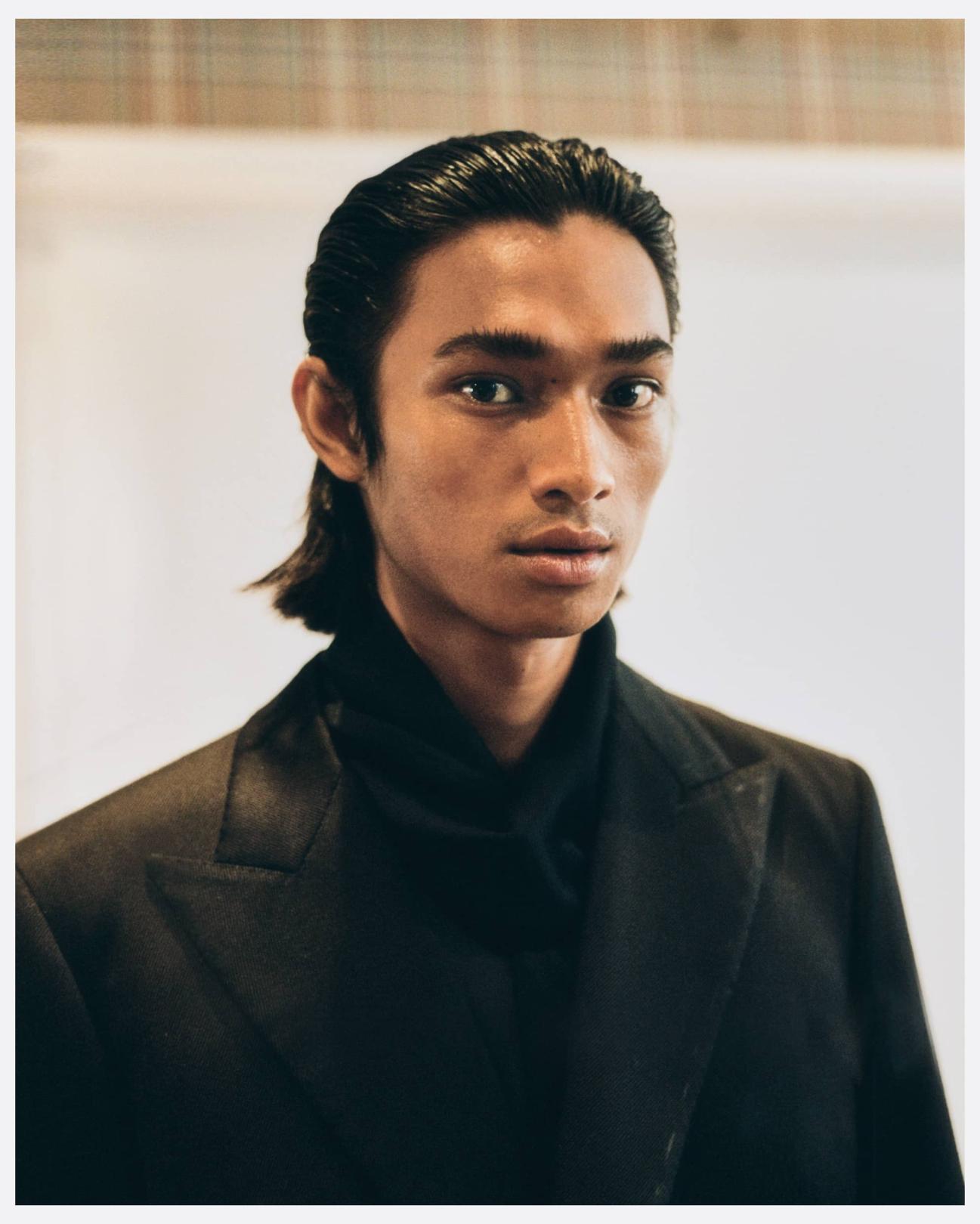 Patriotically produced entirely in the United Kingdom, the collection pays further tribute to Britain's sartorial history. Whether it's navy wool for oversized coats or cropped blousons with luxurious shearling collars, each material speaks to the nation's textile legacy. These collars, varying in size, add a unique flair to each piece, from a classic cream organza blouse to a hybrid waistcoat-structured shirt.
The collaboration is not just a fusion of styles but of narratives. The collection's romantic undertone, juxtaposed with the sharpness of its tailoring, unveils a new dimension in Fletcher's design language. From a dramatic column dress with a train to soft, oversized crepe and silk shirts with shawl collars, each piece embodies balance. The colour palette, reflective of the Royal Academy's Fine Rooms — where the models showcased the latest creations — complements this romanticism, echoing the themes of lost and unrequited love that resonate through the show's soundtrack.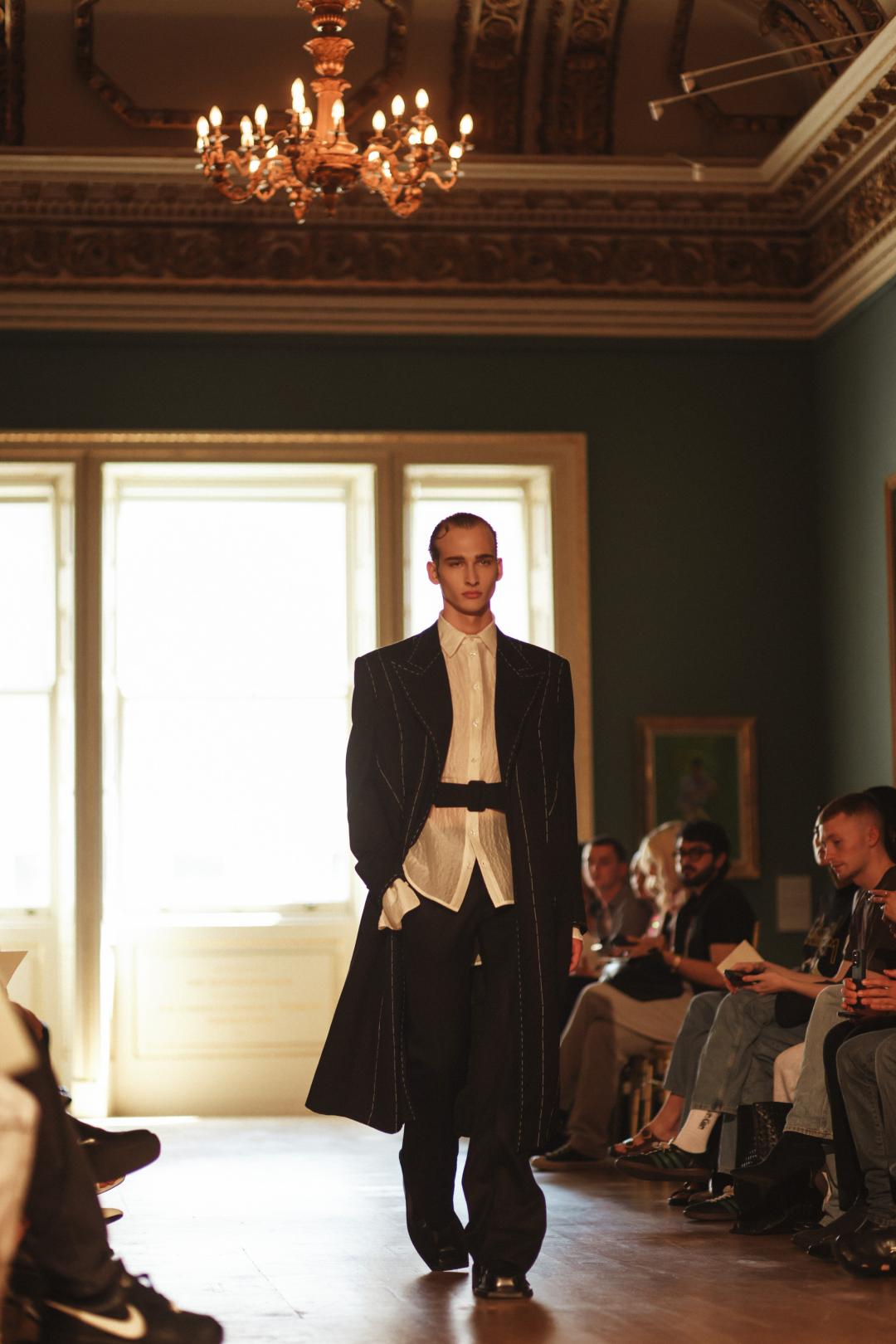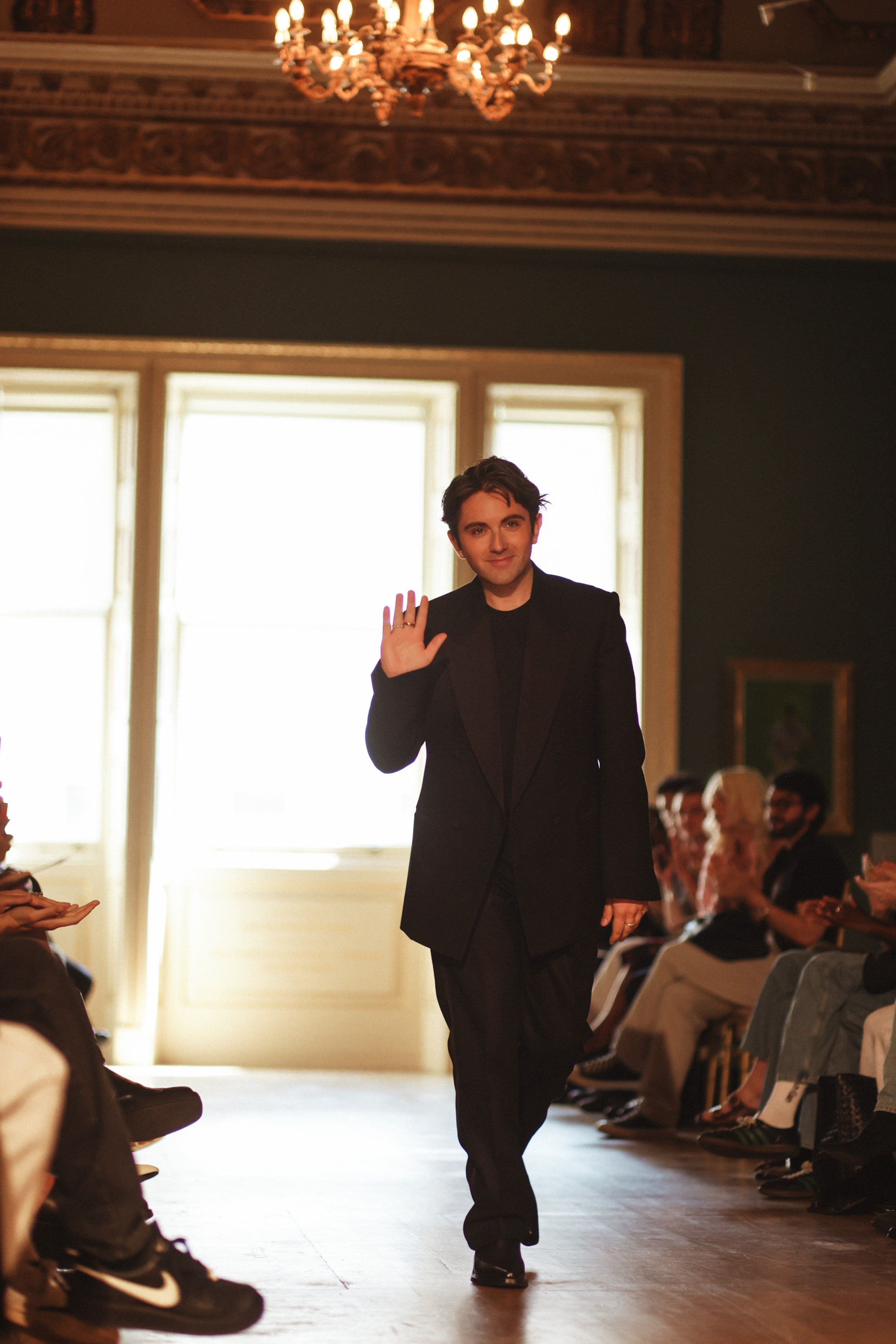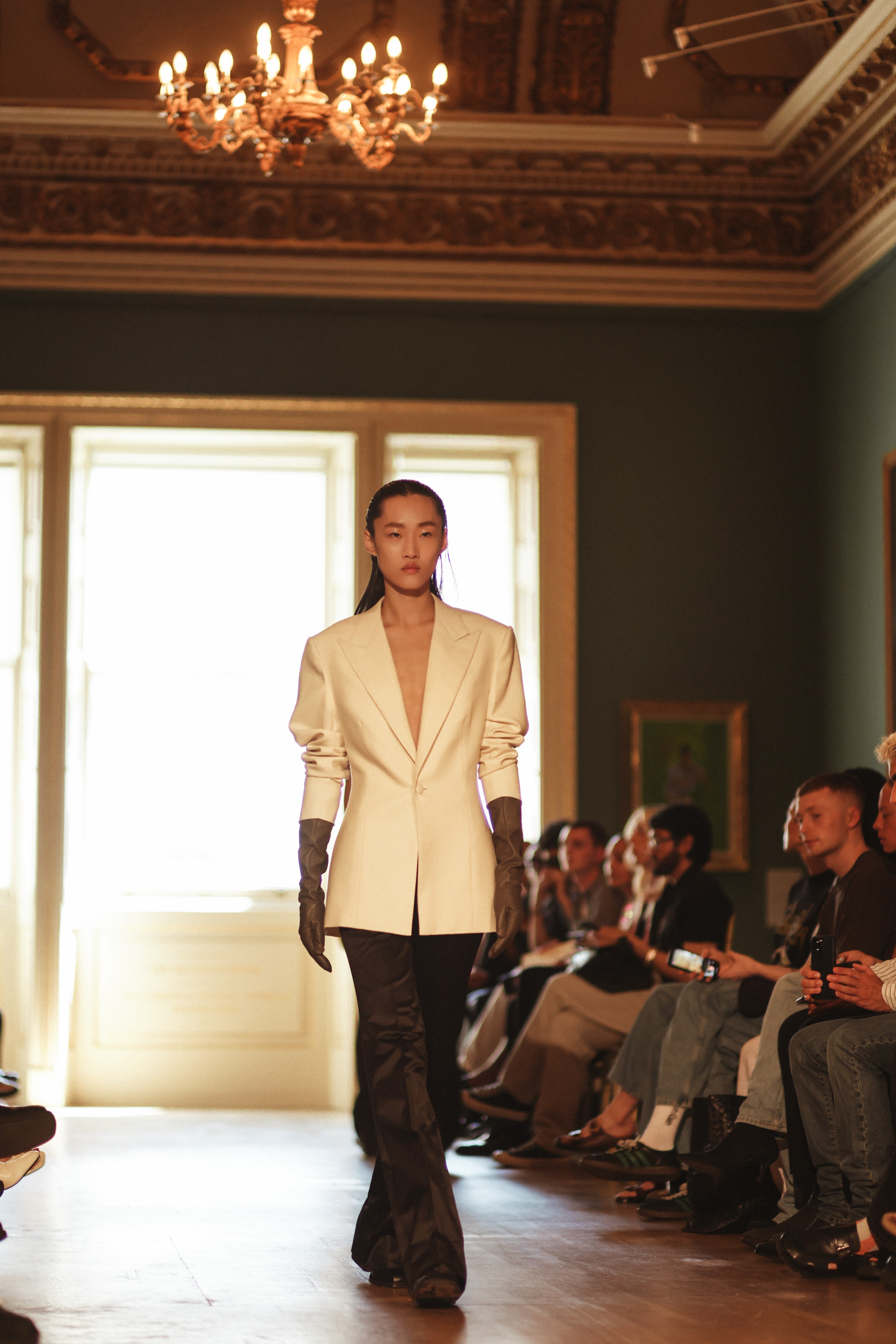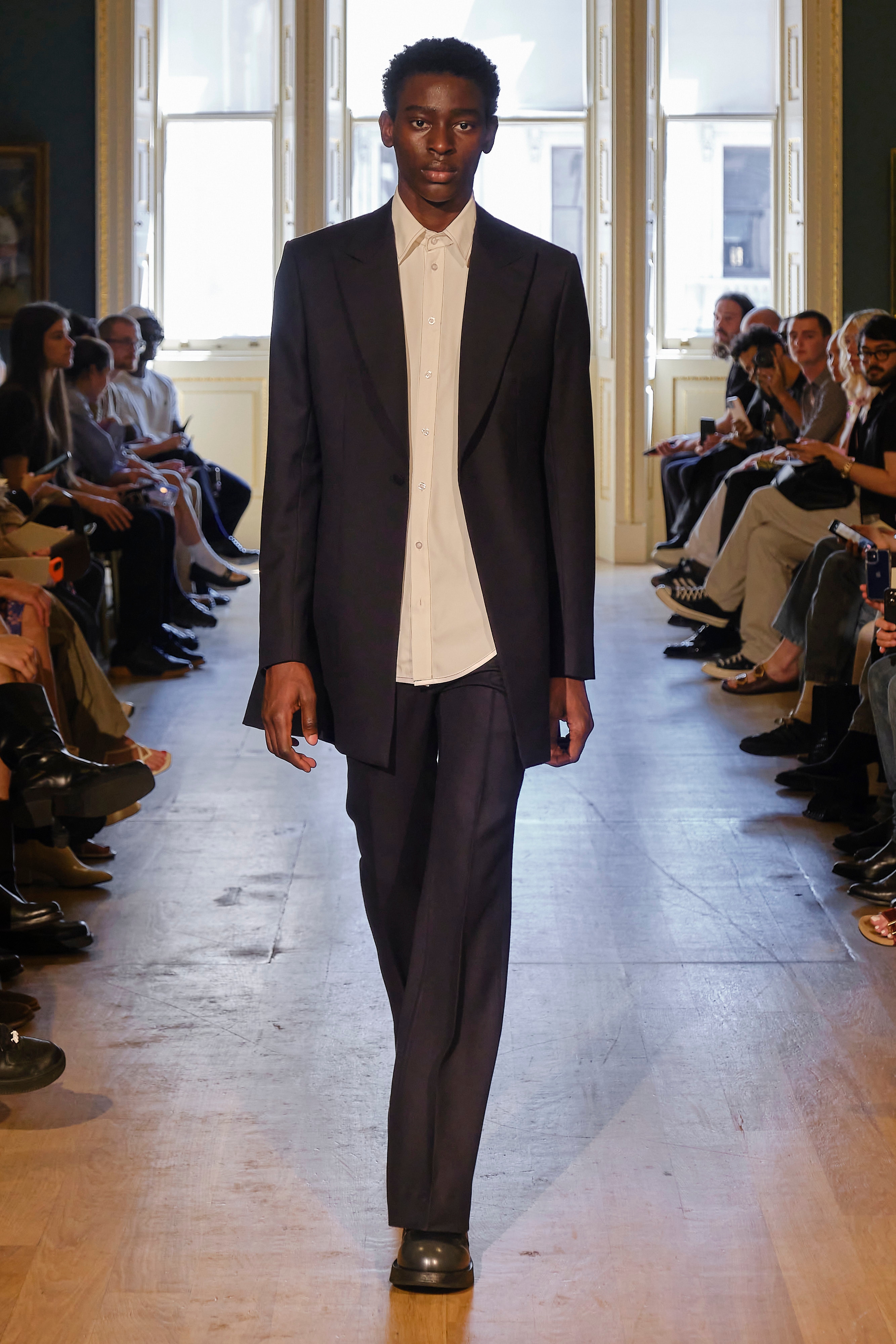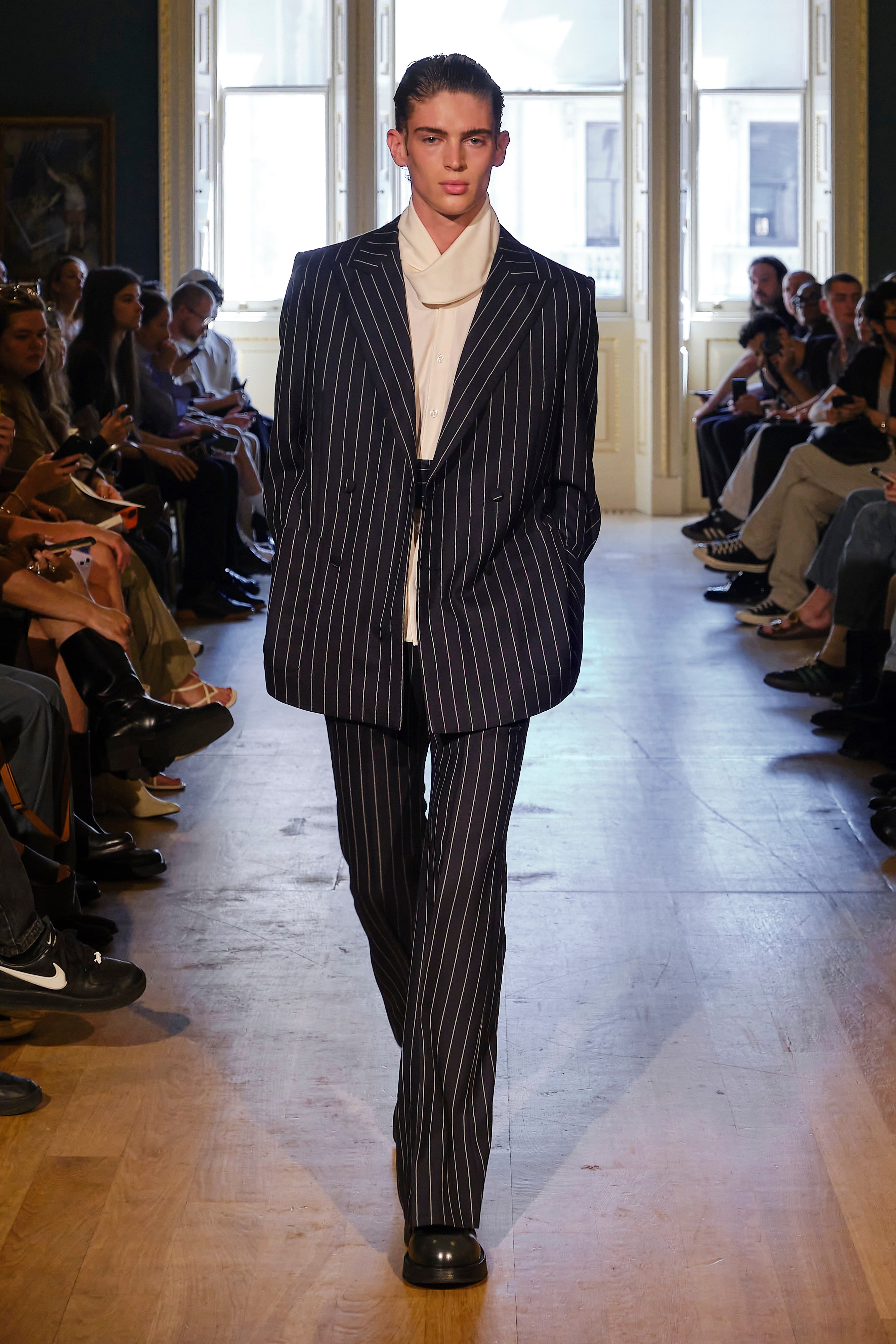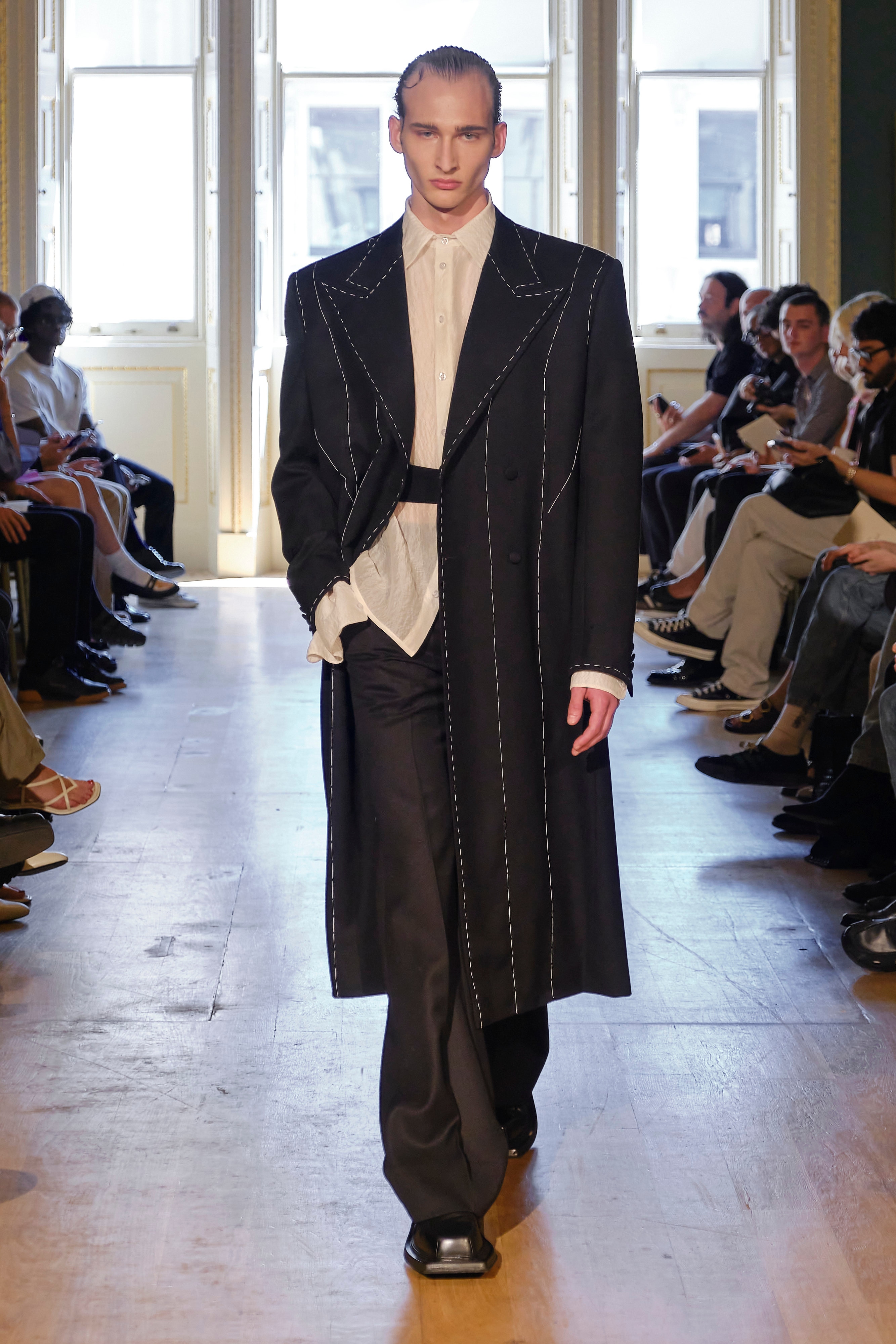 For Fletcher, working with Huntsman has been a journey of learning and inspiration: "To work with Huntsman in such a way that has been so much about detail and craft is a real honour. I know that being able to observe and take note of the way that Campbell and the team on Savile Row work will inform how I go on to design for the rest of my career. Building from the collaboration, I wanted to show the best of what we do here in the UK, the craft behind creating these collections and the heritage of British fashion."
Launched on November 17th, the DANIEL w. FLETCHER Autumn/Winter 2023 collection is a testament to the timeless elegance of Savile Row tailoring and the bold vision of contemporary design.