The History of Zenith
One of the most prominent Swiss watch manufacturers of today, Zenith have an extraordinary history to back it up.
Anyone born into a Mittel-Europa bloodline, with aspirations to become a trailblazing prodigy might think they stand an improved chance. The Austrian-born wunderkid Wolfgang Amadeus Mozart composed his first piece of published music aged five: Judit Polgár of Hungary achieved the title of chess Grandmaster aged 15: and Swiss watchmaker, Georges Favre-Bulle, aged 22, founded "Fabrique Georges Favre-Jacot", later renamed Zenith. Nowadays, a vicenarian entrepreneur is deemed normal, but Favre-Bulle's mission started seriously aged nine, drew bona fide horological attention aged 13, and by 22 in the town of Le Locle, he was altering the path of watchmaking tradition. He married fellow watchmaker Louise-Philippine Jacot-Descombes, henceforth becoming known as Georges Favre-Jacot, two years before establishing his firm in 1865. Le Locle in the Jura Mountains – had in previous centuries been a cradle of watchmaking. In the winter, watchmakers based in Geneva bought their toolboxes there ­– to give to farmers who overhauled their living rooms to make parts. Over the next century or more, Le Locle saw an explosion of watchmakers, but ultimately all watch components were made by local craftsman in small workshops. Favre-Jacot had clocked the success of American watch companies utilizing mass production to sell reliable timepieces, and so set about uniting all the trades of watchmaking under one roof. He masterminded the birth of the first manufacture, that saw a fully vertical integration of watchmaking. His industrial empire covered 17'000 m2, connecting the workshops to the train station of Le Locle for a direct supply of raw materials for production. In the midst of this evolution, and after a creative meeting which ended with a conception – which he believed was his most special caliber – he named it Zenith, and as it would become his most famous work, he decided the company should bear the same name.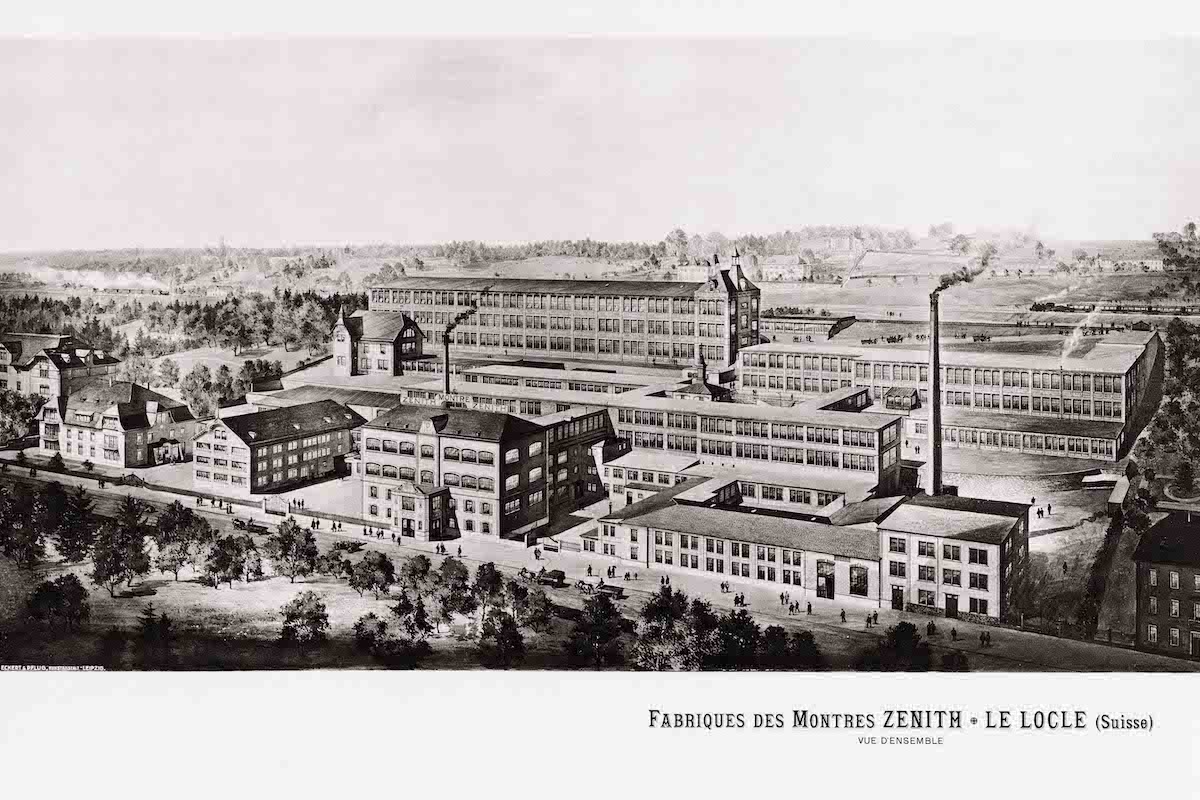 Ten years after setting up, he employed ten per cent of Le Locle's total workforce, and was the region's largest landowner. And to crown his achievements and influence in the municipality of Le Locle, he commissioned the famous architect Le Corbusier to design an imposing house – named Villa Favre-Jacot, which still stands today not far from the Zenith manufacture. After winning considerable chronometry prizes, Favre-Jacot stood down in 1911. His nephew James was at the helm when two years later Zenith unveiled its first chronograph. Times were hard for Swiss watchmakers after WW1. To steady the ship at Zenith, the banks took control. It had lost its Russian custom following the revolution, and had to adapt by producing dashboard clocks and equipment for telephone exchanges amongst other mechanisms that were in demand. Yet around ninety-five per cent of all mechanical watches sold worldwide came from Switzerland, maintaining a level of prosperity.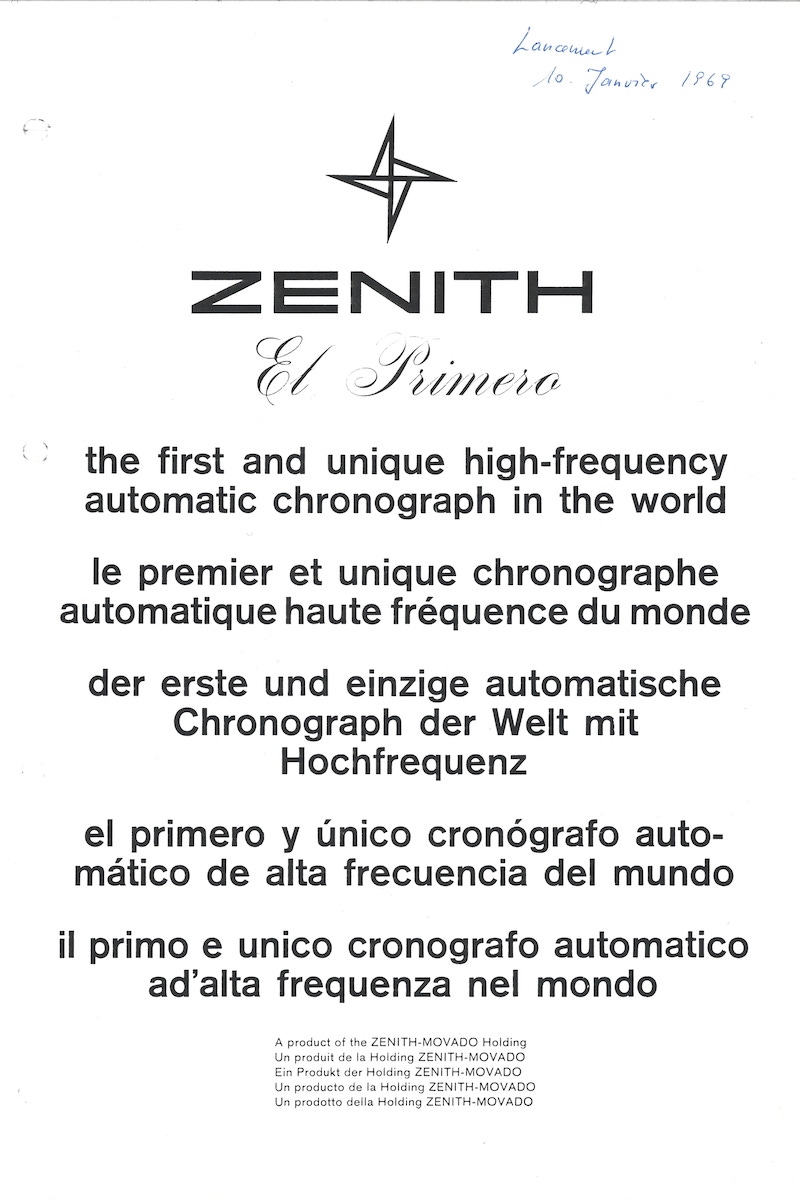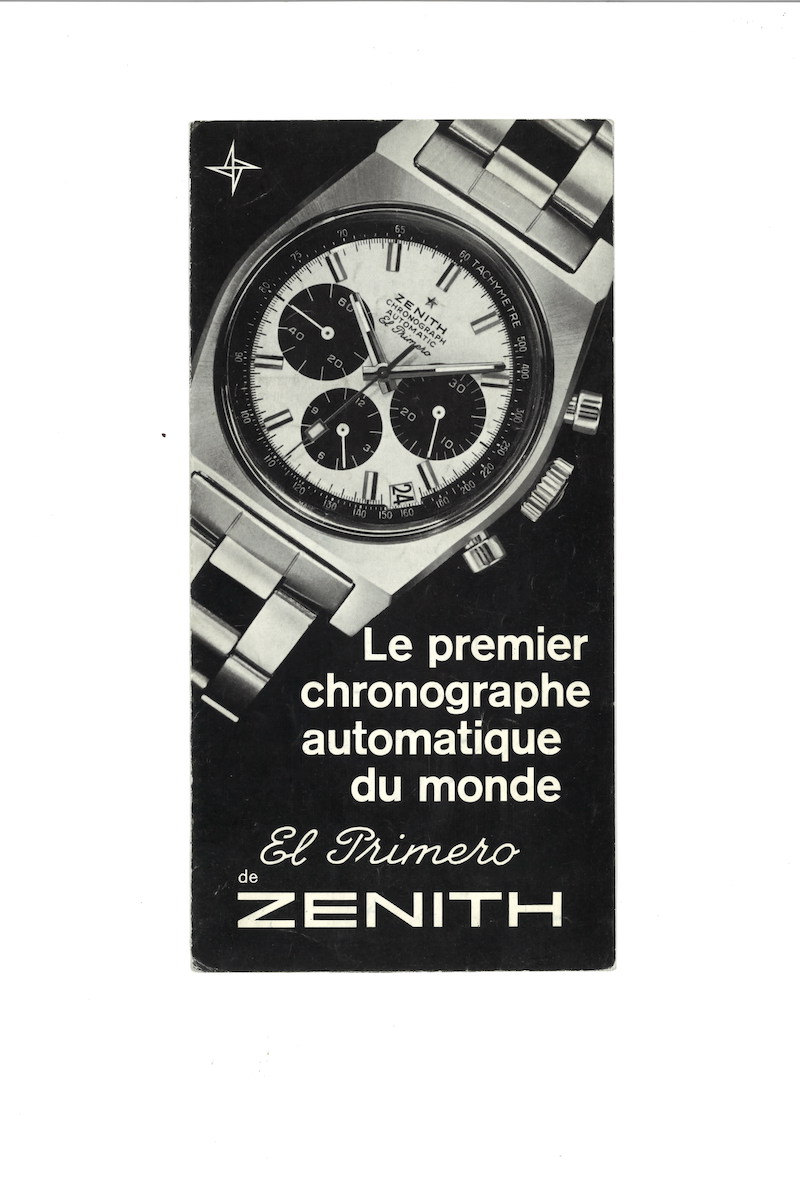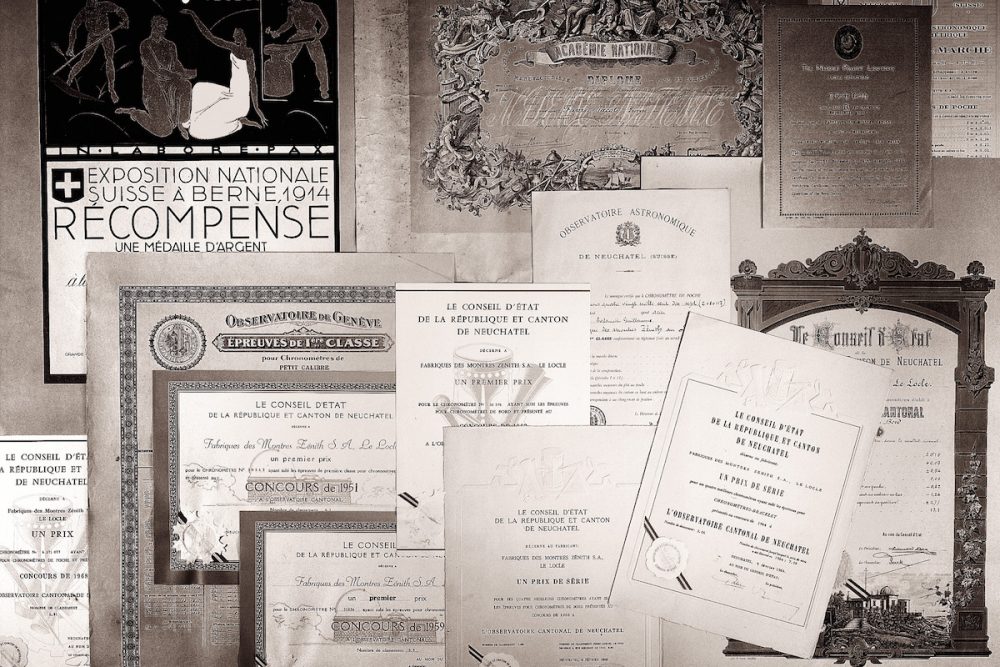 1969 was a poignant year, not least in the world of watchmaking. The iconic El Primero movement was launched by Zenith. One of the last headaches in mechanical horology was overcome, the creation of an automatic chronograph. It was a high frequency movement, beating at 36,000 vph and therefore capable of measuring intervals as short as 1/10th of a second. It was a monumental effort to manufacture such an in-house movement, but just as the El Primero debuted, the so-called "quartz crisis" happened, which not only brought the entire watch industry to its knees, but Switzerland's economy dovetailed in this disaster. And it played a part in the El Primero movement almost disappearing. For a time, Zenith was owned by the Zenith Radio Corporation of America, and they lost faith in mechanical watches and decided to limit its production to quartz timepieces only. The order came to destroy or sell the metal of the presses and tools associated with building mechanical movements. Despite Zenith being back in Swiss hands in '78 the El Primero went out production. But during this charade, a local-born senior watchmaker, named Charles Vermot rebelled against his management's orders and took it upon himself to secretly stash the tools, machinery, blueprints and components inside the manufacture's attic where they sat hidden away. Looking for a self-winding chronograph movement for the Daytona, Rolex contacted Zenith to see if they could resume production of the El Primero movements. When Vermot found out, he unveiled his secret deeds, and lead the Zenith executive team to the attic. Not only were all the tools and components in safekeeping, but there were detailed records of the manufacturing process. Thanks to Vermot, the contract with Rolex was one of the most lucrative in watchmaking history.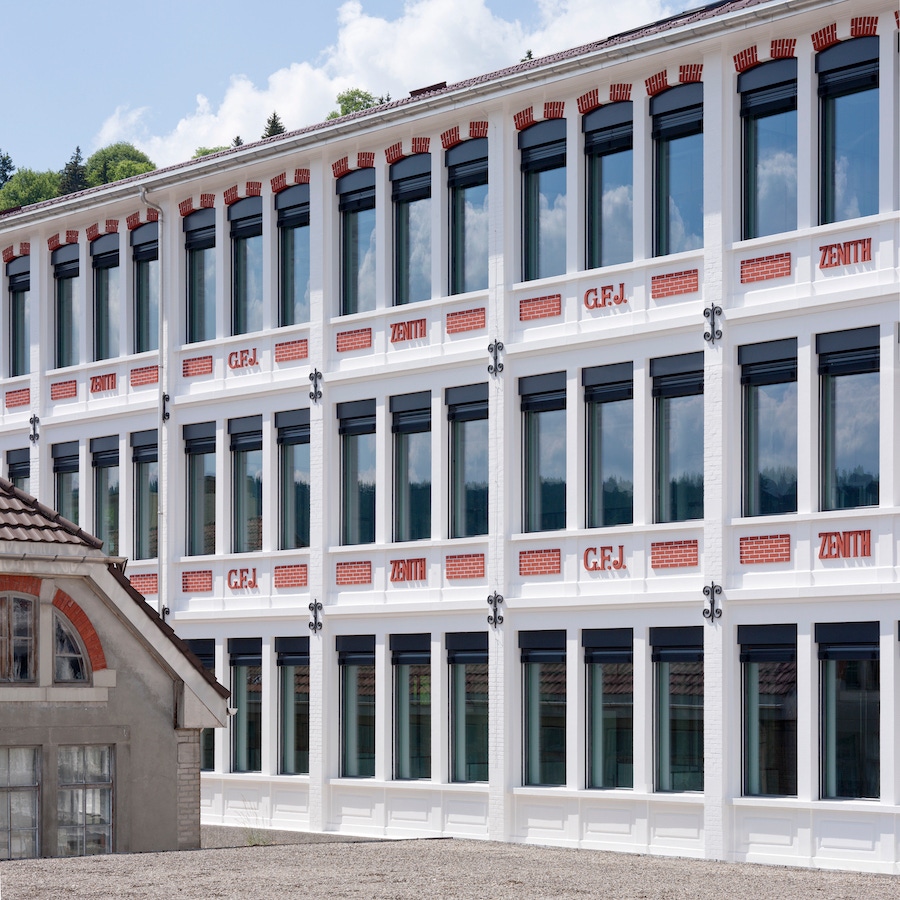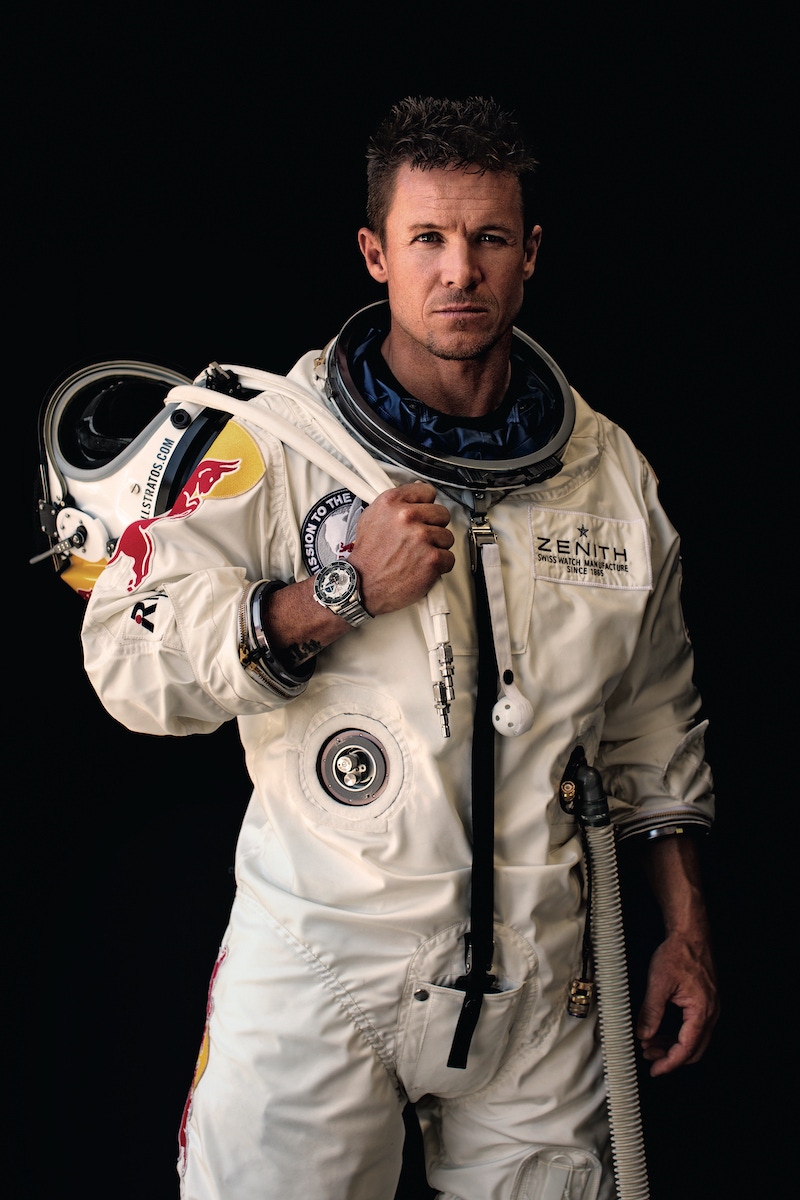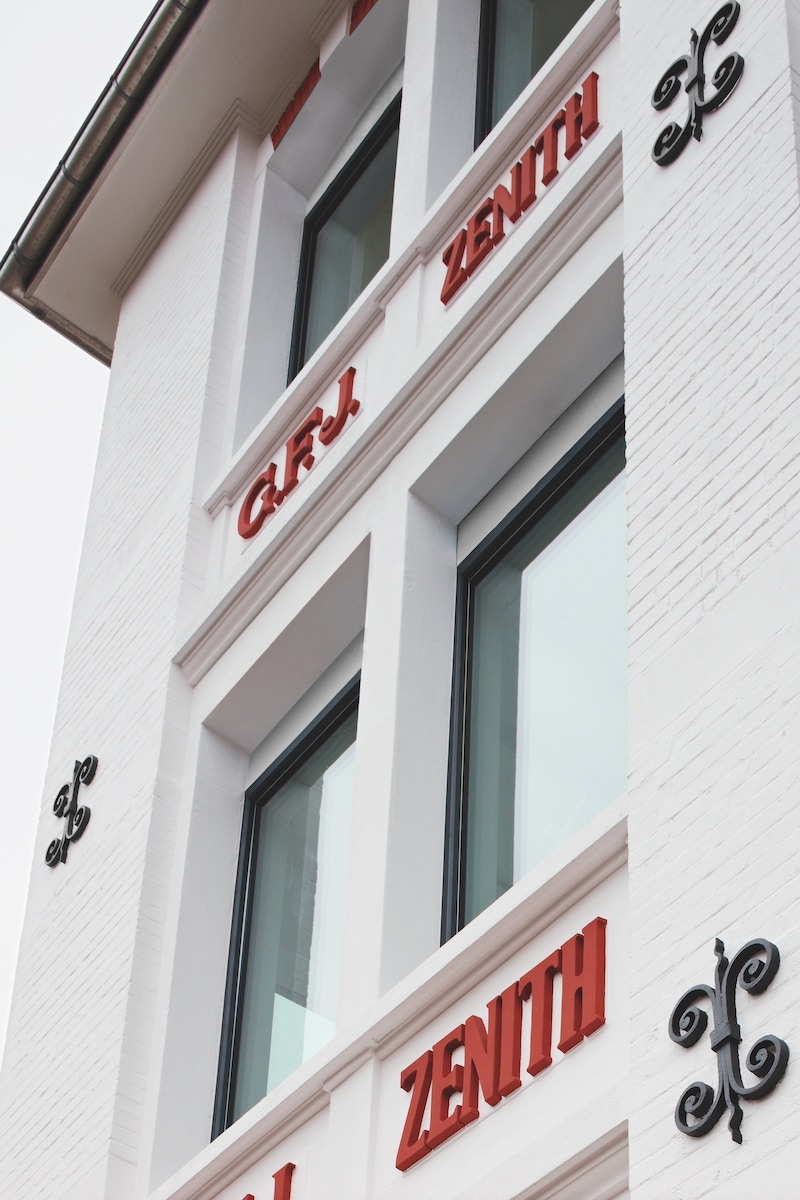 Although Favre-Jacot and Vermot are celebrated heroes originating from Zenith's corridors, the brand's watches have accompanied a troupe of extraordinary figures away from their manufacture. Relying on the precision of his Zenith timepiece, French aviator pioneer Louis Blériot became the first man to fly across the English Channel in 1909. Gifted by his friend Jawaharlal Nehru – a silver pocket watch would become one of Mahatma Gandhi's few material possessions. Stolen from him during a train journey to Kanpur, in an extraordinary twist of fate, the thief returned the watch begging for Gandhi's forgiveness. And more recently, daredevil Felix Baumgartner, with his Zenith wristwatch plunged into the stratosphere from a pace capsule lifted by a helium balloon, and during freefall reached a record speed of 1,342 km an hour. Today Zenith is a thoroughly modern manufacture. Known to invest heavily in research, their latest ground-breaking mechanical movement is the Defy Inventor, which consists of an "Oscillator" control system to replace the traditional sprung balance. Known for their commitment to innovate, it is down to CEO Julien Tornare, and Products Development & Heritage Director Romain Marietta, that The Rake are extremely excited to launch another limited edition watch with Zenith, this time the firm's legendary Cover Girl, which receives a dazzling makeover.