The Noble Ninefold Path to Suit Enlightenment, Part I
The Rake's Founder & Editor-in-Chief talks you through the very foundations of the suit itself; the shoulders and armholes.
One: The Shoulders
The shoulders are the foundation of the suit jacket. They frame the face and are the first thing that catches the eye of the beholder. Getting the fit of your shoulders right is crucial, as they absolutely cannot be altered. So how should the shoulders fit? The suit jacket shoulders should cover but not overwhelm your shoulders, in such a way that the material of the sleeve head just kisses the shoulder and upper arm but flows in an unbroken line from the shoulder to your wrist. Now observe the way the sleeve falls from the shoulder. If you see any unsightly bulges of the underlying arm the coat is too small for you. If the shoulder extends too far beyond the underlying deltoid, it is too big. If you are unsure if the shoulders of your coat fit, ask to try one size larger and smaller to compare. Take your time. You're making a substantial investment, so go slow.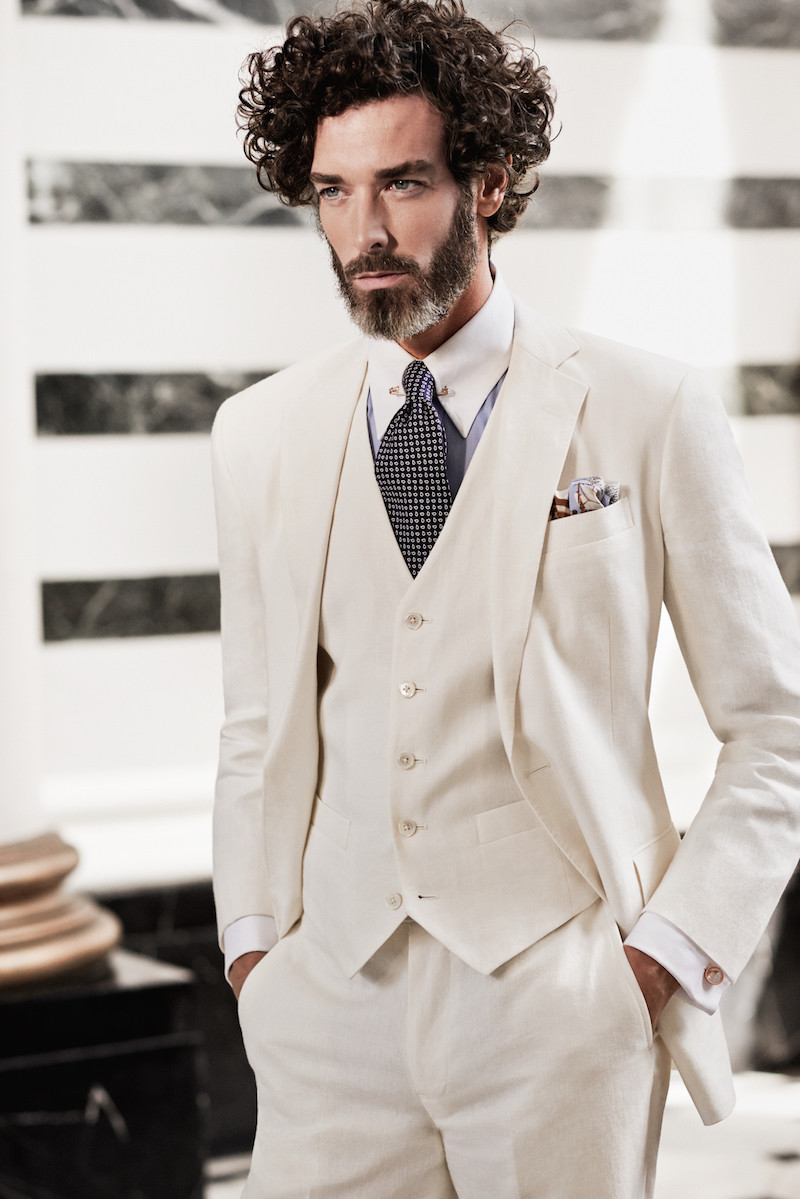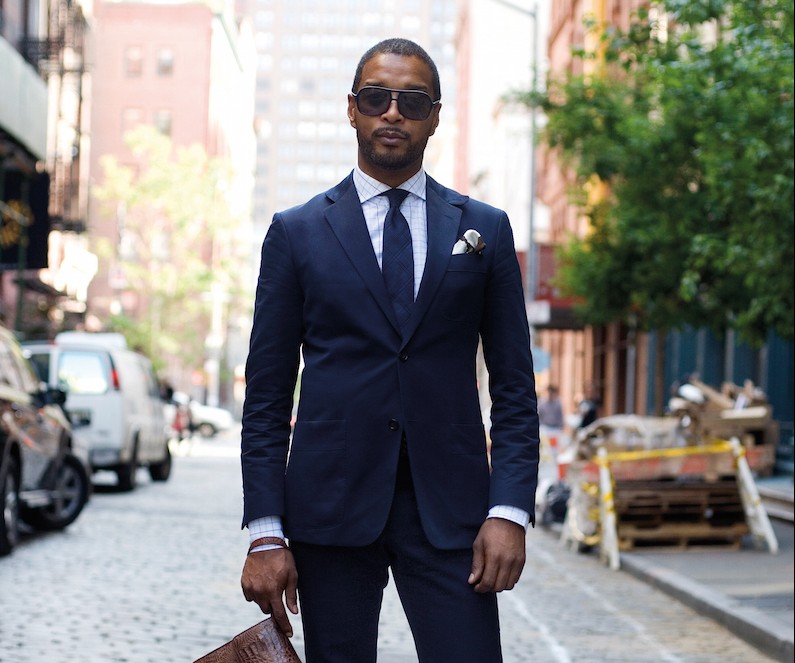 ---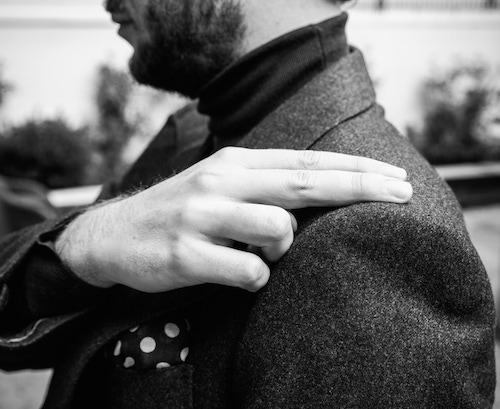 Rakish Tip:
Basically, there is an underlying architecture to your shoulder that must be respected. Observe the related diagram. If your shoulder were a mountain then the 'acromion bone' would be the summit. Now slip on your suit jacket. Try cupping a hand over your own deltoid with the acromion dead centre in your palm. The shoulder seam of your jacket should be at the same position as the outer edge of your palm. Another way to calculate this is to place one finger to the outside of your acromion - two if your shoulder development is broader or the suit has a more built up shoulder. This is where the shoulder seam should meet the sleeve head. If you've got this fit right you've taken the first step down the path to suit enlightenment.
---
Now that you've determined the fit of your shoulders is correct, what type of shoulder should you select? Generally shoulders fall into one of three categories: unpadded, moderately padded and structured. What may surprise you is that what works best on you is already pre-determined by your physicality. Say you are a large man - one who wears his prosperity well, or damn it all; whose physicality is just an expression of his larger than life personality and extraordinary largess. Or say you participate in sports that result in above average shoulder development, such as Canadian Lumberjack competitions or Bear wrestling. You may wish to select a moderately padded or totally unpadded shoulder. Why? Because more pronounced shoulder pads will emphasize your horizontal lines and could make you look a little too wide or top heavy. One popular unpadded choice is the Neapolitan shoulder, which is distinguished by the gathering of pleats that resemble a shirtsleeve at the shoulder seam, and is available in ready-to-wear by brands such the originators of Neapolitan tailoring, Rubinacci. However, other non-Neapolitan brands that use unpadded shoulders include British menswear firm Hardy Amies and the Solomeo-based Brunelo Cuccinelli. For many years, Brooks Brothers has been making unpadded shoulder jackets as part of their New England WASP uniform. One man that pairs minimally padded shoulders with shorter, fitted jackets to create a heroic silhouette is Lino Ielluzi, proprietor of Milan's Al Bazaar.
Normal Frame: Unpadded, Moderately Padded and Structured
If you have a normal frame, rejoice. Do a jig. High five your dog. High five yourself. Open a bottle of Cros Parantoux and pass around the Behikes. Don't forget to light one for your dog. A by-product of winning the genetic crap shoot is that you can generally wear any of the three types of shoulders: structured, moderately padded and unpadded allowing you to experiment in the arts of sartorial self-expression with the fullest sense of polygamous abandonment.
Slender Frame: Structured Shoulders
If you have a slight physique due to a highly enviable metabolism, or have narrow shoulders or a large head due to your immense brain capacity, you may wish to offset these attributes with a suit jacket with a more structured shoulder. Be cautious of wildly expressive suits that boast the sort of concave, extreme-padded shoulders created in the mid-70s by Savile Row maverick Tommy Nutter, (and recreated several years ago by designer Thomas Maier at Bottega Veneta) which are spectacular but perhaps somewhat costume like. Instead, the Rake prefers a more natural shoulder line that transitions smoothly into a tastefully built up shoulder, as popularised in England by the amazing Huntsman of Savile Row or in Paris by the equally amazing tailoring firms of Cifonelli and Camps de Luca. Amusingly, during the preceding decade devotees of tailoring seemed wholly focused on singing the praises of the unpadded shoulder, but today the same cognoscenti is fixated on the more structured shoulder. In London, Edward Sexton and Joe Morgan are both masters of the structured shoulder, while when it comes to ready-to-wear The Rake's favourite structured shoulders are created by Ralph Lauren Purple Label (which manages to keep these shoulders wonderfully soft) as well as Cifonelli ready-to-wear, which has retained the bespoke firm's wonderfully louche 'cigarette'-styled sleeve head. Gieves & Hawkes also does an admirable to job incorporating the traditional British roped sleeve head into their contemporary British style.
Two: The Armholes As with the shoulders, if the armholes of your jacket don't fit, the garment will never look good, as they absolutely cannot be altered. A bespoke tailor will try to get the armholes of your jacket as small, and to sit as close to you, as possible. Why? For two reasons. Firstly, a small armhole and a large sleeve head work together to enable the greatest range of motion while still having a jacket sit in composed, Bodhisattva-like equanimity as you move. Conversely, a large armhole will cause the entire body of your jacket to flap around, wanton and indecorous, with your every gesture. Secondly, it's because a high armhole is essential to a well-shaped coat because it allows it to begin its suppression early enough to flow gently into a well-shaped waist.
---
Rakish Tip:
How much space should you have? Slip on your jacket. Next place your fingers under your armpit. Ideally, you should have two to three fingers space between your armpit and the bottom of the armhole, anything more than this and the armhole is too big. If you've got the right amount of space don't forget to move your arm. The correct shoulder and armhole fit should allow you completely unhindered motion while allow your jacket sit flatteringly close to the body. Note that if the jacket pulls or bunches at the front of the shoulder your sleeve head is too small, and sadly there is nothing that can be done about this either.
---
Readers can find the next instalment of The Noble Ninefold Path to Suit Enlightenment
 here,
exploring jacket length, the suit's skirt and pockets. The introduction to the series can be read
 here.