The Noble Ninefold Path to Suit Enlightenment: Part V
Trousers: the final frontier on the noble ninefold path to suit enlightenment. Though often overlooked, the humble trouser is as nuanced and sophisticated as the suit jacket, and different cuts, silhouettes and shapes will greatly change the trouser's impact on your figure as The Rake's Founder & Editor-in-Chief explains.
Step Nine: Trouser Silhouette and Length
Now that you've mastered the fundamentals of the jacket, and know the shoulders and armholes of your suit jacket fit perfectly; now that the lapels are of a style that flatter your physique and that appeal to you aesthetically; now that the waist is the right position, the sleeves and jacket hem are just the right length, let's turn briefly to the trouser. While trousers will be the subject for a more in-depth article at a later date, for the moment let's acknowledge that even the most stunning jacket can be let down by the matching garment to the south. Just as your physique dictates what kind of shoulders your suit jacket should have, it also dictates what type of trouser you can wear. For example, a very full-cut, wide-legged trouser is best left to men who are either very tall or very thin, as they have a tendency to overwhelm everything else. In general, The Rake favours a close fitting trouser with a higher waist. Essentially, the line of your trouser should flow in an unbroken line from your waist to your ankle, just suggesting the shape of your legs without being too tight. Similarly, the trouser should fit close through the inner leg but also flow in an uninterrupted line from the fork to the ankle.

One tip in the balancing act between close fit and comfort is that you can get away with a bit more volume in the top half if you choose a pleated style pant.

The Rake

recommends that when having your trouser fitted, you have them adjusted or taken in, particularly from the knee to the ankle. However, don't forget to sit down - very carefully - once they've been pinned to ensure they are still adequately comfortable.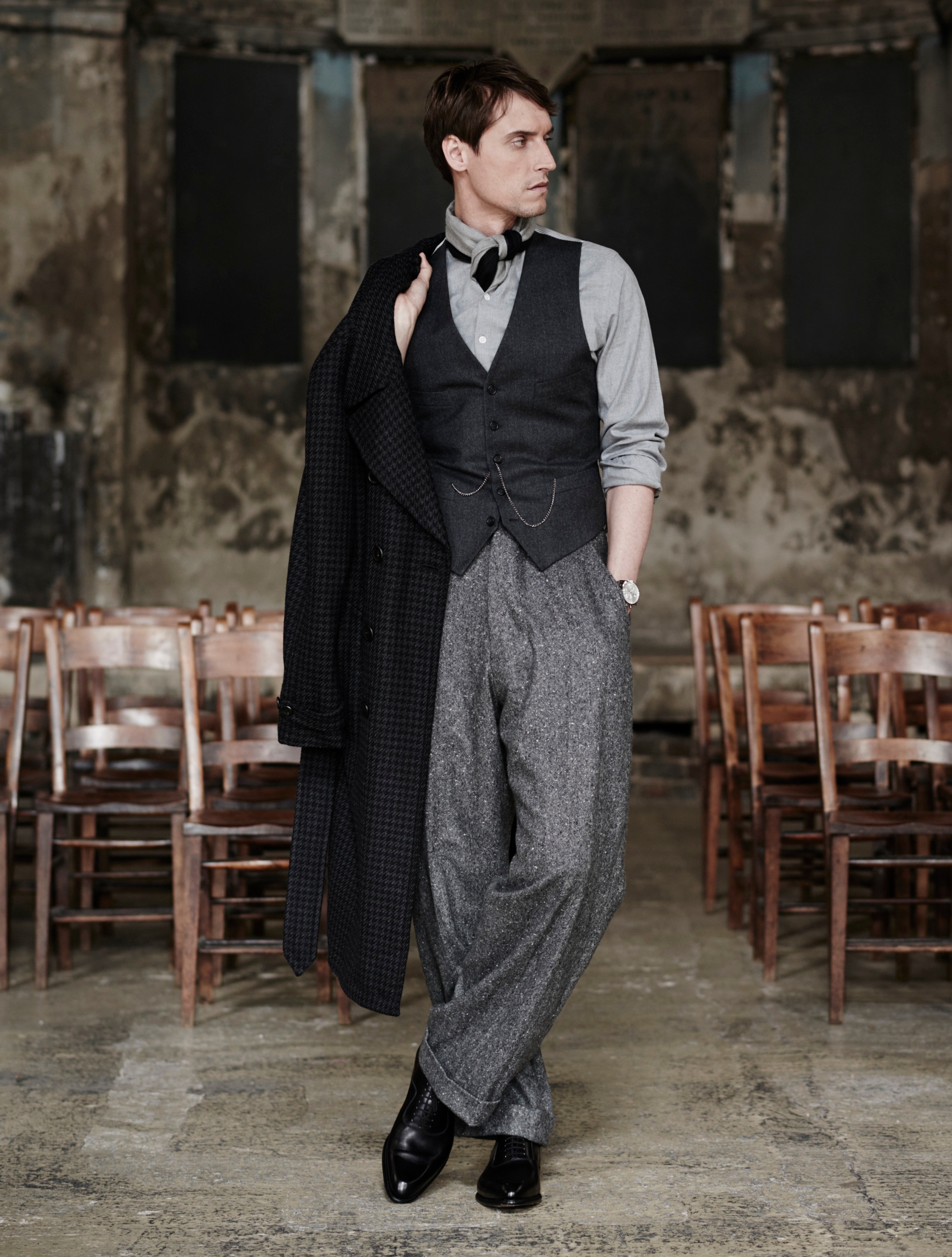 A discussion on hem width against your shoe size and type
To be clear, here at
The Rake
we have a penchant toward a narrow bottom on our trousers, daringly narrow: as little as 6.5 to 7 inches or 16.5 to 17.75 cm at the hem. However, if you do decide to go down this same path, bear in mind that the hem still needs to be wide enough to look in proportion with your shoe, and also provide enough space to let your foot through. Should you wish to also tread down the path of the super narrow trouser, you can calculate the correct hem width relative to your shoe size. Simply measure the length of your shoe across the bottom. Your correct hem width should be about 60 per cent of that length.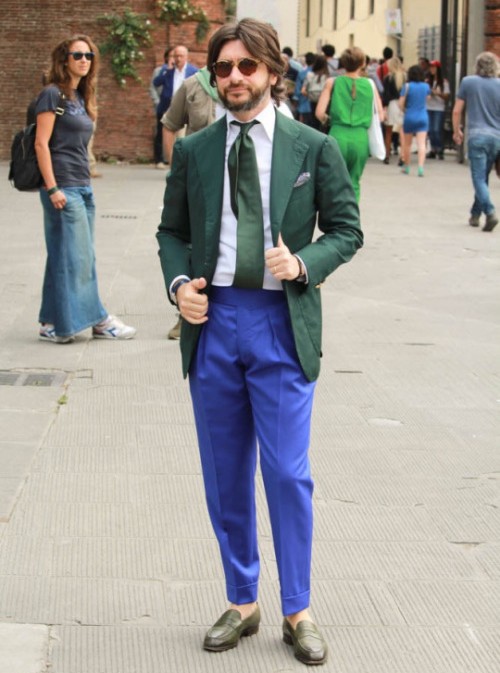 To turn up or not to turn up?
Some make the argument that on a shorter man, the trouser cuff has a tendency abbreviate the lengthening affect of a well-cut trouser. But at
The Rake
our love affair with the cuff or turn-up knows no bounds. We would cuff the trousers on a dachshund if he wore a suit.
Rakish Tip:
Always go a full 5cm (2in) for the width of your turn-ups: anything else just demonstrates a lack of commitment.
How short is too short?
Remember Pee-wee Herman's suit? Well, according to contemporary mores established by Pitti Uomo street style photography, Pee-wee Herman's hem length meant to be comically short at the time is now pretty much on trend. But how short is too short? Certainly a summer suit, especially one worn sockless, can afford to show a brief glimpse of bare suntanned ankle. However, as with a women's décolletage, it is always preferable to err on the side of taste over garish display. A winter suit, however, can be a touch longer, though the prevailing feeling at
The Rake
is that the only break we like in our trousers is none at all. That having been said, a fuller or wide-legged pant does need to have a touch of break to help it achieve the soft, drapey shape intended. Thus ends the Noble Ninefold Path to Suit Enlightenment, and all nine steps have been traversed. Follow this advice and your next suit will have you tailored to perfection. For those who wish to revise the previous eight steps, the Introduction can be found
here
, part I
here
and part II
here
. Part III can be found
here
, and part IV
here
.