The Rake Sale: Edward Sexton
With a tailoring career spanning six decades, one would be forgiven for slowing down. Not Edward Sexton, whose ready-to-wear collections this year seem to carry an extra potency of rebellion. For a short time only, you have an opportunity to join this youthful spirit by obtaining an Edward Sexton masterpiece at an extremely rare price point.
In a year of forced upon setbacks for British tailors, many have had to adapt in unforeseen ways. An eerily sedate street for stretches of the pandemic, some distinguished Savile Row tailors have scaled back their operations. Not Edward Sexton though, this past year has seen him retrace his steps after a near 30-year absence by opening a pop-up shop at 36 Savile Row – the very premises he and Tommy Nutter began their tailoring revolution at, 50 years previously. Recognising the adversity the industry was facing, Edward Sexton not only planted his firm in the heart of its historical boulevard, but enacted a stylistic insurgency with it. By producing arguably his most dynamic and flamboyant ready-to-wear collections to date, we feel he's made a concerted effort to galvanise the industry and its customers to a place of greater freedom. Tapping into this uprising of sorts has now suddenly become more accessible. Edward Sexton has never been a brand to reap the fruits of a long sale period, and so for a short time only, there is a rare opportunity to release your eccentricities into the open, by getting your mitts on a quirky-yet-authentic Edward Sexton piece at an attainable price point.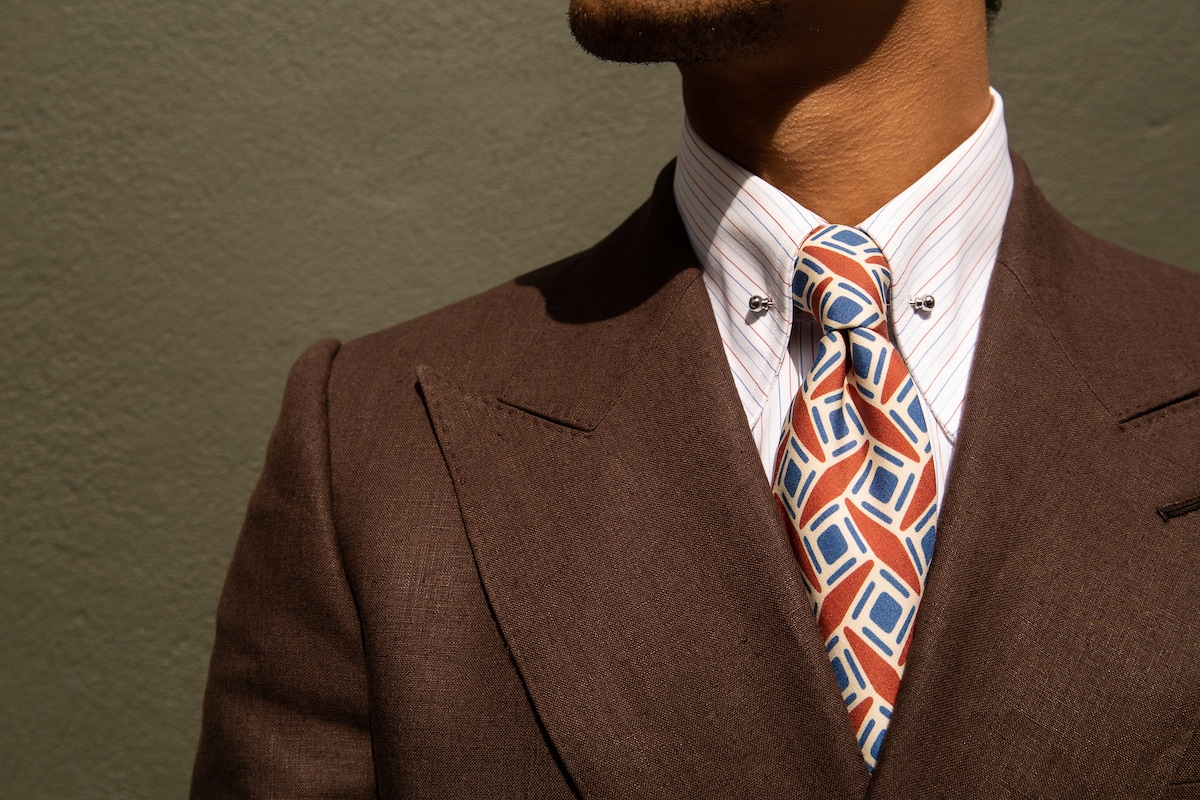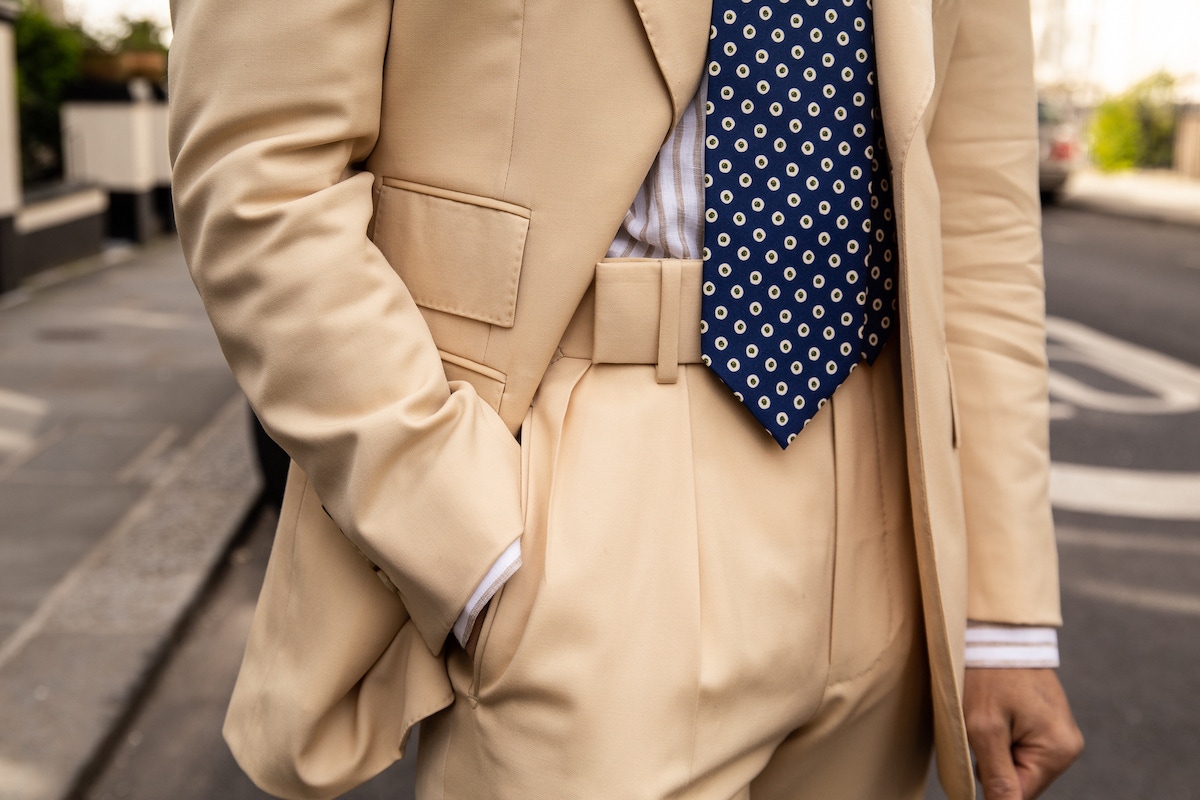 From new linen suits in bold colours to signature 1980s-inspired shirting, plus a strong assortment of Kaleidoscopic accessories, there is plenty to get excited about. Edward Sexton still outfits the music world's sartorially inquisitive, and it is a suit inspired by the one the firm made for Mick Jagger for his wedding to Bianca in Saint-Tropez in 1971, that is the standout of the Edward Sexton sale. Cut from luxurious and lightweight British wool Gabardine, the suit imbues that swaggering Sexton silhouette, and like the rest of the firm's jacketing it is made in their one-button house cut. It can be bought as separates, but we recommend the full suit to emulate one of the most influential frontmen in the history of rock 'n' roll.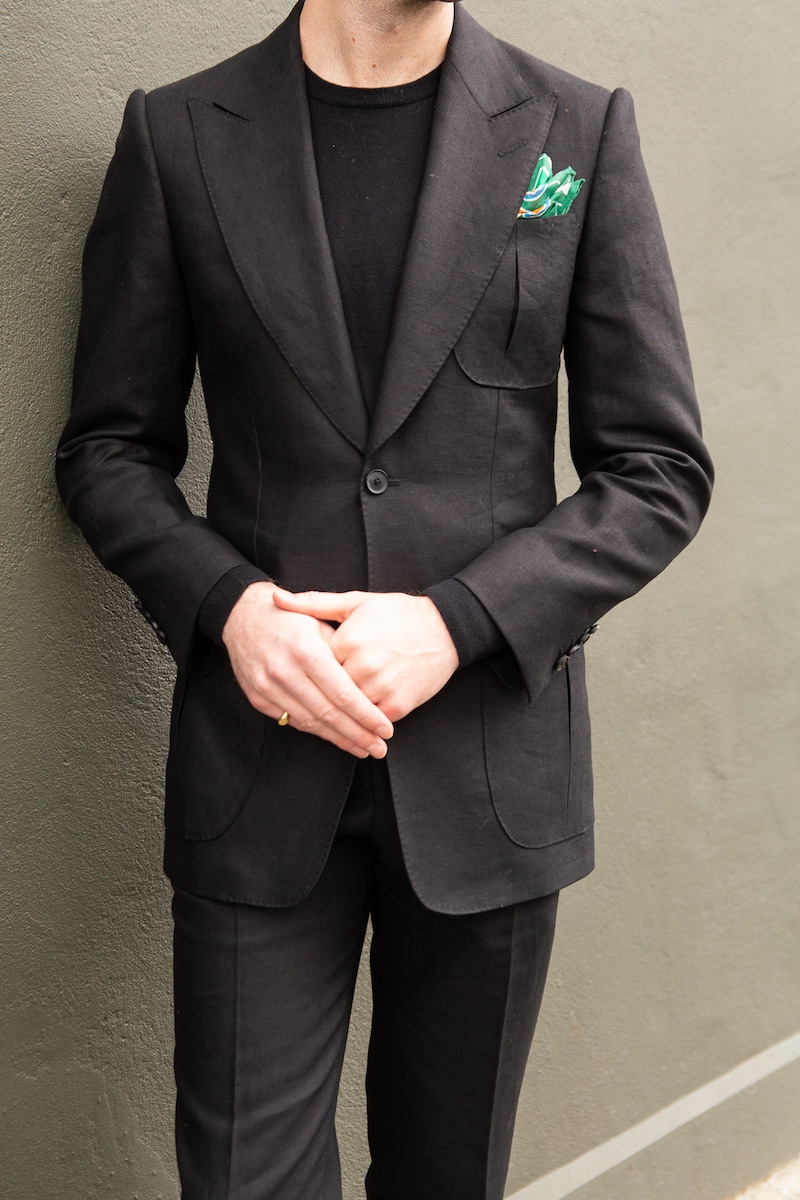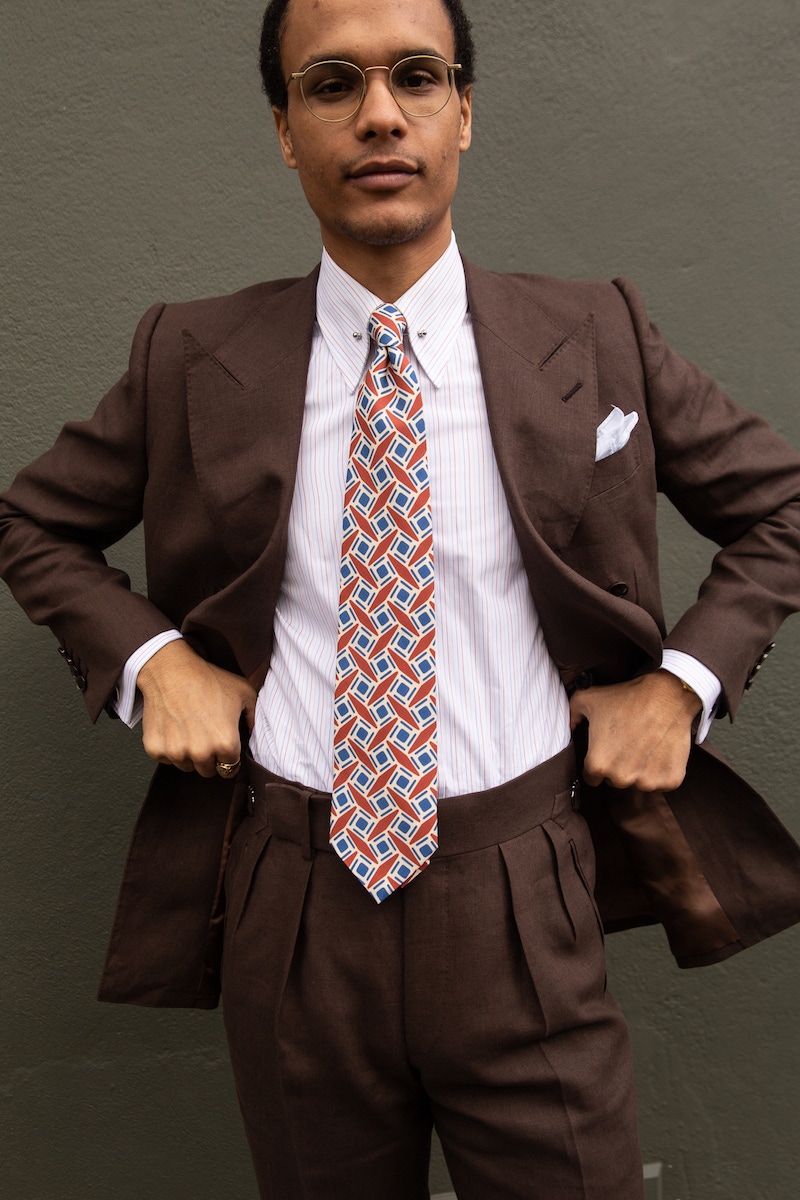 Elsewhere, in the suiting category, and an example of Sexton's reluctance to conform is the black linen suit. Some menswear commentators will shun black tailoring in summer, but if there's any tailor to master the art of the black linen suit in summer it is Edward Sexton. With wide peak lapels and a narrow waist, the jacket is undeniably elegant, but due its long patch pockets, which are a subtle nod to a safari jacket, this creation is actually a tremendously versatile option. Cut in a crisp Irish Linen and designed in their signature two-by-three double-breasted guise, the chocolate brown suit is a neat and sophisticated summer suiting design.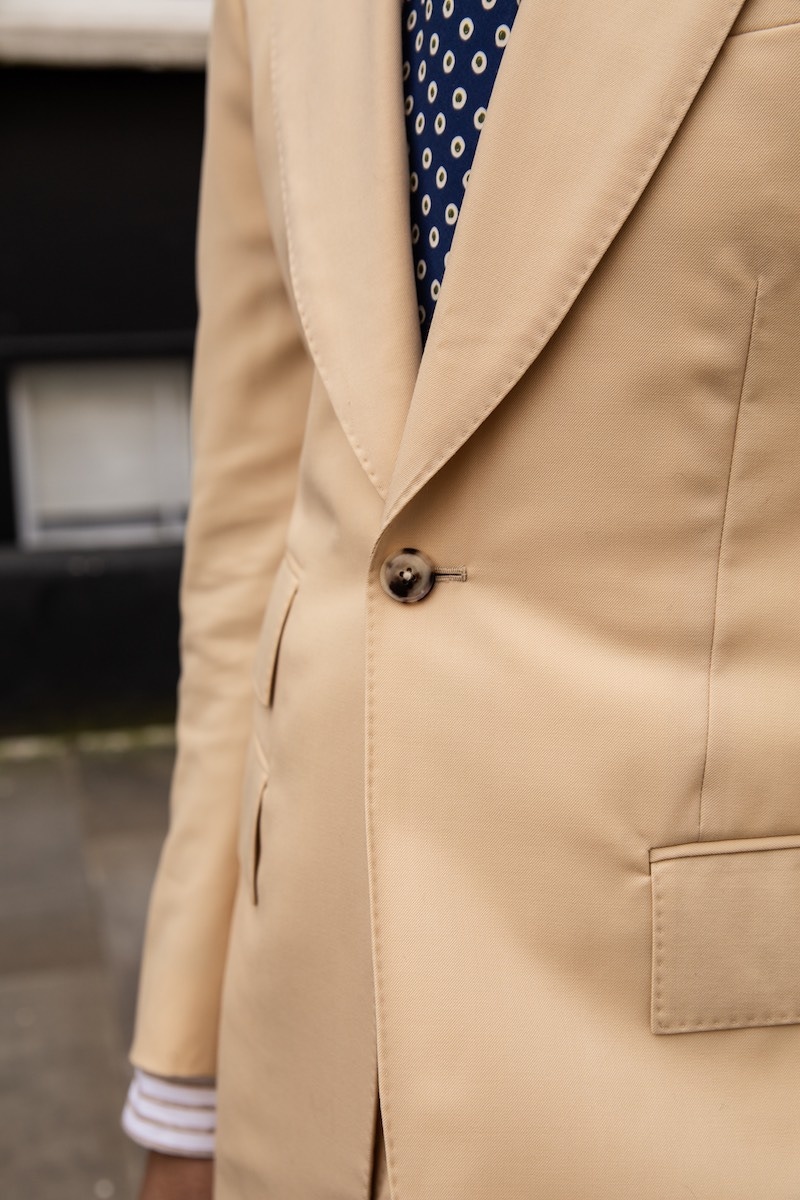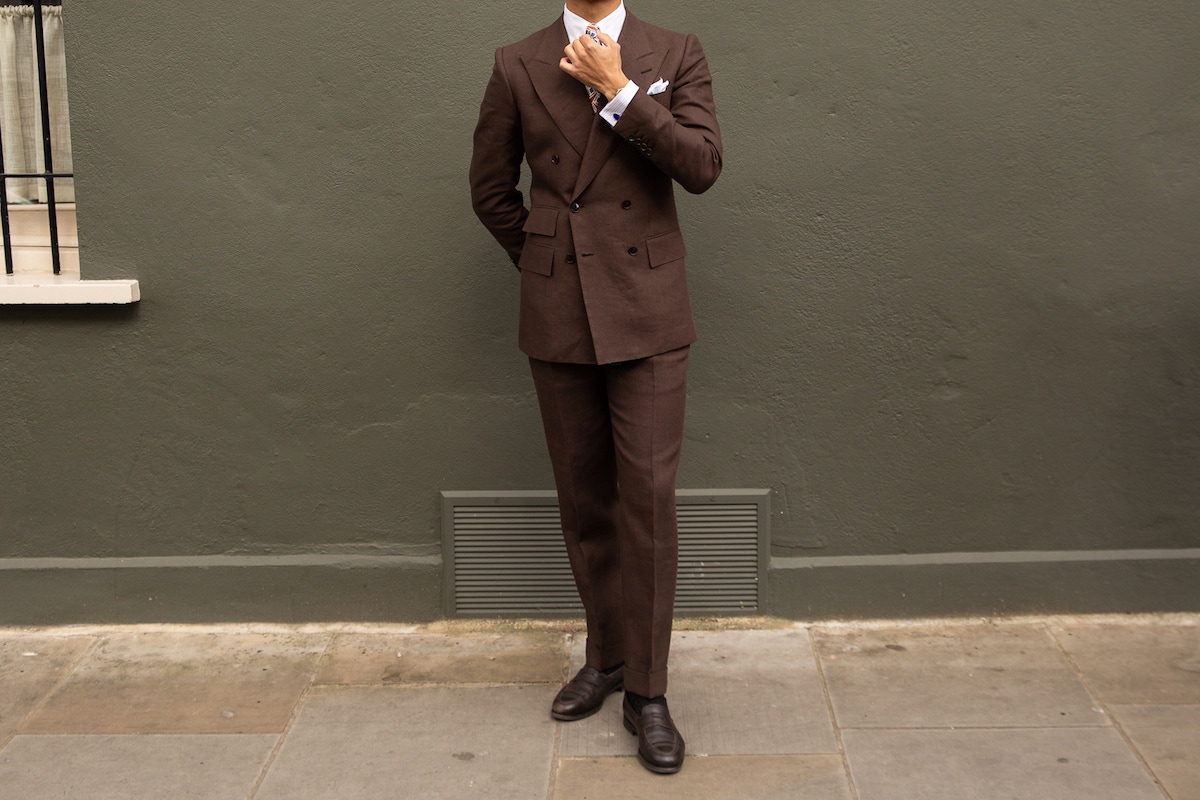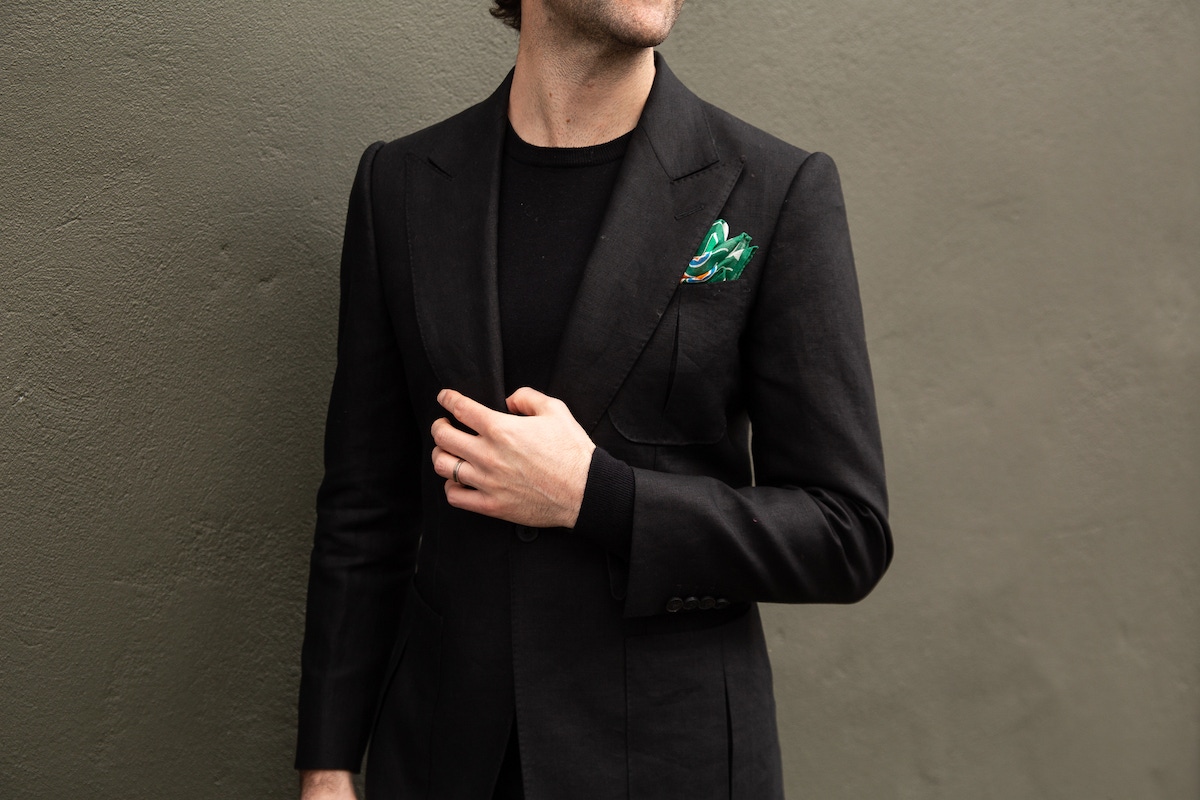 Back into the fold are the fabled Hollywood top trousers, which come in dark grey, indigo and a beautiful biscuit colour. Sitting high on the waist, their editions are made in breathable high twist tropical wool, so you'll have no trouble sporting a pair with a knitted T-shirt in these high temperatures. In the very best Irish linen, their safari shirts, comprising of two neat bellows pockets that keep your belongings secure they are splendid to travel in. A late additon to the spring/summer collection, the beige linen striped hidden button down is the ultimate answer to a relaxed semi-formal look. Fitted with hidden tabs that fasten to the shirt beneath its point, the elegance and security of the collar legislates for a refined look when donning a tie. Quite rightly one of the most popular accessories on TheRake.com, we recommend the brand's latest range of geometric silk ties, that will certainly give you that sartorial-yet-flamboyant edge when wearing a high-quality suit.