The Rake Visits Louis XIII
Rémy Martin's famous Louis XIII cognac is now available in miniature format — called The Drop — so the distinguished tipple can be enjoyed wherever, whenever. To celebrate, the rake visited the brand's home in France for a special tasting session.
There are a select few occasions in my life about which I like to reminisce. They include a birthday celebration when a tiny table was crammed with friends and family, and a room filled with inspiring, artistic visionaries. In these moments there is a thread that helps connect my memories: a provocative crystal decanter filled with its eau de vie, that of
Louis XIII
cognac. So when
The Rake
was invited to Cognac to visit the brand's august premises — something only a handful of fortunate folk have been able to do — I threw on my linen suit and boarded a flight to Bordeaux.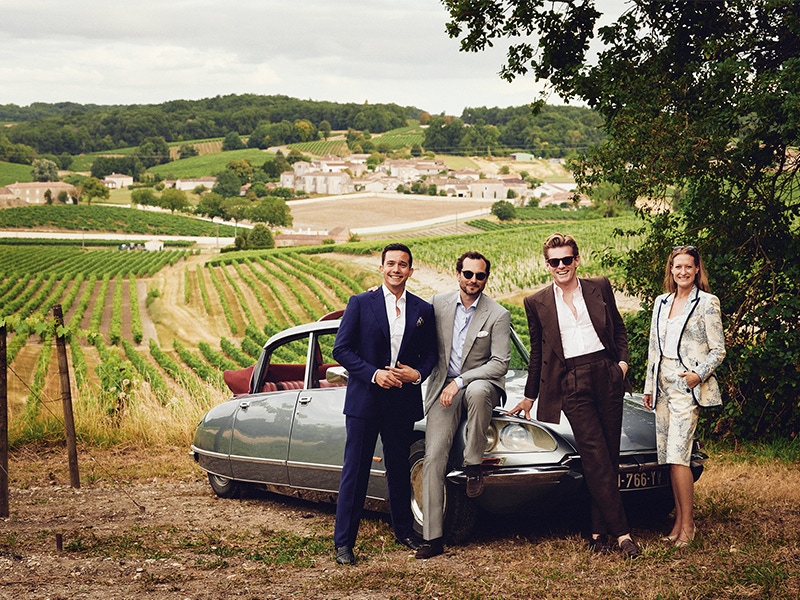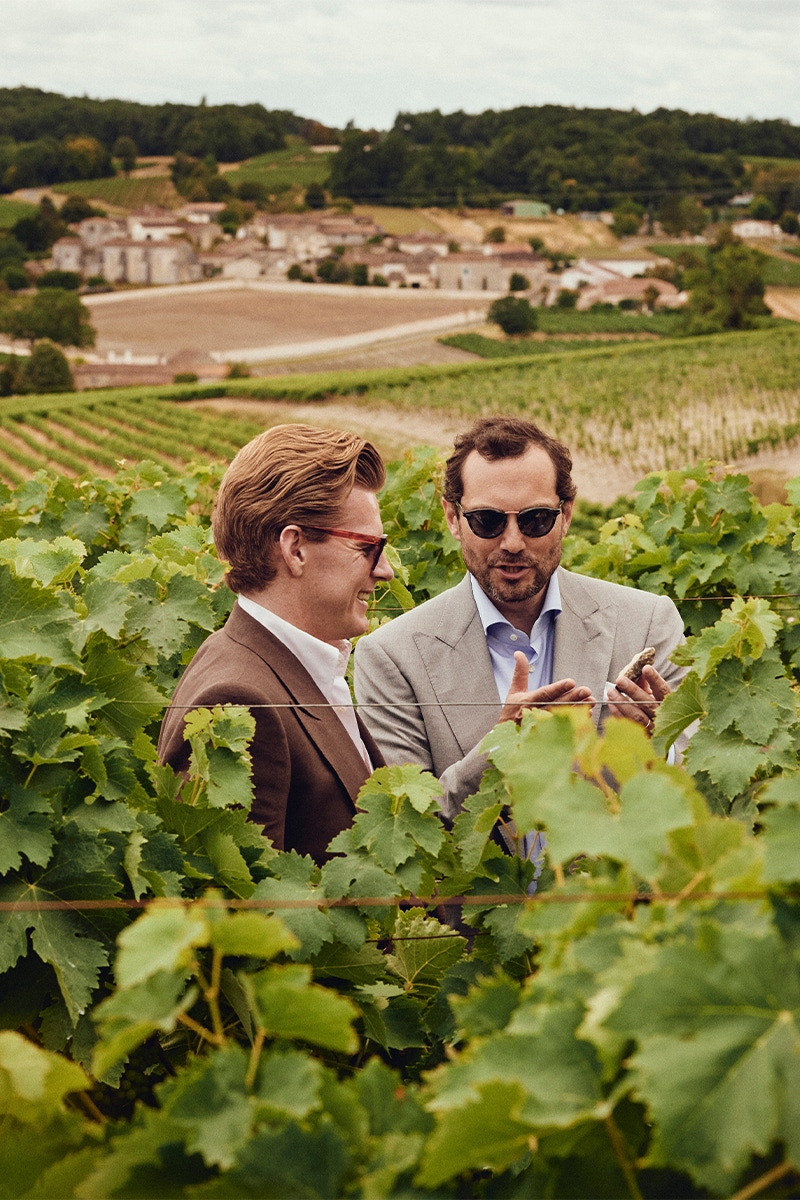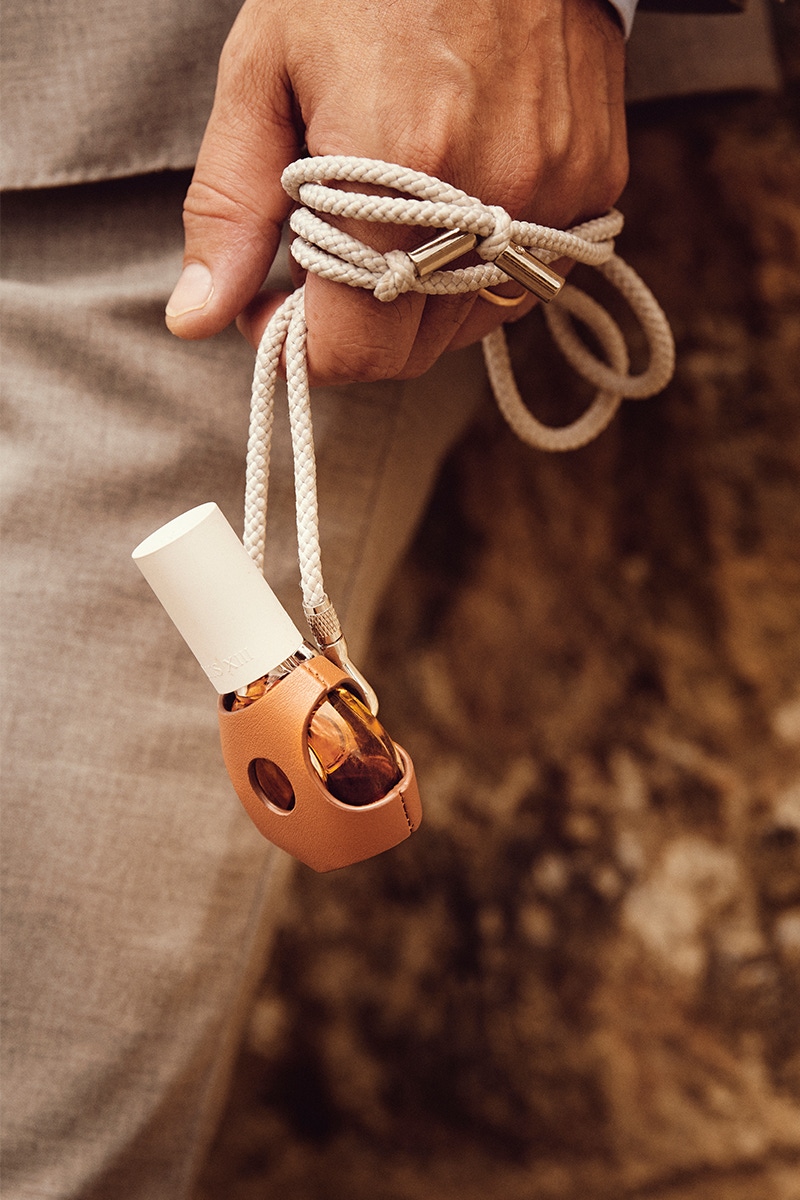 We were welcomed at the airport by one of the most elegant vehicles ever assembled on French soil — a vintage Citroën DS in pristine silver and trimmed with a merlot- leather interior. After being chauffeured through the narrow Cognac roads, we arrived at the gates of the
Louis XIII
estate, which spans lush vineyards and the home of the family that has looked after
Louis XIII
for 148 years. We were warmly greeted by the U.K. and Ireland Director, Morgan de Prémorel, the Senior Brand Manager, Nathalie Nötzold, and International Brand Ambassador Maxime Pulci, all long-time friends of The Rake, and then we began to discover how
Louis XIII
became one of the most recognisable items in luxury.
A term you often hear when discussing agricultural commodities is terroir, which refers to the granular-level impact of the soil on the finished product. Morgan bent down and picked up something from the foot of one of the vines. It was a limestone, one of the secrets to
Louis XIII
. A product of the Grande Champagne region, the stones hold and gradually release water to hydrate the vines at the perfect ratio to produce the most aromatic grapes, which are later transformed into white wine before being distilled twice and aged for years — often decades and even centuries. With the roof down on a perfect summer's day, we took the long way round to
Louis XIII's
ageing cellar, where Max was waiting to greet us. As he pushed open the large wooden door we were hit with a cold breeze and a complex yet irresistible scent. Max led us down two flights of stairs to a dark room stacked with burgundy-brown tierçon (large oak barrels), where, among it all, and rather cinematically, a
Louis XIII
decanter was perched upon another tierçon. As we gathered round a Magnum decanter, Max explained how the famous shape of the crystal decanter was formed from an old saddle flask that used to carry water (and other favourable liquids) for horse riders. One hundred and fifty years ago, Paul-Emile
Rémy Martin
decided it was only fitting to recreate the decanter from the finest crystal.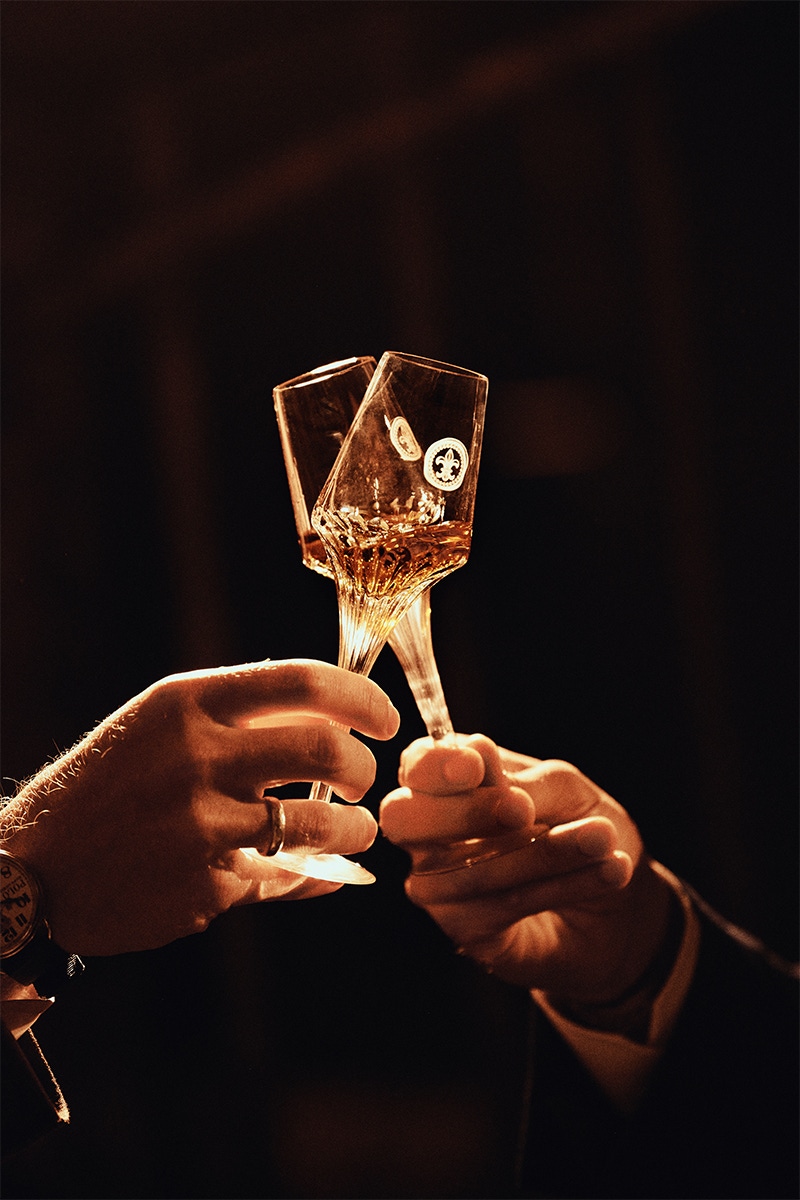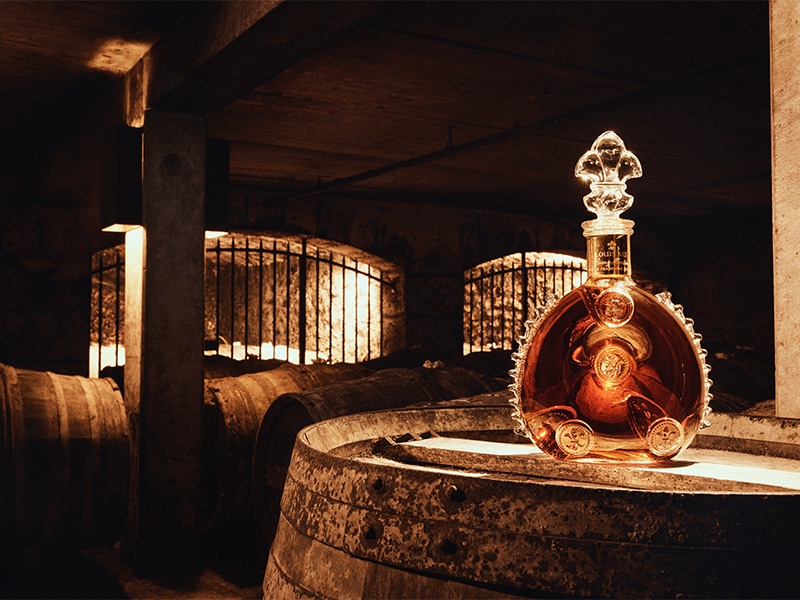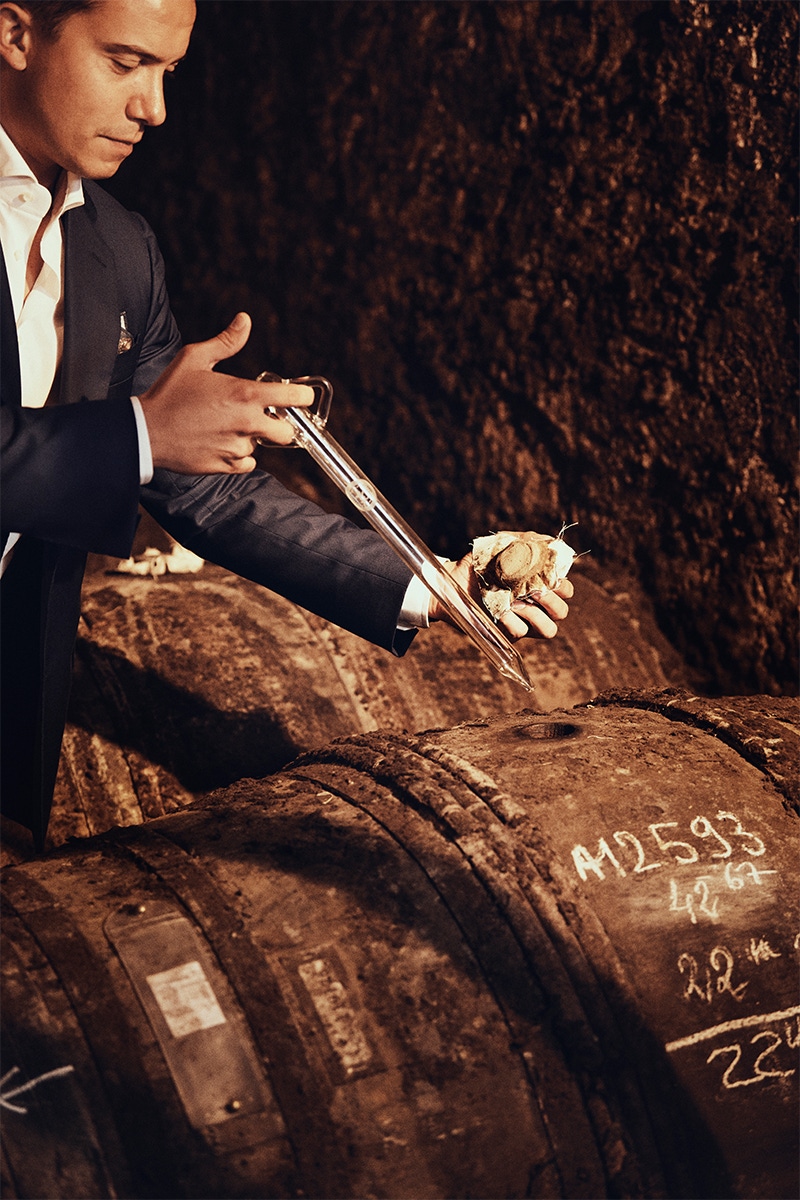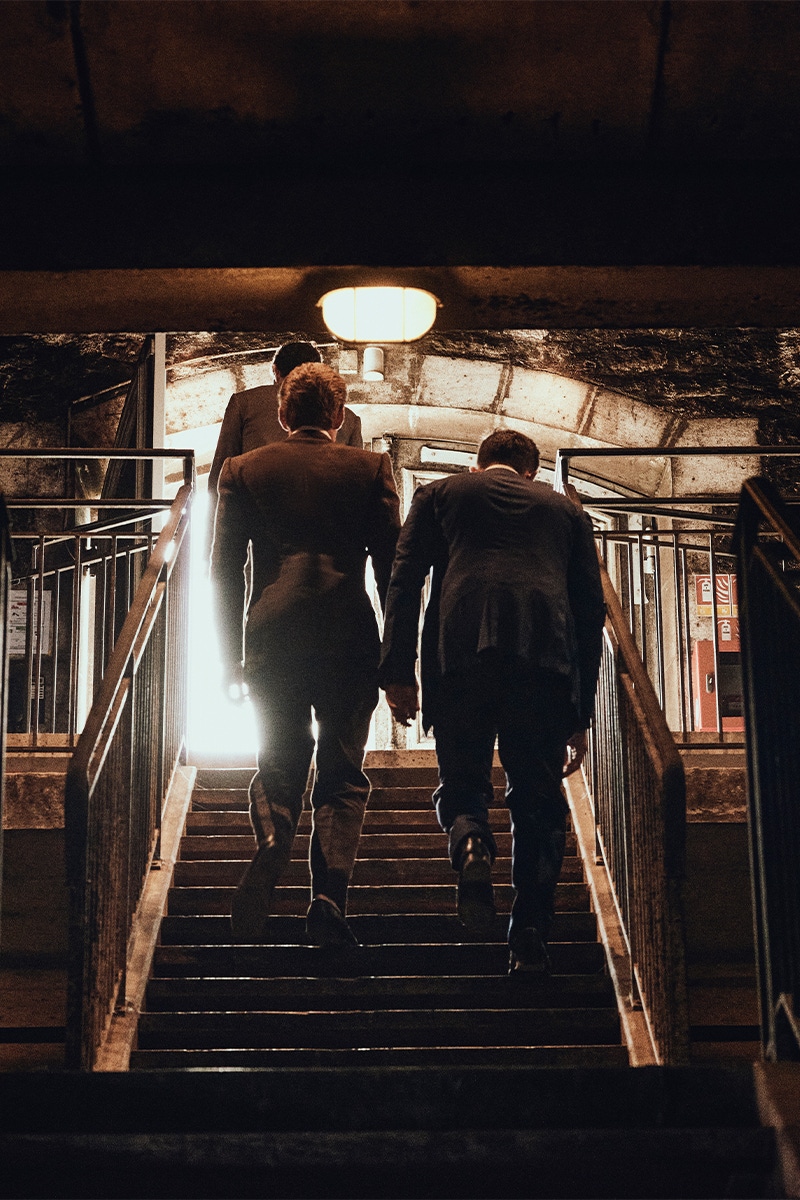 Max helped us access a private ageing cellar, where
Louis XIII's
finest and most protected tierçon are kept. He unlocked a squeaking gate with a key that looked like it might date to the mid century, and we stepped into a low-roofed, dimly lit cellar containing six protected tierçon. We would, Max explained, celebrate The Rake's visit with a tasting of one of
Louis XIII's
oldest eaux de vie. He handed me a glass pipette and asked me to dip it into a cask to extract the
Louis XIII
, a sensation I can compare only to extracting honey, so smooth and rich in texture (and gold in colour) was the cognac. The cellar now filled with the aromas of dried flowers and old spices. I poured the contents of the pipette into our crystal glasses and was transported once more to those occasions in my life when
Louis XIII
has helped me make special memories. Max and I toasted our glasses, which chimed in G-sharp on contact.
An hour later we left the cold of the cellar and returned to a waning sun for one last stop on our journey through Cognac. As we arrived at a quiet bank on the Charente River, and before a golden skyline, I felt as though I were stepping onto the set of a 1960s French film. After a few moments, Morgan reached into his
Cifonelli
jacket pocket and told me how important it is that
Louis XIII
continues to develop its artistic innovation. He then passed me a palm-sized golden bottle, identical in shape and design to the decanter I had seen in the cellar earlier on. This was The Drop, a miniature bottle of
Louis XIII
that offers the chance to enjoy a tasting wherever, whenever. The Drop will be available at
TheRake.com
from October 14.
It was time for another toast. I raised my nomad-friendly
Louis XIII Drop
and vowed to cherish the memory for ever.
https://www.youtube.com/watch?v=SmjUGTuXAGs