The Rake x Bell & Ross Bellytanker 'Vesper'
Our latest collaboration with Bell and Ross brings in Hall of Fame barman Alessandro Palazzi to create the ultimate martini lovers' timepiece and community symbol.
A slim, impeccably neat man of dignified bearing, with a warm, endearing manner and a lightly Italian inflected, deep soothing voice worthy of a nighttime DJ, the incredible Alessandro Palazzi is probably the single most renowned bartender in all Christendom and beyond. Indeed, his name is uttered amongst the martini cognoscenti with the awed reverence normally reserved for messiahs and prophets. He plies his signature trade at the charmingly cozy Dukes in London's Mayfair. So revered are his signature martinis that his fame has spread throughout the world. Getting a table to sample Palazzi's ethereal beverages is comparable in difficulty to getting a table at the members-only Italian red sauce mecca Rao's in New York, or the Michelin-starred sushi-restaurant-turned-insiders' club Sukiyabashi Jiro in Tokyo. With a following in the legions, there must have been the temptation to privatize his bar, but for Alessandro, it's about keeping a welcome ambience open to anyone lucky enough to be able to book a spot in one of his plush overstuffed chairs. Says Palazzi, "I grew up in the '60s and '70s and the sense of social equality for my generation is very important. The objective was to create a club without it being a private club — where all are welcome and you always meet the most wonderful people and have the greatest time."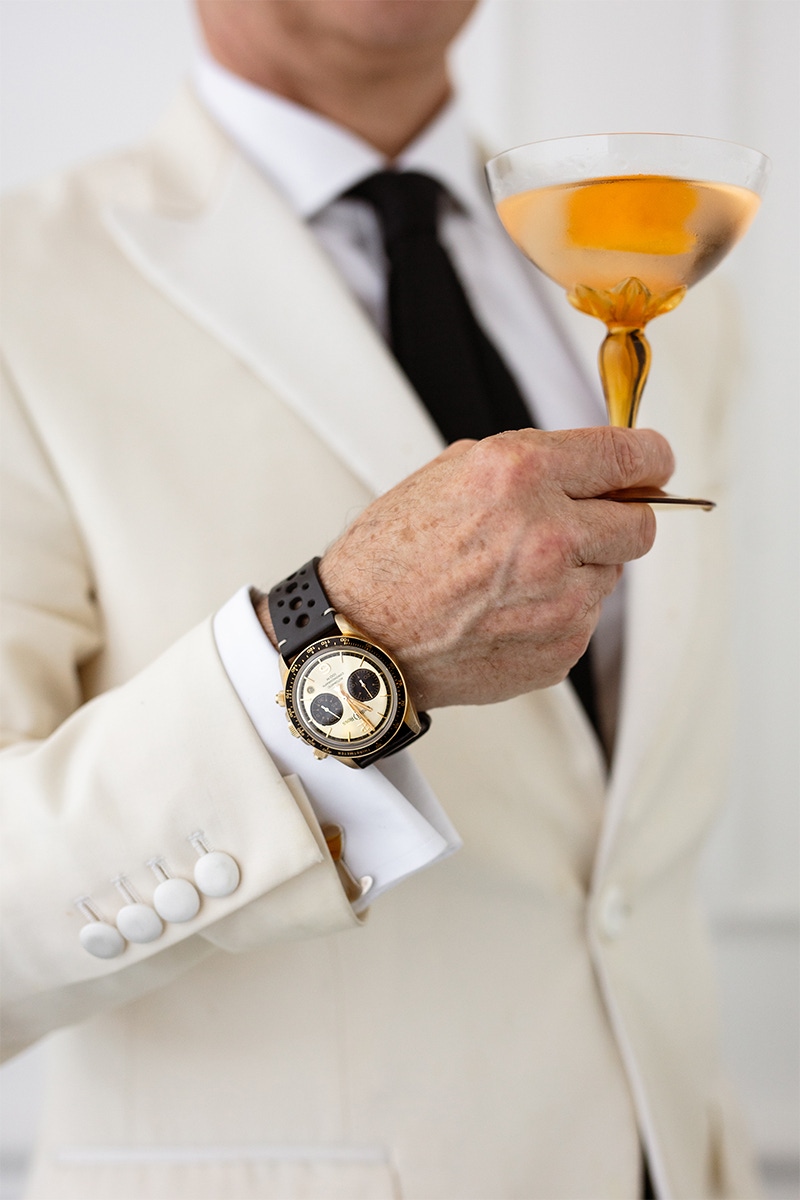 The Greatest Martinis, Bar None
Indeed, Dukes is hard to get into because so many people want to go there and they only have so many seats. And presumably, Alessandro's regulars are given some degree of favoritism, which is true of any great Michelin-starred restaurant or legendary bar. But once you're seated, everyone's equal. And you are never rushed. Much has been made about the rule at Dukes that you cannot order more than two martinis in a row. This is for good reason. Because all the spirits that go into each drink are kept at a near-frozen state of suspended entropy and only converted into kinetic, intoxicating energy when poured into a double-sized martini glass, you can't compare them to a drink that's mixed with ice. It is a serious rookie mistake to think you need more than two martinis.
There is also something special about the environment Alessandro creates in that people go dressed up. Men are, without exception, in tailored jackets and four-in-hand silk woven ties with nary a barchetta chest pocket left unadorned. Women are beautifully turned out. The horological finery in Dukes Bar is exquisite. Palazzi is always in his perfectly cut, white peaked lapel jacket, horizontally staged pocket squares and velvet evening slippers. He says as he flicks a drop of vermouth, used to just lightly scent his martini glass, into the carpet at Dukes with the effortless nonchalance of Larry Bird at the free throw line, "I think when you create something special, where it's about really relishing a moment, you invariably want to look elegant. I always respect that the client here makes an effort." And it is for this reason that Revolution, The Rake and Alessandro Palazzi naturally fell into a very special relationship, the equivalent of the U.S. and U.K.'s most favored nation free trade clause.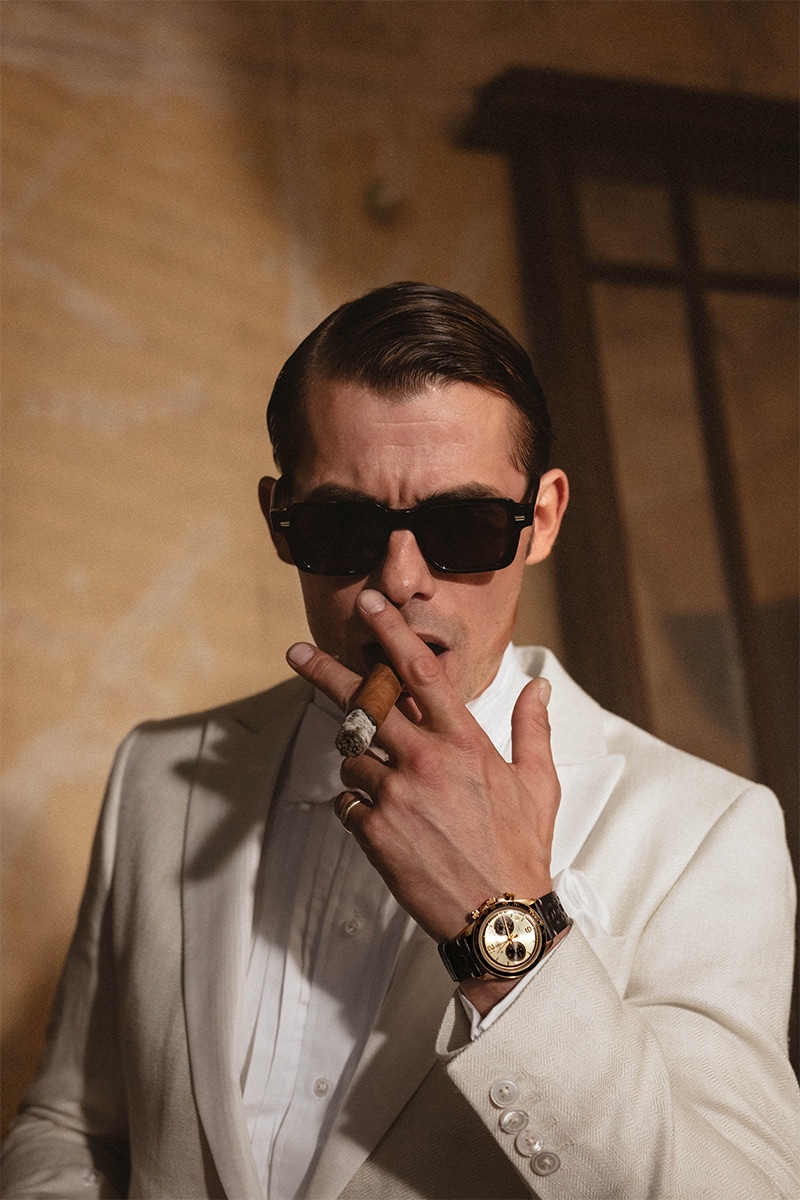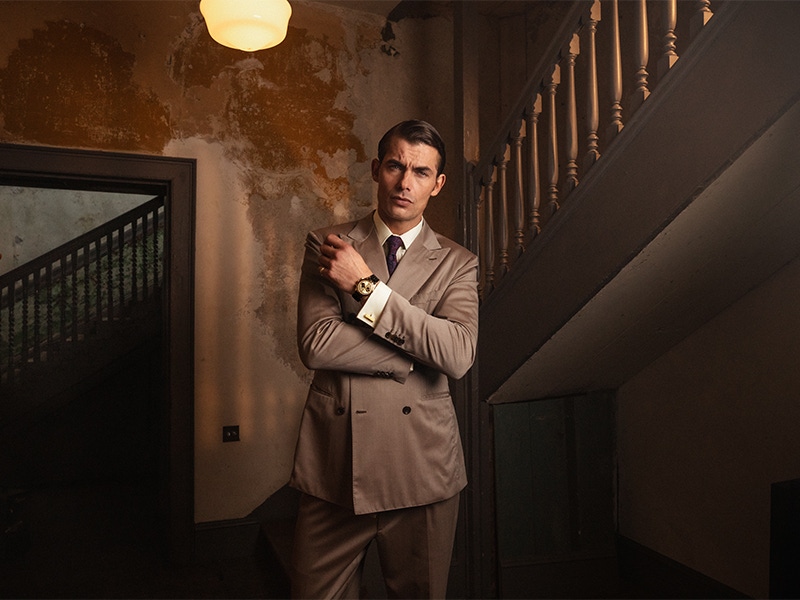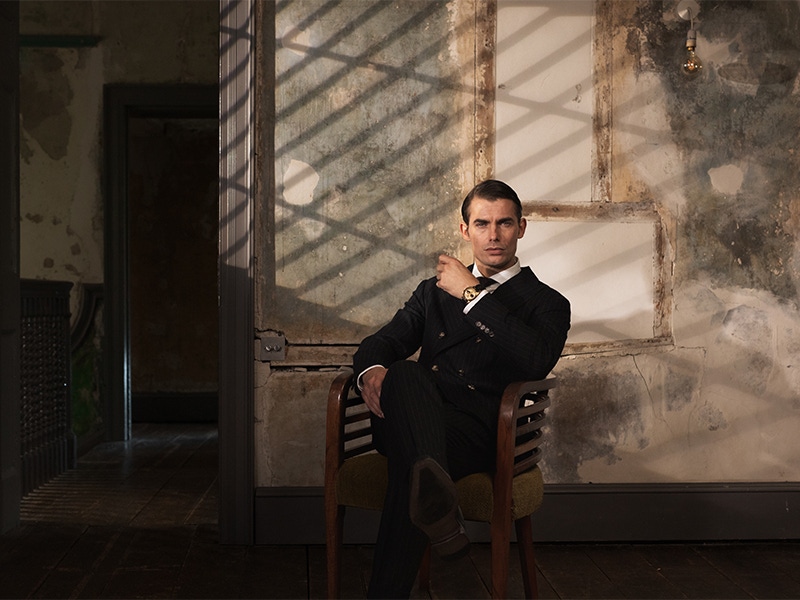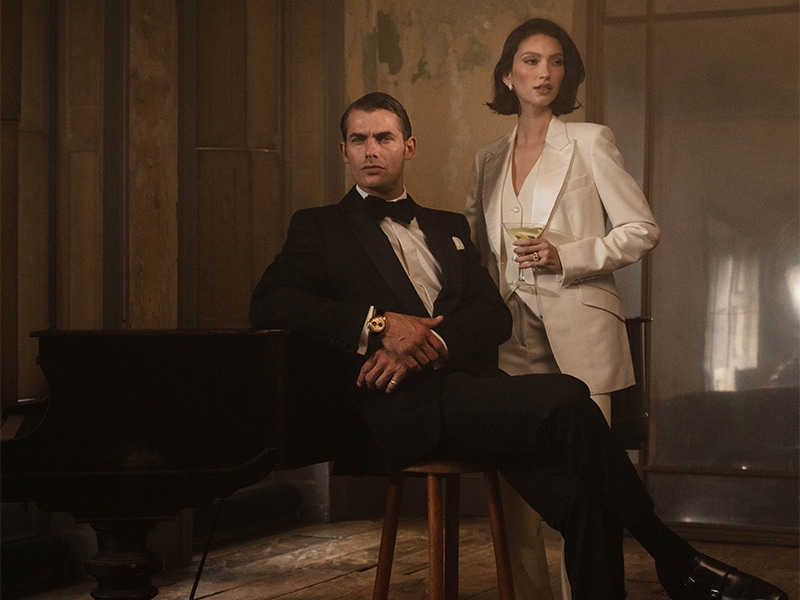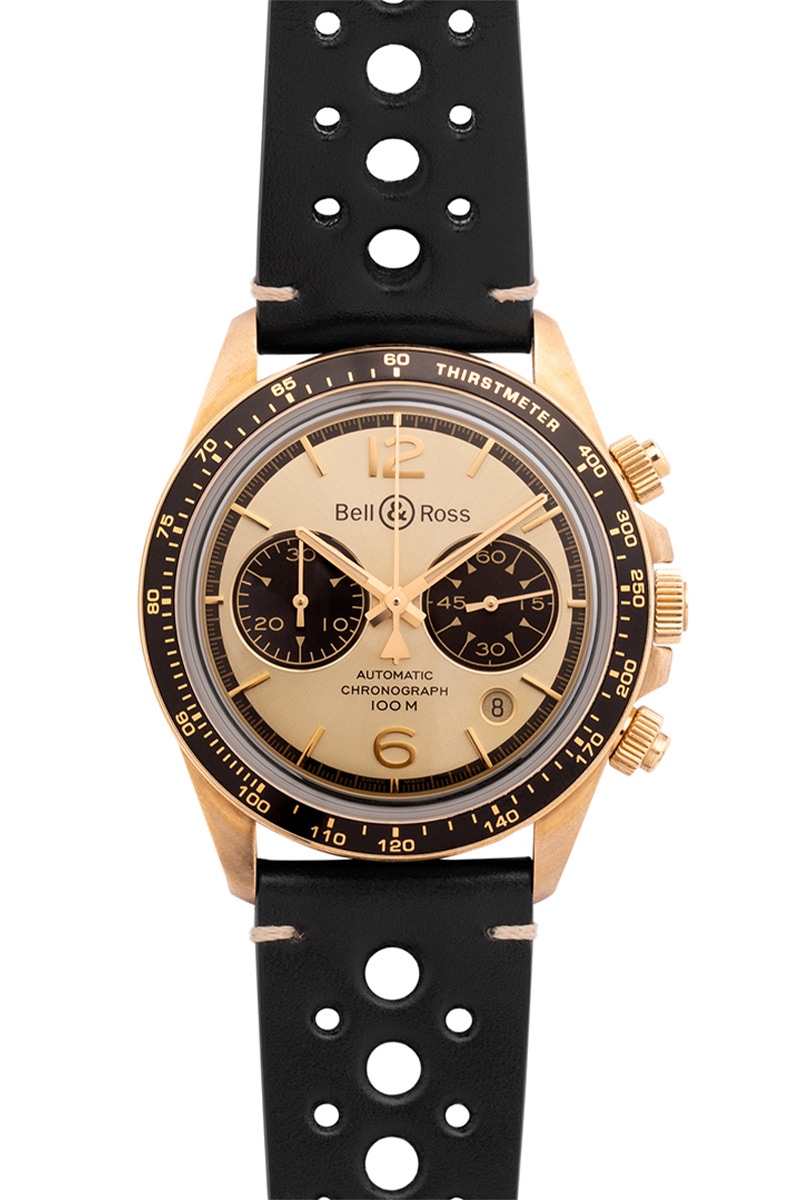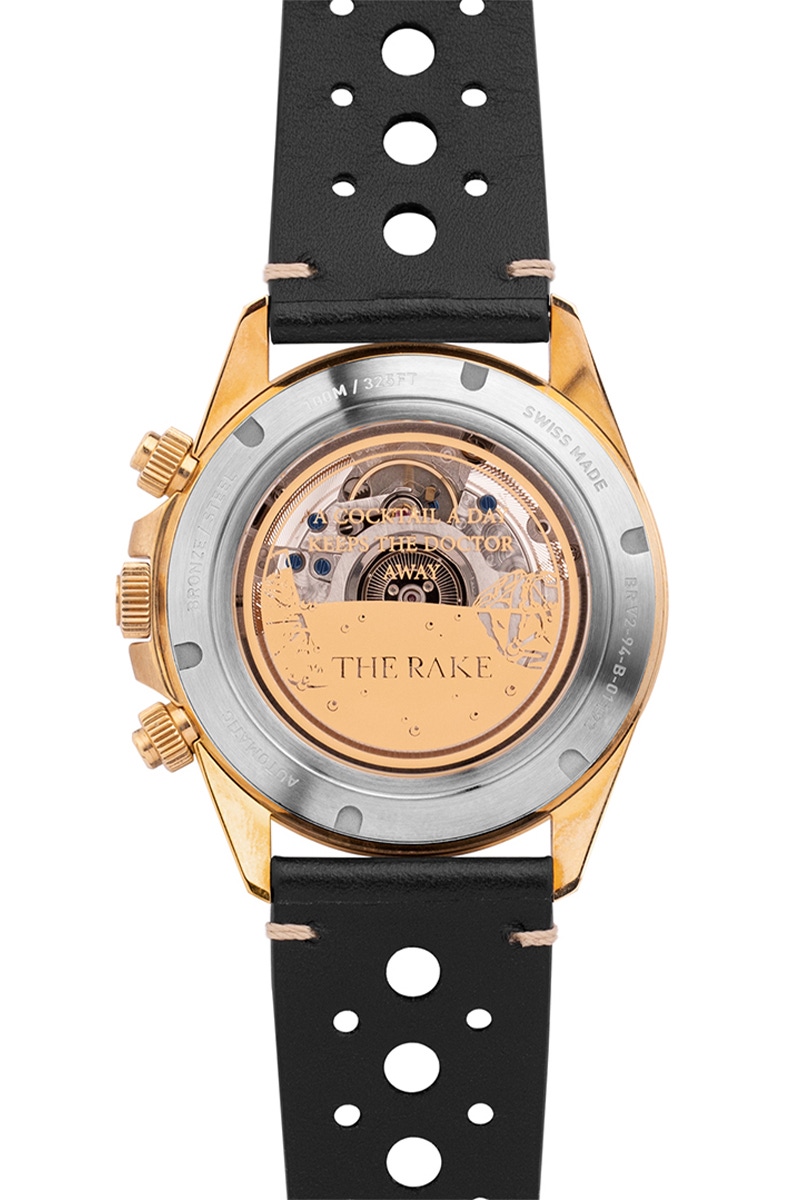 A Unique Collaboration
Of all the individuals I call friends in the watch industry, it was Bell & Ross' co-founder Carlos Rosillo that I knew would appreciate Dukes the most. I've always thought that Rosillo could have been born into another century where manners, elegance and grace were the yardsticks by which a gentleman was measured. He is always perfectly dressed in a myriad of styles, ranging from traditional suiting to urban country chic combinations of tweed jackets, gilets, ascots and boots. He is also, like myself, a sybarite of the highest order with a special passion for cocktail culture. As such, one evening when we both knew we would be in London, I knew I had to introduce him to Dukes. We agreed we needed to try Alessandro's famous Bond-inspired cocktail, the Vesper. "I've been working on a version of my Vesper and think you might like it," Alessandro said when we met him. Our Vespers arrived. Their amber hued color already gave a visual clue that they would be quite different. We all took our first sips. Then, we could only collectively gasp — the taste was simply sublime.
Rosillo and I looked at each other. As if reading each other's minds, we both thought of the same idea: What if we could create a special watch in a limited series of 50 pieces that was inspired by the delectable Vesper? Alessandro should have a hand in designing this timepiece inspired by his signature Vesper cocktail. Immediately, we set to work on the design, FaceTiming Bell & Ross' other co‐founder and creative director, Bruno Belamich. We decided on a bronze cased Bellytanker chronograph and agreed that the dial of the watch should reflect the stunning amber hue of the Vesper, complete with a Thirstmeter scale on the bezel. For the subdials, we were inspired by the markers in vintage exotic dial chronographs, but we turned these markers into miniature martini glasses.
The overall result of The Rake x Bell & Ross Bellytanker 'Vesper' Bellytanker Chronograph is something we are all very proud of. But even more than a handsome chronograph, its power lies in its role as a community symbol dedicated to the greatest barman on the planet.