The Rubinacci Manny Trouser
Responsible for creating the Neapolitan tailoring trademark, it is the Manny trouser in more modern times, that has been the fulchrum of Rubinacci's ready-to-wear imprint.
Formally an officer in a fashionable cavalry regiment, Gennaro Rubinacci, the founder of the noble house of Rubinacci had this insatiable appetite for an aesthete. It has been passed down to his son Mariano, and his grandson Luca. Luca is now at the helm and is also the firm's creative director. The Rubinacci family have been in the bespoke business since 1932, but under the chimerical vision of Luca, they launched their first ready-to-wear line in 2018, with tremendous success. Corresponding with Gennaro's military background, and an example of Luca's pioneering renaissance of historical menswear garments, the Manny trouser has long been at the forefront of their ready-to-wear mission.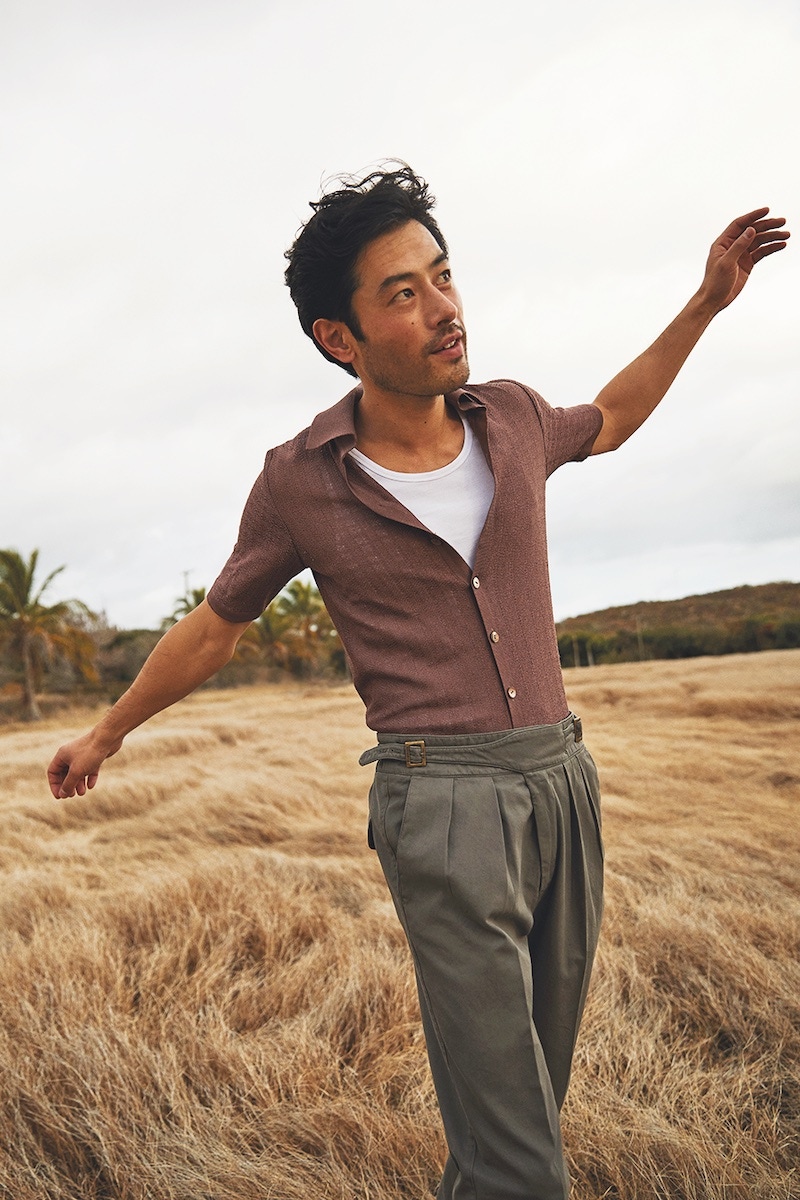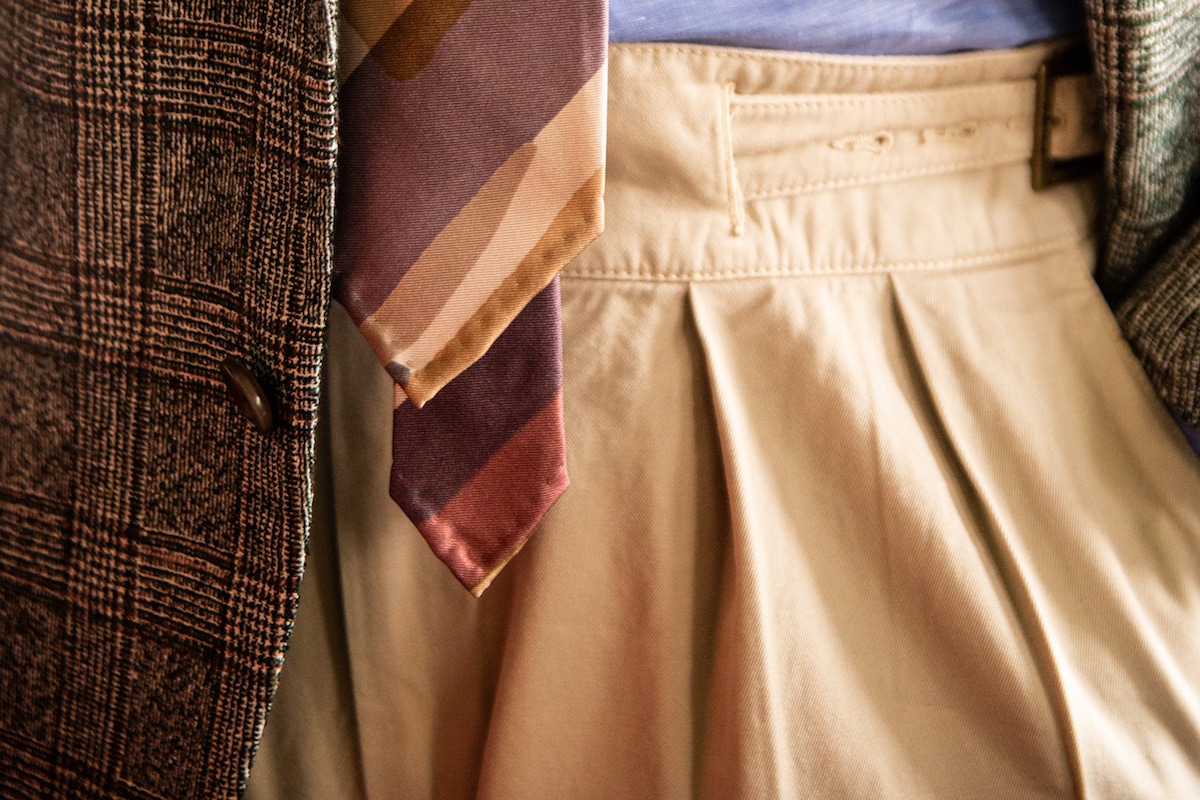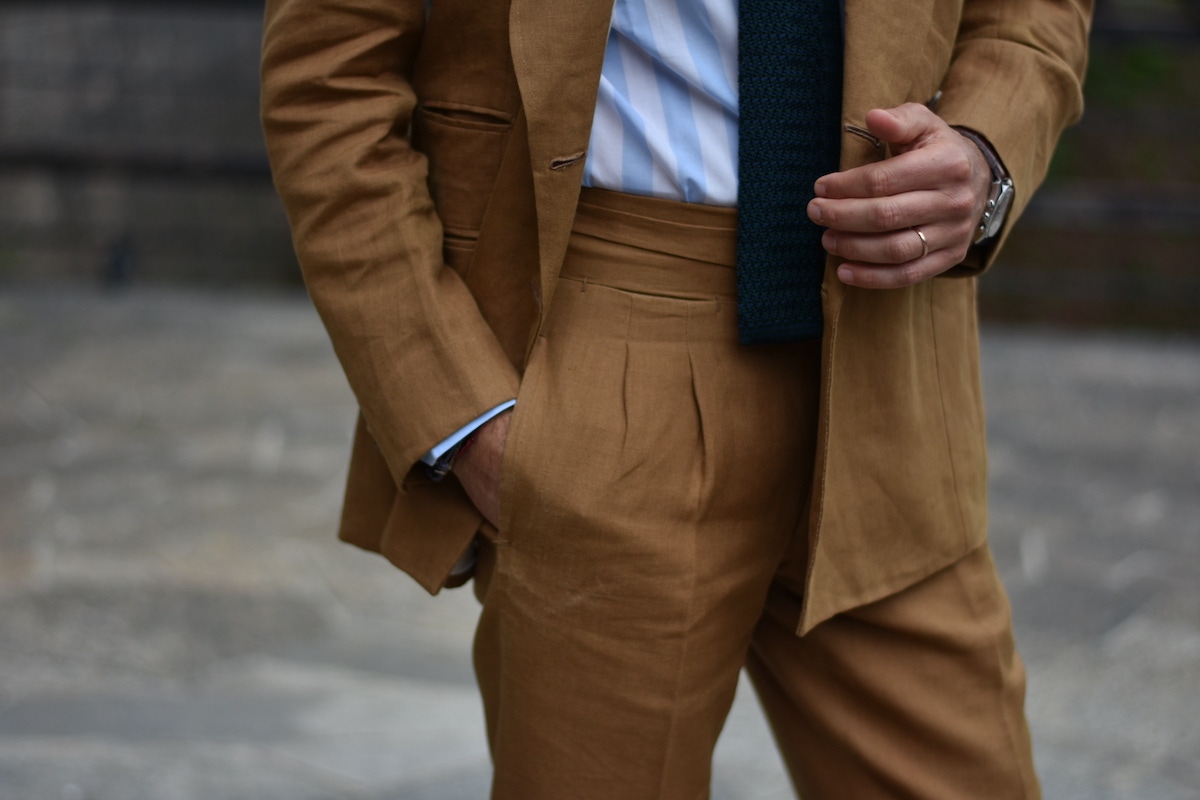 Like many of the menswear stalwarts, the Manny is actually an interpretation of a military design called the Gurkha. The Gurkha trouser takes its name from Nepal's elite soldiers and the Gurkhas themselves in turn derive their name from the Nepalese kingdom of Ghorka. The dependable trouser carries the same traits as the original worn by the military, who held out against a British army six times its size, in 1814. Today though, its adventurous spirit lives on through some of the most reputable brands in menswear, and it is Rubinacci who head up this select band. Technical, sartorial, and practical, the Gurkha trouser has been undergoing a mini renaissance in recent years. If there's ever a point when you think the resurgence is waning, it doesn't because Rubinacci consistently produce innovative and attractive new versions. None more so than their latest crop, which is a brilliant rendition on how to deliver creative, suitable and delectable designs according to the season. A large part of this is their ability to spawn fresh colour palettes, whilst playing around with fabrics, the latter an area they're particularly renowned for, considering they own an archive of 200,000 feet of the rarest and best vintage cloth.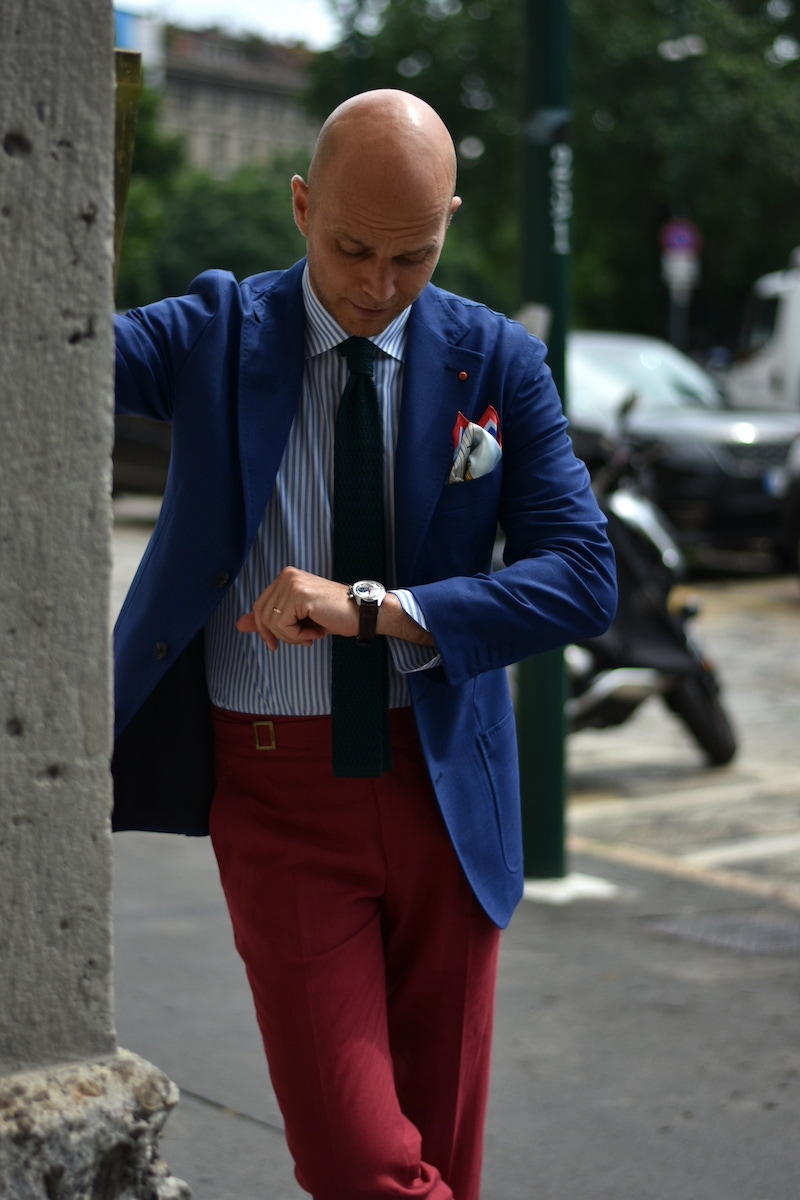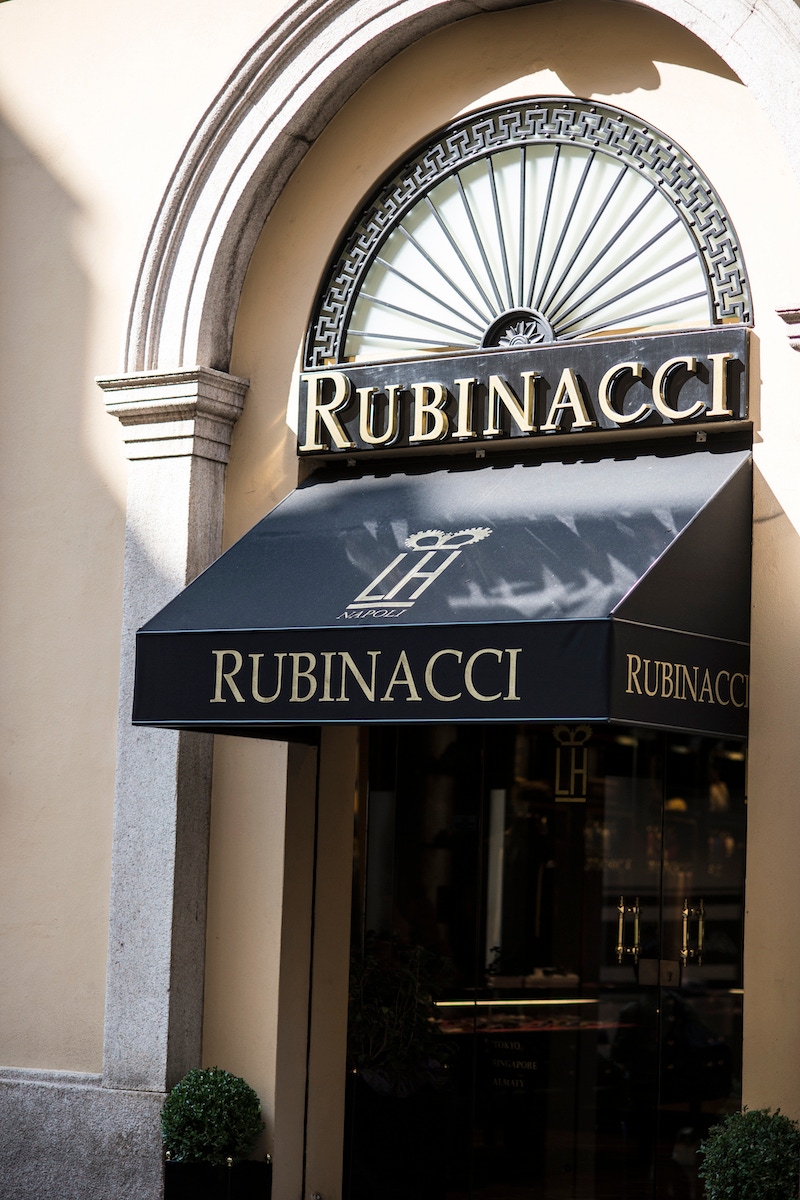 Complex in nature but clean in silhouette, the Manny trouser in linen comprises all of the characteristics to navigate the rising temperatures. Luca Rubinacci has never been afraid to sport flamboyant colours, and a fine tribute to his own way of dressing is the red linen Manny trouser. You have to be careful with red, as there's a fine line between looking garish and cool, but Rubinacci always manage to choose the right tone, which is also bolstered by the quality of the trousers' texture. Manny trousers have this marvellous ability to be informal or formal depending on what you pair them with. For a casual garden party in the height of summer, wear a white knitted T-shirt tucked into the trousers for a neat-yet-relaxed appearance. They arrive with plenty of room in the waist before tapering in the leg, and come unhemmed, giving you the option in how you prefer to finish them. If red isn't your colour, you can find this linen version in beautiful shades of blue and sage green.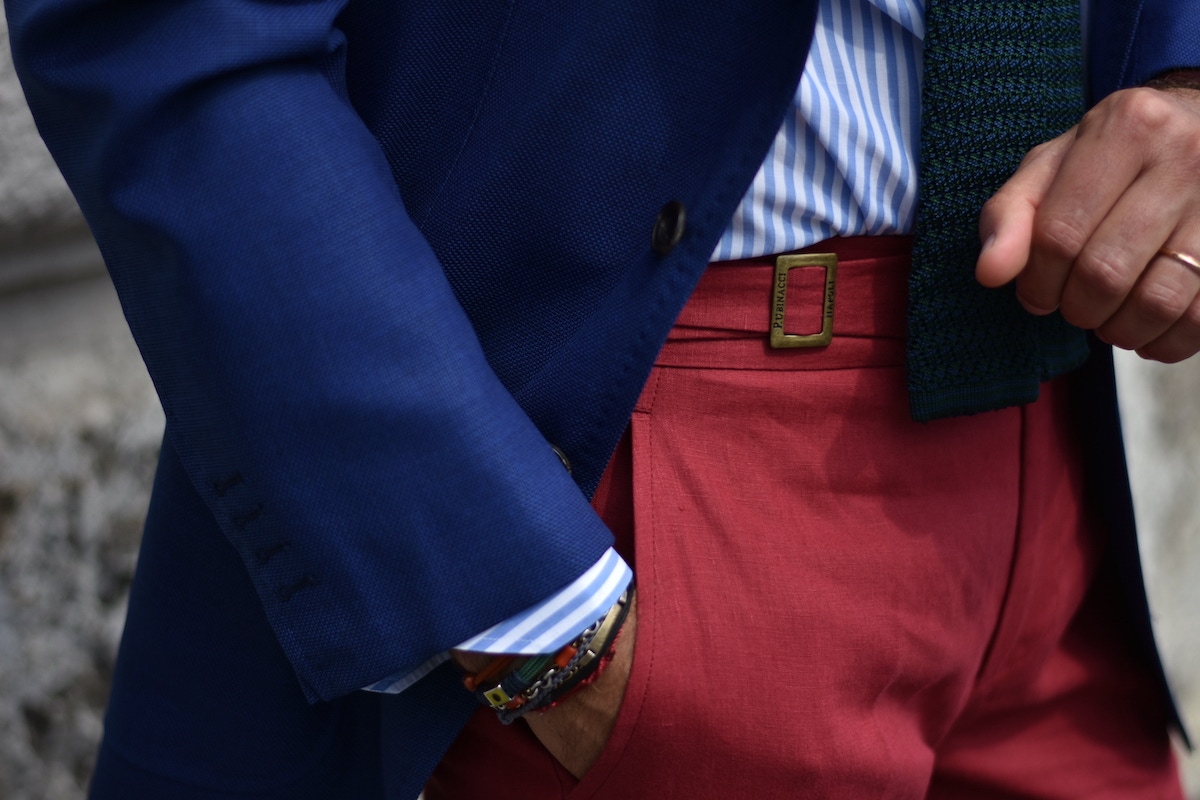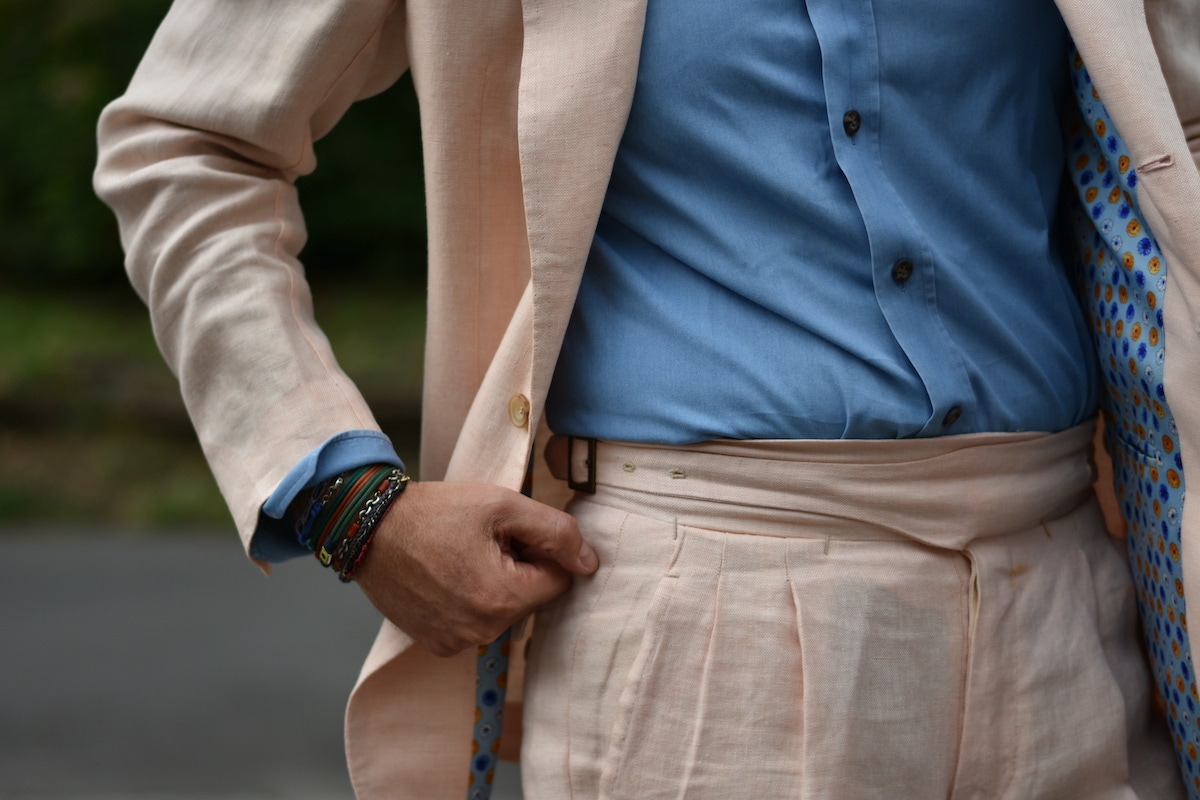 The Manny trouser comprises many of the traditional trimmings you expect with classic-cut trousers made by the most skilled artisans. Double-pleated, and strap side adjusters replicate the aforementioned classic details, but it is the Gurkha waistband which is the point of difference. One of the main virtues of this waistband is that it really accentuates the physical attributes of a man's waist, compared to other low-rise trousers with belt loops. Some people disregard wool in summer, but a hopsack wool fabric, whose weave structure is open and loose is perfectly acceptable in warmer climes, and when imbued on a Rubinacci Manny trouser, it can actually be your go-to summer pant. Extending their colour repertoire, you can now find this breathable hopsack wool version in Tasmanian Navy, charcoal grey, blue, grey, dark grey and light grey. Elsewhere, and arguably the most popular fabric since their inception, their cotton versions now come in wine and brown, whilst not forgetting their wool flannel trousers, which will be better suited to a chilly summer's evening, or one to keep in your wardrobe for when the leaves fall off the trees.