THE SHAPE OF THINGS TO COME
A new generation of female artisans is redefining what it means to be a British tailor. ALEKS CVETKOVIC talks to seven who are leading the charge.
"It takes nine tailors to make a man," said the Elizabethan writer John Heywood. Well, Mr. Heywood, we have news for you. These days, we think it takes only seven. And not the seven you'd necessarily expect, either. You see, we men, we simple creatures, can be depressingly narrow minded. If I say to you, 'Oh, my tailor's very good, you know', I'm willing to bet that nine times out of 10 your mind will jump to a figure of a greying, pinstripe-clad, round-bellied man with a pair of well-worn shears in his hand, but that's a gross misconception now. In reality, tailoring in London and beyond is thriving in the hands of a young generation made up by as many forward-thinking, creative women as it is men. Savile Row, in particular, has done excellent work in attracting and fostering talent in both genders in recent years, with its apprenticeship schemes and close links to Newham College and the London College of Fashion. In fact, the majority of this portfolio is made up of remarkably talented women who started on tailoring courses or Savile Row apprenticeships just a few years ago. We're also keen to point out that this snapshot of seven brilliant women is merely a sample of the great female talent in tailoring (and in menswear generally, for that matter). We think you should know about these seven because they're young and making waves, but credit should likewise go to those women who paved the way in a traditional industry, and to the dozens of other brilliant cutters, tailors, entrepreneurs and creatives working in tailoring today. We salute you all! Special mention should also go to Kathryn Sargent, the first female head cutter in Savile Row's history, and the Row's first female master tailor. Anda Rowland, too, deserves plaudits for steering Anderson & Sheppard through both smooth and stormy seas for years: she was one of the first female business owners in bespoke tailoring, and to this day is one of Savile Row's most successful and respected figureheads. Our chosen talents here serve to prove a point that's very close to my 27-year-old heart. Young people are more than capable of doing great things, and woe betide anyone who tells us otherwise. The women in this portfolio are in their mid twenties to their mid thirties, and while they represent the future of an industry in its various forms — bespoke and made-to-measure — they are also at the forefront of the industry today. They testify to its vibrancy and its resilience during what continues to be a hugely challenging time. It's been a privilege to profile them, and we hope you enjoy reading about them.
Antonia Ede, founder, Montague Ede
Anyone with a clue about Savile Row will tell you that not only is Antonia Ede a delight to be around, she's an authentic bespoke tailor, through and through. She founded her namesake house, Montague Ede, in 2016, after an apprenticeship at Hardy Amies and several years cutting at Huntsman. Today, Montague Ede's headquarters are just a few blocks up from the Row, in an airy first-floor studio on Hanover Street, where Antonia works with a small and equally friendly team of coatmakers, apprentices, and bespoke shirtmaker Deema Abi-Chahine. Like many of the women in this portfolio, the motivation for striking out on her own was the opportunity to work on something fresher than a position cutting for one of Savile Row's oldest houses would allow. "I just wanted to have the chance to be a bit more creative with clients; going my own way was an opportunity to cut something other than a blue suit," she says. "I've always tried to make bespoke more accessible and less intimidating for guys, and to open up traditional tailoring to a generation that haven't explored it before." Ede's work attests to this. She's comfortable with everything from three-piece morning suits to unstructured corduroy sports coats. Recently, for example, she created a lightly structured travel jacket for me (which has affectionately taken on the moniker of my 'pub jacket' because it's such a comfortable piece to throw on) with a host of interesting features, including shirt-sleeve cuffs, an inverted box-pleat back, and bellows pockets at the hips. She did this, moreover, in a new washed wool jersey fabric woven by Holland & Sherry, which you'd expect to be a nightmare to tailor thanks to its stretch. "Pieces like that make this job worth doing," she says. "It's great to be challenged and to experiment with garments that feel relevant to today. Yes, I cut a suit that's informed by my training, but I also enjoy cutting a more Italian or American shape where it suits the client. We're all about making clothes you'll actually want to wear." Antonia's website touts Montague Ede as a "modern bespoke tailor with a traditional background". We think that's spot on. If you're looking for all of Savile Row's signature care and skill, wrapped up in an approachable, welcoming experience, Antonia is your woman.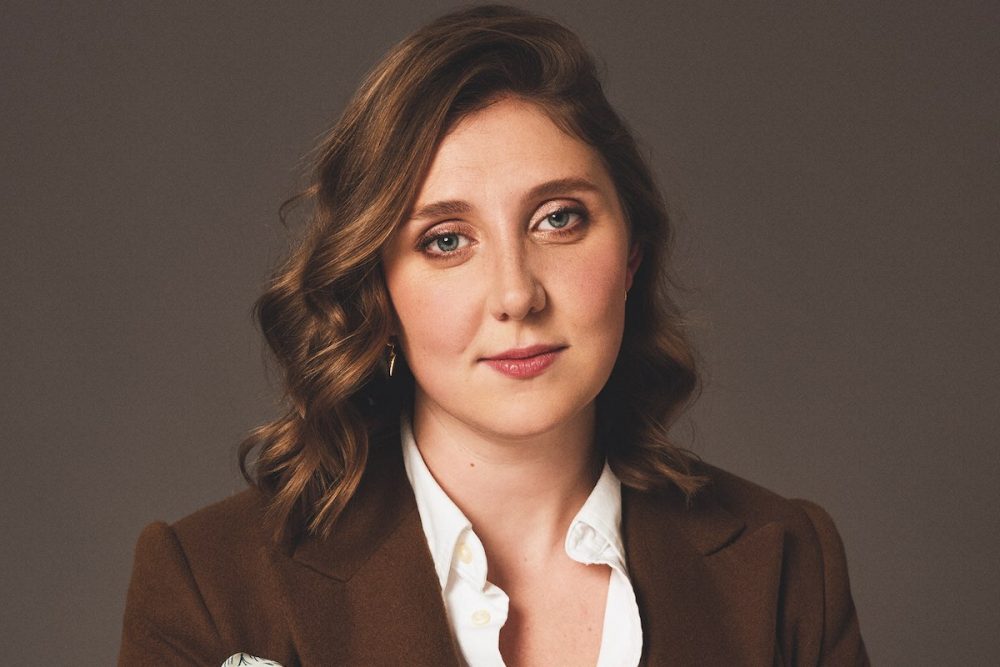 Caroline Andrew, founder, Caroline Andrew London
For someone so elegant and softly spoken, you could be forgiven for thinking that Caroline Andrew had breezed into her place in London's tailoring scene. Not so. "I always wanted to be a cutter, but I worked for free for a long time just to spend time in tailoring workshops," she tells me, sitting in a leather-backed armchair in her space on George Street in Mayfair. "I was sidelined for cutting apprenticeships a few times. I remember being offered a place as a waistcoat maker in a Savile Row firm having worked there for free for months and thinking, Nope, I'm going to do this my way. I probably should have taken it, but I was determined to cut." Eventually, of course, Andrew's determination shone through. Today, she has her name above the door in one of the quaintest workrooms in London: she's based on the ground floor of the 'tailors' den', a four-storey townhouse with mullioned windows, mahogany cutting tables and faded oil portraits on the walls. She shares the space with a number of other independent tailors, hence the space's nickname. It's something of a time warp, which sits in contrast to Andrew's warm and distinctly unstuffy approach to working with clients. She also has a second shop in Kensington, which proved to be a very useful outreach space during a disrupted 2020, connecting her to a new localised client base in west London. "There was a point in time, after I'd been working for free in my third or fourth tailor, when my parents said, 'Come home to Scotland, you can get a job in Edinburgh'," Andrew says. "I just thought, I'm not ready. I'm not going to be defeated by this, I've got to make it work. I never did a conventional apprenticeship, but I found my way through; I've had loads of help from really good people in the industry, and just learned through my own process." Caroline cuts for men and women, and applies her contemporary philosophy to a traditional Savile Row fitting process, with basted and forward fittings all part and parcel of what she does. "Fit is hugely important, of course, but you have to make sure the style works well with the fit and the cut," she explains. "In tailoring, sometimes, people obsess so much with the fit but create a suit that's completely un-sexy or unfashionable. It just becomes an old suit that fits well; that's not what we're about." Her ready-to-wear field jackets (a new experiment) demonstrate her dexterity as a tailor: she is capable of creating both formal and casual pieces that are relevant to today. She also channels her Scottish roots with plenty of chic creations in her exclusive Black Watch tartan suiting cloth. Caroline and the other women in this portfolio represent an exciting and dynamic perspective in bespoke tailoring, one we're very pleased to have shone a small light on.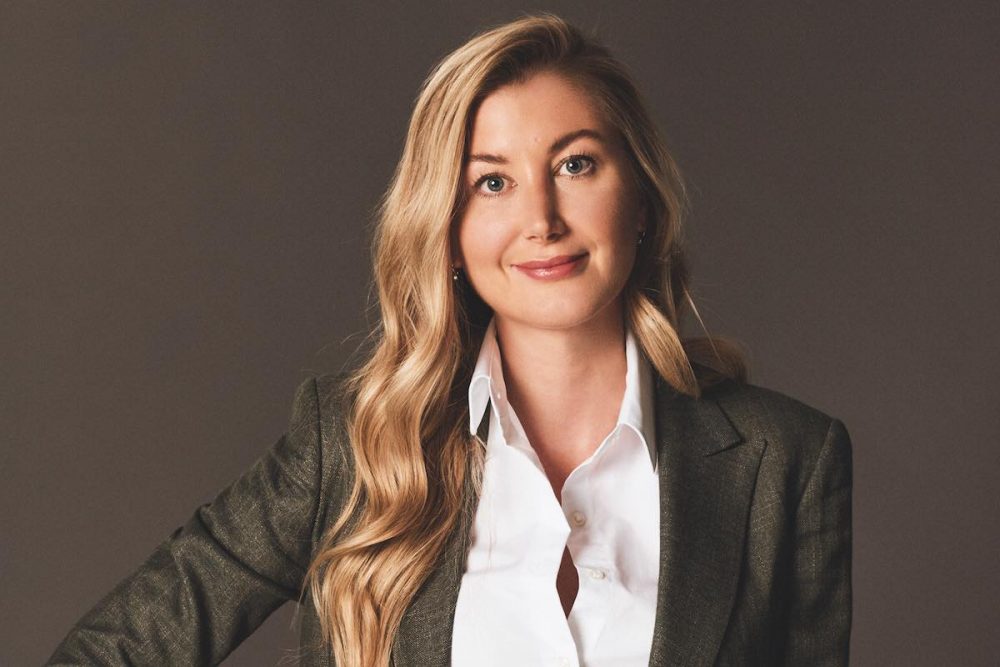 Claire Emerson, bespoke coatmaker
"When I first went freelance, all the tailors told me, 'Only stick to making for a couple of houses, because otherwise you'll be overwhelmed'," Claire Emerson tells us. "I ignored their advice and started to make for everyone I could." This gumption paid dividends. Today, Emerson is one of Savile Row's hardest working and best-established freelance coatmakers, making for everyone from Gieves & Hawkes to the aforementioned Dobrik & Lawton. "I enjoy the challenge," she says. "When I was in-house, I had to work quite closely to one house style, whereas now I get to learn different approaches and techniques, and to adapt to tailors who construct their coats differently." Emerson struck out on her own following an impressive 10 years in-house at Edward Sexton, where she worked closely with the master himself and trained several juniors in Sexton's Knightsbridge workroom. On paper, her résumé sounds formidable, but nevertheless it's not always been plain sailing working in such a traditional industry. "During my apprenticeship, I asked why women tailors were referred to as 'kippers'," she says. "I was told, 'They were safer in pairs'. It hasn't always been easy for women in tailoring, but thankfully with the younger generation arriving, things have improved drastically. For a good time at Sexton's we were an all-female workshop, and we were thriving." Claire's story — from inquisitive student to established professional — is one many young, hopeful apprentices can benefit from. "When I started on the tailoring course at Newham College, I didn't even know how to use a sewing machine," she jokes, "and when I first interviewed with Edward I had no idea who he was. I remember him asking me, 'Do you know who I am?', before telling me, 'I suggest you go away and research what we do here before you start'. That feels like a long time ago." With her recent creations ranging from immaculate morning coats to sharp-looking tweed sports coats, and even a stunning double-breasted Steiff alpaca teddy bear coat with heroic lapels, there's not a lot that Claire hasn't mastered.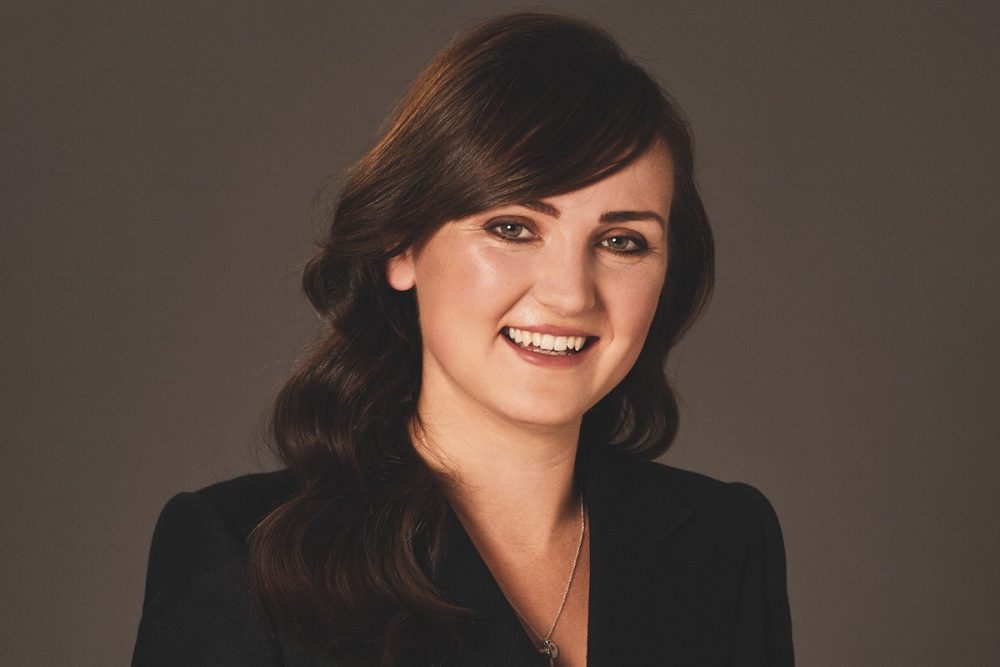 Daisy Knatchbull, founder, The Deck London
In all the years I've reported on Savile Row, one depressing reality has stayed with me. Several established tailors — all men, I should add — have at one time or another told me, "I won't make suits for women, it's too difficult". Evidently, some parts of the establishment have struggled to find a formula for women's tailoring that works. Now, finally, Daisy Knatchbull's endeavour, The Deck London, has cracked the code. A glamorous new tailor for women, with an equally glamorous new shop at 19 Savile Row, Knatchbull's young brand has made a name as a must-try women's-only tailor in less than two years, with plenty of red carpet looks to its name. "I've still got major imposter syndrome with the whole thing," she says. "But we managed to survive a global pandemic, so that is pretty exciting. I feel very, very lucky because it is such a difficult time for retail. We've got a very strong, loyal client base and we're just taking each day as it comes." The other thing about Knatchbull is her transparency. She's refreshingly candid about what The Deck offers and where she sees her place in the tailoring world. "I by no means want to say we're bespoke, because we're not, and I respect the bespoke tailoring community around me," she says. "It's difficult because the fashion industry call us 'bespoke', and I always correct people on that because, yes, The Deck is bespoke in the sense that you customise your suit, but we don't follow Savile Row's traditional paper-pattern formula." Instead, Knatchbull has done a smart job of mixing bespoke elements into the made-to-measure process. Customers are fitted in trial garments to manipulate pre-determined master patterns, but these patterns were cut by a female Savile Row tailor with plenty of hands-on experience for what it takes to get a woman's suit looking pin-sharp. Clients also have a greater degree of freedom over their suits than is conventional: lapel shape and width can be adjusted, for example, not something made-to-measure usually caters for. The result is a suit that's competitively priced, well made, and sexy. It's a winning formula, and The Deck's rapid growth (Knatchbull set up shop in May 2019) proves the point. You can spot one of The Deck's suits a mile off, particularly cut in the house's signature bottle-green velvet or cream gabardine, but Knatchbull thinks in terms of a philosophy rather than a house style. "We talk in terms of 'classical elegance meets modern femininity'. We're about that very structured look with a strong shoulder, set against a feminine, nipped-in waist." Sounds good to us.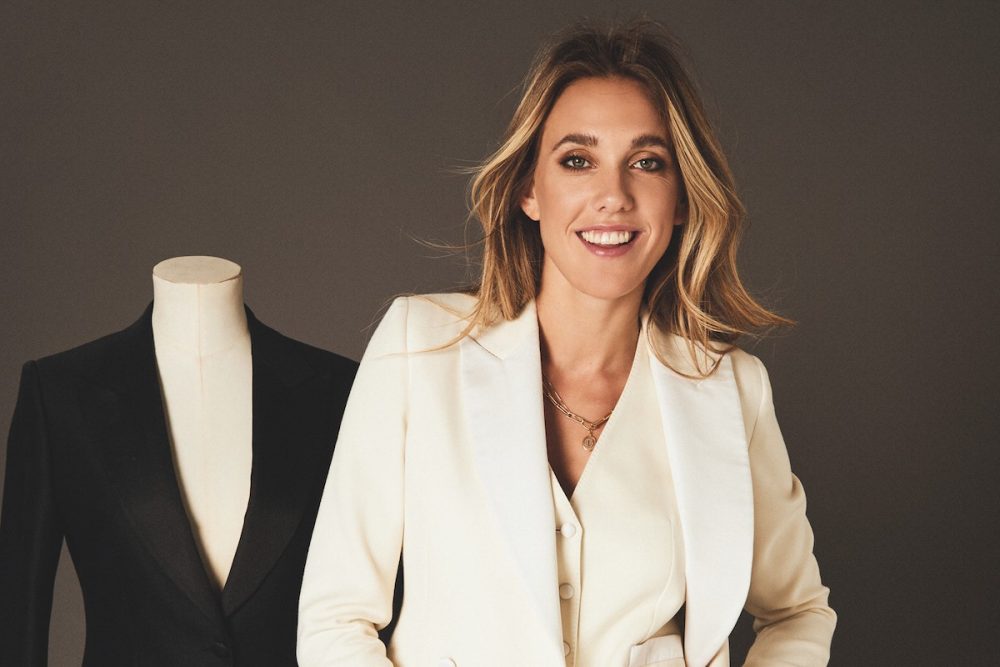 Kimberley Lawton, co-founder, Dobrik & Lawton
From their studio in north-east London, Kimberley Lawton and her partner, Joshua Dobrik, cut bespoke clothes that — in this writer's humble view — are some of the most unique creations to come out of London in decades. In fact, I'd go so far as to say that Dobrik & Lawton, while a young house staffed by two young tailors, is pushing harder to innovate and disrupt what it means to cut and make a suit by hand than any other British tailor today. Like all the best creatives, Lawton and Dobrik are endearingly low-key about their work, shunning the limelight in favour of tinkering with patterns and perfecting lapel rolls, but Lawton will at least give me a brief synopsis of how she and Dobrik connected in the first place. The pair met as cutters at Huntsman: Lawton was finishing an apprenticeship and Dobrik had just moved from Edward Sexton. "When we met, we realised we had the same interest in thirties and forties tailoring — Hollywood style and art deco lines, waisted silhouettes, big lapels and seventies flares," she says. "We got bored of making conventional navy and grey suits pretty quickly, and used to stay behind after work to experiment with new patterns and shapes. About a year after we started working together, we just thought, We've got nothing to lose by going it alone, and that was it." That was in March 2018, and since then, Dobrik and Lawton have honed their house look and started to pick up traction with fashion press and clients. It's easy to see why when one of their suits is in front of you. Their look is unashamedly directional, with powerful shoulders, a super-high sculpted waist, dynamic flared trousers and panel back jackets made up of several pieces that are cut and shaped to follow the spine over multiple fittings. Seemingly, no challenge is too great for this ambitious pair. As well as house-style tailoring, they've made several casual battledress jackets and even a futuristic breastplate suit for Brian May's 2019 live tour. It's tempting to think of Dobrik & Lawton as a 21st century 'Nutter's of Savile Row', and certainly there are parallels in the rebellious quality of both houses' work. I think, though, this does Kimberley and Joshua a disservice. Their philosophy on tailoring is uniquely bold and brave, taking influence from everything from 1930s couture to 1970s prog rock power suiting to the gender-fluid designs of fashion houses like Gucci and Celine. It feels unashamedly youthful and extremely exciting.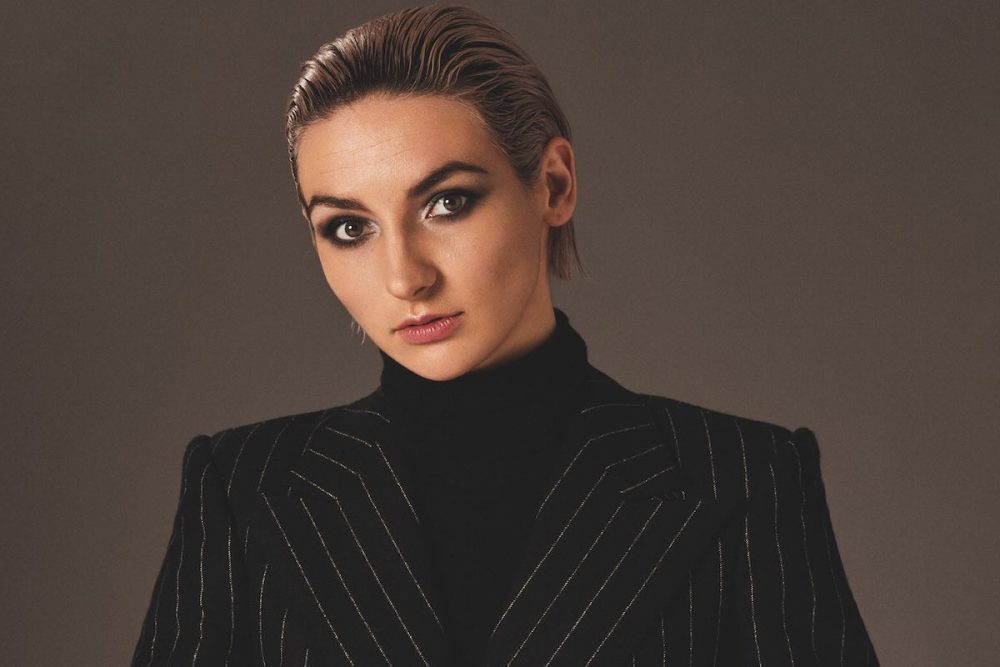 Phoebe Gormley, founder, Gormley & Gamble
"It's a scary time to be running a small business, particularly in our industry," says Phoebe Gormley, the founder of Gormley & Gamble. "Obviously, business dress and occasionwear are two of tailoring's biggest focuses and the two areas in one's wardrobe that people aren't wearing right now. But, 2020 was also a good opportunity to reflect and think about how we can do things in a more agile, forward-thinking way." You might have guessed that Gormley isn't risk-averse. She dropped out of university in 2014 aged 20 to launch her made-to-measure, women's only tailoring business, hence the name, '& Gamble'. "I moved to London with a suitcase and a pot plant, and set-up in a co-working space," she says. Skip forwards to 2021, and the business is going great guns, despite the challenges Covid has thrown in the way of tailors large and small. This success can be put down in part to Phoebe's ambition — "I remember wearing a suit to my first internship, and a guy said to me, 'You suits think you can rule the world'; I thought, Running the world sounds awesome," she tells me — but you can also put it down to her intuitive attention to the fit of her garments. "I think it takes personal experience to know, as a woman, where clothes pinch and flatter, and where you need a bit of extra space or not. Fabric is hugely important, too. We work with a lot of 'hi-tech' fabrics by tailoring standards; we'll encourage our clients to choose something with a four-way stretch to it over a traditional Harris tweed, for example. We work a lot with crepes and other cloths that are just that little bit more feminine." Where does Gormley see women's tailoring heading? "Post-Covid, I think people will move from 10 or 15 mediocre work outfits to three or four looks they'll feel amazing in when they need to head into the office. The changes in work culture we're seeing today do have some positives, including the way people view their working wardrobes. More people are thinking in terms of owning a handful of really special pieces you cherish and look after." Certainly, in a world in which formalwear is changing, businesses like Gormley & Gamble feel reassuringly future-proof. We look forward to seeing how G&G continue to evolve.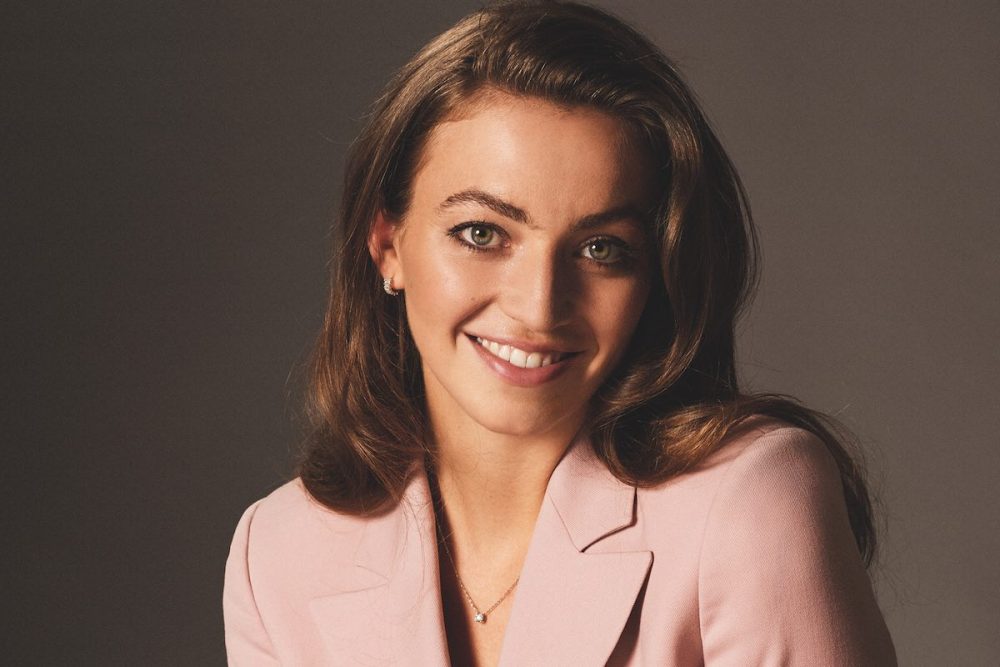 Zoe Yates, bespoke coatmaker
As a tailoring enthusiast it's very easy to idolise your cutter as the sole architect of a beloved suit, but individuals such as Zoe Yates serve as a healthy reminder that every piece you order passes through multiple pairs of highly skilled hands, often young and creative ones. Yates is the first of two self-employed coatmakers to feature in this portfolio, and it's important to acknowledge that she and her compatriot, Claire Emerson, represent a whole network of young talent in British tailoring. There are dozens of highly skilled twentysomething tailors like Yates tucked away in workrooms on Savile Row, from undercutters to finishers, without whom British bespoke tailoring couldn't function. The daughter of a willow artisan and an artist, Yates was born to do something equally creative. "I never really wanted to do anything academic," she tells me. "When I was a teenager, I spent a lot of time making clothes, but kept getting frustrated that I couldn't make things as well as I wanted them to be made, so I got on to the tailoring course at London College of Fashion (LCF) straight from school and that was it." Zoe went on to work at City tailor Couch & Hoskin for five-and-a-half years, learning coatmaking and greeting clients front-of-house. She entered the prestigious Golden Shears competition in the process, before taking the leap to freelancing two years ago. Thanks to her move to the LCF at a young age, she was only 24 years old when she decided to go freelance — a brave move that has paid off. Today, Zoe works primarily with another freelancer, Fred Nieddu, a cutter who works on a variety of projects, including high-profile T.V. and film wardrobe commissions. The pair work together in a stylish east London studio, and wandering in there of a rainy afternoon is food for the soul; watching two friends beavering away together, bringing clothes to life with their hands, is a lovely thing to see in today's relentlessly digital world. "I really enjoy our set-up in the studio," Yates says. "I see myself learning a lot more, getting better, doing more interesting projects, and growing as a tailor — but this is more or less my dream set-up. I really enjoy freelancing and having a variety of work, and I'm grateful for the opportunity to work with people I like and respect." Long may it continue.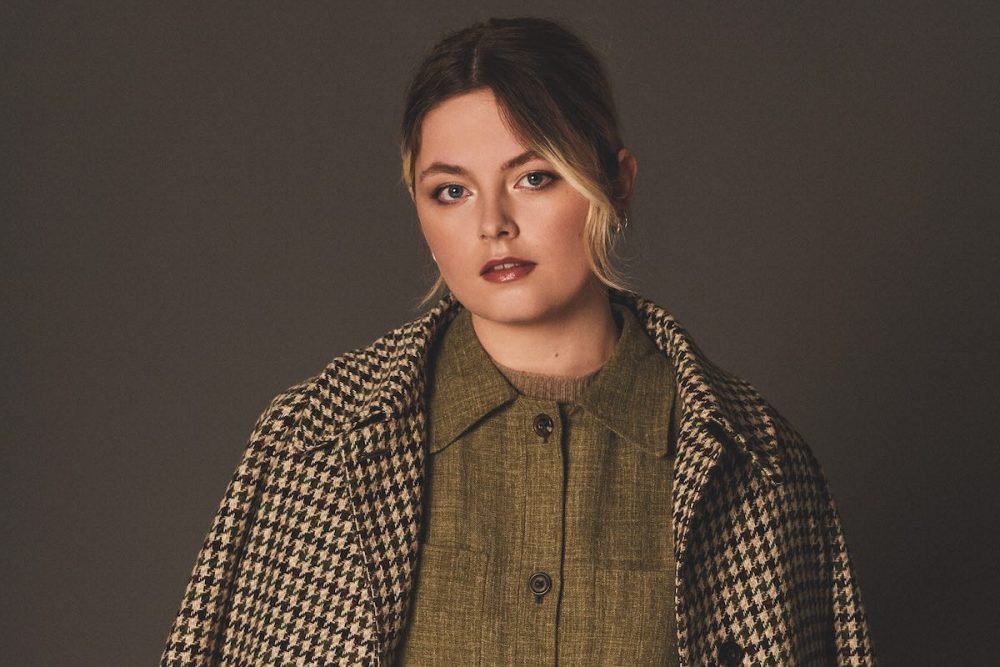 You can also read this feature in Issue 74 of
The Rake
- on newsstands worldwide now. Available to buy immediately now on TheRake.com as
single issue
,
12 month subscription
or
24 month subscription.
Subscribers, please allow up to 3 weeks to receive your magazine.