The Sky Devil: Howard Hughes
Pilot, petrol-head and womaniser, Howard Hughes' had an impressive repertoire, but there was a darker side to the director, The Rake discovers.
The true tragedy of Howard Hughes is that the world often remembers him as only as a victim of mental illness. It's true that a combination of psychological issues and injuries combined to eventually drive him into seclusion and deeply erratic behaviour. But such a reductive reading of his life overlooks his almost incomparable achievements. Industrialist, playboy, filmmaker, aviator, philanthropist - Howard Hughes was all of these things. A man of audacious ambition, incredible intellect and magnetic charm, he left an indelible mark on twentieth century America. His eventual decline adds a tragic coda to his life, but what a life it was. Howard Hughes was born in Texas, the son of Allene and Howard Hughes Sr. From an early age he had demonstrated brilliant technical aptitude - building Houston's first wireless transmitter at eleven, developing his own motorised bike at twelve and taking flying lessons at just age fourteen. Howard Senior had made his fortune in tools, having developed the revolutionary two-bit drill. Both parents died within two years of each other, leaving Howard Jr. a millionaire at nineteen. Hughes Jr. decided to leave the running of his father's tools company to others, and set out to make a name for himself in Hollywood. He initially began as a film producer, however his first feature was deemed so bad that it never got released. He eventually took over as director of the World War I action film Hell's Angels, after the film's first two directors found him too difficult to deal with. Hell's Angels had a troubled production; Hughes, by this time an avid aviator, was obsessed with the authenticity of the aerial sequences and demanded constant reshoots. Three pilots died and Hughes himself was involved in a serious crash. When he discovered that other films were being filmed with sound, as opposed to silent, he then demanded that much of the film be reshot again, to incorporate this new technology. Not surprisingly it was the most expensive film ever made at the time, but it eventually became a successful hit for Hughes, and he followed it up with Scarface (which would be famously be remade by Brian de Palma in 1983) and The Outlaw. Hollywood's other appeal for Hughes was, famously, women, and on that front too he was, to put it mildly, successful. Katherine Hepburn, Ava Gardner, Ginger Rogers, Bette Davis, Faith Domergue, Olivia de Havilland and Rita Hayworth were all paramours of his at various times. He proposed to Joan Fontaine several times, however was rebuffed, as he was by Gene Tierney, who said he was 'incapable of loving anything that didn't have a motor in it.' Nonetheless, the two became friends and Hughes would later financially support Tierney when her daughter was born blind and deaf, paying all of Tierney's medical expenses.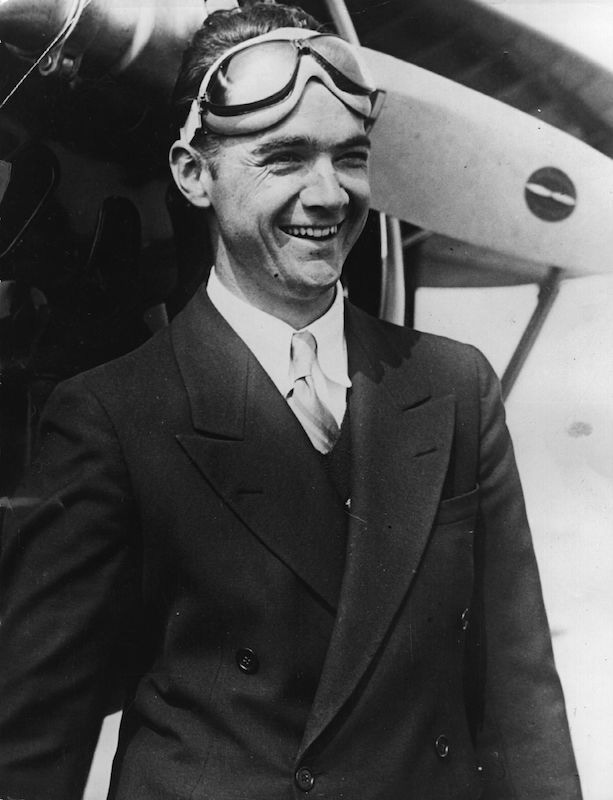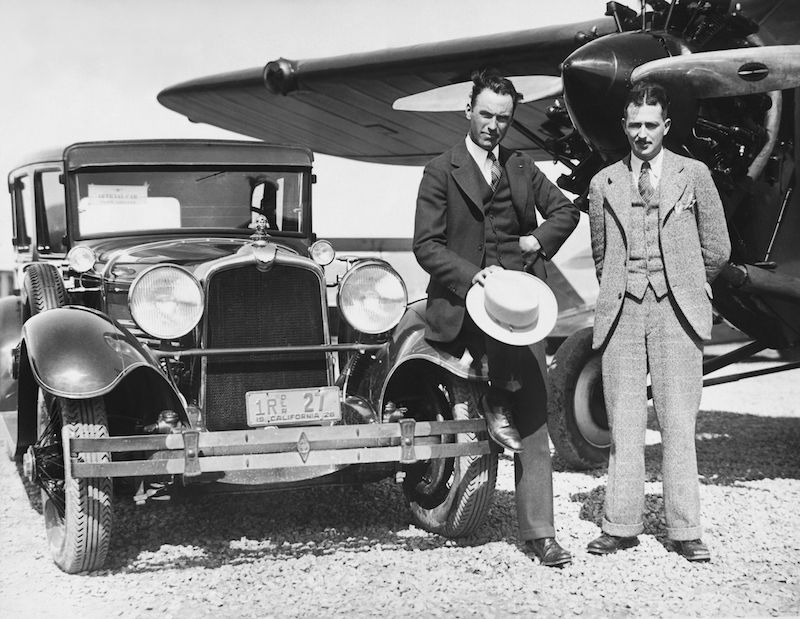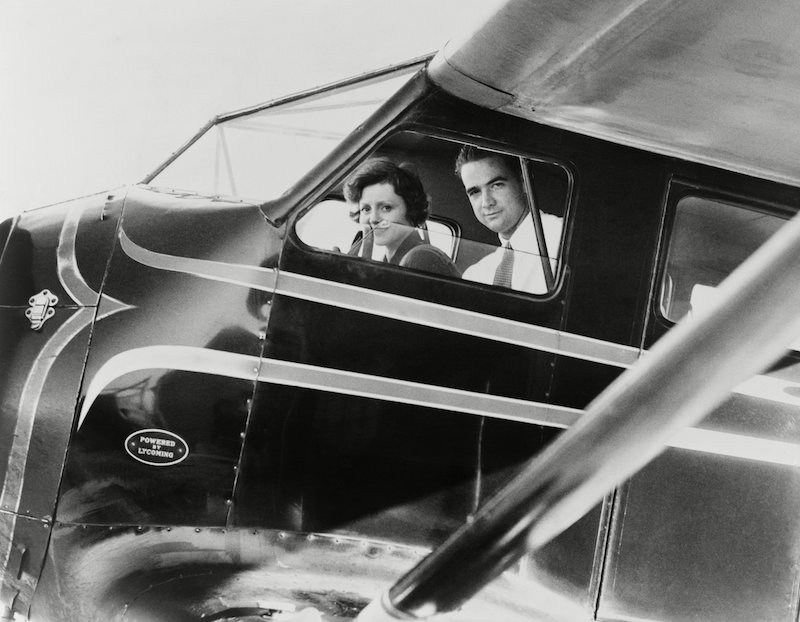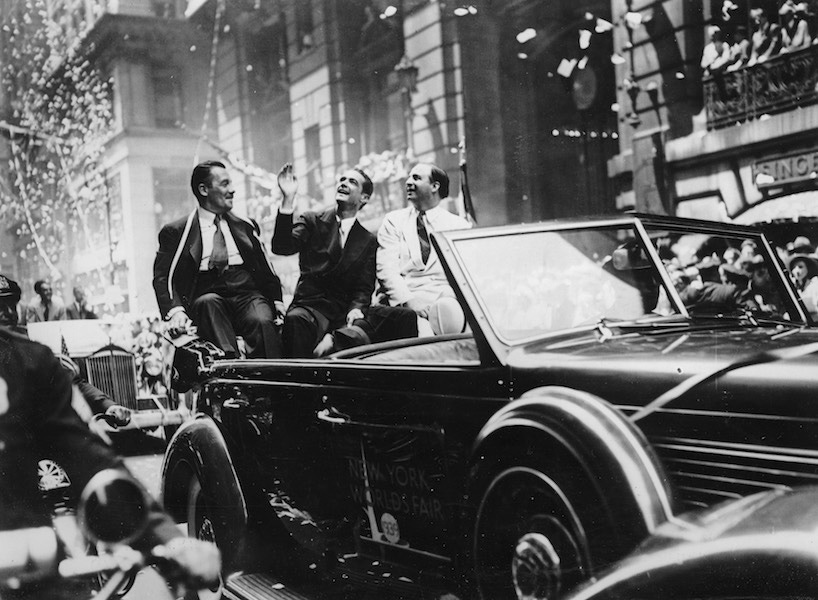 As Hughes' interest in Hollywood began to wane, he began to commit more fully to his other major passion - aviation. He formed his own aerospace company, Hughes Aircraft, to pursue this, most importantly producing the H1-Racer in the mid-thirties. The H1 incorporated a number of design elements, such as flush rivets to reduce drag and retractable landing gear, that went on to influence several WWII fighter designs, such as the Mitsubishi Zero and the Bearcat. In 1938, Hughes achieved a new world record for the fastest round the world flight, beating the previous record by over four entire days. Flying a single-engine Lockheed Vega, he arrived so much quicker than expected that when he touched down none of the photographers that he'd arranged had arrived at the airstrip and there was no one to take his photo. Hughes Aircraft developed a number of other prototypes, including the XF-11 reconnaissance craft, which Hughes piloted its 1946 test flight, however an oil leak caused one of its contra-rotating props to reverse pitch mid-air. Hughes attempted a controlled landing on an LA golf course, but the plane eventually crashed, ploughing through three houses in Beverly Hills and exploding. Hughes pulled himself from the wreckage, but was terribly injured. During his recovery time in hospital he decided he didn't like his bed and designed a new motorised one, operated by push-button. It became the blueprint for the modern hospital bed. During World War II, Hughes was also tasked with designing and building a massive troop transporter for the U.S. government - but it had to be made out of 'non-critical materials', meaning traditional aircraft material such as aluminium was out of the question. The resulting aircraft - the infamous H4-Hercules flying boat, or 'Spruce Goose' as it came to be known - was never completed until after the war. Hughes, who had to testify that he hadn't misused millions of dollars on the project, was determined to prove it would fly - and eventually did, just once in 1947, for one mile. His crash in the XF-11 had left Hughes with a serious opioid addiction, as well as a condition known as allodynia, which would cause him to feel pain without stimulus. His behaviour had always been eccentric and obsessive-compulsive, but it dramatically worsened, and Hughes became a virtual recluse. However, even when he became incapable of seeing anyone but his closest confidantes, he was still determined to keep leaving his mark on the world, eventually moving to Nevada, becoming the state's biggest landowner and employer, and remaking Las Vegas from a cowboy town into a glittering playground. In his declining years, he truly suffered - and it is easy to look critically or even comically at his life, but to do so misses the fact that here truly is a man whose mind was truly capable of brilliance, who managed to make successes of almost everything he turned to and who genuinely changed the course of history.