Three looks for a one-day boat trip in the Mediterranean
There's nothing quite like a one-day boat journey when on vacation in the Med. Here we assemble three full looks, that will keep you comfortable, whilst staying infinitely stylish.
Serving as the hub for ancient travel routes, the Mediterranean Sea conjures up an enticing romance, that sees the stylish elite from around the world enjoy its charm from either the nautical splendour of a boat, or from its thalassic islands and inlands. Whichever you choose as your primary vacation residency, the good thing is you're able to enjoy the adventures of both. A short sojourn to Capri, or a longer stay in Saint-Tropez wouldn't be complete without at least one outing on a boat, so we thought it apt to comprise three full looks that are practical for the journey yet do not diminish any of that rakish Mediterrnean style.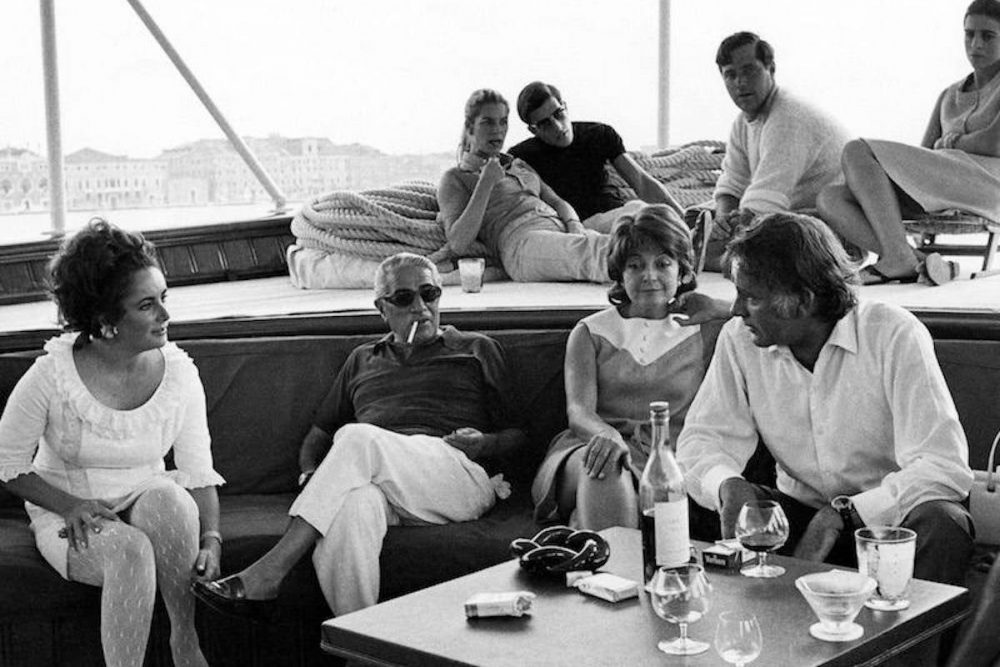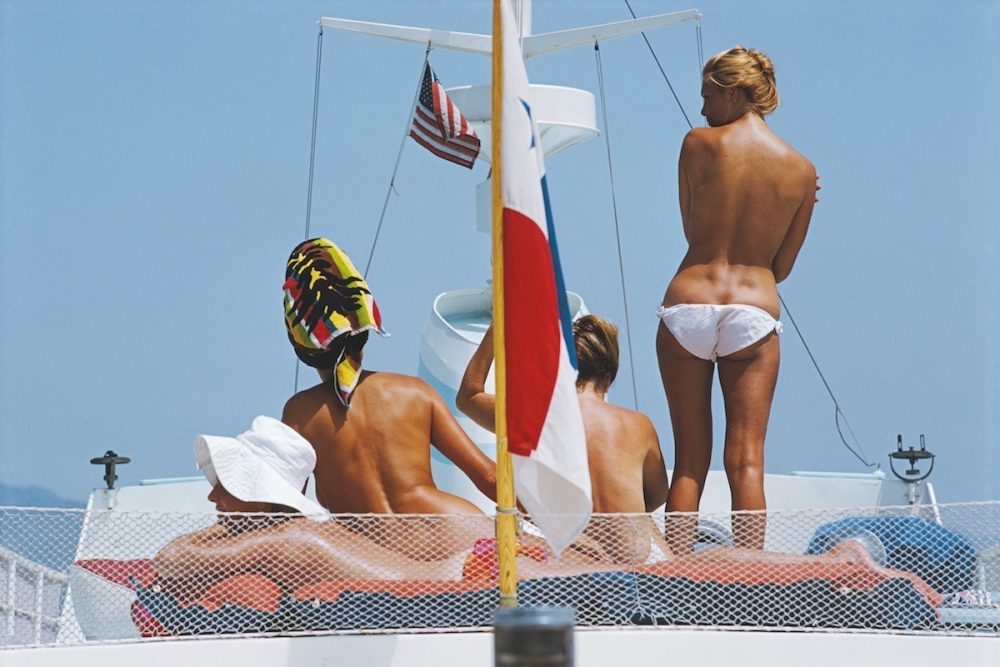 Look 1
If you've travelled to Capri, it is likely you'll want to visit or see some of the other beautiful islands such as Ischia and Procida. All of them are ideal settings for cinematic masterpieces, so you want honour the surroundings with an outfit that percolates a degree of glamour. Avoid waterproof macs and V-neck jumpers, as it will be too hot, and with a slight nod to the 1920s, instead opt for the aptly named red and white horizontal striped linen Capri collar polo shirt from G. Inglese. With escalated headwinds brought on by the speed of the boat, these trips are notorious for sunburns. This design is long-sleeved to help take this issue out of the equation, and with it coming in a breathable linen you certainly won't overheat in the height of summer. It is not necessarily a shirt to tuck in, so let it hang freely over a pair of white linen leisure trousers from Rubinacci, for the ultimate comfort. The trousers have a drawstring waist, but by keeping the shirt untucked, whilst still showing the trousers' razor-sharp pleats you don't have to worry about not being smart enough at Dani Maison restaurant, Ischia, on your stop for lunch. With the boat naturally moving around, a secure footing will be essential. Loafers will not provide this, but a well made and understated sneaker will. The navy wool and calf leather sneaker from Z Zegna is the perfect shoe for this trip. With grippy soles, they provide stability, Without being loud or garish for the chic surroundings.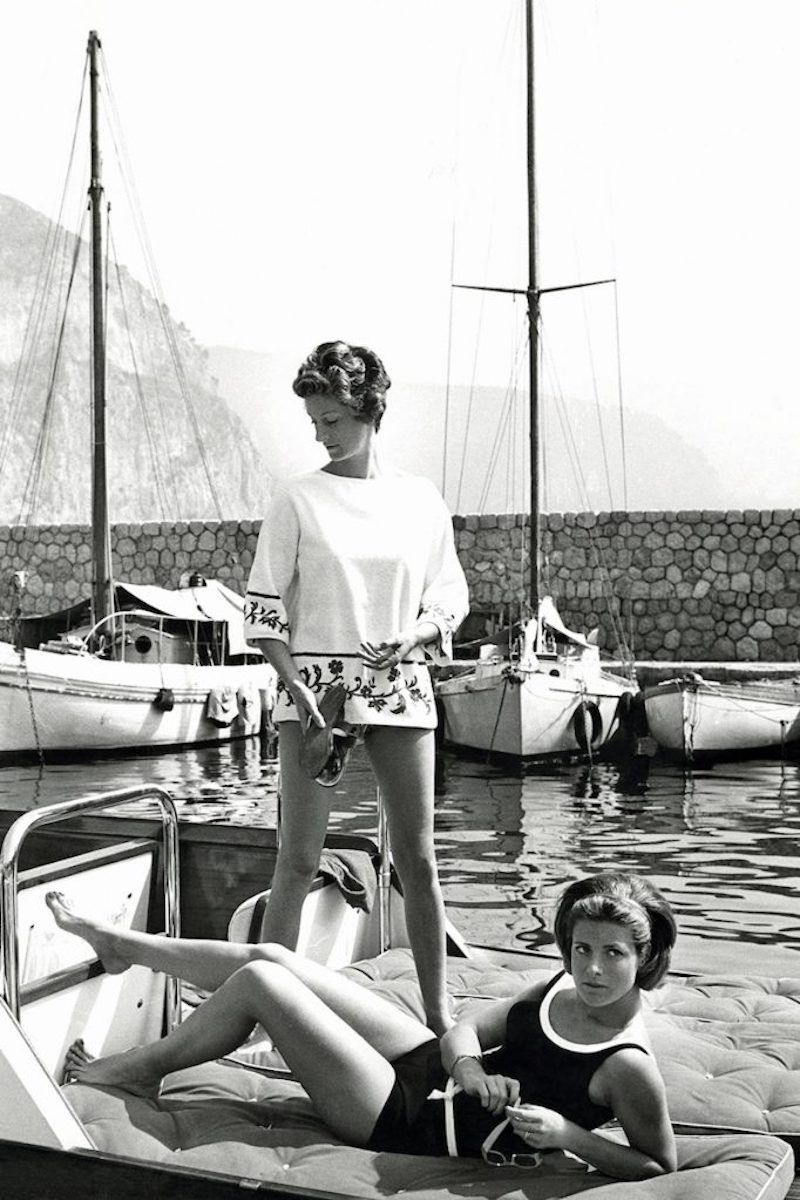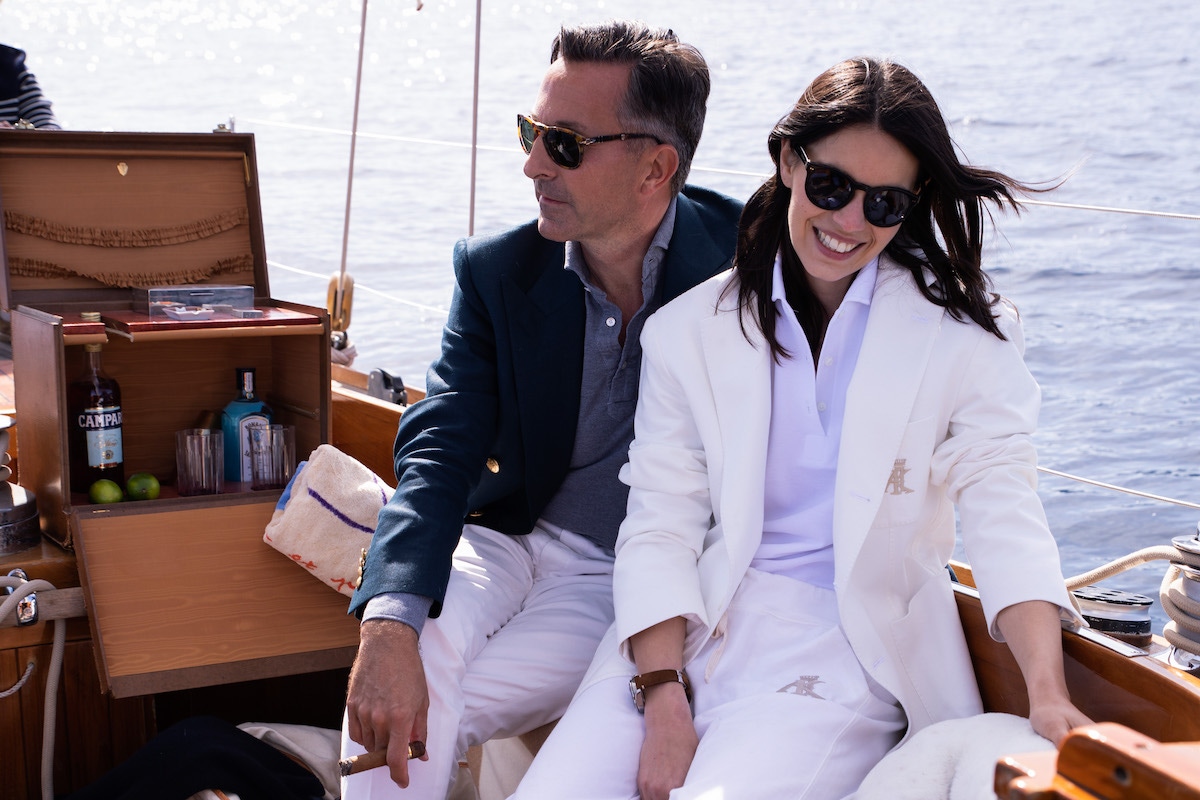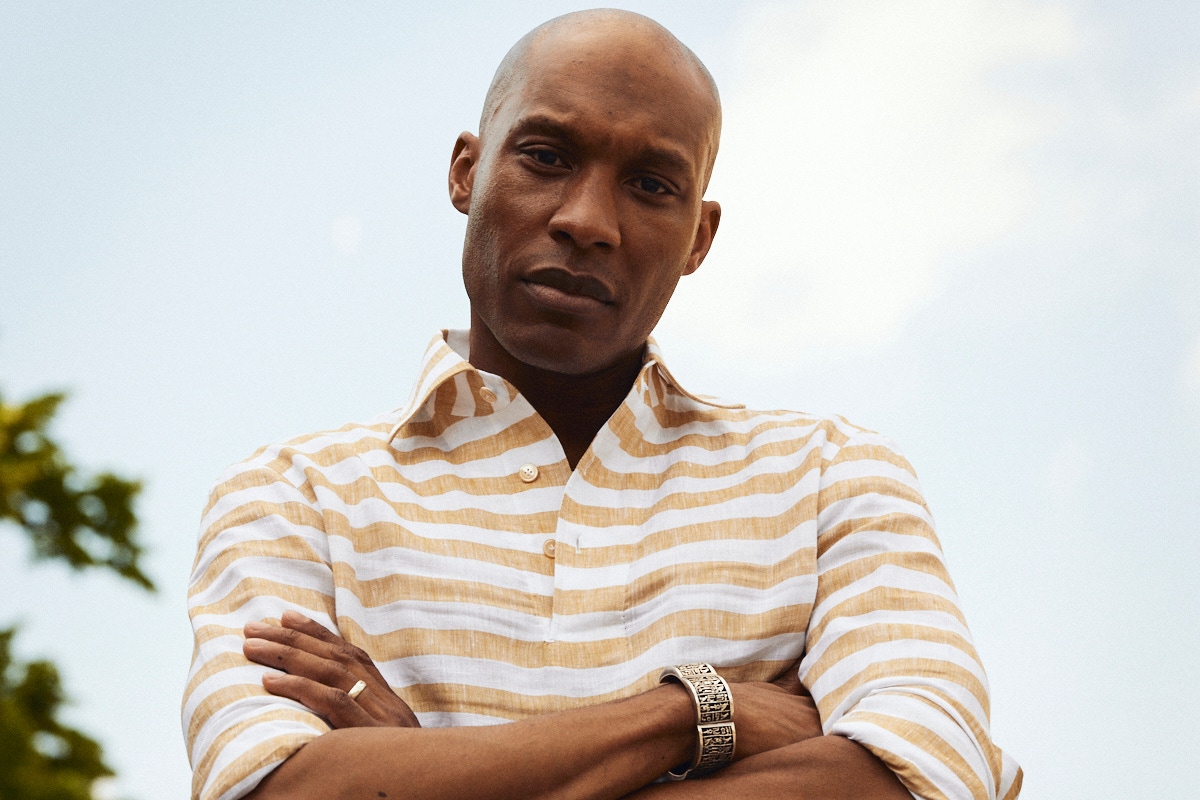 The Yvan sunglasses model worn by Michael Caine in the Italian Job, 1969 blend elegance with mischievousness. Choose the black frame style for this trip, but have a sunglasses case at the ready in your tote bag, both of which can be found at Ettinger. Look 2 One of the most fundamental and versatile assets in the man's wardrobe, a short-sleeve polo shirt can also pay its dues on a boat trip. Greek shipping tycoons Stavros Niarchos and Aristotle Onassis regularly donned a polo shirt, whilst aboard one of their fleet. Admittedly, their boats might have been more opulent than most, but with the luxuries aside, the same comfort and freedom can be enjoyed whilst wearing a knitted polo shirt. Expertly knitted in Italy from soft cotton, the navy polo shirt from Caruso can be worn in any environment with complete humility. It maintains a low-key aura yet due to its time-honoured craftsmanship, it subtly stands out as a stylish garment. Tuck the polo shirt into a pair of ecru cotton safari shorts from Informale. Some may wonder why safari shorts are out at sea, but it didn't worry Ernest Hemingway, and because these shorts are adorned with antiquated buckles, horn buttons and double-forward facing pleats, whilst being cut for a high-rise, the level of classic detailing is hard to match. You could opt for plain shorts, but if you're out for just one day, you might as well feel as stylish as possible. Boat shoes are tailor-made for being on deck, but if you pick a design from the wrong brand, they can stifle the rest of your outfit. Choose a pair from a specialist shoemaker such as Scarosso, who have recently launched a new collection, which includes the very chic blue calf leather Orlando boat shoes. Featuring non-slip soles and sporty laces, these shoes are practical, and will unify beautifully with the rest of your outfit.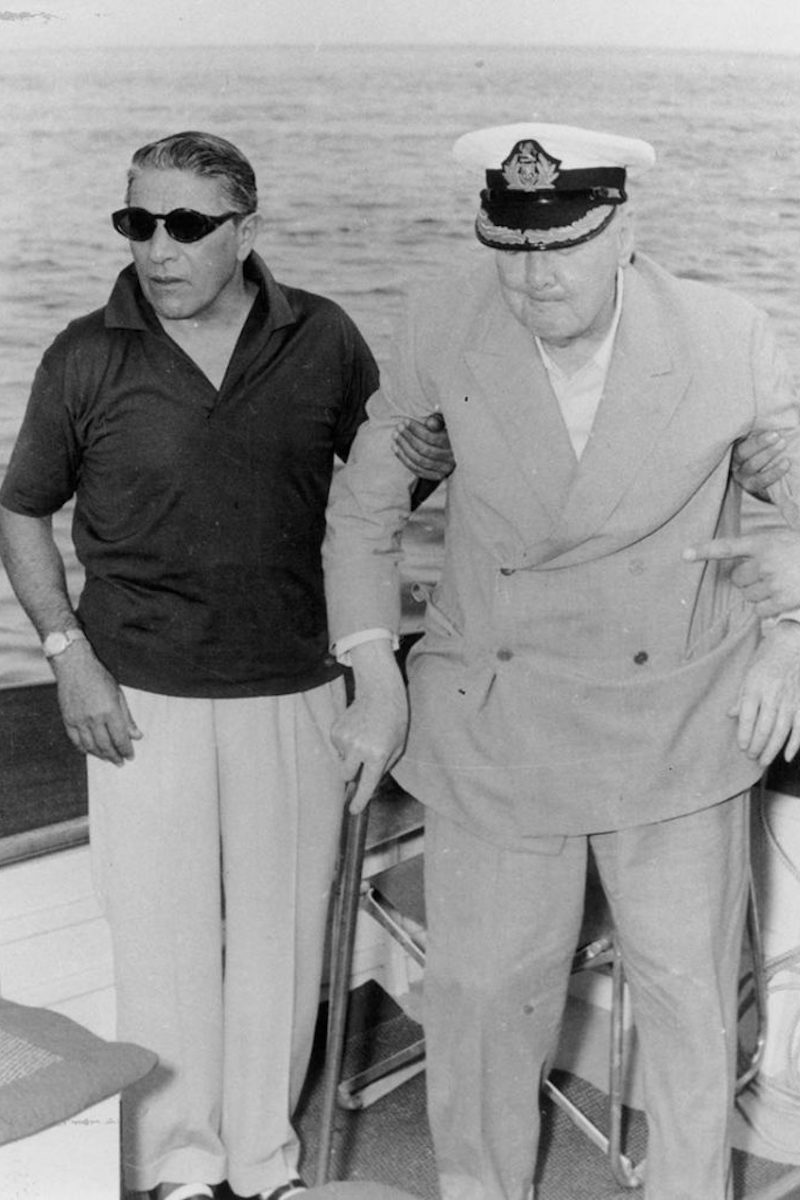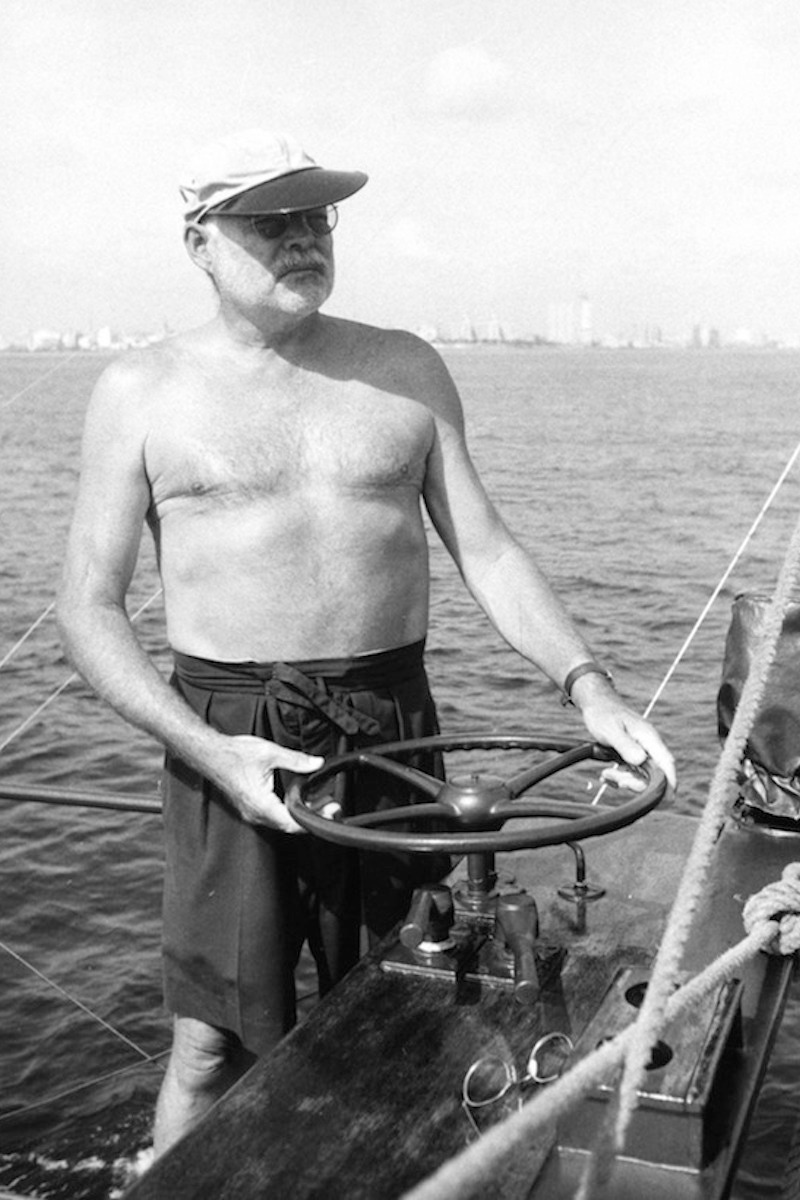 You might be stopping off for either a swim or a short rest inland so take a small beach towel with you from Manebí, and house it in a leather Stepan coated canvas backpack from Serapian. And don't forget a pair of sunglasses. With thick frames the late Onassis might even approve of the Eddie sunglasses from The Reference library.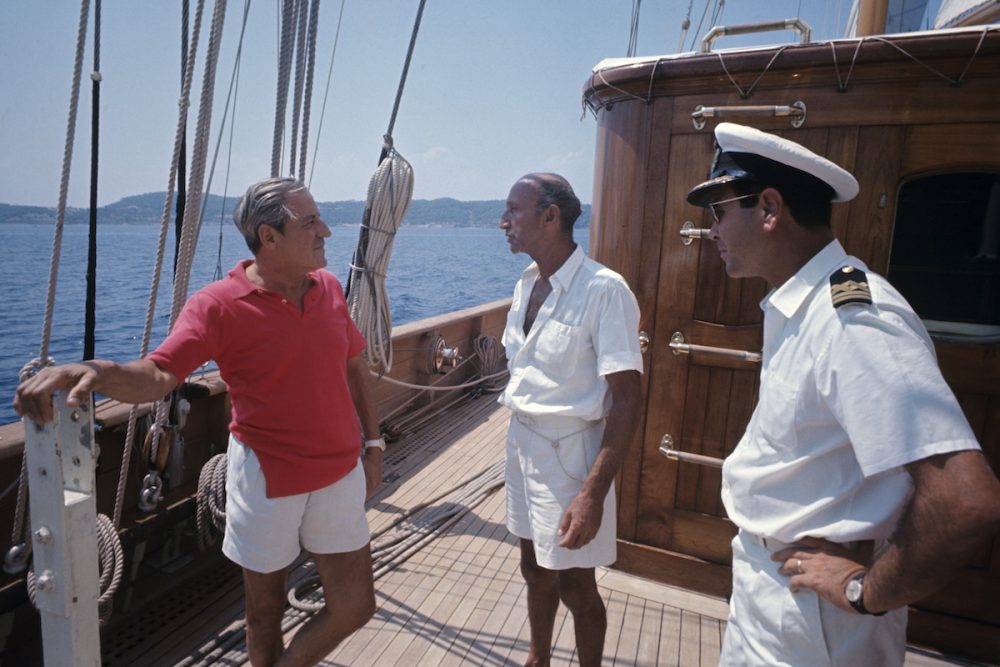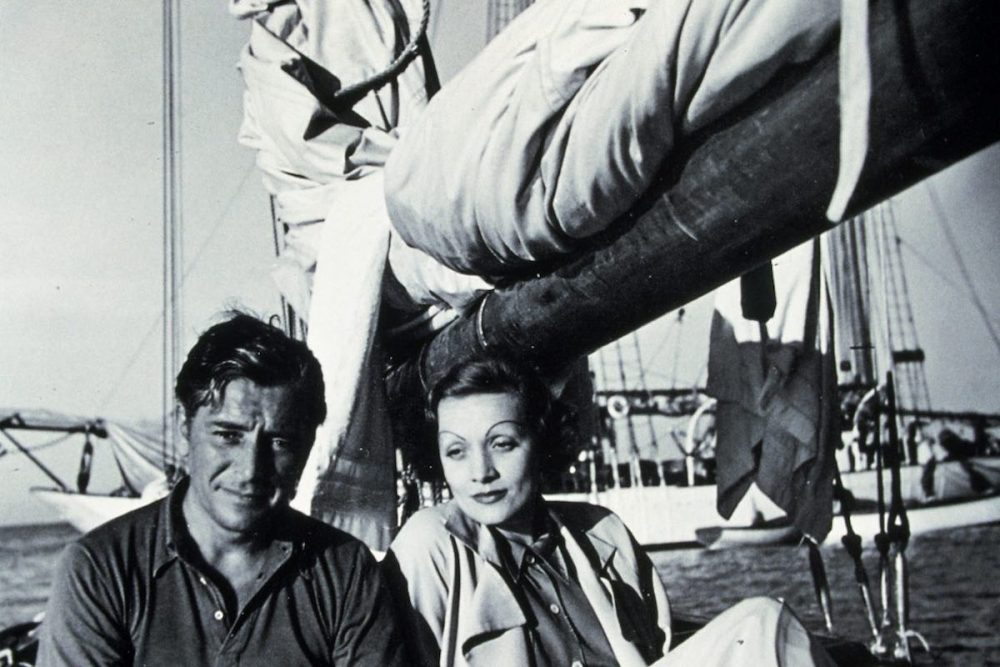 Look 3
A boat trip doesn't have to be shared with the general public or skippered by someone else. It could well be you keep a boat out in the Med for short trips, and if you know what you're doing, the wheel can be all yours. Agnelli, Bogart, and Sachs were regurlarly seen behind the wheel, the latter of which was not always looking at what was in front of him. Maybe it was the personalities of these guys, but for these types of trips, a freestyle approach can produce the most amount of fun. Now we're not suggesting only wrapping a towel round your waist like Agnelli used to do, although it's a cool and confident look, but perhaps wear your swim shorts; especially if the boat ride is a little more daring. Shorter trunks made by Italians Ripa Ripa are more in keeping with the European mindset. The brushed-canvas swim shorts from the aforementioned brand come in a cool shade of red, whilst they dry very quickly.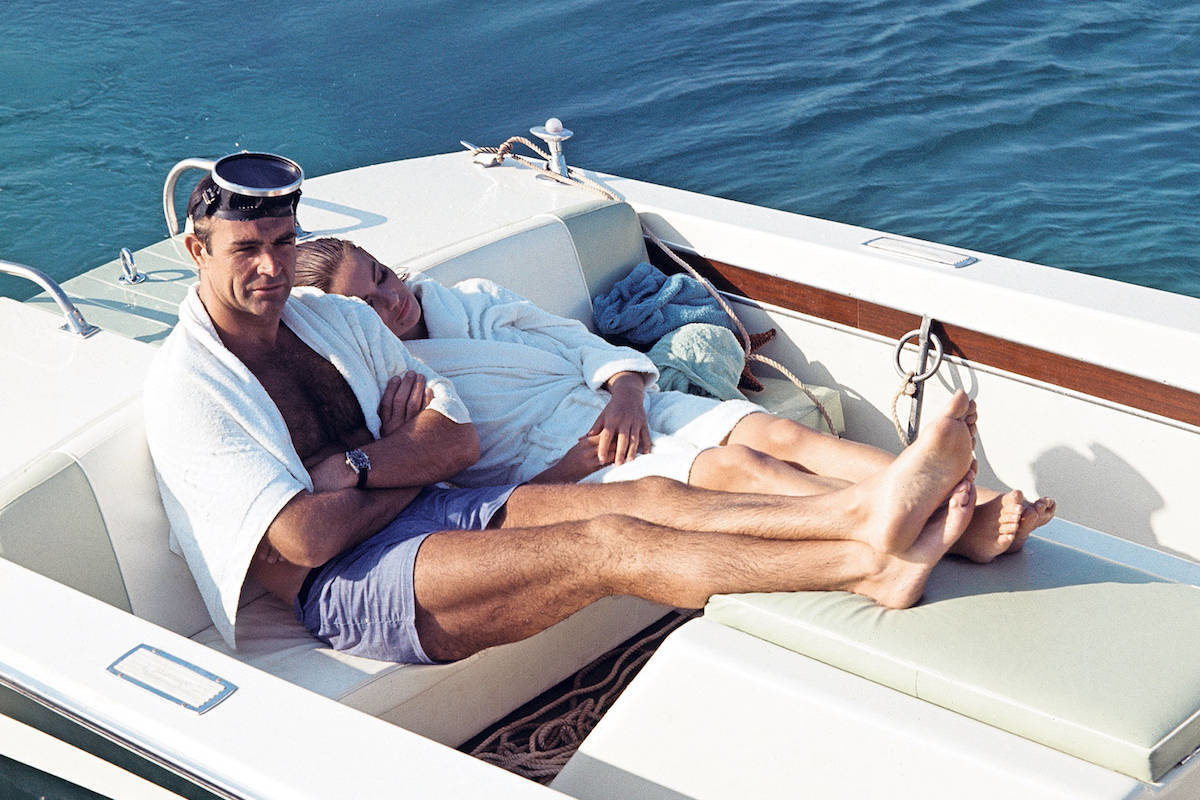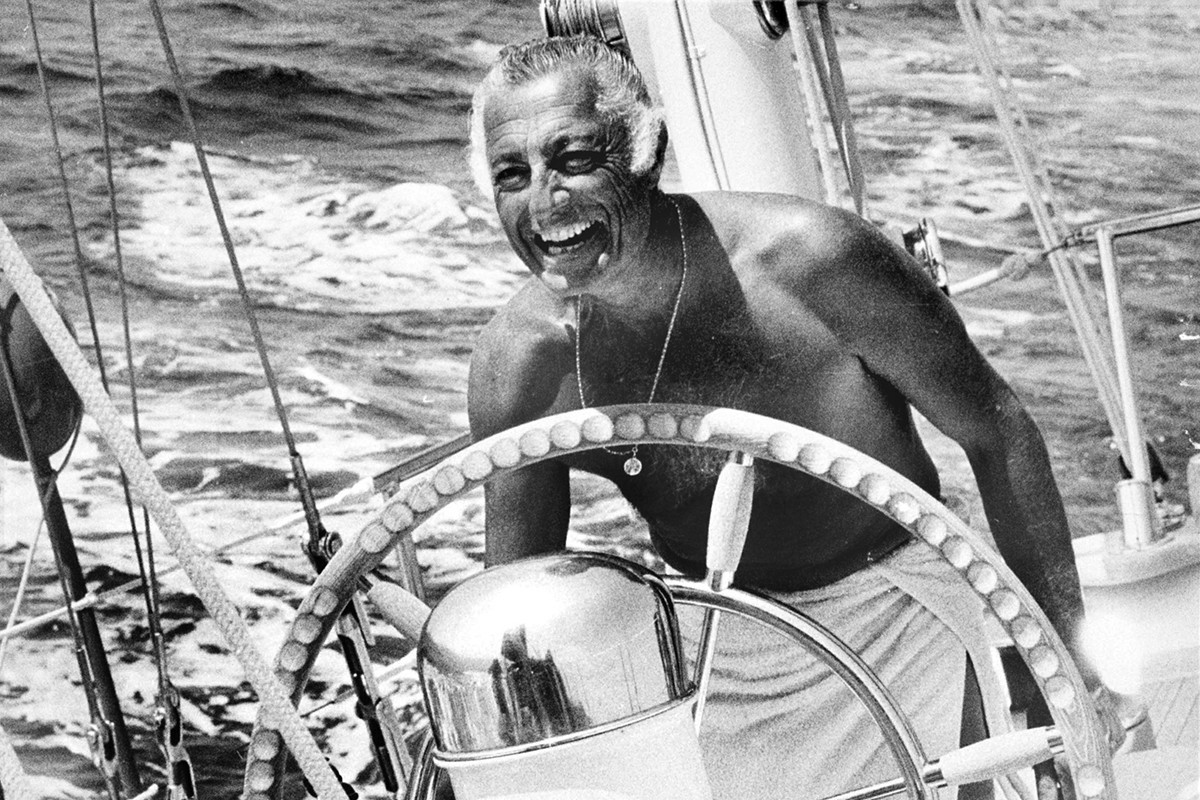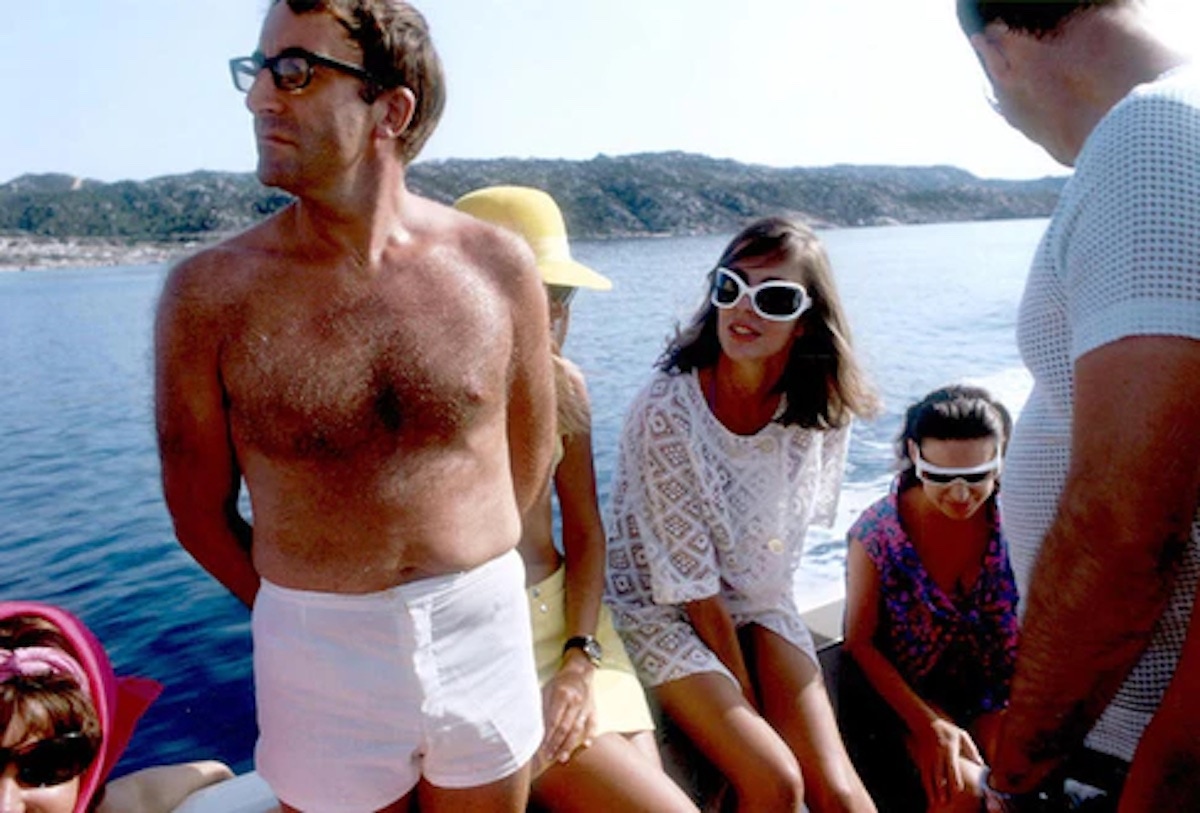 Start the trip off in a pair of espadrilles from Manebí, and if it looks like being a hairy ride, stuff them in an Irish linen cabin bag from Udeshi. A shirt might be too smart for this excursion, so in keeping with the nautical theme, wear a casual navy striped cotton T-shirt from Informale. A pair of sunglasses from E.B Meyrowitz will ensure you stay cool, and if you've brought a few beers, open them up with a sterling silver bottle opener from Asprey.