The World's Most Expensive Dressing Gown
Want to slip into something more comfortable? How about a one-of-a-kind vicuña gown from New & Lingwood and Piacenza, in collaboration with The Rake? Film by Martin Senyszak.
Have you ever wondered what is the male equivalent of lingerie? Forgive the ever-so-slightly flippant question, but I think it is worth considering. What I'm really asking you, after all, is which clothes do you think make a man the most attractive he can be? Is it a beautiful flannel suit with broad lapels and pagoda shoulders? Perhaps it's a pair of stunning superfine cotton boxer shorts, or perhaps it's a pair of cheekily embroidered velvet slippers. Of course, it could be any of these things, but it's not. In fact, in a quest to determine what precisely is the sexiest piece of menswear on the planet,
The Rake
's team knew exactly where to begin: Eton.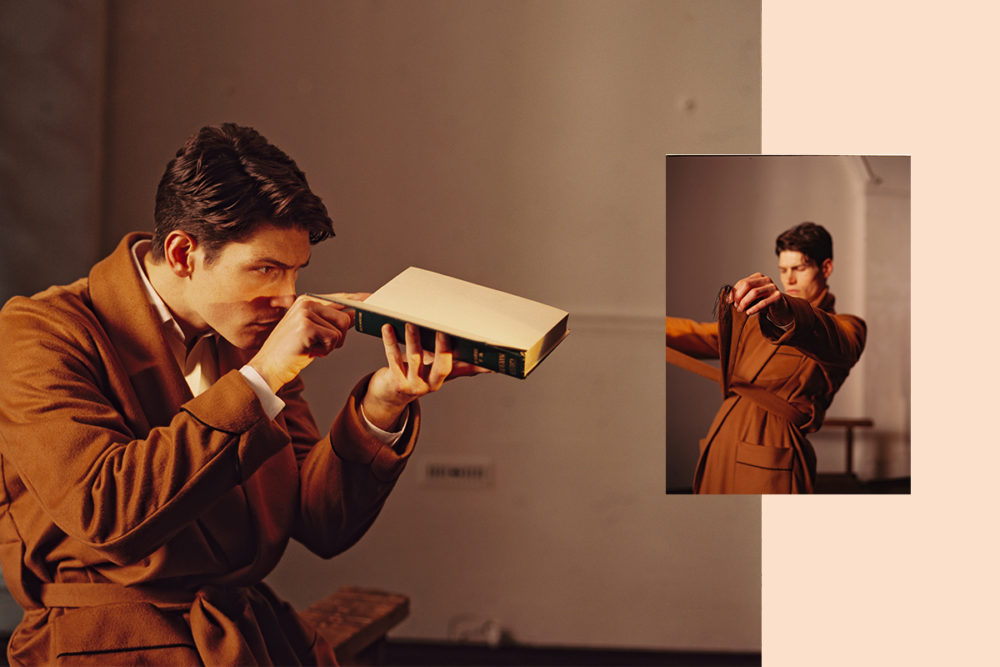 No, we've not taken leave of our sartorial senses. We began at Eton because it's home to New & Lingwood, a British outfitter that has always valued exceptional quality and lavish design. Since its founding in 1865, it's been unafraid to stand out from the crowd — in the best possible way. In the 1880s, for example, the firm's founding matriarch, Elizabeth New, used to sit in the windows of her shop on an elevated white chair-cum-throne, to allow the fair citizens of Eton to pay homage to her, 'à la Queen Victoria'. Clearly, it's not a company for shrinking violets. Readers may also be aware that New & Lingwood has a long-time specialism in beautiful made-in-England dressing gowns. The Product and Marketing Director, Simon Maloney, says: "We've carried dressing gowns since our founding, but I began to really experiment with our gown collection around seven years ago. Today, they're the perfect vehicle for a gentleman to push the boundaries of design and opulence within the comfort of his own home."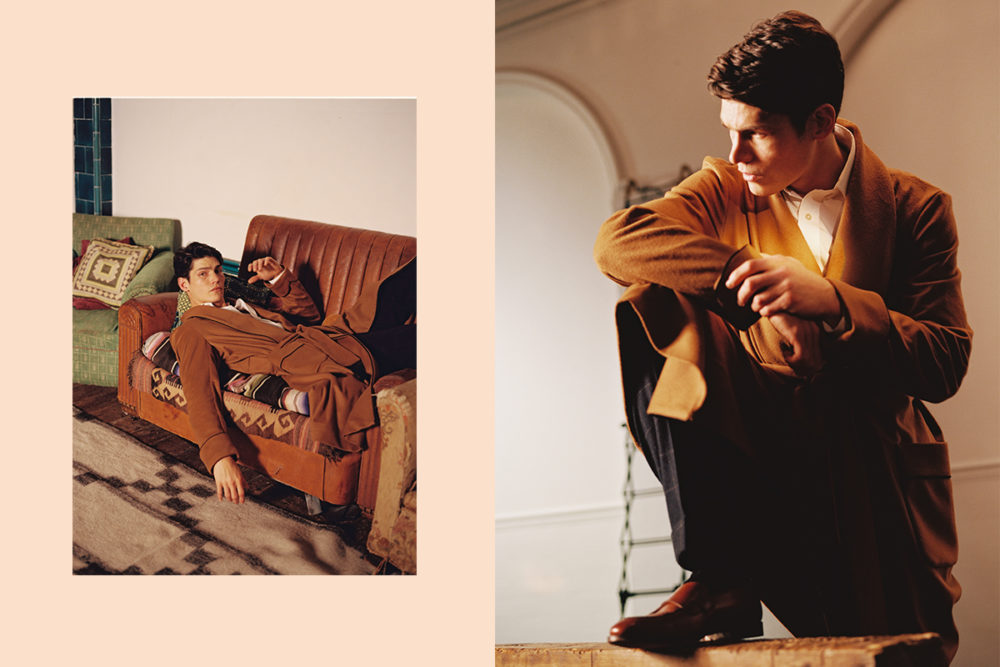 In other words, they're
the
feel-good thing in which to relax, host an informal dinner party, or, indeed, woo one's
inamorata
. Today, New & Lingwood's dressing gowns range from deep-pile velvets trimmed with quilted satin to English-woven silk jacquards and pure cashmere meltons, each more sumptuous as the last. Now, for the first time, New & Lingwood have created an exclusive dressing gown in vicuña, the most precious of natural fibres, in collaboration with
The Rake
and the Italian textile mill Piacenza. Piacenza enters our story because it specialises in weaving precious cloths. Indeed, the Piacenza family (now in its 14th generation of ownership) has worked with New & Lingwood for many years. N&L's handsome baby camelhair polo coats and alpaca penuche coats are frequently cut in Piacenza's finest materials — fabrics that appeal to N&L's plush design sensibilities.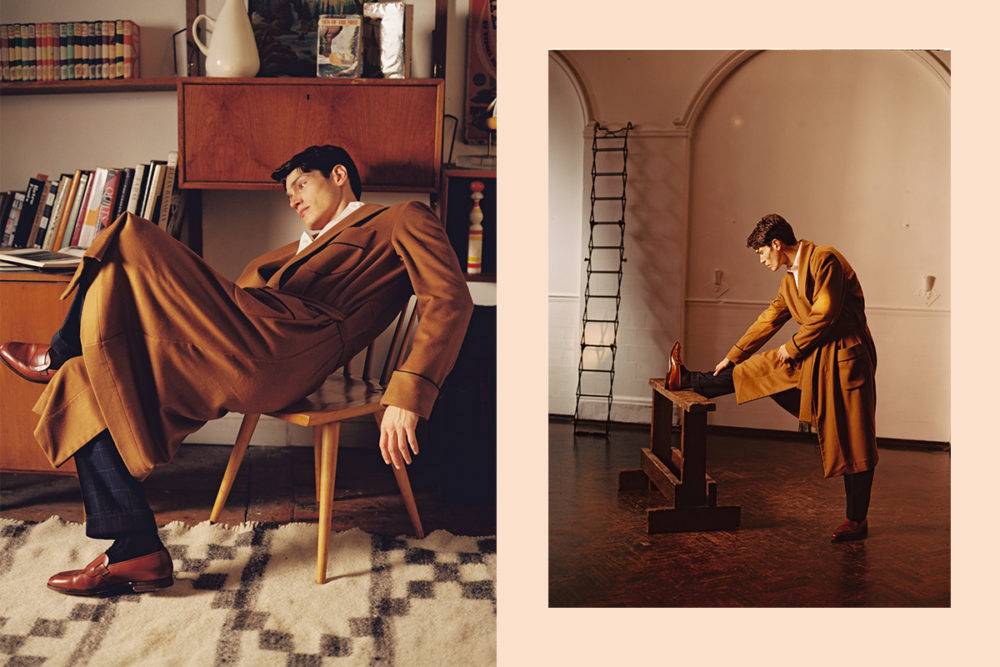 Moreover, Piacenza has a storied history that chimes with New & Lingwood's. The mill was established in Biella (home to all great Italian woollen mills) in 1733, but a 17th-century census conducted by the Dukes of Savoy suggests the Piacenza family was acting as woollen merchants to the Italian aristocracy as early as 1623. From the outset, the mill worked with the most elevated raw fibres on the planet and was the first textile manufacturer in Italy to introduce jacquard frames. In the 1860s, just as New & Lingwood were establishing themselves, Piacenza produced a range of world-beating jacquard cloths that earned the company a prestigious Gold Medal at the Turin Expo, the leading fabric trade show of its day.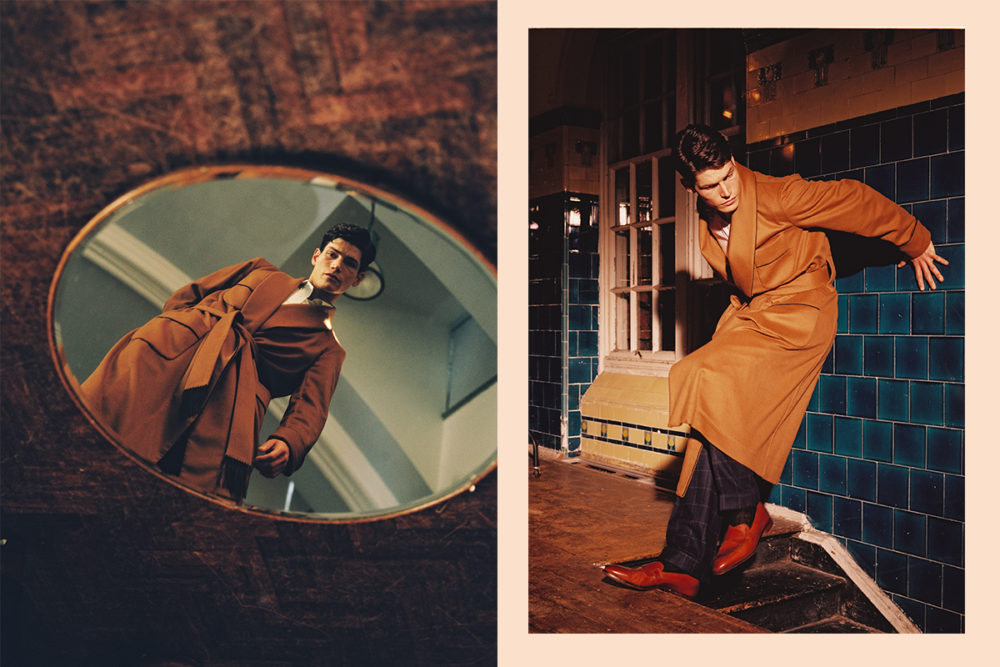 Today, alongside its luxurious worsteds, coatings and jacketings, Piacenza is one of very few mills capable of weaving vicuña. A number of things make it a tricky fibre to work with. The first is its scarcity: vicuña is shorn from rare-breed Andean camelid that live on mountain plateaus often thousands of metres above sea level. To collect the raw fibre in any useful quantity requires specialist teams who venture into the hills to hand-shear it from wild herds. Piacenza is one of the few weavers that has earned the trust of the rural Peruvian communities who can source the fibre, giving the company unique access to a material known in South America as the 'fleece of the gods'.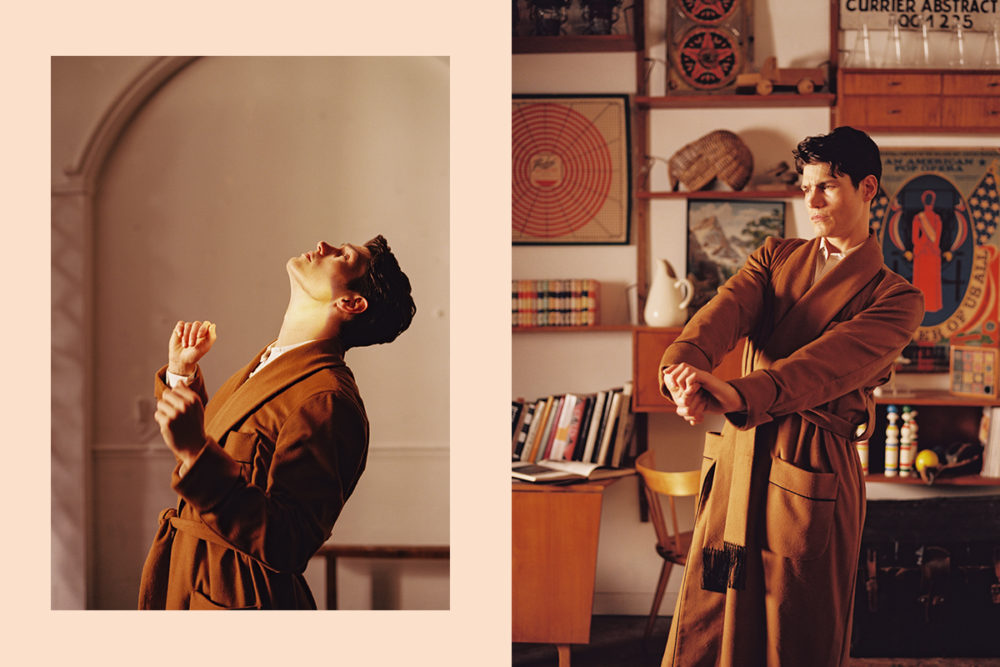 A vicuña gown is a first for New & Lingwood, a luxury even by the outfitter's indulgent standards, and it marks an exciting moment. "Piacenza has a strong reputation for the finest quality Italian fabrics and is one of the very few mills to have access to this noblest of fibres," says Maloney. "We've worked with Piacenza for many years now, and it was a natural decision to partner with them on this project, too." To do Piacenza's vicuña justice, New & Lingwood have created a gown that needs to be seen and felt in the flesh to be fully appreciated — it's refined, elegant and supremely soft. "It seemed almost an insult to over-design this piece," says Maloney. "The cloth speaks for itself in its lustre and drape, so clean styling without quilting, facings or extraneous details seemed the obvious decision. It was also important that we kept the gown unlined, so the wearer could feel the fabric against the skin. Slipping on one of these is a truly unique experience."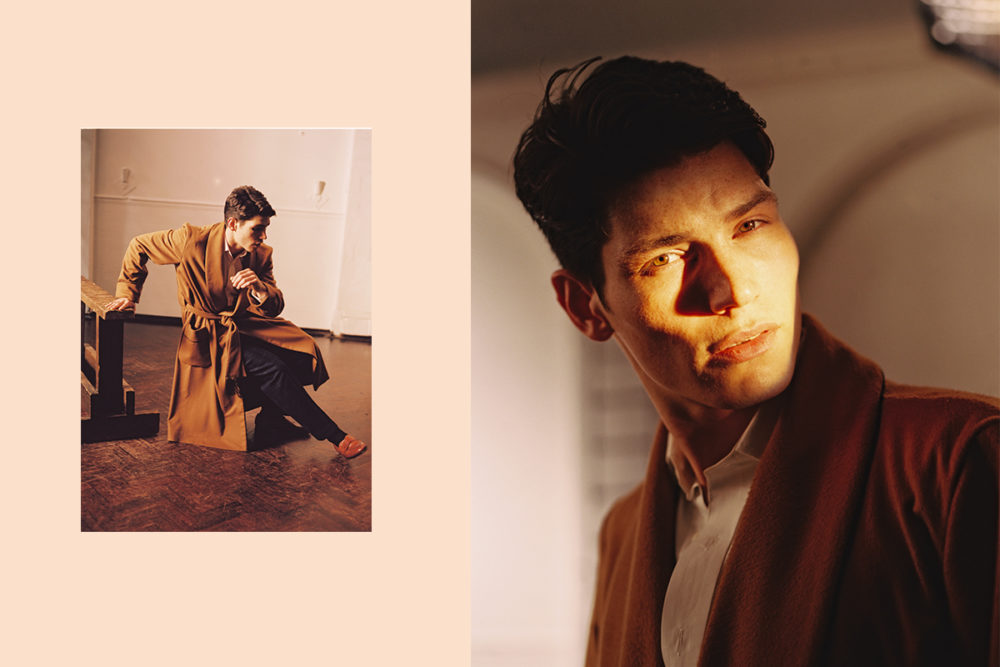 Of course, you might argue that a gown is far from a wardrobe essential, or indeed that dressing gowns come with little by way of sex appeal, but this is an exception to the rule. Only one has been made, and it's as luxurious as it gets: woven in Italy, made in England. "Owning a beautiful dressing gown is one of life's true pleasures," concludes Maloney. "It's an indulgence — something that's for you, or for you and your partner alone. These gowns are beautiful garments that you can enjoy for their rarity and their quality. Think of yours as an heirloom piece, to be passed on to subsequent generations. The quality of Piacenza's fabric will outlast its wearer, without doubt." Didn't think dressing gowns could be sexy? Try this one.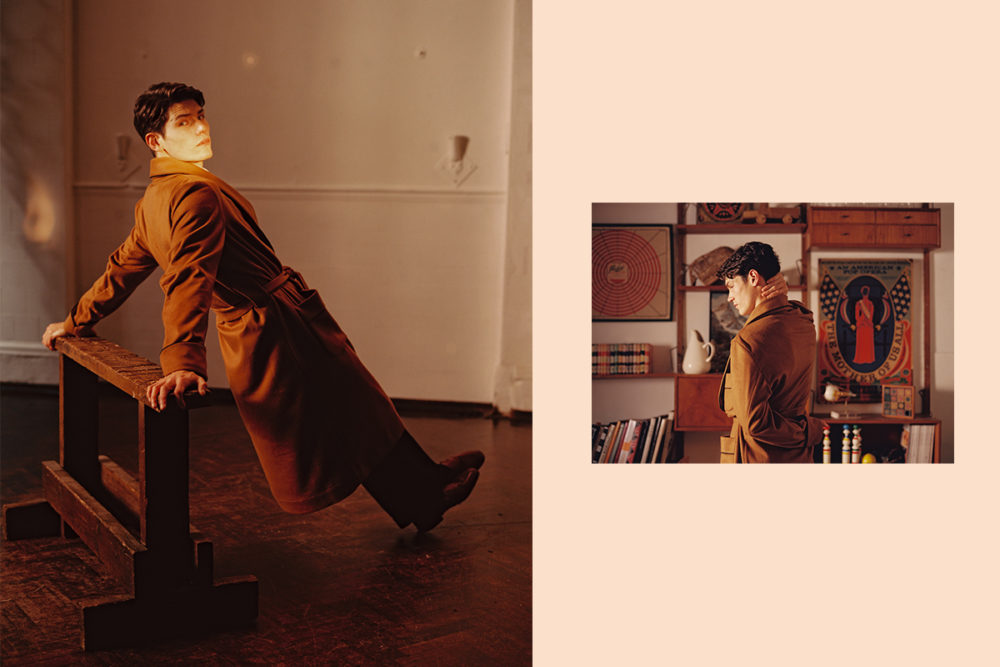 Film credits Director: Martin Senyszak (@martinsenyszak) Director of Photography: Kai Blamey (@kaiblamey_) Styling: Veronica Perez Gaffer: Harry Gay 1st camera assistant: Jomar O'Meally Grooming by Kim Roy @ One Represents (@kimroyhair) Model: Sam Way (@iamsamway) Colour grade: Stef Colosi Music: Stephen Ettery (@ettery)