Wall of Remembrance
The Rake commemorates Queen Elizabeth with stories and anecdotes from those who had the fortune of meeting her.
Sir Nicholas Coleridge - Chairman of the Victoria and Albert Museum, and was Co-Chair of the Jubilee Pageant. For thirty years he was Managing Director of Conde Nast.
"I first met The Queen in the most surreal of settings - a British fashion industry party at Buckingham Palace. All the designers were present- Alexander McQueen, Paul Smith, Stella McCartney, all the supermodels - Kate, Naomi - milling about in the gold and plush splendour of the Palace. Footmen circulated with drinks on trays. Suddenly I was tapped on the shoulder and led towards an inner room to meet Her Majesty. She was standing by the entrance with Prince Philip, probably wondering why she had ever let this particular louche crowd into her house.
You had to give your name to an Equerry, who announced "Mr Nicholas Coleridge".
The Queen looked me up and down. "Oh," she said,"I've heard of you". 
The obvious corny reply was, "And I've heard of you too, Your Majesty". But I didn't say that. I expect I bowed and grinned inanely. Most people who had encounters with The Queen couldn't afterwards remember what they said - you either gabble, or are dumbstruck. She was so famous, so familiar, so iconic, that it felt extraordinary that you were actually there in her presence. 
Most recently, I was Co-Chair of the Platinum Jubilee Pageant, which was the last great public celebration of her reign. It involved more than three thousand troops from the UK and across the Commonwealth, and almost ten thousand performers from every part of the nation. The Queen, by this time, was approaching the end of her life and living in a small bubble of courtiers and staff at Windsor Castle. But you felt her interest in everything that was being planned, and she was kept carefully informed. When she made her appearance on the balcony in her bottle-green suit, on the final afternoon of the Jubilee, it was the most moving of moments. I had a lump in my throat and tears in my eyes. It felt like it might be one of the last times she would be seen in public, and that the curtain was about to fall on the longest running show.
And so, three months later, it proved to be."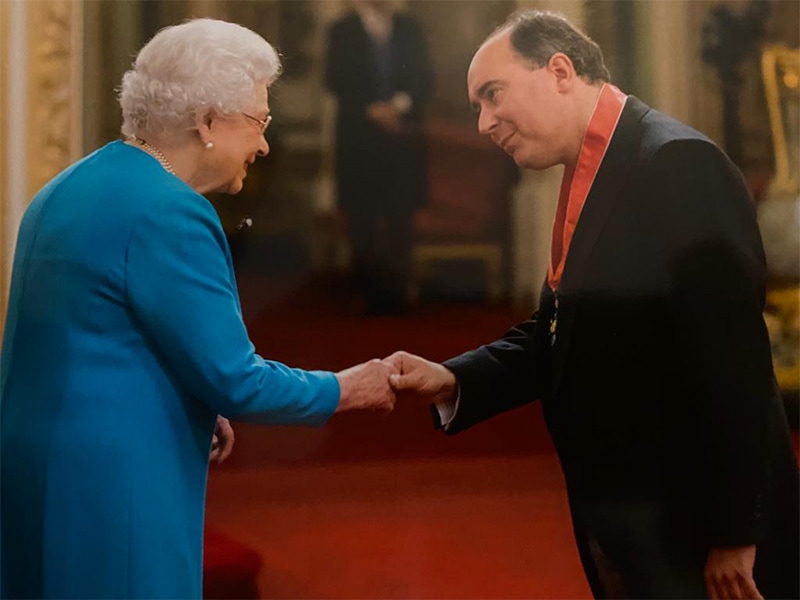 Dominic Johnson, OBE
I had the privilege of meeting The Queen in person only once when she awarded me a CBE in 2017. She was 90 and aside from warmly greeting the audience of family members waiting for their loved ones to troop through, she stood for over an hour and a half distributing medals and honours to over a hundred individuals. She knew everyone's name and what they were there for. It is a remarkable feat for anyone to manage this - however well briefed and practiced. As a stateswoman she was frankly exceptional.
To receive an honour like the CBE (Commander of the Order of British Empire) you arrive at Buckingham Palace about an hour beforehand. You are led up the fabulous stairways lined by breastplated Life Guards, to an ante room where you are briefed by the most deferential and articulate person I have ever met. Every detail from the handshake to where you point your toes, is explained in digestible detail. There is one wonderful phrase when he described the actual medal giving moment - "you bow you head to allow the Queen to place the medal around your neck, at which point you will feel the brush of silk upon shoulder". 
I would not underestimate the sense of expectation and nerves in the room. All of us, from famous fashionista Anna Wintour (who was being made a Dame) to Bishops were all thinking - "this is genuinely one of the best moments in my life" and "what on earth do I say to her when I meet her". I had thought about this at length for some reason. I have a fear of long silences and felt that I should have an amusing anecdote ready just in case. There is a palpable sense of tension and uneasy movement from foot to foot.
The presentation process is a production line so well devised and executed that they should teach an MBA in it. You go from one small queue to another. At each stop there is a courtier marshalling you. But you can feel the time ticking away and like troops moving up to The Front there is an inescapable knowledge that soon it would be your turn. The guard at the last waiting point before you go up to meet Her Majesty said "excuse me sir but your flies are undone". The snap down of the head and fluster of hands, only to discover he had been joking - to put me at my ease. The Palace had even thought of that! There is a reason why the Monarchy is so successful and continuous - pageant and small details matter.
And then suddenly, you are standing there, in The Presence. And she is beaming at you and asking in that surreal and unforgettable voice how I was and what my thoughts were on this or that matter. She knew exactly what I did and was both completely switched on about the detail of the function as well as filled with ease and humour. I know people say this - but she made me feel comfortable from the first hand shake. Her eyes sparkled with intelligence and wisdom and I felt as if a bubble was enveloping just the two of us in that crowded throne room. I think you get 42 seconds with her or something like that - the end of which is signified by her raising her gloved hand, at which point you back away and trot happily through a side exit, basking in the experience.
The best thing about The Queen, as opposed to so many other things - is that she was even better in person than I could ever have imagined. Most times you get excited about something - it is often a disappointment. Not The Queen. She was insightful, calming, kind and funny and since I heard of her death I have been thinking back on my brief encounter. It is a peculiar state of affairs when a forty-second experience can have such an impact on a life - but she was that sort of individual. It is a huge and probably unabsorbed shock that she has gone - but I am filled with an overwhelming sense of gratitude that I was able to meet her in person and carry with me the reality of her greatness for the rest of my life.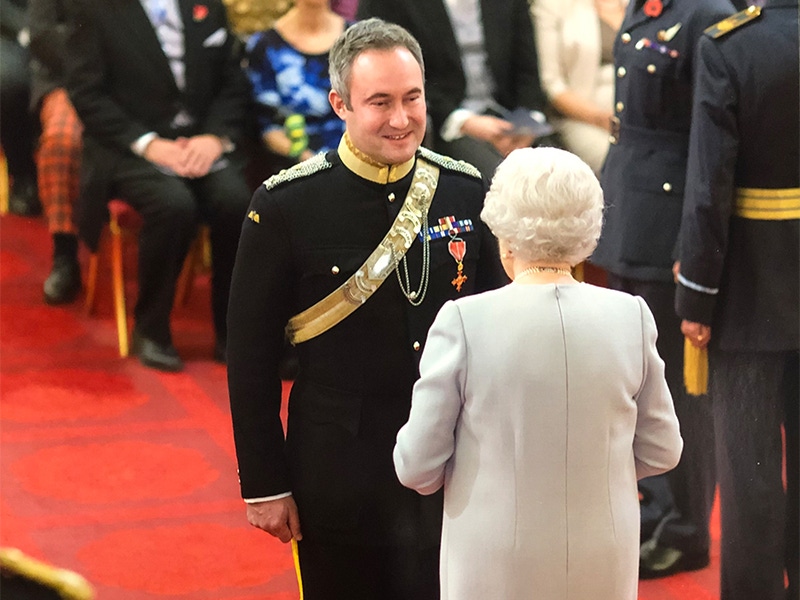 Colonel Christopher Palmer, OBE
I have been lucky enough to meet Her Majesty the Queen on a number of occasions, but for me the most memorable was in the Buckingham Palace Ball Room for my investiture.  The magnificence of the setting, the well-rehearsed order of the day, and the pomp and ceremony were all quite spectacular; but the real honour was the short time that I spent with Her Majesty.  Guests receive a detailed brief on protocol beforehand; how to approach, when to speak, and most importantly, when to leave!  Despite the several hundred people in the room and the gilded splendour of the surroundings, those brief few moments that we spoke felt very personal. Warmly welcomed, she was genuinely interested in what I had to say.  It was a privilege and humbling experience that I will never forget.  In the coming days, as we perform our final duties for a much-loved sovereign, we do so with admiration and gratitude.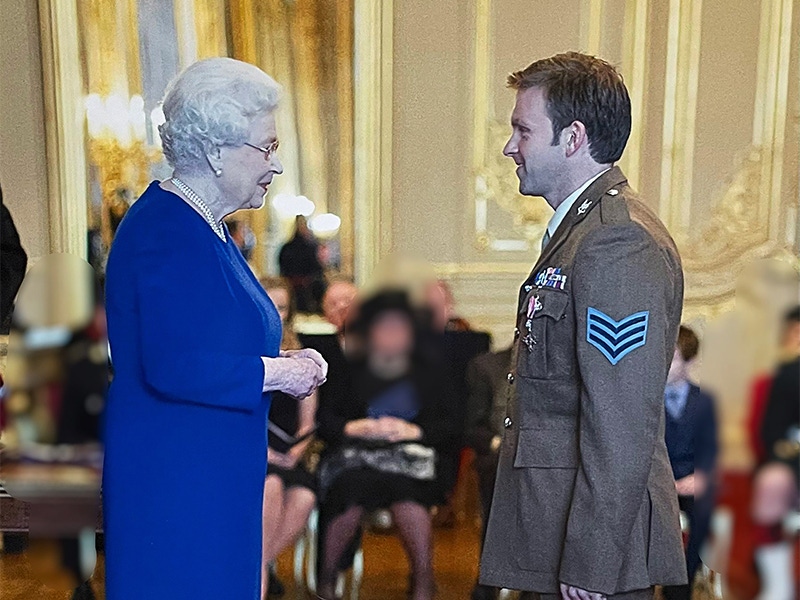 Christian Craighead CGC
On a bright and clear January morning, in the quiet setting of Windsor Castle, I waited among a group of soldiers who were also to receive honours and awards. Wearing a brilliant blue dress, small in stature but with a presence larger than the entire castle, the Queen was to pin an MBE to my chest. I felt immense pride as she did so: my MBE was hard won on operations, but my only childhood desire was to serve Queen and Country. Her Majesty then surprised me with a meticulous question about my role in past operations. I answered honestly. Her Majesty Queen Elizabeth the Second responded with a beautiful, knowing smile.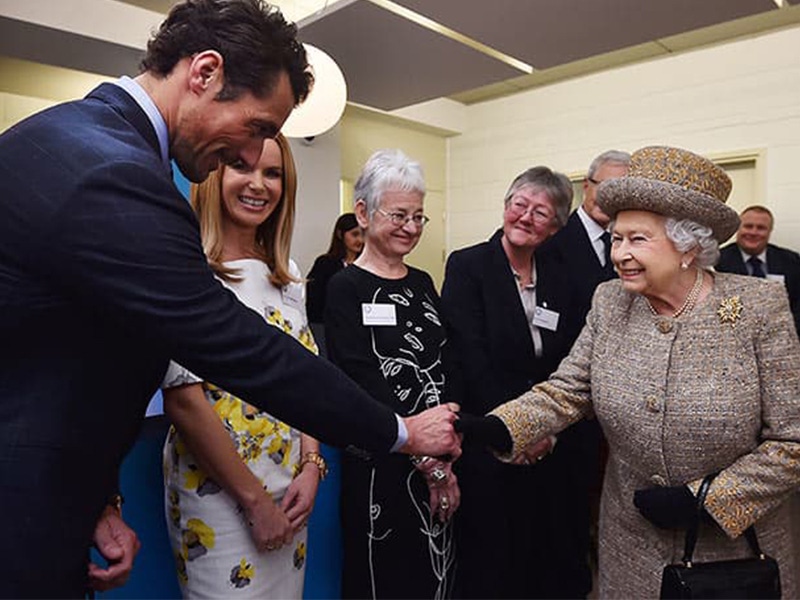 David Gandy
'The Queen has been the Patron of Battersea dogs home since 1956. I had the honour of meeting her and Prince Philip at Battersea in 2016. I remember being tremendously nervous about bowing, shaking her hand and addressing her correctly.  I so terribly wish I could remember what Her Majesty asked me and what I answered, however like many people I think I went a little weak at the knees. I do remember her beaming smile and warmth made me instantly comfortable and judging by the wonderful photograph of her laughing with me i managed to refrain from saying anything too stupid. Prince Philip followed and had everyone in fits of laughter by telling us 'no more bloody corgis please'. In all just a truly wonderful day and of course like many people one of the proudest days of my life'.