How to Wear White in Winter
Forget the hoary old edict proclaiming 'No white after Labor Day'. Here's how to bring a little brilliance into your winter wardrobe.
Author Tom Wolfe was famous for wearing head-to-toe white year-round. The origin story goes that when Wolfe moved to New York in 1962, the young writer only possessed a couple of sports coats and odd trousers. Starting his new job at the Herald Tribune, he soon learnt that reporters were expected to wear a suit. As it was summertime, Wolfe chose to acquire the sort of white ensemble habitually worn during the warmer months by gentlemen in his native Richmond, Virginia. As autumn leaves fell, he discovered that the cloth was heavy enough to carry on wearing the white suit into winter. He did just that — partly because as a struggling journalist, he couldn't afford another visit to the tailor — and fell into a lifelong habit.
Now, no one's suggesting you follow Wolfe's example. But the American ban on white after Labor Day — which falls the first Monday in September — is just as nonsensical as the great nation's failed prohibition on booze. (That being said, those fond of white garments are advised to avoid cabernet and Campari.) Winter whites can work wonderfully. It's merely a matter of employing snow-tones with care.
Contrary to Wolfe's poverty-driven example, the wearing of light colours was originally a symbol of wealth — a century and more ago, only the affluent had enough clothing that they could change when an item became dirty, handing the offending garment off to a servant for laundering. With perhaps just one or two outfits to their names, and scant access to washing facilities, the poor had to wear dark colours that camouflaged workaday muck. Sartorial aficionado Alexander Kraft, CEO of Sotheby's International Realty France-Monaco, takes an old-school aristocratic approach to the matter of white in winter. "My personal mantra is to always wear white no matter what the weather or the season is," he says. "The trick is to have a good housekeeper and dry cleaner. A true Rake should not concern himself with such pedestrian considerations as whether he might soil his garments — wear them and be damned, I say!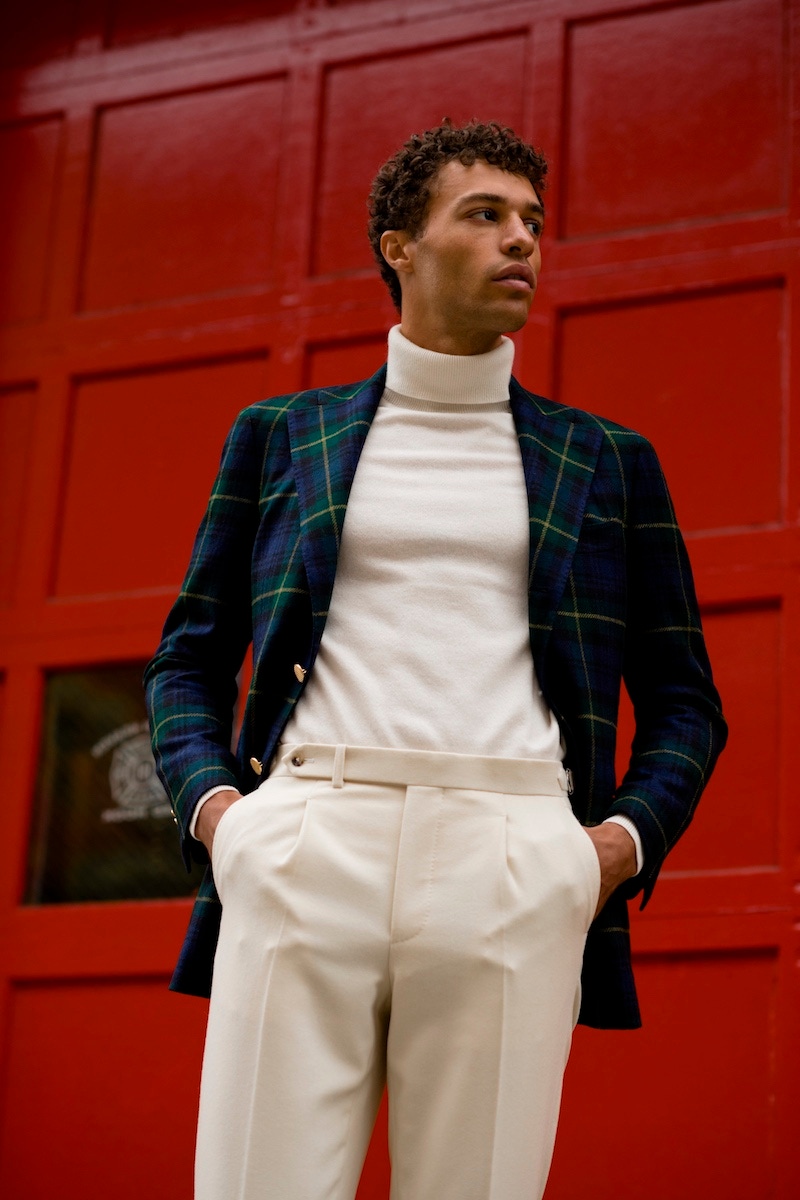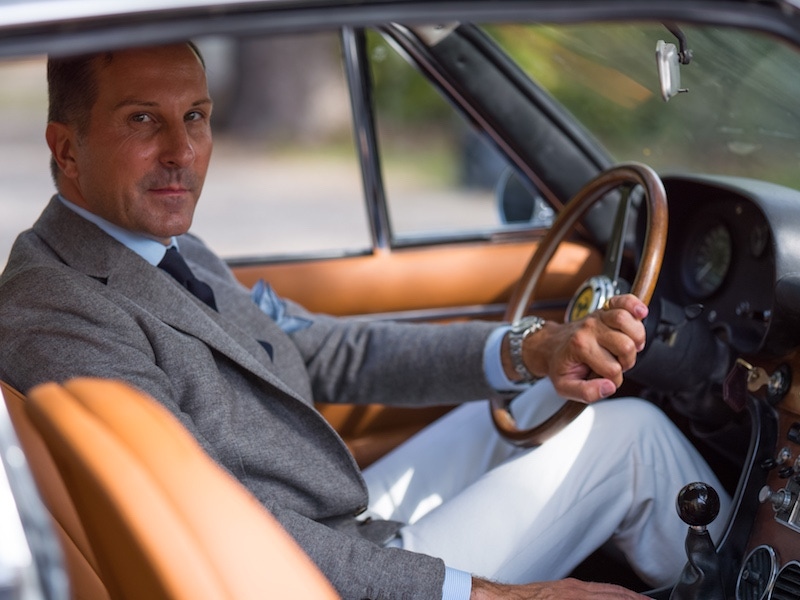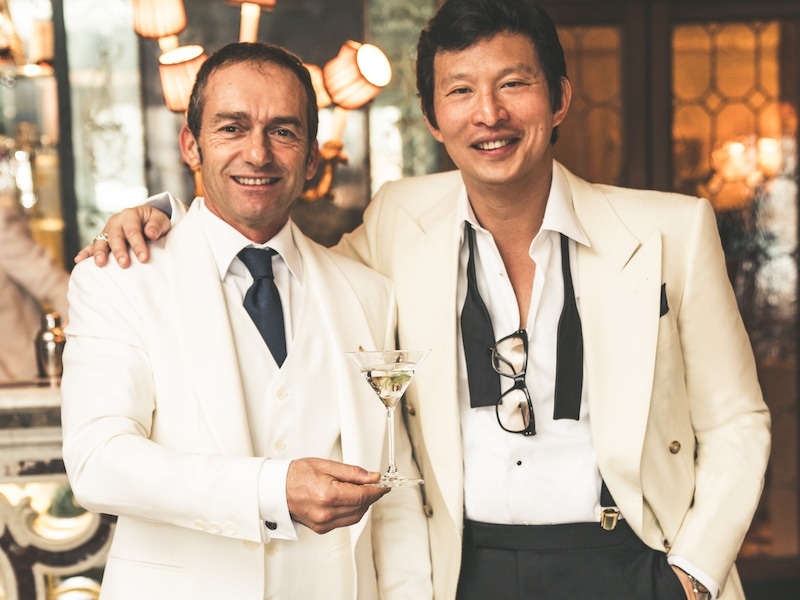 Once upon a time, sporting white in winter screamed 'idle rich', suggesting you'd no need for a job, messy or otherwise. Today, however, some of the simplest items of white attire to integrate into a winter wardrobe are in fact derived from workwear. Consider, for instance, the classic Aran cable-knit jumper, first worn by fishermen of the British isles in the 19th century and now a surefire winter white winner when coupled with jeans and a navy blazer or a leather jacket and cords. Or what about white denim jeans? Look to Italians such as the maestro Alessandro Squarzi for examples of how best to deploy this aestival essential after the mercury drops. Think of mixing with a military-style khaki jacket, check shirt and hiking boots, or for a smarter look, with a navy or camel topcoat, turtleneck and brown suede monkstraps. A beard's another recommended accessory, ragazzi. When wearing a more formal white trouser, style sage and author Alan Flusser suggests pondering, 'What would Ralph do?' He recalls a New York event in the 1980s when Lauren appeared "in a tweed jacket accessorised with classic Polo dress shirt and tie but finished off with a pair of pleated, bone-white flannel trousers and monogrammed velvet slippers. A classic Ralph outfit with a twist of insider chic." Flusser explains, "I thought the old world Palm Beach white flannel look perfect for Ralph, although you have to understand and appreciate the colour's origins as a sport trouser paired originally with a dark suit coat to make a sportswear outfit without a separate sport jacket. In the early days of American sportswear, circa 1920s, the separate odd jacket was just beginning to be needed on its own therefore becoming a basic in the man-about-town's evolving holiday or out of town sportswear wardrobe. And Ralph certainly understood this." Should you choose to have a pair of white flannel trousers made, The Armoury's Alan See counsels, "Keep in mind the colour, or lack thereof, is quite bold. So for those of you who are accustomed to higher-waisted pants, tweak your rise down a slight touch to compensate. And remember that off-white is a much softer look." See's business partner, Mark Cho says, "I've never been much of a winter whites person but I agree with Alan, off-white is preferrable." Cho is not a huge fan of white flannel trousers. "It's a very 'sticky' material and they pick up a lot of lint and dirt along the way," he says. "I prefer white jeans for this reason. They are flattering, retain a nice texture and look good a little worn-in."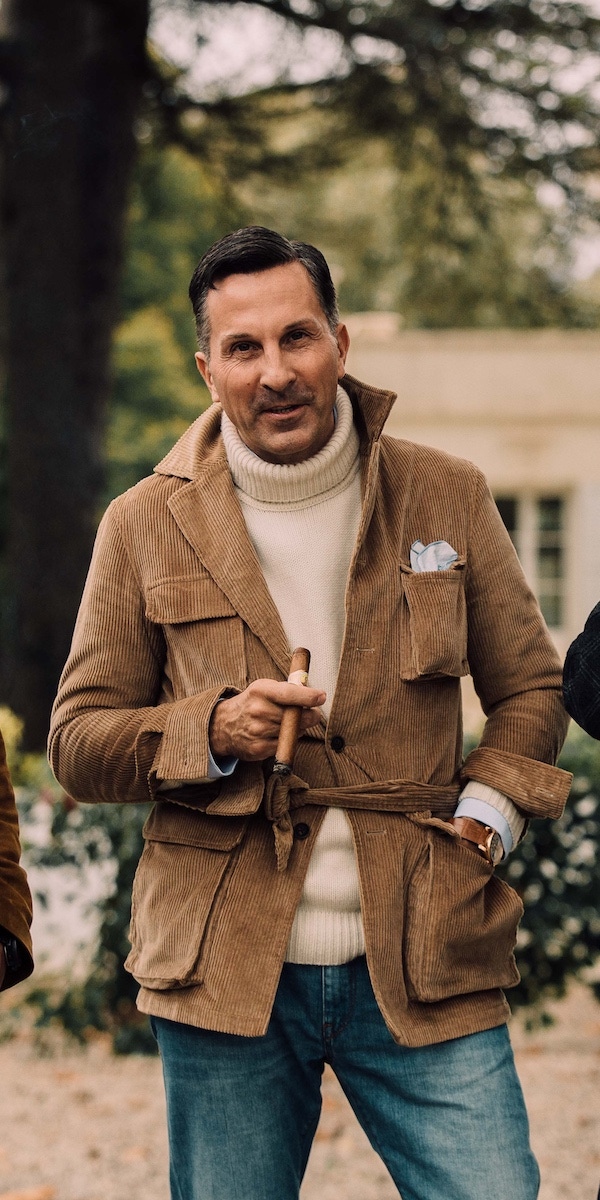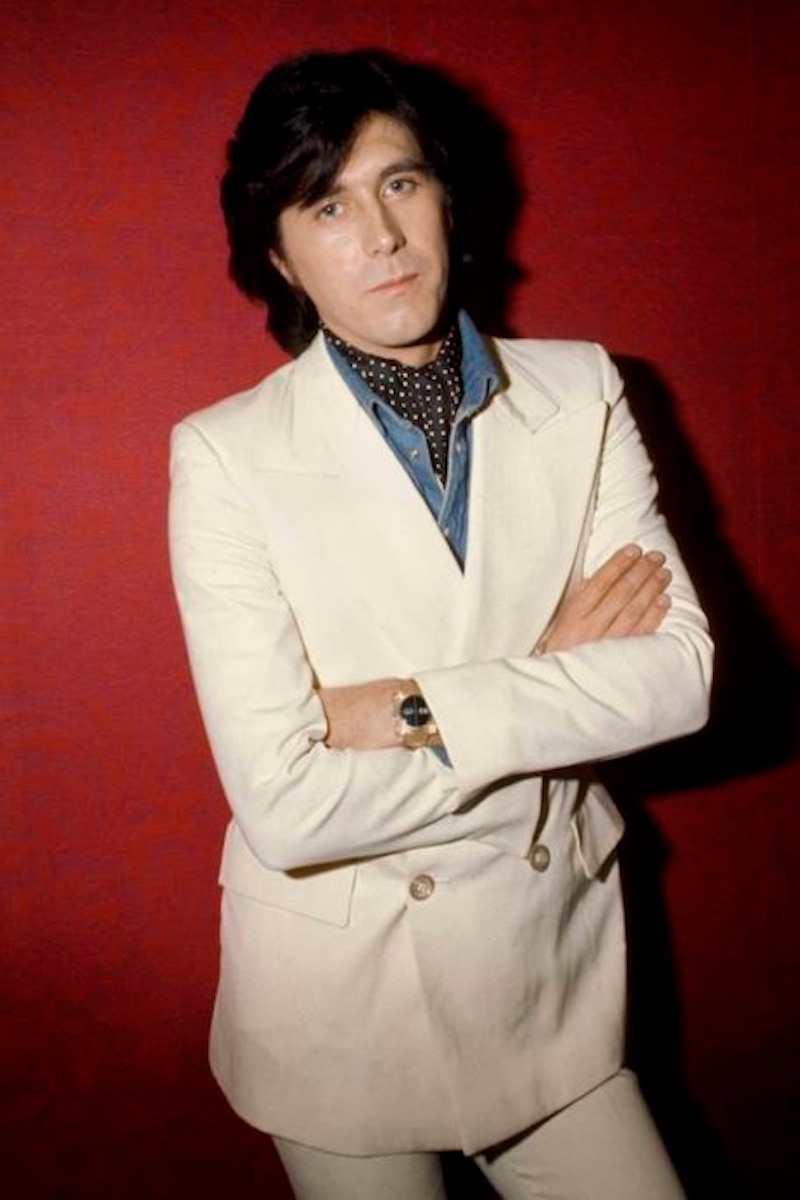 Christopher Modoo, designer at trouser specialists Kit Blake, warns "Winter white should be approached with caution. Always select a warm, rich white and not a bright optic variant." He says, "Heavy moleskin or corduroy trousers can be a good place to start. Or a chunky cable sweater. But never, ever go head to toe." The advanced flaneur, Modoo suggests, could try cream flannel. More conservative types, meanwhile, might dip a toe in winter white waters with accessories. "White knitted gloves, scarves and hats can freshen up a winter look on bright days." Another subtle way of incorporating the colour is with a waistcoat. "A bone-white flannel or wool melton dress vest, paired with a chalk stripe suit, is a soigne and upmarket look," says Flusser. "You would have seen these being donned in the ministerial style of England's Sir Anthony Eden or alternatively, Hollywood's Adolphe Menjou in one of his patriarchal, head-of-the-family film roles. The white waistcoat was one way to add a splash of dash to the classic solid grey or navy flannel solid or striped two-piece." Flusser and Modoo both beseech readers to steer clear of white outerwear. Modoo submits the music video for 1990s British boyband E17's Christmas hit single
Stay Another Day
into evidence. Trust us when we say, he convincingly proves his case.