Why the world needs Ralph Lauren now more than ever
Ralph Lauren has created a language of design that speaks to the best of the United States: freedom, fairness and liberty. He is, writes Wei Koh, America's poet laureate of style.
When it came time to celebrate the 10th anniversary of this magazine, I knew there was only one man who could be on our cover. And it didn't bother me that he had graced the front of The Rake twice before, because each of those covers created some of the memories I treasure the most. The original cover story was a tribute to his inspiring the creation of The Rake. Throughout the perennially shifting winds of trend, Ralph Lauren's brand has always been the steadfast beacon of classic elegance and eternal style. I remember the first words he ever said to me were, "So you created The Rake. I've always wanted my own magazine. But I don't need it any more because I like yours." I recall almost fainting at such lofty praise from the man I consider the embodiment of all I hold sartorially sacrosanct. I remember lunch with him at his flagship on Boulevard Saint-Germain in Paris, and the incredible privilege of watching him receive France's Légion d'honneur from Nicolas Sarkozy a few days later. The second cover story with Lauren honoured his incredible efforts in humanitarianism, about which, in his typical manner, he is very modest. I recall being moved to learn he had built a cancer hospital in Harlem when he discovered that survival rates there were worse than in the Third World. And I vividly remember a magical, dream-like evening at Windsor Castle to celebrate his creation of a new cancer wing at the Royal Marsden hospital in London. This story has a different purpose. Its intention is to express that in a time when the global perception of America and its leadership is in flux, Ralph Lauren continues to represent all that is best about the country: its optimism, its egalitarianism and its inclusiveness. This story, and the accompanying feature, which is taken from the 36th issue of The Rake, show Lauren as the symbol of hope for one of the greatest countries on Earth. Ralph Lauren is far more than the greatest designer of all time: he is also one of the greatest human beings in existence. I hope you enjoy reading it as much as I did writing it… It was a moment both seminal and seismic. On the evening of September 7 this year, to celebrate his 50th anniversary, Lauren, the single most influential designer America has ever produced, sent ceaseless waves of beautiful multi-ethnic, multi-cultural and multi-generational models — holding hands with children of all races — down the runway. Earlier in the show, his use of Neil Diamond's song Coming to America, a paean to the hopes and dreams of immigrants newly arrived in the land of opportunity, was not lost on anyone. Neither was the fact that despite his immeasurable success, Lauren has never lost touch with his roots as a child of Russian Jewish émigrés. His message was clear: at a time when the perception of America is miasmic, and the country is more divided than it's been in half a century, Ralph Lauren's vision of America is one in which egalitarianism, inclusiveness and optimism rule the day, because it is precisely these qualities that have allowed him to succeed beyond his own loftiest dreams. And it is for this reason that the world needs him now more than ever. On the day I visit Lauren, a documentary film crew is following him round his office. The resulting film will not have aired by the time you read this story, but what I hope it will communicate is the vision of a man that for more than half a century has extracted the best narrative elements of American culture: clothing that expresses the freedom, fairness and liberty for which the United States has always stood. Lauren used these mythological themes to create a unique and singularly American art form; to call it fashion would be misleading. Much of fashion is made up of aggressive symbols of wealth. But watch someone's face when they put on a Ralph Lauren garment: a flowing Montauk-style summer dress, for example, or the perfect double-breasted blazer that appears gleaned from your rakish great uncle's closet, or a fringe jacket or denim shirt that might have been discovered in a Santa Fe tack shop — only better, refracted through Lauren's unique sensibility and crafted with his exacting insistence on quality. They start to smile because they've just entered into a dialogue with the unique narrative he creates. All of a sudden they are transported to a ranch in Montana and are channelling the ineffable cool of James Dean in Giant or Paul Newman in Hud. Or they are travelling back in time to the Jazz Age and the café society of Fitzgerald and Hemingway. Putting on Ralph Lauren is like reading an amazing passage in a book, a line, say, about how we "beat on, boats against the current, borne back ceaselessly into the past"; or listening to a perfectly evocative lyric ("The screen door slams, Mary's dress waves"); or watching your favourite scene in a film with Bogart and Bacall.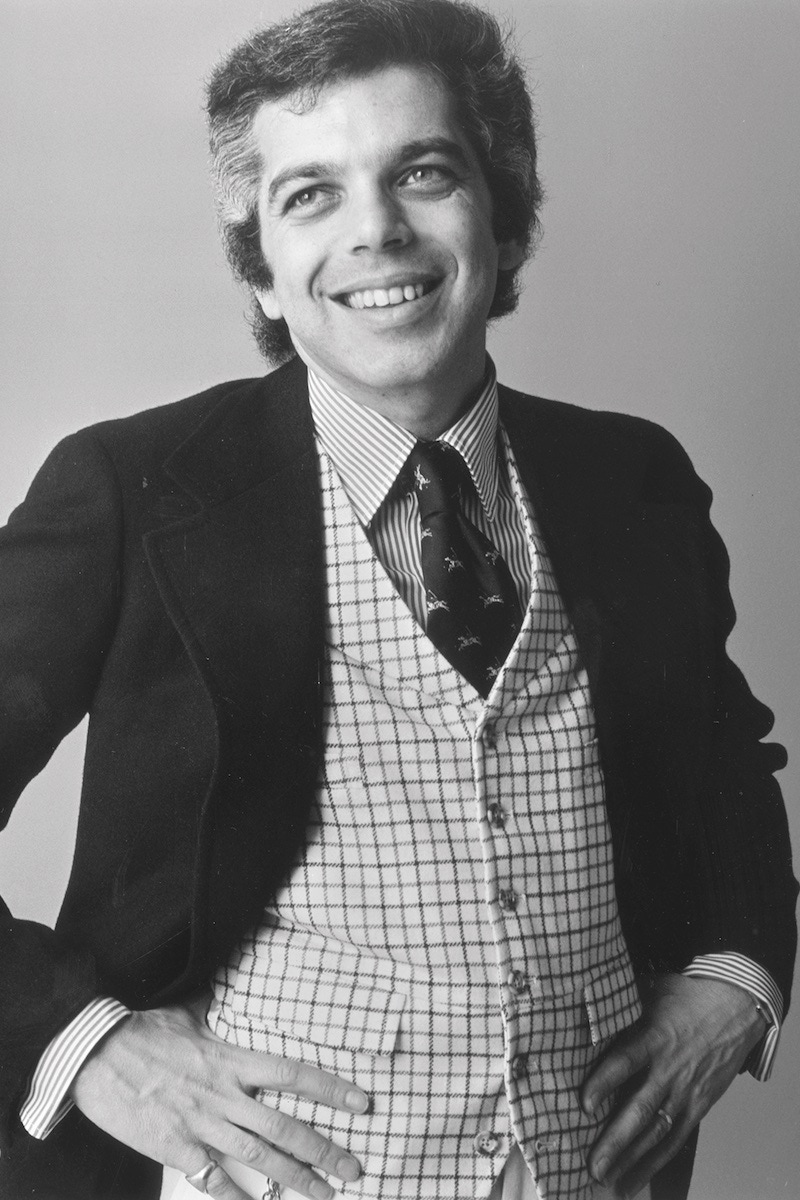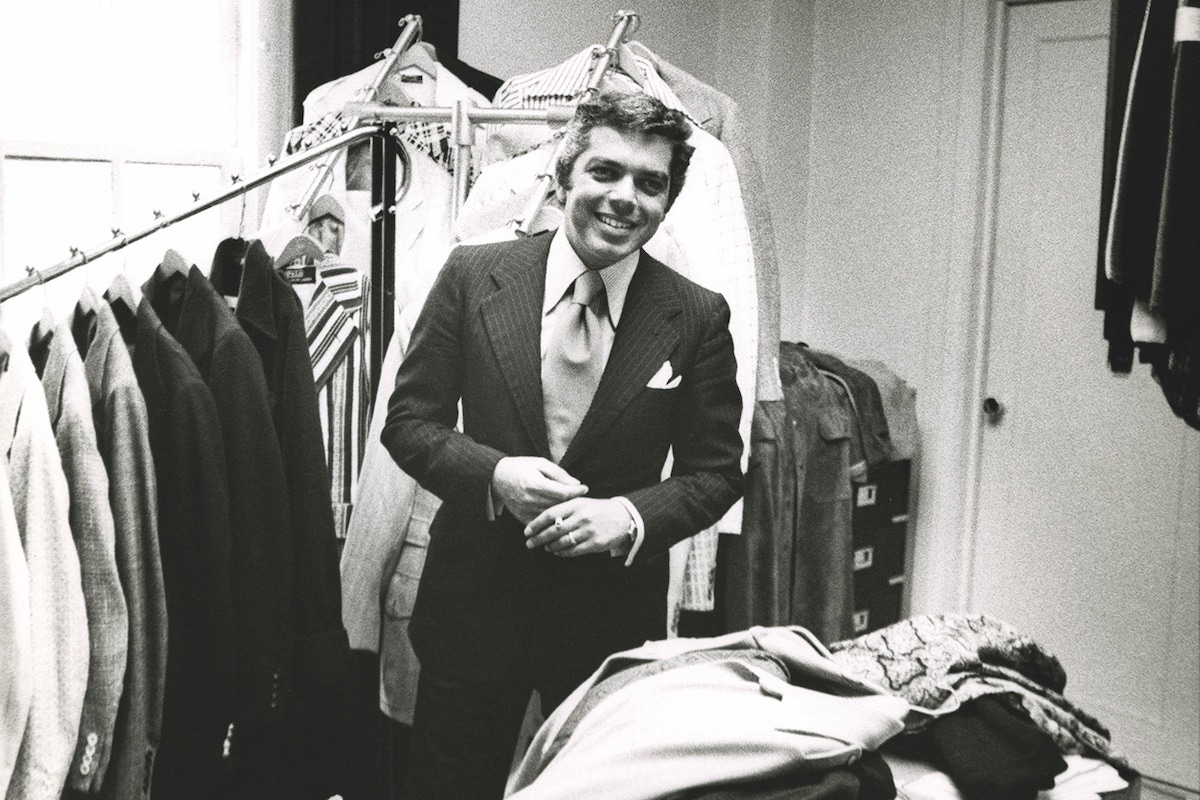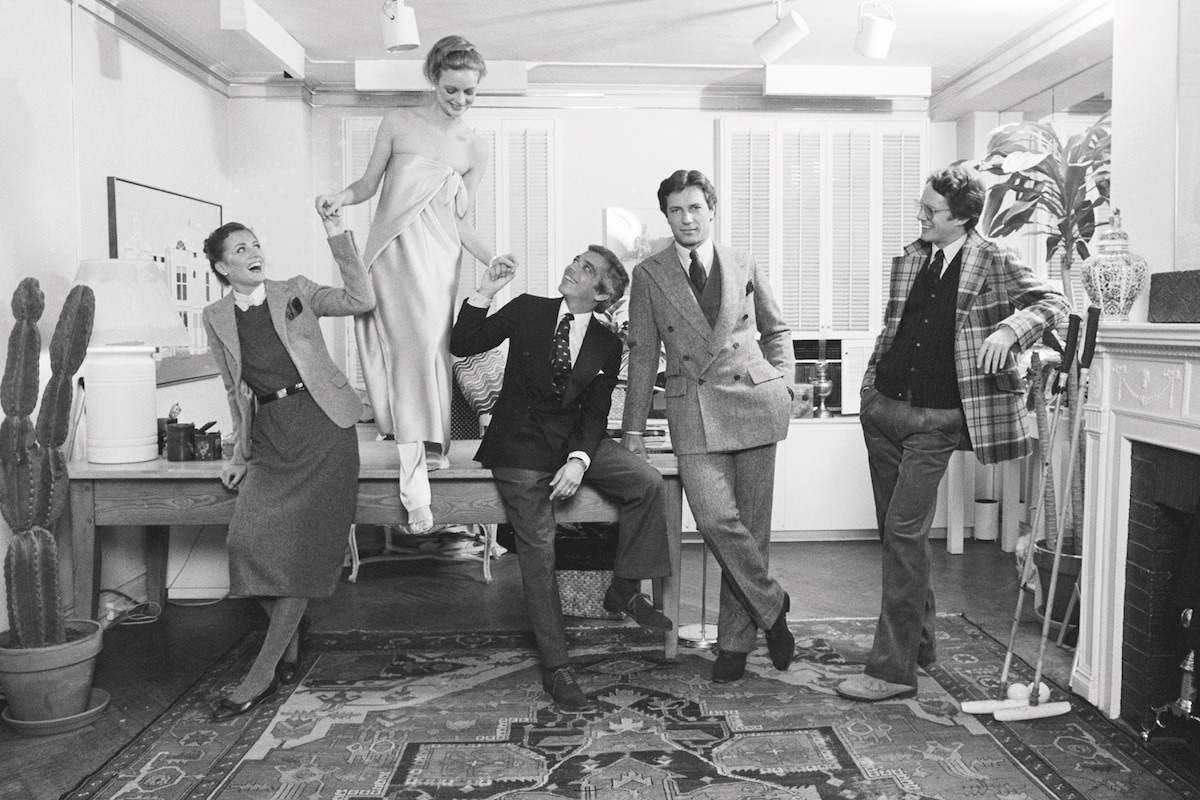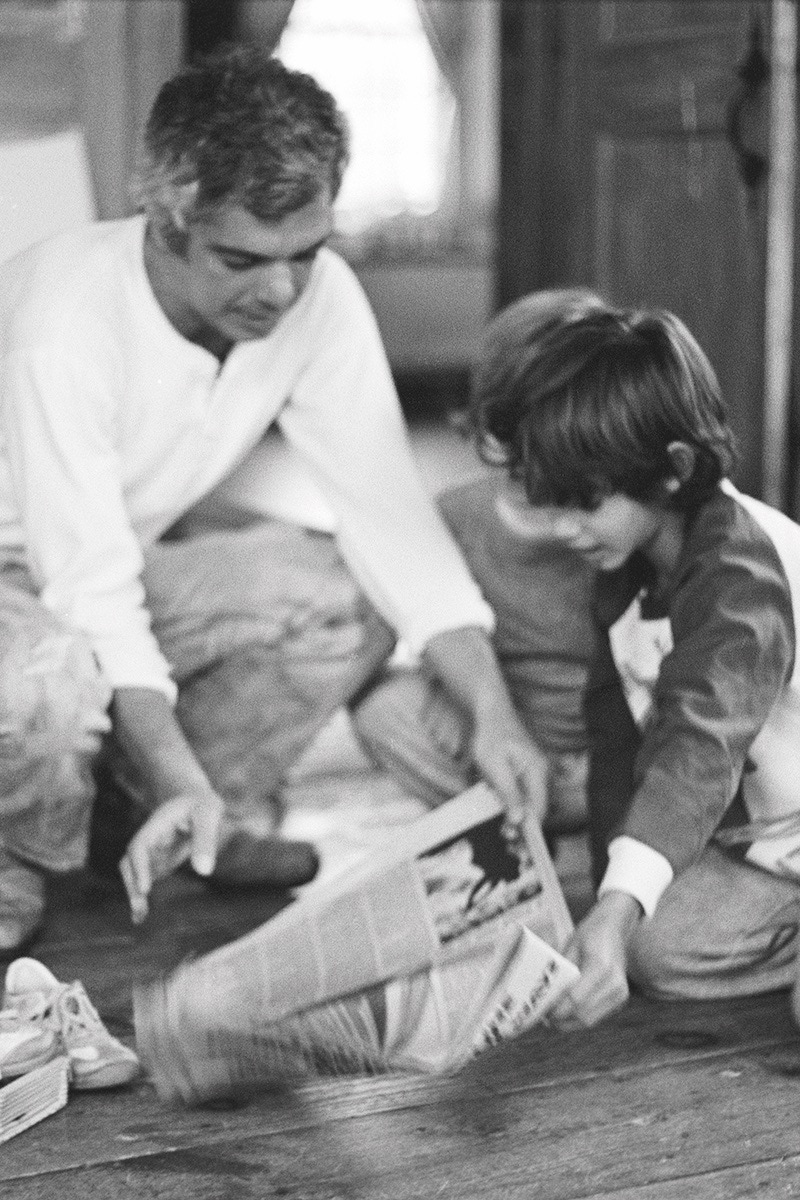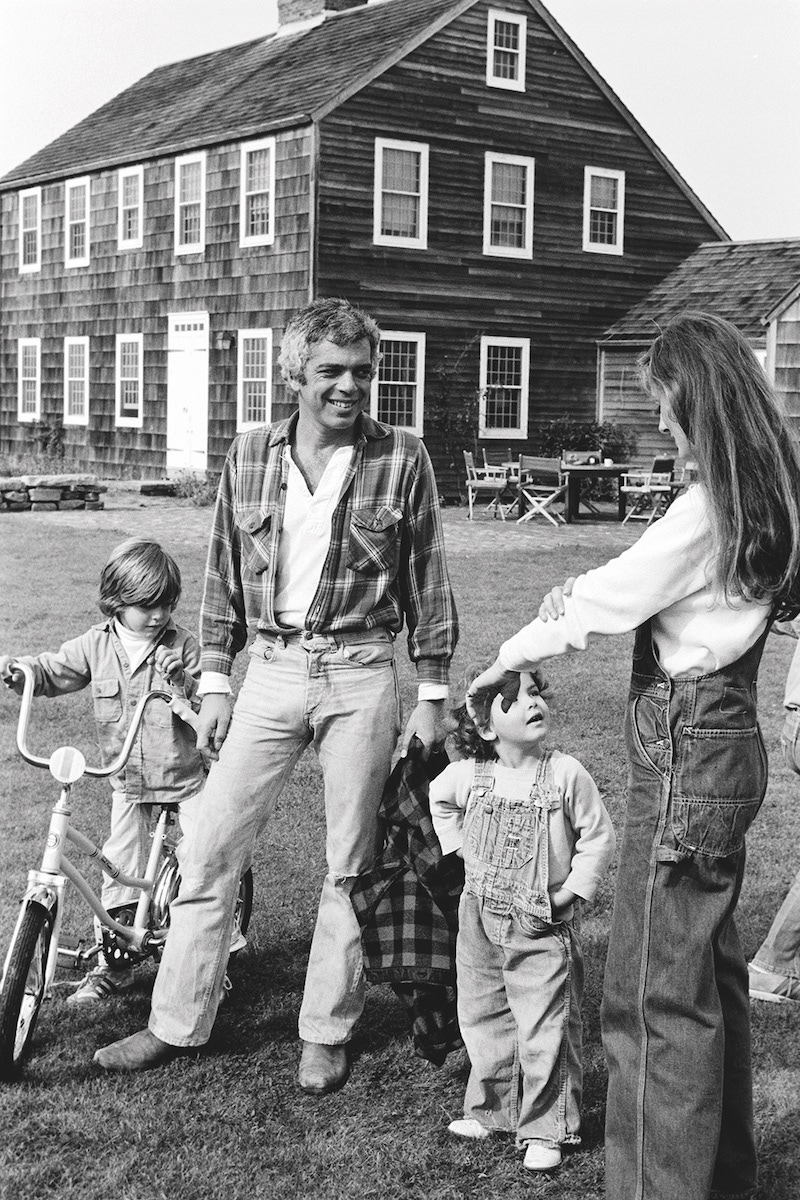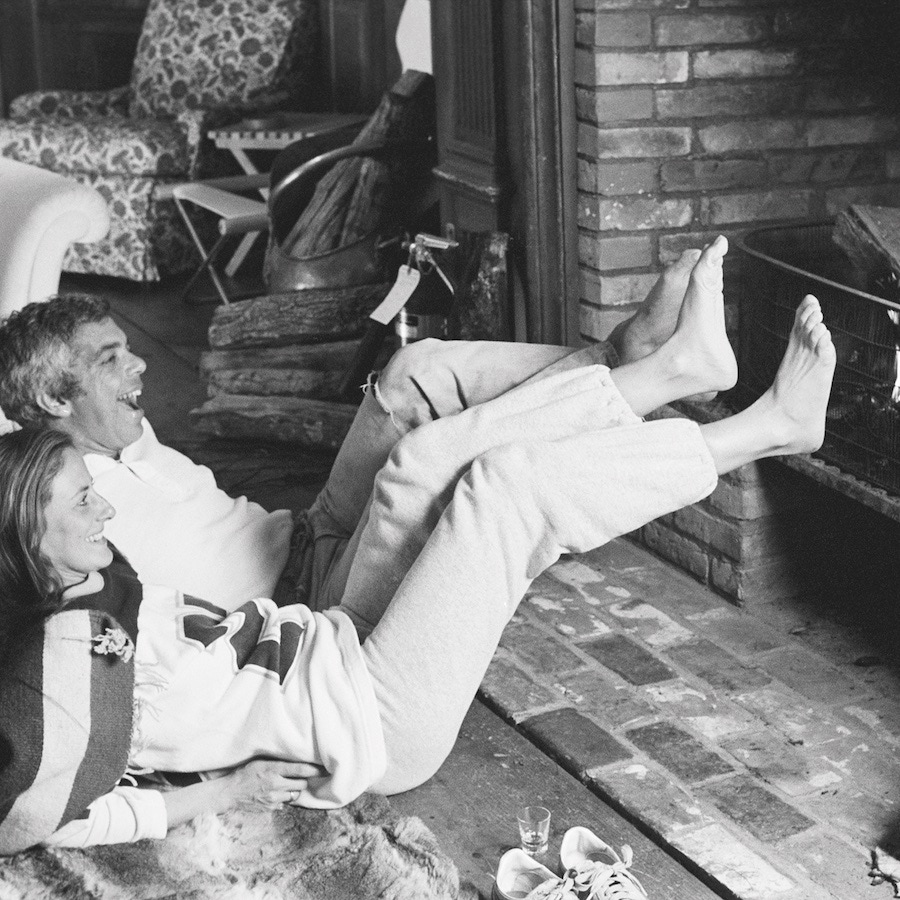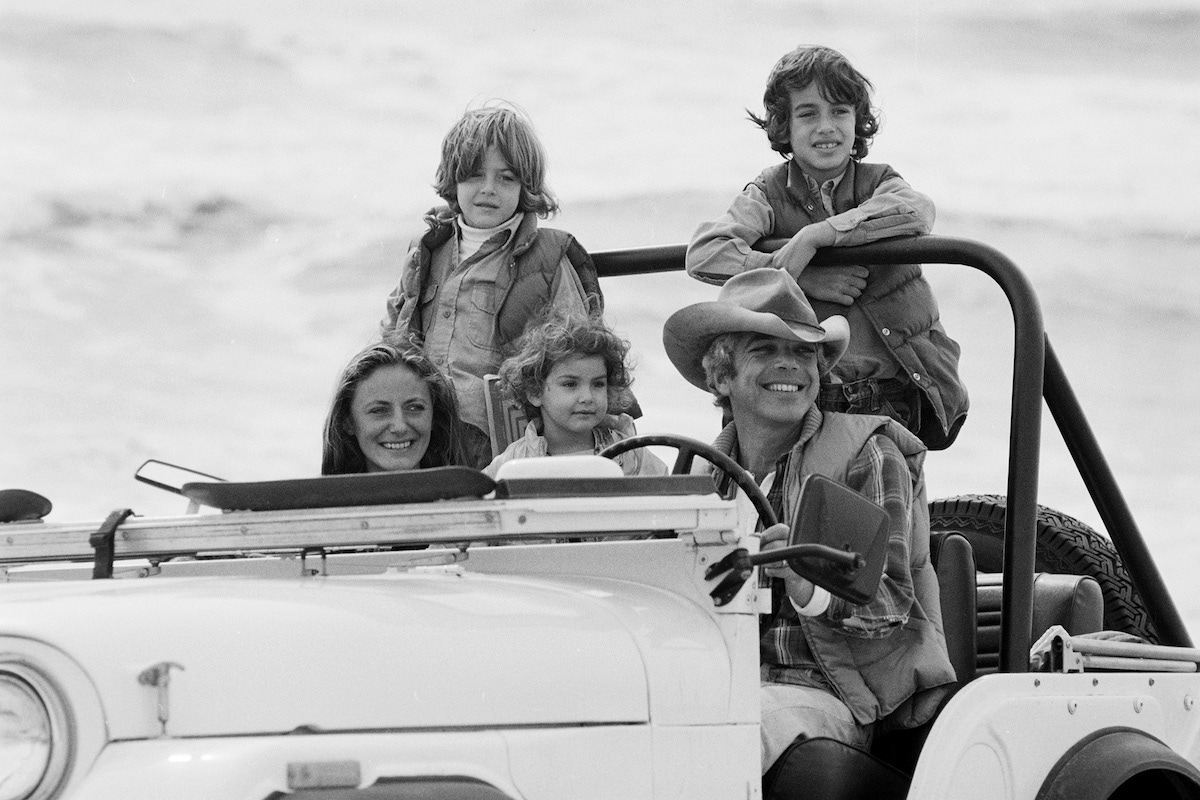 Ralph Lauren makes you dream, he lets you enter into a construct of his imagination populated by a cast of idyllic characters and their ravishing costumes in the same way that the greatest film directors have done. And each time, he has expressed the cultural zeitgeist before it has been fully articulated. People forget that his Safari collection, a revolution in the way fashion was transformed into visual poetry, was launched a year before the film
Out of Africa
hit the screens. Then he lets you steal away with these magnificent artefacts from this dream world around your shoulders. In many ways he is far more of an auteur, a writer, director and producer, than he is a designer. Which is probably why he is finding it awkward being the focus of the camera as the documentary crew follows him through his daily routine during an intense period of creativity that will lead to the creation of his 50th anniversary collection. (It was unveiled at that transcendent show in New York's Central Park, and whose message of inclusiveness moved luminaries in attendance like Oprah Winfrey to tears.) Lauren says of being at the centre of one of the most anticipated HBO documentaries: "I don't know, I'm not used to this. I just hope they get it right." Susan Lacy, the brilliant and award-winning documentarian, looks at me with a small measure of exasperation and says: "He just won't talk about himself. How do you craft a documentary about a man commonly acknowledged to be the world's greatest fashion designer but who doesn't consider himself a designer at all? Ralph Lauren always describes what he does with both profound understatement and Zen reductionism in extremis. Articulated in that beautiful Bronx-inflected timbre, he says: "I've always made the things I genuinely love. Everything I do is an extension of how I live and how I see the world. And I suppose there is a real sincerity to that." As previously expressed, I am in agreement that Ralph Lauren cannot be considered a fashion designer. After a good deal of soul searching for the right description, I feel Ralph Lauren is a cultural empath and the creator of an original American art form as historically significant as Jackson Pollock's abstract expressionism. The satisfaction I derive from wearing Ralph Lauren's clothing comes from the narrative richness it provides and the elevation of American iconography into a language of dreams, hope and promise. I hope that is what the HBO documentary will show us: that the optimism and egalitarianism in Lauren's clothing is unique to America. Until the rise of American cinema and literature, the world of popular entertainment was characterised by looking from the bottom up. Any work of English literature, from Shakespeare to Jane Austen, invariably had a noble person at its centre. But American culture gave us the cowboy, the G.I., the rebel, and exploded the concept of class stratification in the way that only a truly classless, fluid society could. Bruce Boyer, the renowned menswear writer, says: "America made you root for the underdog, it made you relate to the common man. For the first time the protagonist could be a dock worker, like Brando in On the Waterfront, or a teenage rebel like James Dean, but his ethics and values were heroic. And he always had the best style. That's what America did, it democratised style, and that's what Ralph Lauren recognised and brought to the rest of the world." When Bruce Springsteen met Ralph Lauren, the singer (who should be considered America's musical poet laureate) said to him, "I see the beauty in the details of lives in small-town America, in the rural landscapes and the urban vistas, and when I put on your clothes I feel that same beauty expressed so clearly to me". Perhaps it is in this way that you can best understand Ralph Lauren and what he does. He is America's poet laureate of style. He has created a language that treasures the fundamental elements of America's culture, from the cowboy boot to the fringe jacket to the U.S. Olympian's rowing blazer. He uplifts and transposes them into rich narrative works of unadulterated optimism. He creates the artefacts of the American Dream, and in so doing has become one of its key guardians.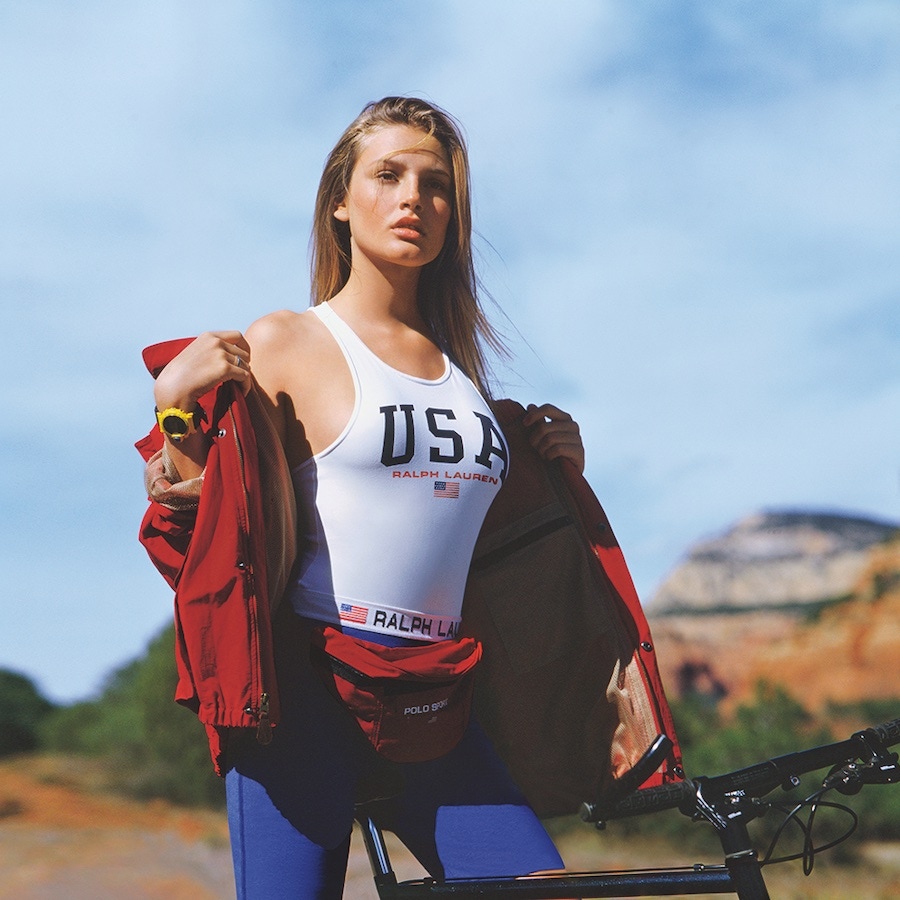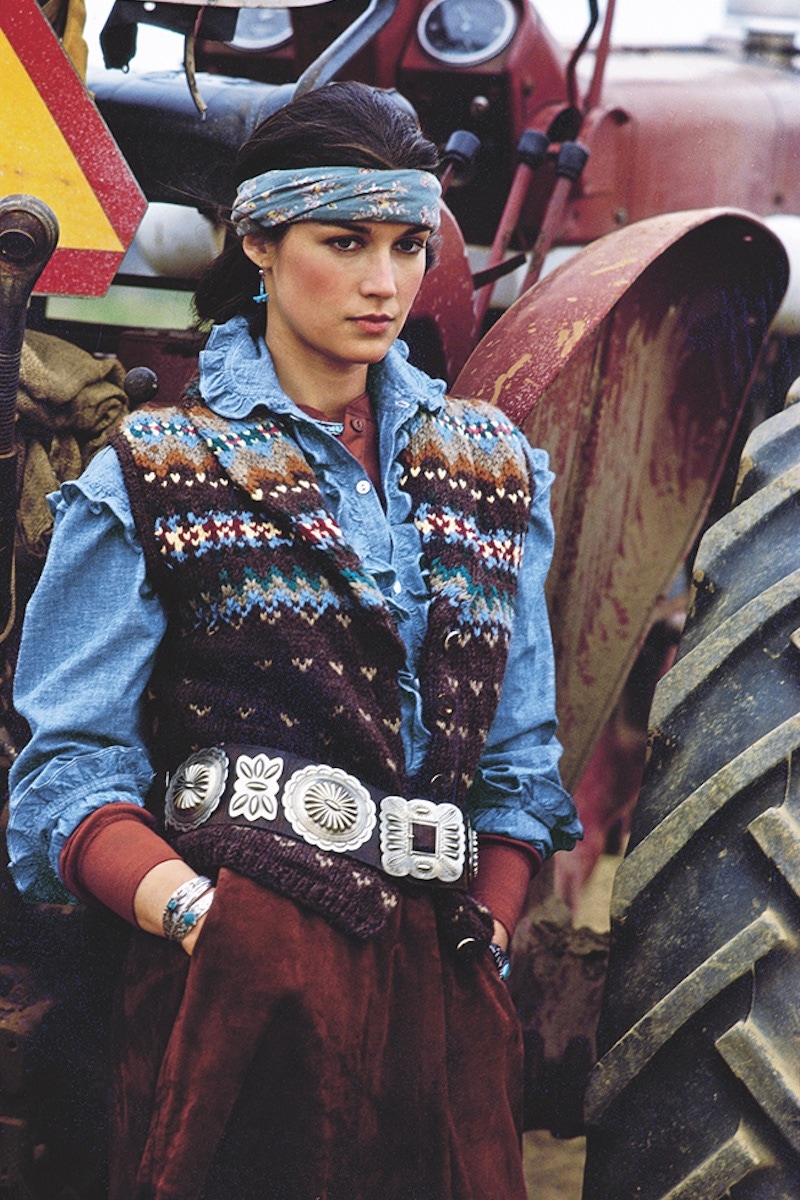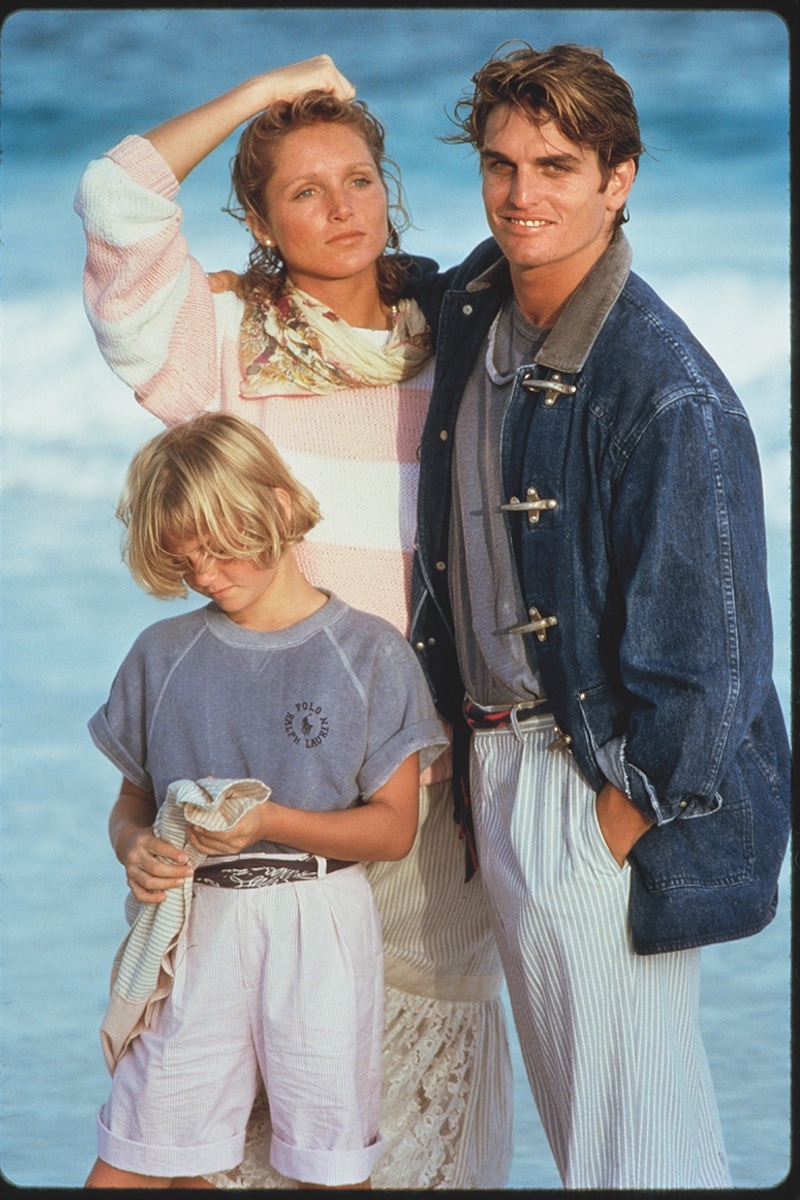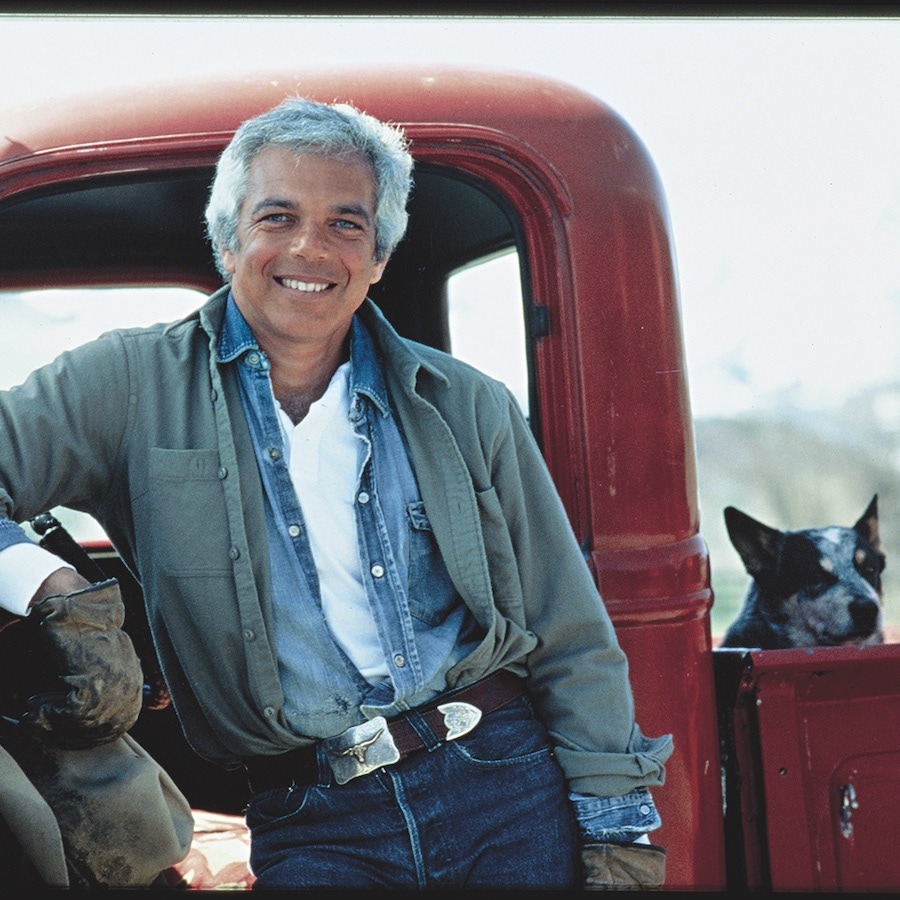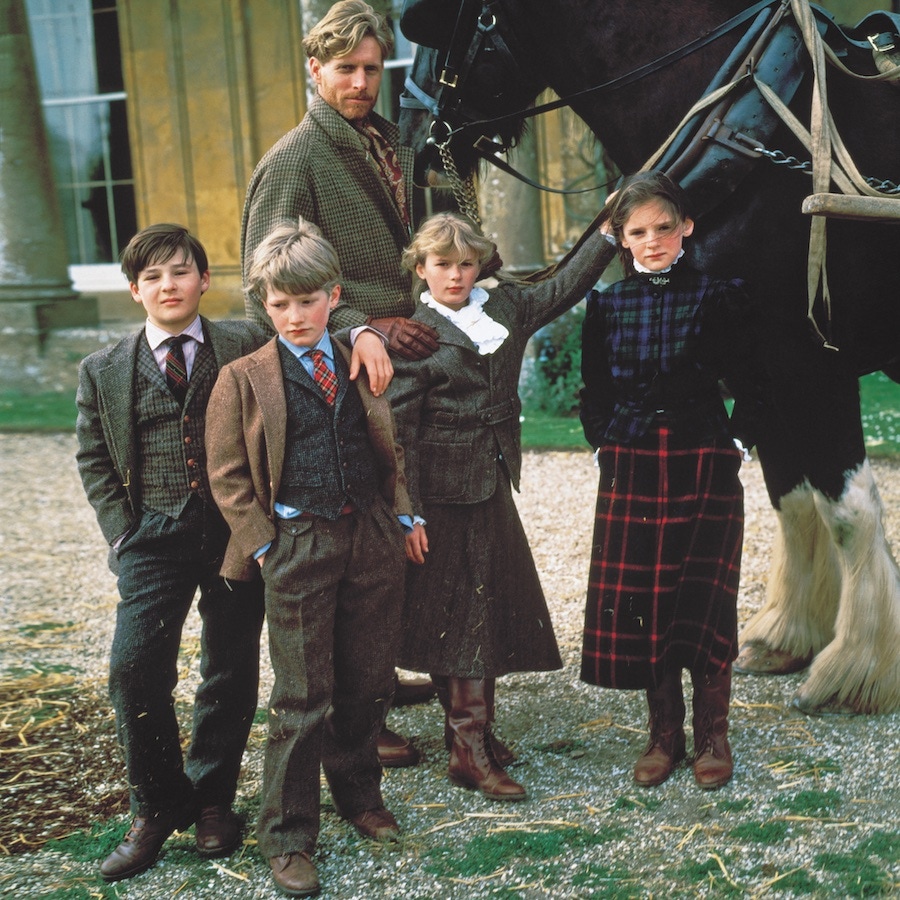 The thing is, fashion divides. Fashion creates barriers between the stylish and the banal, the rich and the poor. What Ralph Lauren does is tear down barriers. He finds beauty in the seemingly mundane to create an all-inclusive tapestry of American life that finds as much beauty in a Navajo blanket jacket as it does Robert Redford's gold tie in
The Great Gatsby
. Then he transmits it to the world through a thousand shops employing more than 23,000 people in his multibillion-dollar business. He became the beacon of America and the best that it represents, and this stands in marked contrast to an America that is now shrouded by opaqueness and has lost its clarity. Following the second world war, America became the pre-eminent world power. Since the days of ancient Rome, there had not been a single nation whose political, cultural and financial influence could be felt so prevalently. But America was more than this. It also stood for fairness, ethics and courage. It was to a large degree the world's moral epicentre. And for more than half a century it was a country that represented inclusiveness. Now, because of America's leadership, it is a country that is fractured and divided. Its highest seat of power has come to be associated with mendacity, bluster and bullying. It is for this reason that the world today needs Ralph Lauren and all he represents more than ever.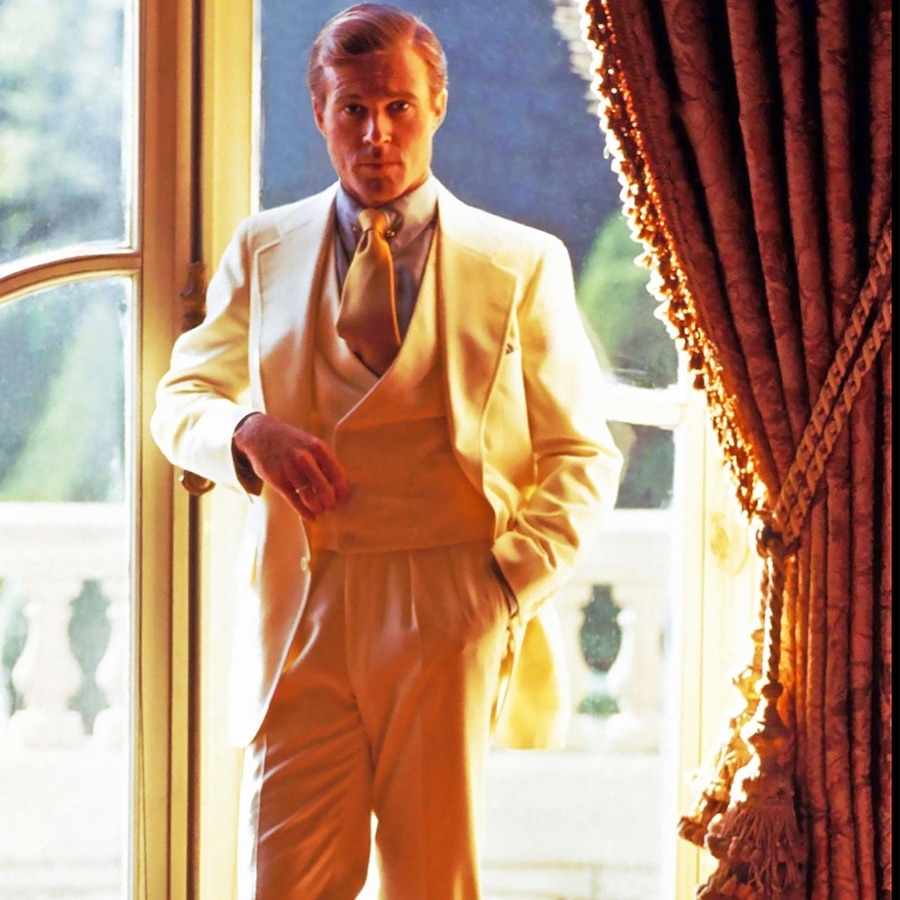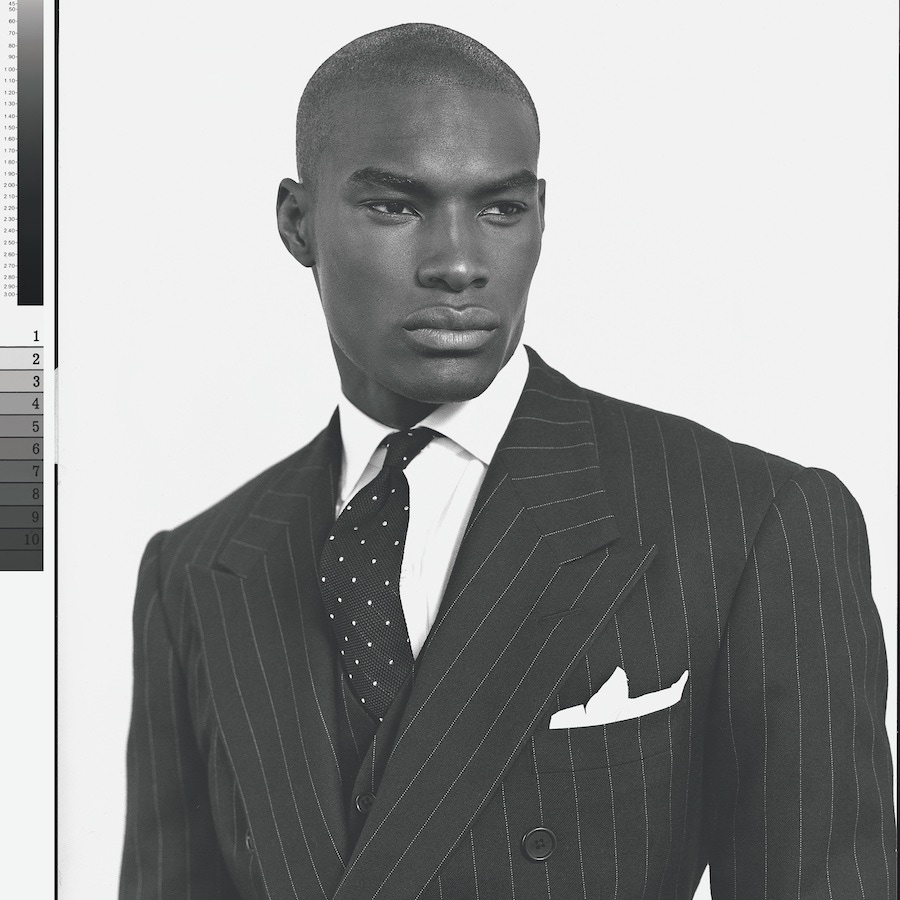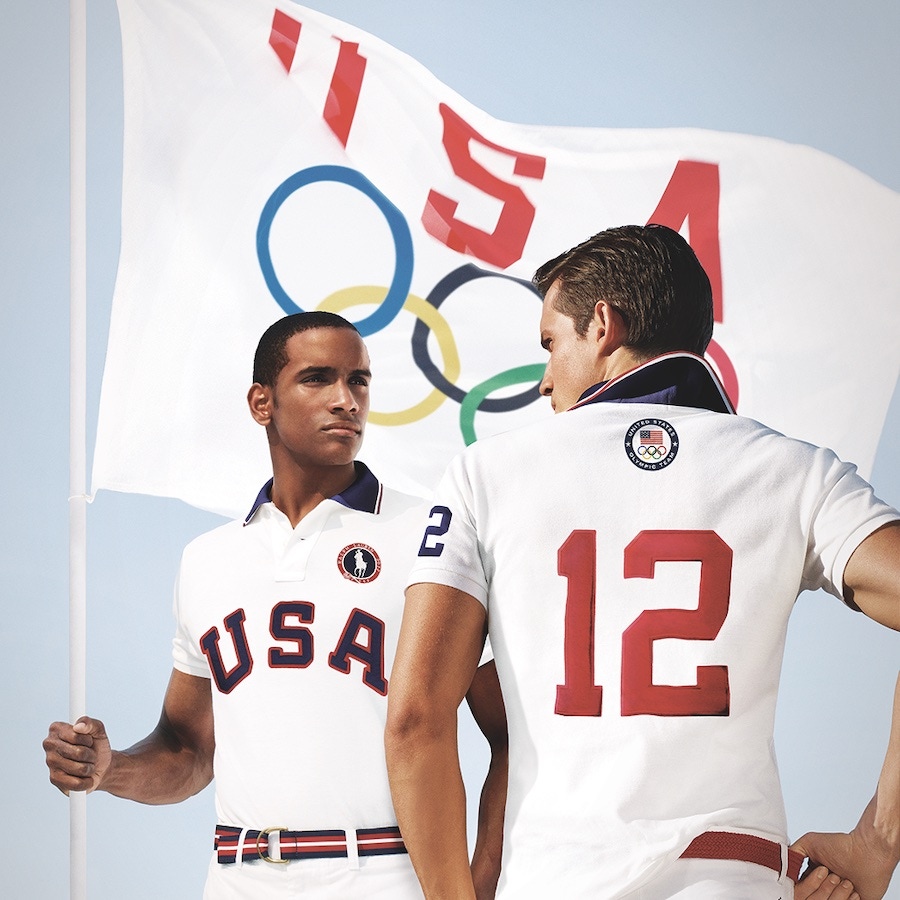 It's just as Susan Lacy came to learn: in a world in which hyperbolic self-aggrandising from the White House has become commonplace, the fact is that Ralph Lauren has a charmingly old-school reticence when it comes to talking about himself. How does he feel about America's current situation? Despite his softly spoken, sage-like demeanour, when the mood strikes him Lauren can be incredibly passionate about his feelings on the nation that made his American Dream come true. He says: "I was watching a documentary on Kennedy last night, and it brought tears to my eyes. When I think about what America meant in his time, the courage we had to enact so much social and political change, it reminds me of the best parts of this country." To Lauren, this image of America stands in marked contrast to the divisive period she currently finds herself in. He says: "The future is about finding the right person to unite the country. But it's a tough issue. I have people on my board who supported [Donald] Trump. A lot of business people supported him. And I get that he wants to reduce taxes on big businesses. But I don't see what they see [in him]." This prompts the question of Lauren's involvement in running the empire he created a half-century ago. I've always wondered how it was that he managed the commercial dimension of his business with the uncompromising integrity of his creative vision. He says: "I'm a business guy, sure, but if I only listened to accountants and financial managers, I would have never gotten anywhere. I mean, they are also a great help. People that may not share your vision but they have your safety in mind: you have to be a little receptive. You know, I work with emotion. I work with knowing that if something is right, it will be successful. At the same time, you can't have a team of people and not listen to them." The last few years haven't been without their challenges. In 2015 Lauren appointed Stefan Larsson as the first C.E.O. the brand has had besides Lauren. The result was that the company's profits and stock faced their first challenges in decades. From my perspective, Larsson, who arrived from the brand Old Navy, attempted to apply his 'high street' system to Ralph Lauren. That was a mistake. What that meant in particular was the steady deracination of the narrative richness that makes Ralph Lauren so unique and successful. Larsson, as Lauren puts it with typically efficient economy, didn't "get it". He left in May last year, and Lauren found himself a new Chief Executive, Patrice Louvet, who clearly gets it — as evinced by the shift back to the rich narrative storytelling in shops, online and throughout social media. With ever more desirable product saliently connected to the brand's roots, and with the street cred of RRL and the runaway success of micro-launches like Snow Beach, it is safe to say the company is back on track. And with the winning combination of Lauren and Louvet in place, the company rapidly returned to profitability this year, with its stock price soaring to a three-year high.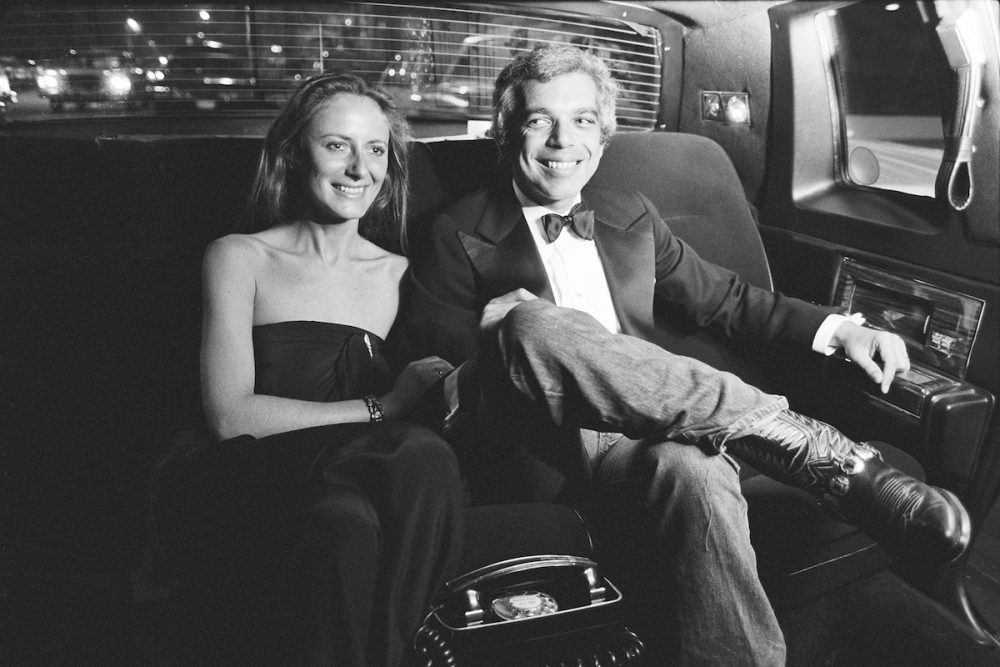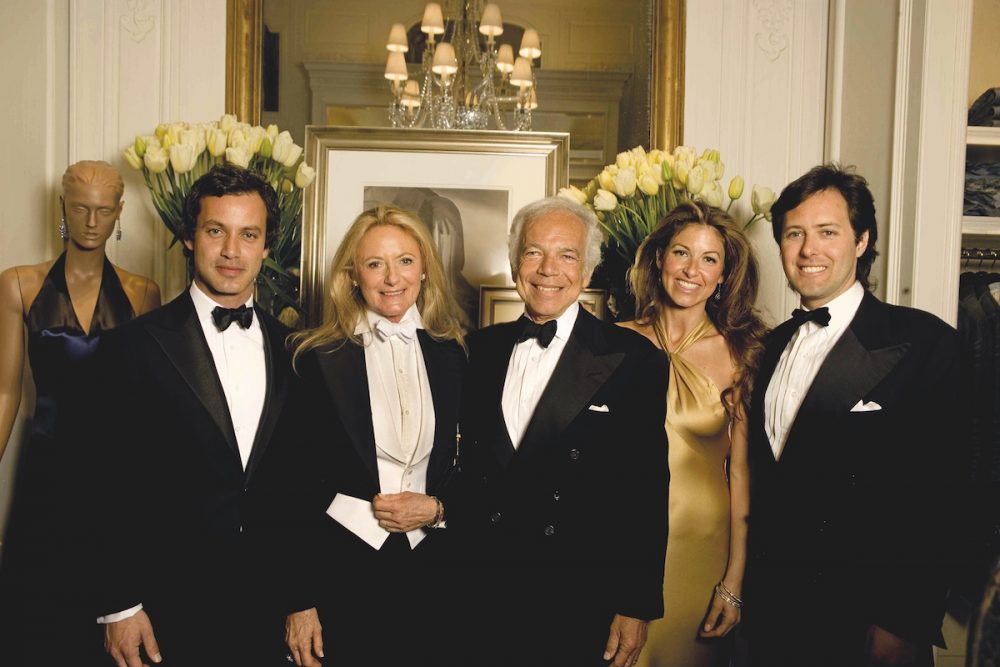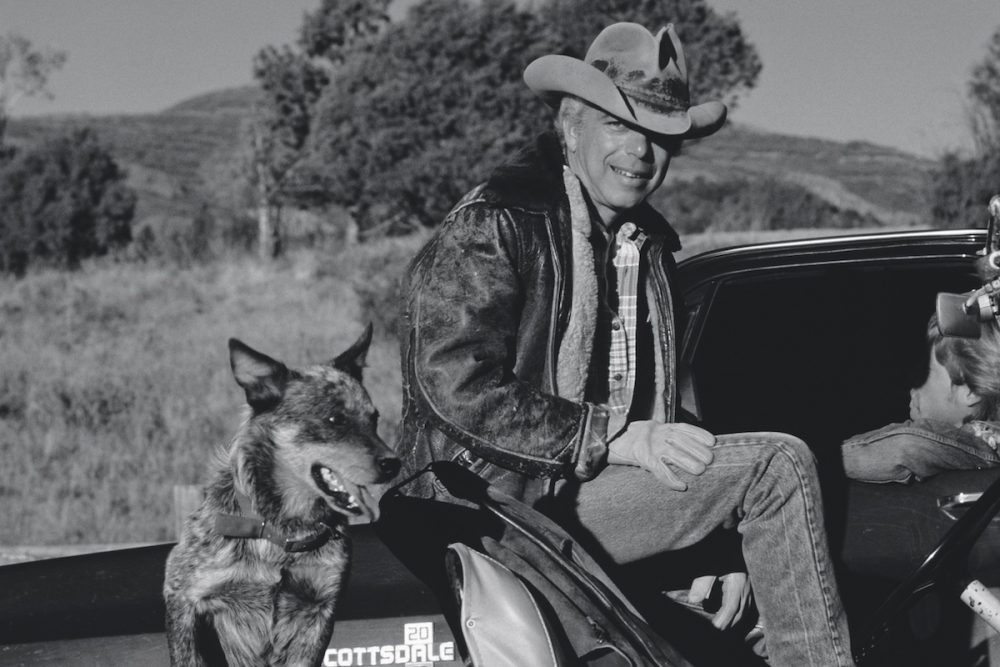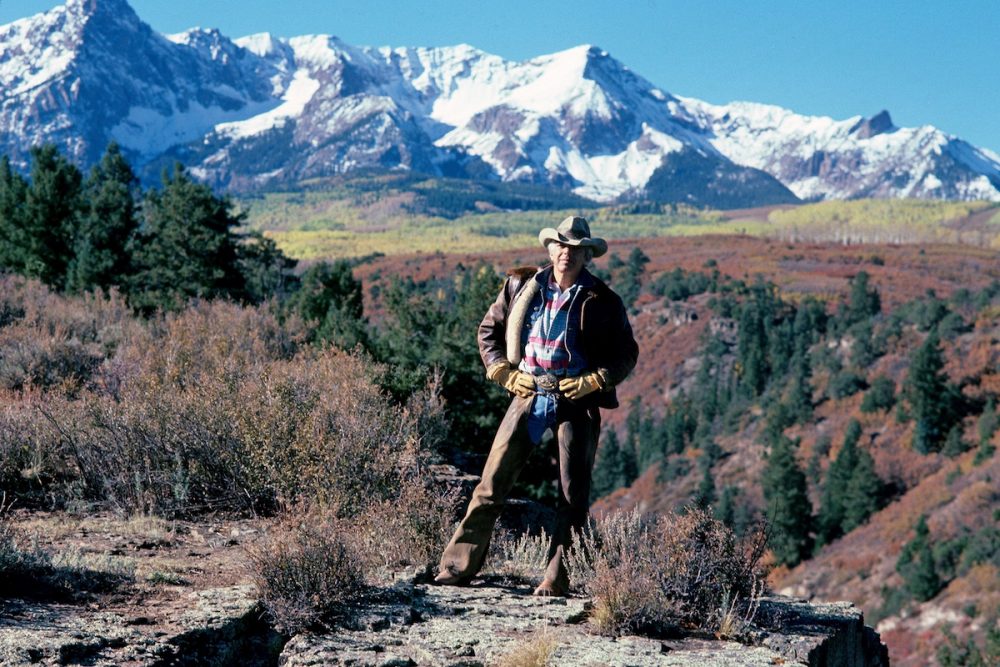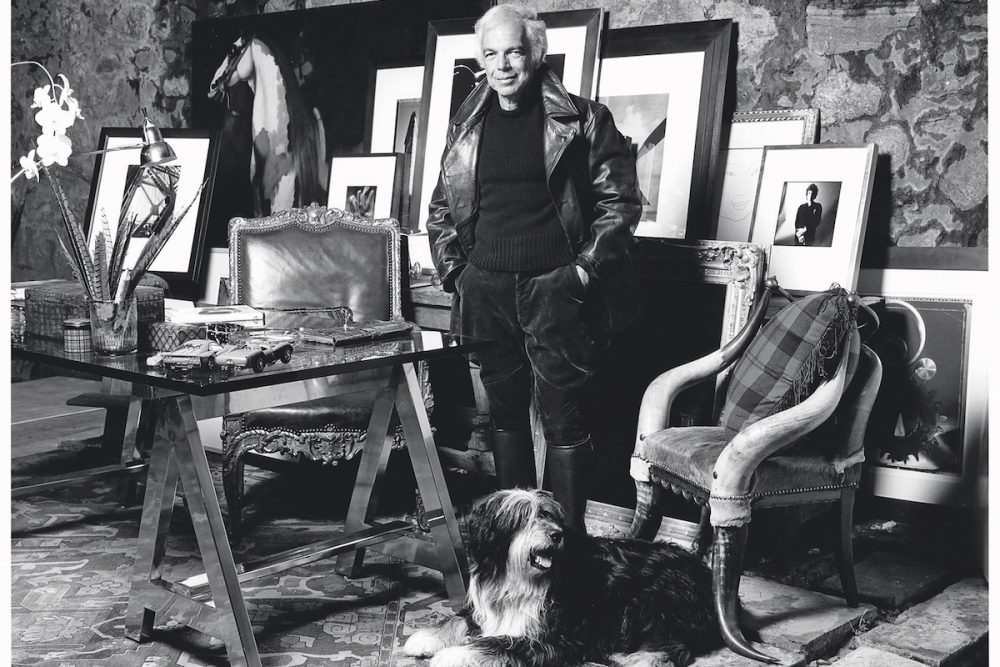 But the primary reason for the renewed relevance and energy at Ralph Lauren is Lauren himself, who, from a creative perspective, has never been better. This was profoundly articulated by an incredible show last September at his personal garage in Bedford, New York, with models weaving sinuously through his billion-dollar car collection, considered to be the single greatest car collection in the world. As a way of transmitting the uniqueness of American style for his February fashion show this year, Lauren sent models barefoot down the runway — reminiscent of the
Life
magazine photographs of the Kennedy family at play — to a great reception. This year the Council of Fashion Designers of America honoured Lauren with its inaugural Members' Salute, created to express the organisation's recognition of Lauren as the most significant American designer that has ever lived. Vera Wang, Thom Browne, Tommy Hilfiger and close to 20 more design luminaries took to the stage to express their appreciation for how Lauren has transformed the American fashion landscape. And, of course, in September this year he provided a breathtaking and majestic portrait of a united America in the staggering narrative of hope that was his 50th anniversary show. But I wonder, as he approaches his 80th birthday, whether it becomes easier or harder to retain the singularity of his vision. "Sometimes other people can cloud you a little bit..." he says. "I remember, in the collection that was inspired by Jamaica, I saw the girl in the blue and white dress. That was my girl. But when I came up with all blue and white garments, I remember my team were scratching their heads. So then I came up with these colourful touches, and they all loved it. Their reaction swayed me a little bit. I listened to too many people. Because the other thing was very exciting and fresh, but on some level I knew I was repeating myself a little bit." I can't help but ask, Is it fair to say you repeated yourself if you were the one who invented a specific style and have continued to master it for the better part of 50 years? Lauren smiles and says: "You can reference yourself but you have to do it with restraint. It's like, the hardest thing for a guy is to look cool but without looking like he looks in the mirror too much. You can't be mannered. When you see these guys or girls that you like, you know there is some substance there. It's not just because they are fashionable but because they have a true expression of something unique."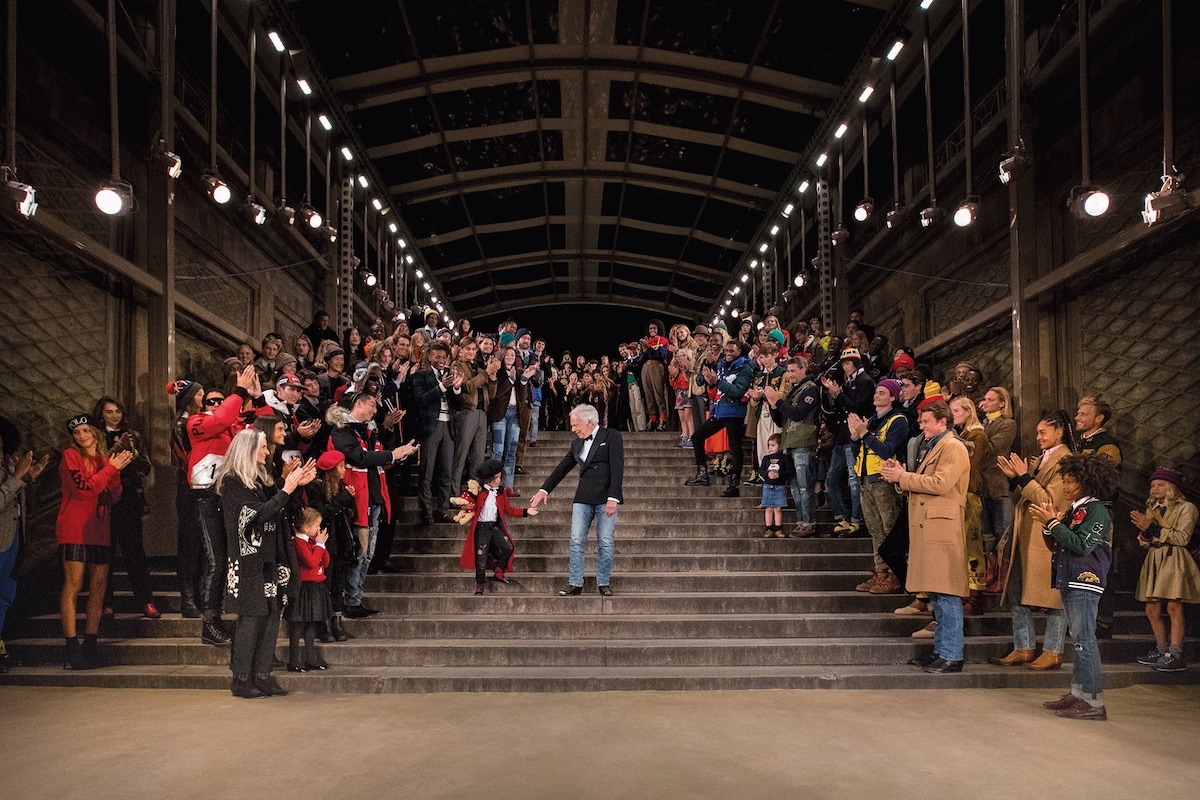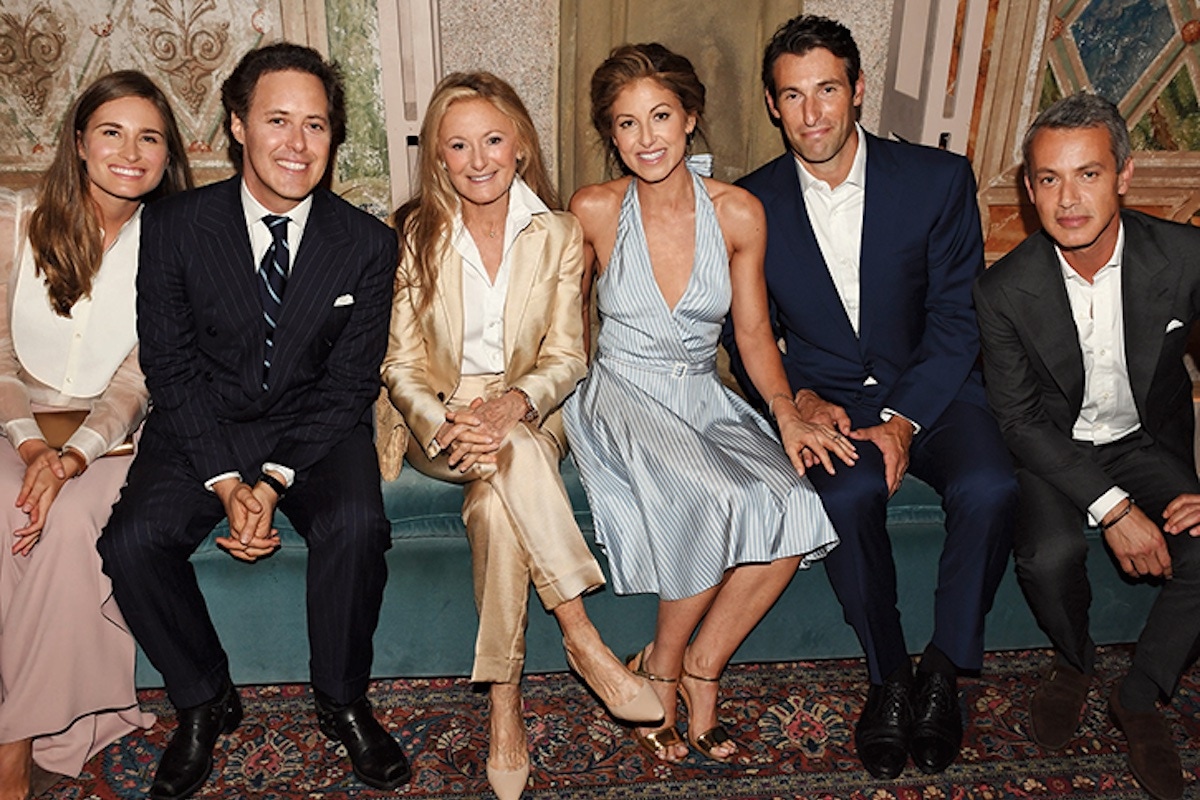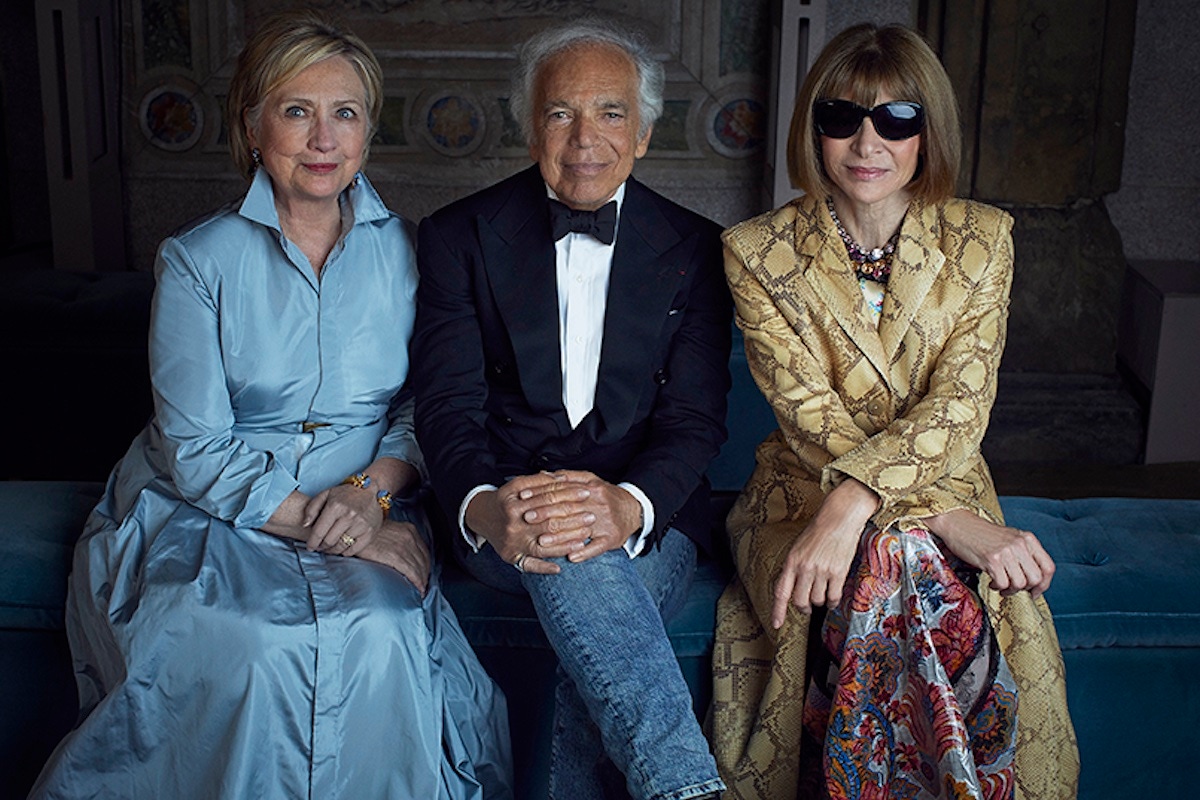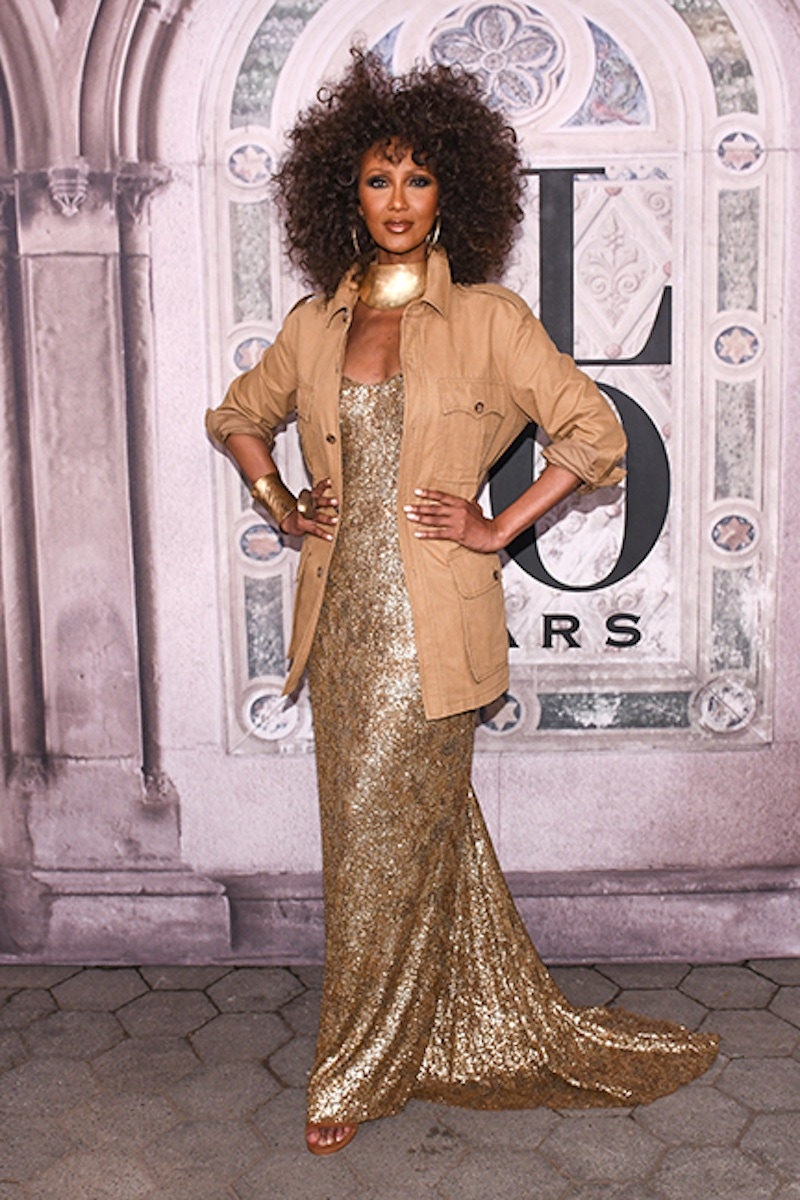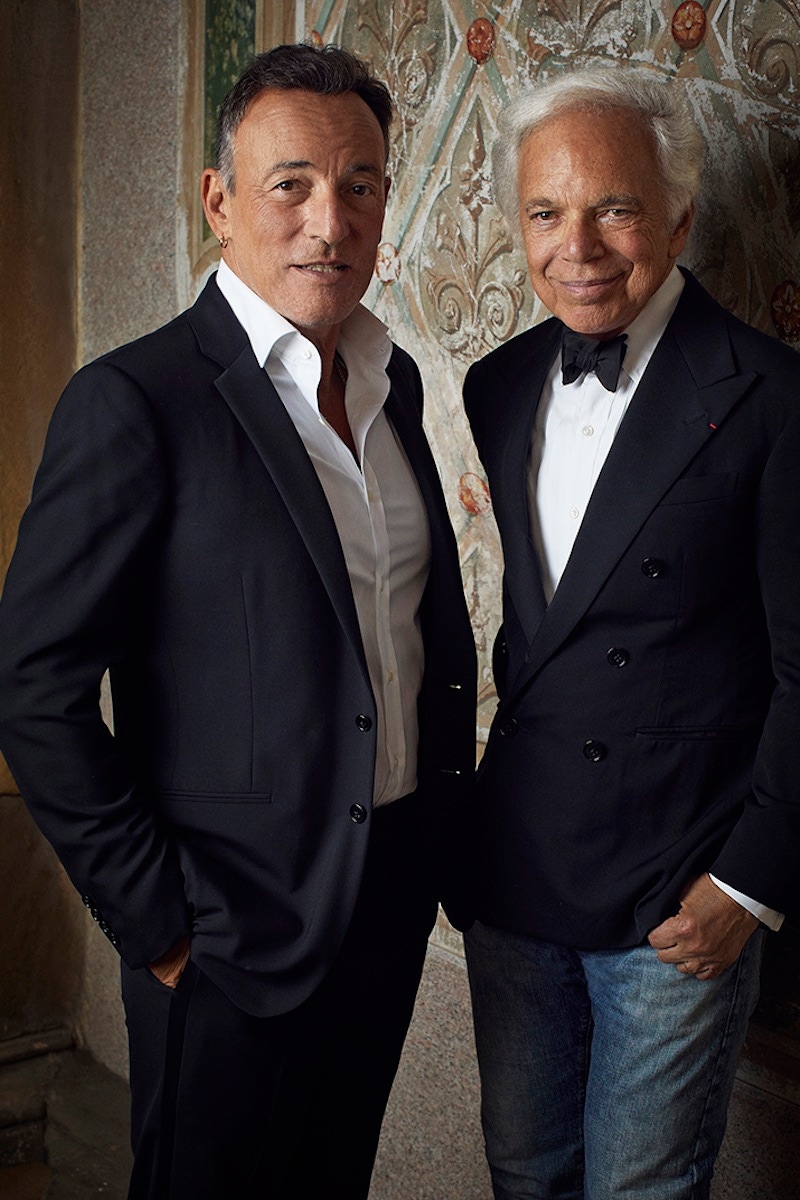 Which raises the question of whether he feels, as I do, that money and taste today have diverged. Worse, with Trump in office, the perception of America has become about bluster and braggadocio, 'winning', firing people, having a gold building... I ask if these are the values Lauren fears are being instilled in the next generation, instead of the value of being a great parent or humanitarian — or having strong ethics, as he does. "That's definitely not what style is about," he says. "I came from a very humble background, and we couldn't afford much. But when we were young my brother and I always had style. And style is not just about what you wear but how you treat people. When I walked down the street with my father and my brother, they made me feel loved. That's style... You know, when people are unhappy it is often because they spend too much time thinking about themselves and not enough time thinking about other people. What is irrefutable about the ethics of his company is that they come from the top down. Every time I walk into a Ralph Lauren shop I greet the sales staff like they are friends, because they are. The humility, sincerity and warmth of everyone who works at Ralph Lauren is derived from, and taught to them by, the man who has his name on the company door. Lauren says with a smile, "They're in the same club". Another unique dimension of Ralph Lauren is his universality, his capacity to connect with every demographic in the world, from resplendent haut-monde demoiselles like Lady Kitty Spencer, Princess Diana's niece, to the most original of O.G.s, Raekwon of the Wu-Tang Clan, who wore Lauren's legendary Snow Beach parka in the video for Can It Be All So Simple. The result is that both the original collection (and the reissued Snow Beach capsule) are going for stratospheric premiums on the secondary market. The second effect was the amassing of a huge following for Ralph Lauren in the rap community, wonderfully documented in the film Horse Power, produced by Complex magazine. When I ask Lauren about this, he says: "That was something pretty incredible. But you know, the thing was that I just made what I like. The kids from the city really responded to it and they adopted the brand. But I didn't pander to them because that wouldn't be sincere. I saw other designers go after that market, but none of them lasted because that consumer also recognises the authentic jacket from one that was engineered to appeal to them in a superficial way." The idea of superficiality, and its contrast with authentic style, is on Lauren's mind when it comes to social media. "To me, that's the problem with social media today," he says. "We are encouraging an entire generation to be as superficial as possible. They take photos that lead people to believe they have a certain life or a certain style that is not a real expression of their personality. It is an imitation of something they see, a way someone wears his jacket or tips his hat, but it's not a real expression of the person they are." Proust said that "style is the revelation of that particular universe that each of us sees and that is not seen by others". Today, the problem with social media is that very little is revelatory. It is as if Instagram has engineered a dystopian electronic equivalent of Plato's Allegory of the Cave. While we have become so fixated with the flickering of images on the cave wall, we've become blind to the reality outside its doors. Says Lauren: "Think about someone like Jane Birkin. She had great style that was totally unique. There was something going on there. She lived a life without caring what people thought. She used to carry her things in a wicker basket. Then people began following her, but her style was her own. I recognise the need to connect with young consumers, and I think social media can be a tool to achieve this, but I can't pander to that market. I can only create what I like, and hopefully when they are ready they'll come to me. I like to believe that they will." It is with the following statement that you gain arguably the greatest insight into Lauren's creative process: "It's funny, but even though I design women's clothes, my process always starts with a man. I think of the character, the way he lives, and of course the most important person in his life, who is his wife or his girlfriend. I think about the way their style contrasts but is complementary in the way that really stylish couples always are. The woman is probably more important in my show, but I think of the man because that's how I think. I think of clothes for me. Then I'll know where I am." Every show brings a renewed sense of a creative challenge, but the collection celebrating his 50th anniversary posed a particularly totemic significance. Yet as with every show, every collection, and every garment he creates, the answer came from his own life experience. "I was at a concert with my family in Colorado," he says. "It was a Neil Young concert and it was incredible to watch against the backdrop of the Rocky Mountains. So much beauty. I thought, This is America." It was a moment when musical and topographical poetry merged in a way it can only in America. "I was looking at the crowd and I started to create a character," Lauren says. "And that was it: she was the beginning of my 50th anniversary collection." The lauded resulting collection merges the Velvet Underground with Baudelaire. Who is she? "I see characters when I imagine the person that inspires a collection, I see her whole world," Lauren says. "I knew who this girl was. It had a certain familiarity but it couldn't be something people had done before." And as he says this, the power of his vision sweeps over me. I can see that her parents live uptown while she lives downtown. She drives an old vintage car barefoot. A young American Jane Birkin with a hint of Patti Smith-cool, scrawling lyrics with a fountain pen, her ink-smudged fingers tobacco stained. Immediately an idea came to Lauren: of patina and signs of wear, but expressed in a couture way, a really refined way. The idea of America and the freedom that is rock 'n' roll and poetry of the period of Neil Young, Bob Dylan and Springsteen, the pure American rock auteurs. After inspiration struck, Lauren was in a small bar having a drink with a friend and a man he admires. Says Lauren: "It was funny, Bruce Springsteen and I were sitting in a bar in Colorado. He wanted me to try some tequila. I don't really drink but I wanted to make him happy. I had on this beat-up cowboy hat. Some guy comes over to us and says, 'That's a great hat, Ralph. I really love what you do. You are America.' He then looks at Bruce and just walks away. Bruce looks at me and says, 'What am I, wood?' And we both started laughing." The point is, Ralph Lauren and Bruce Springsteen have been around for more than 50 years. Yet both are more vibrant, creative, sharper and more relevant than ever. Lauren is the creator of a dream, but also a living example of the ideals and ethics that make America great. If you want to know how, read the accompanying story in this issue on his humanitarian endeavours. He is softly spoken and at times self-effacing with words, because he doesn't need them. What he's achieved is so much larger than the English language and its capacity to describe him. This article originally appeared as the cover story in Issue 60 of The Rake.