Belsire: Neapolitan Masters of 'Sangue Freddo' Style
Founded by two truly perspicacious brothers, Belsire might possibly be the most aptly named commercial entity in Italy.
Just as many Catalans do not consider themselves Spanish, and a number of Cornish folk would sooner be garrotted than be referred to as 'English', the denizens of the narrow ginnels and cobbled squares of the old seaport of Naples incessantly call themselves Neapolitans, rather than Italians.
And nowhere does this quarantined identity find its expression more ardently than in the realm of menswear. Names such as Kiton, Attolini and Rubinacci immediately conjure images of exquisite stylistic bravado: racks of jackets cut from eclectic but consistently eye-catching cloths (soft of shoulder, devoid of heavy linings, naturally shaped shoulders, obviously); contrasting trousers, often in linen, usually cut narrowly, bar the upper portion; ties, if worn, double-dimpled, rarely conservative and often seven-fold.
So it's always exciting when a newcomer arrives on the scene and deigns to offer something new, as shoe and accessory maker
Belsire did in 2014. As if entering so vibrant, so busy a realm as Neapolitan menswear isn't brazen enough, the company really threw down the gauntlet by coming up with a name which is a mash-up of the Italian words for "elegant" and "gentleman". And, Belsire – which launched its first Spring/Summer 2016 collection at the 88th edition of Pitti Uomo – is doing a pretty good job of living up to it.
"We saw an opportunity for business due, in my opinion, to the lack of handmade Italian quality shoes that have a classic look and a contemporary style with the right price," explains Valerio D'Angelo, who founded the company with his brother Diego. "We also believe that the online business model is not very well used by our competitors, and we have know-how in this department." Diego and Valerio - who have Master's degrees from the USA and UK respectively – are, in keeping with the city of origin, keenly sensitive to 'decontractè' elegance. "There's a lot of passion and dedication put in the creation of our products, which is partially driven by our Neapolitan origins," says Valerio. "Our sartorial strengths are brought about by our Parthenopean culture and traditions. We want to make a difference to style, revisiting classic designs with a contemporary key." Adds Diego, "Our proposition is a quality product, made by artisans, which is classic but contemporary - one that can inspire emotions. We combine leathers or suede with materials which are considered peculiar for shoes such as wool, cotton or silk, to bring out our exclusive design fantasies."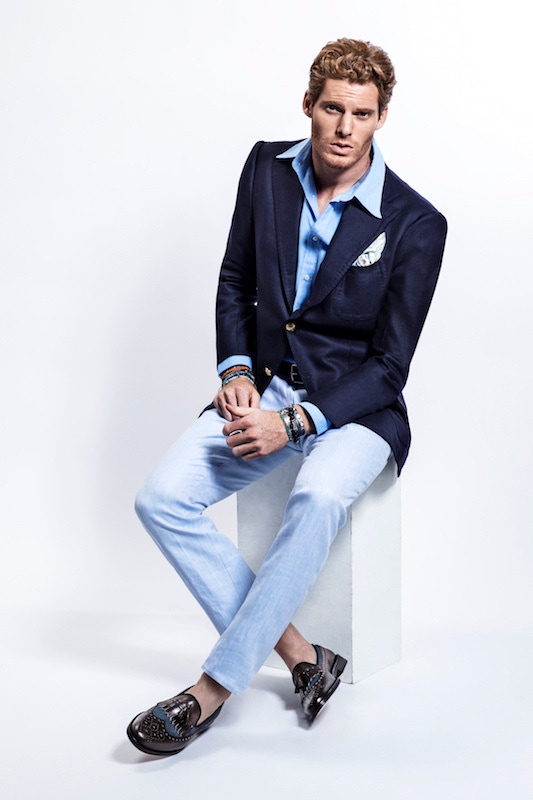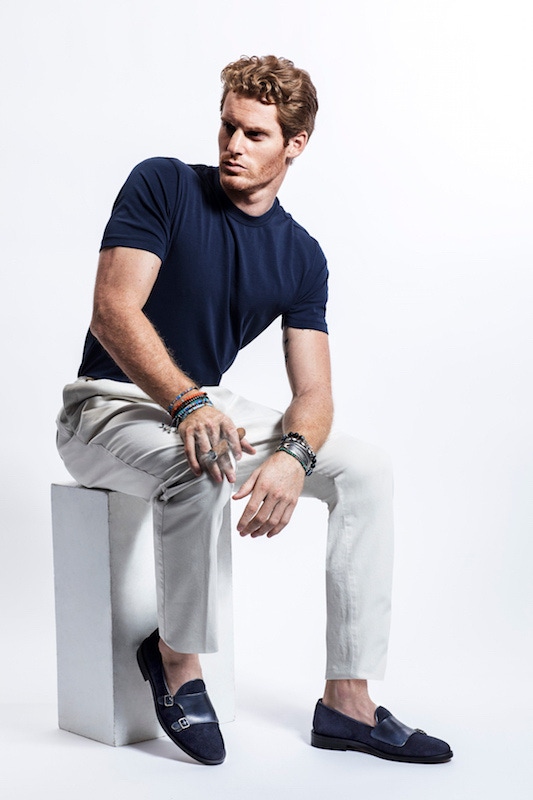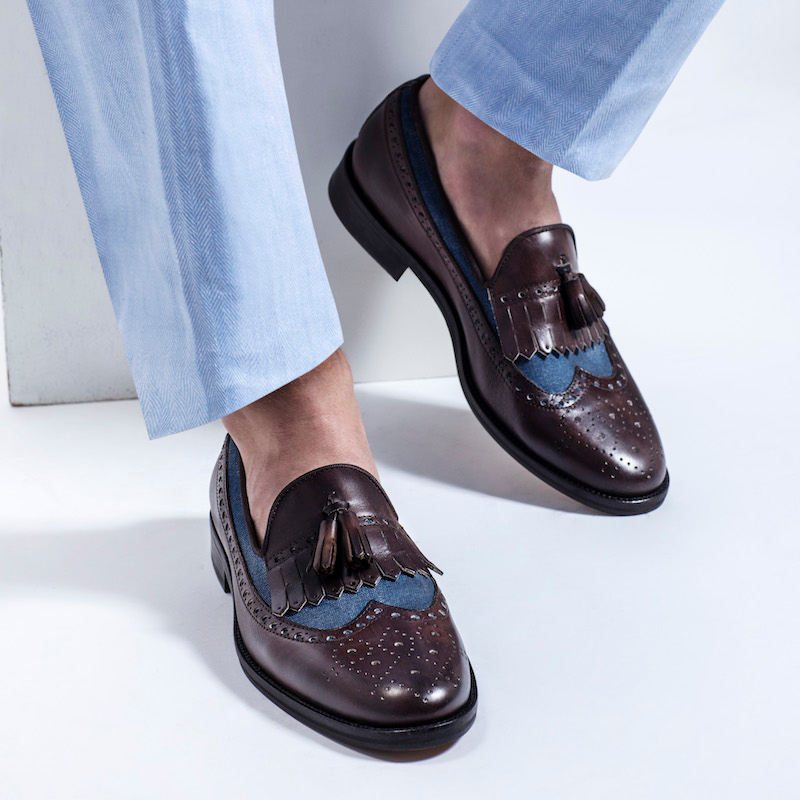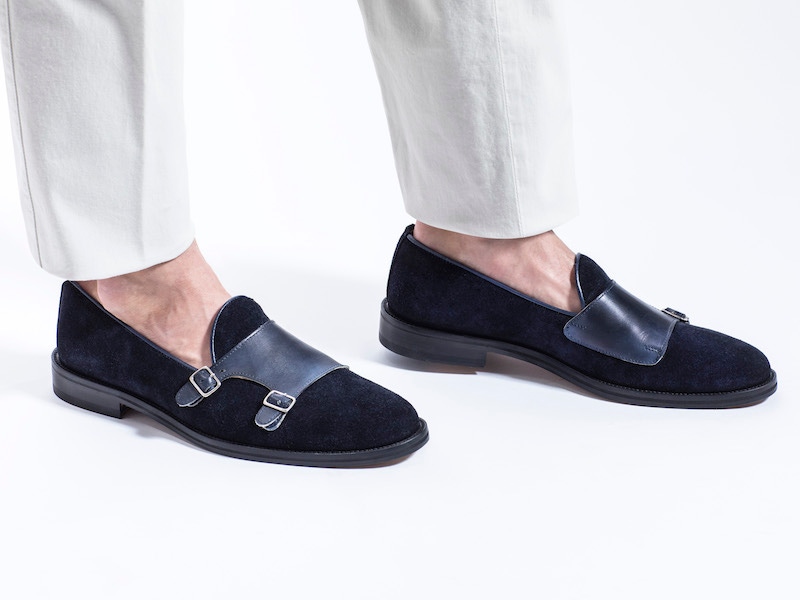 Anyone glancing at the current Belsire canon should feel the boundaries of their own fantasies prodded, not least by the brogue/moccasin hybrid that is the Lupo
Loafer
, the sweeping lines of the Tancredi Double Monks in taupe
leather
and – our personal favourite – the Paul Beatles: a Chelsea boot in
denim
similar to what the man himself would have worn during his stylistic purple patch, the Marrakesh era.
Some choices from the brand's selection of silk ties, pochettes, scarves, belts and swimwear will also embellish the most catholic of wardrobes. "There's no fun in the usual things, in the ordinary," reads one of the company's diktats, while another states: "The most exciting situation [arises] when it is enriched with thoughtful details." And, these are guys – take our word for it – who practice what they preach.
Of course, "decontractè" is partially synonymous with a word which often teeters on the brink of self-defeat: sprezzatura. Studied carelessness is manifestly an oxymoron, one which plays out twice a year with the more self-conscious attendees of Pitti Uomo (you'll find them on the kerbsides, holding newspapers aloft to hail imaginary taxis – a pose they hope will attract the paparazzi). However the concept – executed properly, for which read with genuine indifference – can be a compelling one, and fundamental to bona fide sprezzatura is comfort, both psychological and physical. "We believe that one of the main strengths of Belsire is the ability to perfectly combine style and comfort," says Diego. "The Belsire shoe doesn't need wearing in – it's comfortable from the first day. A man should always feel perfectly at ease with what he is wearing, both in terms of style and comfort. Our products are never ostentatious, but at the same time they have a design twist that allows our clients to express their personal style." If it's true what they say about women being able to tell plenty about a man from his shoes – his core values, ambitions and, quite frankly, his Darwinian potential as a mate – then here is a brand which will leave her intrigued, curious and most certainly charmed.