Bennett Winch Open Up On Duke St: The Modern Retail Space
Bennett Winch has teamed up with one of London's foremost barbers, Stefan Avanzato, to create a modern-day man cave that needs to be experienced.
Here at The Rake, we've always been firm believers in supporting independent brands and due to our Head Quarters being in London, we've always been positioned firmly behind British manufacturing. More often than not, it's the lesser established brands and makers that give us real pleasure. Those who are doing something to exemplary standards with diligence, a finely-tuned attention to detail and with a warm smile. When we were told that
Bennett Winch
was moving into the world of bricks and motor as it was opening its flagship store, a small cheer erupted in Rake Towers. It was just further evidence of the extremely hard work of founders Robin Bennett and Robin Winch, and their creative director Rupert Shreeve, was starting to pay off. Founded in 2014, like most great entrepreneurial ideas, it came by way of an encounter at a bar. Sketches were drawn up on a napkin and in the space of four years the brand's offering has expanded significantly from the cardinal design, the
Weekender Bag
. There's now briefcases, totes, commuter bags, the ingenious
S.C Holdall
, which combines a suit carrier and a weekend bag, all of which are proudly Made in England. The Bennett Winch store can be found on Duke Street in Mayfair in the basement level of
Private White V.C.
, another fine exponent of British manufacturing. Already in good company, its wares are synergistically displayed alongside mannequins adorned in Private White garments and
Kirk Originals
eyewear. On-hand each and every day are both of the founders, who are there to really explain the nuts and bolts of their designs that are constructed from either 24oz cotton canvas that's as robust and durable as it sounds, or full-grain vegetable tanned leather that takes on a wonderful patina over time. Both materials are brought together seamlessly using top-end hardware, culminating in a receptacle that's ergonomic, functional and stylish.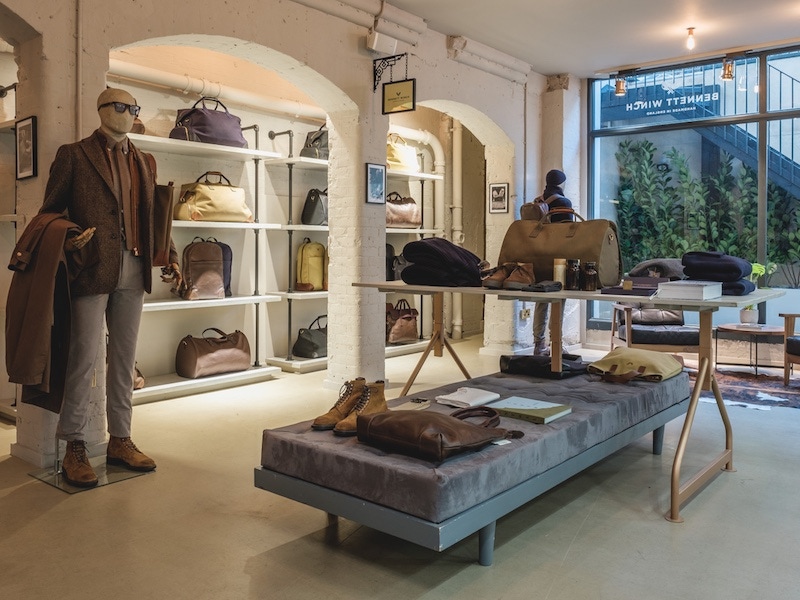 It doesn't stop just there, though. Bennett Winch has also teamed up with one of London's foremost master barbers, Stefan Avanzato, founder of
Avanzato Grooming Lounge
, who occupies one side of the basement level store. As someone who has his haircut every two weeks (that might seem excessive but I can't stand my hair getting long and I love the escapism that comes with getting your haircut), the levels of finesse are the best I've ever experienced. Whether you're in need of a quick-fix, or a 'Refresh', to a full experience with Stefan, you're in extremely good hands. The Luxury Cleansing Shave is particularly amazing, and the natural oils used will make you feel like a million bucks. It's a service that needs to be experienced, and is made all the better with a dram of whisky that somehow makes its way into your hand. The Bennett Winch store is a modern day modern man's hole, and it reflects the changing landscape of the menswear retail industry. Now more than ever, men desire a destination where they feel comfortable, welcomed and relevant and this is one such place. Explore our range of grooming goods,
here
.
73 Duke St, Mayfair, London W1K 5NR