Celluloid Style: Goodfellas
The suits are as sharp as the weapons in Martin Scorsese's seminal gangster movie, which spans three decades of New York's most notorious crime family.
Having sworn off gangster films after
Mean Streets
, the opening scene of Martin Scorsese's
Goodfellas
was always going to pack a signet-ring-embellished punch. The director's intention was "to begin
Goodfellas
like a gunshot and have it get faster from there", in his reliably unorthodox style. The audience is dropped right into the middle of the action, and then left to fend for themselves amid a fractured narrative that follows notorious mobster Henry Hill and his associates,
who ruled real-life New York between 1955 and 1980.
Ray Liotta, Robert De Niro and Joe Pesci play the troublesome trio around whom the story focuses, with a voiceover by Liotta that follows his character's journey from adolescent to outlaw. From the cars to the clothing, the film is a visual time capsule of the 1960s and '70s. Whilst not always accurate (the film was later criticised for showing a 1965 Chevy Impala in a scene set in 1963, and a Boeing 747 plane years before it entered commercial service), each frame is a nostalgic snapshot of a time when it was good to be alive - at least, if you were a 'good fella'. New(ish) Cadillacs and Chevrolets, shiny suits and shinier gold jewellery were in abundance, accompanied by a soundtrack of The Rolling Stones, Muddy Waters, The Who and Cream. Epitomising the over-the-top, cash-flashing aesthetic that the mobsters adopted was a uniform that signalled their wealth and power to the world; functioning under a completely different set of rules to the rest of civilisation, they were under no obligation to hide the fact that they had more money than they knew what to do with.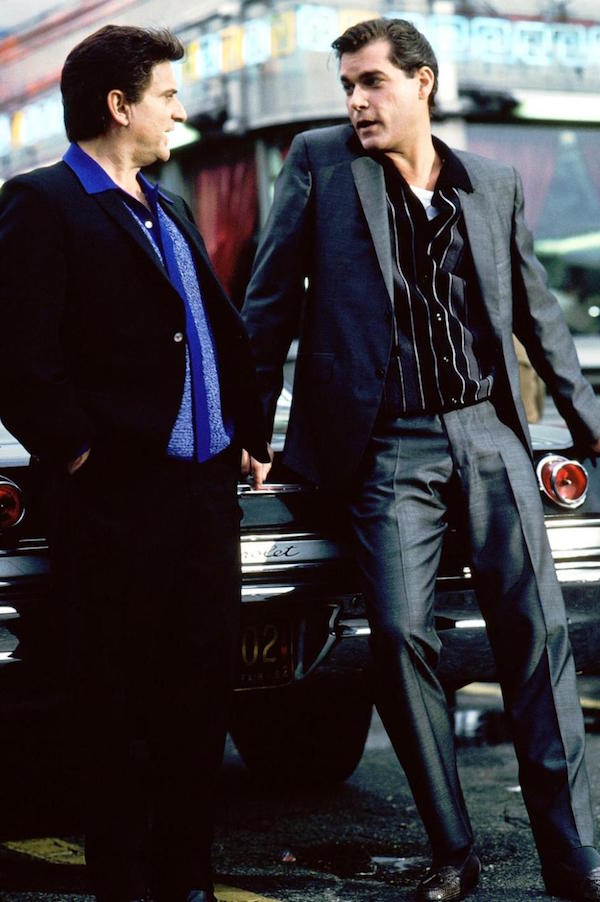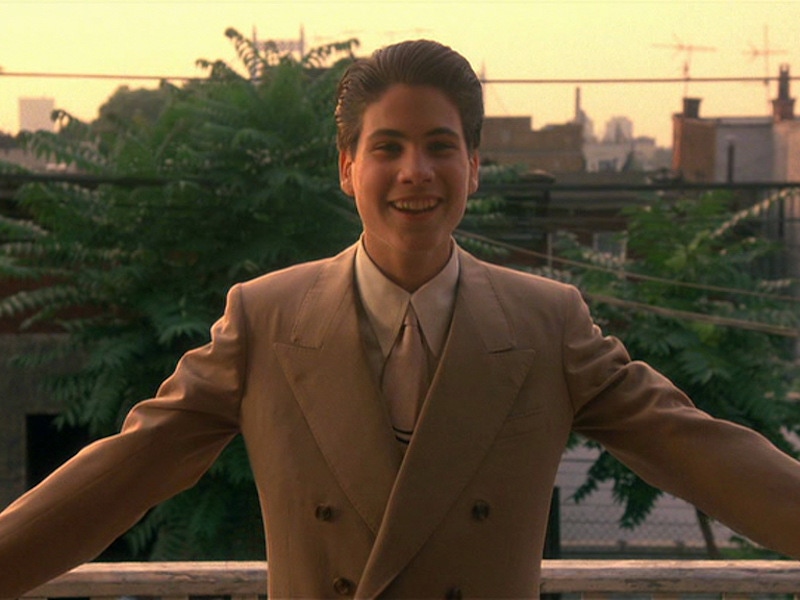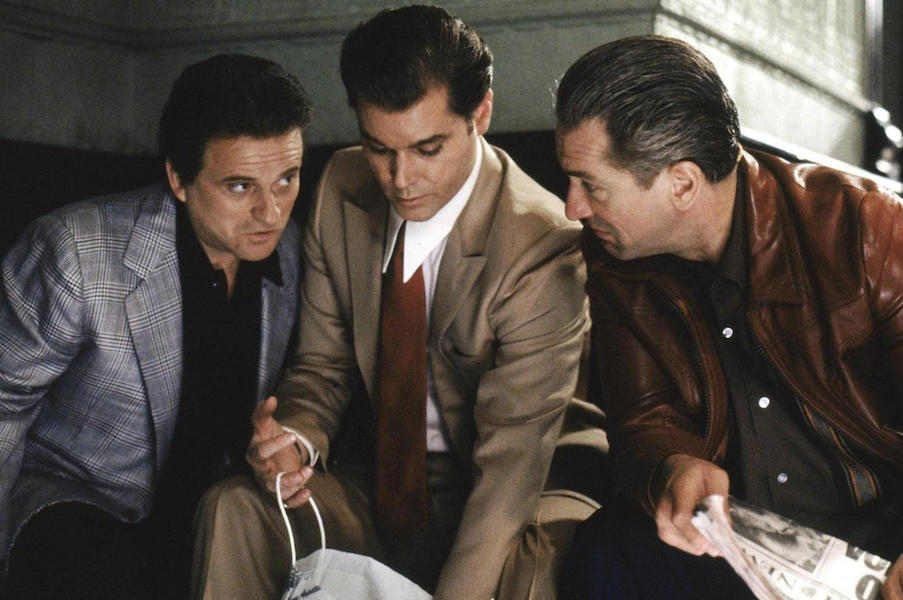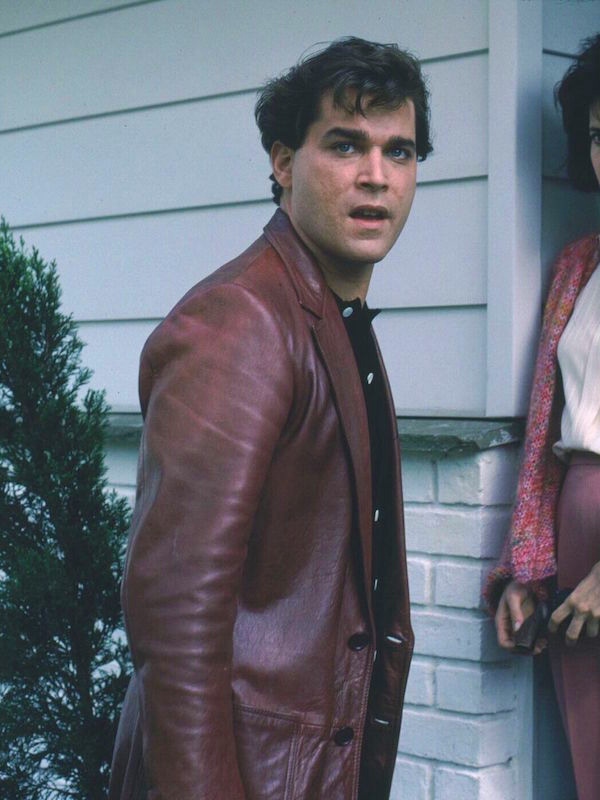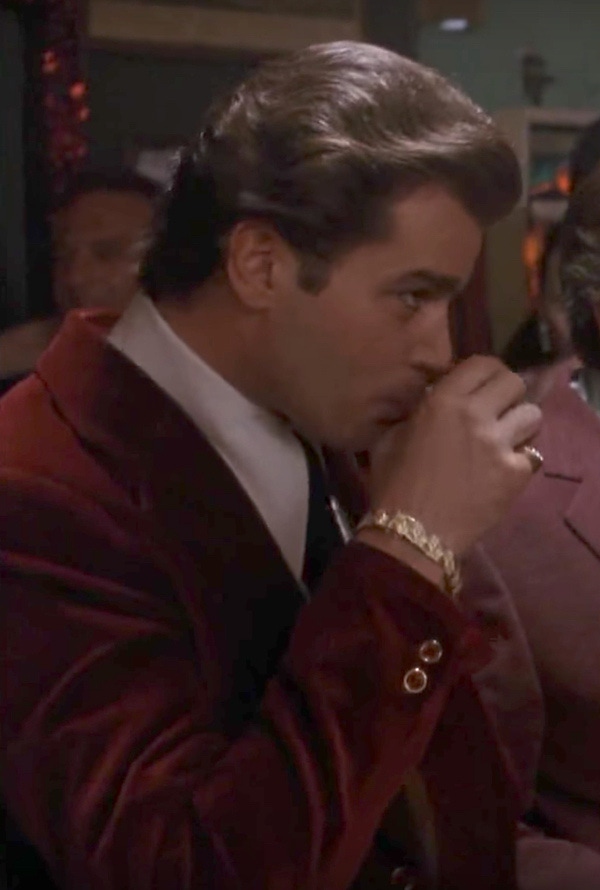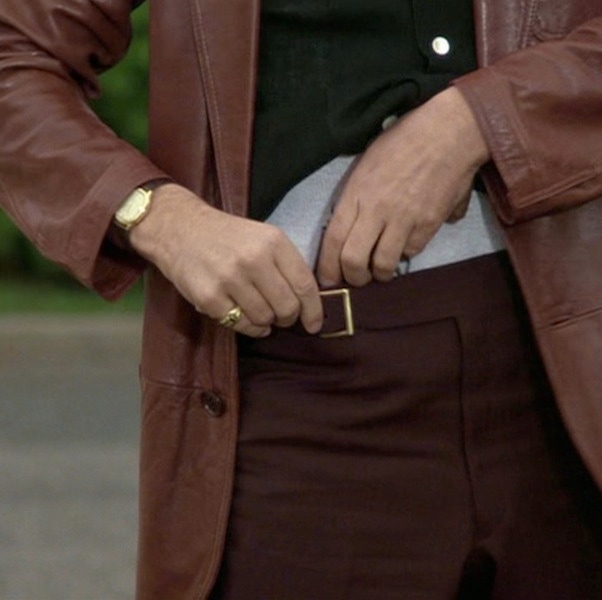 Elements of the cast's wardrobe have the same trigger-happy effect as that opening scene, transporting you back to the era so quickly it gives you whiplash. Take those spearpoint collars for example, with their elongated tips that practically meet at the end, always white and always starched to within an inch of their life. Scorsese's mother, who plays Tommy's 'ma' in the film, was supposedly brought on set to help iron the collars and tie the ties 'just so' to align with Scorsese's vision, yet there's something unsettling about the oversized collars that fight for attention with the oversized ties and oversized egos. Their sharp points and stiff collar bands encircle the men's throats, a physical reminder of the stronghold the gang has over each individual. The crisp white also evokes a clerical collar, and while it could be argued that both a vicar and a violent mobster are equally convinced of their own moral standing, there's a chafing irony in the parallel drawn.
The wardrobe, curated by Richard Bruno, tracked several decades, changing fashions, and Hill's rise and fall. As a young lad, Hill's first suit causes his mother to exclaim "You look like a gangster!" with more than a hint of concern in her voice; 'regular' people from her neighborhood didn't dress this way. It's too big, and too beige, but Hill wears it with pride, the equivalent of a young sportsman being given his first jersey. As the film progresses, Hill's own dress sense comes into focus as he grows out of the hand-me-down suits and into his own more mature aesthetic.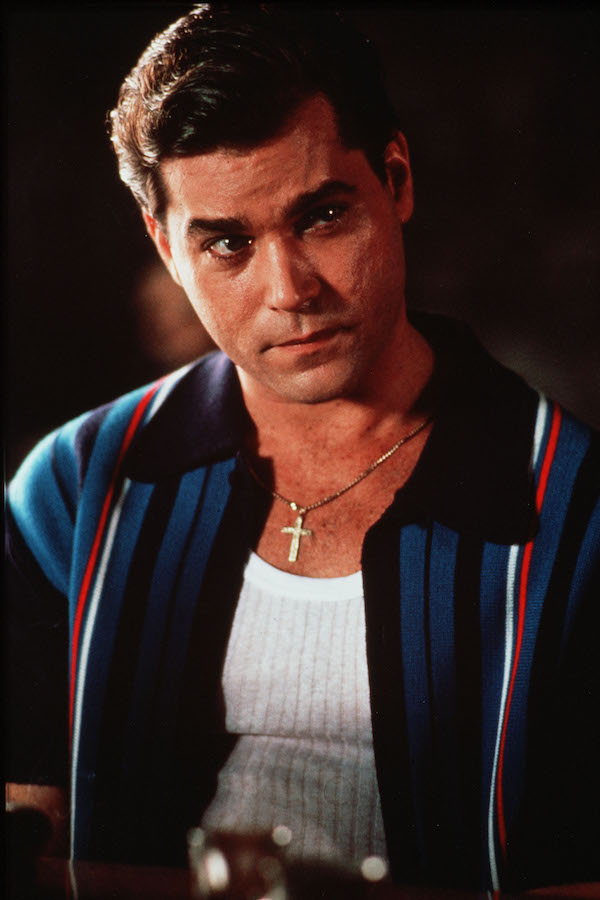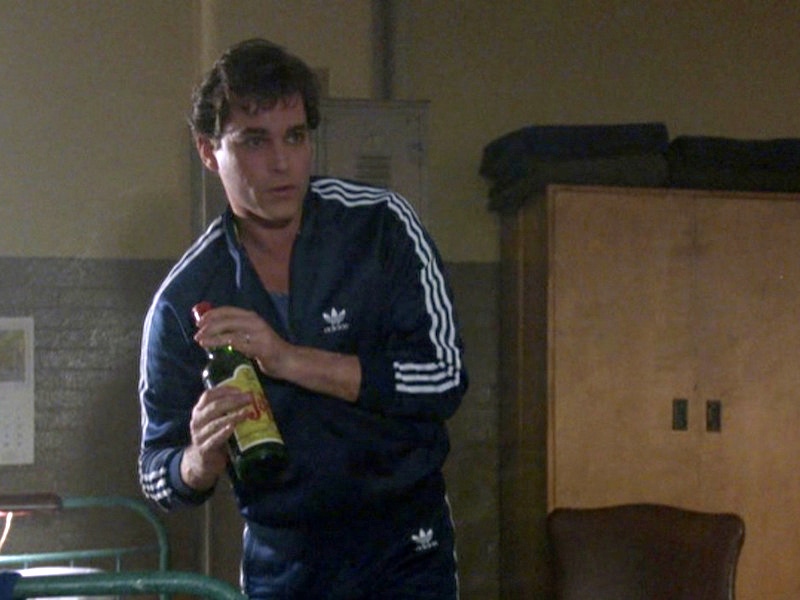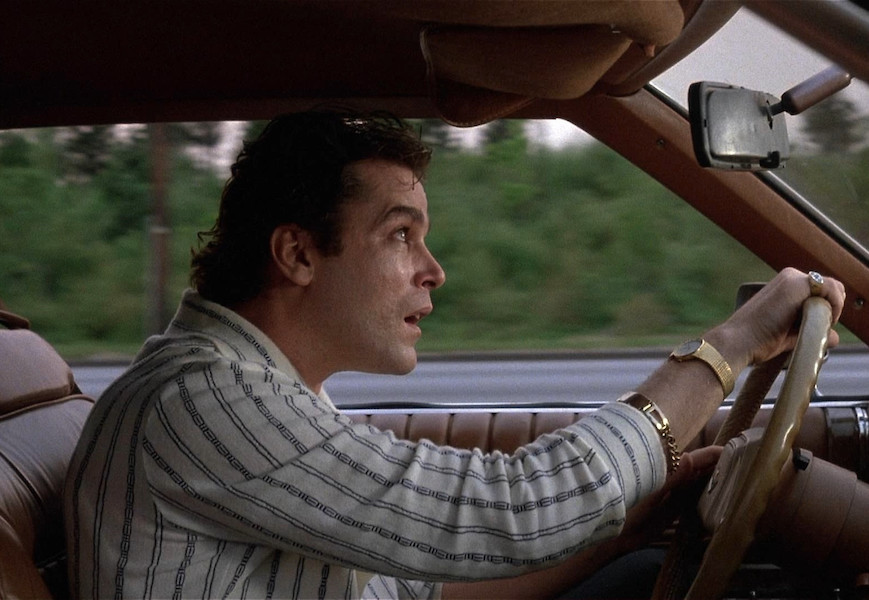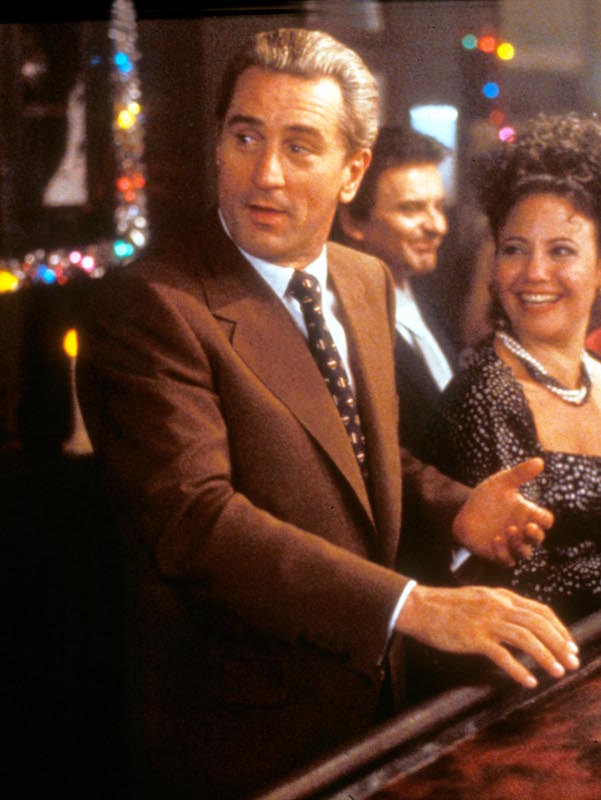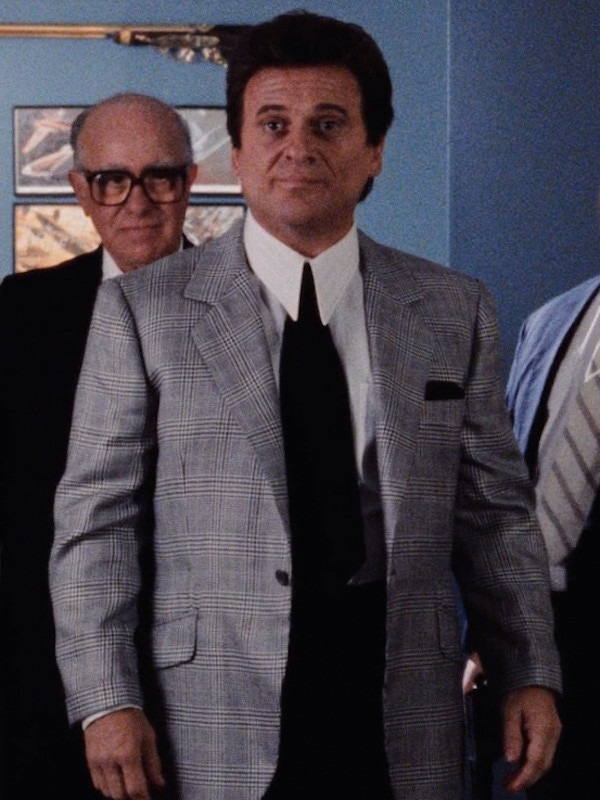 Cutting to 1963, the audience is positioned as an admiring onlooker, with a camera shot that travels slowly up Hill's profile. Starting from the ground up, Liotta's character wears brown alligator leather tassel loafers, olive green socks, a grey single-breasted sharkskin silk suit over a button-through knitted polo with vertical stripes and gold jewellery (including a Rolex Day Date with Champagne dial). The waistline is lower than the typical business suit of the 1950s, the silhouette slimmer, and the moneyed accessories intentionally conspicuous. 
It's a killer look, figuratively and – as it turns out – literally.
 A later shot of his wardrobe shows he has a serious collection of tailoring and footwear, yet aside from suits, a constant in Hill's wardrobe is the colour red. Scorsese is renowned for using the colour to intensify emotion, focus one's attention, foreshadow violence and drench a scene in a sense of danger (particularly in 
Raging Bull
), and it's no accident that Hill's leather blazer is oxblood-red, in the scene where he pistol-whips an unsuspecting victim. Later, a vibrant red velvet jacket worn to the soundtrack of 
Frosty the Snowman
 signals 'tis the season, but also creates a sense of foreboding in anticipation of the killing spree Jimmy (played by De Niro) embarks on soon after.
Hill's aesthetic as a whole is a crash-course in how style can place you at the top of your game – but also how it can shackle you in an era. Now, those collars are dated, that opulence considered tasteless and the silk-textured suits look cheap, but Bruno's vision for the character nonetheless treads a fine line between costume and classic. Between the timeless sophistication of a double-breasted camel coat with peaked lapels and strong shoulders (worn at Hill's peak during the Lufthansa heist) and the vintage feel of knitted shirts worn untucked and unbuttoned, Hill pulls off the highs and the lows with the arrogance that comes with thinking you're untouchable.