Celluloid Style: The Godfather
The sartorial evolution of The Godfather's protagonist Michael Corleone symbolises his descent from Ivy League-educated war hero to ruthless, omnipotent organised crime boss.
They may superficially be about the mafia. But at heart, Francis Ford Coppola's
Godfather
films are not gangster movies. They're tales of family. In the first part of the trilogy, we don't see Al Pacino's Michael Corleone grow from boy to man. His first appearance is as a decorated, uniformed soldier, fresh back from World War II and very much a grown-up. We do, however, observe his evolution from youngest son and kid brother to not only father, but paterfamilias, the head of the family. The Godfather.
The various outfits Pacino wears throughout the movie — the work of award-winning Hollywood costume designer Anna Hill Johnstone — beautifully illustrate the character's reluctant transition from privileged, university-educated and relatively innocent golden boy of the clan, to murderous, monstrously powerful mob boss. As the movie opens, at the wedding of Michael's sister Connie, he appears in full military dress regalia, squiring his lilywhite WASP girlfriend Kay around the ceremony.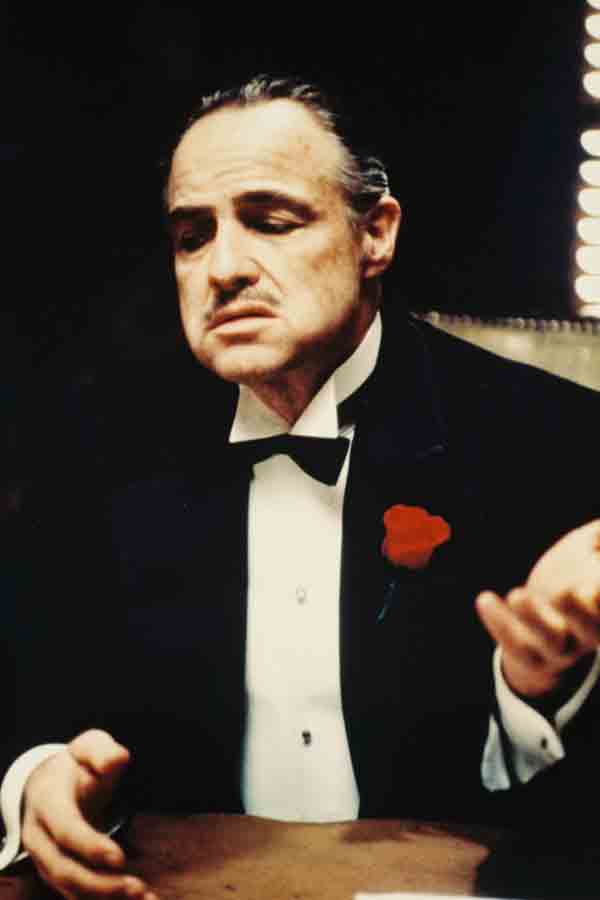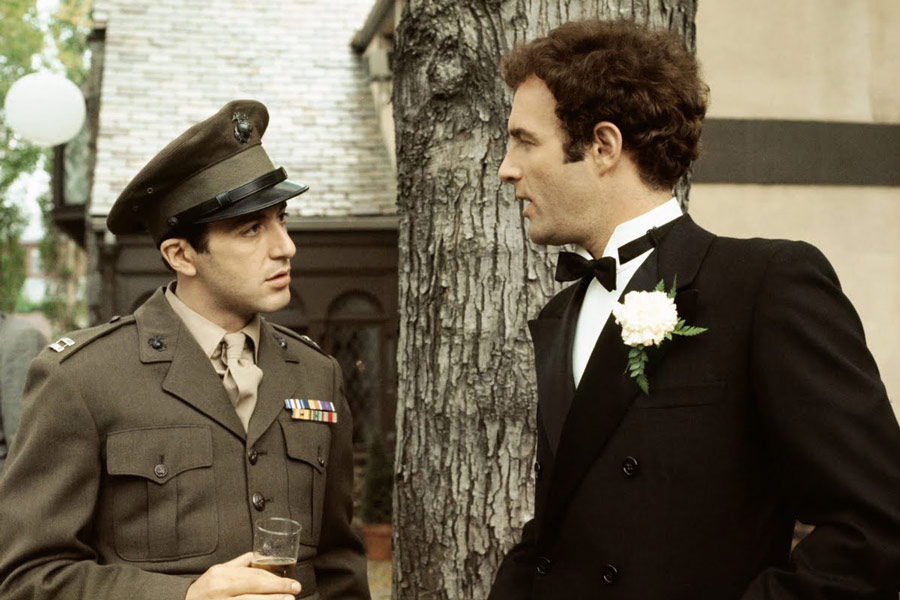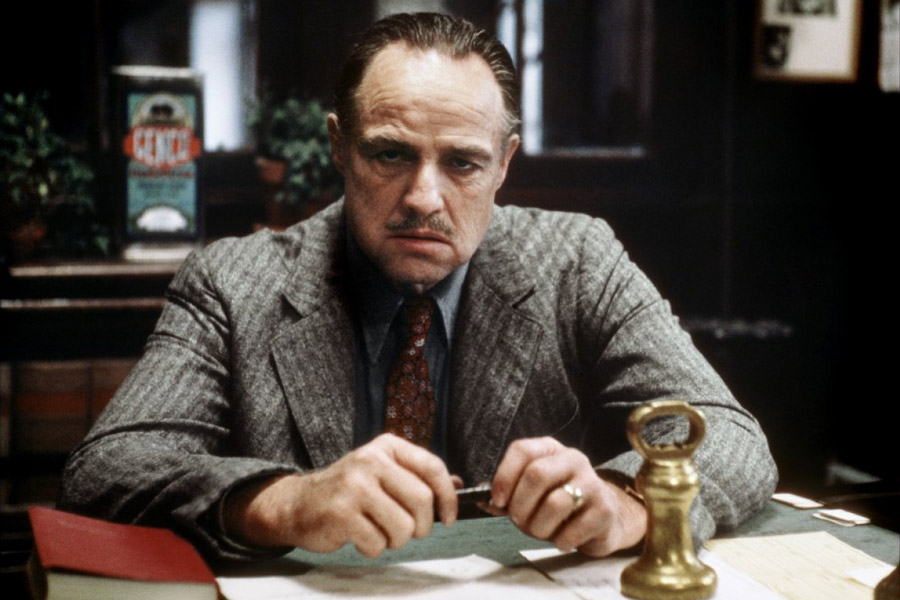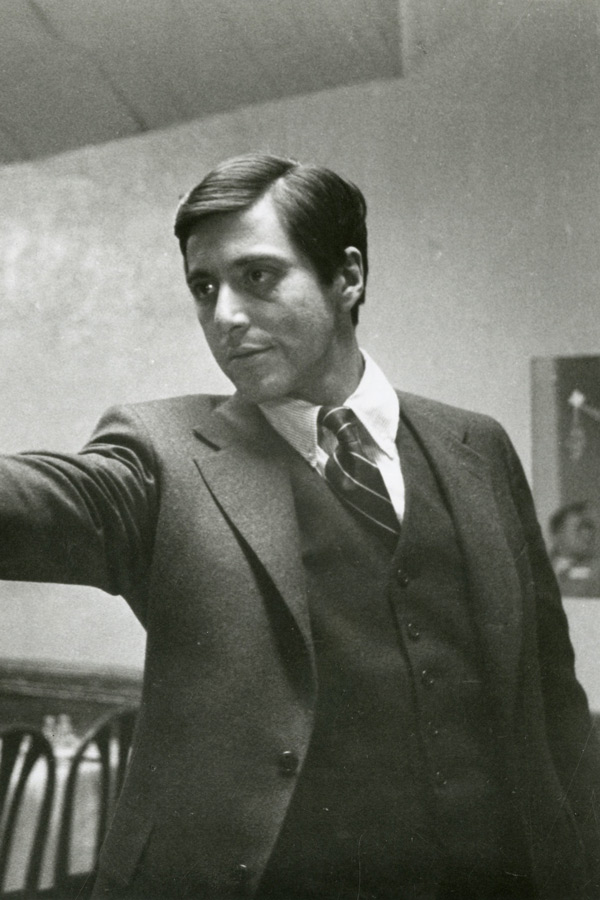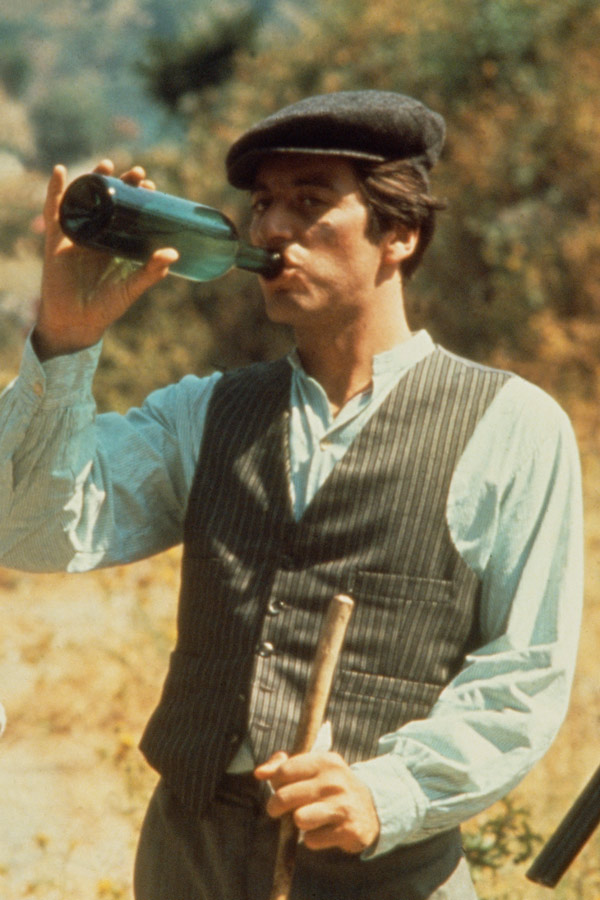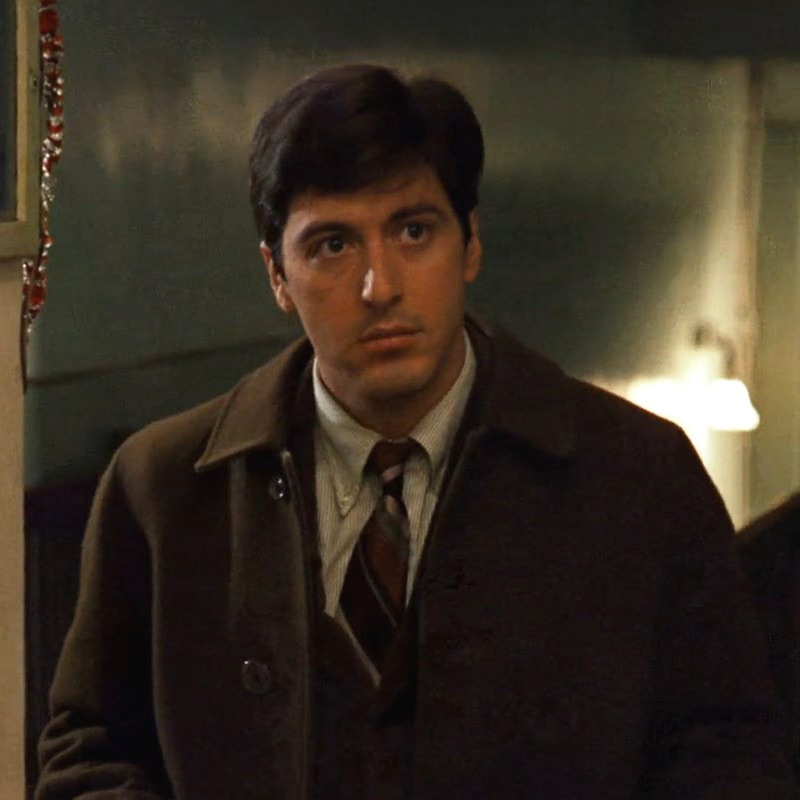 At the wedding, Michael's father Vito Corleone is immaculately attired in three-piece formalwear and floral boutonniere, but for the remainder of the movie, Vito's dress is earthy, tweedy, rustic - befitting of a simple, elderly gentleman from the Sicilian countryside. Having grown up wealthy in New York and attended a good college, Michael's taste is more urbane. After his father has fallen victim to an assassination attempt, he wears an expensive-looking brown overcoat while guarding his injured dad's hospital alongside impromptu security escort, Enzo the Baker. Subsequently, we discover that beneath the coat, he's sporting what his brother Sonny very accurately describes as a "nice Ivy League suit" — brown corduroy sports coat and contrasting slacks, with a striped tie and Oxford cotton button-down shirt.
Michael's dressed in much the same shirt and tie when whacking out the man responsible for his father's shooting, drug kingpin Sollozzo and his crooked cop muscle, McCluskey — but has swapped the collegiate corduroy for a "strictly business" grey flannel three-piece suit. It's a subtle change, but speaks volumes about where he's headed, straddling the middle ground between Ivy League legit professional and La Cosa Nostra killer. Going into hiding in southern Italy when the heat's on afterwards, Michael adopts the garb of the Sicilian countryside: flat cap laid-back band-collar shirt and waistcoat, the pinstripe pattern of which hints at his city-boy origins.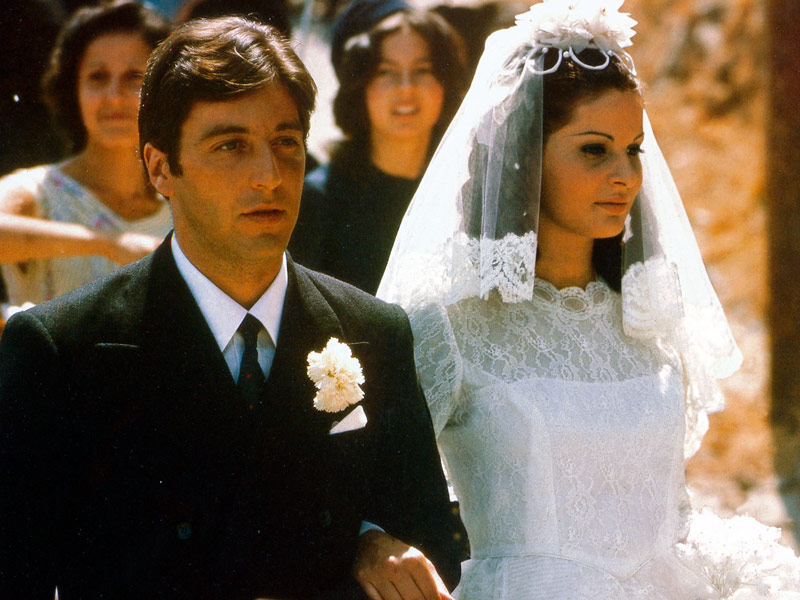 For his marriage to doomed Sicilian beauty Apollonia Vitelli, Michael rightly eschews a tux (it's a daytime ceremony), instead donning a black double-breasted suit with white shirt, slim black tie and white floral boutonniere. Following Apollonia's car-bomb slaying and the brutal killing of his big brother Sonny, Michael returns to America, marries Kay, has a couple of kids, and as heir apparent to the family business, begins to feel the weight of the world on his shoulders, which are now almost exclusively clad in grey, businesslike three-piece suits. Don Vito eases into retirement - and its obligatory uniform of comfortable cardigans - while Michael (now frequently seen in that gangster staple, the homburg hat) prepares to wipe out the competition and consolidate the Corleone family's
power.
This his soldiers do with ruthless efficiency as Michael professes to "renounce Satan and all his works" while standing as godfather at his nephew's baptism, looking thoroughly Mephistophelean in a grey double-breasted suit and black-and-silver striped, smooth silk tie. He's in the same get-up, with the tie loosened and the jacket removed to reveal suspenders, at the film's conclusion — wearing shirtsleeves in his home office while his fully suited underlings come to pledge allegiance to the freshly-minted 'capo dei capi' of the Five Boroughs. The symbolism is potent indeed — as is so often the case, the most dressed-down man in the room is also the most powerful.
But as stated at the start, this movie is not the portrait of a Mafioso. It's the story of a man who has responsibilities thrust upon him, is forced to change, adapt, compromise and do things he doesn't necessarily want to in order to take care of his family. You don't need to be a Godfather to identify with that. Just a dad.