Cuba Libretto
Cigar aficionado, frequent visitor to the tropical 'communist paradise' and former Havana Man of the Year, Nick Foulkes files a reminiscent dispatch following his latest Cuban sojourn.
There are aspects of my life that I only vaguely recall, more impressions and snapshots of memory. But I have no problem at all remembering the details of my first journey to Havana almost 15 years ago. I was travelling with my friend, the historian and author Clive Aslet; instead of flying direct to El Comandante's island paradise, we had elected to travel to the capital of Caribbean socialism via Miami. I know it sounds strange, given that America has been on no-speaks with Cuba since the little misunderstanding that was the Cuban Missile Crisis, but somehow, and I can't recall quite how, we were able to locate a flight that didn't officially exist, leaving from a gate that was unannounced to make the short hop to Havana. As it happened, we had no problem finding the gate from which our flight left: it was a set piece of Central American lassitude, people were lolling about on airport furniture or asleep flat out on the ground, features obscured by a large straw hat, ears apparently deaf to the salsa that was being played at some volume nearby. The flight we took was actually an Aeroliñeas Argentinas and as Dr. Aslet and I were both wearing double-breasted blazers, we were ushered into the first-class cabin where we 'enjoyed' the slightly surreal experience of watching a series of advertisements relating to steak restaurants in Buenos Aires. And with the message from our sponsors complete and all the passengers clear on exactly which Argentine steak restaurants they would not be visiting when they landed in Havana, we were airborne. These days, Havana fields a fairly humdrum small to mid-sized airport which attempts a not entirely successful stab at the capitalist concepts of VIP lounges and duty-free retail (there is a Swatch counter, one or two extremely expensive pairs of sunglasses, a large selection of cumbersome children's toys and as much Che Guevara memorabilia and revolutionary literature as hand- baggage restrictions permit). However, when I first touched down, it did not have a terminal as such, but rather, a tin shack of the sort that would not disgrace a moderately well-to-do favela.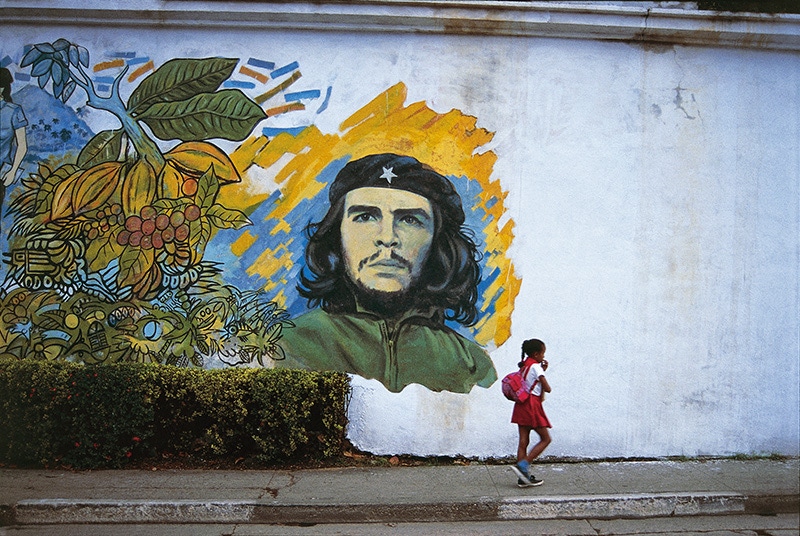 We were kept waiting a long time as Cuban immigrations officials performed the necessary checks, and Dr. Aslet and I went so far as to unfasten our collar buttons and loosen our ties. But at least we were not bored. There was a television bolted to the wall on which we were able to watch the edifying sight of a man who was clearly Cuba's leading comic actor involved in a Sisyphean struggle with a pair of burning trousers. No sooner had he extinguished one leg, tongues of fire started licking around the ankle of the other, and the instant that blaze was doused, the seat of his trousers burst into flame. And when, after much theatrical patting of his buttocks, he had succeeded in smothering the flames, the legs of his trousers caught fire again. I felt sorry for his tailor. The rest of the visit passed in a blizzard of rum and cigars. However, several highlights do emerge like rocks jutting out of a turbulent sea. There was the evening I bumped into someone I had been at school with and who was then working as a tax lawyer in the Caymans - at least, I think he was. I seem to remember he had popped by on his yacht for a couple of days to sample the city's fleshpots - he introduced me to the cavernous bunker known as the Palacio de la Salsa where a band of dozens leapt around the stage. There was the enterprising young man called Nelson who sold bootleg cigars on the Malecón (what they have in Cuba in lieu of the Croisette). So delighted was he with my order of two boxes of Hoyo de Monterrey Double Coronas and a box of Montecristo No.2, that he offered me a 'chica'. I declined his offer, whereupon he attempted to clear things up by saying that he did not expect me to pay for this female company, but that it was offered to me by way of a customer loyalty bonus.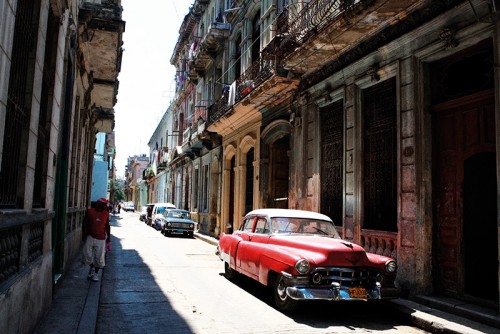 And then at the end of my triumphant tour of the city's cigar factories, bars, dance halls and other sites of historical and cultural interest, I remember sitting in the departure terminal which, as far as I can recall, bore a striking resemblance to the upper floor of the arrivals terminal, where I ignited a (now sadly discontinued) fishing-rod-sized Romeo y Julieta, while some American and Cuban servicemen settled the differences between their respective nations with a good-natured bout of arm-wrestling. For a week I had stepped into a parallel universe, and every visit since has had that same feeling of going through the looking glass. There was the time I blustered my way past a cadre of armed guards to gain entrance to a dinner at which Fidel Castro made a brief speech of about one and a half hours. I had actually been invited, but as I recall, some overzealous entrepreneur had sold my ticket on to someone else, leaving me stuck at the gate debating the pros and cons of my being allowed in with some fairly tough-looking chaps from the military. I don't know about you, but I find that the rapier rhetoric and repartee is a little less free-flowing when involved in a dispute with a man carrying a semi (or, for all I know, fully) automatic weapon. In the end, I think it was my observations about the dress code that finally got me in. 'After all, my good man,' I pointed out, 'would I really be wearing a white Irish linen suit crafted by the peerless Terry Haste if I were about to assassinate the Maximum Leader?'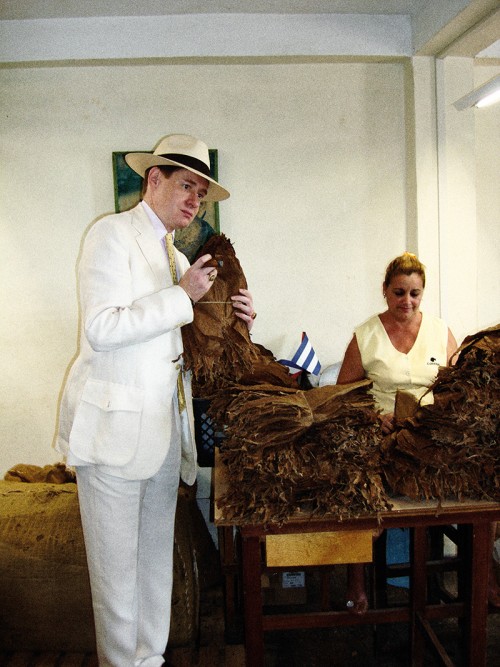 Then, there was the time when I asked a young woman in military fatigues how she and around half a dozen of her colleagues were able to inspect each and every one of the tens of millions of cigars leaving the island; she turned to me in all seriousness and said that on some occasions, they had been known to work on Saturdays. Cuba's appeal for me has remained constant since my first visit. It is the perfect destination, in that I am always excited to visit and always delighted to return home. At the time of my first visit, Cuba was emerging from what it euphemistically termed the 'Special Period', namely the years immediately following the collapse of the Soviet Union, when Cuba's most significant trading partner simply ceased trading and went into liquidation. It seemed that everything that could be in short supply was in short supply; I have heard that at least one tobacco harvest was badly affected by a shortage of string. And ever since then, Cuba seems to have lurched from one crisis to another with its usual good nature and insouciance. The Cuban people make light of what seems to be a perpetual national state crisis. There is a Cuban joke that concerns the afterlife: A Cuban consigned to the infernal regions finds them divided along national grounds. It is the beginning of another day in hell and the punishment del día involves being beaten with sticks which have nails at their ends. Cries of pain soon rend the air. But the Cuban section is oddly quiet and a queue has formed outside. 'What is the matter?' asks the new arrival. 'It is the same old story,' responds an old timer. 'Shortage of wood, shortage of nails.' Indeed, there is almost a national pride taken in the capacity to become short of things. In September 2008, I was sitting in the VIP tasting room of the Partagás factory sampling a new cigar, the Gloria Cubana Gloriosos. The cigar, a long robusto, was beautiful, so beautiful that what you could not smoke, you wanted to eat. The only thing was that it was supposed to have been on sale in Davidoff on St. James's Street rather than languishing in Havana; it transpired that although it was part of the 2008 run of 'regional specialities' for the UK, and that though the end of 2008 was rapidly approaching, shipment was delayed by a shortage of boxes. Last November, I was visiting the Fonseca factory in the Havana province where the utterly wonderful Juan Lopez Seleccion Suprema is made; once again this was a regional specialty for the UK, once again it was near the end of the year, and once again a large quantity of cigars remained unshipped - this time, it was an absence of bands.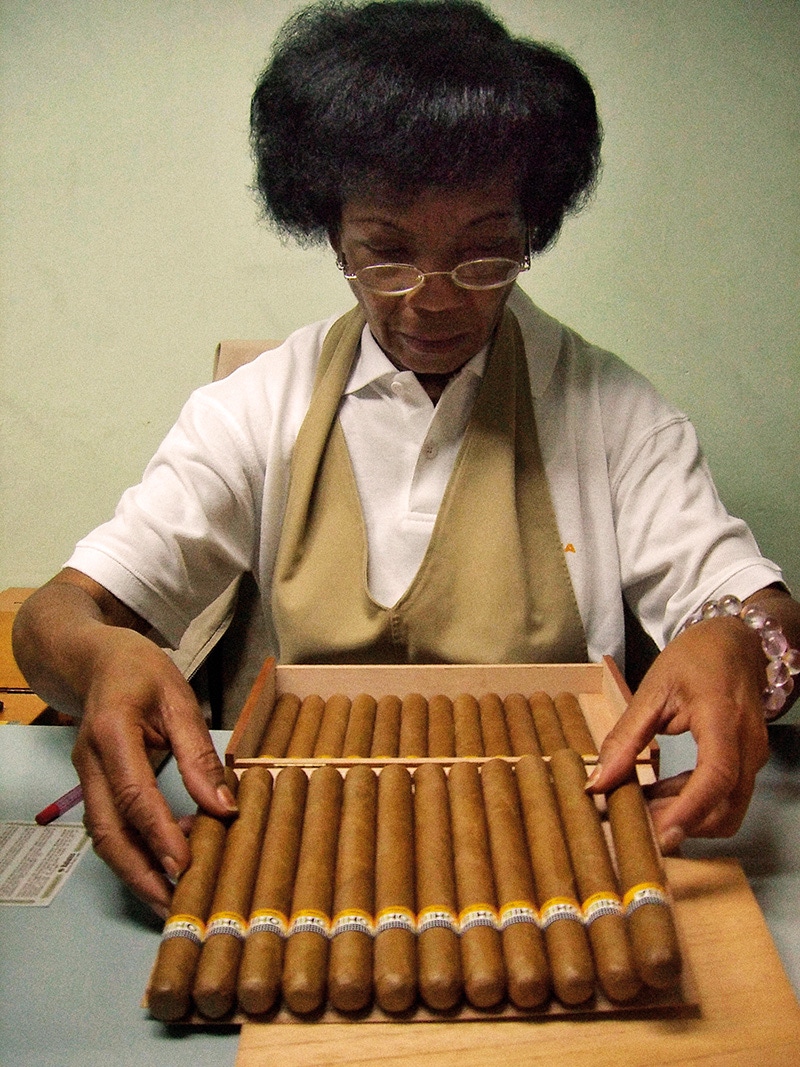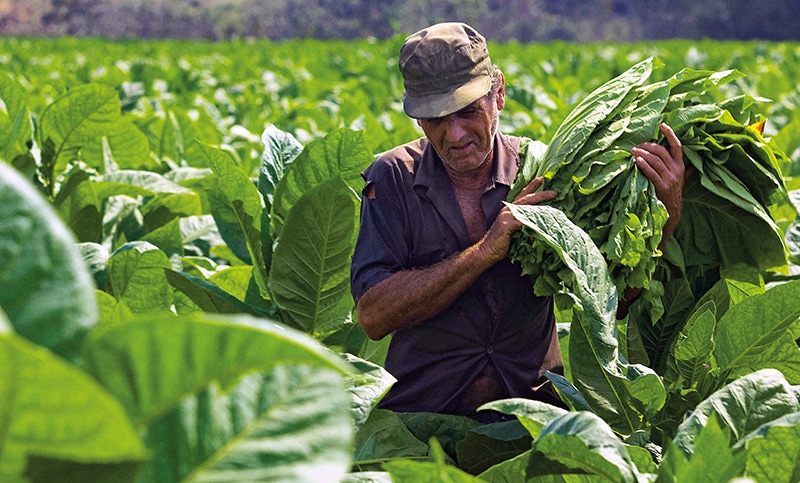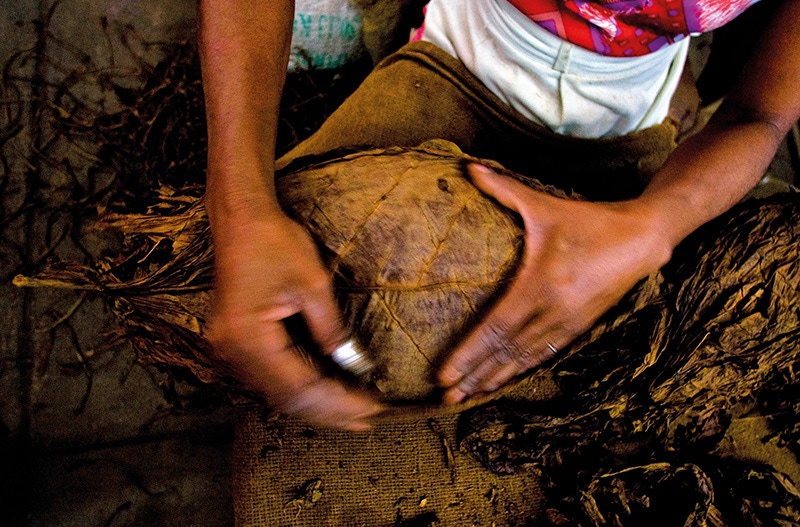 As you might have guessed by now, the pretext of my annual visits to Havana is to write about the cigar industry; ever since I stopped drinking, I have transferred the interest, the obsession, the astounding range of similes used to describe taste or smell, and the snobbery I used to lavish on ageing grape juice, to the aged, cured and fermented tobaccos of the Vuelta Abajo. And in 2007, after four years of nominations, I carried off the coveted Havana Man of the Year trophy and am now the proud possessor of a silver effigy of a man made out of cigar leaves with my name incorrectly spelt on the plaque. But as well as being, as Kipling pointed out, a smoke, the cigar has proved to be a lens through which I have been able to view this fascinating country. Cigars are one of Cuba's biggest earners, and it is a revenue source founded on the oft- remarked irony that they are made by socialists for capitalists. However much one knows, one can never claim mastery of the Havana cigar, and even having visited more cigar factories than most English speakers, the only thing I am ever prepared for is the unexpected.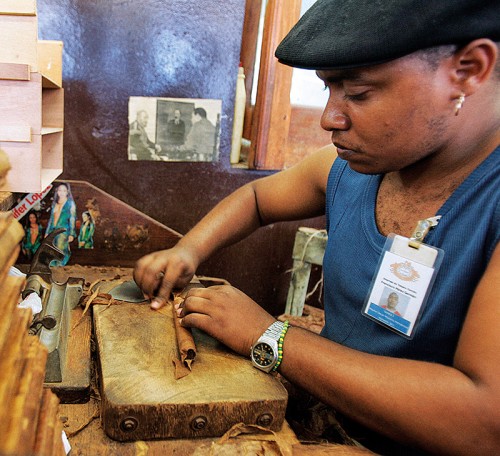 Take my most recent visit, which marked a new level in my ongoing familiarisation process - it seemed that I had been visiting Cuba long enough to be invited to attend an inter-factory cigar tasting. Neither of my companions knew anything about this weekly ritual and these were no cigar neophytes. I was fortunate enough to be travelling with the stunning Uma Thurman look-alike Jemma Freeman, who is the sixth generation of her family to import Cuban cigars into the UK; and Edward Sahakian, who is without doubt the world's finest cigar merchant and who felt the need to leave Iran on account of the Iranian Revolution; as he had to leave in a hurry, he took with him only the barest of essentials: his dinner jacket, five or six kilos of caviar and five first-class airline tickets. (He was leaving behind a business empire with a workforce of nine or ten thousand, but he told me once that he got tired of sleeping with a handgun under his pillow and shotgun by the bed). These are people steeped in cigar lore and they were as intrigued as I was. I have been to many cigar tastings and they have tended to be a little like the wine tastings I used to participate in: lots of pensive pursing of lips, pregnant cogitative gazes into the middle distance, the hurried scribbling of notes before the thoughts evanesce and, on the whole, rather a lot of serious and grave deliberation. What then would an inter-factory tasting in the very cradle of a cigar aficionado's paradise be like? I felt some of the nervousness with which I had approached my finals at university; would I be able to tell my seco from my volado? Could I comment authoritatively on the amount of ligero used in the blend? Instead, it seemed that I had gatecrashed the best party in town, by the pool of an otherwise deserted five-star hotel. True, there were ashtrays piled high with miniature pyres constructed out of half-smoked cigars, and there were sheets of paper on which people had scribbled hasty notes, but there was laughter, there was cheerfulness and then there was a musical interlude. I kid you not, a Cuban boy band appeared and cantered through a range of numbers that had some of the more spirited members of this sprawling tasting panel dancing - after it all, it was past 10 o'clock in the morning and matutinal refreshment in the form of beakers of rum was being handed around with the tea and biscuits (as, of course, there had not been a shortage of biscuits). But then I think it is something in the air, and I don't just mean that I can smoke up to eight or nine cigars a day and feel not the slightest ill-effect. I experience a lightness of spirit when I am in Havana, and it is down to more than just the romance of seeing crumbling old buildings and creaking old cars; these are just props on the national stage, the necessary window-dressing for those who come and do the tourist-trap version of Hemingway's Havana. You can see finer architecture in better condition in most Spanish cities and the majority of the old cars have been mended with all manner of non-authentic parts to keep them going for half a century. Havana of the 1950s holds little charm for me: I imagine that when the city was overrun by flashily dressed American gangsters and loud tourists who treated the place as a moral dustbin, I would not have liked it.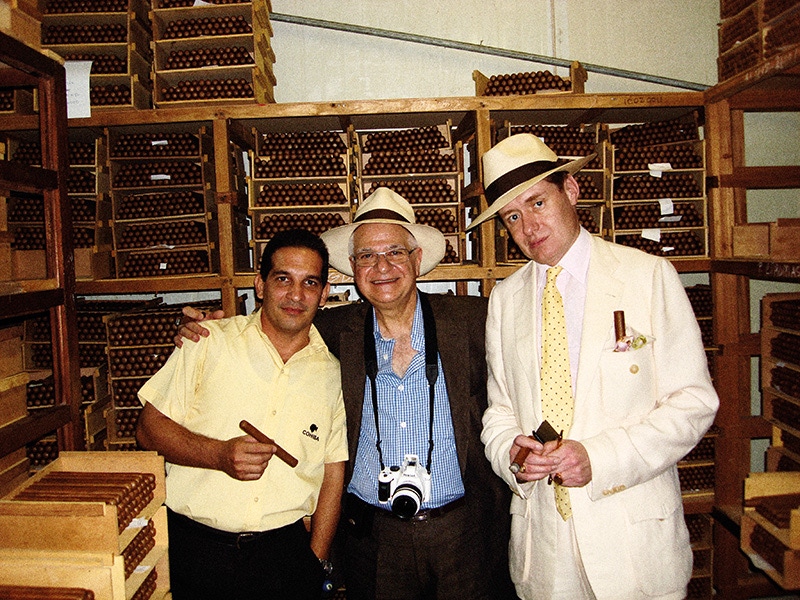 Instead, I choose to wander through the sprawling cemetery where it is possible to read the history of the nation from the Spanish grandees of the 19th century to the fallen Cuban soldiers who died fighting in Angola; or I visit the excellent Napoleon Museum, which has one of the most beautiful libraries I have ever seen (overlooking Havana, it gives the Codrington Library of All Souls College a run for its money); or I climb onto the roof of the Habana Libre (formerly the Hilton) which, rather sensibly, was the first place the rebels liberated in 1959, and see Havana spread at my feet as the eagles soar around me on the thermals. These are a few of my Havana rituals; as is shopping. Even in a city that defines itself by its shortages, I can always buy some trinkets - most recently, I came away with some revolutionary tumblers, some suitably gaudy highball glasses, and some Murano glass ashtrays all dating from half a century ago. I was also introduced to a man who, as far as my rudimentary Spanish allowed me to understand, had been a military pilot, but had turned from a martial career to the vocation of porcelain and watch collector - he was very proud of his Capodimonte and Sèvres, and of an utterly brilliant Breitling chrono with a square steel bezel and a dial signed by Cuervo y Sobrinos. I asked if it was for sale and he said not, but added that if I wished to return the following day, he might have something for me. I duly returned and came away with another Cuervo with an exaggerated set of flared lugs - rather like the old cars, it might well have had what one would call 'after market' modifications. It may or may not be an authentic and a friend's reaction to the pictures I took of the movement of a Patek and Rolex that he also showed me, leads me to believe that it was probably not. And yet although Christie's watch expert Aurel Bacs would have shot me, I bought it anyway, because all the things that made it seem like a watch that was neither one thing nor another, was what made it authentically Cuban and an eloquent a metaphor for the island itself. Simply put, it had charm, panache and character in such abundance that one can easily forgive its shortcomings.