Dolce & Gabbana: How we were, how we become
Dolce & Gabbana's craft-based ultra-luxe shows — Alta Moda, Sartoria and Gioielleria — are more relevant than ever. In a special interview, Domenico Dolce and Stefano Gabbana talk to WEI KOH about their inspirations.
Sigmund Freud explained our personalities as comprising three distinct parts. The id is the impulsive pleasure seeker, luxuriating in beauty and repulsed by pain. This was the part that the inhabitants of the wealthy Greek-populated city of Sybaris gave themselves over to as they became the most devoted hedonists in human history and forged the paradigm for modern-day rakes and playboys, from Oscar Wilde to Taki Theodoracopulos. Then there's the super-ego, the judgmental and moral part of ourselves — the repository of our ethics. Finally there is the ego, which mediates between these two polarities as they invariably vie with themselves. But if Freud were in attendance at either Dolce & Gabbana's Alta Moda show in Alberobello in Puglia or the Alta Sartoria show in the stunning all-white city of Ostuni, also in Puglia, he would have found a spectacle that reconciled all three parts of the human personality, one that left each facet immensely satiated.
Underlying the larger-than-life, celebrity/social frenzy is an extraordinary effort to preserve native artisanal craft and to celebrate Italian culture in one of the sincerest voices in modern luxury. To me, the substance of these shows, the intellectual pursuit expressed by the beautifully hedonistic clothes, militates against a world overrun by fast, easy, lazy fashion. The imagination. The breadth. The scope. In the HBO documentary Very Ralph, I said of the great American designer: "His vision is the ultimate democracy, finding as much beauty in the refined upscale settings of the Ivy League as he does in the pragmatic utilitarianism of faded denim." Similarly, the vastness of Dolce & Gabbana's love for Italy, so profoundly expressed in their Alta Moda, Sartoria and Gioielleria shows, is all encompassing and redolent with genuineness.
Their shows are the ultimate expression of this. To describe the effort of preparing the triumvirate of Alta Moda, Sartoria and Gioielleria as Herculean is a profound understatement. Each series of shows begins with a research process equivalent to the undertaking of a PhD-level cultural dissertation on each new region of Italy. "For the Apulia show, we studied everything," Stefano Gabbana says. "Infinite archive research, as always: this is heritage, local culture is identity, not some second-level folklore 'this is us'. How we were and become. Neorealism in film was precisely this, and it passed the sceptre on to us. We have taken it up. The olive trees, the dress and ceremonies. The runway will be an homage to embroidery, real, done by hand."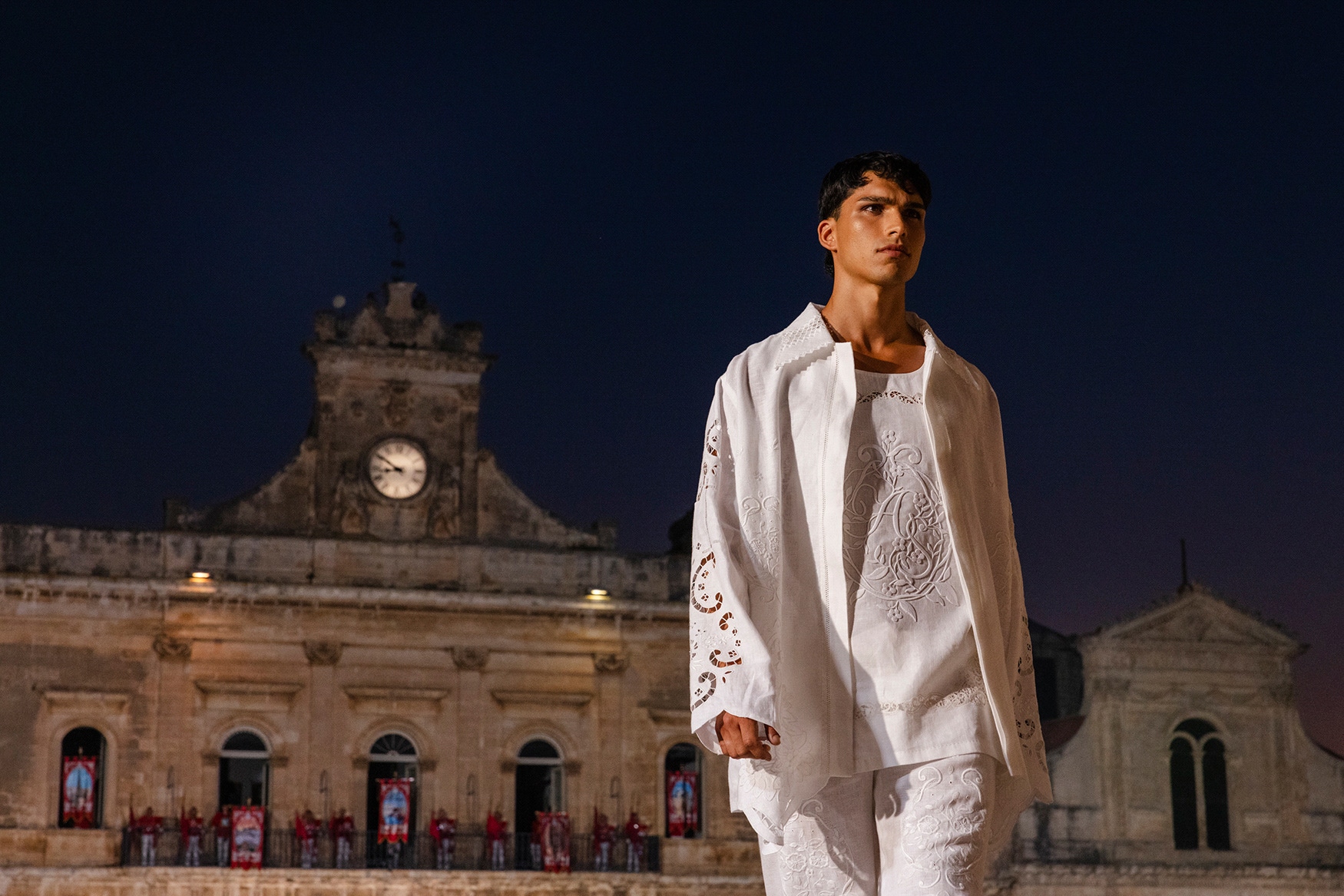 While the designers refer to the influence on their creative vision of cinematic neorealism and the films of Rossellini, Visconti and de Sica, I would submit that in many ways their most intimate cinematic equivalent is the director Federico Fellini, who took the concept of mise-en-scène from the neorealists but enveloped it with the grandeur of his often surrealist imagination. How else would you describe an apparently endless array of beautiful men and women clad in exquisitely made garments, many featuring embroidered material several hundred years old, and resplendent in jewellery, seeming to emerge from the limestone trulli of Alberobello or from within the all-white walls of the magnificent hilltop city of Ostuni? How else would you describe the sheer pageantry of this spectacle, cheered on by local denizens as a visual opera?
But there is, at the heart of these shows, an underlying substance that serves to distinguish Dolce & Gabbana as among the last remaining guardians of artisanal Italian craft. In many ways, the creation of Alta Moda, Sartorial and Gioielleria was intended to counter the dumbing down of fashion, the pathway drug of boldly branded one- thousand-dollar hoodies, cross-body sling bags and the transformation of fashion into a canvas and leather accessories business. Domenico Dolce says: "Anyone can buy your purse, but the culture of the garment we are losing. What you wear tells who you are — a purse can't do that." Gabbana adds: "Clothes are what change eras. Not purses. Fashion today weaves together so many false stories; we don't like things that are false. Prêt-à-porter is man/machine-made, not 100 per cent by hand. It is not right to sell it as something all hand-made."
Here we must consider the extraordinary vision of Dolce & Gabbana's high jewellery, which celebrates its 10th anniversary this year. Before the rest of the luxury world had the courage to do so, Domenico Dolce and Stefano Gabbana blazed a new path in the jewellery world, combining their voluptuous sensuality — perfectly expressed in their rich use of coloured stones — and their passion for Italian iconography with some of the finest Italian craftsmanship to create a revolution. Continuing in the tradition of breaking new ground as of 2015, Dolce & Gabbana has become the first luxury house to create a high-jewellery collection specifically for men.
I sat down with these two extraordinary individuals to learn more about the vision of all things Alta...
You decided to venture into high jewellery a decade ago, when no one else in fashion had thought to do this. What gave you the confidence to undertake this huge effort?
Domenico: We wanted to offer our customers the opportunity to wear and guard jewels as unique and precious as our Alta Moda dresses are. Jewels that speak our language and express our creativity. We had already set up our first jewellery atelier in Legnano, in which artisans, technicians and gemmologists started working on our fine jewellery collections. When Alta Moda arrived, we also welcomed the challenge of the Alta Gioielleria project.
Stefano: We approached high jewellery on our tiptoes, fascinated by this world dominated by marvellous beauties, in an industry populated by giants. Over time we had the opportunity to fully appreciate its infinite facets, even the most technical, and we have developed internal skills by recruiting artisans and goldsmiths. Today we are fortunate to work with some of the greatest professionals of the sector.
Is it true that you intentionally don't want to be told the value of the stones you are working with, so it doesn't affect the design process?
Stefano: Yes, it's true! The possibility of being able to dream and create while having the most incredible, precious stones available is a marvel in itself. Being able to do it without knowing the value — and even with a bit of crazy recklessness — is a real game that makes room for creativity. We begin to play with the arrangement of the stones, seeking balance and harmony between colours and shapes, then each piece comes to life. Isn't it beautiful?
I love how you incorporate populist symbolism innate to Italian culture, like the cornicello, into high jewellery. Tell us what symbols are most meaning ful to you, and why?
Domenico: We have always been fascinated by superstitious and religious symbols, they immediately taste of folklore, history and tradition. The cross, the four-leaf clover, the crown, the Virgin Mary's little medals, the horseshoe, the number 13...
Stefano: We believe that beyond the intrinsic meaning of each symbol itself — or what has been naturally defined over time, depending on cultures, customs, religions — the most important thing is the meaning that each of us attributes to these objects.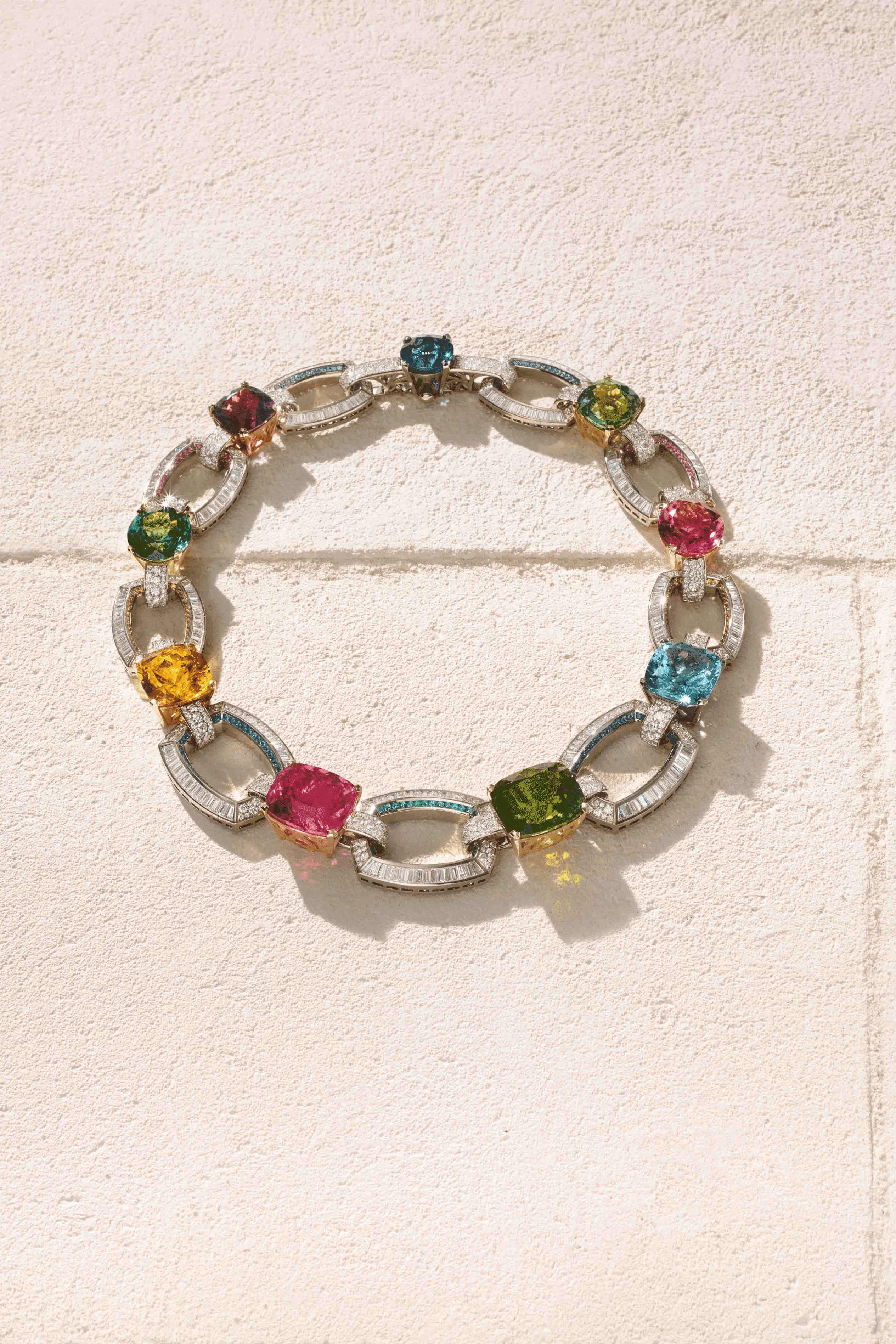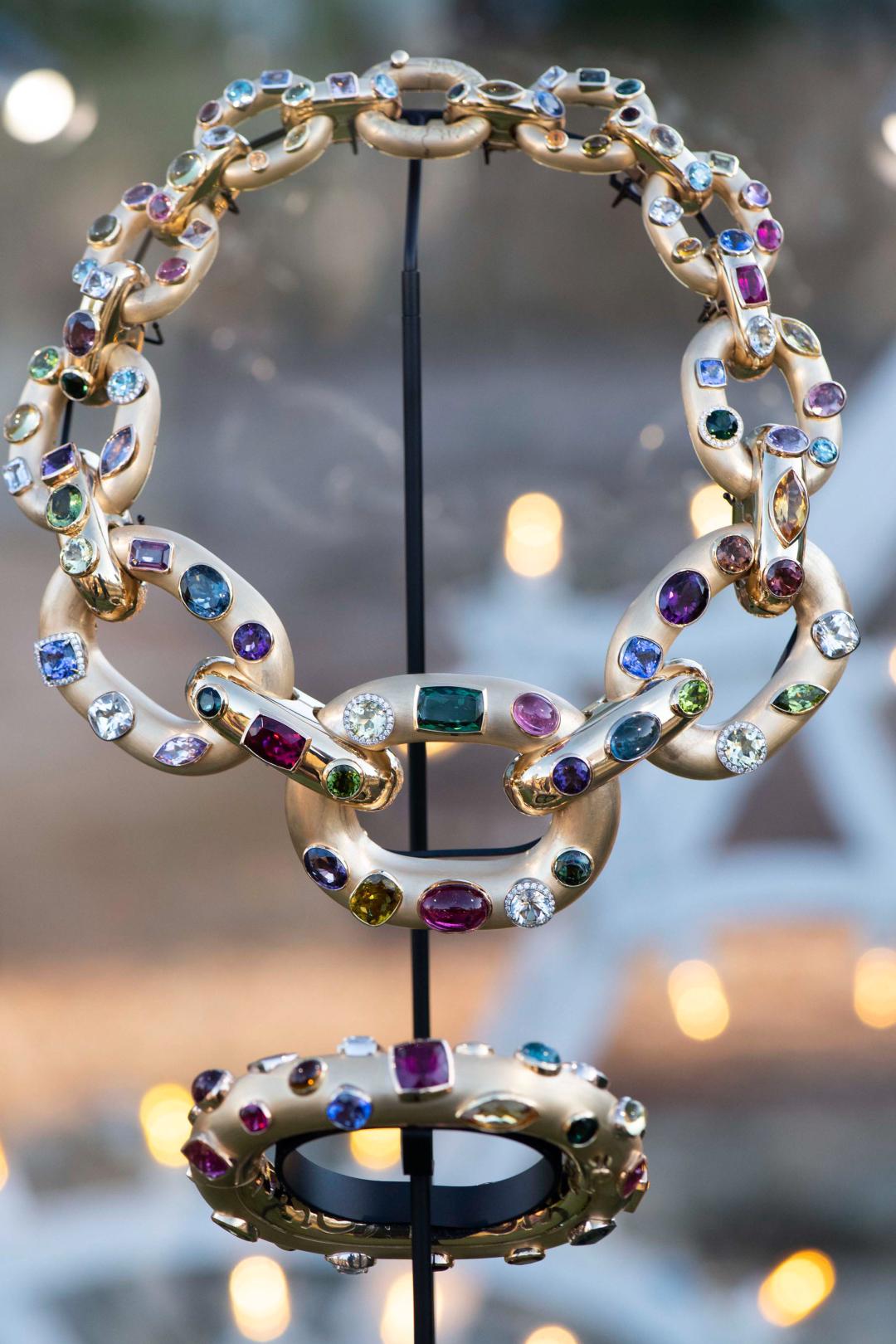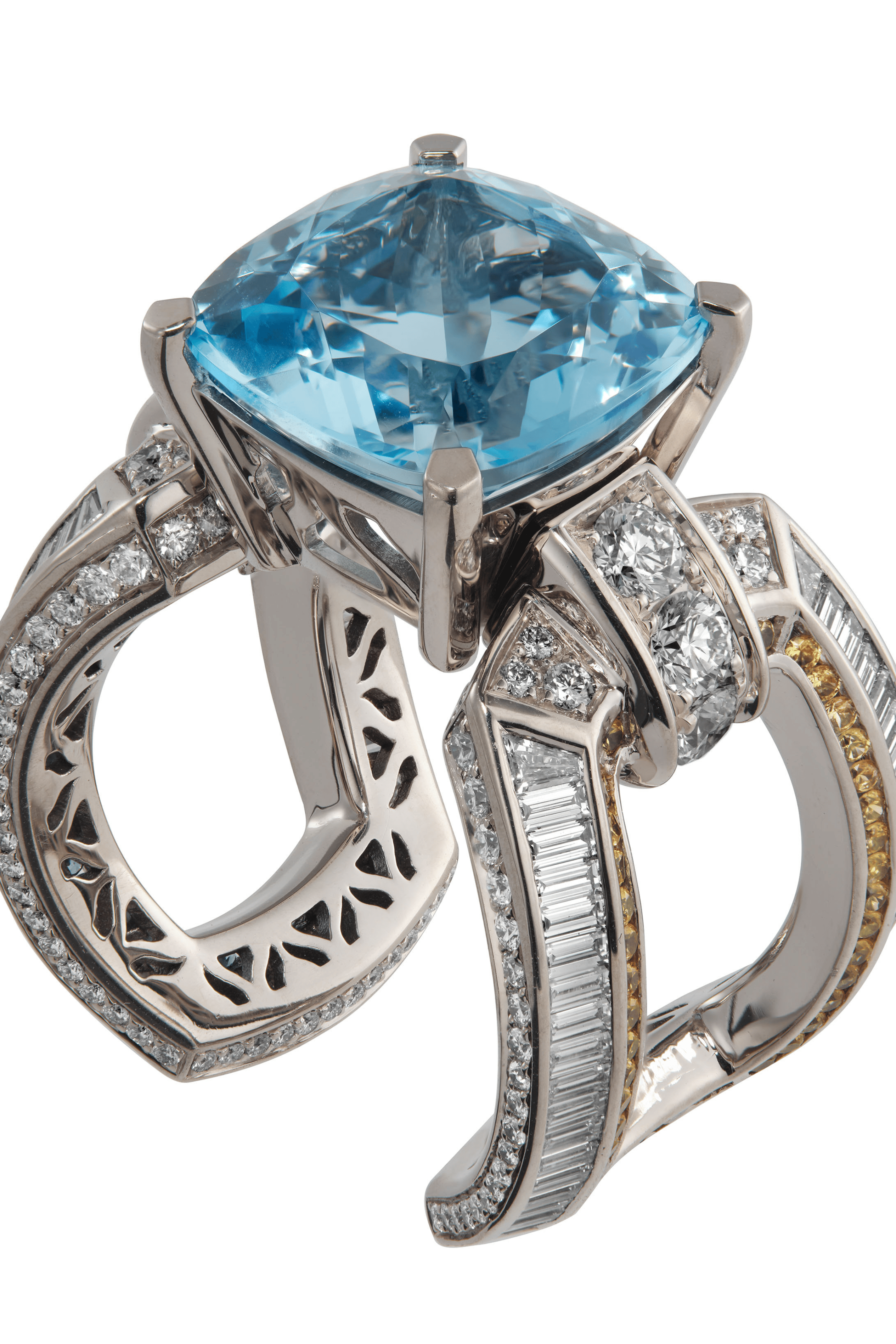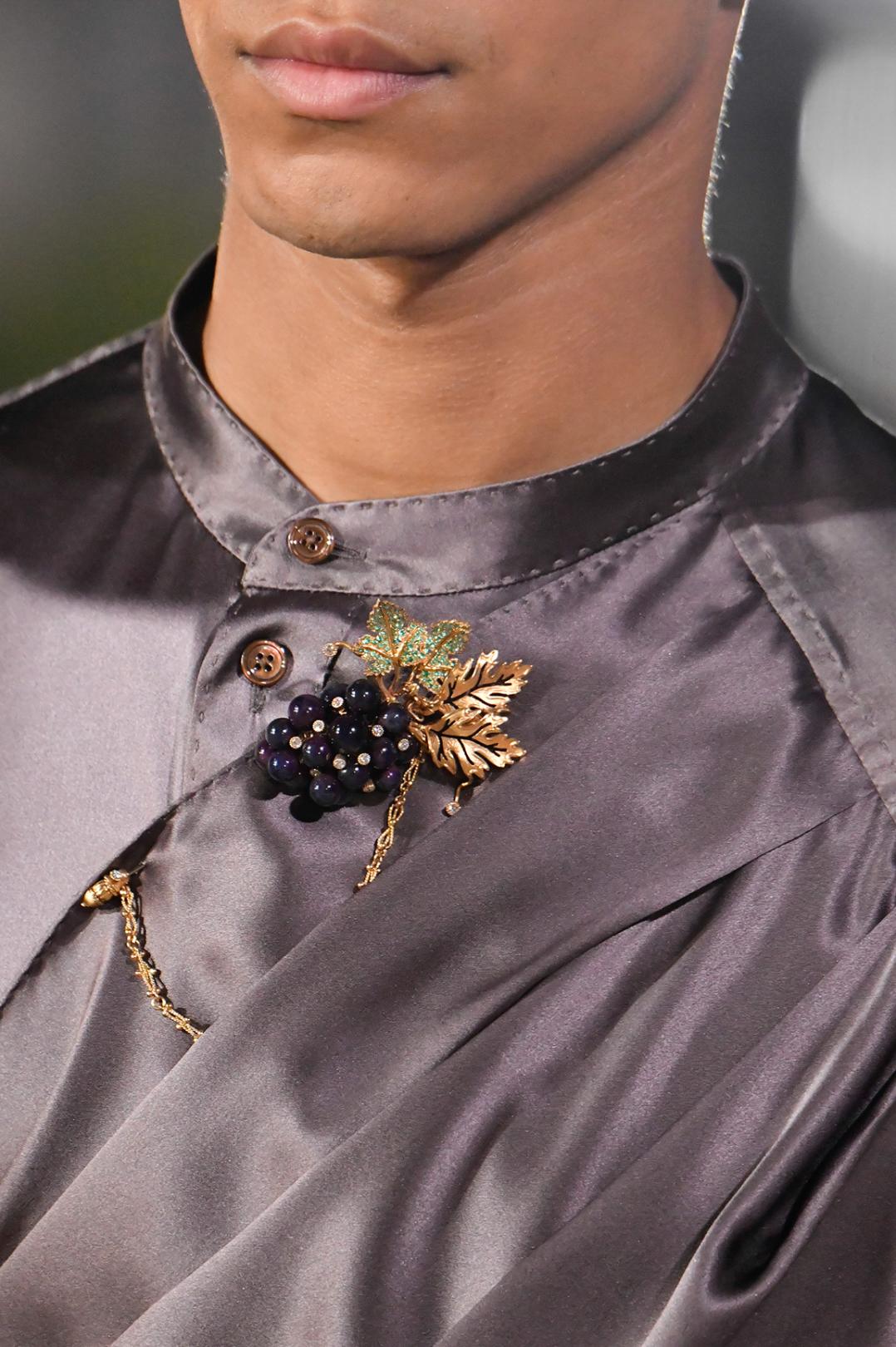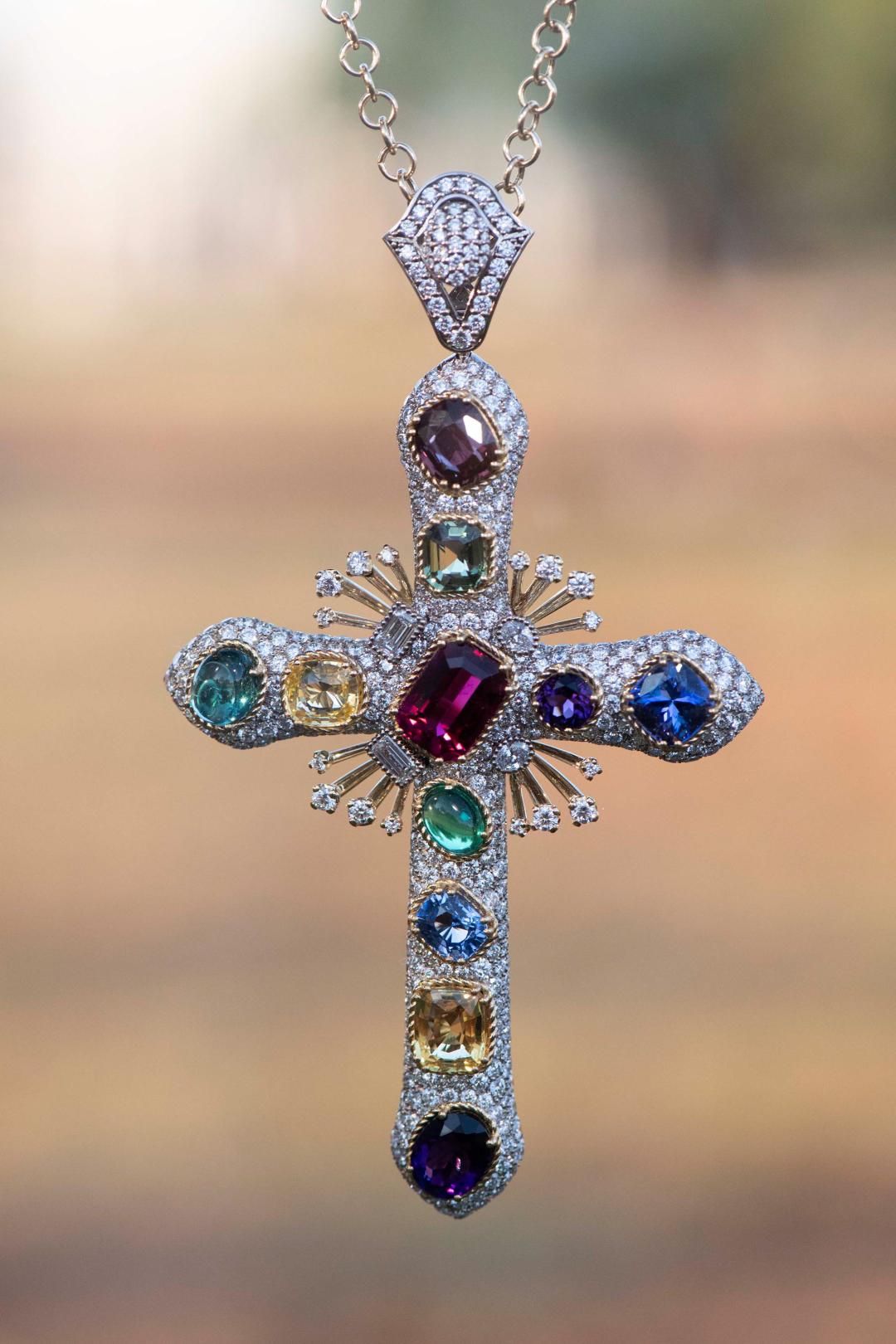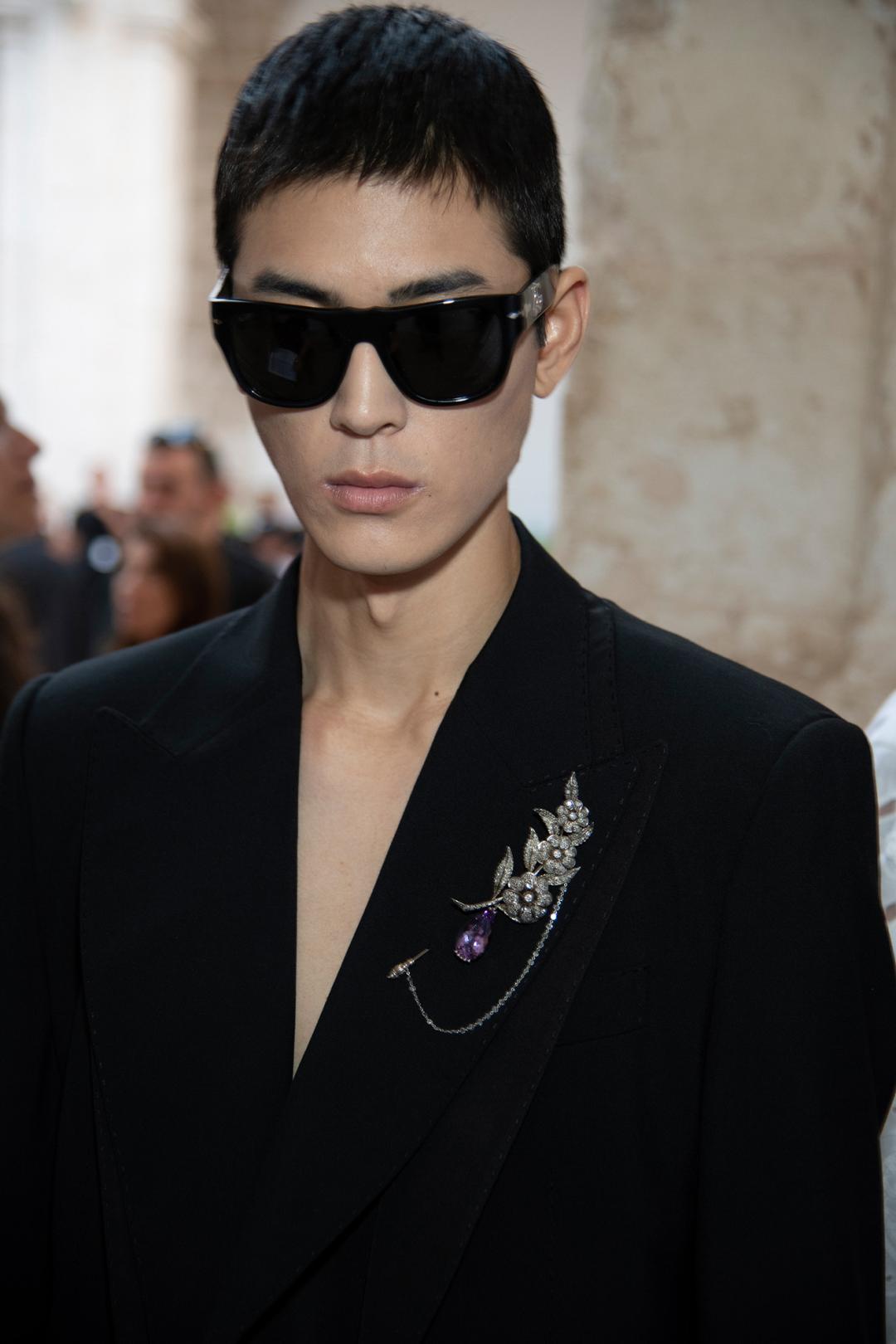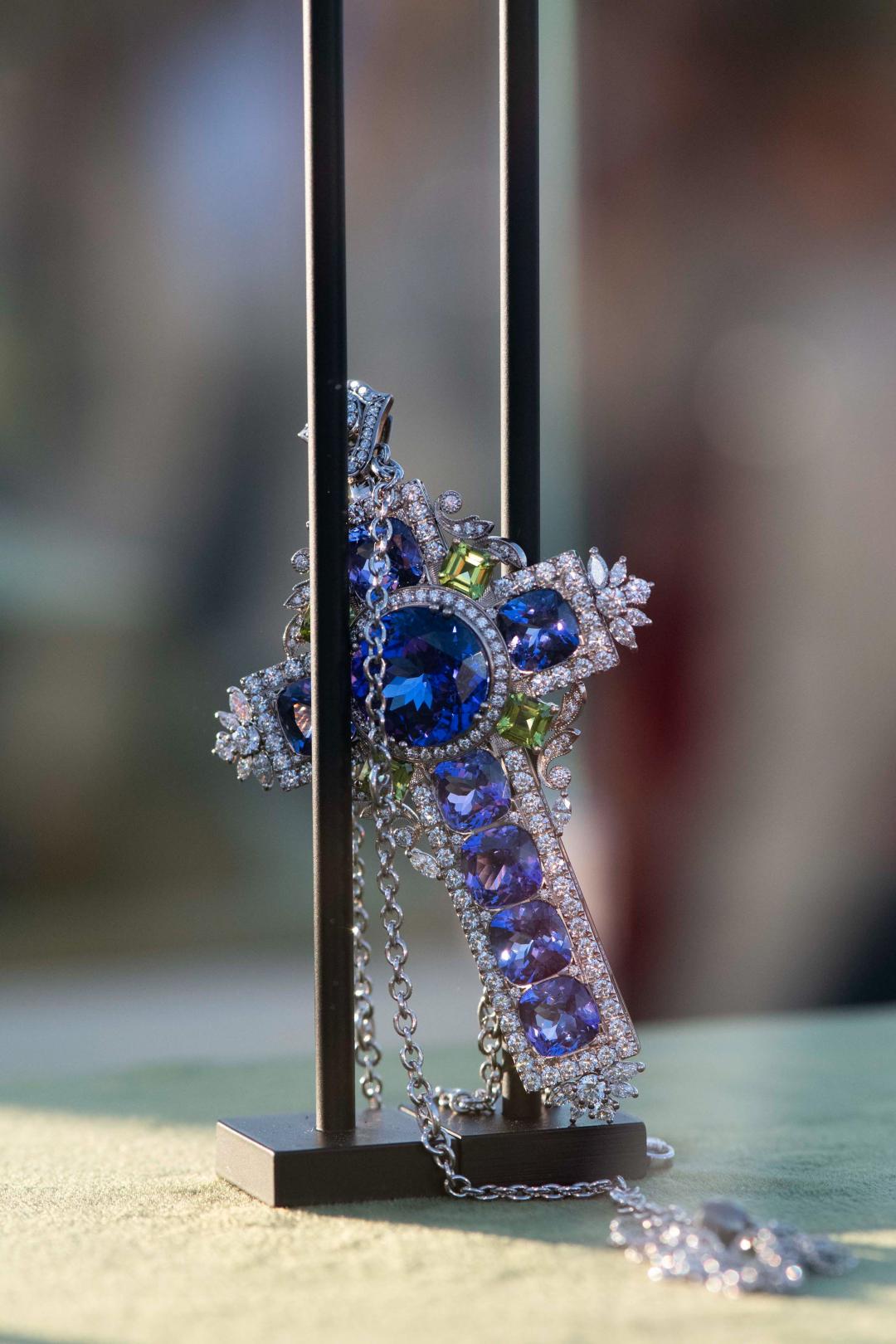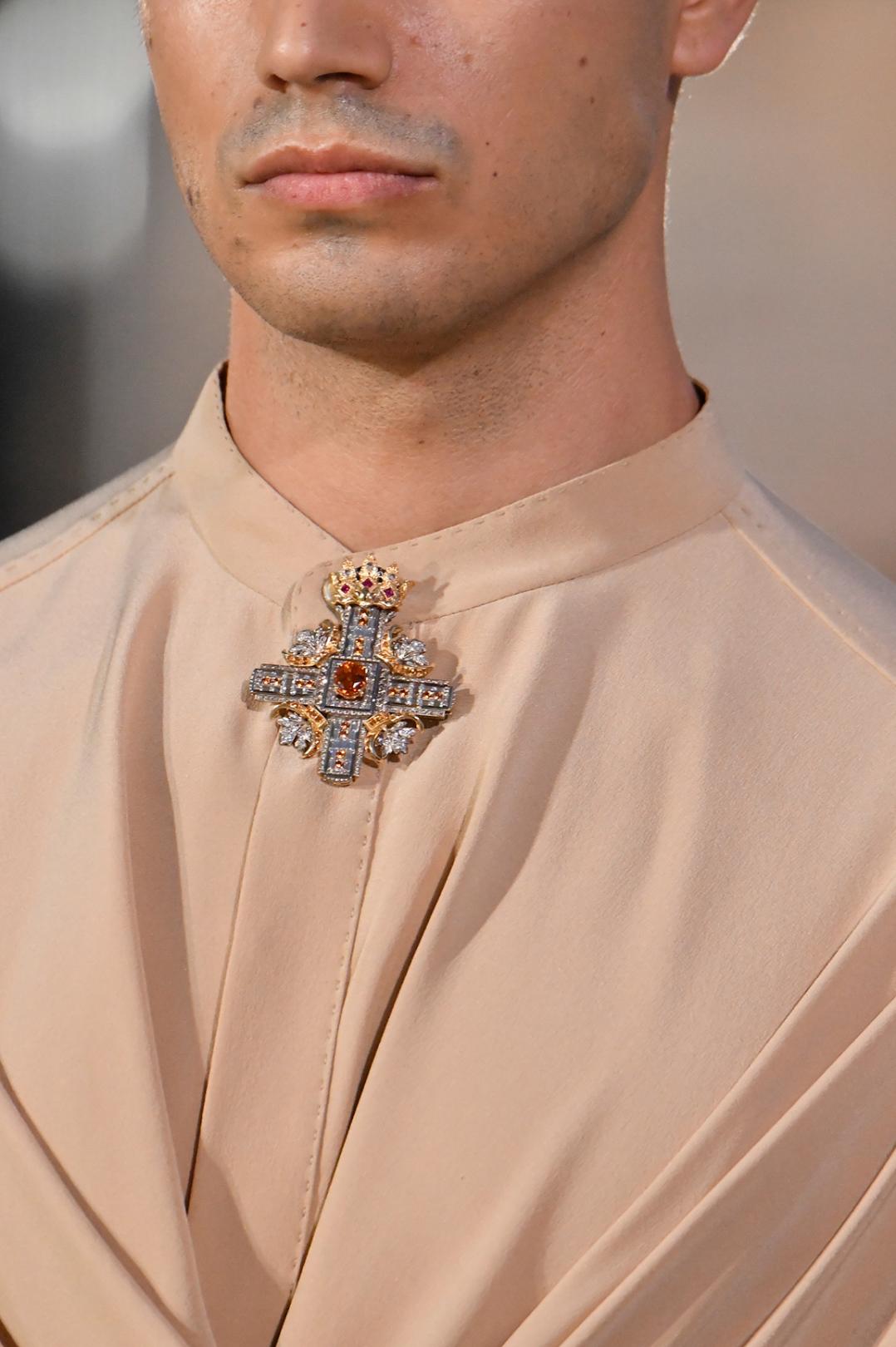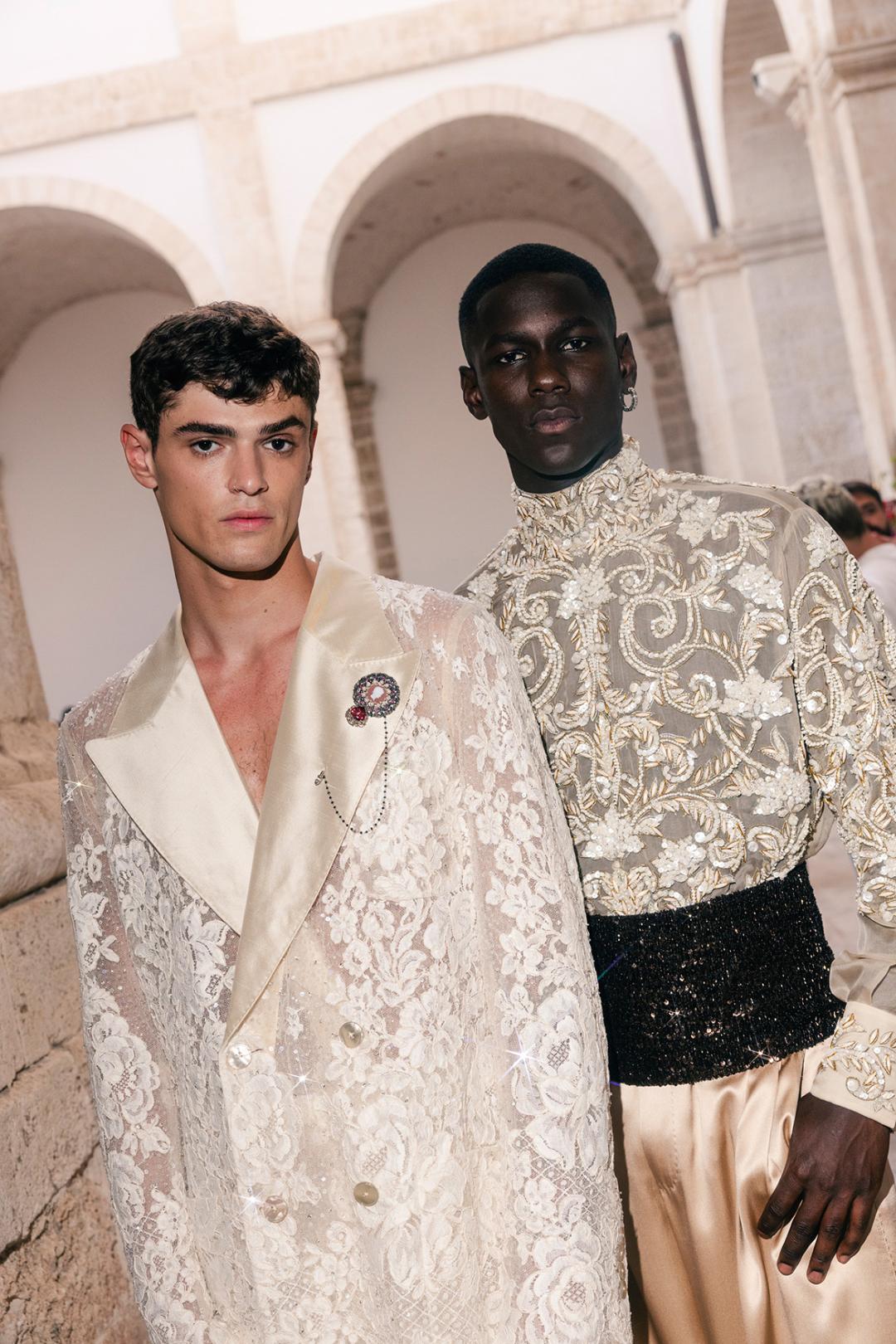 The rosary and the crucifix have a very special meaning to you. Why are these symbols so immensely powerful?
Domenico: Crosses, rosaries and sacred symbols — which are not only linked to the Christian faith traditionally — have always been present in jewellery. Already, thousands of years ago, small crosses were used in jewellery. Then, with Christianity, the cross became the symbol of a universal message, made of suffering and love. A fascinating and touching concept.
Stefano: They are a tribute not only to faith, but also to the traditions linked to our culture.
Looking at the wonderful pieces of the new men's high jewellery, I am struck by the fact that the pricing resonates with real value. Was this intentional, and if so, why was that important?
Stefano: We like to make the concept of Alta Gioielleria 'accessible'. It's strange to talk about accessibility in this field, but a jewel doesn't necessarily have to cost 20 or 30 times its material value to be considered exclusive — it's a matter of respect towards clients who appreciate and support your work.
Domenico: The true value for us lies in the dedication and mastery of the many artisans that lay behind each creation, and that day after day carry on crafts that unfortunately are being forgotten. This is its true priceless value: the preservation of beauty.
In the past decade, everyone from professional athletes to musicians to actors have become jewellery wearers. What has provided men with this confidence in self-expression?
Domenico: Think about it: men have always worn jewels since the beginning of time. Not to mention the Renaissance, or the Baroque, historical periods during which men not only dressed in richly ornate and bright robes, but were literally covered from head to toe in gold and precious stones: great necklaces, earrings, brooches... then during the industrial era, modern society imposed an aesthetic ideal on men that is austere and nearly essential. Men today have rediscovered the pleasure not only in showing, but, as in the case with luxury, of appreciating and owning objects that aren't necessarily essential but that, when flaunted, tell a lot about one's personality, adding a signature to one's look.
I love pieces like the chainlinks used to create a crucifix, which are also used to create a woman's necklace. Tell us about this motif and its importance to you.
Stefano: We already used various chains in our fine jewellery collection, especially recently with our DG Logo collection, which has an unmistakable nineties flair. Actually, we also did it in the past in Alta Gioielleria, but in this case the chains were more delicate, and were embellished by decorative elements. This year we wanted to dare more and give more space to this motif to create unique jewels with a more contemporary appeal and — as they say — [be] 'bold'. We really like the result!
A few questions about the events themselves. I love how wonderfully democratic they are, in that celebrities, clients and press mingle together and are free to have a great time. Why is it important to create such a genuine environment?
Domenico: For us, the Alta Moda events are a unique occasion to meet our friends from all over the world. We always want it to feel like a family party, like those in the south of Italy, where families meet again at the dinner table and share some quality time together. There are no separate categories among our guests: they all become friends from the first night and then they never want to leave! Stefano: Especially our clients, who each year ask us to make the events last one more day: now they call it Alta Moda week!
The Alta Sartoria clothes featured hand-embroidered lace from your archival collection. Why was this the moment to incorporate the lace?
Stefano: Actually, we did something a bit different and special: during our site visits in Puglia to prepare the events, we looked for some ancient corredi (bridal kits) that were once made by seamstresses — bed linens, curtains, tablecloths all in hand-embroidered lace — and we purchased the ones that lit up our eyes. With these textiles we created various looks from the collection: we wanted to relive the past of the place, the tradition of ancient crafts, but seen through today's eyes.
Read the full story in Issue 90, available now.